Having spent a wonderful few days in and around Limerick and Tipperary, it was time to move on to the second of our AirBnB's to continue our road trip in Ireland with kids Part 2. We were moving onto Cork City, another area of Ireland I was yet to explore. And this time we were being joined by my sister and niece, who is just six months younger than BattleKid.

Day Five Limerick to Cork
We were up relatively early and after breakfast, I got the house tidied and car packed up, ready for our drive to Cork. I have to admit I was very sad to be leaving our Limerick AirBnB. It was the most amazing AirBnB we've ever stayed in, and as I said last time, if it had one more bedroom it would be my ideal, dream home.
We got on the road and after going through several smaller towns, we joined the motorway near Mitchelstown and continued south. It took us just over an hour and a half to reach our first destination of the day, Blackrock Castle. As you know by now, one of the main things on our Irish road trip itinerary was to visit as many castles as possible. So, Blackrock Castle was next up.
We arrived and parked in the car park along the River Lee, which is a very short walk to the castle. We entered through the ticket office, paid our entry and went through to a surprise. Although Blackrock Castle is technically a castle in terms of the type of building and it's history, it is now the home of an Observatory and Museum.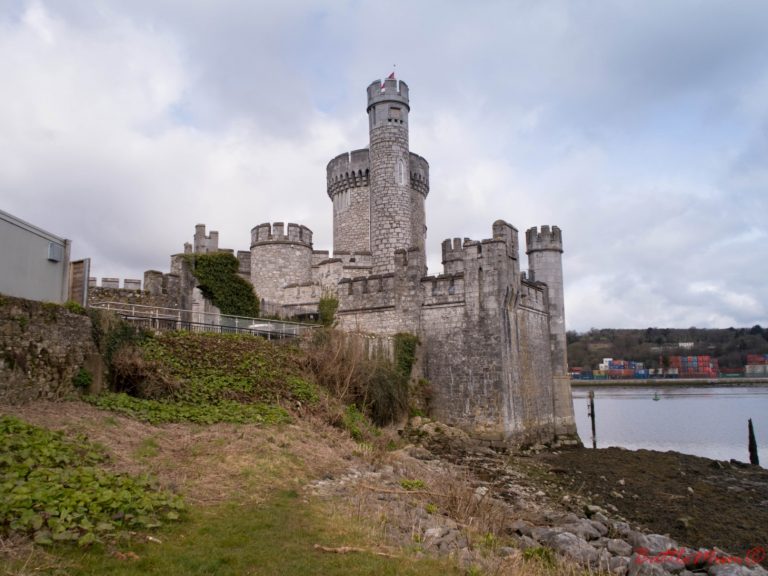 You first pass an exhibition about space and the evolution of life, before passing through a serious of sections with interactive displays about everything from the cosmos to how life developed on Earth. BattleKid had a great time pressing the different coloured buttons, even if he didn't understand what the talk was about. I'd love to return and take my time going through each of these displays as they really appeal to my scientific background. Unfortunately though, on this visit, I had be content with a short listen before a 4-year old moved me on swiftly.
After passing the interactive displays we came to a waiting area where we were informed there would be a guided tour and talk of the castle and observatory upper level shortly. Although I knew this probably wouldn't appeal to a little person I decided we should join it, if only to climb to the top of the tower to check for signs of a dragon. After all, that's the main reason we had come to visit Blackrock Castle.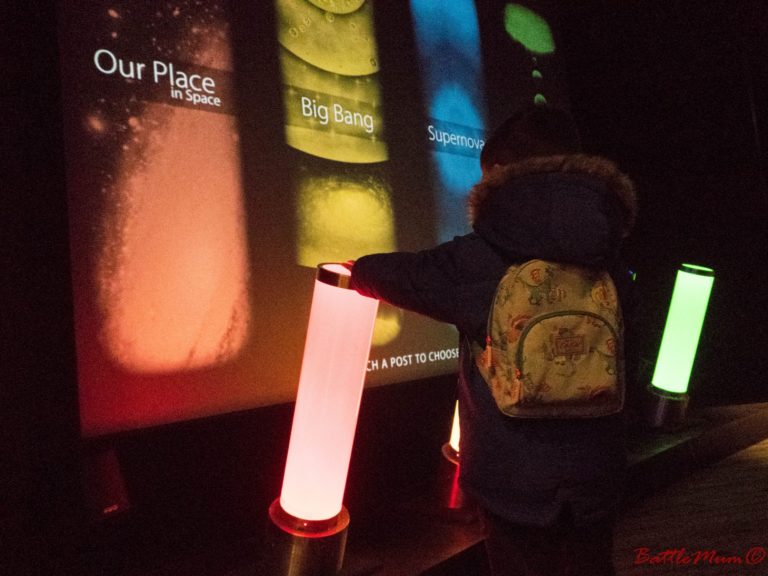 A member of staff did a short introductory talk about the castles history which was fascinating before we climbed the steps to the top of the tower where the observatory telescope is housed.
BattleKid didn't want to hang around so I entertained him by checking the views up and down the river with him and as the talk ended, we discovered a dragon had landed beside the telescope house.
BattleKid was thrilled to see his dragon again and satisfied, we returned downstairs. There is an opportunity to visit the armoury in the lower section of the castle, but we didn't go as a little person was getting a bit bored. I decided we should make our way back to the car and after a visit to the shop and castle courtyard, we returned to the car.
With an hour to kill before my sister and niece arrived by train from Dublin, I found a shopping centre about 10 minutes' drive from the castle, and decided to make my way there. I'd text my sister to tell her to grab a taxi there as I knew we could get some lunch, treat the kids and while away the time until we were able to check into our AirBnB.
But we were surprised once we arrived at the Mahon Point Shopping Centre to receive a text from my sister saying they were in a taxi. They had managed to catch a slightly earlier train from Dublin so arrived a few minutes after we did. We stowed their bags in the car and went in for some lunch in O'Briens.
Refuelled, we did a small bit of shopping and also picked up some groceries from the Tesco before making our way to Corrin, the area where our AirBnB was located. I'll admit that we were a little worried when Google Maps made us turn off tarmac roads, onto a dirt road through a forest, but sure enough, within a mile we arrived at the AirBnB.
We were greeted by our host Sally, who was lovely and shown into the apartment over their garage. The apartment itself was fine, and reminded my sister and I of our parents old house in Galway. The bathroom and toilet were downstairs beside the door and were freezing! It certainly brought us back to the 90's when our parents were living in Tuam for a brief spell.
We unpacked, settled the kids in front of the TV and I made dinner for us all. The spaghetti bolognese was well received and before 8pm the kids were in bed and my sister and I had a chance to catch up over drinks, a glass of wine for her and a cup of tea for me. Both shattered, we were in bed before 10, ready for a fun day with the kids.
Day Six Fun at Fota Wildlife Park
Alongside our castle visits, I wanted to make sure I had other fun things planned for BattleKid during our road trip in Ireland over Easter. So, before our trip, I got in touch with Fota Wildlife Park to see if they'd like to collaborate with us. They kindly offered us complimentary entry in return for a review, which I published on the blog shortly after BattleKid and I returned to Portugal.
We arrived shortly after opening at 10am, where I was met by a member of staff who organised mine and BattleKid's entry and gave us a token for the car park. My sister and niece were waiting for us inside, having already paid in. We visited the toilets, mainly for the benefit of the two little ones with us, and we went on in to enjoy our time inside the Wildlife Park.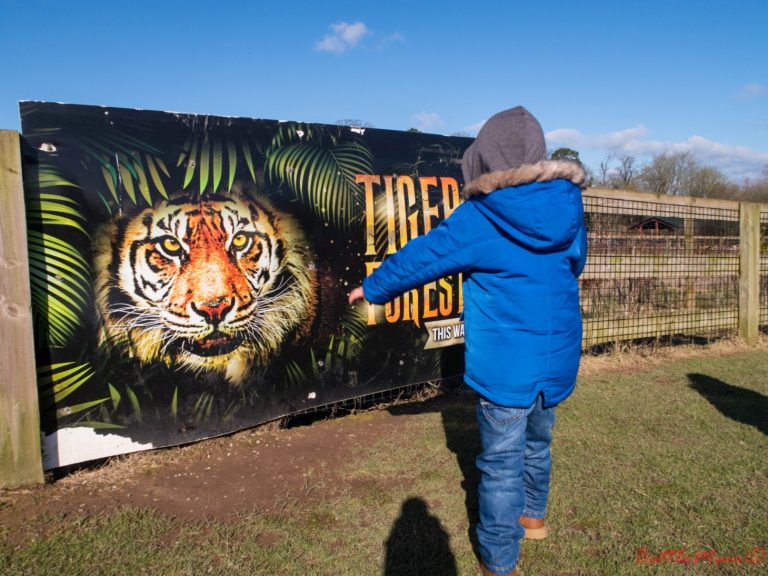 The kids certainly enjoyed themselves and it was nice for the two cousins to spend some quality time with each other, as they only really see each other about three times a year. There was plenty of different animals and birds to keep their attention and the playground was a welcome break half-way around. After three and a half hours, and my niece starting to give out about walking, we reached the entrance after completing a full circuit of the park.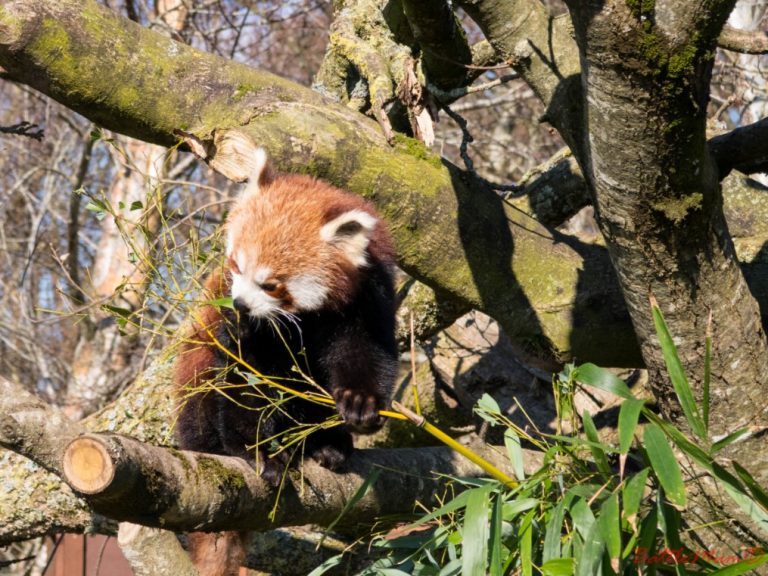 A short visit to the gift shop was in order to reward them for their good behaviour. My sister and I decided to head back to the shopping centre so we could get some lunch and browse the shops. We didn't fancy exploring more of Cork as I really didn't think either of the kids would have been happy with that. So, after shopping, we returned to the AirBnB and let them chill out on the sofa with a film and some munchies before getting dinner and an early night.
We had a great day in Fota Wildlife Park, and I'm so glad we got the opportunity to collaborate with them during our trip. Another early night was in order for my sister and I as we had a long and busy day ahead of us the next day.
Day Seven Cork to Dublin via Blarney Castle
We were up early enough, and after breakfast and tidying our apartment, we packed up the car and headed for somewhere that's been on my bucket list for a while, Blarney Castle. It took us 30 minutes to reach the castle from our AirBnB which was quite short. However, 5 minutes from Blarney I realised I'd left something very important behind in the AirBnB.
The plan at Blarney Castle was to go straight to the stone and then let the kids do a dragon hunt. I had bought BattleKid a small green dragon for his Ireland castles and also a red dragon for his cousin. But I'd forgotten to pack them into our day bag and I only realised just as we were arriving at Blarney. Disaster.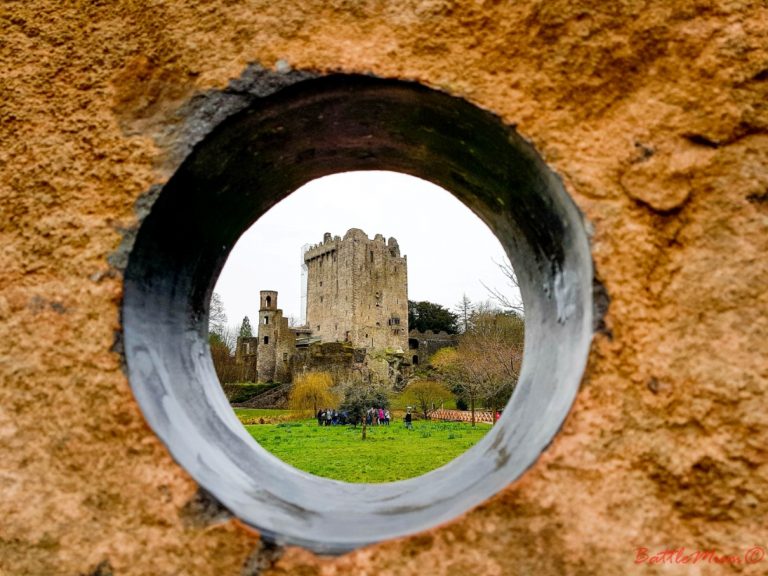 It was too far to go back so I racked my brain as to how I could salvage this visit for the kids. We arrived and parked in the car park, which I was happy to see wasn't too busy. Again, we were working with Blarney Castle on a review basis and we collected our tickets at the office and went through.
I spotted the main gift shop which sits adjacent to the entrance and quickly popped in and got two of their Blarney Castle gift teddy bears. My idea was we wouldn't mention the dragon hunt, and instead have a teddy bear hunt in the gardens.
After a quick cuppa, we headed for the castle and climbed the 100 steps to the top so I could kiss the Blarney Stone. You can read my full review on the blog to find out more about our climb and time at the top.


We descended the castle tower and had time to explore only a fraction of the beautiful grounds of Blarney Castle and Gardens. I had wanted to see at least one of the two waterfalls in the grounds, and we found one in the Fern Garden. It was here we did the teddy bear hunt. Again, you can read how the kids reacted to this in my Blarney Castle with Kids review.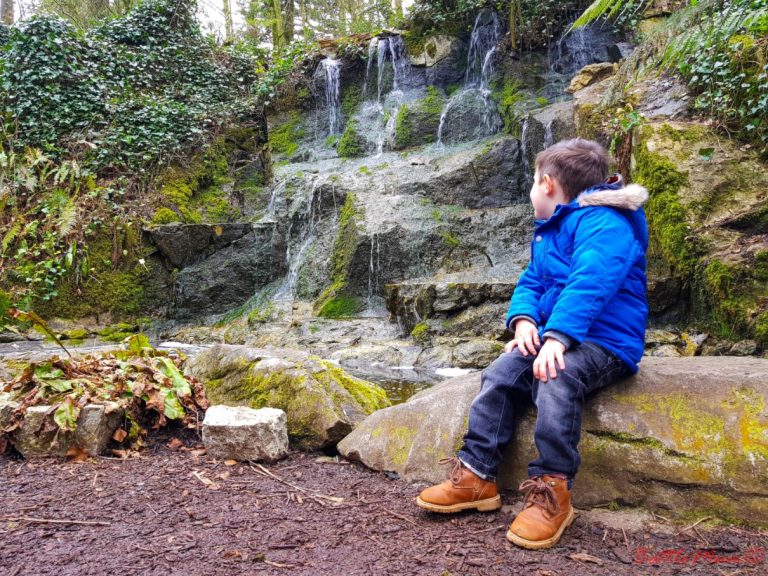 We had a wonderful time at Blarney Castle, and I would have liked to have had more time to see the other half of the gardens, but we had a two-and-a-half-hour drive to Dublin ahead of us, so we decided to visit the toilets and make our way to the car after our teddy bear hunt.
Not long after joining the motorway, we had two sleeping beauties in the back of the car and my sister and I enjoyed some music while I drove. She also kindly fed me sandwiches and snacks to keep me going, haha.
The kids were really well behaved once they woke up and we dropped my sister and niece off at her house shortly before 3pm. We then made our way to my other sister who now lives in my parents Dublin house as we were staying with her and her partner for the final few days of our trip.
I dropped our things off and made my way to their local shopping centre to get all the things I would be bringing back to Portugal with us including teabags, white pudding and Irish sausages. It's gotta be done.

We finally sat down in my sisters at 4.30 and I have to admit I was wrecked. After lots of driving, I was shattered and was very happy to have a chance to relax and chill and have time to catch up with my other two sisters. The final part of our family road trip in Ireland was upon us.
Cath x
Read how I planned this magical road trip to Ireland here on the blog.