Blarney Castle and Gardens are located in County Cork and were somewhere I'd always wanted to visit, mainly so I could kiss the stone and see if the legend of the Blarney Stone is true. In this post you'll learn about our visit to Blarney Castle with kids and discover is Blarney Castle worth it.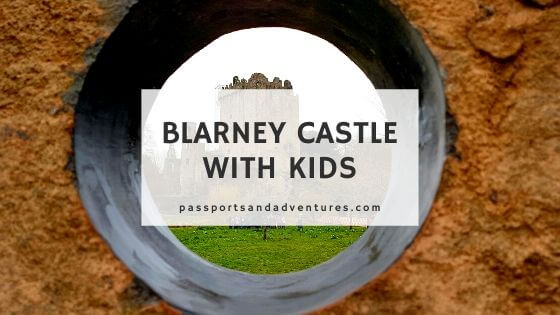 *Collaboration Post
**Post originally published in May 2018. Updated in April 2020.
During our time in Ireland, my son and I visited several castles. Our intention was to go dragon hunting at each of these Irish castles for kids, as we had never been dragon hunting in Ireland before. My sister and niece were joining us for our Easter visit to Blarney Castle, which is situated in County Cork. We were also given complimentary entry to the castle in return for this review. Here I am going to share with you our review and tell you how to have an awesome day out at Blarney Castle with Kids. And if you are wondering if Castle Blarney is the same historical building, yes it is, you are in the right place.
Blarney Castle with kids – Review
Our intention for our Easter visit to Blarney Castle was to take my son and his cousin on a dragon hunting adventure there. I had bought a new dragon for my son for his dragon hunting adventures in castles in Ireland, and I also bought a dragon for my niece, so she could join us on a dragon hunting adventure at Blarney Castle. However, I forgot to pack both dragons on the morning we left our AirBnB. I realised 5 minutes from Blarney Castle that they were still in the drawer beside the bed in the apartment. Our dragon hunting adventure at Blarney Castle was not to be.
Since we always try to make a castle visit interesting for my son, to rescue the situation, I sneaked in and bought two teddy bears in the gift shop as we entered the castle grounds. This meant we would turn our lost dragon hunting adventure into an Easter teddy bear hunt instead.
We took the decision not to mention dragons during the visit to the castle itself because otherwise my son may have become upset at not finding a dragon with in the castle. We also decided to visit the castle first allow the kids to enjoy a teddy bear hunt in the beautiful gardens of Blarney Castle.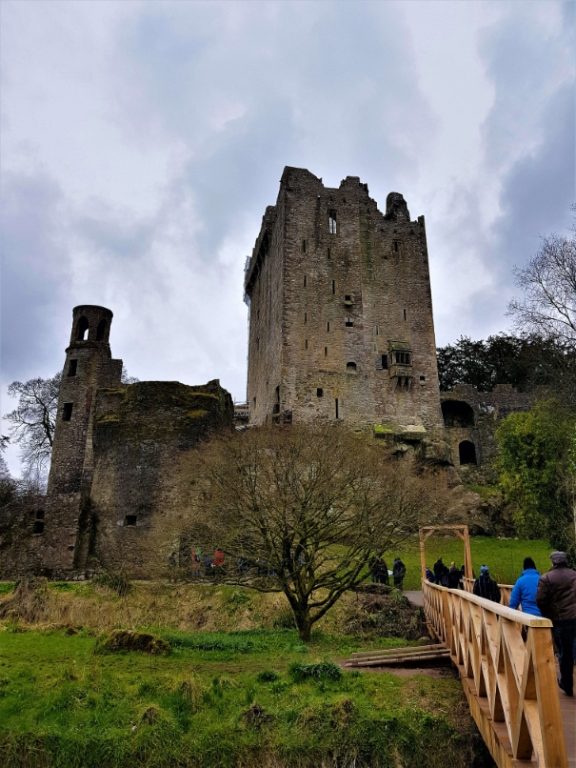 Our first port of call for our visit was the Blarney Castle Stone. Where is the Blarney Stone located in the castle? It is a situated on the top floor of the castle. I knew we would have quite a number of steps to climb in order to reach the stone and thought it would be better to complete the climb before little legs got too tired.
I had not come all this way to Blarney Castle not kiss the stone, so we headed straight for the top floor with the kids. To reach the Blarney Stone you need to climb a spiral staircase which has no less than 100 steps. I knew my son would be well able to climb the Blarney Castle stairs as he is used to spiral staircases within castles. However, I wasn't sure if my niece would be able to.
Along the climb to the top floor, you pass by a few rooms which you can enter. These included the Earl's Room, the Priest's Room and the kitchen. We took the kids into a few of these rooms, so we adults could see them, although there's not much to see, while the kids could enjoy peeking through the windows at the gardens below.
We also took this opportunity to allow other people to pass us by who were climbing the steps faster than the little legs were. The day we visited, we arrived shortly after opening and found ourselves already among quite a lot of tourists, many of whom were climbing the stairs with us to kiss the Blarney Stone. These included American students, people from the UK and other nationalities.
As you approach the upper levels of Blarney Castle the spiral staircase gets extremely narrow. I wasn't sure I would be able to pass through this section of the staircase with my Cabin Zero backpack on my back. But we managed it, and so did my niece and sister much to my delight, as there was no turning back what you got this far. I should point out that it is a one-way system on the stairs of Blarney Castle. One staircase takes you up to the stone, one staircase takes you back down. Once you have started your climb you have to continue up, there's no going back down the way you've just come.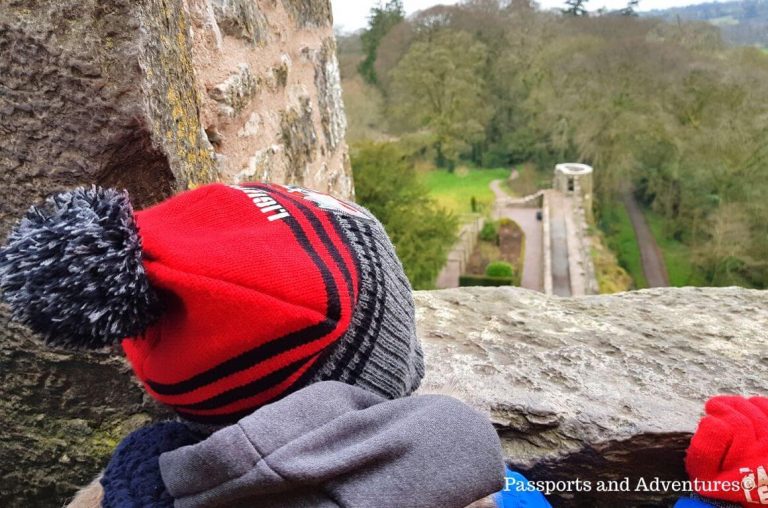 As we got to the top level of Blarney Castle we had to wait in line for our turn. There was a group of American students in front of us who were also waiting their turn to kiss the Blarney Stone. On the top of the castle while you wait, there are information signs which include funny information about the Blarney Stone itself. My sister had decided she didn't want to kiss the Blarney Stone if it meant doing it backwards. But I hadn't come all this way from Portugal, and waited 40 years, not to kiss the Blarney Stone.
So, how do you kiss the Blarney Stone? Well, you sit with your back to it, lean backwards (with the help of two men), holding onto the iron railings, and lean downwards into the hole, upside down, and lean towards where the stone is located on the outer wall. And then you kiss it. Why do you kiss the Blarney Stone upside down? Well, it is tradition and the gift of the gab may elude you if you do not.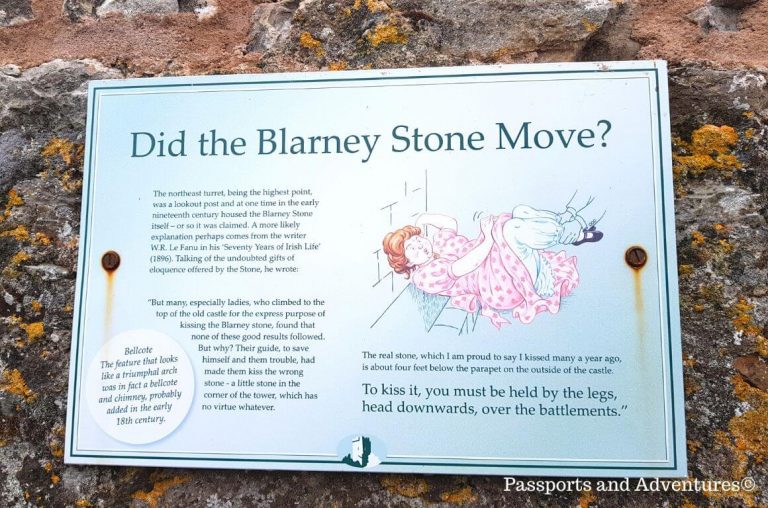 As our turn came up, I took my bag off my back, sat with my back to the stone and follow the instructions of the man who was going to help me kiss the Blarney Stone. I also took my glasses off as is advised. The two kids, aged 3 and 4, were fascinated at what I was doing. We explained it was magical stone and that I was kissing it for all of us and that we would bring them back when they were old enough to do with themselves.
They wanted to know where the stone was, so after I had kissed the stone, the man helping me kindly showed them where it was and gave them both a high five, which they were thrilled at. Kissing the Blarney Stone, for kids their age, is not possible. You must be aged 8 before you will be allowed to kiss the Blarney Stone. My sister wasn't the only person not kissing the stone that day and it is totally up to yourself whether you do it or not.
As I've already said, you sit with your back to the stone, lie backwards and hold the rails behind and over your head while a gentleman helps you to kiss it backwards. So, if this is not your bag you don't have kiss the stone. But I still advise you to go to the top of the castle because the views of the gardens are stunning.
Once we'd finished at the top of the castle we started to make our way back down the exit stairway. This staircase was not as narrow as the staircase you take going up to the top level. We also got the chance to visit some other rooms on the way back down including the Banqueting Hall and the Great Hall.
Unfortunately, as my sister was keeping hold of the kids while I kissed the stone, she didn't get a chance to take picture of me doing it. There is a camera up there which takes pictures of you and you get a ticket if you want to buy your picture. However, I didn't realise that you need to collect your tickets at the bottom of the castle and not the Blarney Castle gift shop at the entry to the castle grounds.
By the time I realised this we had already paid for our gifts in the gift shop and were ready to leave, so unfortunately, I don't have evidence of me kissing the Blarney Stone. Thankfully my sister has said she will always stand as a witness to me doing it, so you'll have to take my word for it or get in touch with my sister if you don't believe me.
From the castle we decided to explore some of the stunning grounds of Blarney Castle. There are many sections and areas to the gardens, including a poison garden which contains plants which are poisonous to humans. There are two waterfalls as well. I had seen one of the waterfalls in another bloggers Instagram feed and knew I had to find at least one Blarney Castle waterfall while we were in the gardens. However, as they are both in opposite directions, we decided to pick one, which was in the fern garden section of the grounds.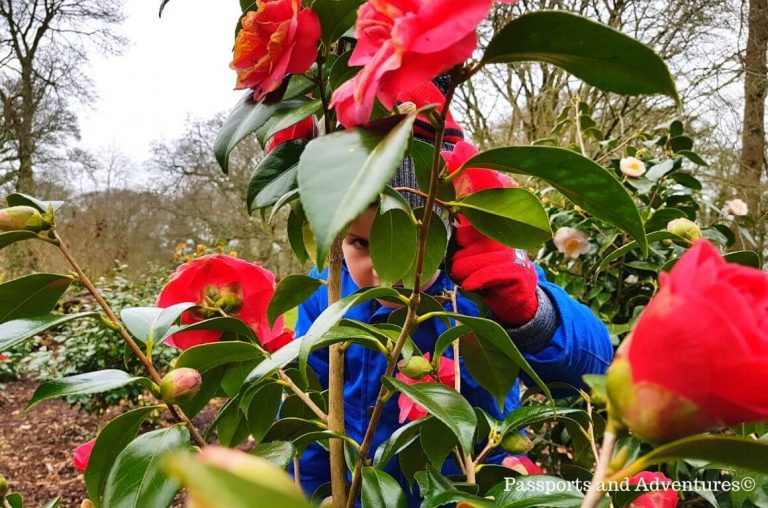 Heading past the poison garden first and into an area leading to the Lookout Tower, we passed a number of camellia plants, which I found coincidental as I have a newly acquired camellia plant in Portugal. The kids had a great time in this area and there was also an area for them to run around in among some brunches. From the Lookout Tower, we started to make our way towards the fern garden and waterfalls. It took us a little while to find the waterfall and we eventually came upon it down a set of steps in a gorgeous fern garden, as promised by the map.

It was in this area we decided to do our alternative dragon hunt. As mentioned I had bought 2 Blarney Castle teddy bears in the gift shop as we entered the castle grounds. While my sister distracted both kids, I planted the teddy bears at the bottom of the base of a tree opposite the waterfall. We then reminded them that we were supposed to be on a dragon hunt in the castle and that we better start looking for said dragon.
We got them to search at a little bridge that was in this area and to check around the waterfall. Eventually they spotted the teddy bears at the base of the tree. They were very reluctant to go near them in case they weren't for them. We told them that as it was Easter, the Easter Bunny must have left the teddy bears there because there was no dragon in this castle. We encouraged them to go near the teddy bears to pick them up.
However, I did an intake of breath as they got close to the teddy bears, and both my son and his cousin scrambled away thinking was wrong for them to be near the teddy bears. I'm a very cruel by mum and auntie. I told them I was only messing but they were both still reluctant to go near the teddy bears without a lot of coaxing from both me and my sister.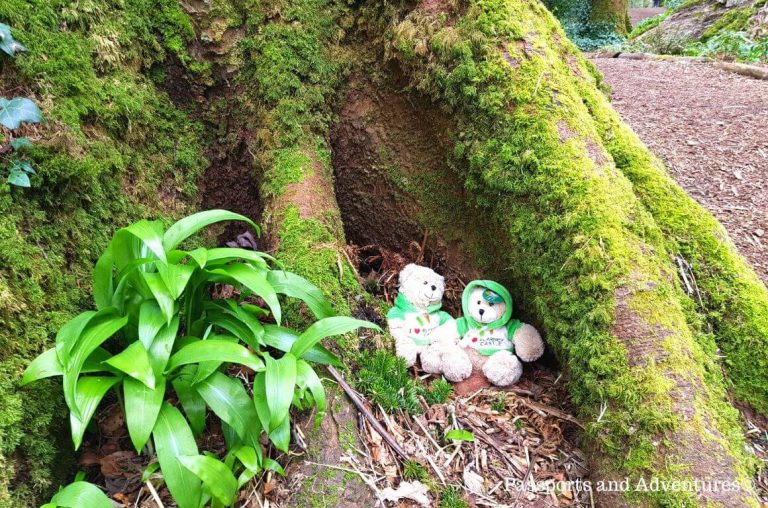 Eventually my son picked up his teddy bear but his cousin had to be encouraged by both his mum and I, that the teddy bear was indeed for her and that the Easter Bunny had left them one each because there was no dragon to hunt in this castle. Having completed our teddy bear hunt during our visit to Blarney Castle, and with the weather starting to look like it was changing, we decided to head back past the castle towards the car.
We first visited the stable houses which contains a café and gift shop as we needed to bring the kids to the toilet. I had seen a notice at the gift shop at the entrance that the nearest open toilets were those near the stables, as the entrance ones were closed for renovation.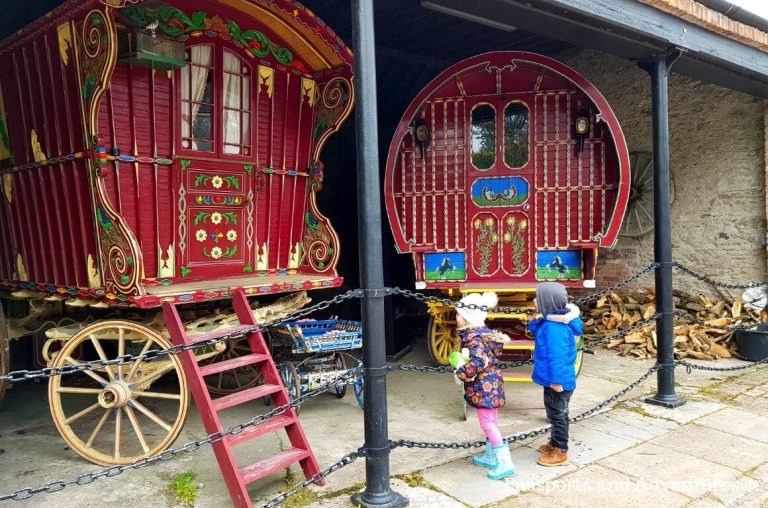 This area was lovely. Not only was there at the gift shop and café, but there was a stable housing old carriages, caravans and cars which my son was fascinated with. As we made our way back to the entrance, we passed Blarney Castle itself and back across the bridge which takes you along the River Martin towards the gift shop. It had started spitting rain by the time we carried along this path, so our choice to leave the castle to make our way to Dublin was well-timed.
However, we couldn't leave Blarney Castle without visiting the gift shop properly this time, and I picked up a few souvenirs for my parents. My son and his cousin got something small to go along with their Blarney Castle teddy bears. We got to the car and got the kids comfy for the two-and-a-half-hour drive back to Dublin itself. And not a moment too soon, as just as we close the doors the heavens opened. Talk about good timing.
What we loved about visiting Blarney Castle with kids
Kissing the Blarney Stone, of course.
The queue to kiss the Blarney Stone wasn't too bad when we arrived and moved quite quickly.
The castle is not too big and doesn't have too many rooms to explore.
The climb up to the top floor where the Blarney Stone is located is doable even with pre-schoolers.
There are two locations for refreshments, one at the stables near the castle and one at the entrance of Blarney Castle grounds itself.
Blarney Castle has a few gift shops, at the stables, at the castle itself and one at the entrance.
Although the map says there are two sets of toilets, at the time of our visit only the ones at the stable were open.
The grounds of Blarney Castle are absolutely stunning, and the gardens are quite extensive.
Things we didn't like about visiting Blarney Castle with kids
Although there is a camera at the top of Blarney Castle to take your picture while you're kissing Stone, it is not clear that you collect your photograph at the gift shop at the bottom of the castle and not in the gift shop at the entrance. This meant I do not have a picture of me kissing Stone as my sister was keeping hold of two children while I did it, so she couldn't take any photographs. I do feel a sign or two while you're waiting to kiss the Blarney Stone would be beneficial to tell people where to collect their pictures.
Tips and information for visiting Blarney Castle with kids
Blarney Castle is open all-year around except 24th and 25th December.
The Blarney Castle opening hours (and for the gardens are as follows: 9am everyday (10am on 26th December and 1st January). I would advise getting there as early as possible to avoid the queues which will build up during the day, especially during the summer.
Last admission is one hour before closing. Closing times are as follows: Nov-Feb 5pm, Mar/Apr/Oct 6.00pm, May/Sept 6.30pm and Jun/Jul/Aug 7.0ppm.
Blarney Castle tickets cost €18 per adult and €8 per child (8 to 16 years of age). Seniors and student tickets cost €14. Under 8's are free. A family ticket for 2 adults and 2 children is €40.** Discounts are available online but must be booked at least one hour before entry. This does not include entry to Blarney House.
Under 16's must be accompanied by an adult.
Only guide and care dogs are allowed in Blarney Castle and Gardens.
The grounds around Blarney Castle are wheelchair-accessible.
There are seating areas around the entrance of Blarney Castle should you want to take a picnic on days with better weather.
There is a playground in one area of the grounds, however we didn't get a chance to visit this.
There's plenty of parking at Blarney Castle for both cars and coaches. However, during the height of the summer or on school holidays, I could see this filling up very quickly, so I'd advise you to visit Blarney Castle early in the morning.
Blarney Castle Gardens are a must-see during your visit, so allow plenty of time to explore them.
As with everywhere in Ireland, I would advise bringing a raincoat and umbrella with you at all times, just in case. A pair of wellington boots, particularly for little one, is also advisable on wet or potentially rainy days.
If you are wondering where is Blarney Castle located, it is in County Cork, not too far from Cork City.
Cork to Blarney Castle is just 15 minutes by car, so you can easily visit the castle if you are in Cork.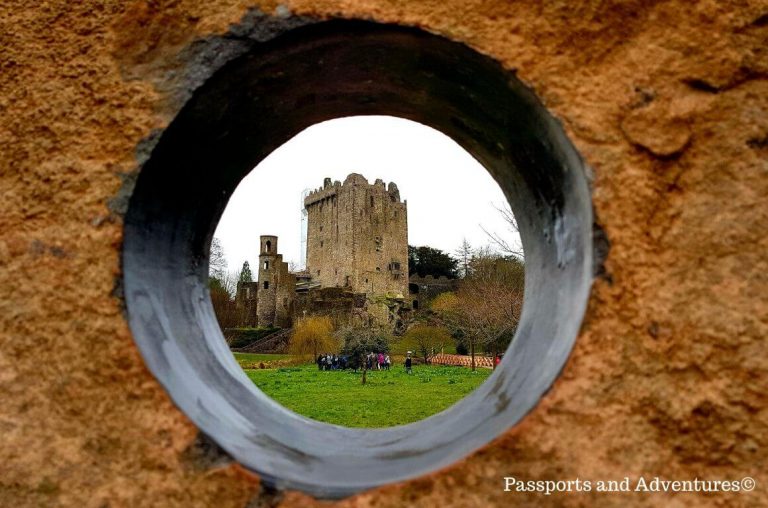 Summary
We really enjoyed our Easter visit to Blarney Castle and Gardens. And finally, after 40 years on this planet I got the chance to kiss the Blarney Stone. I would have liked to have spent more time in Blarney Castle Gardens as they are quite extensive, and we saw only a small section of the gardens. There is even a large lake in the far corner of the grounds. There are two waterfalls and multiple gardens to be explored if you have the time to spend there. We also didn't get a chance to visit Blarney House.
My husband and I plan to return to Ireland with our son in the near future to start our exploration of the Wild Atlantic Way, and we will definitely be spending a full day exploring Blarney Castle and Gardens during our next visit. Hopefully my husband will get to kiss the Blarney Stone as well. And perhaps our son will too, you never know.
I'm so glad I made time to visit Blarney Castle and to kiss the stone during our Irish road trip. I can highly recommend visiting Blarney Castle if you are visiting or near Cork. And of course, while you are there you really should try to make time to go to the top of the castle to kiss the Blarney Stone in Ireland. Because if you do, you would have the gift of eloquence bestowed upon you.
Cath x
*We were given complimentary entry to Blarney Castle for the purpose of this review. However as always, these are my own honest thoughts and opinions of the Castle and Gardens.
**Prices correct at the time of updating this post.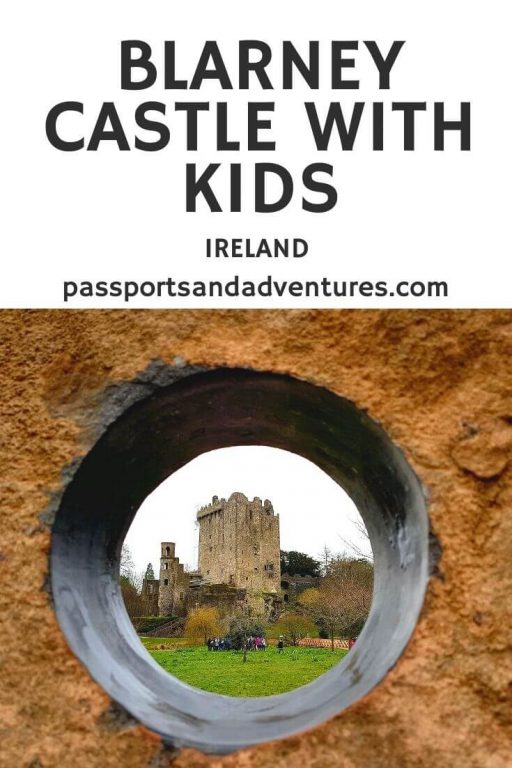 Related Posts