Located in the heart of the city, Cardiff Castle is a great place to visit as a family. With lots of areas to explore and some hidden gems, visiting Cardiff Castle with kids is a must if you are in the city. Here is an account of our last visit to this Welsh castle and some hints and tips for your own visit.

Although our son and I had visited once before with my Dad and nephew before he was a year old, I knew that before we left the UK for our new life in Portugal I wanted to bring him on a dragon hunting adventure at Cardiff Castle. So, one sunny February Saturday morning we drove into Cardiff for breakfast and headed for the castle after we had eaten a hearty breakfast.
Cardiff Castle is conveniently located in the Centre of Castle. It is a medieval castle and Victorian Gothic mansion which dates back to the late 11th century. After many change of ownership, it became part of the Marquesses of Bute land and wealth until it was gifted to the city of Cardiff in 1947 upon the death of the Fourth Marquess of Bute. This major tourist attraction in Cardiff also hosts events, musical performances and festivals throughout the year.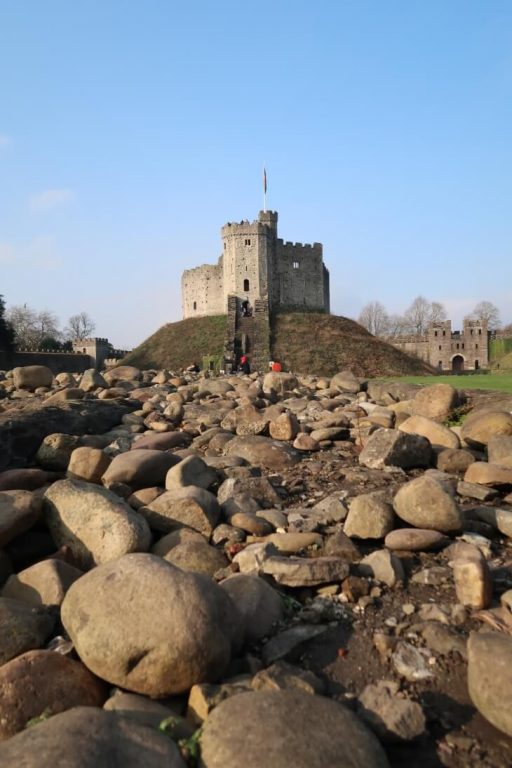 After buying our tickets, we entered the Castle and a certain little boy made a beeline for the Norman Keep which sits at the back of the castle grounds.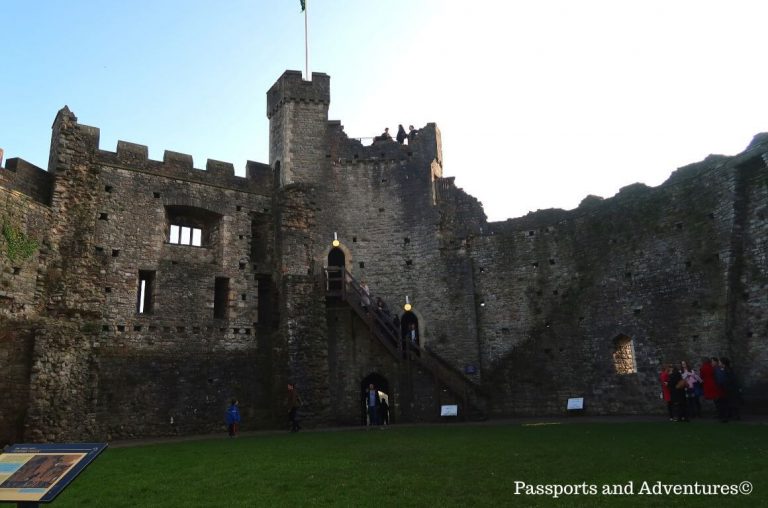 After climbing the stairs which lead into the Norman Shell Keep, our little dragon hunter started scouring the holes of the walls for the Cardiff Castle Dragon. And before long he had found the small dragon, hiding in a hole in one of the keep walls. This was the first time our dragon hunter had found a dragon so quickly during one of our dragon hunting adventures.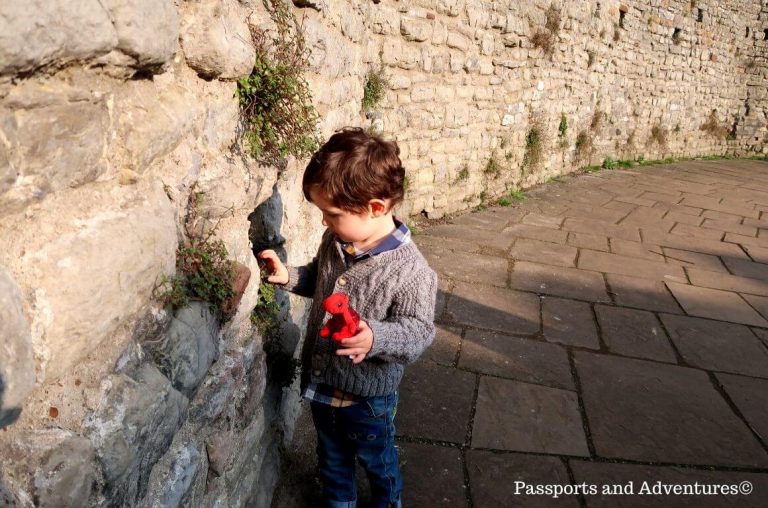 This didn't stop him checking other holes for more dragons. As we knew this would be our last visit to Cardiff Castle for quite some time, we climbed to the top of the keep to be met by some incredible views of the skyline of the City of Cardiff. You forget how close you are to the Millennium stadium (or Principality as it's now known) until you see that iconic roof staring back at you from the top of the keep. It was a bit of a misty day, with some harsh sun trying to peek through as you can see from my pictures.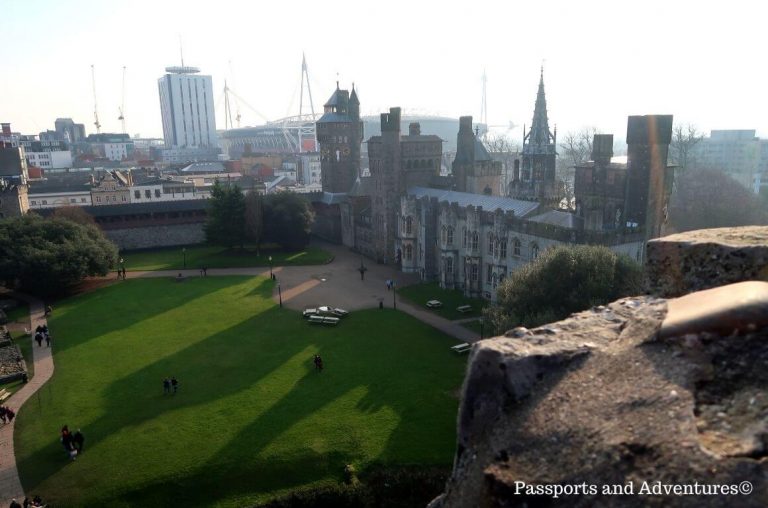 We climbed back down and our son decided to have some fun on the grass in front of the keep and make his dragon "fly". Squeals of delight could be heard by the passers-by as he threw his dragon up into the air and watched him "fly". The grass was a great place to let our son run around, safe in the knowledge he wouldn't hurt himself or anyone else.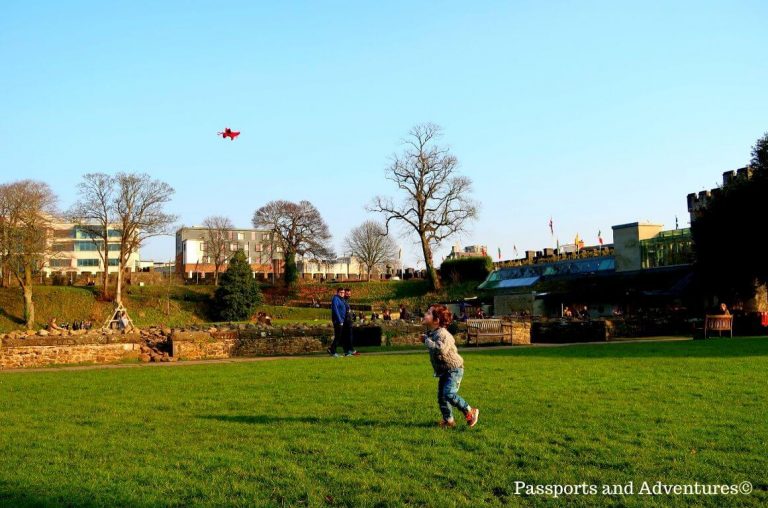 As we were right beside them, we decided to visit the Cardiff Castle Apartments too. These are part of the Victorian mansion and are simply stunning. With stained-glass windows, ornately decorated ceilings and intricately decorated walls, they were awe-inspiring.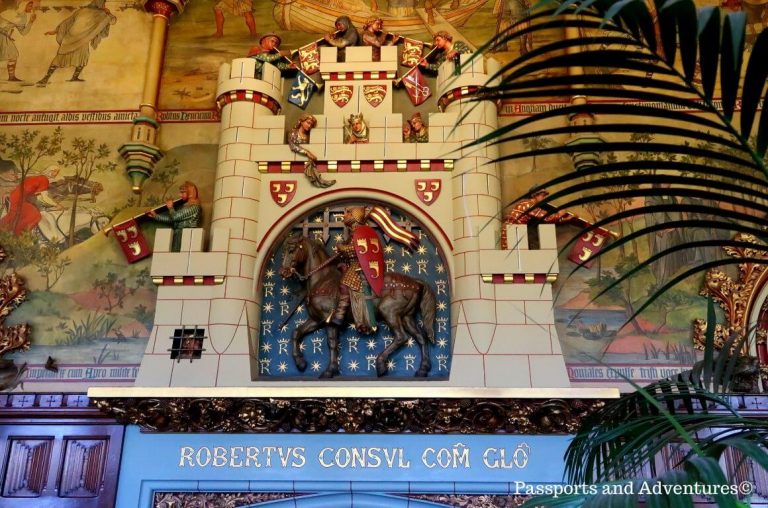 After enjoying what we could of the apartments with a toddler in tow, we made our way to the Castle Walls, albeit after a detour so a certain little someone could roly-poly down some hills. And en-route we came across a second dragon, hiding among the twisted bark of a tree. Our son was thrilled. This was the first time he had ever found not one, but two dragons during one of our dragon hunts.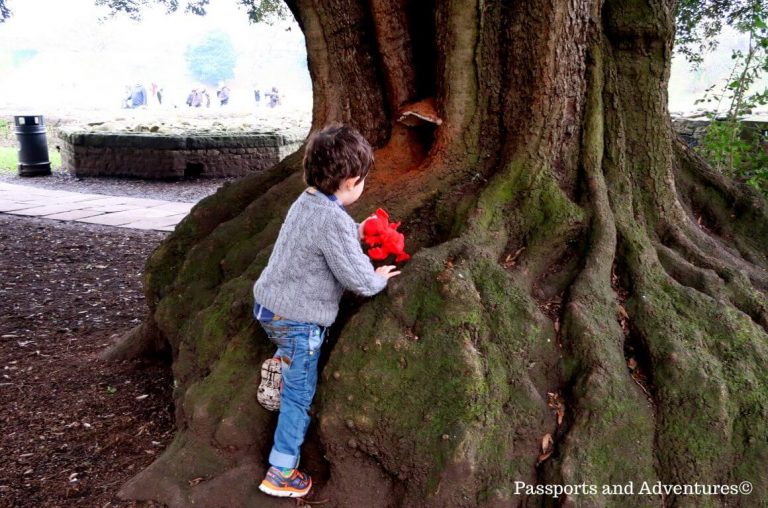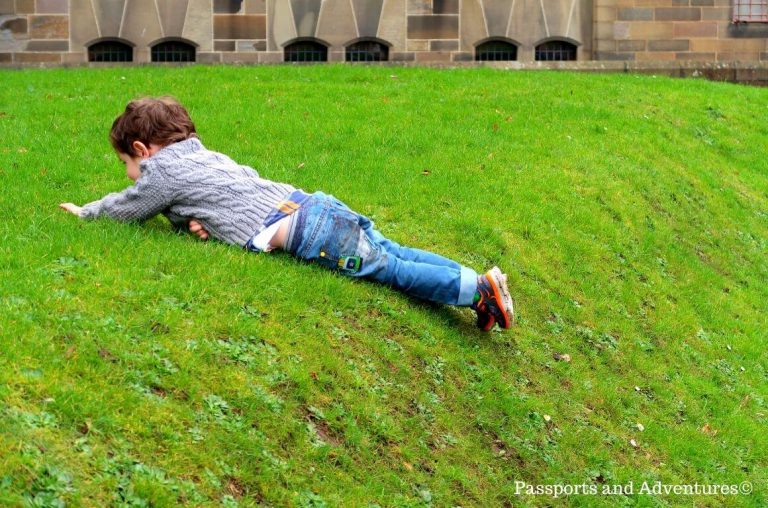 And the last stop during our visit to Cardiff Castle was the Castle Walls as mentioned. And this is the surprise of Cardiff Castle. During the Second World War, air raid shelters were built into the castle walls and could hold up to 1800 people. Inside these tunnels are evidence of the war, with war-time posters, camp beds and cubby holes where food and supplies were stored.
And during your walk you can hear the same noises that the people sheltering in these tunnels would have heard during an air raid. The sirens, the sounds of airplanes, bombs going off, it must have been a very frightening time.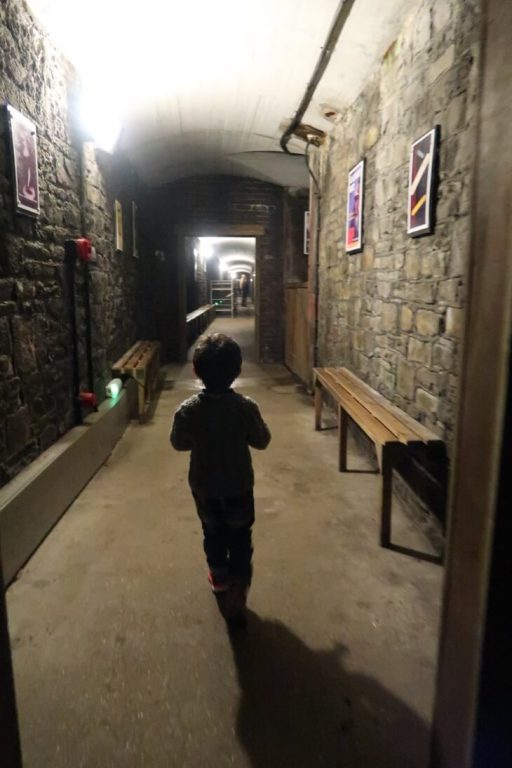 These tunnels, for me, were the highlight of our visit. You don't expect to find them in a medieval castle, but it makes perfect sense due to the thickness of the exterior castle walls. They were an unexpected surprise and a great bit of history of the castle.
Our dragon hunting adventure at Cardiff Castle was a great success. So much so, a certain little dragon hunter slept all the way home.
Things to note if you go on a dragon hunting adventure at Cardiff Castle
Cardiff Castle is NOT Cadw site, unlike the other South Wales castles which have been featured on our dragon hunting adventures so far.
The Castle is open from 9am to 5pm with last admission at 4pm. The castle is open every day of the year except 25th and 26th December and 1st January.
Tickets can be bought either online or at the ticket office. Adults (17-59 years) cost £12.50, children (5-16 years) cost £9.00 and seniors (60+) and students cost £10.95. Under 5's are admitted free.*
Tickets give you entry to the castle grounds, castle apartments, Norman Keep, Wartime tunnels, the Interpretation centre and the Cardiff Castle Museum of Welsh Soldiers.
House tours are available at an additional cost of £3.25 (adult), £2 (child) or £2.75 (seniors/students) and your tour brings you to other rooms not included in the general admission tickets. The house tours lasts approximately 50 minutes.
Toilets are located in the Interpretation Centre which is located in the same building which houses the ticket office, café and gift shop.
Caffi'r Castell, the café, is open from 9am to 4pm and sells drinks, cakes, pastries, hot meals and sandwiches.
Cardiff Castle is not fully wheelchair or buggy accessible due to the number of stairs found at both the Norman Keep and the Castle Apartments.
There is no car park at Cardiff Castle, although there is a pay-and-display car park located beside Bute Park along North Road.
If you work or live in Cardiff you can apply for a Castle Key which will give you free entry to Cardiff Castle for 3 years.
Only assistance dogs are allowed into Cardiff Castle.
We had a great time during our dragon hunting adventure at Cardiff Castle and were glad we visited it before we left the UK for Portugal. There is plenty to see and do at Cardiff Castle and young children will enjoy it as much as adults. We can highly recommend a visit to Cardiff Castle if you are in the Welsh capital. It's also a great place for a dragon hunt with little ones.
Have you had the pleasure of visiting Cardiff Castle?
Cath x
*Prices and visiting times correct at the time of writing this post.

Related Posts