So, you're considering jetting off with your kids but are looking for some hints, tips and secrets to travelling with kids to ensure it's a pain free, enjoyable experience. In this post you'll find some great information about travelling with kids, tips for flying with young kids, and what to do once you reach your holiday destination with my A to Z of travelling with kids. This is written from personal experience, so if I miss anything I apologise in advance!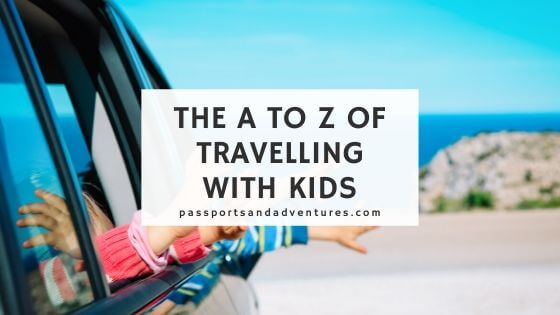 A is for airports, airplanes, all-inclusive, AirBnB's, aquariums and adventure
Whether you are embarking on adventure travel with your kids or are going to be checking into an all-inclusive resort, many of you will need to undertake plane travel as your mode of transport to reach your destination. This is going to involve airports and airplanes.
Airport travel with kids need not be stressful as long as you prepare in advance and also prepare them for what faces them at the airport. This includes having all your items easily accessible for the security scanners and chatting to kids about what happens from the check-in desks, through security and beyond, particularly if this is their first time travelling through airports. Flying with kids can be an adventure for both you and them, and it's a good idea to prepare in advance as much as you would for the airport itself. For some great tips for flying with children, read my post here.
Accommodation is also a factor when travelling with kids. Are you a family that prefer relaxing holidays at all-inclusive resorts, or are you an adventure family like us, in which case AirBnB's could suit you better? There are a number of factors to consider before deciding on your accommodation to suit your family's needs.
And one thing we can highly recommend to other families travelling with young kids is to seek out an aquarium at your vacation destination to entertain the little ones. Here is my post about the best aquariums in the world to visit with kids.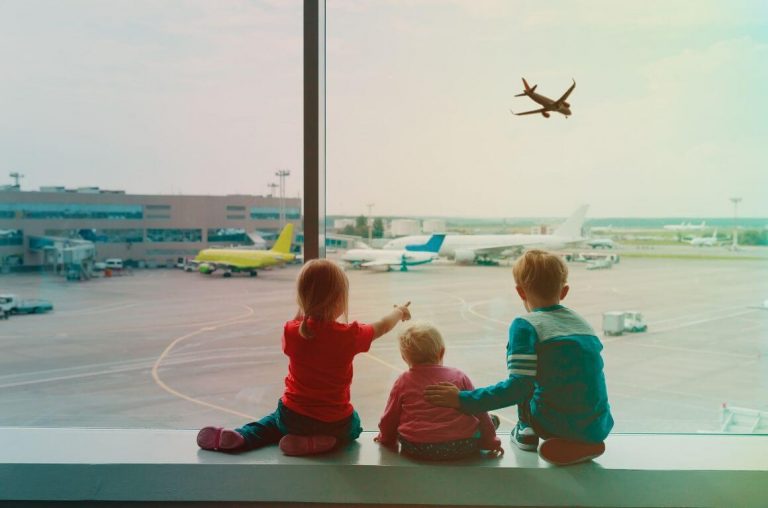 B is for budget, beaches, bucket lists and backpacks
When it comes to travelling with kids, there are places to travel with kids that blow the budget and there are places you think are out of reach but can still be done on one. One destination that we personally have not kept an eye on the budget was when we visited Yellowstone with kids. It was our trip-of-a-lifetime and was out-of-this-world.
One trip families often think of as a once-in-a-lifetime trip is paying Santa in Lapland a visit. If you get a quote from travel agencies, it is eye-watering. However, there is a cheaper way to do it. Read my post here to find out how we visited Santa in Lapland on a budget and how you can make that trip a reality without needing to rob a bank.
And Lapland is often on people's bucket lists. It was certainly on our family travel bucket list alongside many more places which we are slowly ticking off. Do you and your family have a bucket list? Let me know what's on it in the comments below!
Travelling with young kids can be tricky and that is where backpacks come into their own. Rather than fighting with over-the-shoulder bags and trying to keep hold of kids in busy airports, make the switch to backpacks and ensure you've got two free hands, especially important if you need to race through an airport to catch a connection.
Beaches can be a great way to let the kids run off steam and can provide hours of entertainment for kids while you catch some rays or read a book. However, we're not a huge beach family and prefer culture and sightseeing instead. But each to their own.
C is for cruises, culture, castles, carriers and cities
To reach some of the best international places to travel with kids, why not consider a cruise. Cruises can be a great adventure for kids, exploring the ship as well as the port cities along the route. We've not taken a cruise yet but someone who has cruised with a baby and then a toddler was Wandermust Family and they have some great tips for first time cruisers, whether travelling with kids or not. Read their post here.
Speaking of travelling with smaller kids, if you are flying with a baby, you should really consider using a baby carrier. Carriers, like backpacks, free up both your hands and also mean you don't have to worry about a stroller at the gate in airports. These helpful baby travel items are also super handy for exploring European cities that often have narrow footpaths or culture sights which get crowded quickly. to find the best one for warm climates, check out this post.
Cities make great getaway destinations for families as there is often a whole host of things to do with kids in them. You can soak up the culture, visit castles, zoos and aquariums and there's plenty to keep both kids and their parents happy. Check out which are the best European cities to visit with kids here, with recommendations from me and my fellow travel bloggers. If you want some kid friendly international travel, Europe has a lot to offer families. It also plays host to some of the best castles in the world for kids (check them out in this post).
D is for Disney
When it comes to deciding where to travel with kids, nowhere is more magical than a trip to Disney. Whether you head to Disney World in Florida or Disneyland Paris, whichever one you choose, the kids are going to love it.
Disney also makes great trips for toddlers as there is lots to entertain them as well as older kids. "It's a small world" any one? Disney is one of the most magical places on earth to travel with kids. So, if you are based in Europe, why not check out my Ultimate Guide to Visiting Disneyland Paris with Kids here and get planning your own magical trip to see Mickey and friends.
E is for eating locally and emergency packs
Travel food for toddlers can sometimes be tricky but we've never found it too hard to feed our son, even when he was smaller. Firm favourites have, generally, always been on offer or we've been able to make up a meal for him from our own plates. Once they get older, it's great to start introducing kids to new foods and trying to eat locally wherever you are visiting. It often works out cheaper and the food tastes great. We certainly enjoyed eating locally in Thailand and Dubai.
When travelling with young children, you should always travel with a medical kit or emergency pack. It should have the basis of a first-aid kit for cuts, scrapes and bruises and be supplemented with other things such as pain-relief medication, rehydration sachets (just-in-case) and any other essential medication you think you might need. When travelling abroad with a child, never leave home without at least a first-aid kit and pain-relief medication suitable for their ages. Kids will, and do, get sick on holiday or while travelling and it's essential you have the basics with you to cover you until if/when you need to see a doctor.
F is for flying tips and being flexible
Travel with kids often starts with flying with an infant or baby, if you're adventurous and confident enough to do it. We started flying with our son when he was just a few months old and we haven't stopped since, with him racking up over 70,000 nautical miles before his sixth birthday.
And as a result of all that flying, we've learned a thing or two about travelling by planes with kids. I've written an in-depth post full of tips for flying with a baby or toddler but it's not just for young kids. Many of it is transferable and you'll find many of them are great tips for flying with kids of all ages.
Another valuable lesson we've learned is to be flexible when travelling with children. As much as you might want to see and do it all, sometimes you simply can't. That's when flexibility really comes into play. Whether you have to change your plans because they have fallen ill, or are jet lagged (see below) or are simply tired from lots of sightseeing, be prepared to throw the plan out of the window when it comes to travelling with kids. Sometimes it'll go to plan, but sometimes it won't. Someone who knows all about being flexible to have an epic family holiday is Wanderlust and Wet Wipes. Read her post here about how to have such a holiday.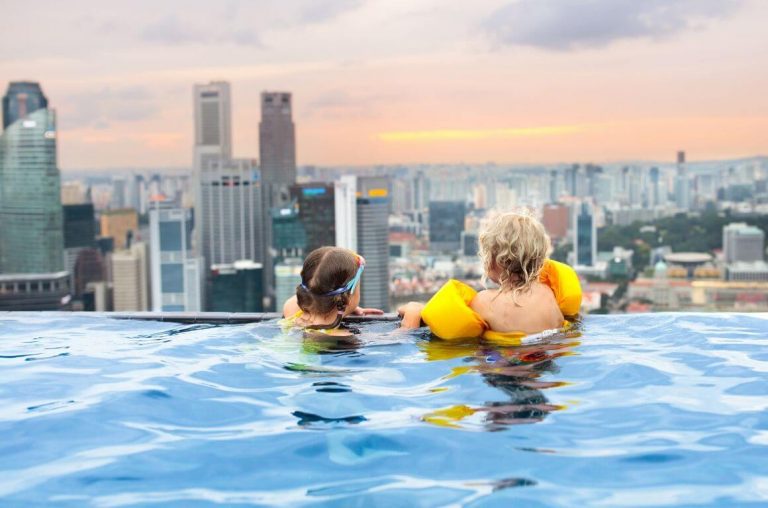 G is for going with the flow and Groupon
As well as being flexible when you're tripping with kids, you may also need to get into the mindset of going with the flow. This could be as simple as doing what they want to do, throwing your itinerary out of the window, or even sometimes going away with no plans other than to see what happens and going with the flow. These holidays can sometimes become the best holidays you've had.
We went to Slovenia once with no plans at all, pretty much went with the flow with our friends and it was one of the best holidays we ever had around Lake Bled and was the trip that turned us from package-holiday lovers to package-holiday haters.
And if you're a family that love bagging a bargain and like doing trips and tours within the destinations you are visiting, I can highly recommend keeping an eye on Groupon for the destination you are heading to. From tours and trips, to hotel and meal deals, you might be able to save yourself some serious cash by using Groupon.
H is for history and hotels
When visiting new places, we often seek out a bit of history, be it through visiting a castle or museum, or wandering the old town part of cities. And the historical sites don't need to be boring for kids. Turn the visit into a game for them.
We created a game of 'dragon hunting' at castles where we hid a small dragon teddy in a hole or nook and our son had to 'hunt' it out. By keeping the hiding part of the game until towards the end of your visit, you get to enjoy the castle without it becoming boring for your kids because they spend their time trying to find said dragon. Try it, it might work for you too!
Travelling with kids also means hotels in certain cases. We've been a family that has generally shied away from hotels, mainly because of Mr Passports' snoring. But recently we've found some great hotel options via booking.com where we've been able to get two-bedroom hotel apartments or inter-connecting rooms which work out great. While we still prefer the freedom of AirBnB, booking.com is our new go-to place for checking out hotels and accommodation.
I is for illness, insurance and investigating
International travel with children is a wonderful thing, but, and that's a very big but, things can and sometimes don't go according to plan. Which is why having travel insurance is an absolute must when it comes to kids and travel. It's a non-negotiable in my book.
Anything can happen, you just never know but having insurance can take the sting and worry out of things for you. For instance, what if your kids get sick and illness means you cannot travel, either before or even during your holiday? Our son came down with chicken pox while in the Canary Islands and we were grounded until his spots started crusting over. Thankfully, our insurance paid for our accommodation and return flights for one of us and our son. We only had to pay the cost of my husband's flight as he chose to remain with us. Without it we would have had a hefty bill on our hands.
Travelling with kids also brings investigation into things. Firstly, investigating where and when you're going to holiday and secondly, investigating great things to do to keep both them and you happy. You can also create investigating games out of sightseeing and visits to cultural sites if you think your kids might not enjoy them as much.
J is for jet lag
Long flights with children, crossing several time zones, may bring jet lag with it. When it comes to kids and flying long-haul, this is often an unavoidable consequence. We've experienced it a few times, generally when we visit the USA from Europe. Despite our best efforts to get onto our new time zone as quickly as possible, it rears its ugly head in those first few days.
But jet lag can play to your advantage as we discovered when we visited Yellowstone National Park. Being up before dawn meant we got to enjoy some of the best things to do in Yellowstone before the crowds descended on the park later in the day. We also experienced it when returning to Europe from Dubai. It always seems to be worse for us going West. We do use all the tricks in the trade, and I've written a post about how to survive jet lag with kids which you can read here.
K is for keeping them happy
When you are flying with kids, and especially if it is a long flight with a toddler, you need to pull out all the tricks to keep them happy. Keeping kids happy, whether it's on a flight, long train journey or even road trip, is essential for peace of mind, both yours and your fellow passengers.
The easiest way is to ensure you've got the best airplane travel toys for toddlers and kids which could also lend themselves to other modes of transport. An array of toys and entertainment 'should' keep them happy for a while.
And I recommend you ensure you have all the children's holiday essentials with you in your carry-on bags, which will help keep them happy. For a great list of hand luggage essentials for kids, read this post.
L is for Lapland and luggage
Personally, I find that the best bags for travelling with kids are backpacks as I've mentioned. They keep both your hands free, particularly handy when travelling with younger children. Carry-on luggage needs to be planned when it comes to flying with kids as there are some things you need to have with you, especially when flying long-haul.
Recently, we've started mixing backpacks with carry-on trolley cases, the backpack containing pretty much everything we need for the flight, and the trolley with other back-up things and valuables we don't want in our hold luggage.
And do try to be savvy when it comes to packing your luggage. Try and take less than you think you will need, as we've often taken more than we've used, and it just adds extra unnecessary weight.
For our hold luggage, we prefer hard-shelled, wheeled cases over any other type, mainly for the easy of rolling the luggage through the airport. But the type of luggage you use is a personal preference, so go with what you're happy with.
That said, one of the best travel destinations with kids doesn't lend itself to the words 'travelling light'. Lapland, a place many family longs to bring their children, means winter and ski wear due to the cold, cold temperatures you'll experience at the time of year you are likely to be visiting – winter. That said, Lapland is a magical place to take your kids, and as you've already seen it can be done without breaking the bank. If you would like to know what clothes to pack for Lapland with kids, check out my Lapland packing list post. And for great tips for visiting Lapland with kids, check out this post.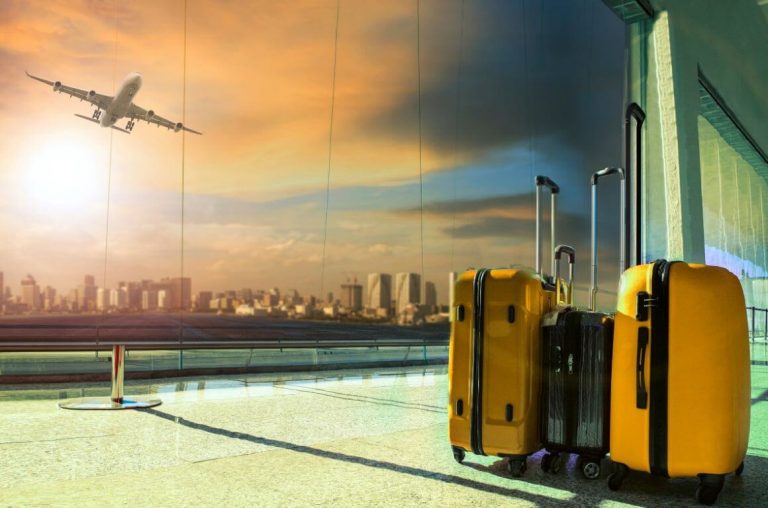 M is for museums
As well as zoos, castles and aquariums, we often seek out museums to visit in cities we are travelling to. And there can be a range of different ones which are ideal when you are traveling with toddlers.
The best ones we've visited have been dedicated children's museums such as Imaginosity in Dublin and the Portland Children's Museum. Science museums can also be great, with interactive displays, talks and exhibitions for toddlers and older kids too. The Oregon Museum of Science and Industry has a whole room dedicated to the younger members of the family, and Explorium in Dublin was a museum that was out of this world. So much for kids and parents alike. To learn more about some of the best museums for kids around the world, read this post.
N is for national parks, natural history museums and natural wonders
Sometimes families can find it difficult to decide where to travel with young children, but you cannot go wrong with a visit to a National Park, whether it is one of the big US ones or a local one in Europe. As you know by now, we visited Yellowstone National Park with kids and it was an amazing holiday, seeing the natural wonders, wildlife and driving incredibly scenic routes. Check out which US National Parks are best for kids through this great post from Wandermust Family.
And there are national parks in almost every country we've visited with Ireland having a few including the Killarney National Park, Croatia has some breath-takingly beautiful ones and even closer to home in Portugal. National parks are a great place to take kids. So, why not forgo some of your international trips with kids in favour of finding a great national park closer to home to explore.
And following on from my previous point about museums, natural history museums can be great places to visit when you are undertaking city trips with kids. Many cities have one and they can be great indoor places to visit if it's raining outside.
O is for online tickets and off-peak travel
If you can manage it, the best time to travel with your kids is off-peak. I completely understand that once the kids start school this becomes more difficult, but for those of you with younger kids, off-peak travel can be a great help on your wallet. We are lucky here in Portugal that children do not start school until they are 6 years of age, so we made the most of it and took time away from preschool during term time if necessary, although we did try to stick to when school holidays would be (loosely) such as Easter and Summer. And we're lucky again in that Portuguese summer holidays start in mid-June and don't end until mid-September, so we can avail of cheaper times outside of the UK school holiday times.
Off-peak travel could also be as easy as picking unusual times to travel, either by plane, train or for a road trip. By choosing unusual times to travel, you could save yourself some money or shorten your journey time if travelling by road.
And another top tip, if you are planning on visiting anywhere in particular during your trip, it is advisable to book your tickets online before you arrive to avoid disappointment. I do this regularly and can often find discounts online as well as securing tickets before we go. I've booked tickets to things like the London Eye, SeaLife London, the Sagrada Familia and Parc Guell in Barcelona, and the Dublin Children's Museum, Imaginosity, which limits numbers and has time slots which get booked up quickly, especially during busy times of the school holidays. This way we've avoided disappointment and have often saved a few quid by booking tickets online.
P is for planning, packing, pictures, being prepared and parks and playgrounds
One of my biggest tips for traveling with kids is to plan, plan, plan. Planning plays a big part in the success of many of our own family trips, so try to plan as much as you can. Whether it is securing your accommodation and flights early, paying to sit beside each other, writing your packing lists or even planning your itinerary. But even the best laid plans may not turn out exactly how you'd like them, so be prepared for everything to fall by the wayside (see I for illness as one example).
Another part of travelling with kids is pictures. Each family, no matter who they are, are bound to take a ton load of pictures when they are travelling with their kids. That special moment in Lapland with huskies, meeting Mickey Mouse in Disneyland, swimming with fish in Thailand, we all want to catch those special moments. But do it responsibly. Try not to capture pictures of other people's kids and be mindful of where you are sharing pictures of your own kids on social media. And do protect your pictures by sending them to cloud based storage so that you have access to them, instead of holding them on a USB drive or on your computer.
When it comes to entertaining kids on holiday, parks and playgrounds can be a great source of free entertainment and fun. Getting outside after a long-haul flight can be a great way to try and overcome jet lag and parks with playgrounds are the perfect setting to let kids let off steam, get some much-needed sunlight and for general fun. Find out which are the best parks and playgrounds around the world for kids in this post.
And finally, one of my best tips for flying with a toddler is to be prepared. Have all your toddler holiday essentials for the flight neatly packed in your carry-on luggage and to hand to ensure you aren't rummaging around in a panic trying to find anything. Airplane essentials for kids should also be close to hand to keep them happy and especially during take-off and landing when you can't get out of your seat to find something. Also be prepared for the security lines in airports, have extras supplies with you in case of unforeseen delays, and be prepared by having all your documentation and printouts to hand at all times.
Q is for feeling queasy and quiet time
If you are undertaking car travel with kids, and if your kids suffer from car sickness, ensure you are prepared, especially for long road trips. Take things to try and quell the queasy feeling, make regular stops and have plenty of sick bags and extra clothes in the car, just in case. And nappy/diaper sacks are great for keeping soiled clothes from stinking out the car too much.
Quiet time, in my opinion, is a must where children and travel are concerned. Flying with children can be exhausting for both you and them, particularly long flights, so do plan some quiet time for everyone. Even a day of sightseeing can be tiring. Generally, when we are on a city break, we try to do our sightseeing in the morning and by late afternoon we are back at our accommodation watching some TV or relaxing. It's essential to give kids some down time while you are away, or you run the risk of having over-tired kids on your hands and that's no fun for anyone.
R is for road trips, rain gear and rewards programs
Road trips for kids and their families can be one of the best ways to holiday with each other and to explore new places together. Being mobile means you can go where you want, when you want and, more importantly, stop when you want. Road trips give you lots of freedom and are a great way of visiting a few different places in one trip. Our biggest and most ambitious road trip to date saw us travel 3000 miles in 2 weeks from Portland to Yellowstone and back again with our then 3-year-old. It was one of our best holidays, gave us a flavour for road trips and is something we have a lot of fond memories of. See the route we took from Portland to Yellowstone in this post.
If you are travelling somewhere that can have unpredictable weather such as Ireland or the UK, then make sure to pack kids holiday essentials for all eventualities. And that means rain gear. I have been buying a waterproof all-in-one suit for my son for a few years and it's one of the best travel accessories we have. It rolls up small, is lightweight and can be popped over his clothes quickly, a must if it suddenly starts to rain. It also means I can say "Yes" if he asks to run through puddles or slide down a muddy slide such as the one we encountered at Lismore Castle in Ireland.
And do remember to sign up to rewards programmes for flights and hotels. They can be a great way of getting discounts, air miles or things like free WiFi, so it is worth signing up to them, especially if they are free.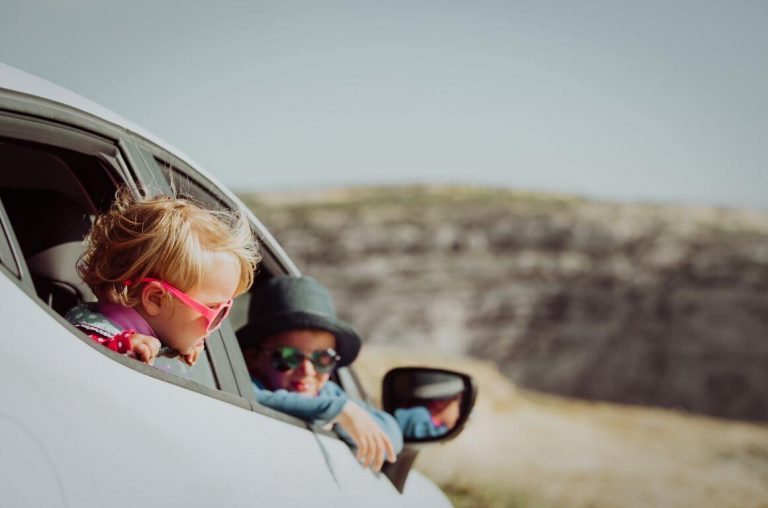 S is for self-drive safari, snacks, sunscreen, stroller and stickers
Baby travel essentials must include sunscreen if you are heading off to sunnier climates. It is essential to protect babies, young kids and others from sun damage, especially at such a young age. Factor 50 is the only thing you should be packing for them. And make sure to choose one suitable for your kids' skin, especially if they suffer from sensitive skin.
A baby travel stroller is one of those travel essentials for children that you need to consider carefully. Wherever we travelled with our son under the age of four, we elected to take his stroller to ensure we had somewhere he could rest if his little legs got tired, or somewhere he could nap when he was under 2. But and this is a big but, as I've already mentioned there may be times and places where a carrier would be better, so do consider whether you need a stroller or not when you are travelling with little kids.
When it comes to keeping them happy, remember snacks to take on the plane for toddlers. Of all the toddler travel essentials for flying, snacks are one of the most important for keeping hunger at bay, especially in between meals on long-haul flights, or to feed them if you don't want to pay an arm and a leg for food on budget flights (within Europe for instance). Snacks, and lots of them could mean the difference between happy and hangry kids.
And also remember the stickers and sticker books. These can be very useful for keeping toddlers entertained on a flight, especially during that tough 20 minutes or so before landing when they simply cannot get out of their seat or off your lap. These were a lifesaver when our son was travelling on our laps on flights before he was two years old.
Think a safari with young kids is a no-no? Think again. Safaris can be enjoyed with kids of all ages and if you elect for a self-drive safari, you can take things at your own pace, stop when you or the kids need it and have the freedom to work from your own timetable. Wanderlust and Wet Wipes has a great post full of tips for a self-drive Namibia safari to help convince you.
T is for travel toys and thank you (in other languages)
Another great way to entertain kids, particularly younger ones, on long flights and trains journeys is with toys. Small, non-noisy toys are best, along with things like colouring books, stickers books and of course, tablets. For our son, we liked Duplo pieces, small cars and animal figures to keep him happy on planes. For some ideas of the best travel toys for toddlers, check out my post here.
One thing we always try to do when we visit new places is learn please and thank you in the local language. You can get a long way if this is something you make an effort to do and with Google Translate at many of our fingers tips these days, it's also an easy thing to do. Simple manners and respect will help you in new, foreign countries. So, make sure you at least learn those for every new country you are visiting.
U is for use public transport and unplug
If you are wondering how to travel with kids at your chosen destination, using public transport can be a great way to get around, discover new cities and can also be a great money-saving way of travelling. Whether it is hopping on a bus or venturing onto the Metro, using public transport is worth trying at least once. And if you get lost, the adventure comes from finding your way back to where you are staying.
Some of our best travel with kids has come from unplugging. This means switching off devices, leaving phones/tablets/cameras behind and being in the moment as a family. Technology can sometimes get in the way, and by switching off you can be present for your kids, enjoy whatever it is you are doing together as a family, and if it means no photos, it doesn't matter as it is the memories you make that matters more. So try and unplug on your next holiday, even if just for a day.
V is for vacation, volunteer and vaccinations
Europe is a great place for a family vacation and has so many different places and cultures for families to enjoy. While we have explored some of Europe there is so much more we want to enjoy with our son. We have many European countries and destinations on our bucket list and are slowly ticking them off. To find out which are the best European countries to visit with kids and the best cities within them for families, check out this post.
Some travel with kids may involve ensuring you are safe from certain illness by getting vaccinations. For most Western countries, the normal childhood vaccinations are enough, but for places like Africa and Asia, you will need additional vaccinations to keep both you and your kids safe. Make sure to check your local government travel website for up-to-date advice on additional vaccinations required for the places you will be visiting. And make sure you leave plenty of time for getting them before you jet off.
If you are looking for an alternative type of holiday for your family, why not look into a volunteer holiday. It could be helping a local community, working on animal conservation or cleaning up beaches. Whatever the activity, these can be a great alternative vacation and a chance for you to connect as a family while doing good with a local community or project. And you never know what might come of it as Wanderlust and Wet Wipes found out. Read her post about how an interview and subsequent volunteering changed her life.
W is for water
When travelling to unfamiliar places, one of the things I always check before we go is if the water is safe to drink. And I mean the tap water. No-one wants to pick up a water-borne illness and in certain countries the tap water is not safe enough to use while brushing your teeth, let alone drinking. For this reason, a water purifier or water purifying tablets are travel essentials for kids and their families. We recently invested in a Grayl Water Purifier bottle to use in South East Asia and it worked a treat. So, do your research before you travel to keep your family safe.
X is for xray scanners and eXpectations
When you are tripping with young travellers, you need to sometimes lower your expectations. If you think you can go sightseeing from 8am to 8pm with young kids, you are sorely mistaken. Firstly, little legs won't hold out that long and unless you have something fun for them to do like visiting a zoo, aquarium or children's museum, you will likely hear "I'm bored" several times. So, lower your expectation and realise that you might not get it all done….this time.
And as already mentioned in a previous point, it is worth explaining the airport x-ray scanners to your kids before you reach the airport, especially if it is their first time and make sure you are all prepared for them before you reach the top of the queue. This way you will avoid the "tuts" and glares from other travellers.
Y is for saying yes
Sometimes it is nice to simply say "yes" to your kids when travelling. Instead of having every day planned with military precision, why not leave one day free and ask them what they want. And, within reason, say yes. The reaction you will get will be much better than if you tell them they are going to yet another museum. We've done it with our son and ended up have a great day, no matter what it was he chose for us to do. So, say yes at least once during the holiday.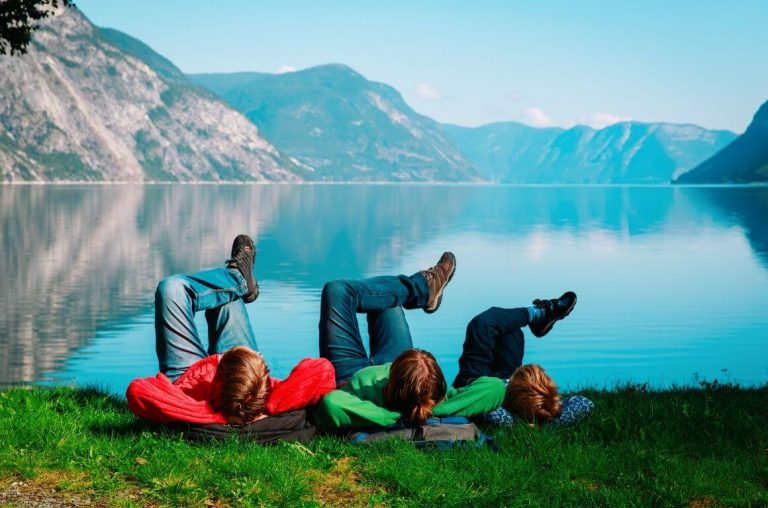 Z is for ZZZ's (sleep/naps) and zoos
We found car travel with a baby easy when we timed our travel for when our son was due a nap. While he has generally been a good car traveller, getting into the car when he was due a nap ensured we got most of our journey done while he was sleeping. He still occasionally takes a nap on long car journeys, such as when we travel back to the Algarve from Lisbon and it means he has missed the majority of what can be a boring car trip. Just ensure little kids who are toilet trained visit the bathroom before you set off. Or, ensure you have a towel underneath them, just in case.
And one of the best places to visit in cities when traveling with children is a zoo. While some people do not like to visit them for ethical reasons (and that's fine), we do like to visit them with our son as it gives him a chance to see animals he wouldn't normally get a chance to see, and we can talk to him about conservation and educate him about being kind and considerate to the world around him. To find out the best zoos to visit with kids around the world, check out this post.
Summary
Whether you embark on international travel with kids, or travel closer to home, I hope you've found a few hints and tips within this post. Even if it is ideas on where to travel with young kids, ideas for keeping them entertained on the journey or other tips to make travelling with them easier. And this is by no means an exhaustive list, so if you have a handy trick or tip for travelling with kids, do let me know in the comments!
Cath x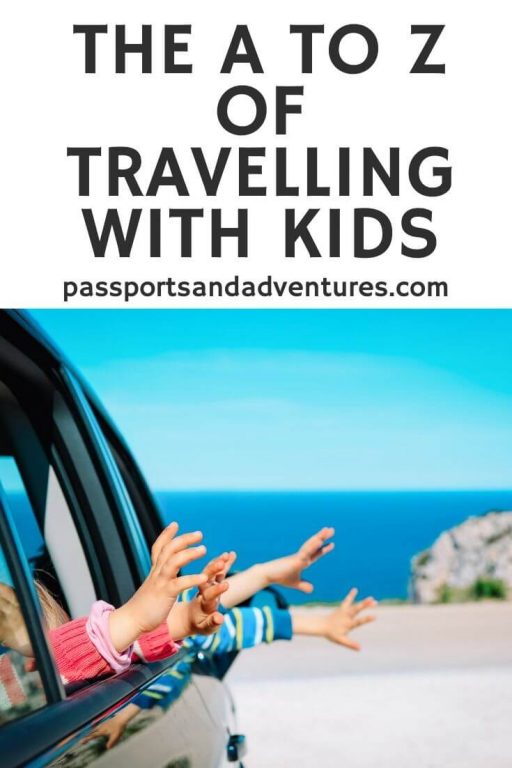 Related Posts