If you had told me six years ago I would love nothing more than travelling with a kid in tow, I'd have told you that you were crazy. Fast forward those six years, now with a little boy in the equation, and that's exactly what I love. In this post I want to share with you the reasons why travelling with young kids is awesome, all the reasons we love about travelling with our son.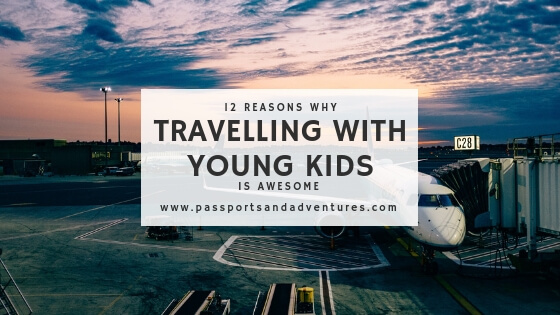 Many parents are filled with dread about travelling with their young kids. They put off going on holiday because they fear the worst. However, travelling with young kids can be enjoyable and very rewarding and here's why.
Why Travelling with Young Kids is Awesome
You learn to travel slower
Fact. With young kids in tow, you simply can't go 100 miles an hour. Firstly, their little legs won't allow it. Secondly, they can tire quite quickly, a lot more so than us adults. And it is for this reason that you are forced to travel slower.
When our son was just eight months old, we took him on his first holiday abroad. We booked a package holiday to Gran Canaria and it was one of the worst holidays we had. Naively, we thought we could just pick up where we left off before having him and we were oh so wrong. We had to slow down and work around him.
Since then we've actually started enjoying holidays more as a result of having to slow down. We don't rush our way around cities and we don't hurry from one place to another, trying to cram everything in. We always plan ahead, taking into account whether our little travel companion will tire quickly and just how much he'll put up with in one day.
Jet lag can be a b*tch but work it to your advantage
We've felt the effects of jet lag twice, both times while in America. The first time we visited the States, we went to New York with our then two-and-a-half-year-old son. We were only there for five days and he was awake at 3am, 4am and 5am. However, it did mean we were on Manhattan Island before 8.30am and eating breakfast before going sightseeing most mornings.
And on our last morning there, we were at the Empire State Building shortly after it opened, meaning we missed all the horrendous queues we had read and heard about. After paying, we walked straight through, onto a lift and up to the 80th floor. Same again going to the 86th floor.
Jet lag can be a pain but getting up early means you're out and about and beating the crowds. And this was a huge advantage for us when we visited Yellowstone National Park a year later. With our son waking at 5am most mornings, we were in the park just after 7am for the few days we were there. On our first morning we got to the Mid-Geyser Basin to see the Grand Prismatic Spring area before most of the other visitors rocked up. The previous day we had driven past the area and there was no parking, cars were parked on the side of the road for at least a mile in both directions. But, because we were early, we got a space within the car park of the Mid-Geyser Basin.
The next morning we were into the park early again, this time being one of only two cars at Gibbon Falls, and some of only a hand full of people making their way down the ravine to view the Lower Falls of the Yellowstone River. If you'd like some tips about surviving jet lag with kids, I wrote a post recently which might help.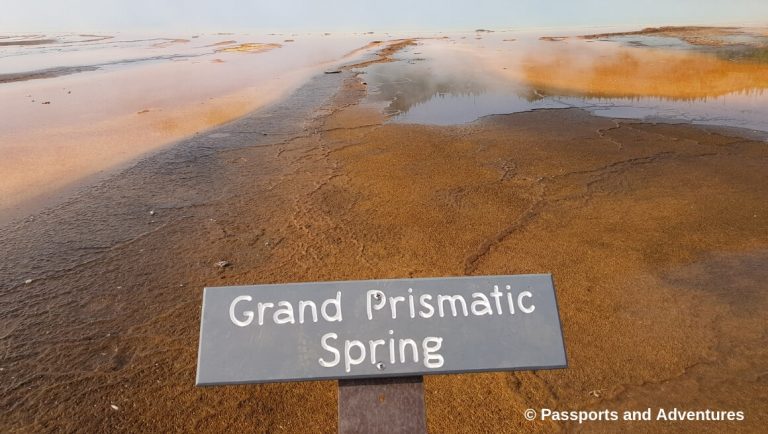 Enjoy attractions with kids
You get to enjoy attractions you might have overlooked had you not been travelling with kids. Places like Disney take on a whole new meaning. Zoos become fun again and children's museums are go-to places to visit with kids. Likewise, aquariums. All of these attractions we would never have included in our itineraries were we on our own.
And, although we had visited Disneyland Paris as a couple, we never got the most out of our day trip there from Central Paris. We'd wander around, go on two or three rides at most and never, ever caught a parade, show or meet and greet. That all changed when we visited Disneyland for the first time as a family. I planned our time there as much as I could, and we did so much more. And enjoyed it too. And Mr Passports and I agreed that Disneyland Paris was more magical with our son in tow.
New things
Travelling with children not only means you get to experience new things together and visit places you might otherwise have overlooked, but by introducing your kids to new things, you are helping to make them better travellers for the future. Travelling to new countries and cities, and experiencing new food, people, languages and cultures opens their eyes to the world out there. Kids can start to appreciate that the world is a very big place with so many opportunities from a young age if you take them travelling. I firmly believe it makes them more receptive to change as well.
You also get to enjoy new things that travelling with kids forces you to consider. We've experienced the fun of children's museums with our son and taken him on dragon hunting adventures in castles across Wales, Ireland and even Portugal. You get creative in terms of making games out of certain things so that everyone enjoys them. That's why we started the dragon hunting adventures. We lived in a region of Wales that is rich in castles and history and in order for us to visit them, we needed to ensure our son would too.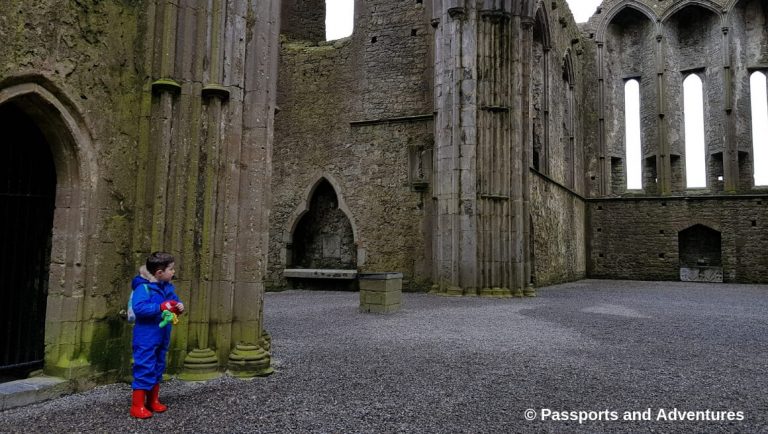 Get closer to nature
Travelling with kids allows both you and your children to get closer to nature. You are always thinking about things to do with them and eager to get them out in the fresh air. Lighting a camp fire and making s'mores is an example of how we've gotten closer to nature.
When we stayed in a log cabin in the woods of Idaho during our two-week USA road trip, our hosts had left a s'mores making kit and instructions. Our son loved it and so did my hubby. Refilling the box with kindling for the next guests at our AirBnB was something our son thoroughly enjoyed as well as setting the camp fire with his Dad.
While we were in Yellowstone, we got up-close-and-personal with nature when visiting the geyser basins, even getting some spray on us at the Upper Geyser Basin. We took a gentle hike to see the Dragons Cauldron in the Mud Volcano area and it was amazing, even though it was raining a bit. Our son also loved looking through his binoculars trying to spot bison.
Get a break from the digital world
Travelling with kids can also allow you to take a total break from the digital world. Firstly, you might not have any connectivity at all, as we experienced in Yellowstone. It means you can actually enjoy your break and cherish the new memories you are making without having your phone going off with notifications every few minutes.
Kids also don't want to see Mum and Dad's heads buried in their phones during a visit to the zoo or aquarium, so you are forced to put the phone away and be present in the moment. When we're away with our son, I do my utmost to limit my time in the digital world and will often leave my phone on silent and in my bag, favouring a camera for those all-important pictures instead. I'll check my phone in the evenings when he's gone to bed. But a break from the digital world is a good thing when travelling with kids.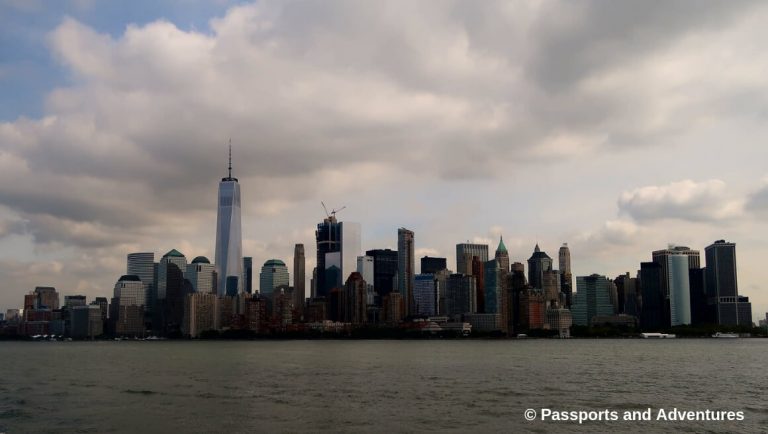 Bond as a family
Travelling with kids is a great way for a family to spend quality time together and to bond as a family. My husband works very hard and, although he works from home, it is often difficult for our son to understand that Dad needs to work and that he can't play cars or build Lego with him right at that moment. Taking holidays and travelling together means my hubby has time to spend with our son and we all enjoy the quality time together, away from the house and even the dog. There are occasions where Mr Passports needs to take a work call or answer an email when we're away, but they are few and far between.
And if you want an example of quality time as a family, look no further than Karen of Travel Mad Mum. She and her husband have spent her two separate years of maternity leave from her nursing job travelling the world with firstly her daughter, and then as a family of four when their son arrived. Not only did her hubby get to spend a year bonding with both children, something other fathers rarely get, but as a family they had a whole year together to enjoy and see the world. If you haven't checked out her blog, I suggest you do!
Naps
When travelling with young children who still nap, you can enjoy naps with them and won't be judged by anyone. During that aforementioned naïve trip to Gran Canaria with a then eight-month-old son, we totally took advantage of his afternoon nap.
Naps can also work to your advantage in terms of when to do the physical travelling of your trip. You can plan to be travelling when they are due a nap and know that they will likely be quiet for the journey. This can work for long-haul flights if you elect to go with night flights. This will work only if your child will fall asleep no matter what. After being grounded in Lanzarote due to a certain boy coming out in chicken pox, we got an evening flight back to the UK. And even though it was his bedtime, our son refused to fall asleep, staying awake until nearly midnight!
Making memories
The memories you make while travelling with kids are priceless. Even if they will be too young to remember the trip themselves, the memories will be alive in the photos you take, the videos you film and through the memories of you, the adults. Just talking about our trip to Yellowstone makes our son start talking about bison. And he is constantly asking when we are going back to Disneyland. Soon my little one, soon.
But there is no amount of money, or material things, that can replace the memories you make as a family while travelling. Heck, even now, 30 years on, I remember clearly the sand storms in Saudi Arabia during the two months my family were there. And the pool being shut after said sandstorm. Long may our memory-making continue.
See the world through their eyes
Travelling with kids opens your eyes to their world. The world around them and how they see it. Aside from visiting zoos, aquariums and children's museums, you get a chance to see their imagination and curiosity come alive. There is wonder in their world and by travelling with kids you get to share it. For instance, when we stayed in the log cabin near Yellowstone, it wasn't a log cabin to our son. It was a "cave" in the Deep Dark Woods, as in the Gruffalo's cave, and he was thrilled that we were staying in one. We also got very used to hearing the word "bison" being shouted out from behind us, usually in the afternoons.
Castles are not boring places, they are somewhere to hunt imaginary dragons, or in our case, a dragon teddy bear. Even old abbeys like the Rock of Cashel look like castles. And an open-ended pipe slide is something that just has to be slid down. Thank the heavens he was wearing waterproofs over his clothes. Travelling with kids and seeing the world through their eyes brings so much fun and enjoyment.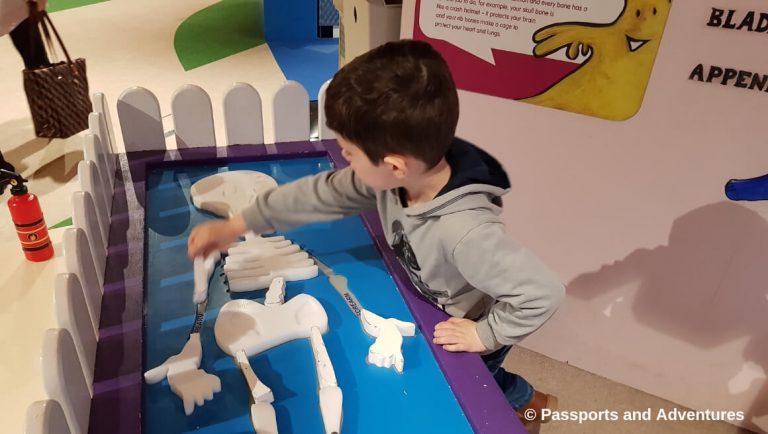 They are ice breakers
Kids are natural icebreakers. People will generally be nice to them and will start up a conversation with you asking their age, where you are from. I had a chat with a lady while waiting to use the toilet on our flight from Heathrow to Portland. I learned she was British but had emigrated to Portland for her husband's work.
In Barcelona more recently, our waiter in the Hard Rock Café was so nice to our son and we learned he was from Galicia in northern Spain and that he knew some Portuguese as well.
People are usually less afraid to approach someone with kids in tow. I'm not sure if it's because families are seen as more approachable generally or if it's because kids will talk to anyone, but no matter where we are we are never short of conversations with our son in tow.
Forces you to consider your travel choices
When travelling with kids, you have to think about so many things before you even get to where you are going to. From things like your flight times and connections, to where to stay and what to do and see.
When we were going to visit Santa in Lapland and when looking at our flights, we were offered flights via Lisbon with TAP to Helsinki. They were cheap enough but when I looked at the connection times I had a rethink. 1-hour connection on the way out and 45 minutes on the way back. Not enough time when you are flying with a less-than-reliable airline. Same thing for the following year's trip to Thailand and Dubai. Initially we were offered very tight transfer times, but I checked again and for not much more we managed to get 3 hours for a connection. This would be enough time to catch our connection if we were slightly delayed and would also give us time to grab a bite to eat before our onward flight. It would also allow time to visit the bathroom too. You know how kids are!
Travelling with kids also makes you think carefully about where to stay and in what type of accommodation. Hotels can be convenient, but you don't have any cooking facilities. There is also nowhere to escape to other than the bathroom once they are asleep. I don't fancy hiding in the bathroom with my Kindle, so we elect to stay in AirBnB's. They are much more flexible when travelling with little ones. Not only can you get at least one bedroom (unless you mistakenly book a studio), you also get a living room and kitchen, meaning you can enjoy a cuppa while watching some TV after a busy day.
And travelling with kids forces you to think carefully about your sightseeing and excursions. As I mentioned above, kids can tire easily, especially if you are visiting a country during summer, so thinking carefully about what sightseeing to do and when becomes important. We've often gone out early in the morning, done our sightseeing before heading back to our accommodation in the afternoon for some down time. And to escape the worst of the heat as we did in Barcelona.
Travelling with kids also introduces you to excursions that are family-friendly. After all, no-one wants to try and enjoy visiting a historical sight with a toddler or pre-schooler giving out because they are bored. It has to be something everyone will enjoy. What we often do is do the boring sightseeing first with the promise of the more family-orientated attraction afterwards if there are things we think our son might not enjoy. It means he knows there is something more exciting to come and helps us with bribery. Sometimes you gotta do what you gotta do. But generally, we all enjoy whatever we plan to see, do or visit.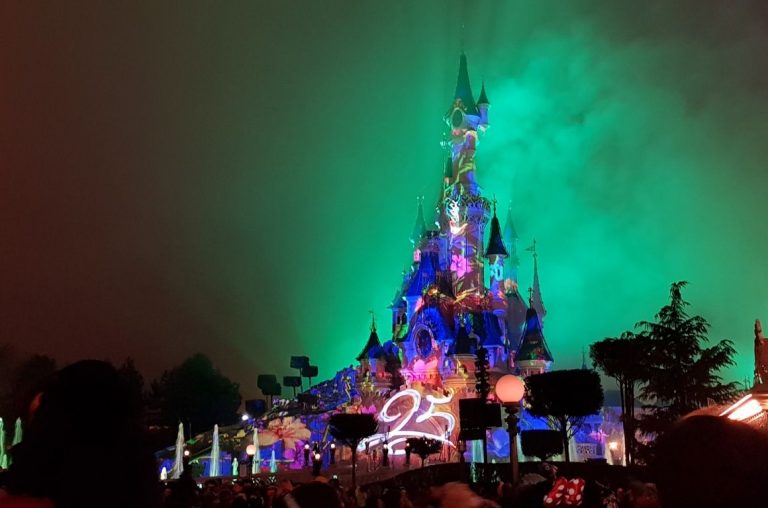 Summary
So, you see, travelling with young kids is awesome and there is so much to gain from experiencing the world with them, enjoying new things and cultures with them and making those all-important priceless memories. And you should never let fear put you off starting your worldly adventures with them.
Whether it is just days out within your own country, a staycation or a holiday abroad, stop overthinking it and just do it. Once you've done it once and got them used to the travelling part, you'll enjoy it all the more. And remember, each trip will come with lessons and a few surprises, both good and bad, but they are all an experience and something to look back on in the future.
Still not convinced? Read this post from Travels with my Boys in which Sam shares why you should travel with kids!
If you'd like some hints and tips about flying with young kids, check out the post I wrote a while back.
Do you take your kids travelling?
Cath x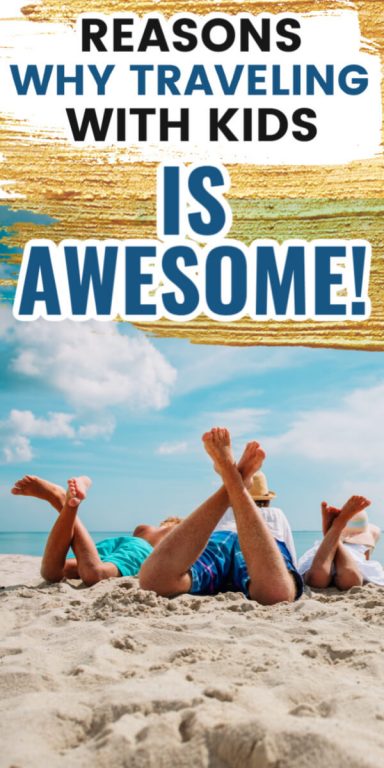 Related Posts