Bluebell season will be here in no time and it's a time of year I really miss since we left the UK. Those beautiful carpets of blue in stunning woodland locations. We just don't have anything like it near us. So, to help you make the most of the coming season, here are some of the best bluebell woods to visit with kids in the UK. I'm not jealous….. ok, maybe just a little.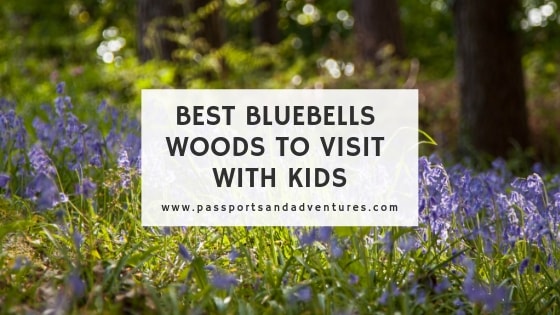 Bluebell flower season typically runs between late April and late May, weather depending. Woodlands around the UK come alive with carpets of blue all thanks to the native English bluebells and it is a Springtime phenomenon enjoyed by many.
Did you know that the UK is home to over half of the world's population of bluebells? I didn't. But it's easy to see why with many natural woods and forests dotted across the countryside.
Did you also know that bluebells tend to grow in broadleaved woodlands and, bluebells in these woods are a sign that it is a very old wood?
Native bluebells are now a protected species of flower as they are at risk of being lost due to cross-breeding with non-native bluebell species. Non-native bluebells have broader leaves and blue pollen, while native bluebells have cream-white pollen and all the flowers tend to be on one side of the stem. It is against the law to dig up native bluebells and sell them.
We first enjoyed bluebell woods on the less-popular side of Caerphilly Mountain in South Wales. I drove the back roads to and from where I was working in Cardiff and would pass by the most lovely sight in the month of May. I eventually brought my camera with me and managed to capture some before they disappeared one year.
And when our son came along, it was my goal to try and capture some pictures of him amongst a sea of bluebells. And we managed it twice. Once in a bluebell woods not too far from where we were living on the edge of the Brecon Beacons, the wood itself located near Crickhowell, South Wales.
And then just a few weeks before we left the UK for our new life in Portugal, we visited one of the most famous bluebell woods in South Wales, the Wenallt, and boy did it live up to our expectations. And now, I have to be content with enjoying bluebell season from afar through the Instagram posts and blog posts which my fellow bloggers share each season.
So, to ensure you can enjoy the coming bluebell season and get those all important pictures of your children surrounded by a blue carpet, here are the best bluebells woods to visit in the UK with kids as recommended by those who have been.
The Best Bluebell Woods to Visit With Kids in the UK
My fellow bloggers and I are going to share our favourite bluebell woods to visit with kids across the UK so that you can hopefully find one close to you that you too can enjoy. If there are none close to you in the list or on the map, then check out the National Trust website to find a bluebell wood near you. Big Family Little Adventures also has a great list to check if you are wondering "are there bluebell woods near me?".
Pamphill Woods, Wimborne, Dorset
Pamphill Woods are located in the little village of Pamphill which is on the Kingston Lucey Estate. The whole area is under the management of the National Trust and the woods themselves are in the Abbott Street copse.
During bluebell season there is dedicated parking at the Pamphill School end of Oak Street, with the Pamphill Green car park set aside for less able-parking during the bluebell season. Parking is free and there are dedicated paths through the woods to view the bluebells set out by the National Trust.
Both Sarah from Digital Motherhood and Elaine from Entertaining Elliot suggested this as one of the best bluebell woods to visit with kids.
Coed y Wenallt, Cardiff
Coed y Wenallt, also known locally as simply "The Wenallt",
is a 44 hectare area of designated ancient woodland and is one of the best places in South Wales for bluebells. The bluebell woods at Wenallt are different from the Wenallt Woods of Tongwynlais, and are accessed from the lane on Caerphilly Mountain opposite the Traveller's Rest pub.
When they are in full bloom, this bluebell wood is simply stunning. The slopes of blue are a sight to see and there are several different walkways through the woods to take and are easy to navigate.
We had a family photo shoot in these woods before we left the UK but it was too early for the bluebells. They were just starting to poke their heads out. Fast forward a few weeks and we visited during a spectacular time of the season and during the afternoon when the sun was starting to dip. It made for some amazing shots of our son and we were so pleased we had returned to the woods for this special time of year.
While there are two car parks, both of which are free, they become very busy during this time of year, and many people often park in the lane itself. So get there early in the day or later in the afternoon.
Both Katie from Mummy's Diary and Cathryn from Cardiff Mummy Says suggested this woods as one of the best for viewing bluebells with kids in the UK.
Cathryn says
We have visited here every year for around the last seven years and have to get an annual family photo, usually around the early May bank holiday. The woodlands are beautiful anyway with lovely family-friendly walks and an amazing tree trunk you can stand inside, but there's something so magical about bluebell season and the blue-purple carpet of flowers. There are certain areas where the sun shines in through the trees and the glow off the flowers is incredible. It's a really popular spot with local family photographers.


Cardiff Mummy Says
Katie also said it's a beautiful wood to visit in summer and that her daughter
loves it as she thinks it's where the fairies live, it is so magical.

Mummy's Diary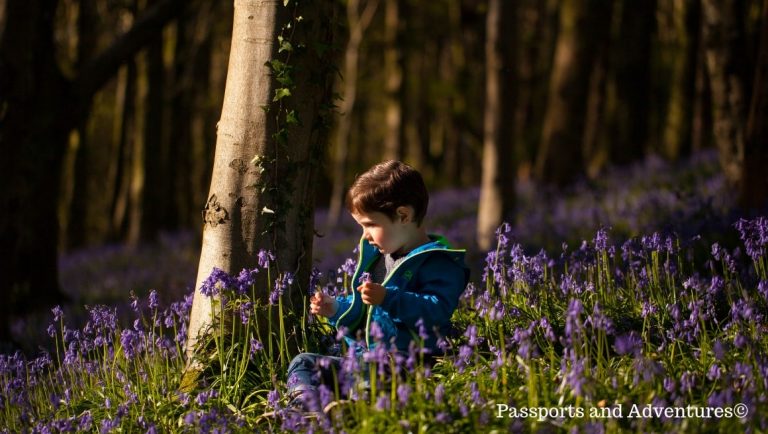 Ruislip Woods National Nature Reserve, Greater London
Ruislip Woods National Nature Reserve, at 305 hectares or 755 acres, is the biggest single area of woodland in Greater London. It has been deemed an "ancient semi natural woodland" and some parts of the woodland are reminiscent of the wildwood that once completely covered England after the last ice age, about 8,000 years ago.
Ruislip Woods is one of the best for enjoying bluebells in West London. However, they only grow in a few small section of Ruislip Woods. To find a good spot with a large display, it is best to enter the woods via the entrance at the junction of Sherwood Avenue and Broadwood Avenue. After a hundred meters walks, you should be greeted by the blue carpet on the right. This main path will lead you to the Lido beach, so if you end up there you've missed the bluebells.
Ruislip Woods was suggested by Jenny from the Gingerbread House, who said
We love our local woods (Ruislip Woods) for a stunning display of bluebells. It's on our doorstep so we visit all year round but the bluebells are particularly pretty.

The Gingerbread House
Dockey Wood, Ashridge Estate, Berkhamsted
Dockey Wood, located on the Ashridge Estate in Berkhamsted, Hertfordshire is one of the most popular places in the country to see bluebells. To help protect the flowers, and to limit the number of visitors during this particularly busy time of year, the National Trust charge for entry to the woods to non-National Trust members. At other times of the year, entry is free.
There is free parking, but like all popular bluebell sights, it is at a premium during this busy time of Spring.
There are pathways through the woods with barriers made from branches to protect the flowers. This, however, does not stop you capturing some amazing pictures with a blue carpet behind you.
Dockey Wood was suggested by Mary from Over 40 and a Mum to One, who had the woods recommended to her and said
Dockey Wood on the Ashridge Estate had been recommended to us, and it doesn't disappoint. An ancient woodland carpeted with bluebells and a wonderful fragrance.

Over 40 and a Mum to One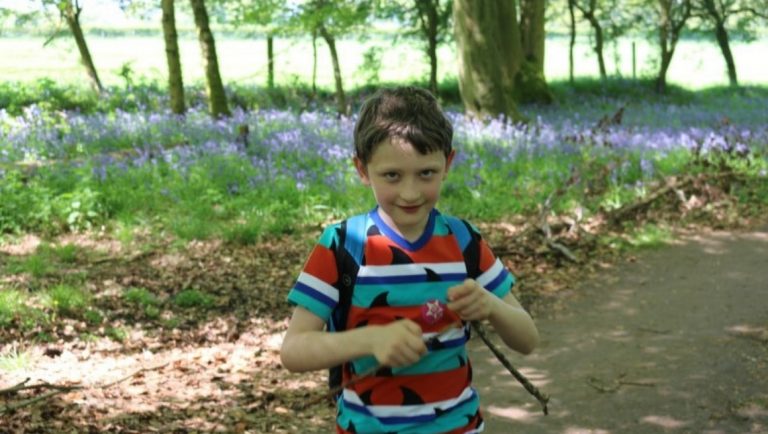 The Spinney, Hampton-in-Arden, Solihull
The Spinney is an area located within the Shadowbrook Woodland and Flower Meadow Walk in Hampton-in-Arden. The Spinney is an area with a series of walks created by the George Fentham Trust. The longest is 1.4 miles (2.3km) and takes about an hour to complete, and the shorter one is less than a mile (1.5km).
There is a car park next to the squash club and tennis courts where you'll also find an information board about the Shadowbrook Woodland and Flower Meadow Walk.
The Spinney was recommended by Kelly from It's a Tink Thing who said it's a hidden gem filled with bluebells in Spring.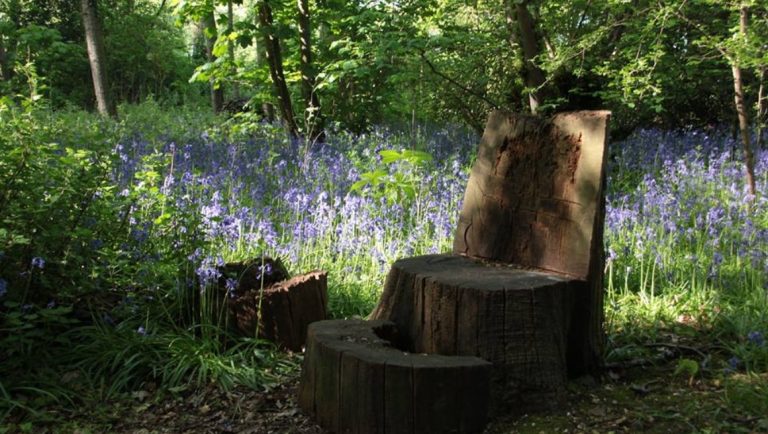 Grey's Court, Henley-on-Thames
Grey's Court National Trust in Henley-on-Thames is another great place to see bluebells in bloom. Although bluebells can be found throughout the estate, the highest concentration of them is in the Bluebell Wood. An estate map from the Visitor's Reception will show two places to go.
To view them from afar, follow Sir Felix's Gentle Path. Or you can head to the Spinney Woods for a close-up snapshot of these beautiful flowers.
Admission is payable and while you used to be able to access the woods from the lower car park, this is no longer the case as fencing has been erected, mainly to protect the flowers from cattle who would also enter the woods via this route and destroy the bluebell flowers. It does mean you have to enter the woods from the gardens at the rear of the house.
Grey's Court was suggested by Louise from A Strong Coffee To Go.
Micheldever Woods, Winchester
Located a few miles north of Winchester, the woods of Micheldever is to the south-east of the village. The M3 actually runs through part of it. It is a large forest of beech trees and conifers and as Beech forests cast long shadows on the ground, it makes an ideal environment for bluebells.
There are marked paths to follow, and there is a small car park located on Northington Lane, which is on the south side of the wood.
Micheldever Woods was recommended by both Suzanne from Meandering Wild and also Lara who has a post about a DIY maternity photo shoot in the woods.
Clyne Park, Mumbles, Swansea
Clyne Valley Country Park is Swansea's only country park, of over 700 acres.With a varied landscapes of open and wooded hillsides, to steep gorges and quarries, and also meadowland and wet valley floor, there is a variety of habitats in which you'll find a great diversity of plants and animals.
And with spacious beechwoods, it's a great place to see the bluebells in Spring in South Wales. There are a number of pedestrain access points to the park and two main car parks. The first is located off B436, adjacent to A4067 Mumbles Road, and one Ynys Newydd Road, adjacent to Derwen Fawr Civic Amenity Site off the B436.
Alana from Baby Holiday recommended Clyne Park and says
It is beautiful. The bluebells are beautiful, there's a lovely Japanese bridge which is fab for photos, and lots of little paths to explore.

Baby Holiday
Blicking Hall, Aylsham, Norfolk
The Blickling Estate in Aylsham in Norfolk is a great places for viewing bluebells in Spring. At Blicking the woodland is carefully managed to ensure as much sunlight reaches the understory so that the bluebells have the best chance at blooming in Spring.
The Great Wood of Blickling has existed since before medieval times and while it has large areas of bluebells, there are also areas without, possibly due to the wild deer that graze within the woods and who favour nectar rich flowers like bluebells and other wildflowers.
The trails through this ancient woodland can be explored on foot or bike. There is also a multi-use trails which is smoother than most woodland trails and can be used by those in wheelchairs or buggies, meaning it is a very accessible place to view bluebells in the UK.
Blickling Hall is a favourite of Susie's from This is Me Now.
Badbury Hill, Faringdon, Oxfordshire
The bluebells of Badbury Hill are located in an area known locally as Badbury Clump, an Iron Age hill fort. The woods attract a large number of visitors during the bluebell season and as there is only a small car park, it is advised to get there early.
Emma from Bubbablue & Me says
Badbury Clump near Wantage is lovely for a walk through the woods and bluebells, and being the site of an iron age fort, there's lots of history and great views across the countryside. It does get busy, so arrive early to get a space in the small car park.

Bubbablue & Me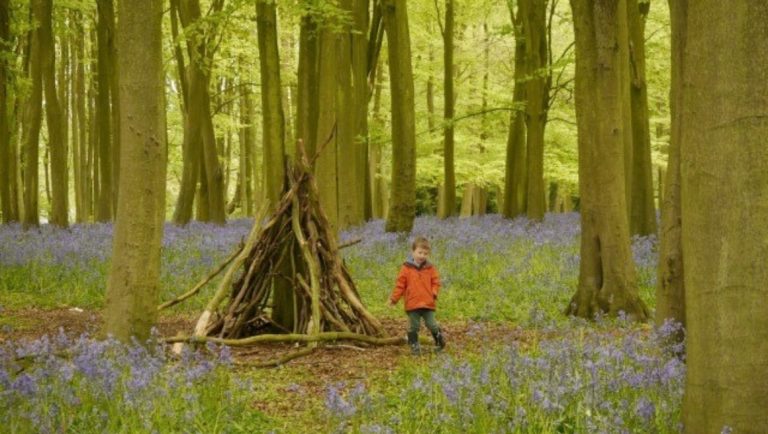 Stourhead, Wiltshire
Stourhead in Wiltshire is a 2650 acre estate under the management of the National Trust. The woods surrounding the garden at Stourhead offer up glorious carpets of bluebells, particularly in May. The recommended walk to enjoy them the most is the Bonham Walk. However, there are opportunities to see them around the house and garden as well.
Nicola from The Merralls Home said in her recommendation of Stourhead,
Beautiful garden, a lake with ducks, woodlands and amazing art in the house itself. Definitely worth a visit, plenty of fields of bluebells. We very much enjoyed our visit and got the most perfect photos from the day. Looking forward to visit again this year.

The Merralls Home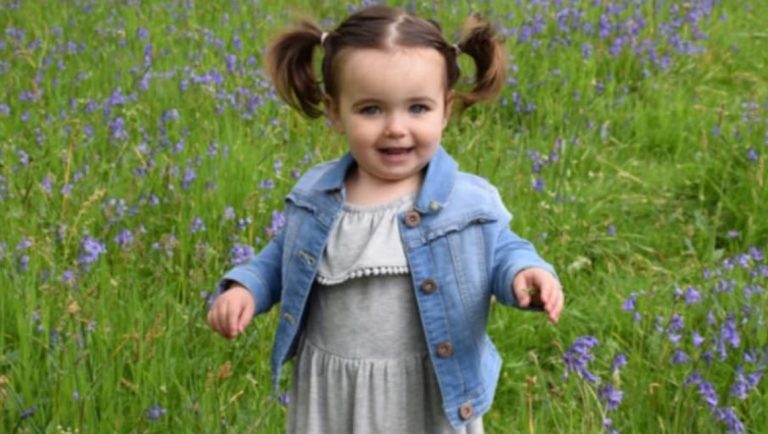 Middleton Park, Leeds
Middleton Park is 4 miles from the city centre and of its 630 acres, 200 are ancient woodlands. It also has grasslands, a children's play area and other recreational areas.
There are guided tours through the bluebell woods during the season which last between 30 and 40 minutes. These follow a hill over unsurfaced paths so might not be suitable for young children, wheelchairs or buggies. For those who want to explore the woods themselves, there are other paths which can be taken as well.
Although there is parking by the woods it is recommended during busy times to park in one of the many car parks in town and either walk or catch a train to Ilkley from Leeds or Bradford.
Amy from Mum Full of Dreams recommended the woods at Middleton Park as one of the top places in the UK for bluebells.
Coed Cefn, Crickhowell, Monmouthshire
Coed Cefn are the bluebell woods located near Crickhowell in Monmouthshire and were one of the first bluebell woods we visited with our son. It is an ancient woodland with a rich historical past. There is an Iron Age hill fort in the centre and some non-native conifers, hinting at its past extensive planting.
Bluebell Woods, as Coed Cefn is known locally, is dominated by a canopy of oak and beech, with ground flora which includes bramble and at the right time of year, bluebells. There is a very small car parka the entrance to the woods, but fills up quickly.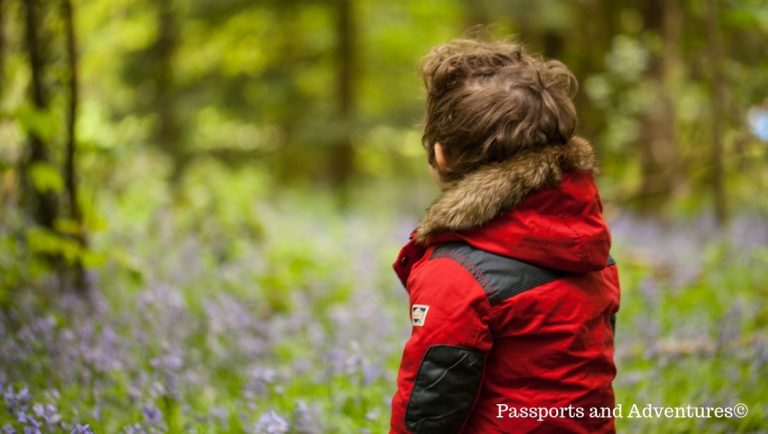 Spring Wood Picnic Site, Spring Wood, Clitheroe, Lancashire
Spring Wood is an area of informal recreation with various tracks and paths through the woods. There are several picnic areas in the woods, which offer a great base for exploring areas along the River Ribble. They are also ideal for enjoying the short woodland trails through the woods, most notably during Spring when the woodland comes alive with a carpet of blue.
Shamaila from Trip Ups and Trips Out recommended this wood as one of the best to view bluebells with kids.
So, if you are eager to get out this bluebell season to get some pictures of your kids with a gorgeous blue carpet behind them, why not visit one of these recommended woods if it is near where you live. Alternatively, visit the Woodland Trust website to find a bluebell wood near you.
The map below shows you the location of the bluebell woods recommended in this post.
Are there any bluebell woods you think are missing from this list? Why not share them in the comments so others can check them out too!
Cath x