Having been to Bluestone numerous times with a toddler in tow for a weekend break, we were kindly invited to experience a mid-week stay in Bluestone as part of the Bluestone Bloggers Programme. To show you that you don't need to spend a lot more money while there, I thought I would share 5 free things to do at Bluestone with a toddler.

It's safe to say that we are huge fans of Bluestone National Park Resort. We have gone no less than 5 times since first being introduced to Bluestone by friends of ours. The fact we've returned every year since our first visit is testament to how good it really is.
Many of our visits have been weekend breaks with toddlers in tow and we had the pleasure of experiencing a mid-week stay there too. Since we've had quite a few Bluestone holidays with toddlers now, I thought I would put together a list of 5 free things to do in Bluestone with a toddler in tow, just to show there is plenty to do without having to break the bank.
5 Free Things to Do in Bluestone with a Toddler in Tow
Bluestone National Park Resort is nestled in the heart of Pembrokeshire, West Wales and is somewhere that has become a home-away-from-home. There are so many things to do around Bluestone, that you'll be spoiled for choice. Some things to do at Bluestone incur an additional cost but you don't have to go for any of them with my ideas for free things to do with toddlers at Bluestone.
Blue Lagoon Bluestone
Visits to the Bluestone water park are included in your booking and you can visit as many times as you like. You get access to the water park from the day of your arrival from 11am, and you can use it until 3pm on the day of your departure. We never miss an opportunity to visit the Blue Lagoon, and both our son and our friends' children always enjoy themselves.
This gloriously temperature-controlled water park is open all-year round and can be used in all-weather conditions. There is a large pool with a wave machine, a rapid river, 2 water flumes (which you must be over 1.1 metres to use), and two separate play areas for kids to enjoy. The pirates shipwreck is for slightly older kids, although our son always heads there at some stage during our visit. And there is a smaller enclosed little water cove for the little swimmers of the family.
You don't even need to get in yourself if you don't want to. Accompanying guests can sit around the edge of the pool area on deck chairs or you can enjoy drinks and snacks in one of the two eateries at the Blue Lagoon. The Blue Lagoon Café is located upstairs and overlooks the water park, while the Fish Shack is located pool-side downstairs. The Blue Lagoon is an ideal place to spend a few hours with the kids, especially if the weather isn't great outside and it's included in your booking.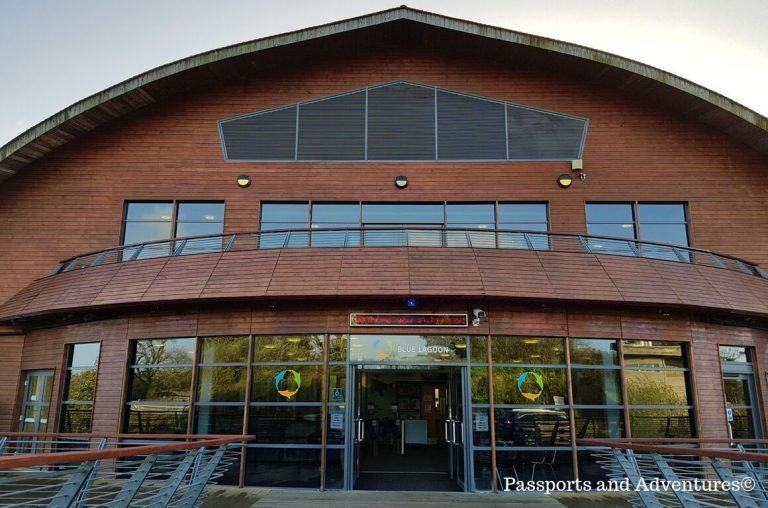 Enjoy a Nature Trail Walk around the Lake
We have always enjoyed walks around the lake during our Bluestone weekend breaks, and our son and I enjoyed another walk around the lake on our solo morning together during our last visit. This time I turned it into a nature trail and we spent our time spotting frosty leaves, ducks on the lake and even a Halloween scarecrow who was fishing. We also had to step aside for a tractor who was on the footpath around the lake.
Just to one side of the lake is a bug hotel and our son found it fascinating, albeit a little frustrating that he couldn't see any bugs. I told him they were still in bed and he seemed to accept it. He also spotted some toadstools under the bug hotel. This was a great chance for me to explain to him that we should never pick up anything from the ground, even if it looks like a mushroom, as it could be dangerous and make us very sick.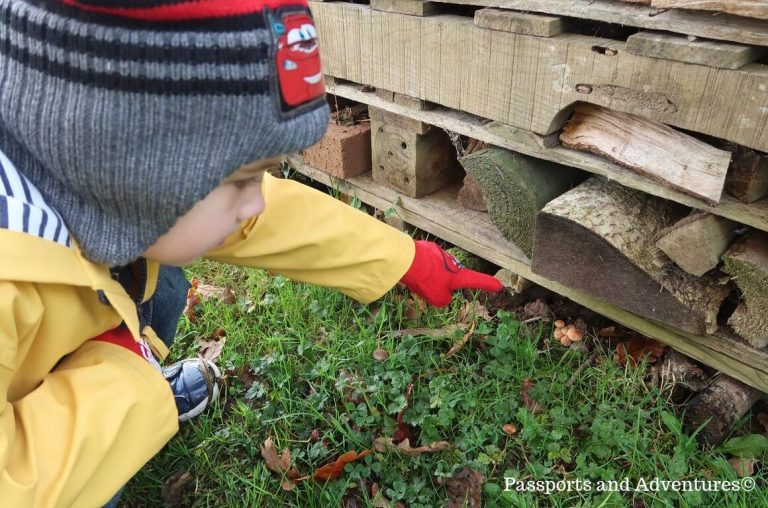 On a previous visit to the lake at Bluestone one June, we spotted baby frogs on the paths around the lake. We were very conscious of not stepping on them, although there were so many of them it was hard. No matter what the time of year for your visit to the Bluestone Resort in Wales, there will always be something for your toddler to spot and that can be incorporated into a nature trail walk around the lake.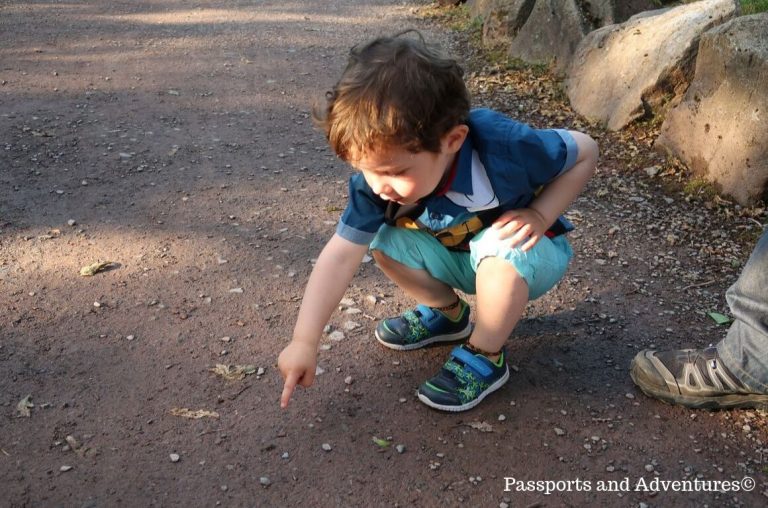 Go on a Gruffalo Hunt towards Camp Smokey from the Village
We have visited Camp Smokey once during our visits to Bluestone and it is where we first discovered s'mores (thanks S). The setting for Camp Smokey is deep in the woods and has some fantastic nature trails around it, one of which leads to and from the Village. On our last visit to the Bluestone holiday park, I took our son on a Gruffalo hunt in what we termed "the deep, dark woods" on the trail that leads from the Village to Camp Smokey.
Now, this little hunt does involve a bit of imagination (and a Gruffalo teddy bear or picture). I had stashed my son's Gruffalo teddy in my coat pocket, and we headed into the deep dark woods of Bluestone on the hunt for a Gruffalo. We checked around the trees, we checked under leaves and branches, but couldn't find him.
We stopped briefly to watch a squirrel running around on the ground and then going up and down tree trunks. My son wanted him to come to us and kept calling him. We carried on further into the woods, and eventually found the Gruffalo hiding in the V of two branches near the ground.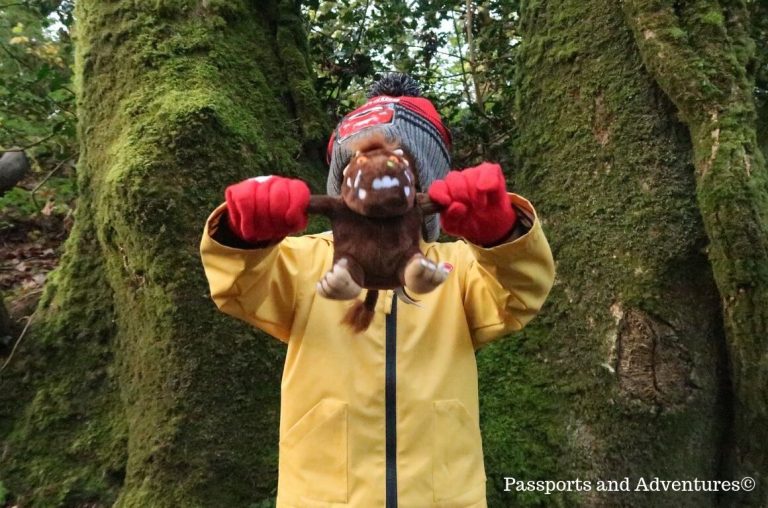 He was thrilled and we spent a lovely hour walking in the woods, picking up acorns on branches and watching the squirrel. You don't have to make it a Gruffalo hunt, it could be an extension of the nature trail around the lake. You don't even have to go all the way to Camp Smokey. But it's a great area to get out for a walk and discover nature with toddlers. And even better, it's also free. Just a word of warning, bring your raincoats and wellies as you never know when the weather might turn on you.
Run off steam in the Bluestone Adventure Centre
Although we haven't visited the Adventure Centre ourselves, except for the Bluestone Kingdom of the Elves, it is filled with activities of all kinds for toddlers and older children. There is a den, mini golf, soft play, a ball pool, Lego with Lego walls which will delight fans old and young and a circus zone. These activities are all free and there are other paid activities on offer in the Adventure Centre in Bluestone such as messy play and sensory sessions.
The majority of the activities at the Adventure Centre are free and included in your booking. As it is an indoor venue it is ideal should the weather turn particularly horrible outside. That said, it's also a great place to let kids of all ages run off some steam. And as it is situated beside the Blue Lagoon, you could combine a visit to both to really tire them out. I'm dying to visit the Adventure Centre with our son, and maybe we'll get the chance one day.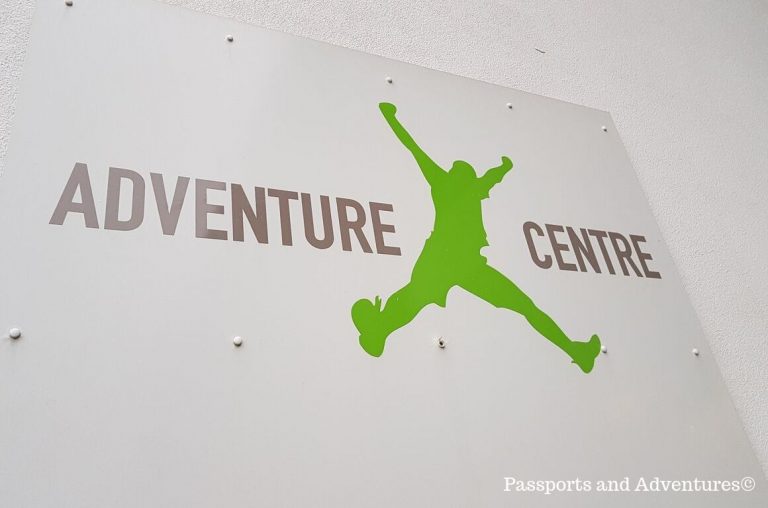 Visit the playgrounds in the Village
I was really impressed by the Treetots Toddler Play Area located in the Village of Bluestone when we first visited back in June 2016 while we waiting to access our lodge. This area has a tree-house type tunnel leading to a slide and some slides. The ground is covered in chip bark and is separated from the Treehouse Play Area for older children by a cargo netting fence.
So impressed by it were we, that we visited it again during that same weekend break with our toddler. Both he and our friends' son thoroughly enjoyed themselves.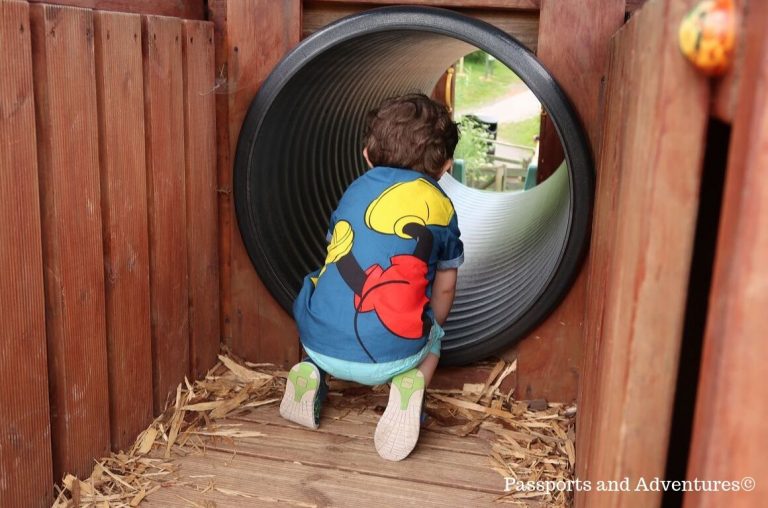 And now there is a new addition to the Village area. The Village green has been turned into a big playground and was a lovely surprise for my son and I to stumble upon during our solo morning adventures in Bluestone, October 2017. This area has been designed with kids in mind and has everything from climbing frames and swings to slides and roundabouts. Our son had to be torn away from it so we could get back to our Grassholm Lodge.
We visited it again later the same day with our friends who hadn't seen it, and despite the rain both boys had a blast. I can highly recommend both playgrounds in the Bluestone Village for toddlers. And if you aren't in a hurry you can always get a coffee at the Ty Coffi Bluestone coffee shop or stop at the Knights Tafarn afterwards for some food.
In Summary
There are also lots of things to do near Bluestone which are free such as a visit to the beautiful seaside town of Tenby or the glorious beaches of Newgale and Barafundle Bay. There are also things you can pay for like a visit to Folly Farm which is less than a 10-minute drive from the Bluestone Park. You could also do a spot of dragon hunting in one of the many castles nearby as we did at Pembroke Castle. Entry to the castles is not expensive.
Whether you choose to stay in the Bluestone National Resort Park for your entire stay or plan to venture further afield, I hope I've shown you that there are at least 5 free things to do in Bluestone with a toddler. And by all means, these activities can extend to older children too.
And if you are still in two minds about whether Bluestone is suitable as a destination for holidays with toddlers, then can I suggest you read my post about our Mid-Week Stay at Bluestone and my review of the Grassholm Lodge at Bluestone.
Cath x
*We received our mid-week stay at Bluestone complimentary as part of the Bluestone Blogger Programme. All thoughts and opinions are my own.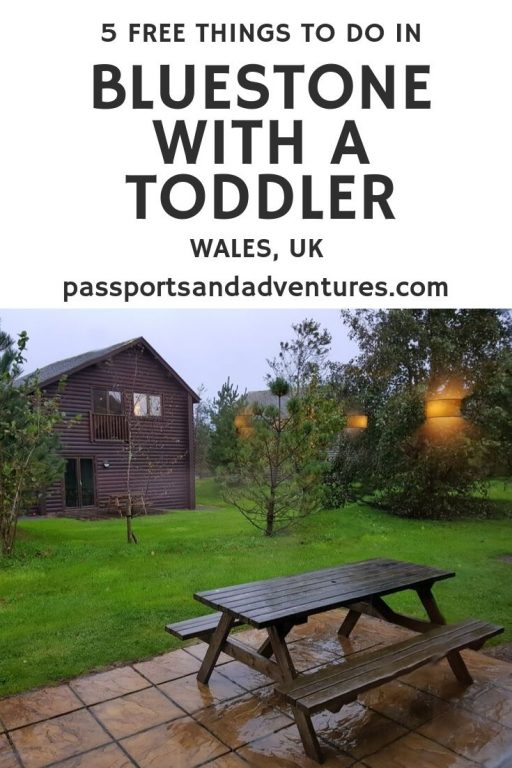 Related Posts