Dublin, Ireland is a great city to visit as a family, but it can also become a strain on your wallet. Whether you are looking to visit Dublin on a budget or just want to mix sightseeing with some cheap or free activities, this post will help. I've rounded up the best free things to do in Dublin with kids to show you that it doesn't have to cost an arm and a leg to have fun in the Irish capital.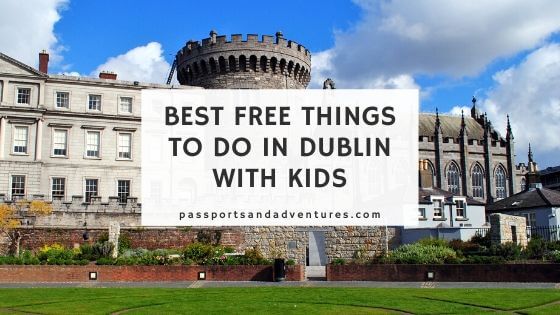 If you plan to visit Ireland with children and will be spending most of your time in Dublin, then you'll be on the look out for things to do with them. But, visiting all the main attractions can start to mount up in terms of cost when you factor in two adults and one, two, three or more kids' tickets. But you don't have to spend a fortune to have fun in Dublin with kids. In this post I'm going to help you save some money while still having fun with the kids with a list of things to do for free in Dublin. I've even put together a handy printable checklist that you could use as a fun activity to keep the kids engaged and interested.
Best free things to do with kids in Dublin
Visit a museum
There are many free museums in Dublin which are family-friendly, and many will hold special events aimed at children, especially during holiday times such as Easter and the school holidays. Many also have activities, treasure hunts and activity leaflets to make them more interesting for children visiting them. Let's take a look at the best museums for free family days out in Dublin.
National Museum of Ireland
The National Museum of Ireland has three sites in Dublin on Kildare Street, at Collins Barracks and on Merrion Square. They are the branches dedicated to Archaeology, Decorative Arts and History and the Natural History Museum, respectively.
At the National Museum of Ireland, Archaeology, you can see artefacts from as early as 7000BC to the 20th century across seven galleries. It offers families a chance to learn while having fun. Collections including Viking artefacts, relics of early Christian Ireland and even historical items from Ancient Egypt. Families can join tours held throughout the year and there are drop-in activities also aimed at families throughout the year. Check the website for more details.
The National Museum of Ireland, Decorative Arts and History are located in Collins Barracks off Benburb Street on the northside of the city. There you can explore exhibitions dedicated to the Irish Wars, the 1916 Easter Rising, the Contemporary Collection of Design and Craft and more. Again, you'll find family-friendly activities throughout the year, although some are suggested for children aged 8 and over due to the nature of the information and activity. Check the website for further details.
The National Museum of Ireland, Natural History, or the "Dead Zoo" as it is referred to locally, is located off Merrion Square, near to the National Gallery of Ireland. Here you can discover the fauna of Ireland as well as the rest of the world across two floors. Note that although the museum has four floors, only the bottom two are open due to safety reasons.
On the ground floor you will discover the fauna of Ireland including examples of the Giant Irish Deer. The Irish Room, as this floor is known, also houses examples of both living and extinct Irish fauna. From badgers and foxes, to birds, insects and life in the seas around Ireland, children and their family can discover all that nature in Ireland has to offer.
The first floor is dedicated to Mammals of the World, and there you can view specimens of animals such as Asian elephants, pygmy hippopotamus, lions, birds and insects.
The museum has a discovery zone where visitors can touch and feel specimens including skulls of badger, dolphin and even insects. Throughout the year the museum holds special tours, activities and talks, many of which are family friendly. The three museum branches of the National Museum of Ireland are some of the best free things to do in Dublin for families.
Irish Museum of Modern Art (IMMA)
Another one of the best free things to do in Dublin in the rain is head to the Irish Museum of Modern Art. The IMMA is located in Kilmainham on the southside of the city and is home to an extensive collection of contemporary and modern art.
The museum holds a range of workshops, talks, tours and cultural activities for families and there is a Family Activity Pack available at reception for visitors with children aimed at making the galleries and gardens more interactive and fun for the little ones visiting the museum. And it's completely free. Visiting the IMMA and using the Family Activity Pack makes this museum one of the top free activities in Dublin for children and families. Check out the website for further details.
Visit a gallery
One of the best things to do in Dublin for free is to visit a gallery. Whether you are interested in science or art, some of the best galleries in Dublin are free to visit and are perfect for taking the kids to spend a few hours in.
The Science Gallery
Located in Trinity College in Dublin city centre, the Science Gallery is a world's first with no permanent science exhibition. Instead, the gallery holds temporary exhibitions throughout the year, meaning what you can see changes depending on the time of year you visit.
The gallery opened in 2008 with the aim of hosting exhibitions, talks, workshops and events to engage more young people with science and technology. Although young children are welcome, some of the exhibitions are more suited to older children and young adults and so this makes the Science Gallery one of the top free things to do in Dublin for teenagers. Keep an eye on the website for details of the exhibition taking place during your visit.
The National Gallery of Ireland
With an extensive collection of Irish and International art, the National Gallery on Merrion Square is a great place to take the kids to learn about art while having fun. There are free art packs available at reception for visiting children which include worksheets and colouring pages and children's audio guides are also available if you'd like to tour the gallery as a family.
The National Gallery holds weekly kids' workshops on Sunday and regular family guided tours. The gallery also encourages learning through art with their Early Years, Children and Family Programmes throughout the year. Find more details of these on the National Gallery website. Note that special events may incur a fee for participation.
As both the National Gallery and the Natural History Museum are located on Merrion Square, are within walking distance to one another, and are both indoor family attractions in Dublin, they are two of the best free things to do in Dublin on a rainy day.

The Hugh Lane Gallery
Housing a large collection of contemporary art, the Hugh Lane Gallery located near Parnell Square is a great place to visit with kids and they hold workshops throughout the year (some are payable, it is advised to check the website for details of dates, times and if a fee applies) for children starting from the age of 1 years.
There are free sketching drop-in workshops on Sundays for families suitable for children from the age of 6 years. Children are encouraged to explore the collections through drawing and discussions. These are free, and if you forget your own sketchbook, there are drawing materials provided. There is also a free children's guide to the Francis Bacon Studio which will keep children interested for hours. The Hugh Lane Gallery is one of the best free places to visit in Dublin, with kids or without!
The Royal Hibernian Academy (RHA)
Close to St Stephen's Green, you will find the RHA, or Royal Hibernian Academy, is an artist based and lead institution dedicated to the development and encouragement of the
public's appreciation and understanding of traditional and innovative approaches to the visual arts.
It does so through exhibition, education and collection programmes. And they also accommodation children and their families through the free workshops held throughout the year. There are also weekly Art Cart event sin which children are encouraged to let their inner Picasso out. Although aimed at children from 4 years of age, younger siblings are welcome making the RHA one of the best free things to do in Dublin with a toddler.
The RHA Art Cart takes place every weekend between 1 and 5 pm, with Saturday being self-guided and Sunday with an art facilitator. To find out more about up-and-coming workshops, visit the RHA website. Be advised that although the workshops are free, spaces are limited and booking through Eventbrite is necessary.
If you are popping into the RHA during the week, be sure to pick up a free Kids' Art Pack when you enter. They are packed with lots of activities designed to help kids explore the art exhibitions on display. It's designed for adults and children to use together. Just remember to ask for a pencil before you start.
Let loose in a park
Whether you are staying in the centre of Dublin or further afield, a visit to one of the many parks is one of the best free things to do in Dublin for kids. Wide open spaces, many with playgrounds and some with beautiful wildlife, a visit to a park is an ideal place to let the kids stretch their legs and best of all they are free.
Phoenix Park
The biggest and best park in Dublin is the Phoenix Park, one of Europe's largest enclosed public recreational places. The 707 hectares within the 11km perimeter wall is a great place to visit with kids and all the attractions and things to do are free, apart from Dublin Zoo which is payable.
Things to do in the Phoenix Park include visiting the Wellington Monument, the People's Gardens, trying to spot red deer around the Papal Cross and the Fifteen Acres, or taking a tour from the Visitor Centre to places like the Magazine Fort, Aras an Uachtaráin (home to the Irish president) or even visiting Ashford Castle. There is a playground in the People's Gardens and the Phoenix Park is a beautiful place to have a picnic on a sunny day.
The Phoenix Park Visitor Centre is also free to enter and has a lively and entertaining self-guided exhibition where visitors can learn about the history and wildlife of the park. If you are looking for some free days out in Dublin, a visit to the Phoenix Park is a must. It is located along the River Liffey on the northside of the city and is accessible by bus and Luas (alighting at either Heuston or Museum stops on the Red Line).
St Stephen's Green
At the top of Grafton Street, you will find St Stephen's Green, a large Georgian garden square dating back to the 1600's. Within its walls you'll find a beautiful lake, bandstand (which if you are lucky, you will enjoy some music), several memorials and busts including one of James Joyce and a garden in memory of WB Yeats, and of course, a children's playground that was renovated and reopened in 2010.
There are several miles of pathways, all of which are paved and accessible, and a visit to St Stephen's Green, known locally as simply 'The Green', is one of the best free things to do in Dublin city centre with kids.
For a comprehensive list of parks and gardens in Dublin, click here.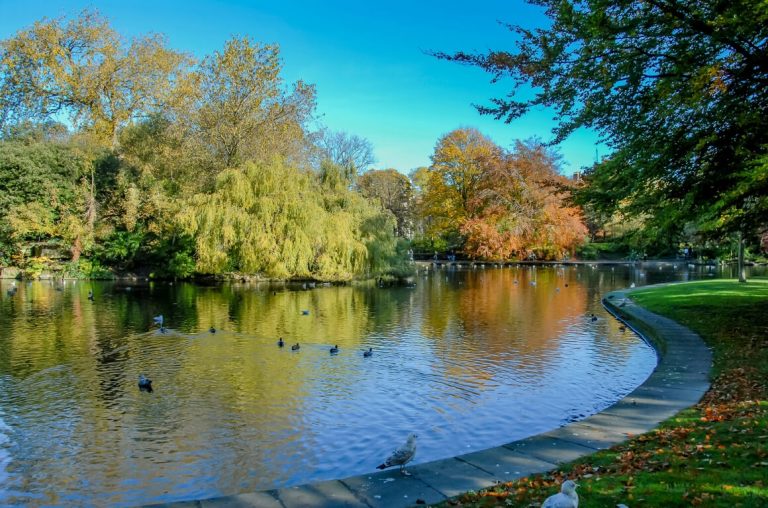 Visit Dublin Castle
Quite a large part of Dublin Castle is free to visit including the extensive gardens, most of the main public rooms and exhibits. You can enjoy admiring the architecture, artwork and some lavishly furnished rooms.
On occasion there are pop-up museums and talks held within the castle which are free to attend. To see the latest events, check out the calendar section of the website. Note that anything within the State Apartments may be payable and there is an entrance fee to the State Apartments.
Other areas of Dublin Castle which are free to visit include the Garda Museum, the Revenue Museum and the Chester Beatty Library (see below). Dublin Castle is one of the top free tourist attractions in Dublin and is worth bringing the kids to.
Browse a library
All the libraries in Dublin and the county of Dublin are free to enter and many hold regular events including storytelling and toddler groups. Libraries can provide welcome refuge if it is raining outside and are one of the great free things to do around Dublin when it's miserable outside.
Kevin Street Library
This library, named after the street upon which it stands on the southside, is only a few minutes' walk from St Stephen's Green and was renovated in recent years, finally reopening in 2018. At the rear of Kevin Street Library is a new bright, colourful and animated children's library complete with a fun slide.
Many of the libraries around Dublin hold story-telling events and some also have toddler groups. You can find details of all the story-telling activities in the libraries around Dublin on this website. Details of the toddler groups can be found here.
Chester Beatty Library
Located in the grounds of Dublin Castle, the Chester Beatty Library was opened to house the vast collection books, artefacts and paintings collected by Arthur Chester Beatty.
The library houses the impressive collection of books, artwork and artefacts collected by the man after which the library was named.
Each Wednesday at 1pm, Saturday at 2pm and Sunday at 3pm there are free drop-in public tours suitable for families which are on a first-come-first-served basis and are free. Find more details of these here. There is also a Creative Space within the library with specially designed activities for children aged 3+, 5+ and 8+ while teenagers can get creative with the drawing booklet.
Bilingual children are also catered for with bilingual storytelling, there are special workshops with hands-on activities for under 6's and other family-friendly programmes. There are also Family Activity Packs available to explore the library and galleries with. With so many free events and activities, the Chester Beatty Library is one of the best places to visit in Dublin with kids.
Other fun free things to do in Dublin with kids
Take a walking tour of Dublin
There is a free walking tour of Dublin which leaves from the Spire on O'Connell Street twice a day and covers all the main attractions. While this is one of the top free things to do in Dublin, this is probably more suited to older children who don't mind walking as it lasts for three hours.
The alternative is to do your own self-guided walking tour, visiting the main tourist attractions. I would follow the following route, stopping along the way to take on refreshments for the kids:
Starting from the Spire on O'Connell Street, you can head across the O'Connell Bridge and head for Trinity College. You can wander around the campus for free (or pay to see the Books of Kells), before heading to Kildare Street to visit the National Museum of Ireland (Archaeology branch). From there, head to Merrion Square to visit the Natural History Museum and the National Gallery of Ireland. All of these museums and galleries are some of the best free attractions in Dublin and should not be missed.
From Merrion Square, head towards St Stephen's Green and Grafton Street where you could refuel in Bewley's Café on the lower end of Grafton Street. From here, walk to Suffolk Street to say hello to Molly Malone before working your way towards Dublin Castle. There you can wander the grounds for free and visit some of the museums as well as the previously mentioned Chester Beatty Library.
From Dublin Castle you can pass by St Patrick's Cathedral and Christchurch Cathedral, although both of these Dublin attractions have an entrance fee. From Christchurch you should head down Parliament Street and wander through Temple Bar, enjoying any buskers and performers along the way.
After passing through Temple Bar, head through Merchant's Arch and over the River Liffey via the Ha'Penny Bridge, making your way towards Parnell Square where you can visit the Hugh Lane Gallery, ending your walking tour back at the Spire on O'Connell Street.
Here is your Self-Guided Walking Tour of Dublin map.
Check out the flowers at the National Botanic Gardens
The National Botanic Gardens are in Glasnevin and are free to enter. There are several glasshouses to visit including ones dedicated to orchids, palms and cacti, to name but a few. Many of the glasshouses date as far back as the 1800's and have been restored.
If the weather is fine, this is a great place to have a picnic with the kids among the plants and flowers. There are also garden features to be enjoyed such as sundials, the bandstand and the Viking house. This is a great free Dublin attraction to visit with the kids, and if yours are teenagers, they might enjoy visiting the Glasnevin Cemetery next door to spot the famous dead of Ireland.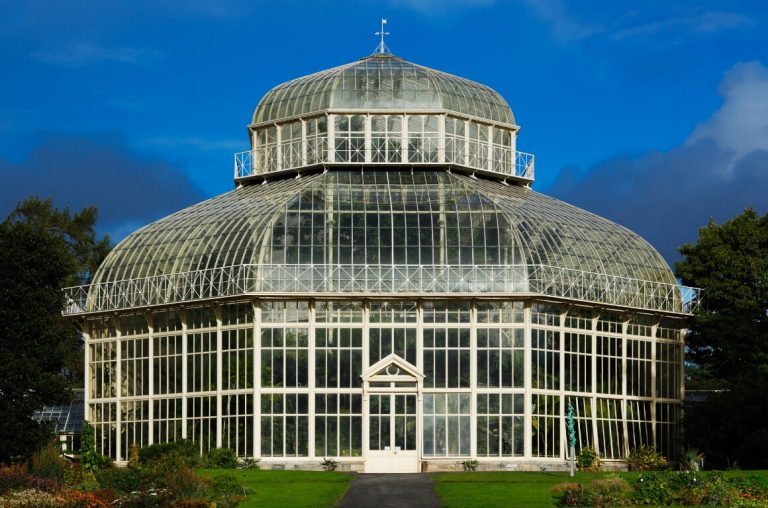 Visit the pets at Corkagh Park
Corkagh Pet Farm is adjacent to Corkagh Park in Clondalkin on the southside of Dublin and is free to enter. The farm has animals including farm animals and pets and also has a small aviary. It is open throughout the year and is a great place to take the kids. Once you are finished, why not explore some of the 300 acres that is Corkagh Park and let the kids have some fun in the playground before trying to spot fairies in the Fairy Wood.
See the round tower of Clondalkin
Near to Corkagh Park mentioned above is one of only four round towers remaining in County Dublin, the Round Tower Clondalkin. Dating from 790AD it stands 27.5 meters tall and is visible from around the town of Clondalkin.
There is a visitor centre which is free and an exhibition which has an interactive display of over 1000 years of history spanning eight themed sections. There is lots to see, do and touch for kids to keep them entertained and engaged. This, combined with a visit to Corkagh Park, would make for a fun, free day out in Dublin with kids.
Catch a free performance
One of the best free things in Dublin is catching a performance or two from musicians, actors and artists on two of Dublin's fully pedestrianised streets, Henry Street and Grafton Street. These streets come alive at the weekends with artists performing music, comedy sketches, mime and more. Obviously, this can be weather dependant, but my son loves stopping to hear someone singing along while playing a guitar. You can easily incorporate this into your self-guided walking tour of Dublin as described further up.
Pull faces at Molly Malone
Molly Malone is a bronze statue, dedicated to a fictional character of Dublin who is said to have been a fishmonger by day and a lady of the night. She was originally located at the bottom of Grafton Street but was moved to outside the Tourist Information Centre on Suffolk Street while works were being done for the Luas line.
She has a song named after her and she is worth visiting, especially on your self-guided walking tour of the city or if you are on Grafton Street, as she is just a few minutes' walk from there. And if the kids don't want to get their picture taken with her, then encourage them to pull faces at her instead. This soon got my son interested!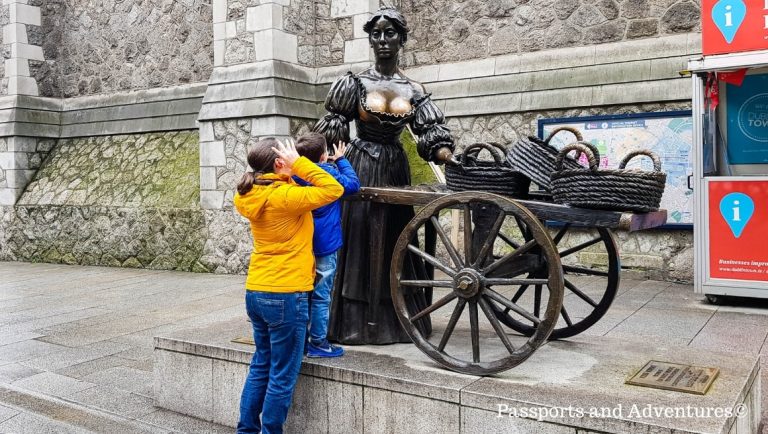 And don't forget to download my handy checklist of the best places around Dublin you can take the kids that are free. Download it here, or PIN it from the image below for later reference.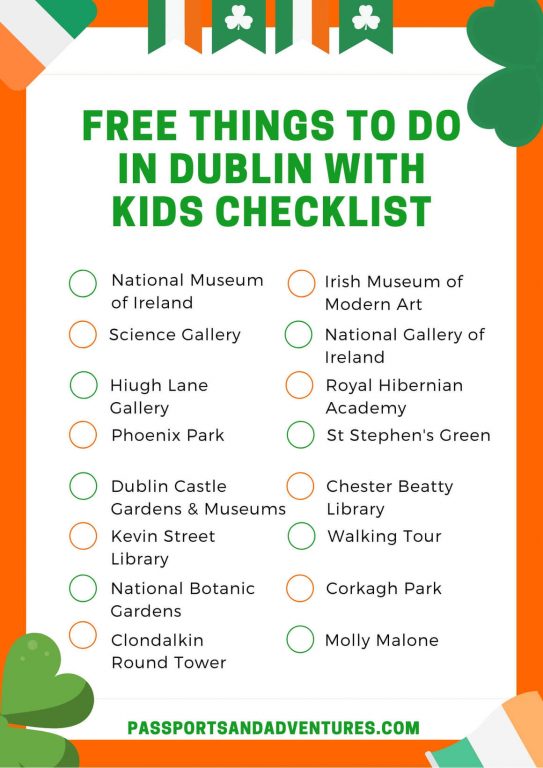 Summary
Whether you want to visit some of the great museums in Dublin city centre, the castle or simply want to walk around and explore the Irish capital, there are plenty of free things to do in Dublin with kids to keep costs down. As mentioned, the city can be an expensive one to visit with kids, but you can easily keep to a budget with this list of ideas for budget-friendly things to do with kids in Dublin. You can still see and enjoy the best Dublin has to offer without it costing you an arm and a leg.
I hope you find this post useful. Do let me know in the comments if there are any more free, budget-friendly things to do in Dublin for families so I can add it to the list for all my readers.
Cath x

Related Posts