Despite it being my hometown and having lived there for 17 years of my life, Dublin is a city that I've really only started exploring properly since our son came along. Something deep inside me feels it's important and vital I introduce him to his heritage and what better way than regularly visiting Dublin with him. In this post you're going to get an insider's view to visiting Dublin with kids, ideas for things to do in Dublin, Ireland with kids and more.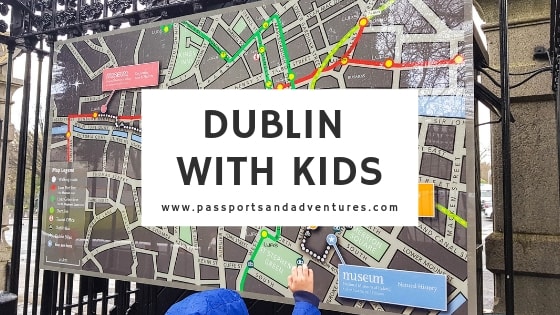 *This post contains affiliate links, including Amazon affiliate links. This means that if you click on a link and then make a purchase, I receive a small commission at no extra cost to you. To learn more about affiliate links, please read my Disclosure Policy.
Dublin is the capital of Ireland, is located in the province of Leinster and sits on the east coast, along the Irish Sea, and at the mouth of the River Liffey. Dublin is divided in two by the river into the northside and southside. I am from the southside and Mr Passports is from the northside of the city. Being the capital, it is the most populated city and county of Ireland with over 1.1 million people calling it home, including most of our family.
The name Dublin comes from the Irish word Dubh linn, which means Black Pool, and comes from the fact there is a tidal pool located where the River Poddle entered the Liffey, near Dublin Castle. Although the area of Dublin Bay has been inhabited since prehistoric times, Dublin celebrated its millennium year in 1988, a thousand years after it was settled by the Vikings.
Dublin is a popular city and there are a whole host of things to do in Dublin, whether you are visiting with kids or not. But it can be a minefield, if you don't know the city, or if it's your first time visiting, to decide what to do in Dublin while you are there. So, with a little help from me, I'll help you plan your trip to the capital of Ireland, help you decide where you might want to stay, and also what to see in Dublin while you are there.
Planning and Researching a visit to Dublin with kids
When you first decide to visit Dublin with your family, it is easy to feel overwhelmed about it. There is so much choice of things to do in and around Dublin, that planning your itinerary can leave you feeling exhausted. Heck, I even feel it when deciding which of the many things to do in Dublin with kids we should add to our own Dublin itinerary.
The first thing you need to decide is how long you are going to spend in the city and which of the main Dublin tourist attractions you want to visit. The two of these will help you plan your time in Dublin.
Deciding what to do in Dublin, Ireland is the most important part of your planning and research fun things to do in Dublin, Ireland with kids. This will also have an impact on where you decide to stay in the city. You also need to consider how you are getting to the city. Check out the sections below for more help with making these decisions, let's get planning.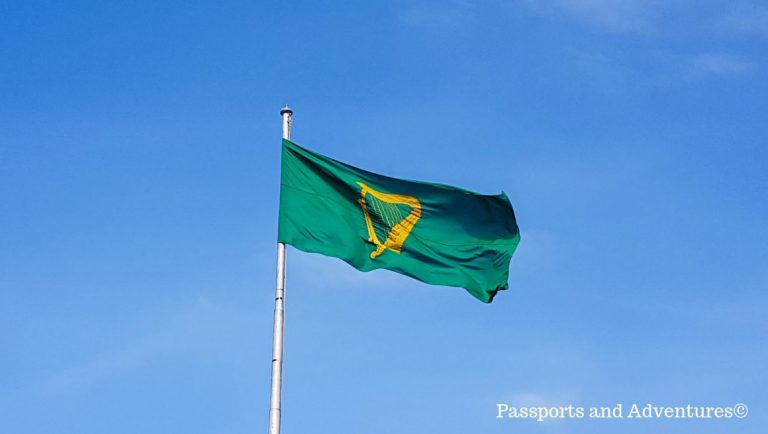 How to get to Dublin
How you reach Dublin is very much dependant on where you are travelling from. If you are based in the UK or on mainland Europe, you have a few choices. Further afield and you are limited to flying into Dublin.
By Plane
You can fly with the many airlines that fly direct into Dublin Airport. Alternatively, if you are combining your trip to Dublin with kids with exploring more of the country, you may decide to fly into one of the other airports before making your way to Dublin.
There are two other main international airports in Northern Ireland and Ireland respectively, Belfast International Airport and Shannon in County Clare. There are also two other airports which are served with flights from Europe and these are Cork and Knock.
Use Skyscanner to check out prices and availability from your local airport.

If you are looking to rent a car during your visit to Dublin, we recommend Rentalcars.com.
By Ferry/Car
You can also choose to take your own car and reach Ireland via ferry. Ferries to Ireland arrive from the United Kingdom, France and Spain. Arriving in the Republic of Ireland, you will either arrive into Dun Laoghaire or Dublin Port in Dublin itself, or via Rosslare in County Waterford, where you'll have a 2-hour journey to Dublin city centre.
You can arrive by foot passenger and the best way to do this is to arrive direct into Dublin. There are two main ferry companies that serve Dublin from the UK, Irish Ferries and Stena Line. Click HERE to check prices and availability with Irish Ferries.
Click here for the latest Stena Line prices and deals, and availability.
Where to stay in Dublin with kids
Dublin is quite a large city, when you take into account there are 24 districts and more areas that come under the title of County Dublin. When deciding where to stay in Dublin with kids, there are two things you need to consider.
Number 1, you need to decide what to visit in Dublin while you are there. If you are concentrating on the family attractions in Dublin city centre, then being close to, or located in, the centre of the city is better.
However, for point Number 2, if you are planning on hiring a car and doing both days out in Dublin and day trips outside of the city, then you have more flexibility as to where to stay in Dublin with family.
There are some areas of Dublin I would not recommend for families, simply because they are more residential areas or are areas I, myself, would not stay in and therefore could not recommend to families. If you need advice on these, please feel free to get in contact with me.
I would also recommend that for those seeking to stay in or very close to the city centre, you concentrate on looking for accommodation in the southside (areas of Dublin with even postcodes, e.g. Dublin 2, Dublin 4). This is especially true if you are going to choose an AirBnB over a hotel.
For money off your first AirBnB booking, click this link.
However, if you are looking for family-friendly hotels, Dublin has plenty to offer budgets of all ranges.
Best Family Hotels, Dublin – City Centre
As mentioned, if you want to be in the hub of things, or if you are not planning on taking days trips outside the city, then Dublin city centre is where you should base yourself. Anywhere around St. Stephen's Green, Merrion Square, Christchurch, and as far as Ballsbridge are great areas, although you may need to avail of public transport to get to the very centre of the city.
Hotels we would recommend include: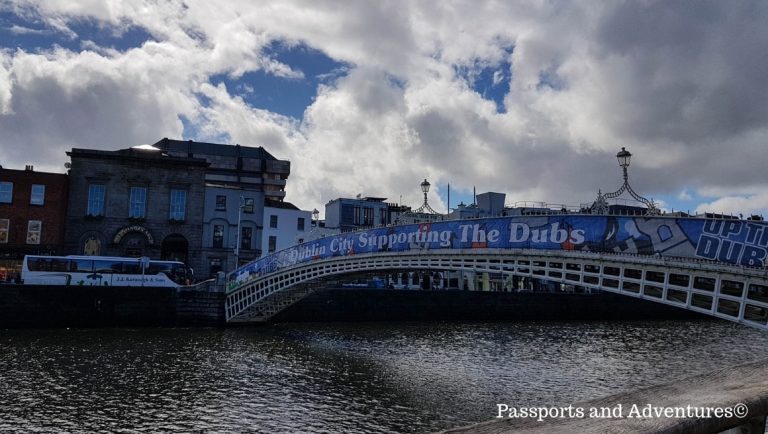 Top Family Hotels, Dublin – Dublin County
If you have a car with you, either your own or a hire car, then you have more flexibility as to where to stay. It leaves you free to either drive into the city, or to drive to a Luas Park and Ride station to use public transport to get into the city. It also leaves you free to explore areas outside the city centre.
Hotels we recommend include:
Child-friendly Hotels, Dublin – For Larger Families
Of course, not all families conform to the average and sometimes it can be harder for families with 3 or more children to find accommodation catering to those of a larger number. Many hotels will require you to book more than one room. However, there are a few family hotels in Dublin catering for larger families.
Maldron Hotel, Newlands Cross 3* – This budget-friendly hotel can accommodate families with 3 children under 12 in one room, with family rooms having a double bed, single bed and double pull-out sofa bed. And as they are located on Newlands cross, they are in a great location to access the city centre via the Luas line and the M50 for the airport or other areas of Dublin and Ireland. Check out the rooms at this hotel and get the latest prices and availability here.
Royal Marine Hotel, Dun Laoghaire 4* – Family suites sleeping up to 6 can be booked direct with the hotel by calling them in advance. Large family suites include a king bed, two single beds and a double sofa bed, easily accommodating 6. With a location close to the DART line (Dublin's coastal train line), you can be in the city centre in no time at all. Check availability and prices for your dates here.
AirBnB Family Accommodation, Dublin
AirBnB accommodation in Dublin is not very hard to find and many lie either within or in close proximity to the city centre. There is accommodation to suit every budget. Again, my preference would be those south of the Liffey in areas such as Temple Bar, Christchurch, even as far as Kilmainham or Ballsbridge. If looking at the northside, and travelling to Dublin with kids, I would personally avoid accommodation close to the North Circular Road, Gardiner Street and Amiens Street, above Connolly Station. If staying on the northside, look for apartments within the IFSC area.
Tips for booking an AirBnB
Always check out the reviews, particularly the most recent ones.
Try to avoid newly listed accommodation.
Try to choose a "Book Now" accommodation to avoid disappointment if it is already booked or not available.
If travelling by car, check there is on-site, free parking.
If the accommodation is not within the city centre, check proximity to public transport. Luas lines nearby are best as traffic around the city has to stop for them, so they are the most free-flowing, public transport option.
Always see if there is a diagram as to the sleeping arrangements to ensure they are adequate for your family.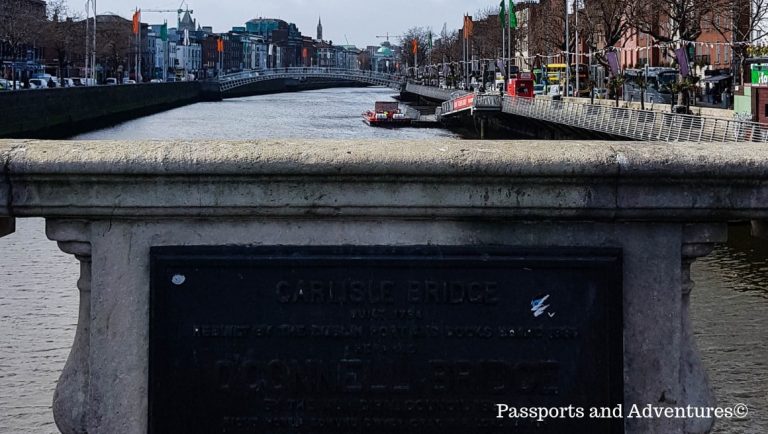 The best time to visit Dublin
In all honesty, Dublin is a city that can be enjoyed no matter what time of the year. I am a firm believer in the saying
There is no such thing as bad weather, only bad clothing
And this is very true in Dublin, and Ireland as a whole. Dublin has a varied climate with winter temperatures around 6-7C and summer temperatures averaging 19C. That said, it is not unheard of for Dublin to have hotter summer days, just don't expect them to be Mediterranean all the time, even in July and August. And Ireland is a very wet country, with an average of 23 days of rainfall each month, even in summer. The name of the game is to come prepared for everything, even snow as late as March and April.
The brightest months are between May and September with evenings staying bright until after 8pm. The winter months of November to February have the shorter days when the darkness of evenings sets in somewhere after 4,30pm which could cut short your sightseeing. The driest months are August and September but be aware that August is a busy time for tourists with European, British and Irish schools still closed for the summer holidays.
That said, there are a few times of the year I would recommend people visit Dublin with kids. March is a great time to be in the city, despite the cold temperatures. The Six Nations Rugby competition comes to a completion in March and if Ireland are doing well, the Six Nations weekends are a high-spirited time to be in the city. March also sees the annual St Patrick's Day Festival taking place over 5 days within Dublin, culminating with the St Patrick's Day Parade on the 17th of March. Expect an extra hundred thousand people in the city celebrating our nations' Patron saints' day. However, it does mean accommodation availability and prices will be at a premium.
There is no better place to be than Dublin on a warm, sunny summer day. But, as mentioned, you are not always guaranteed warmth and sunshine. September is also a great time to visit Dublin, as the city becomes quieter after the summer months and on the third Sunday of the month, the city comes alive as the All-Ireland GGA Football Final takes place in Croke Park.
But if you are wondering when it the best time to visit Dublin, the answer is any time of the year.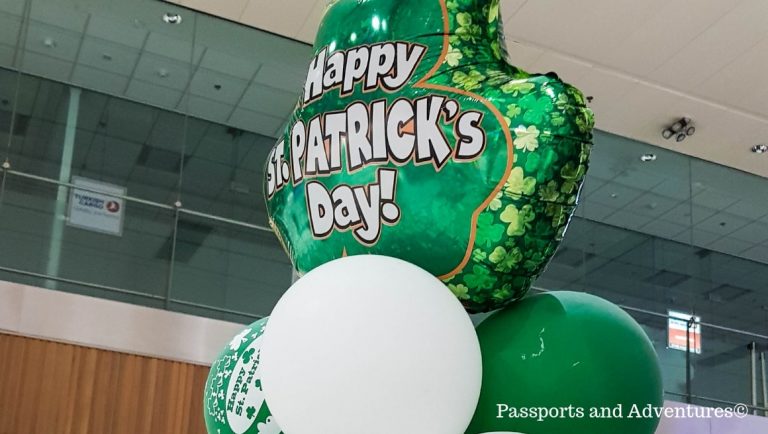 How long to spend in Dublin/How many days in Dublin
When people ask me how many days in Dublin with kids is enough, I tell them it very much depends on what you want to see, what you want to do and whether they already have an idea of the places to visit in Dublin with kids they want to cover. The other thing to consider is where you are visiting Dublin with younger or older kids.
Younger kids will need a slower pace to sightseeing than older kids. With older kids, you have more options of what you can cover if you have just 2 or 3 days in Dublin. They are easier to coax into walking, getting on buses or trams and will generally be more interested in some of the attractions in Dublin geared towards adults than younger kids.
That said, you cover the most popular tourist attractions over two days in Dublin with kids with a bit of careful planning. There is a wealth of fun family things to do in Dublin and you really need to make a list of what you really want to see, plot them on a map and decide your best route to cover the fun things to do in Dublin, Ireland during your time there.
How to get around Dublin with Kids
If you are staying in the very centre of Dublin, then getting around with kids is relatively easy. While County Dublin is quite big, most of the kid friendly things to do in Dublin city centre are within walking distance of one another.
Dublin has good public transport in the form of buses, trams (called the Luas) and a small light rail service (DART) running along the coast of the city from Bray, just inside County Wicklow in the south to Howth in North County Dublin.
Bus tickets can be purchased on board, but be warned, you need the correct change (coins) and no change is given. If you are staying outside of the city centre, you can check timetables and routes on the Dublin Bus website. Children under the age of 5 travel free with one paying adult, so long as the child does not occupy a seat during peak hours to the exclusion of other paying passengers. While there is usually space for one wheelchair or buggy/stroller, at peak times you may need to wait for several buses to pass if you don't want to fold the buggy/stroller. Space is limited and is at a premium during rush hour.
DART (the light rail service) and Luas (tram) tickets can be bought from vending machines at stations and take cash and cards, with change given when using cash. Children aged between 0 and 4 years of age travel free on Luas lines and DART's with at least one paying adult. Check routes and timetables on the Luas website and also on the Irish Rail website for DART services.
Taxi's are plentiful throughout the city and be warned, while Uber operates in the city, it is not in the same sense as other countries like the USA. Lyft does not currently operate within the city either. While the Uber app does work in Dublin, it is only for booking a licenced taxi or limousine, not a private car, and it often works out more expensive using the app than hailing a taxi the normal way. Irish law requires that anyone carrying passengers for money must hold a valid taxi licence. Mytaxi does work within Dublin for booking and calling a taxi up to 4 days in advance.
Top 10 things to do in Dublin with kids
Dublin is a city that has a lot to offer families, and when it come to deciding where to go in Dublin, it very much depends on how much time you have to spend in the city with your kids, as I've already mentioned. Even with just a few days at your disposal, you can cover most, if not all, of the top things to do in Dublin with kids. In this section I'm going to share with you what I think are the top 10 things to do in Dublin with kids, to give a starting point for planning your trip to Dublin.
Phoenix Park
The Phoenix Park, located on the northside of the city, is the largest public park in Ireland and it's main entrance is located near Heuston Train Station, just 2km from the very centre of the city. With 707 hectares (1750 acres) of parkland enclosed in its 11km perimeter wall, it is one of the largest enclosed recreational spaces in Europe.
It is home to the residence of the President of Ireland, Aras an Uachrarain, houses the official residence of the United States Ambassador to Ireland, is where the Papal Cross is located and is also home to Dublin Zoo (see next section).
The Phoenix Park has also been home to a herd of fallow deer since the 17th century, and these can be viewed within the park, although it can sometimes be hard to spot them in the wooded areas. When they occupy the fields near the Papal cross, they are easier to spot.
The Phoenix Park is one of the best places to go in Dublin, especially on a sunny day. The People's Gardens can be enjoyed, and it is around here and the Wellington Monument that you'll find people enjoying picnics in the sun during summertime.
More recently, the Magazine Fort has been opened to the public as a museum and free tours are available on Sundays. It was occupied by British Forces until 1922 when it was then turned over to the Irish Defence Forces. My husband actually lived in the Fort as a very young boy before it was completely demilitarised in the early 1980's. We are eager to bring our son to this historical site. Note that tickets are only available on a first-come, first-served basis from the Phoenix Park Visitor Centre, which is also the meeting point for tours.
The Phoenix Park is free to enter and is one of the best places to go in Dublin to let the kids run off some steam which exploring its many nooks and crannies.
Dublin Zoo
Located near the Parkgate street entrance to the Phoenix Park, Dublin Zoo is one of the fun days out in Dublin you should consider putting on your itinerary. Opened in the first half of the 1800's, Dublin Zoo has undergone a huge transformation within my own lifetime. I remember visiting it as a child and enjoying it, but it's gotten better with expansion and the introduction of the African Plains area.
The 69 acres site has other exhibits alongside the African Plains including the World of Cats, World of Primates and a Pet's Corner for younger kids to enjoy. It is heavily involved in conservation as part of the worldwide programme to breed endangered species. Animals include Siberian tigers, Grey Wolves (Mr Passports favourites), Asian Elephants, Western Lowland Gorillas and more.
There are daily talks and activities on offer to delight younger visitors. The zoo also has toilets around the park, eateries, picnic benches, baby-changing facilities and children's play areas. Most of the zoo is accessible to both wheelchair users and buggies/strollers, but unfortunately assistance dogs are not allowed in the main area of the zoo. There is temporary accommodation for them while their owners visit the zoo.
The zoo is open 363 days of the year, closing only for Christmas Day and St Stephens day (26th December). Check the Dublin Zoo website for prices and latest opening hours.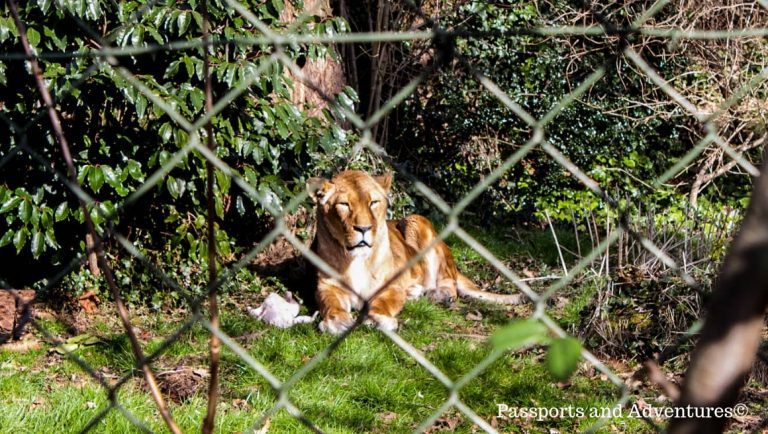 Dublin Castle
Located off Dame Street in the city centre, Dublin Castle is a major tourist attraction as well as being an Irish government complex and conference centre. Originally opened at the turn of the 13th century, much of the current construction stems from the 18th century. It was the seat of the British government's administration in Ireland until it was handed over to the newly formed government, led by the famous Michael Collins in 1922. It was built beside the dark pool, or Dubh Linn, after which the city of Dublin gets its name.
Many of the buildings are open to the public except during certain state events. While visiting Dublin Castle, you can explore part of the original Viking Fort on which the castle was built, view the stunning State Apartments (something I saw as a young teenager), and the Castle Gardens where the dark pool was originally located.
As this is the site of government business, Dublin Castle can be closed at short notice, so it is best to check the Dublin Castle website for opening times and short-notice closures. It is one of the more interesting Dublin city centre activities to enjoy with kids and is on our to-do list when we visit in August.
Why not get fast-track access to Dublin Castle and the Book of Kells. Click this link to book!
Dublinia
Dublinia is an interactive museum dedicated to the history of Dublin from Viking times, through Medieval times and into modern-day Dublin. As it is an indoor museum, it is one of the best things to do in Dublin on a rainy day.
Located on St Michael's Hill, across the road from Christchurch Cathedral, Dublinia brings history alive for children through interactive displays, kids activities, and even interaction with people from the era. Ok, so these are actors, but they are on hand to show kids how things from Viking and Medieval times work, and also to answer any questions. You can even get a look inside a Viking house, or dress up in clothes from the two eras.
I brought our four-year-old son to Dublinia during a visit to the city and, despite me believing he might be too young to enjoy it, there were plenty of things to keep his attention piqued. Just be warned, some displays depict the darker side of the two eras, such as torture, so parental guidance is advised.
The last exhibit we visited in Dublinia was by far my son's favourite part. In the History Hunters room, children get the chance to become archaeologists themselves and dig for artefacts. This, combined with the other exhibits and displays, ensures Dublinia is one of the top things for kids to do in Dublin. I highly recommend a visit to Dublinia. Check their website for opening hours and latest prices.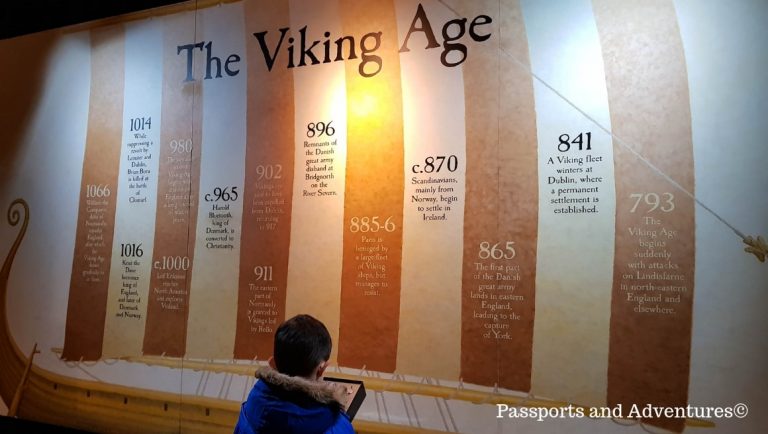 Christchurch
Also located on St Michael's Hill is the stunning structure that is Christchurch Cathedral, the oldest building in Dublin. I visited Christchurch as a young teenager and was fascinated by it. However, I am yet to venture inside with my son, something I plan to rectify in our forthcoming trip to Ireland this year.
Christchurch, formerly known as the Cathedral of the Holy Trinity, was founded in 1030 and is Gothic/Romanesque structure. Until the reformation it was a Roman Catholic cathedral. It is now part of the Church of Ireland (Anglican) religion.
Christchurch is open to the public and many come to view the interior and the Crypt, dating from the 12th century and pone of the largest in both Ireland and Britain. Be sure to visit the Crypt to view the mummified cat and rat. There are guided tours available during which you can visit the nave, crypt and belfry where you can try your hand at ringing the cathedral's famous bells (children must be 12 years of age or older to access the belfry).
Check the Christchurch website for details of opening hours, ticket prices and belfry times.
Get tickets from Get Your Guide before you arrive.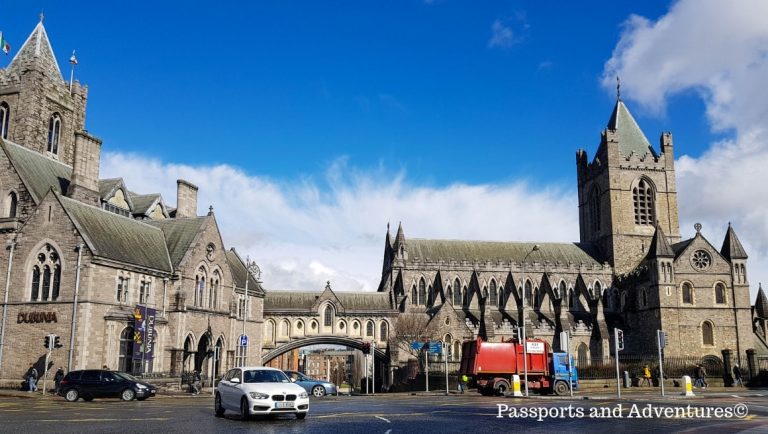 St Stephen's Green
One of the best free things to do in Dublin with kids is to visit St Stephen's Green, located on the southside at the top of Grafton Street. It is Dublin's largest park in its Georgian Squares at 22 acres. St Stephen's Green has many large grassy areas for kids to enjoy themselves and quite a large playground which was refurbished in 2010.
To the northern end of the park lies a large lake which is home to many ducks and water fowl. If you entered St Stephen's Green from the Grafton Street entrance, you will come across the lake immediately. There is also a bandstand, many busts and statues of people such as James Joyce, Robert Emmet and Wolftone, and a fountain amidst beautiful gardens, particularly stunning in spring and summer.
Open all year round it is one of the great, fun free things to do in Dublin with kids, who are sure to enjoy seeing the ducks on the lake, playing in the playground and the wide-open spaces. On dry, sunny days it is a haven for many in a busy city and it's 3.5km pathways are accessible for those in wheelchairs or buggies/strollers.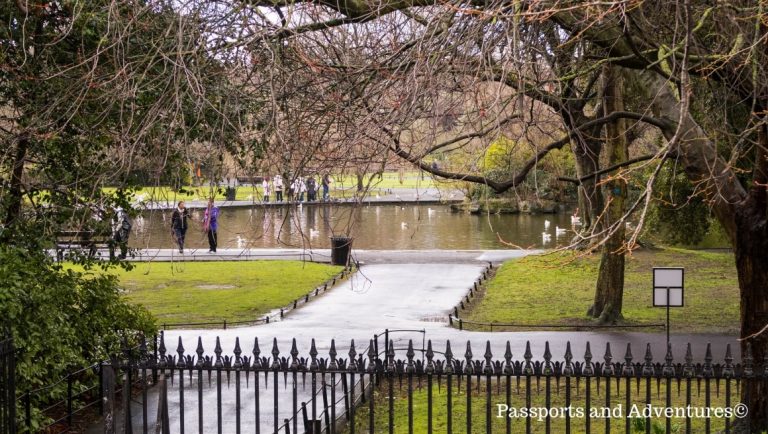 Natural History Museum
Also known locally as the Dead Zoo, Ireland's Natural History Museum is one of the many fun things to do in Dublin with kids that is free. There is no entry fee, although there are donation boxes at the entrance, the contents of which help run the museum. It is a branch of the National Museum of Ireland and is located on the southside of the city on Merrion Square.
It houses collections of natural history across four floors, two of which are currently closed to the public, and the collections include over two million pieces from zoology and geology. On the ground floor, called the Irish Room, you will see specimens from Ireland including the giant Irish deer whose antlers span is astounding. Many of the specimens are over one hundred years old.
On the first floor you can see specimens from around the world including Asian Elephants, cheetah (my personal favourite) and many more. The lower and upper galleries have been closed for more than 10 years due to damage sustained when a stairway collapsed. The museum was closed until restoration and repair work was completed on the ground and first floors, after which the museum reopened in 2010. However, the two upper galleries remain closed to the public.
I visited the Natural History Museum many, many years ago and recently revisited it with my son, who thoroughly enjoyed it. He loved spotting animals he has watched on TV and seen in zoos alongside more interesting specimens.
The Natural History Museum is open 363 days of the year, closing only for Good Friday and Christmas Day. It is open 7-days a week, although it only opens for a half day on Sunday and Monday. For the latest opening hours, check the Natural History Museum website. While the ground floor is accessible to buggies/strollers and wheelchair users, there are no lifts in the museum so the first floor is not accessible.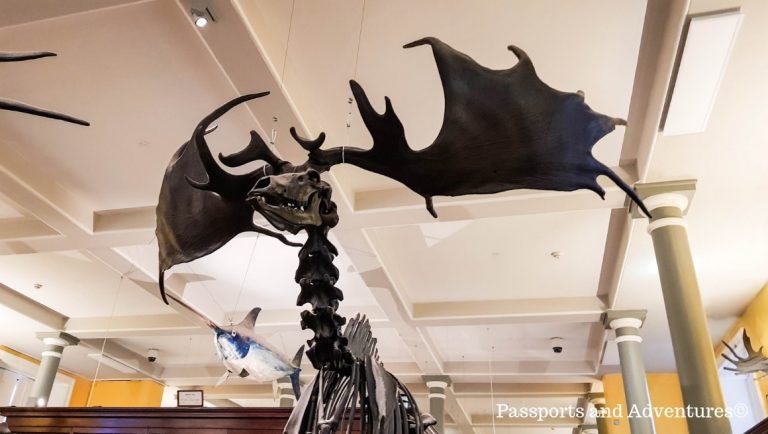 Imaginosity
When we visit new cities with our son, we always seek out kid-friendly activities. These include zoos, aquariums and children's museums. Now, I'll be honest and say I hadn't known that there was a Dublin Children's Museum until I returned to Ireland over Easter in 2018 and was on the hunt for kids activities in Dublin.
I was pleasantly surprised to come across Imaginosity, the Children's Museum, Dublin. Located in Sandyford on the southside of Dublin, it is approximately 11km from the city centre. It can be reached via car or via the Luas Green line and a short 5-10 minutes' walk from the Stillorgan stop.
Imaginosity must be booked in advance, especially during busy periods as they have limited spaces. Booking ensures you two hours for your visit to the museum at set times. While this is different from other children's museums we have visited, it ensures every child will find something to capture their attention and imagination.
I brought our son to Imaginosity during our road trip in Ireland in 2018 and he had an absolute ball. There are three levels with a range of areas to play in and a huge climbing frame that spans the three floors.
The first floor has exhibits such as a garage, with a real car in it, a diner, grocer and doctor's surgery. On the second floor you'll find an art zone, workshop, theatre and construction area, while the third floor houses the roof garden and badger's set. Each one has been designed with kids in mind and allows them to get interactive and creative.
While we were there my son loved the train table, went shopping in the grocers, cooked me a 'burger' in the diner and even had fun driving the little Audi A1. To say I was completely impressed would be in understatement and we plan to make a return visit in August. So, if you are wondering what to do in Dublin with kids, particularly younger children, I highly recommend you visit Imaginosity. It is also one of the best places to visit in Dublin with a toddler, and one of the best indoor things to do in Dublin.
Imaginosity is open 7 days a week and operates a timed-ticketing entrance. You get two hours, which is plenty of time. There is car parking available in the Dunnes Stores underground car park. Check the Imaginosity website for details on prices and opening hours.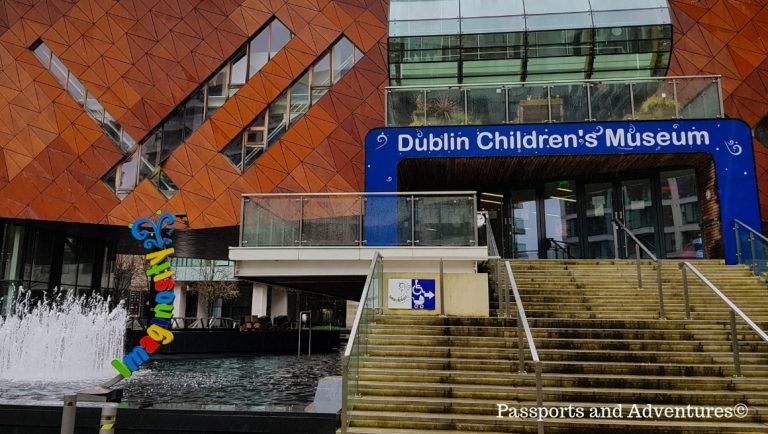 Airfield Farm
The Airfield Farm is located on the Airfield Estate in Dundrum on the southside of the city and is one of the kid's attractions in Dublin I am eager to bring our son to. Although we are yet to visit, I have heard nothing but great things about this place, with people saying it is one of the best family things to do in Dublin. The Airfield Farm and Gardens is Dublin's only 38-acre farm which is open to the public all-year round.
Home to the Overend family since the late 1800's, it was left in trust to the people of Ireland by the trailblazing sisters, Letitia and Naomi in 1974. The mission of the farm today is to help people make better food choices through informative events and educational programmes.
The farm is an example of environmentally sustainable agriculture and animals include a herd of Jersey cows, pigs, goats, chickens and donkeys. There are daily activities to delight visitors including egg collecting and calf feeding. The farm is huge with different areas dedicated to different animals and aspects of farming.
The farm is accessible both by car and public transport via the Luas Green line, where visitors should alight at the Balally stop. With farm animals to see and open spaces to play it one of the best things in Dublin for children and should answer any question you have about what to do in Dublin for a day with kids as you'll easily spend more than a couple of hours there. This is one of the Dublin attractions for kids that is top of our to-do list for August. I even have wellies and a rain suit at the ready for our son for our visit.
For ticket prices, opening hours and more information, visit the Airfield Estate website.
Hop On Hop Off Bus tour
One of the best ways to get your bearings in Dublin, and to decide which things to see in Dublin, is to take one of the Hop On Hop Off Bus tours. There are a few main operators in the city, many following the same or similar routes.
One of the best we've found, and used, was the Hop On Hop Off Bus in association with the Dublin Pass. Not only do you get a sightseeing bus tour, but the Dublin Pass offers you free or discounted entry into a host of places to go with kids in Dublin, including many I have already discussed. The Dublin Pass is available for one, two, three or five days and offer great savings if combining a sightseeing tour with some of Dublin's top tourist attractions.
Check out the Dublin Pass website for further details and prices and read our review of the one-day Dublin Pass here.
If you are not sure yet as to which of the things to do in Dublin with children might make you itinerary, then choosing another sightseeing tour could give you some ideas to help you plan subsequent days in the city.
Check out this HOHO Tour on Get Your Guide or why not grab a DoDublin 72-hour HOHO Tour which gives you access to the HOHO bus and also all of Dublin's public bus routes. A great option for getting around the city with kids.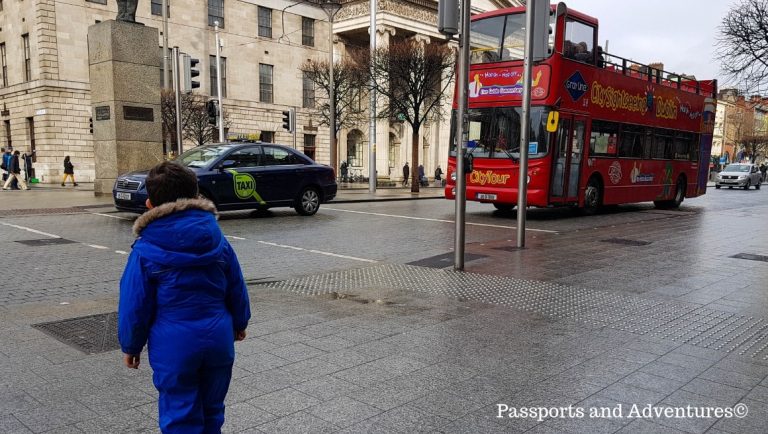 Other things to do with kids in Dublin
While the previous section has detailed what I consider to be the top 10 best things to do in Dublin with kids, there is a range of other fun activities in Dublin that families can enjoy together. While these are certainly also some of the top things to do in Dublin city with kids, some might be more suited to older kids.
Guinness Storehouse
Where the famous drink is made, the Guinness Storehouse is on most visitor's Dublin wish-list and is somewhere I have never visited myself, in all the years I was living in Dublin. Learn how the famous drink is made and even sample it yourself in the panoramic Gravity Bar. This is one of the fun places to go in Dublin and, although we don't drink alcohol ourselves, I'm still interested in bringing our son when he is a little older.
EPIC The Irish Emigration Museum
With immersive and interactive exhibits, EPIC is a museum dedicated to learning about Irish expats and what it means to say, "I'm Irish". Travel back through 1500 years and discover Irish influence in the world of art, literature, music, dance and design. Located in the Dublin Docklands, it is a modern museum that also tells the tale of the 10 million people who left Ireland and how they've influenced and shaped the world.
Get your tickets for the EPIC Museum HERE.
Trinity College and the Book of Kells
One of the most famous buildings in Dublin City Centre is Trinity College, located at the end of Dame Street. Considered the most prestigious university in Ireland, it is over 400 years old, having been established during the reign of Queen Elizabeth I. Despite being in the city centre it can be quite a tranquil place among the hustle and bustle of a city centre and is a major draw for tourists in Dublin, mainly thanks to the fact it houses one of the most famous books in the world, the Book of Kells. It is a great place to just wander through and is one of the more interesting things to see in Dublin, Ireland.
Pre-book your early access Book of Kells tickets HERE.
Kilmainham Gaol
During one of my school tours, we visited Kilmainham Gaol and I have wanted to make a return visit for many years now. A former prison, it is now a museum and is an extremely important historical site in Ireland. During the 1916 Easter Rising, many revolutionaries and leaders were imprisoned and subsequently executed in the gaol by British Forces. Entry to Kilmainham Gaol is via guided tours only which are operated on a timed-ticket basis and prebooking is essential. Once our son is a bit older, I plan to revisit this important historical site with him.
For latest prices and availability, and to secure your slot and book your tickets, click HERE.
Glasnevin Cemetery Museum
The world's first cemetery museum, Glasnevin has been awarded Best Cultural Experience and is a popular tourist attraction which has been listed as one of the best things to do in Dublin. Here you can enjoy the story of modern Ireland through interactive exhibitions, re-enactments and daily walking tours. You can visit the graves of some of the most famous men in Irish history including Michael Collins and Daniel O'Connell.
Find latest prices and availability for the daily walking tours of Glasnevin Cemetery HERE.
Croke Park Stadium Tours
Home of the GAA, Gaelic Athletic Association, this stadium has been at the heart of Irish sporting life for over 100 years. With a capacity of over 82,000 it is the third largest sporting stadium in Europe, having been rebuilt in 2004. It is primarily used for the Gaelic football and hurling finals which draw huge crowds to the city. Through guided tours you get to see the stadium in all its glory and learn about how the stadium and the sports it host are intertwined with the country's history, identity and culture. I've been lucky enough to attend school sports events at Croke Park and also two music concerts and it's an amazing stadium, definitely worth a visit if you have some sporting fans on your hands.
National Botanic Gardens
Somewhere I visited once as a child, and that I am eager to return to with our son, is the National Botanic Gardens of Ireland, located on the northside in Glasnevin, close to the Glasnevin Cemetery. With its Victorian conservatories, intricate gardens and more, the Botanic Gardens are a perfect family day out in Dublin. A visit to the gardens can easily be combined with a visit to the cemetery as they are in close proximity to one another.
GPO Witness History Visitors Centre
The GPO, or General Post Office, located in the heart of the city centre on O'Connell Street, is a building that is hard to miss. It is steeped in history, and now award winning, the GPO Witness History is a must-see when in Dublin to learn about the 1916 Easter Rising and modern Irish history. It is also one of the world's oldest operating post offices, so don't forget to send your postcards from there.
Pre-book your tickets and see availability and the latest prices HERE for the GPO Witness History Exhibition.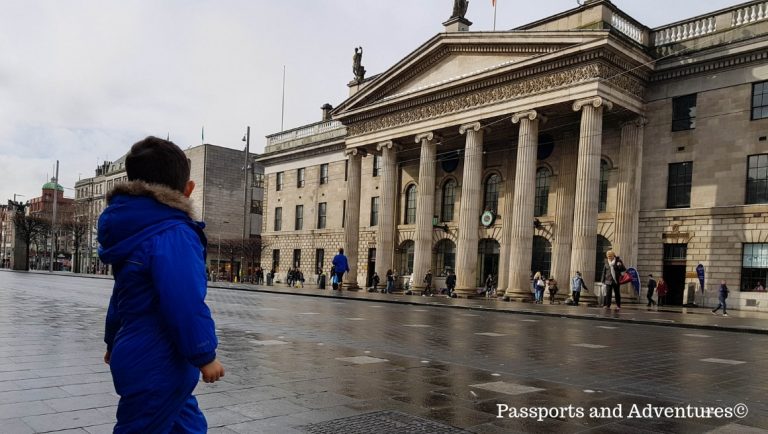 Jeanie Johnston Tall Ship and Famine Museum
Having had several uncles serve in the British Royal Navy in the 1950's and 1960's, I have a love of old, military ships and this extends to other historical ships. However, I have yet to visit the Jeanie Johnston, a replica of the tall ship which sailed many poverty-stricken families across the Atlantic during the time of the Famine to a new life across the pond. Visitors can get a glimpse into what life must have been like onboard the ship during its trans-Atlantic journeys. While this is an educational experience it can also be one of the fun things to do with kids in Dublin during your visit.
Find the latest prices and availability, and pre-book your Jeanie Johnston tickets HERE.
While these are just some more of the additional children's activities in Dublin to enjoy during your visit, some might not be suitable for younger kids like Kilmainham Gaol, the Guinness Storehouse and Glasnevin Cemetery.
Also note, that many of the activity outlined in this and the previous section are included with the Dublin Pass, so if you are planning on using a Hop On Hop Off Bus and want to visit a few of these popular Dublin attractions, then investing in a Dublin Pass will be worth it as it will save you money in the long-run.
Top Tips for visiting Dublin with kids
Dublin, and Ireland for that matter, are very child-friendly and no matter where you go, you will be welcomed. That said, here are a few tips to help make your time in my hometown a truly memorable one.
To ensure you get to enjoy many of the top activities in Dublin and some of the best things to do in Dublin with kids, ensure you do some planning before you arrive. Have a rough idea of what you want to cover while you are there.
If you are travelling with young kids, ensure you mix up sightseeing activities with fun things for the kids. We always do this with our son to ensure there is a good mixture, so he doesn't get bored. If you are planning on adult-type activites, make sure you have something else fun planned for the kids. For example, if we plan to visit a popular tourist place or take the sightseeing bus, we always make sure to include a zoo, aquarium or children's museum for our son as well.
Dublin is not a cheap city, you've been warned. However, that said you can easily mix up paid excursions with free things to do to even out the costs. If you choose an AirBnB accommodation, you can have breakfast and dinner in your accommodation and also have the facilities for preparing a packed lunch, which if it's nice, could be enjoyed in one of the parks such as St Stephen's Green, or on the boardwalk along the Liffey.
If you are choosing to stay in a hotel, then opt for one with breakfast included to ensure you can fill up. It might even keep you satisfied until the afternoon when some snacks might help to stave off hangry kids until dinner.
Make sure you get some memorable photos from your trip. Two pictures you must get are at the Ha'Penny Bridge and with Molly Malone. The Ha'Penny Bridge is so called as it used to cost half a penny to cross. It links Temple Bar with the northside of the city heading towards Jervis Street. Molly Malone is a famous lady around Dublin and her statue used to be found at the end of the pedestrianised part of Grafton Street until she was moved to Suffolk Street.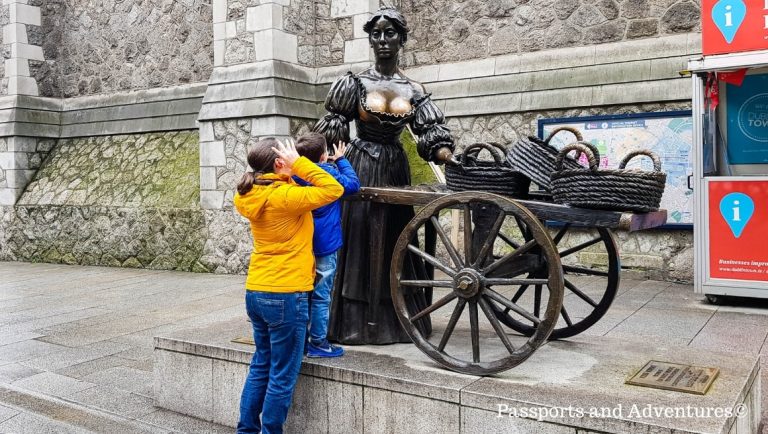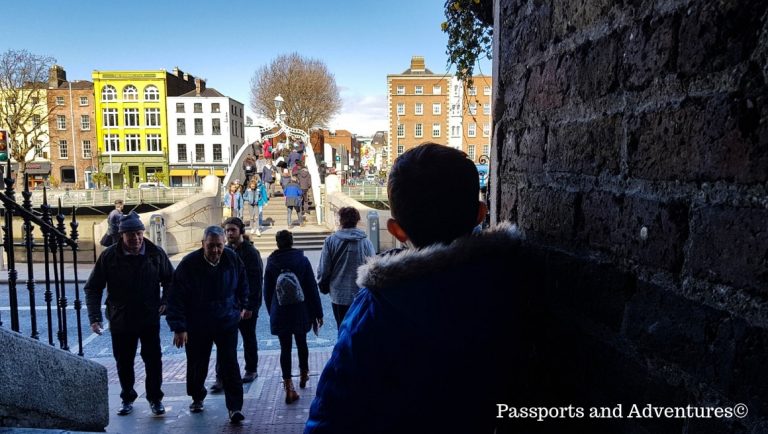 Take the kids into a pub for a Rock Shandy and a packet of crisps. Or for lunch, as many serve food from lunchtime. Not only will you get to have a breather from sightseeing but you might come across one playing traditional music. I did just this one day with my son, electing to stop in the pub his Dad and I first met on Dame Street, the Mercantile. It was quite emotional visiting there with our son after nearly 18 years! Just choose a table away from the kitchen door and bar and if visiting one in the evening, check with the barman if there is a time when kids need to leave as some pubs prefer kids to be off the premises in the evenings. And if you're visiting Dublin with a baby and are eating in a pub, ask for a baby bowl. A mixture of mashed potato and usually vegetable soup, it always went down a treat with our son when he was a baby. Plus it only costs a few euros.
Go prepared for all weathers. As mentioned in a previous section, the weather in Ireland can be unpredictable. Expect rain and cool days, even in summer. Bring layers and waterproof trousers and raincoats for the kids and you won't go wrong. To experience four seasons in one day is not an uncommon thing. And a good pair of walking boots or shoes is a must for all members of the family.
Be realistic about what you will be able to do in Dublin during your trip. No matter how much time you have you won't fit it all in. So, be realistic and have realistic expectations. And prepare for plans to change for reasons such as bad weather for outdoor attractions, or places like Dublin Castle closing at short notice.
Be savvy about making savings where you can. I've already mentioned food and packed lunches, and the Dublin Pass will save you money if you are going to use it for the sightseeing bus and a few of the tourist attractions. But you should also check Groupon and Living Social Ireland for deals on excursions not included in the Dublin Pass and for dining deals.
Ireland is not part of the Schengen Agreement, so make sure you check passport requirements and get necessary visas before you travel.
When eating out in Dublin be sure to try some of the following:
Full Irish: If you are not staying in a hotel or traditional B&B, then head out one morning for breakfast and have a full Irish. We recommend Ann's Bakery on Henry Street. Expect sauasages, bacon, eggs, tomato, mushrooms, beans and my favourite black/white pudding with toast and tea/coffee. A Full Irish will set you up nicely for day's sightseeing.
Soda Bread: An Irish brown bread which is perfect with real Irish butter and a cup of tea. I used to make it myself but cannot get one of the vital ingredients here in Portugal.
Irish Stew: One of the heartiest meals you can eat, a traditional Irish stew consists of meat (usually beef or lamb) and lots of vegetables including potatoes, carrots and much more in a thick broth or gravy. Accompanied by some soda bred it makes the perfect meal to warm up after a hard day's walking.
Fish and Chips: This is the one meal I ALWAYS have whenever I am home in Ireland. Fresh cod in batter accompanied by chips soaked in vinegar. Yum.
Coddle: A meal that was traditionally made with left-overs, a coddle usually consists of potatoes, onions, sausages and anything else.
Boxty: A traditional Irish potato pancake that goes with pretty much anything.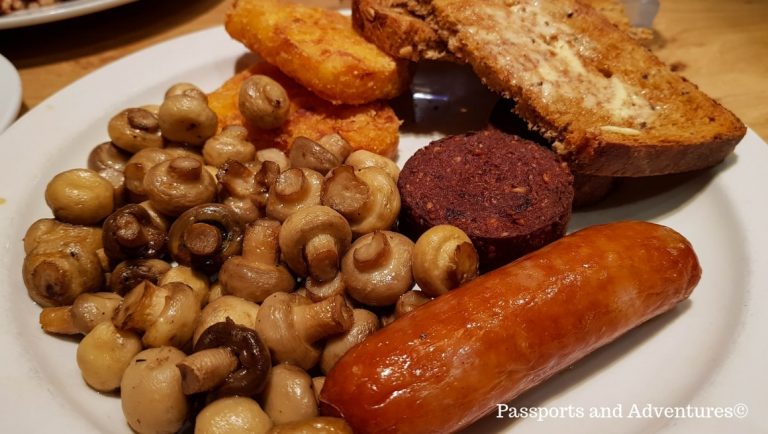 Things to do near Dublin – Best day trips from Dublin
In the counties surrounding Dublin, and even further afield, you'll find many family days out. Dublin is bordered by Kildare, Meath and Wicklow, each with some great things to do around Dublin. These family day trips from Dublin will require a car or for you to book a guided tour. All will require a few hours to allow for your transport to and from the attraction.
Glendalough – County Wicklow
A glacial valley in County Wicklow, Glendalough is renowned for an Early Medieval monastic settlement founded in the 6th century by St Kevin. As well as the monastic buildings still standing, some dating as far back as the 13th century, there is an interactive centre where you can learn more about one of Ireland's top attractions. It is one of the best places to visit near Dublin and is best done either in your own car or with one of the many tour groups.
Check for prices and availability for tours to Glendalough here.
Malahide Castle – County Dublin
While technically this top Irish tourist attraction is located within Dublin County, it is not easily accessible from the city centre, being 9 miles or 14km north of the city centre. That said, it is worth visiting with kids. Parts of the castle date back as far as the 1200's and there are beautiful gardens to wander through. There is also a Fairy Trail for younger members of the family to enjoy. Entry to Malahide Castle and Gardens is included in the Dublin Pass.
Bru na Boinne – County Meath
An extremely historical site allowing just 650 visitors per day, Bru na Boinne is over 5000 years old, making it older than the pyramids. It is a UNESCO World Heritage Site where you can visit the large Megalithic passage graves of Knowth, Newgrange and Dowth as well as some 90 additional monuments. Prebooking is essential as visitors are limited, as mentioned, for what is one of the most interesting things to do outside Dublin.
Check HERE for prices and availability for your dates.
Powerscourt Waterfall – County Wicklow
Powerscourt Waterfall is Ireland's highest waterfalls standing 121m or 398 feet tall. Set amongst some stunning woodland in County Wicklow it is makes for great family days trips from Dublin with kids. On our visit to Ireland in 2018, we finally visited the waterfall ourselves and despite it being a rather grey and dreary day, we were very glad we made the effort. There is a small kiosk for snacks and drinks and a children's playground for them to enjoy should they get bored of the waterfall or walks along the river.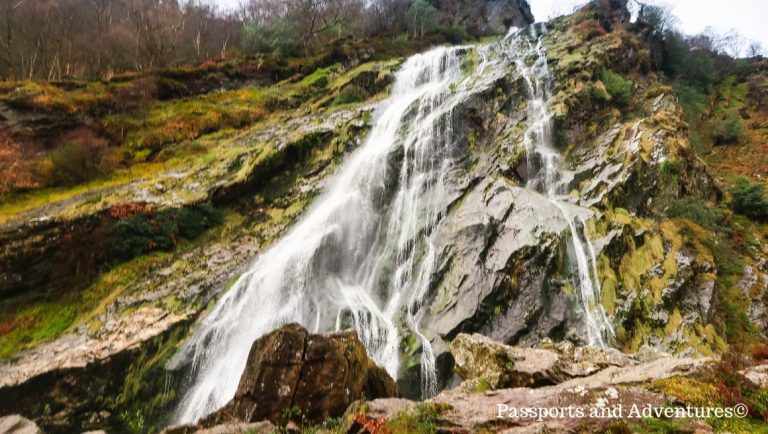 Irish National Stud and Japanese Gardens – County Kildare
If you are looking for slightly more unique things to do near Dublin, then why not consider a visit to the Irish National Stud and Japanese Gardens. Ireland produces some amazing and sought-after thoroughbred horses, and many come from the National Stud. Guided tours of the stud are available. Alongside it there are the beautiful Japanese Gardens, somewhere I haven't visited since I was a child and somewhere I'm definitely taking our son in August.
Trim Castle – County Meath
Located on the banks of the River Boyne, Trim Castle is the largest, best-reserved and most impressive Anglo-Norman castle in Ireland. Originally dating from the 12th century, this castle featured in the film 'Braveheart'. It's one of the many castles in Ireland on our to-do list and makes for great family days out near Dublin.
All of these ideas for day trips from Dublin with kids are easily done either on your own if you have a car at your disposal or via guided tours. You should allow several hours for your trip to take into account transport to and from Dublin city centre if that is where you are staying.
What to pack for visiting Dublin with kids
As I've already mentioned, with the unpredictable weather, you are best packing for all weather, even if you are visiting in summer. Think layers and waterproofs.
Each member of the family should have a waterproof or rain jacket. Adults should opt for a good, breathable waterproof jacket, while kids will need a raincoat. If you are planning to explore outdoors, an all-in-one rainsuit is a must for kids. Wellington boots for kids are advisable for outdoors activities such as visiting parks and farms but aren't essential. Good, waterproof adult walking shoes and similar waterproof kids walking boots are advisable. Not only will they allow you to do the walking needed for sightseeing but will keep your feet dry if the heavens open. Waterproof over legs for adults are also advisable for outdoor activities.
Layers are a must too as the weather can turn chilly, even on a summer's evening. Fleece tops for adults and for kids that are lightweight may come in handy.
Hats, gloves and scarves are a must, especially in winter.
A good, waterproof backpack is also advisable for your family days out in Dublin. You can carry your raincoats and waterproofs in there, some portable water bottles and also snacks or a packed lunch.
A travel journal could be a great way to document your trip and hold mementos in. Something like this one can get the kids interested and you can fill it in during lunch breaks or at the end of the day.
A good camera is also a must for capturing those memories to treasure forever. My personal favourite is the Canon G7X Mark ii. While it is not the cheapest camera on the market it is a good alternative to a DSLR as it has many of the same functions as my beloved Canon 5D Mark ii, but doesn't weigh as much or take up as much hand luggage space.
Chargers and multiple cables are also advisable, especially if your family love their technology. Remember that Ireland uses a three-pin plug, so opt for one with interchangeable plugs and one that has multiple USB ports for charging all those phones, cameras and tablets overnight. A portable charger might come in handy too.
And lastly, for your days out and about in Dublin with the kids, a small first-aid kit would be advisable. You never know when a plaster will be needed. This one is small enough to fit into your day backpack and won't weigh you down.
For more information we recommend the Lonely Planet range of travel books. Click the banner below to check out the Lonely Planet Store.

In Summary
I hope you've found this complete guide to visiting Dublin with kids helpful and informative. I've tried to cover everything from how to get to Ireland, to where to stay and what to do with kids in Dublin.
My most important piece of advice is to have a rough plan of what you want to see and do before you arrive, pre-book any necessary tickets in advance and prepare for unpredictable weather. That said, don't let the weather put you off doing anything unless it's pouring, and your planned activity is outdoors.
And most importantly, enjoy yourself in Dublin. I'm very proud of my hometown and plan many more visits to see all it has to offer families.
Cath x
If you are planning a trip to Ireland and want to see some more of the country alongside Dublin, then check out how I planned our Irish road trip in 2018.
For ideas on what to put on your Ireland bucket list, check out this post which my fellow bloggers helped put together.
And if castles are something your family enjoys visiting, check out this post about some of the best castles to visit in Ireland with kids. We plan on adding many more to the list.
And for more great posts about family travel, head back to the homepage and take a look around.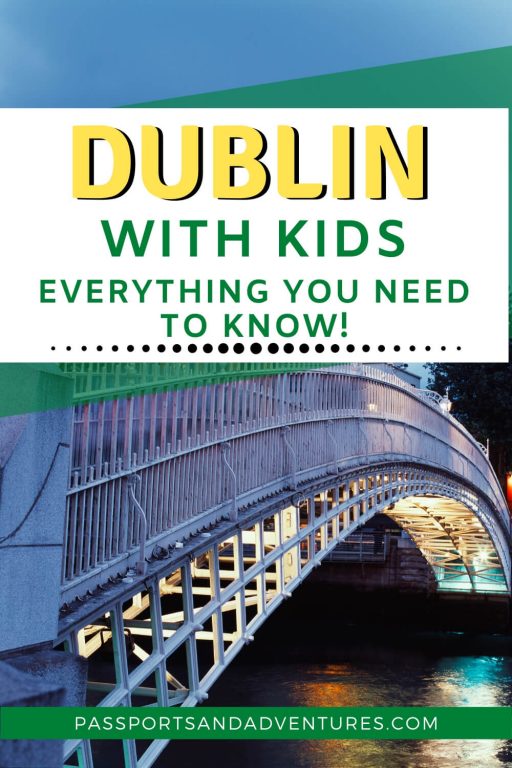 Passports and Adventures is a participant in the Amazon Services LLC Associates Program, an affiliate advertising program designed to provide a means for sites to earn advertising fees by advertising and linking to amazon.com, amazon.co.uk, amazon.ca. Amazon and the Amazon logo are trademarks of Amazon.com, Inc. or its affiliates. To learn more about affiliate links, read my Disclosure Policy here.
Related Posts