If you can't travel because there's a global pandemic, or you want to try and imspire some wanderlust in your kids and get them interested in travel, then watching films can be a great thing to do with them. In this post you'll find 15 of the best travel movies for kids to inspire their wanderlust and get them interesting in traveling.

At the time of writing this post in April 2020, the world was going through an unprecedented time. A virus was sweeping through the globe at an exponential rate, a global pandemic had emerged and travel anywhere, even within your own country, was shutdown in an effort to stop the spread of the virus. That virus was Covid-19.
But whether or not there is a virus sweeping through your country, you can still instil wanderlust in your kids by settling down on your sofa to watch some of the best travel movies of all time for families. I asked some of my fellow bloggers what films they consider to be the top travel movies for kids and the list below is the result of their recommendations. You'll also find our favourite travel-themed movies for kids below. So, why not dig them out, grab some popcorn and get traveling from the comfort of your own home.
15 Best Travel Movies for Kids
The movies chosen by myself and my fellow bloggers are all suitable for families with kids below the ages of 13. Of course, older kids will enjoy them but I wanted to ensure these travel movies to watch as a family were suitable even for the youngest members of the family.
Disney's The Jungle Book (2016, PG)

While the original of Disney's The Jungle Book is one of our all time favourite movies, we think the new theatrical version from 2016 is the best travel movie for kids. In this version we have a real boy with life-like animals playing their relevant parts (and believe me, they look real). From the jungle animals of India to the landscapes featured, it's a great family film. If you don't know the story, Mowgli is a boy who grows up as part of a wolf pack. But when the fierce tiger Shere Khan returns to their part of the forest, he must leave his family for the safety of the pack. The movie follows his journey with Bagheera and Baloo as they make their way to the man village where he must now live. In our opinion it's one of the best adventure travel movies for kids.
You can buy the original version of The Jungle Book HERE or for the 2016 theatrical version of the film, click HERE.
Around The World in 80 Days (2004, PG)
Based on the original book by Jules Verne, there are two films based on the book. The first was made in 1956 but there is a recent remake of the film from 2004 featuring Jackie Chan. While some people don't rate this movie at all, we love it.
The story follows Phileas Fogg, an accentric inventor who is accompanied by his Chinese valet, Passepartout, as they attempt to circumnavigate the globe in 80 days. It's one of the best comedy travel movies as the haphazard duo travel from London to Paris, to Turkey, to China and the USA. Do they get back to London and win the wager against Lord Kelvin, and does Phileas become the new Minister of Science? Well, if you haven't read the book, then I won't spoil it for you. But suffice to say this film is worth watching with kids to enjoy hilarious scenes from countries far and wide across the globe.
Buy the original 1956 version of the film HERE and the 2004 version of 80 Days Around the World HERE.
Jumanji (1995, PG)
While you might think this a strange film to include in a list about the best family travel movies, Jumanji is a film that can instil wonder in kids to travel to the lands where the featured animals come from.
The story follows two children who find a strange game and begin playing, releasing Alan Parish who himself got trapped in the game 26 years previously. However, they must all finish the game, including Alan's friend Sarah, and as they move through it, they unwittingly release a host of animals into the world from the game who wreck havoc in the local neighbourhood. It's a great adventure family film based loosely on the concept of players entering a jungle world and coming face-to-face with its inhabitants.
Cath – Travel Around Ireland
Buy the Jumanji film HERE.
Abominable (2019, PG)

Abominable is the story of a girl who lives in Shanghai and finds a large Yeti on the roof of her apartment building. She sees that there are people trying to capture the Yeti and does her best to help him.
With a heart filled with passion, the girl decides to take the Yeti back to his home. Two friends join her and finds herself trying to outrun the people looking to capture the Yeti. The Yeti also has magical powers that help the friends on their adventure.
Abominable is a wonderful adventure for children as it shows what friendship and love can do. It brings children on a journey across towns, rivers, forests and finally, to the Himalayas. It shows the importance of family and friends through laughter, heartache and happiness.
Diana – Travels in Poland
Buy Abominable HERE.
Coco (2017, PG)

Coco is a kid's friendly movie that takes you on a journey to Mexico and allows you to learn more about their famous yearly celebration known as Dia de Muertos. It follows the story of a 12 year old boy who dreams about becoming a famous artist.
He is accidentally transported to the Land of the Dead when the bridge between the dead and living intertwine on the Day of the Dead. He meets his great-grandfather and together they are helping each other and uncover the truth about their family's history. It's a feel-good movie for the whole family that makes you want to book a ticket to Mexico right away and experience this magical celebration.
Alexander – Gourmand Trotter
Buy the movie Coco HERE.
Moana (2016, PG)
Moana is one of the most iconic Disney movies from recent years, and it follows the chief's daughter who lives on an island in a Polynesian village.
She sets sail in search of Maui, who is a legendary demigod, and together they venture on a journey to return an ancient relic to Te Fiti, who can be likened with Mother Earth. The movie is a great introduction for kids to Polynesian culture and encourages an adventurous spirit and kindness. It's a wonderful film for the whole family that is thrilling for all ages with a happy ending and a great story to tell.
Christine – Christine Abroad
Buy Moana HERE.
Aladdin (1992, U)

Aladdin is a well-known tale about the journey of Aladdin, who finds his wishes granted after freeing a genie from a lamp. The animated film came out in 1992 and is a great movie for kids. In addition to Aladdin's adventures, it features the love story between Aladdin and Princess Jasmine, a flying magic carpet and a monkey.
From their clothes to the architecture, Aladdin captures various aspects of Asian and Arab culture that are both positive and heartwarming. Of course, there are a few stereotypes that shouldn't be dismissed, but overall, I think it's a great movie that explores the concept of travel and adventure for children.
Daisy – Oman Travel Guides
Buy the original Aladdin HERE. Or for the remake version from 2019 featuring Will Smith, click HERE.
Lilo & Stitch (2002, U)
One of our favorite kid-friendly travel movies is Disney's Lilo & Stitch. It is set in the quiet town of Hanapepe on the island of Kauai. You can actually see the Lilo & Stitch mural when visiting Kauai with kids.
While the movie takes place in the 1950s and features quite a few Elvis songs, it also highlights Hawaiian culture through hula dancing, Hawaiian music, surfing, food, and the Hawaiian language. One of the most popular lines in the movie is "Ohana means family. Family means nobody gets left behind or forgotten." We love talking about the concept of Ohana and the meaning of Aloha while we are at home and when we travel. I also appreciate that this film showcases non-traditional families, diverse cultures, and economic differences between the characters, as that also comes up when traveling with our kids.
Marcie – Hawaii Travel With Kids
Buy Lilo & Stitch HERE.
The Lion King (1994, U and 2019, PG)

Disney's The Lion King is a firm family favourite of ours. It is set in Africa, in the African plains of Kenya and Tanzania. The Lion King is a story about a young Lion Cub called Simba, his father, Mufasa and Simba's cruel Uncle Scar.
Scar wants to take on the homelands and become King so he plots to Kill Mufasa and Simba by creating a Wildebeast stampede. He thinks his plan has worked. Mufasa dies in the stampede but Simba secretly escapes and survives.
Later in the story, Simba returns as an adult and fights Scar to take back the homeland with the help of his family and friends.
This movie inspires so many kids to love Africa and it's wildlife. They are able to imagine going on safari, travelling across the red soil spotting animals that they would never think they could see and seeing the real Lion King. I know this film really sparked my girls love of Africa and they were completely taken aback, even at their young age (4, 4 &1) when we visited Kenya with the kids earlier in the year.
The animators of Disney's The Lion King travelled to a park called Hell's Gate National Park in Kenya where the dramatic landscapes inspired the film.
Anna – Twins and Travels
Buy the original version of the Lion King from 1994 HERE. And for the most recent live-action version from 2019, click HERE.
Up (2009, U)
Up is a computer animated family film produced by Pixar back in 2009. It is the tale of a boy called Russell and a widower named Carl. Carl is desperate to visit South America to fulfil a promise to his late wife – to the point where he turns his house into an aircraft complete with thousands of balloons!
When Carl takes off, Russell is inside and comes on the journey with him. It is an adventure to get there and then to be in South America when they meet up with Charles Muntz who is looking for a mysterious giant bird.
This is a great movie with my favourite part being right at the beginning when Carl is a boy and meets his future wife. She teaches Carl about a well known explorer and how people willing to dream can have adventures. The movie itself teaches you that you should follow your passions in the present before it's too late.
Josh – Australian Dad
Buy the film Up HERE.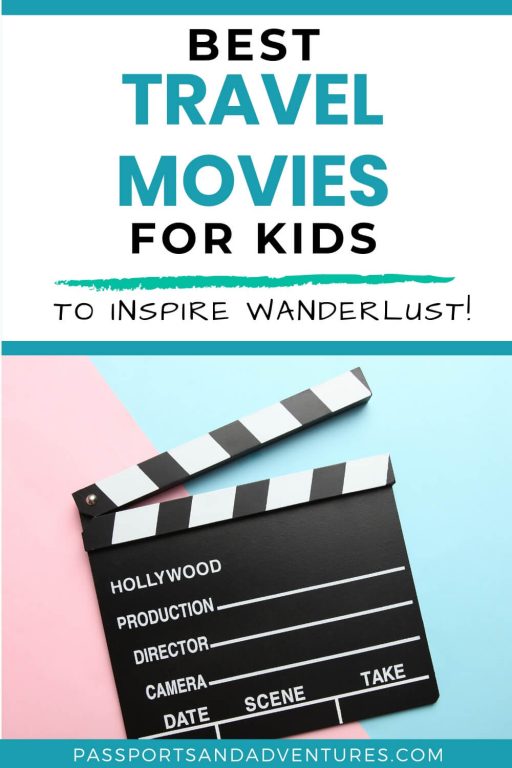 Madagascar (2005, U)
Central Park Zoo is home to Marty the Zebra, Alex The Lion, Melman the giraffe, and Gloria the hippopotamus, but Marty the Zoo is bored with his life and end up planning an escape with the Penguins, which ends in disaster and they find themselves washed up on the Island of Madagascar.

It's a great story that introduces children to lots of different animal species and also gives them an insight into the jungle and the animals that live in Madagascar, our children have always had a great fondness for Lemurs, and I think it roots back to this movie and King Julian, with the very famous Like To Move It song!
It provides great travel inspiration for all members of the family, along with a catchy soundtrack and hilarious animals and their antics, covering such issues as captivity, prey drive and being lost, trying to get home.
A real family movie, that will delight all ages and is also one of the best funny travel movies for kids.
Mandi – East Anglia Family Fun
Buy your copy of Madagascar HERE.
Finding Nemo (2003, U)

Nemo is a young clownfish who lives in the Great Barrier Reef in Australia with his father Marlin. In an unfortunate incident, Nemo is captured by scuba divers who take him to Sydney, where he is held captive inside an aquarium in a dentist's office. Marlin sets out on a quest to find and rescue Nemo. He is accompanied by Dory, a blue tang who struggles with short term memory loss. The pair struggle through many misadventures along the way, but they eventually make it to Sydney.
Nemo's rescue doesn't go as planned, and more misadventure ensues, but ultimately father and son are reunited. This heartwarming animated film will inspire kids to visit Australia and, in particular, the underwater wonders of the Great Barrier Reef. It also encourages empathy and compassion for sea creatures and teaches kids that these creatures and their habitat should be protected.
Wendy – The Nomadic Vegan
Buy Finding Nemo HERE.
Happy Feet (2006, U)
Set in the stunning continent of Antarctica, Happy Feet is an animated film that brings to life the frigid world of emperor penguins. It tells the tale of how every emperor penguin should be able to sing their so-called "heartsong". But when one of them failed at doing so, Mumble turned to his different and unique ability that later on saved the entire tribe from famine.
Kids will for surely enjoy the singing penguins as music keeps the story moving along. They will also certainly appreciate the cool landscape of Antartica. But the best part? The little ones will have fun with the penguin adventure – from the first time trying to catch their fish to spending moments and playing with their friends.
Arrianne – Travel Habeat
Get your hands on Happy Feet HERE.
Newsies (1992, PG)
The Disney classic Newsies is a great movie to inspire kids to travel. Set in the early twentieth century in Brooklyn, the boys explore the historic neighborhood highlighting what a unique place it is from most other cities. However, what I love the most about the movie is Jack's desire to see Santa Fe, New Mexico.
The song he sings about this far-away city is full of passion, inspiring more than just the desire to see Santa Fe specifically, but portraying the longing someone can have for a part of the world they've never seen before. It's one of the purest distillations of wanderlust I've seen on film.
Stephanie – Oklahoma Wonders
If you'd like to watch the Newsies, buy it HERE.
The Polar Express (2004, U)

The Polar Express, our family's favourite Christmas film, captures the magic of the holidays and the Arctic while taking the audience on a journey to the North Pole. On Christmas Eve, a young boy sees a mystical train- the 'Polar Express'- outside his house, and climbs aboard to find a host of children on their way to visit Santa Claus.
The atmosphere of anticipation created by the scenes of excited children drinking hot chocolate while looking out into the snow; the piles of presents and of course seeing Santa himself will get you all into the Christmas spirit- but the Polar Express is a brilliant movie to watch anytime of the year because of the virtual journey of the Arctic that you are led on. Snow and frozen lakes, caribou and reindeer are all windows into the North Pole and a wonderful introduction for children into part of the world that only a few get to visit.
Hannah – Adventure Travel Family
If you'd like to see The Polar Express, buy your copy HERE.
Summary
So there you have it, some of the best all time travel movies for kids to inspire their wanderlust. Some of these films recommended by myself and my fellow bloggers regularly make the list for the top 10 travel movies for kids, and some do not for one reason or another.
However, these are our personal favourites that we think families who love to travel will enjoy. What film would you add to this list of the best travel movies for travel-loving families?
Cath x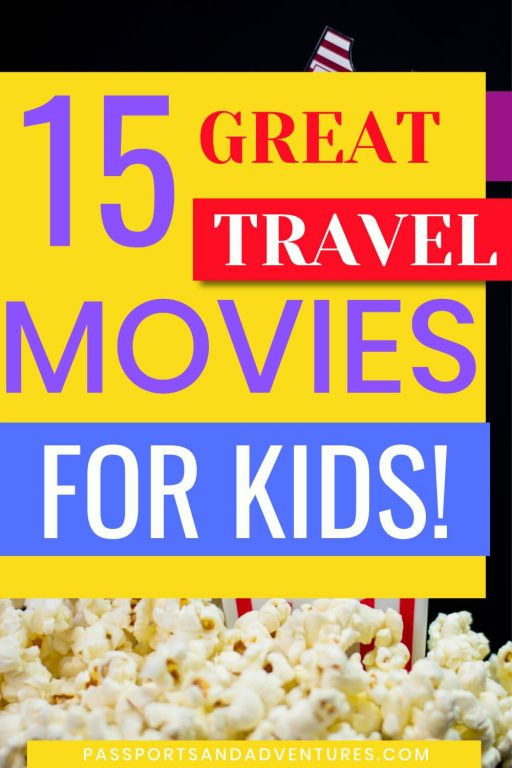 Passports and Adventures is a participant in the Amazon Services LLC Associates Program, an affiliate advertising program designed to provide a means for sites to earn advertising fees by advertising and linking to amazon.com, amazon.co.uk, amazon.ca. Amazon and the Amazon logo are trademarks of Amazon.com, Inc. or its affiliates. To learn more about affiliate links, read my Disclosure Policy here.
Related Posts