The United Kingdom is a country that is very family-friendly and with a wealth of different cities and towns, it can be hard deciding on a destination for your next UK family holiday. In this post you can discover the best cities in the UK to visit with kids from recommendations from myself and my fellow bloggers, many of whom are parents themselves.
When it comes to deciding where to spend your next family city break within the UK, how do you choose? Of all the great places to go with kids in the UK, how do you decide on the right one for your kids? Does it need to have great public transport? Do you want lots of things to do with kids in the city? The list of requirements can be endless when it comes to a family break. But with this list of the best cities to visit in the UK with kids, as recommended by those who have been, your decision just got a whole lot easier.
Best cities in the UK to visit with kids
London, England
Regularly topping the list of 10 best cities to visit in UK, whether as a family, solo traveller or couple, London is by far one of the top places to visit for kids in UK. The capital city is a veritable playground for kids and their families with many of the top UK attractions for families located within the city or close by.
London has a great public transport system so getting around the city is easy. Many Tube stations have lifts and in many central parts of London, footpaths are wide enough for strollers/buggies. Restaurants and cafes are ten-a-penny and there is something to suit everyone's taste. There is also a huge range of accommodations to suit families of all shapes, sizes and budgets. We tend to stay in AirBnB apartments in North Greenwich which is just 20 minutes from Waterloo station.
As for things to do, you simply cannot be short of ideas for things to do in London with kids. From the London Zoo in Regent's Park, to the London Eye, Sealife Aquarium, London Dungeon and Shrek's Adventures, all located at Southbank, to Kidzania at the Westfield Shopping Centre, you can never say you cannot find something to do with kids in London.
Got a history fan on your hands? Then why not take the sightseeing bus to visit Buckingham Palace, and head to the Tower of London which deserves a day to itself. Walk across the famous Tower Bridge and visit HMS Belfast too for s bit of different history.
Think London is only for older kids, think again! In a post I wrote you can discover why London is one of the best places to visit in the UK with toddlers and how you can still visit some of the big London attractions even with the younger members of the family.
If you are looking for one of the best places to visit in the UK for kids, then London has to be top of the list.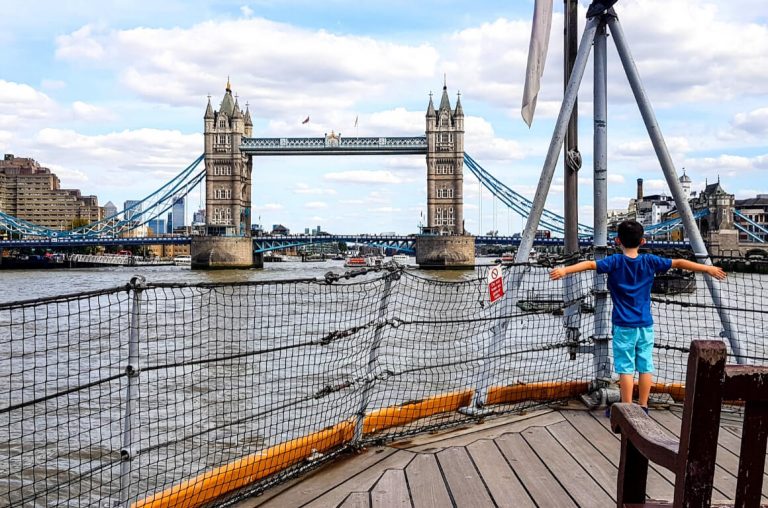 Cardiff, Wales
Having lived in Wales for over 11 years, and it being the country our son was born in, I can hands-down say that one of the places to go in the UK with kids is the capital, Cardiff.
While it isn't the biggest city in the UK, Cardiff isn't small either. What makes Cardiff so family-friendly is its city centre. Much of the city centre is pedestrianised, including Queen Street and the area around St Davids 2 Shopping Centre, meaning it's safe to walk strollers and young kids around. It does get busy at weekends, so keep a tight hold on younger kids to ensure they don't get swallowed up in the crowds.
There are hotels in the city centre to suit all budgets from Premier Inn to the Hilton. And there is also no shortage of restaurants for even the pickiest of eaters.
When it comes to things to do with kids in Cardiff, there is plenty on offer. In the city centre you will find Cardiff Castle, with a Norman Keep and Castle Apartments to visit, as well as secrets in the battlements to discover. There are also museums and Bute Park to enjoy within walking distance from the shopping areas.
Slightly further afield a visit to Cardiff Bay is recommended with Techniquest being a great place to visit with kids. If you are there in summer time, there is a treat in the beach brought into the Bay. Not far from Cardiff Bay is St Fagans, a living museum that is one of the best days out in the Uk in my opinion.
If you are looking for one of the places to go with kids in the UK for a great family getaway, Cardiff has it all.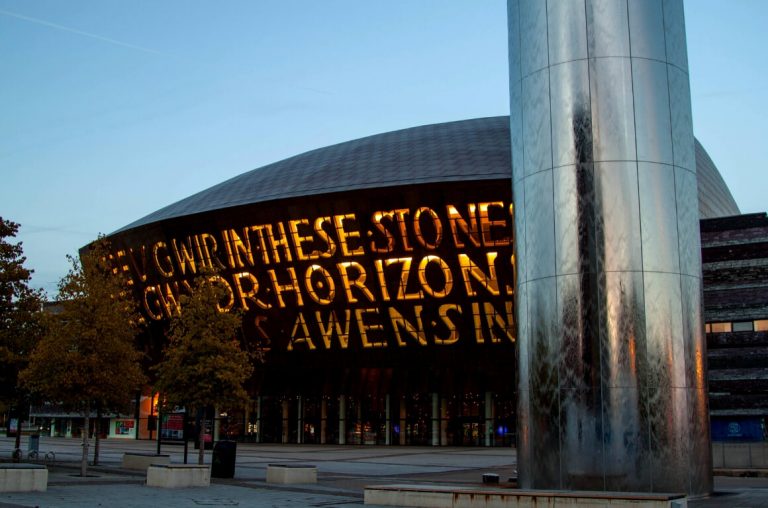 Bristol, England
Home of Wallace and Grommit and pirates, Bristol is something of a kids' dream destination. My boys have grown up here and, as mini-experts, I have consulted them on the absolute best bits. Fun, interactive museums and animal experiences come top of the list.
Bristol is a city built on shipping, and a stroll along the famous docks will bring to you Brunel's SS Great Britain, where you can explore life beneath deck and dress up in Victorian costume. The brave can even climb the rigging like a real sailor.
From in front of the Great Britain you can take a boat tour of the harbour or a ferry into the centre (some even have sharks faces painted on the front). On a holiday weekend a steam engine will transport you along the docks to the M Shed museum, where you can board a traditional double decker bus and explore Bristol's history as home of Frys' chocolate, blue glass and sea farers. In front of the museum, why not join a pirate tour and learn about Bristol's own Blackbeard, who would put lit fuses in his beard to strike terror into the hearts of his foes?
Other great Bristol museums include the We The Curious science museum where kids can get hands on with huge bubbles, stand in a mini tornado or create their own lightning. At the top of the iconic Park Street, is the grand (and free!) Natural History Museum, with its stuffed dodo, gypsy caravan, Egyptian mummies, fluorescent rocks and dinosaur bones.
Not to be missed is Brunel's other Bristol landmark, the Clifton Suspension Bridge (or the slippy rock next to it that generations of children have used as a natural side). Visit the camera obscura next door for 360 degree views of the magnificent Avon Gorge.
A great place to stop for lunch and a coffee is the terrace at the White Lion, with amazing views over the bridge. If you are looking to treat yourself, the Avon Gorge Hotel upstairs is a lovely place to stay. Nearer the centre, the Mercure Grand is right next to Corn Street, with its weekend markets, or the Brigstow overlooks the docks.
Finally, one of the absolute best things to see in Bristol is the zoo. One of the oldest in the world, you can walk under a penguin tunnel, come eye to eye with a pack of piranhas, watch gibbons swing and hear lions roar in beautiful landscaped botanical gardens.
With so much to see and do, maritime Bristol really is a must-see kids' destination.
Helen – Holidays From Hels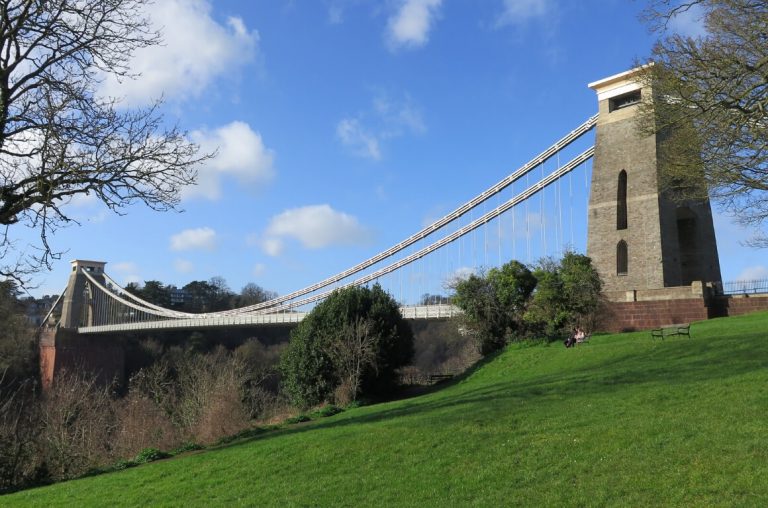 If you fancy combining a visit to Bristol with the Cheddar Gorge, then check out some of these Somerset lodges with hot tubs for your accommodation.
Manchester, England
There's more to uber edgy Manchester than football and music. It has so much to offer visiting families with a range of free museums, loads of outdoor play space, super fun indoor activity centres, and family friendly restaurants and cafes on every corner.
Our favourite museum in Manchester is the excellent Science and Industry Museum (free entry) which has a strong focus on the history of the UK's first industrial city. It also houses the world's oldest surviving passenger railway station and the world's first railway warehouse from 1830. Dinosaur fans should head to Manchester Museum, which is part of Manchester University, to see the huge T-rex skeleton along with other natural and worldly artefacts.
Kids will love the huge aquarium at Sea Life Manchester and LEGOLAND Discovery Centre, which feels like you've been shrunk and entered a huge LEGO box. But if you want to get active, head to the the massive indoor activity centre of Play Factore (this place redefines everything you have thought about soft play centres) or visit the snow (it's real snow, not fake!) at Chill Factore for skiing, snowboarding and sledging. For outdoor bouncy fun, we absolutely love Treetop Manchester; a series of ropes and huge nets in the trees for your little monkeys to run wild.
But what would a trip to Manchester be without visiting Old Trafford? The Manchester United Museum and Stadium Tour offers a behind the scenes look at the world's most iconic stadium. Get a feel for life in the Premier League and walk through the players' tunnel towards the hallowed turf and find the seat of your favourite player in the dressing room. A must do for all footy fans and families are very welcome.
While Dad takes the boys there, mums and their girls could enjoy one of the many spas in Manchester too. Enjoy a few hours of relaxation before continuing to enjoy this great city.
Manchester has an excellent public transport system and kids will especially enjoy riding the trams. As for accommodation, you can never go wrong with a Premier Inn; family rooms are clean, have everything you need, and the generous breakfast energises everyone for a morning of sight seeing. There are are handful located in and around the city, but the best located one is Premier Inn Manchester Central.
Jenny- Peak District Kids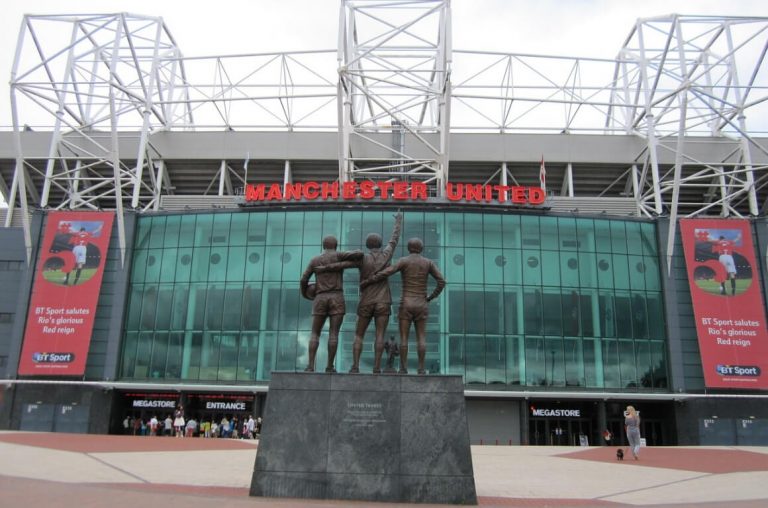 And if you are visiting the city with older kids, why not try your hand at one of the Manchester escape rooms. See if your family has what it takes to break free!
Southampton, England
Southampton is a city located in South East England just 70 miles from London. It is a great city to head with kids with many things to do including one BIG thing.
You can walk along the Southampton Town Walls which are some of the best preserved medieval town walls in England. The SeaCity Museum is an interesting place. Among other things, it has the stories of people who have either arrived in Southampton or departed over the last 200,000 years. It's an interesting way for your kids to learn some history. It also has an exhibit on the Titanic. Another fun place is the New Forest Wildlife Park where you can walk a trail while spotting wildlife in their natural habitat. Kids will also love the big play areas which are awesome.
However, the best reason to visit Southampton, particularly if you have younger kids, is to visit Peppa Pig World. We actually visited England primarily to visit here with our two young Peppa Pig fans and we were not disappointed. Part of Paultons Family Theme Park, there are many rides and attractions here that older kids will enjoy too, but Peppa Pig World is definitely the highlight. It's so well presented that it really feels like you have walked into their world. You can take rides on Grandpa Pig's train or Daddy Pig's car or go on a helicopter ride among other things. We particularly enjoyed going early for breakfast where you can meet Peppa Pig and George.
While it is possible to get buses around much of Southampton's attractions, a car will make things easier. For somewhere to stay, Ranvilles Farm House is a great choice if you have your own car just a couple of miles from Paultons.
Sharon – Baby Journey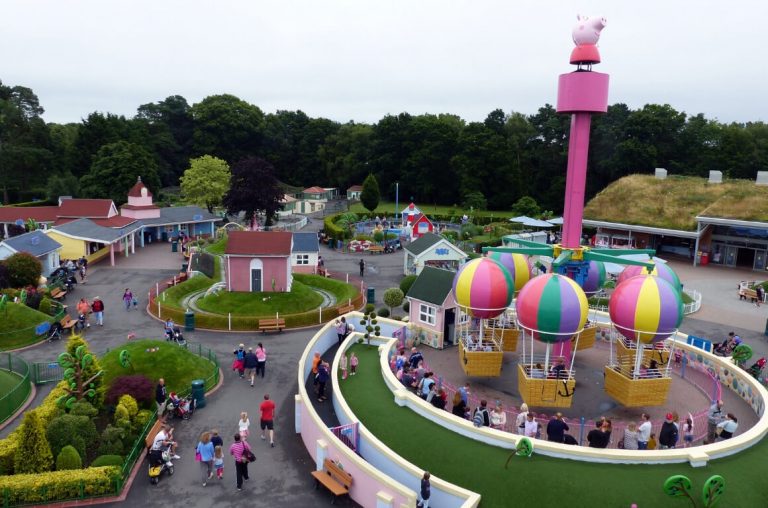 Oxford, England
Most UK cities have great options of family-friendly activities, but Oxford is an especially good choice for a city break with the kids. Not only does the city have a really walkable layout, with plenty of green spaces, but they also have some interesting attractions that will be sure to keep the children entertained.
Whether you want to visit The Story Museum full of colourful character exhibits and storytelling sessions, take part in the Oxford Spy Mission Treasure Trail, step back in time at the Oxford Castle and Prison or explore the History of Science Museum, there really is something for everyone.
The joy of Oxford is that there's always something to do come rain or shine, so whatever time of year you visit, there's something great to do. Summer months are perfect for walking tours, open-top bus journeys and punting down the river, while rainy days can be spent at the Oxford ice rink, at the child-friendly escape room Escape Hunt Oxford or at one of the city's many museums.
When the family starts to wilt and you need a pick-me-up, head over to Cowley Road which has a whole host of family-friendly restaurants such as Atomic Burger and Pizzeria Trattoria Mario.
For those who want to combine city attractions with some more outdoorsy activities, head over to Cutteslowe Park, Port Meadow or the CS Lewis Nature Reserve, the place that was the inspiration for the Chronicles of Narnia!
Chrysoula – Historic European Castles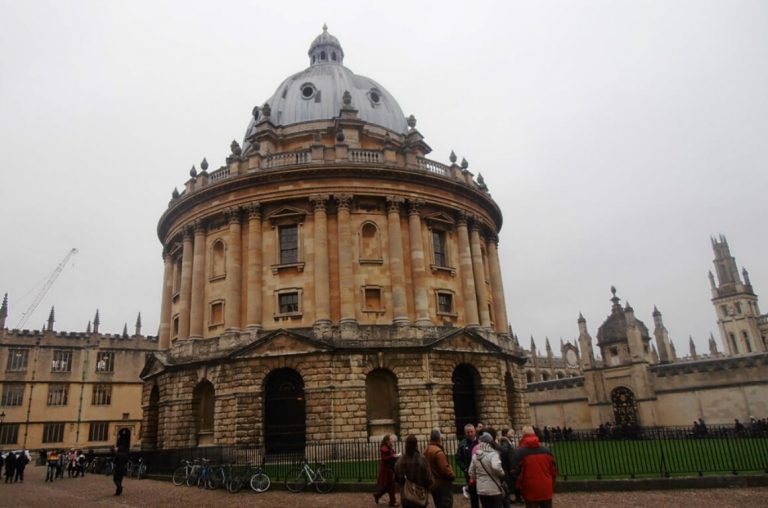 If you are visiting Oxford with kids and fancy treating the family, then you should read this post about the best places in Oxford for afternoon tea.
Glasgow, Scotland
Glasgow is an incredible city to visit for families because most of its attractions leave both kids and adults in awe alike! Not only is there a plethora of free things to do in Glasgow, the city is also full of cool museums, street art behind every corner and a great place for outdoor activities.
Start with a tour on the city sightseeing bus to get an overview and use it as an easy-to-navigate means of transport around the city. Hop off at the Riverside Museum on the banks of the River Clyde. This is the city's transport museum – architecture fans will love the stunning design by Zaha Hadid, while the kids can climb onto historic steam trains, out-of-use trams and even a replica of the Glasgow subway. During summer, take the small ferry across the river to visit the Govan Stones and learn about Viking history in this part of Glasgow.
Continue your tour to the West End: pretend you're at Hogwarts at the University of Glasgow (look for the cloisters), stop for lunch on Ashton Lane and visit the beautiful Botanic Gardens to enjoy the greenery. The Gaelic word for Glasgow (Glaschu) means, after all, "Dear Green Place".
Back in the city centre, follow the Glasgow Mural Trail and use the free online guide to learn about the different artists who have put their mark on the city. If you've still got energy left, climb the tower at the Lighthouse for fantastic views of the city.
There are many hotels to choose from, with with the whole family a serviced apartment-hotel like Fraser Suites might be a great choice. That way you have a kitchen to prepare snacks for the day, and the parents can relax in the living room after the kids have gone to bed.
With these tips in mind, your family will fall in love with Glasgow!
Kathi – Watch Me See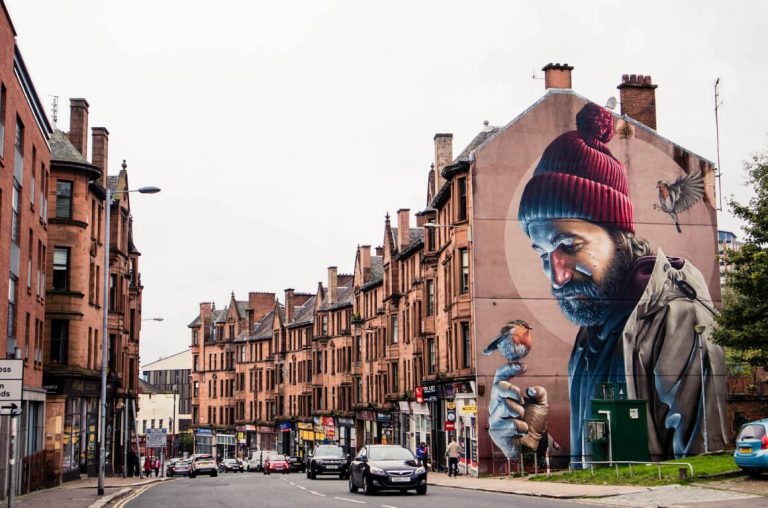 If you're planning to visit the city and want to know best to spend your time, read this 2-days in Glasgow itinerary to get some ideas!
Edinburgh, Scotland
One of our favourite cities to visit in the UK is Edinburgh, Scotland. The city is easily accessible from all parts of the UK, and offers plenty of opportunities for family fun. We prefer exploring Edinburgh on foot, but there are plenty of city buses or trams that run through the major tourist areas and beyond.
We recommend starting off exploring Edinburgh Castle, a prime place for taking in city views, learning about history, and a great area for kids to safely explore since it is car free. Afterwards, take a stroll along the Royal Mile, stopping to explore Camera Obscura, the Museum of Childhood, and watching street performers. Be sure to grab some shortbread treats from one of the many souvenir shops. When everyone is hungry, head to The Outsider with its family friendly atmosphere and stunning castle views, or pop in to a Pizza Express where you are sure to find something kids will eat.
Other fun things to do with kids in Edinburgh include the Edinburgh Zoo, the National Museum of Scotland (think mummies and dinosaurs), the Royal Botanic Gardens, or even an underground tour through Mary King's Close.
Find a place to stay in the Old Town or New Town, both have easy access to parks, attractions, and restaurants. For families we recommend Radisson Blu on the Royal Mile or Kimpton Charlotte Square in New Town. Wherever you stay, you will never be far from the fun in Edinburgh.
Kirsten – Kids Are A Trip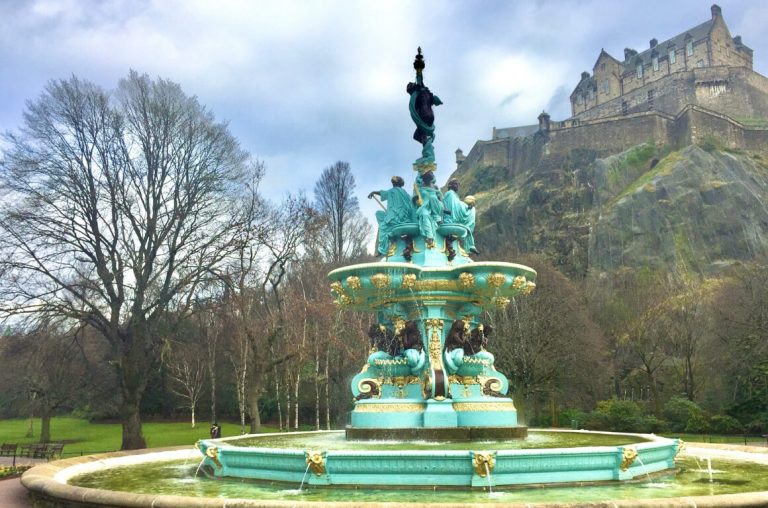 Cambridge, England
As a beautiful city located nearly 2 hours north of London, Cambridge has a majestic feel to it, and is incredibly welcoming to families with children. Walking, biking, and lots of open space is one of the most enticing things Cambridge has to offer. As a university town, there is plenty of space to walk around, take in the beauty of the city and just tumble on the grass with children.
The Magazine Beach Park and the very large Danehy Park has so much to offer families, with lots of open space and even family friendly activities at times in the summer.
The spectacular botanical garden in Cambridge is the perfect place to spend the day getting lost among wildflowers, running around fountains and learning about the thousands of species of plants collected from all over the world. The botanic garden has over 16 hectares of walkways, gardens and greenhouses for visitors to explore.
Kids love to eat, and Cambridge has a great offering of restaurants, bakeries and kid friendly dessert shops. The Tatte Bakery is a great place to take the kids for any meal and with its family friendly atmosphere, kids will love it. After, treat them to a delicious ice cream cone from Toscanini's.
If you have slightly older children, or if you are curious to see other sides of Cambridge, a punting trip down the River Cam may be a great idea. Punting is a great way to see another side of Cambridge and take part in a well known local tradition.
Taking a climb to the Great St. Mary's Church Tower is another great family friendly activity, though there are some tight spaces in the staircase headed up. Kids tend to love views and being high, so most will find the climb and the views quite delightful.
Diana – Travels in Poland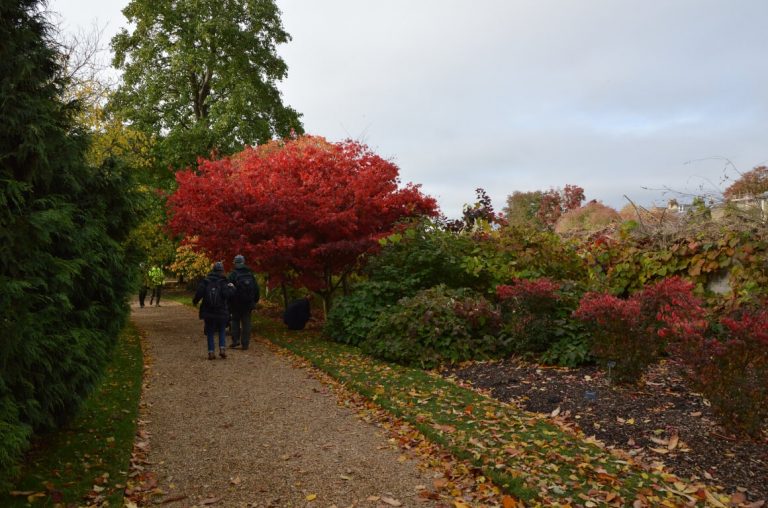 If you'd like to know what you can get up to in 48 hours in Cambridge, check out this post from Me, Him, The Dog and A Baby.
St. Davids, Wales
St David's isn't the most obvious city to visit with kids in the UK. It's the smallest city in the UK, and the second smallest in Europe after the Vatican City.
Essentially, St David's is a large village which happens to have the largest cathedral in Wales. It's out in the far west of Wales, in a remote, wild peninsula in the county of Pembrokeshire, with some of the most beautiful scenery in the UK.
The city centre – which in most places would be called a village square. – has a few hotels, restaurants and a grand total of two pubs where you can eat. One has a beer garden where you can sit outside in the summer.
St David's Cathedral is magnificent, easily the most impressive church in Wales, and the ruin of the Bishop's Palace is next door. These may be of interest to kids – it depends on the individual. Our explorer son prefers exploring outdoors, and the staircases of the Bishop's Palace hold far more allure for him.
St David's comes into its own as a destination with kids because of its superb coastline. Whitesands Bay is an awesome beach two miles from the centre and this has the most facilities, including cafes and equipment hire. It also has glorious coastal walks in either direction, and budding climbers will love the volcanic outcrop of Carn Llidi above the beach.
Just to the south of the city, Caerfai Bay is another fantastic beach, with golden sands, red rocks and rockpools galore.
Regular boat trips run from St David's to some of the nearby Welsh islands. The closest is Ramsey Island, a mile west of the mainland, and trips there take you to see the puffins during the nesting season (May to July) and Atlantic grey seals.
David – Delve into Europe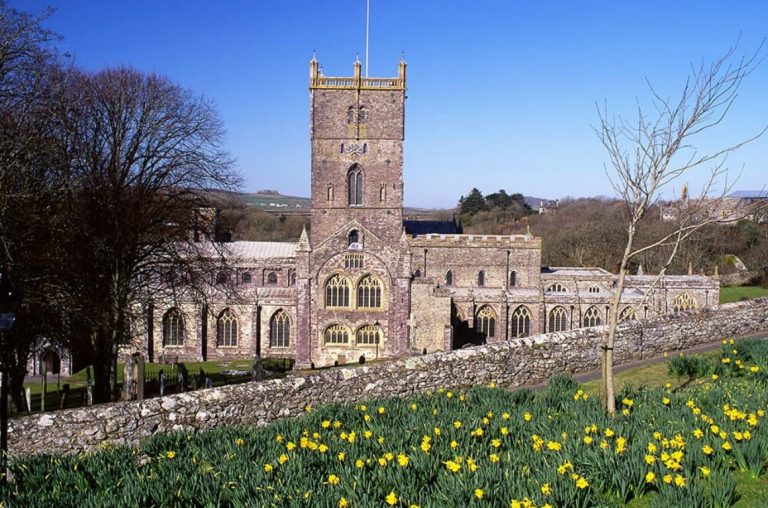 York, England
The northern city of York is a great place to visit with kids. The city is small and the main attractions are easily reached on foot with the added bonus of a pedestrianised city centre. Any family visit to York should start with a trip to the Gothic cathedral of York Minster in the heart of the city centre. Children under 16 are free with a paying adult and the Minster provides special family friendly tours every week. On other days, children can borrow Explorer Backpacks complete with age appropriate activities and magnifying glasses to help them get the most out of their visit.
Kids of every age will enjoy the free-to-enter National Railway Museum. Families could easily spend a whole day at this world class attraction. There are engines and carriages from throughout rail history including a Shinkansen carriage you can sit in and a cross section from the Channel Tunnel. Watch the restorers at work in the workshop, have fun at the free, daily science shows or take a ride on the miniature railway next to the museum's picnic area and small playground.
Walk through the charming cobbled and paved streets of York to reach the Castle Museum, opposite Clifford's Tower. The huge Castle Museum charts the history of the city. Children will love exploring the toy gallery which will also bring back memories for parents. The highlight of the museum is Kirkgate, a reconstruction of a Victorian Street where children can enter the shops, police station and schoolroom to meet the 'people' who work there.
There are several family friendly accommodations just outside the city walls such as the Premier Inn near Micklegate Bar, one of the city's medieval gateways.
Sinead – Best in York Guide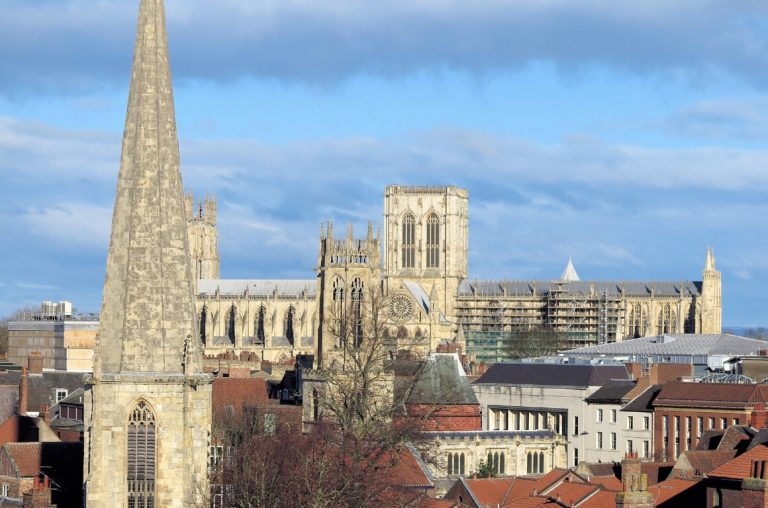 Plymouth, England
Plymouth is located in the South West of England and was once and still is a major naval base. There is lots to do with kids and a lot of it is within a short distance of the main Barbican Harbour area. This makes it perfect for family adventures as you can walk from each attraction to the next and not worry about parking.
Whatever the weather the National Marine Aquarium is an essential place to visit. It is a beautiful aquarium with some very large tanks and talks through the day. It takes a couple of hours to explore so a perfect place to visit on a rainy day.
From the Barbican it is a short walk to the Hoe where Sir Francis Drake was said to have played bowls before defeating the Spanish Armada in 1588. It is now a large open space with Smeaton's Tower Lighthouse that can be climbed for better views out across Plymouth Sound. This is a great place for those who like to see big Navy vessels as there is always something buzzing about.
Below Smeaton's Tower is the gorgeous Tinside Lido which is an open air swimming pool with views out to sea. Perfect for a swim in the summer months when it is open.
On the Hoe are a number of Cafe's. One of our favourites is Pier One that is cosy all year round or if you want something a bit different then Cap'n Jaspers at the Barbican is a unique burger experience.
Suzanne – Lighthouse Locations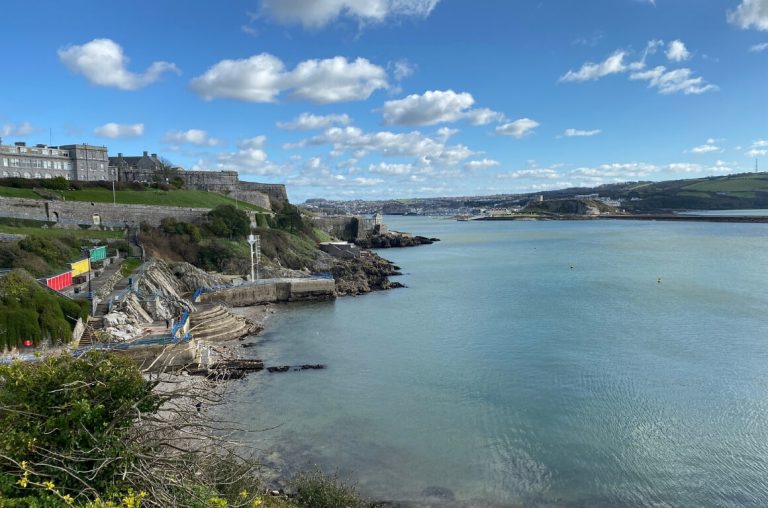 Norwich, England
Norwich, located on the River Wensum in beautiful Norfolk, about 100 miles (160 km) north-east of London, is a friendly city positively teeming with family friendly fun. The most complete medieval city in the UK, Norwich was also England's first UNESCO City of Literature. As the only English city located inside a National Park, it's also one of the most naturally pretty, with a river at its heart and the waterways and beautiful countryside of the Norfolk Broads surrounding it. Hire a boat or take a river cruise under the city's ancient bridges and out to explore the lock-free waterways of the Broads is a great idea for families.
An easy city to walk, its cobbled pathways, character-filled buildings and enormous outdoor market are a huge part of Norwich's appeal. As is its impressive selection of family friendly eateries, pretty gardens and sprawling parklands, including the stunning Eaton Park, with its boating pond, children's play area, pitch and putt golf and BMX park.
The city's most famous landmarks though are Norwich Cathedral, the cloud bursting spire of which dominates the skyline, and the imposing Norwich Castle. The former is an architectural confection and my kids enjoyed exploring it cloisters and labyrinth and spotting the peregrine falcons who call the cathedral spire home. The castle too is a sure fire hit for kids, offering a variety of tours aimed at specific age groups, including one hosted by a costumed knight, plus kids dress ups, spooky dungeon tours and a fantastic 360-degree view from the top.
For history buffs, the Museum of Norwich at the Bridewell is another must, sharing the city's story from medieval to modern day through exhibitions, interactive displays and stories that are hands on and engaging for kids. Culture vultures will want to visit the Sainsbury Centre with its permanent collection of works from artists including Picasso and Degas and Lalique, though kids will probably be more impressed at the centres star turn in 'Ant-Man' and 'Avengers: Age of Ultron'.
As a city, there are lots of things to do with kids in Norwich making it a very family-friendly city in the UK.
Aleney – Boy Eats World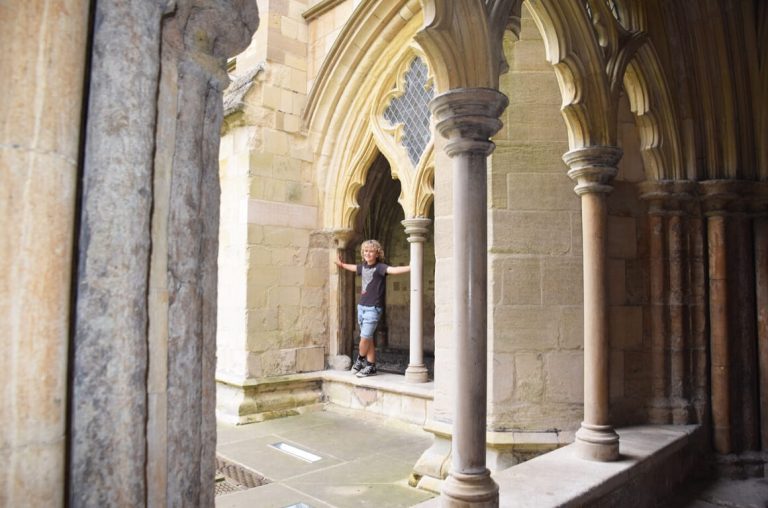 Bath, England
Bath is a great city to go to with kids. No matter what their age, they will find something amazing to do. Parking is easy with many park and rides on the outskirts of the city and the bus ride in often sparks excitement even from the older children especially if it is a double decker bus that arrives to take you in!
We can highly recommend staying in a lodge at Bath Mill Lodge Retreat. It is on the outskirts of the city but great if you have children as it has a small restaurant and playground on site.
Our favourite thing to do in Bath with our young family was the famous Roman Baths but everyone from our 4 year old twins, to the grandparents loved this. There is an audio trail to follow with a children's option available – I followed this with the girls and it was excellent. There is also a quiz for older children to follow as you move around the Baths.
Bath Abbey which is right next to the Roman Baths is absolutely stunning and somewhere I would highly recommend looking round. If your children are over 5, you can take the tower tour where you can make your way up to the top and have the most beautiful view over the city as well as seeing how the bells work.
Other places your family will enjoy visiting in Bath will include Bath City Farm, the American Museum, take an open bus tour of the city, and the famous Bath Royal Crescent. There are lots of things to do with kids in Bath, making it one of the best UK cities to visit as a family.
Anna – Twins and Travels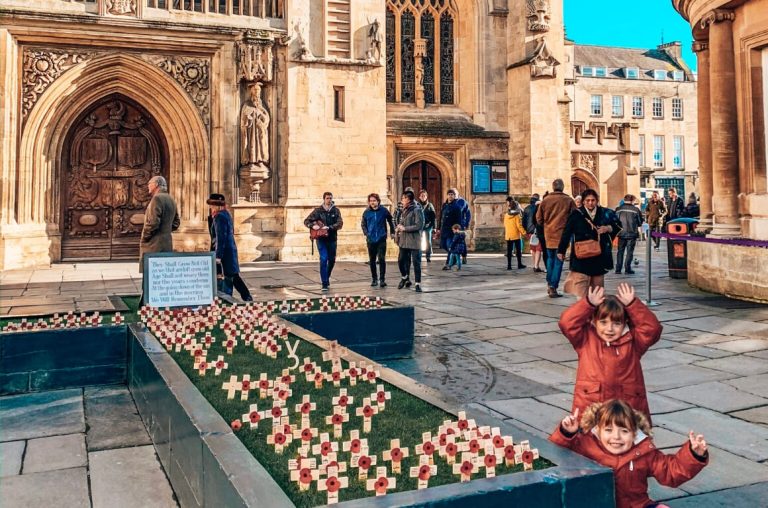 Liverpool, England
One of the best UK cities to visit with kids is Liverpool. Having visited Liverpool many times for football matches with my hubby pre-kids, we got the chance in early February 2020 to bring our son to the city for the first time, also for his first football match.
Liverpool is one of the most family-friendly cities in the UK to visit with kids because the Scousers are generally a very friendly bunch of people. Whether you are there for a football match or not, it's one of the best places to visit in the UK with kids.
Like many cities, the city centre is pedestrianised around the high street shops, making it stroller/toddler friendly. As with many UK cities, you will find a host of accommodation options to suit all budgets, along with both chain and independent eateries for every taste.
Some of the best things to do in Liverpool with kids include stadium tours at both Anfield (home to Liverpool FC) and Goodison Park (home to Everton). If you are lucky enough to be able to get your hands on some tickets, match day in Liverpool always has a good atmosphere. Plus, the kids will love shouting their heads off and cheering when their team scores a goal.
If you haven't got a football fan in the family, then visits to the Royal Albert Docks might be better. There you'll find Mattel Play for younger kids, the Maritime Museum, the Tate Liverpool and the Beatles Museum, as well as the Liverpool Wheel and a lovely little carousel near the Maritime Museum. You could also take a river cruise from here.
If the northern weather is against you, there are plenty of indoor soft play and trampoline parks dotted around the city. And if you want to venture slightly further afield, 25 minutes from the city centre you'll find the Knowlsey Safari Park which will delight animal lovers of all ages.
Whether you are a football fan or not, Liverpool is one of the best cities in the UK to visit with kids.
Cath – Travel Around Ireland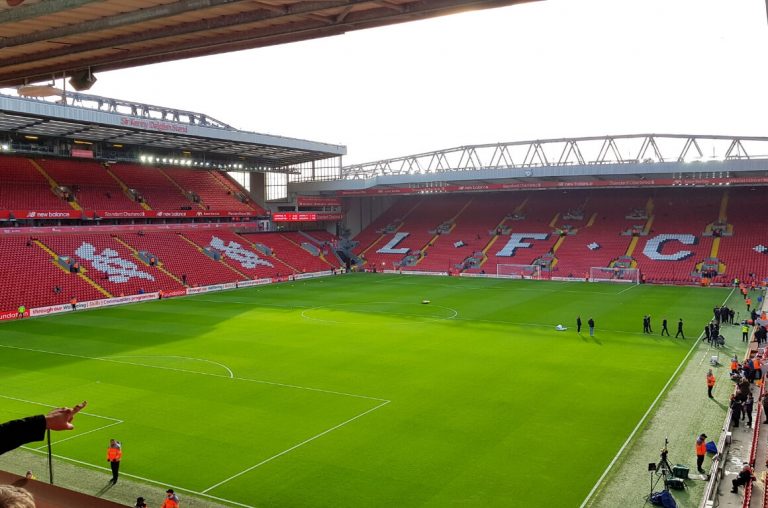 Summary
With so many cities and towns to visit in UK, it can be difficult to decide on a destination for your next getaway but I hope my fellow bloggers and I have made it a little bit easier by sharing our recommendations for the best places to visit in the UK with family.
While London is home to some of the best UK attractions for kids, each city has lots on offer to choose from, no matter what your kids are into. There are accommodation options for families of all shapes, sizes and budgets and an abundance of places to reduce the risk of hangry kids.
Where will your next break in the UK be?
Cath x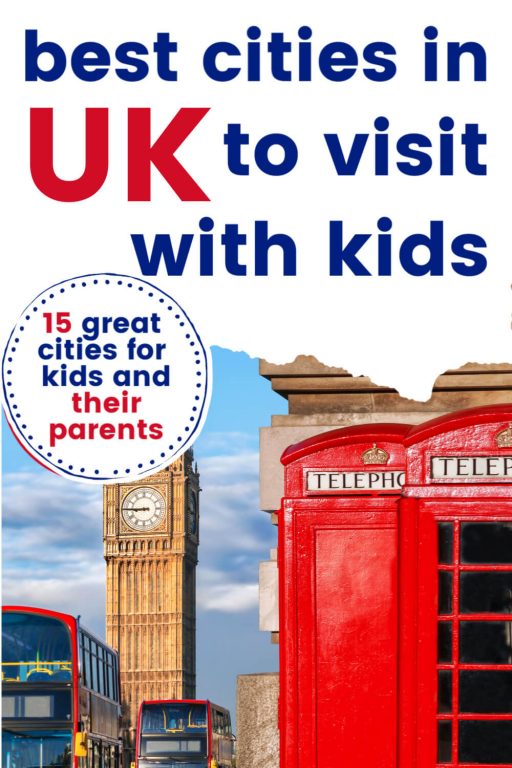 Related Posts