Portland is a city we always wanted to visit and before we visited, we did some research into the best things to do with kids in Portland, Oregon to ensure we had some fun activities planned for our son. We would be coming off the back of a road trip to Yellowstone and we all needed downtime.
So, in this post I'm sharing with you 5 awesome things to do in Portland with kids that we enjoyed, giving you a few other ideas for family-friendly activities in the city, and some information about getting to the city, where to stay and places to eat with kids in Portland.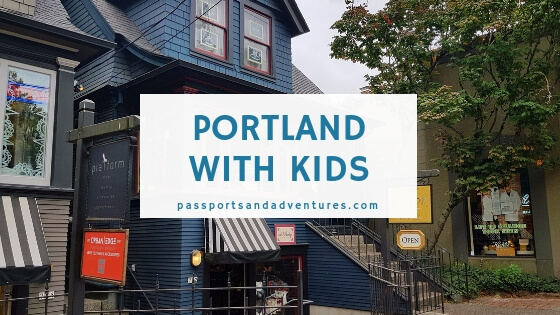 Post first published in June 2018. Updated in February 2020.
Portland in Oregon, the city where Grimm (the TV series) was based, is known for being a hip and trendy city. It might not be on everyone's radar, but it had been on ours for a while.
When we started planning our USA road trip and found we could visit both Yellowstone and Portland in one trip, we knew we were finally going to knock it off our bucket list. That said, as we would be travelling as a family, I needed to find fun family things to do in Portland, Oregon to ensure our son enjoyed the city as much as we did.
As ever, I turned to my trusted fountains of knowledge, the travel groups on Facebook, asking for advice on the best Portland attractions for kids. There were quite a few suggestions of things for families to do in Portland, Oregon, and a Portland bucket list was formed for our trip.
Unfortunately, due to the forest fires along the Columbia Gorge Creek, we didn't get to visit Multnomah Falls, nor drive part of the Pacific Coast Highway. But we did manage to tick off a few things from our bucket list and we enjoyed some of the best things to do in Portland with kids.
5 Awesome Things to Do in Portland with Kids
In this section you'll find 5 ideas for what to do with kids in Portland that we ourselves managed to tick off our bucket list. They had all be suggested to us during my research and are easily covered over two to three days. These can be enjoyed with kids of all ages, even the little members of the family.
OMSI – Oregon Museum of Science and Industry
Our first port of call in Portland was OMSI, the Oregon Museum of Science and Industry, located on the east bank of the Willamette River. I've written about our visit in greater detail on the blog, but I'll admit I was apprehensive about whether it would be of interest to our son or not.
I knew we adults would enjoy it, even more so when I found out they had a Pompeii exhibition on during our visit. But would it have enough to keep a three-and-a-half-year-old occupied and happy?
I need not have feared. OMSI is a great place to visit as a family. We visited the exhibition halls on the first floor and there were plenty of displays in there designed to engage children, albeit of a slightly older age than our son. But nonetheless he enjoyed himself in there.
Next up was the Science Playground, and oh my word, this was his favourite room at OMSI. From a giant sand pit to a water play area, there was so much for kids to play with and enjoy.
And it was evident by how busy this room was. It was paradise for our boy after the many miles of driving he'd endured before we arrived in Portland.
This place is brilliant and is just one of the fun things to do in Portland with kids that even toddlers can enjoy. OMSI for toddlers? Yes!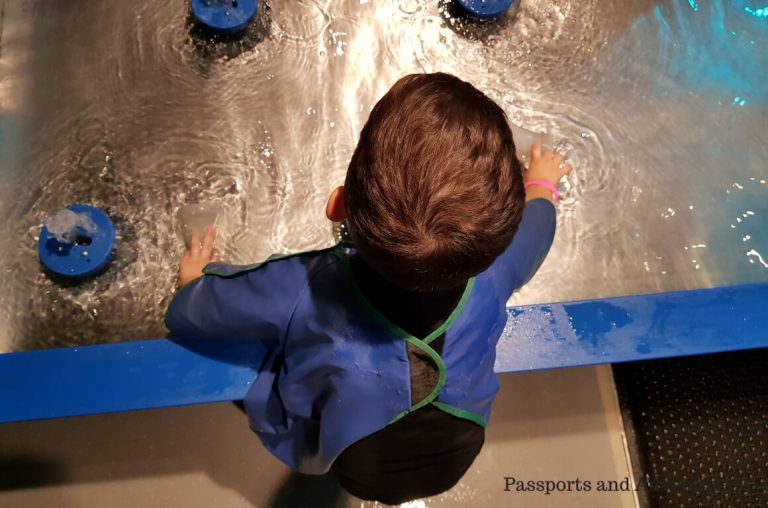 Oregon Zoo
The Oregon Zoo in Portland, located in Washington Park, was also one of the suggested places to go in Portland with kids. I knew our son would enjoy a visit to the zoo, and it would be a great way to wind down after a hectic two weeks, so this made it onto our Portland bucket list.
We were also kindly given complimentary entry in return for our review, which I published on the blog shortly after we got back.
Suffice to say we were blown away by Oregon Zoo. We arrived just before opening and thoroughly enjoyed a few hours wandering around the various areas and enclosures.
The Great Northwest area was by far our favourite section of the zoo and visiting Oregon Zoo in Portland gave us a chance to see some animals not normally seen in European Zoos, such as cougars, bobcats, black bears and bald eagles, all native to North America.
We saw lots of different types of animals and I was impressed by all their enclosures. And of course, we had to ride the zoo train before we left, much to our son's delight.
We were really impressed by Oregon Zoo and would absolutely recommend it if anyone is wondering what to do in Portland with kids and toddlers. It's one of the best places for kids in Portland.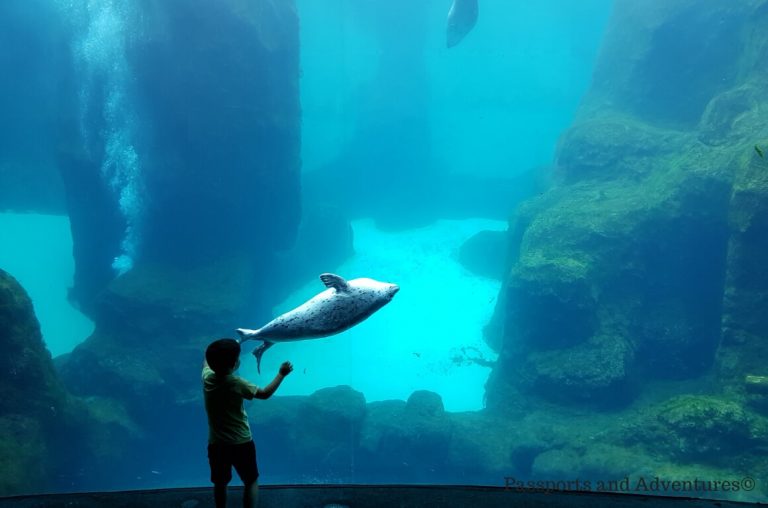 Portland Children's Museum
Conveniently located in Washington Park beside the zoo, the Portland Children's Museum was another recommendation as one of the best family activities in Portland, Oregon. The building in which it is located was once the home of OMSI. But it is now a museum dedicated to children, and it also houses a school.
Inside the museum, it is a treasure trove of fun for kids, with different areas designed to spark free play, and their imagination and to give delight. There is a water area here that our son loved, along with a building room, pet hospital, outdoor adventure area, and lots more. Children can be children in this museum.
There are daily events such as storytelling and pottery classes, and there is a Making Studio with crafts and supplies of all types for little imaginations to run wild.
The children's museum would be one of the ideal things to do in Portland when it's raining, as there are enough areas and different things to do indoors. In fact, although it was a lovely day outside, we were so busy inside that we never even got a chance to see the outdoor adventure area!
And if the rain doesn't let up and little people start getting hungry, you can visit the café and either purchase meals and snacks there, or you can eat your own at the café tables.
It's a brilliant place to take kids in Portland and its location beside the zoo means you could combine the two as we did for a fun-filled day out with the kids. In my opinion, a visit to this museum is one of the best things to do in Portland with toddlers who will love it.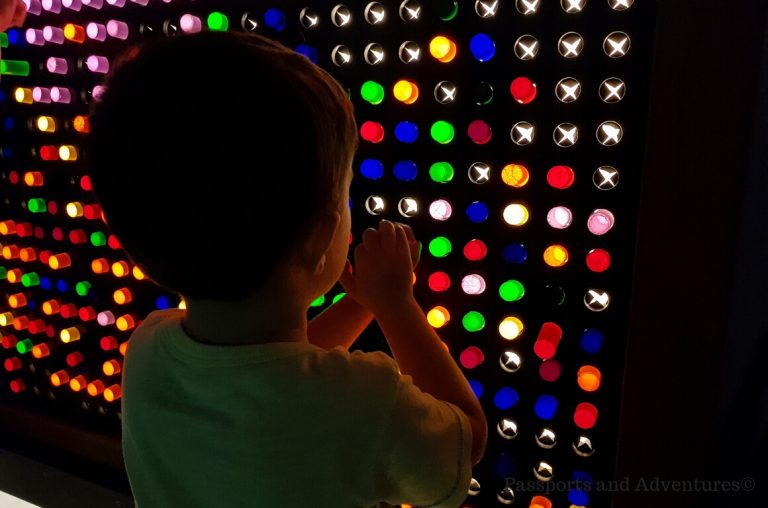 Visit Finnegan's Toy Store and Powell's Book Store in Downtown Portland
Selfishly, I wasn't going to visit Portland without doing a little bit of shopping Downtown. That said, two of the best things to do in Portland for kids were recommended in this area as being ideal for bringing kids.
After finishing our own shopping in the Nike Store and Sephora (you can guess who went where), we made our way to Finnegan's Toys, Portland as many people had suggested it was a must-visit.
Finnegan's Toy Store was a lovely, quaint, old-style toy store with shelves filled with all sorts of toys. The thing that really appeals in this store is there are no electronic games and gadgets of any kind. It is all about traditional toys and games.
There are also a few areas laid out with toys for kids to play with and our son made a beeline for the Brio train set. He could have played there for hours. And we didn't leave without making a small purchase for our boy, a Brio Police Motorbike which he has loved ever since. It was a lovely store to visit.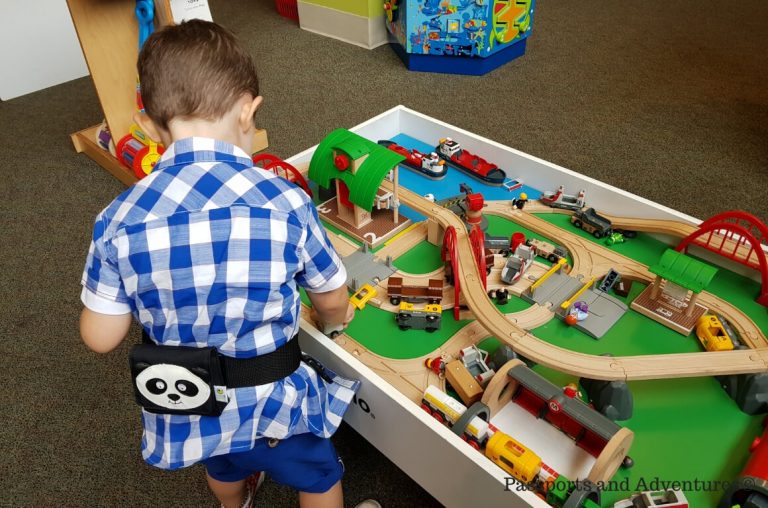 After Finnegan's, we walked a few blocks and found another famous Portland store people said we just had to visit, even with kids in tow. That store was Powell's City of Books, one of the largest bookshops I've ever been in.
I went to check out the kid's books area while our son stayed with my husband (he was a bit tired at this stage), and I've never seen a bigger kids' book section in all my life. It was amazing.
There were lots of areas with seats and cushions for kids (and parents) to read books. And I witnessed parents reading to their children from books on the shelves. It certainly wasn't frowned upon and was lovely to see. Had our son not been tired at this stage, I could have spent hours perusing the shelves.
So, if you are wondering what some of the best things for kids in Portland are, a trip to either of these stores might be right up their street.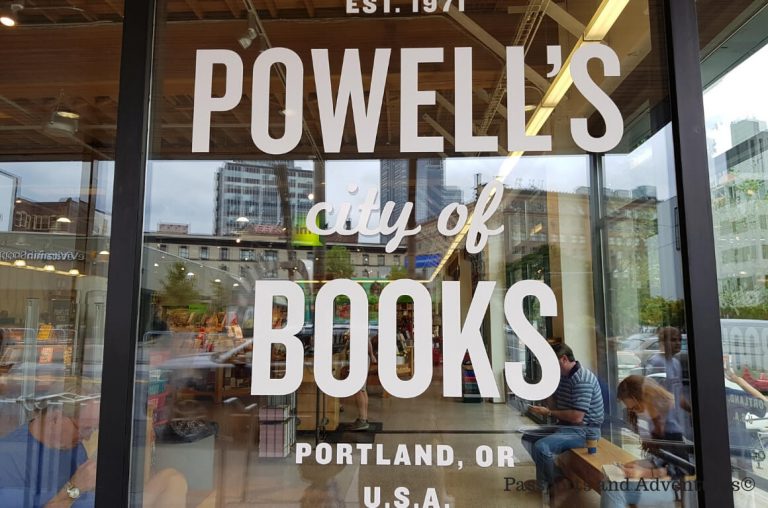 Have an Ice Cream in Salt & Straw in the Alphabet District
We had a few eateries recommended to us during my research on things to do in Portland Oregon with kids, and while a few donut shops were high on the list, the one thing that caught my attention was one called Salt & Straw.
This place was apparently the best place for ice cream in Portland, and we chose to visit the one in the Alphabet District after our morning shopping Downtown.
We got an Uber there and were lucky to get a table, as there aren't many in this little ice cream store. And holy moly, the list of flavours of ice cream was as long as my arm.
We had no idea what to choose so my husband ordered a tasting tray of four different flavours. Apart from the coffee one (I hate coffee) they were the best ice-creams I've ever tasted. My absolute favourite was the salted caramel. And there were a few fights as the ice-creams scoops started disappearing.
You can buy tubs of ice cream from here, something we didn't do and later regretted in our hotel room after dinner.
I can wholeheartedly say you must not visit Portland without visiting Salt & Straw. Hands down one of the top things to do in Portland with kids (of all ages).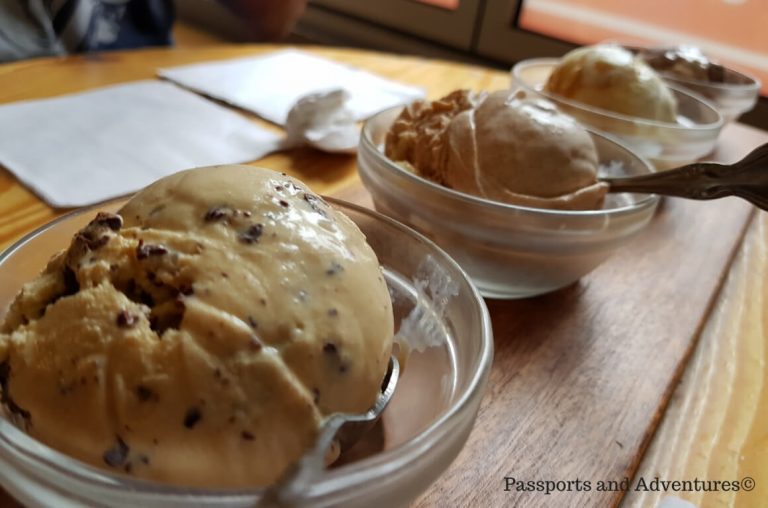 5 other great family-friendly things to do in Portland, Oregon
If none of these quite take your fancy, then here is a list of some other ideas of things for kids to do in Portland, Oregon that the whole family can enjoy.
Visit a park
There are some great parks around Portland and one of the largest and best places to visit with kids in Portland is Washington Park.
Home to both the Oregon Zoo and Children's Museum as already mentioned, Washington Park also houses some of the other best things to do with kids in Portland including visiting the Japanese Gardens, Rose Test Garden, and the Hoyt Arboretum.
Other parks to visit with kids around Portland include Mount Tabor Park, which is a dormant volcano in the southeast of Portland, and Forest Park located in the west of Portland.
Check out the waterfall
If you are into nature and wondering what to do in Portland, Oregon with kids, then aside from visiting some parks, taking the short drive along I-84 to visit one of Oregon's best waterfalls, Multnomah Falls, is a must.
This stunning waterfall has been the backdrop to many pictures which piqued my interest and there are bridges from which to stare in wonder at this beautiful waterfall.
Our intention was to visit these falls during our stay in Portland after our road trip to Yellowstone as a family and to make a day trip of it. However, due to wide-scale forest fires, the entire Columbia River Gorge and I-84 were closed upon our return to Portland, and the whole area around the falls was engulfed in flames.
The historic lodge at the falls was saved but the vegetation around the falls was destroyed. So, unfortunately, we did not tick this off our bucket list, but it's an excuse to return to make sure we do.
But if you are looking for some outdoor things to do with kids in Portland, a visit to Multnomah Falls should be on your list.
Cycle along the riverfront
Portland sits at the meeting point for two rivers, the Columbia River and the Willamette River and one of the best things for kids to do in Portland, Oregon is to enjoy a family ride along the waterfront.
Cycling is a popular activity along the water's edge and there are lots of places to rent bikes around Portland. For a great list, with price guidelines, check out this website.
Visit an amusement park
If you are looking for some family fun in Portland, Oregon, then head to the southeast section of the city where you'll find Oaks Amusement Park, one of the country's oldest continuously operating amusement parks.
Operating since the early 1900s, Oaks has a collection of small rides, an indoor roller rink, and classic amusements to thrill everyone in the family. The outdoor rides close during winter but indoor amusements remain open. There are lots of grassy areas to enjoy a picnic if the weather is fine.
Enjoy some tree hugging
One of the cool things to do in Portland is to visit the World Forestry Centre. Located in Washington Park, the aim of the centre is to educate visitors about the importance of forests around the world through exhibitions, talks, and interactive activities.
Kids will enjoy trying their hand at being lumberjacks, you can all take a wet-free raft ride, and even see the forest from a bird's-eye-view. Having visited the Pilke Museum during our time in Rovaniemi, I'd be eager to visit this museum if we return to Portland.
Need more ideas for your time in the city? This Portland itinerary shares more ideas on how to spend 3 days in this amazing US city!
Information about visiting Portland with kids
To help you plan your visit to this very family-friendly city in Northwest America, here is some useful information about how to get to Portland, where to stay in Portland with kids, and some great family-friendly places to eat in Portland.
Getting to Portland
Arriving from the UK, we flew with Delta Airline direct from London Heathrow. This route is not currently available (at the time of updating this post) but there is a direct route from Europe via Amsterdam to Portland, Oregon.
Within the USA, there are numerous regional and national flights to and from Portland including Los Angeles, Salt Lake City, Chicago and New York.
You can also take a road trip and arrive by car, or if you prefer public transport there are train options with Amtrak and of course the iconic Greyhound buses.
Getting around Portland with kids
I've already mentioned the fact you can hire bicycles and this is a great way to get around areas like the Riverfront. Cycling is very popular in Portland and easily done.
However, if you prefer not to cycle yourself there are other options. The TriMet System is Portland's public transportation system offering the MAX light rail service as well as bus and streetcar services. Digital tickets are now in operation with HOP being one of the most popular.
Taxis do operate in the city, as do Uber and Lyft. You can get around the city by car yourself, but be aware that parking can be hard to find in certain areas and you can be almost guaranteed you will need to pay for it. There are large car parks at the Zoo/Children's Museum, OMSI and in other areas of Washington Park, all payable.
Where to stay in Portland with kids
We had originally booked an AirBnB in the Eastern suburbs of Portland but upon arrival we felt very uncomfortable with the area so changed our minds and booked into a two-bedroom suite in the TownePlace Suites by Marriott in the Hillsboro area of the city.
This hotel was perfect for us with two double bedrooms, both en-suite, a comfortable living area, and a kitchen. We had breakfast included, there was a seasonal swimming pool and its location at the edge of a retail park meant we were spoiled for choice of places to eat in the evenings.
Check availability and latest prices of the TownePlace Suites by Marriott in Portland Hillsboro by clicking HERE.
Where to eat in Portland with kids
We had breakfast included in our hotel package but one morning we decided to visit Mother's Bistro and Bar as it had been recommended as a great place for breakfast.
So, before starting our shopping in Downtown Portland, we filled our bellies in Mother's Bistro. While this was not the cheapest place to eat our breakfasts were delicious and the atmosphere was brilliant. A must-visit place in Portland.
For lunch, we mostly ate wherever was convenient. We ate in the restaurant plaza of the Clackamas Town Centre on one day when doing some shopping and there was plenty of choices.
And for dinner, we found that the local Red Robin at Hillsboro gave us so many choices, and with great food and service, we didn't eat dinner anywhere else for our entire stay in Portland. The food was tasty, portions were generous and the staff were friendly and great with our then three-year-old son. What more could a family ask for?
Summary
So, there you have it, 5 of the best things to do in Portland with kids. I've also pointed out a few more ideas and also which activities or places are the top things to do with toddlers in Portland, Oregon to ensure even the littlest members of the family will be happy.
We enjoyed each of the first five and would pay them a return visit in a heartbeat. Portland is a very cool and hip town, and as I've already said, I was a bit worried about whether we'd find fun things to do with our son.
But I think we've proved that it can be a city enjoyed by everyone, even families with little ones. I do hope we get a chance to return to Portland as I'd love to spend more time around the Alphabet District.
Have you visited Portland, Oregon?
Cath x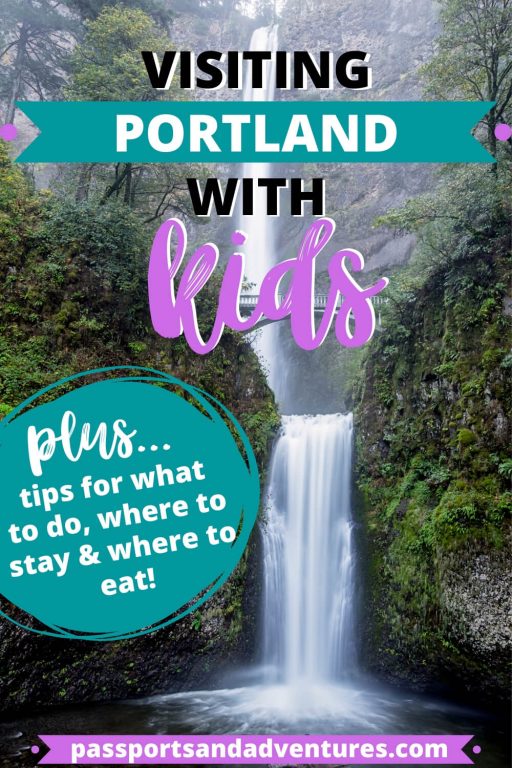 Passports and Adventures is a participant in the Amazon Services LLC Associates Program, an affiliate advertising program designed to provide a means for sites to earn advertising fees by advertising and linking to amazon.com, amazon.co.uk, amazon.ca. Amazon and the Amazon logo are trademarks of Amazon.com, Inc. or its affiliates. To learn more about affiliate links, read my Disclosure Policy here.
Related Posts