Disneyland Paris is a magical place, but did you know that it is full of secrets, hidden gems and awesome stories. Whether you've visited before a million times, or are planning your first visit to Disneyland Paris, you might want to take not of them all so you too can discover them for yourself. We've rounded up the best secrets you didn't know about Disneyland Paris along with the hidden gems to ensure you can explore and discover them on your (next) visit.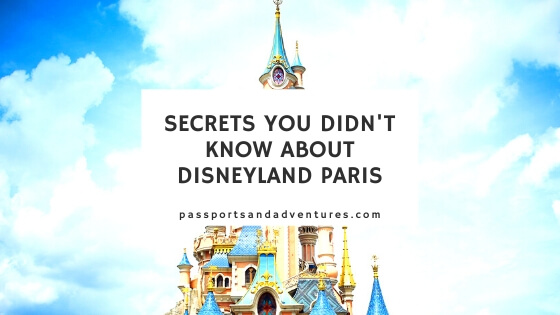 COVID-19: Disneyland Paris phased reopening and important information
Park Secrets and Hidden Gems of Disneyland Paris
The hidden gems of Disneyland Paris' Main Street USA
As it is the first place you come across as you enter the park, it should be no surprise that Main Street USA is teeming with hidden gems, thanks to the many buildings and unique shops along it. Here are some of the best ones.
Get a haircut in the Barber Shop.
Yes, there is a real, working barber shop on Main Street in Disneyland Paris. Dapper Dan's can be found in a quiet corner of Disneyland Paris' Emporium shop and is decorated with authentic pieces from a Chicago barber, who was retiring at the time the park was being created. Did you know that Walt Disney's father was a barber? The shop is in part an homage to Walt Disney's father. And while you are strolling past, take a look into the mirror. You might find yourself trying out a new moustache.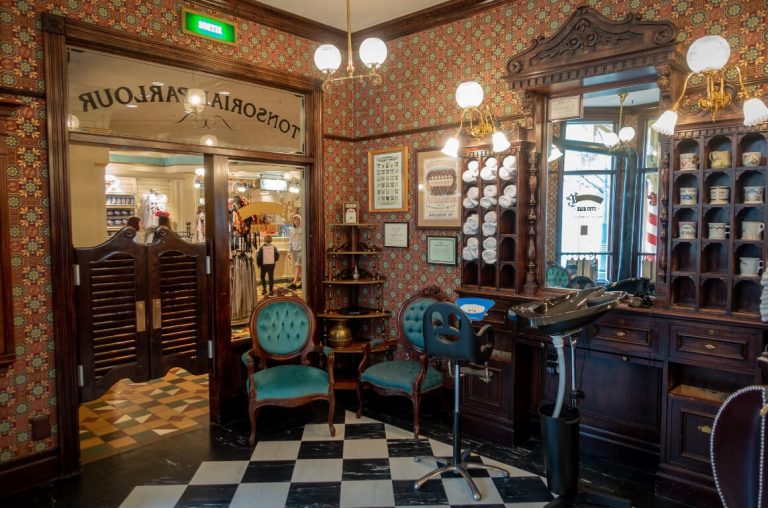 Picture kindly provided by Manouk from Groetjes uit Verweggistan
Piano lessons
Anyone who has visited Disneyland Paris knows some of the distinct sounds around the park, but did you know that there is one very distinct and discreet sound which is more unusual than the other sounds of the park as you pass by? Close to the coffee shop is a window that reads "Piano Lessons" and if you listen carefully, you will hear the sound of a student practising their scales during a piano lesson. However, they need a few more lessons than Berlioz of the Aristocats!
There are other sounds to listen out for on Main Street such as a man brushing his teeth and messing with the taps in his bathroom above Victoria's Style Restaurant, and the dentist's drill next to the Discovery Arcade.
Eaves drop on some phone calls
In the New Century Notions shop, the end shop on the right-hand side of Main Street, you'll come across an old-fashioned phone on the wall. It is located next to the Candy Palace Door. Pick it up and eaves drop on the funny conversations from the past going on in one of the houses down the street!
Main Street creates the illusion of a bigger park
When you enter the park, Sleeping Beauty's castle seems distant when, in fact, it is only a few hundred feet away. The clever people at Disney have used a trick called forced perspective via the facades of the buildings along Main Street (which widen out as you move down the street) to create an illusion of a larger space. The same is true in the other direction where the exit seems closer. Look out for this during your visit to Disneyland Paris and see if you can spot this hidden gem more easily.
FUN FACT: The architecture of Main Street in Disneyland Paris, was inspired by Walt Disney's hometown of Marceline, Missouri.
Admire the dome of Harrington's shop
The huge dome of Harrington's Fine China and Porcelains is a stunning dome and one that has to be admired. Not only is it beautiful, it also has some special magical acoustics. If two people stand at opposite ends of the dome and whisper, they can actually hear each other as if they were standing beside one another. Now that's Disney magic in action!
City Hall is not just for information and lost property
Generally, if guests of Disneyland Paris have any special needs or require information, City Hall is the go-to place. But did you know that there is another reason you should visit this hive of activity. At the front entrance, you'll find Walt Disney's Legion of Honour medal displayed with the official decree. And inside you can find original concept art for the then Euro Disney as Disneyland Paris was in 1992.
FUN FACT: Visitors to Disneyland Paris are not called customers or clients, but rather 'guests'.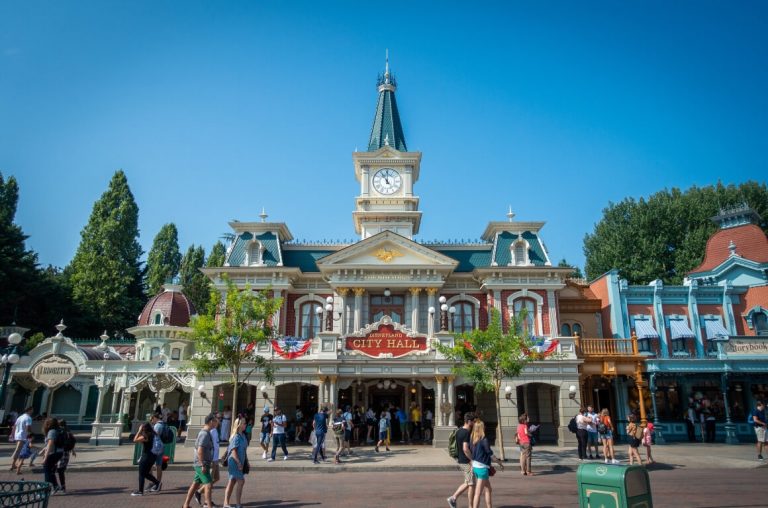 Picture kindly provided by Manouk from Groetjes uit Verweggistan
There's a steaming cup on Main Street
When you are passing by the coffee shop on a quiet day, weather-wise, don't forget to look up and see if you can see the steam coming from the cup!
There are fun mirrors in Disney & Co
Disney & Co. on Main Street has some fun mirrors inside. Not only is there a great vintage feel to the shop, there are also some wonky mirrors for you to have fun in front of!
Check out the vintage map of Disneyland Paris from the 90's
Inside the Storybook Store, right at the back of the shop next to an employee door, you'll find a framed map of the park (then known as Euro Disney) from the 90's. See if you can spot any changes to the park since then or your favourite attraction and ride!
Spot the preview posters on Main Street
Along Main Street, if you look closely, you will see posters previewing up-and-coming rides and attractions to the park. They are like preview movie posters. In fact, Main Street is like a movie opening itself. From the preview posters to the big names in the top windows along the street including Walt himself and other "imagineers", these all lead to the opening scene, the castle itself.
Christmas isn't confined to December in Disneyland Paris
There is a lesser known Disney-themed Christmas shop located along Main Street USA aside from the popular and well known one in the castle. At the entrance to the Discover Arcade, look for the Bixby Brothers Shop and the Ribbons and Bows Hat shop and step inside a magical Christmas wonderland. That said, one of the best times to visit Disneyland Paris is on the run up to Christmas.
Discover the famous faces in the dome of the Emporium
One of the largest shops at Disneyland Paris is the Emporium on Main Street and if you look up (as you should do when in Disney) at the ceiling you'll discover a beautiful stained-glass tribute to famous inventors such as Henry Ford, Nikola Tesla and Alexander Graham Bell.
Disneyland Paris Castle Secrets
Faces south for the best pictures
The Sleeping Beauty Castle in Disney Paris faces south as all Disney Castles do. This was to ensure visitors could take their own pictures of it when the gates opening in 1992 and continues to this day. It also ensures the castle is bathed in the most natural sunlight for pictures throughout the year.
The stained-glass windows are masterpieces
The stained-glass windows of Sleeping Beauty's Castle were created using the same techniques as those used during the Middle ages. Made by master glassmakers the creation of each window took months. Also, look closely as one of the windows changes appearance by itself. Sometimes it is a rosebud, and others it is two entwined doves.
The castle was designed with French weather in mind.
All the Disney castles around the world have been carefully designed including Sleeping Beauty's castle in Disneyland Paris. It was designed suing pink hues due to the fact that the French sky is often grey. Conversely, the one in Florida was designed with grey hues because the sky is often blue.
There's a dragon under the Castle
Did you know that under Sleeping Beauty's Castle lies a dragon? It took me three visits to realise there was a dragon at Disneyland Paris! As you stand facing the castle, to the left is the entrance to a cave in which you can come face-to-face to a live dragon. The dragon is the largest animatronic character in the park, measuring over 75 feet long and weighing over 5500 pounds. And this dragon is the only one of all the Disney parks. Just be sure to pass him quietly or he'll let out a roar!
The Castle Guards and Ravens are tricksters
Upstairs in the castle there is an armed guard. If you listen carefully you will hear him snoring due to the curse put upon the castle (whose sleepy eyes are luckily concealed under their armour). Also, if you take a picture of the castle guards using a flash, one turns pink and the other blue. And don't forget to snap the ravens with a flash too. You might find glowing eyes are the result in your pictures!
Spot the Golden Snails on the Castle
Disneyland Paris is full of secrets and gems and one subtle nod to the French can be found on the golden spires of the castle. At a glance you may notice protrusions or little bumps on the spires. But a closer look reveals these 'bumps' to be golden snails. A subtle, yet obvious nod to the French love of escargots. Legend has it they are fleeing from a French chef!
FUN FACT: At the other Disney parks, the castles were designed based on those typically found in Europe. But, as Disneyland Paris is located within Europe, designers felt it needed to stand out from the crowd, so-to-speak, and avoid obvious comparisons to European castles. So, the castle at Disneyland Paris is one-of-a-kind. It was deliberately designed to be fanciful and to evoke images of fairy tales. Hence, Sleeping Beauty's Castle!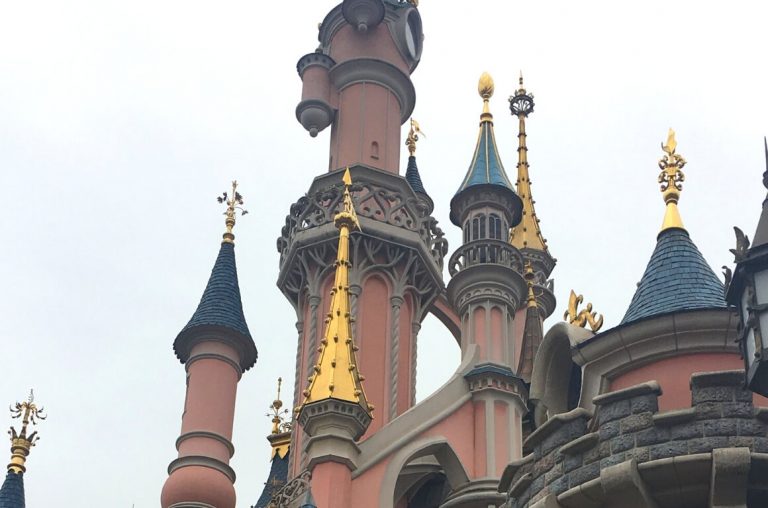 Picture kindly provided by Angela from Exploring Dorset
Secrets and Hidden Gems around the Disneyland Park
The Sword in The Stone
Some people know this fact, some don't so if you are a first timer, take heed. In Fantasyland, you can find the Sword in the Stone and have a go at pulling it out. If you are successful, the nearest cast member will crown you!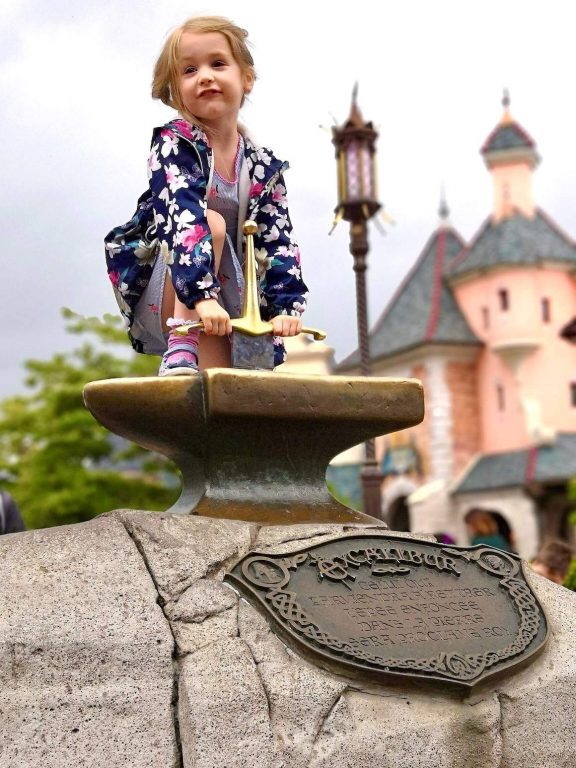 Picture kindly provided by Amanda from Mummy 2 Twindividuals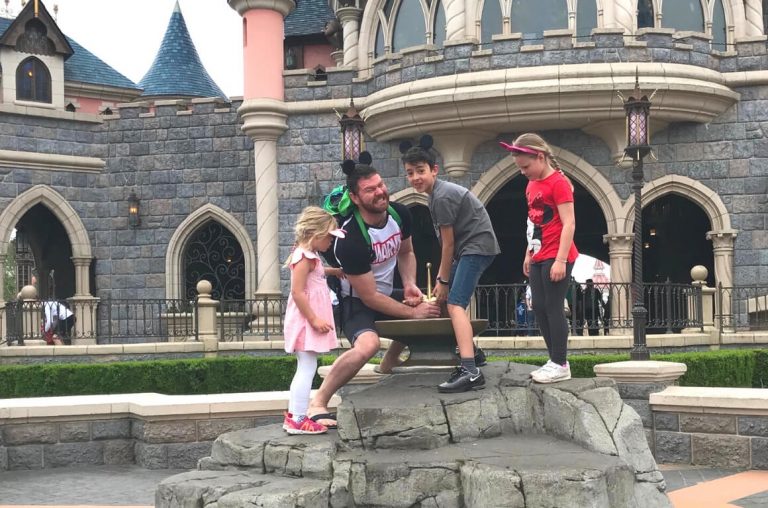 Picture kindly provided by Claire of Our Favourite Jar
Stop by the perfect princess-spotting spot
While you can meet a famous Disney princess at Disneyland Paris, the waiting times at the Princess Pavilion are one of the longest in the whole of the park. Not ideal if you are visiting with kids who hate waiting. But there is a way to spot (and possibly meet) your favourite Disney Princess without queuing.
There is a hidden spot where you might get lucky catching a princess or character as they enter/leave the main area of the park. This spot is in Fantasyland. To find it, you need to walk through the castle into Fantasyland and turn right. As you pass a gate, and Cinderella's carriage, look for another gate/fence. This is the 'hidden' spot commonly used as a getaway and entrance for characters. Just be aware that they may not stop at all if they are on a timetable but could mean you and your kids avoid those 2-hours plus queues!
Photograph Cinderella's Carriage
This is something I have somehow missed to see every time I've been at Disneyland Paris. The beautiful carriage close to Auberge De Cendrillon (where you can dine with princesses) belongs to Cinderella. I'm on a mission next time to find it and photograph it!
Spot the Hidden Mickeys
Although those who visit the parks many times will know this fact, you may not have heard of them. Throughout the park there are 'Hidden Mickeys'. These are 3 circles, one larger and two smaller on top which make the shape of Mickey Mouse's head. There are hidden on rides, buildings, architecture, topiary and gates. They can be high above your head, or below you on the ground. One of them is hidden in the It's A Small World ride! You might even be able to spot them in tiling patterns, on clocks, railings, doors, or even as ventilation holes. The moral of the story? Keep your eyes peeled! To find out where some of the Hidden Mickey's are check out this website.
See the changing faces of Mr Toad
Although Toad Hall is not my favourite restaurant in the Disneyland Park, it is worth popping into it to look at the painting of Mr Toad inside. The portraits of Mr Toad are hilarious, with some depicting him as Vincent Van Gogh and even the Mona Lisa! You are in France after all.
Meet the dead residents of Boot Hill Cemetery
If you visit the Phantom Mansion, make sure to turn left and head up to the graveyard called Boot Hill Cemetery. It is easily missed but you should try visit this part of the park for the exciting and perhaps scary experiences to be had there. Firstly, some of the graves have fun names and epitaphs which are worth reading. Secondly, listen carefully and you might hear someone's heartbeat or scratching to get out of the grave!
Find the hidden treasure in Adventure Isle
If you are brave enough and don't have a fear of the dark, legend has it that there is treasure to be found within the caverns of Adventure Isle. However, your sense of direction needs to be spot on or you might find yourself going around in circles and coming out empty-handed!
Take the hidden covered walkway to Peter Pan
Although this is not necessarily a hidden gem, this convenient shortcut to the Peter Pan ride from main street will help you dodge rain, heat or simply the crowds. To avail of it, go through Liberty Arcade and then turn left and follow the path. Easy.
Walk through Aladdin's Enchanted Passage
One part of Adventureland which is often overlooked is Aladdin's Enchanted Passage. This small attraction showcases scenes from the film in showcase windows. It's worth passing through just to see these alone.
You can build your own lightsabre
There is a Star Wars themed gift shop near the Star Tours and Star Wars Hyperspace Mountain ride in which you can build your own lightsabre or souvenir droid. Just be warned, if you have a Star Wars fan in your family, these are not cheap gifts! They are certainly unique though and it is worth visiting, even to see what other people are building.
Other gems in the Disneyland Park include the animatronic pigeons in Café Hyperion in Discoveryland and a missing tunnel between special windows on Videopolis and Space Mountain.
Secrets and Hidden Gems of the Walt Disney Studios Park
Make it rain
If you are heading towards Rock 'n' Rollercoaster, there is an umbrella on the corner of the wall. Stand under it and press the button and watch it begin to rain all around you. Don't worry, you shouldn't get wet!
See if you can fill a Scream Canister
Heading right out of Studio 1, you will come across the Monsters Inc wall at which you will find Scream Canister. Scream as loud and as long as you can and see if you can fill them up. This is also the area where you might bump into to Mike and Sully.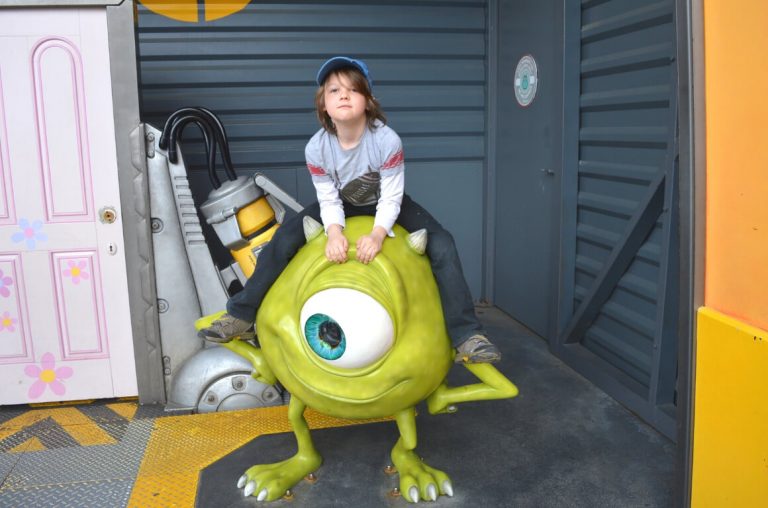 Picture kindly provided by Mandi from East Anglia Family Fun
Control the Lights
In Studio 1, there is a box that controls the lights on the other side of the street. If you can find it, why not have some fun creating your own "lights show" and watch for the faces of confusion of the people passing by there!
Watch out for the Talking Bin
Near the Rock 'n' Rollercoaster keep an eye out for talking bins. There is a talking trash bin that often patrols this area, who also rolls around and thanks people for putting rubbish in his bin. Even a small piece of rubbish may result in a chat with him.
See Cruella de Vil's limousine
The limousine at the entrance to the Studio Tram Tour in the Walt Disney Studios Park is the actual one driven by Cruella de Vil in the 102 Dalmatians movie!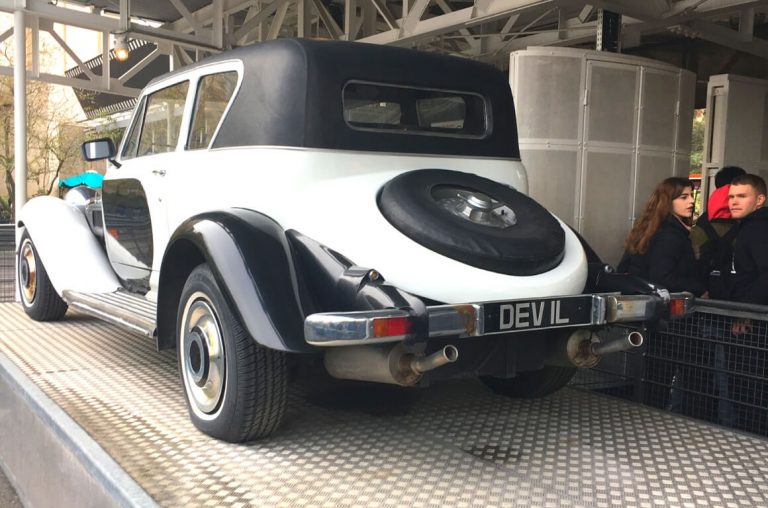 Picture kindly provided by Angela of Exploring Dorset
Other secrets about Disneyland Paris you probably didn't know
There are some other fun secrets you probably didn't know about Disneyland Paris. So, let me enlighten you.
There is only one Mickey in the park
Have you ever wondered why it's so hard to spot the most famous Disney character of all when visiting Disneyland Paris? That's because there is only ever one Mickey in the park at any given time. This is to avoid children and other guests coming across two of the characters and ensures that children really believe that the character exists and is unique.
FUN FACT: Characters such as Mickey, Minnie and Pluto never address visitors and the actors inside never reveal themselves, even backstage!
The bins at Disney parks are unusual
You will never see workers collecting rubbish from the bins at the Disney parks including Disneyland Paris. Why? Because there is a system of underground pipes that vacuum the rubbish/trash from the bins every 20 minutes ensuring no 'bin men' are seem or required. You will also never be more than 30 paces from the next bin. Walk Disney himself visited other amusement parks and watched how long it took visitors to throw their rubbish on the ground. The distance? 30 steps!
Chewing gum is not sold at the park
Since the park opened in 1992, no chewing gum is sold at Disneyland Paris. While guests can bring their own, Disney wanted to limit the amount of the horrid sticky substances being put anywhere and everywhere. This is why it is not sold within Disneyland Paris.
FUN FACT: Did you know that when the park opened in 1992, none of the restaurants served wine. To ensure the par adapted to the local cultural traditions, this was quickly corrected!
There's a dress code
All visitors entering the parks must be dressed in appropriate attire. Disney terms and conditions requires guests to remain fully clothed during their visit, including shoes on and even t-shirts, whether they get wet on rides or not. So, bring a poncho!
Disneyland Paris' Space Mountain is the fastest one
Of the five Space Mountain rides, the one in Paris is the faster rollercoaster. The engineers designed the ride to use the same technology used in aircraft carriers to propel jet fighters and riders are propelled from one to 46mph in just two seconds. It is also the only one that goes upside-down.
It's a sense sensation
Lighting, smell and sound play an important role in the whole Disneyland Paris experience.
Firstly, to make the park twinkle, millions of bulbs are scattered across the park. The parade floats contain 700,000 light bulbs alone. One of the best examples is when the castle twinkles and sparkles during the Illuminations show and shortly afterwards.
And have you ever noticed how there is a very distinct smell at Disneyland Paris? That is because there are lots of tiny devices which pump out specially created scents throughout the parks. Each scent in the different areas is different and specific to the theme. For example, take time to notice the smell in the Pirates of the Caribbean ride. It's the scent of sea air! Some parade floats even dispense a scent during the daily parades.
And as already mentioned, there are discreet but clever sound effects throughout the park which add to the magic of Disneyland Paris. We've already discussed the ones on Main Street USA and in the graveyard but next time you are there, see if there are any others you can notice!
Costumes, costumes, costumes
The Disneyland Paris costume inventory is the largest in Europe with 250,000 garments. There is a dedicated park sewing workshop which repairs costumes and creates 5,000 new ones per year with some dresses requiring over 200 hours of work. Well, they are Disney Princesses after all. Find out some more fun facts about the Disney costumes below in my secrets from a former Cast Member. The sewing workshop is only part of a larger network of repair workshops to ensure damaged or worn out equipment are repaired and kept in tip-top shape.
Interesting Disneyland Paris secrets and facts from a former Cast Member from the 1992 Opening Crew
Cast members move about the park via a system of passageways and doorways and also a bus service that stops at places such as 'Pluto Gate".
If you look down what appears to be a dead-end street, you'll notice that the walls at the end don't quite touch each side. That is because there is a hidden entrance behind those gaps for Cast Members.
If you happen to notice a Cast Member dressed as the Mad Hatter, they are Cast Members moving between areas. Normally, Cast Members must stay in their areas such as cowboys in Frontierland. But, the Mad Hatters costume allows them to move from area to area.
Before April 1992 when the park opened, Cast Members test rode the rides within the park. They were also allowed to ride the rides before and after the parks opening hours when members of the public were not present.
Cast Members also got to test all the restaurants before the park opened, for free! They also have a fantastic, subsidised restaurant to eat meals at.
Cast Members can live on-site in employee apartment blocks. In 1992 equivalent accommodations were party-central for younger Cast Members and they often comprised of entire hotels in the centre of Paris.
Cast Members (of which there roughly 15,000 employees) must speak at least two languages. If they are wearing a nametag, the flags under their name denote which languages they can speak.
Those who wear the more famous character costumes such as Mickey and Minnie Mouse are real actors and dancers with formal training. If you haven't got formal training, forget applying to wear one of those costumes.
When getting their costumes for the day, each Cast Member gets access to a locker for their personal belongings and must request and return their costumes from what is known as the Quartermaster. It is a check-in/check-out type system to ensure no costume goes missing.
Summary
I hope you've enjoyed this post about some of the hidden gems and secrets of Disneyland Paris. While you may have been aware of some, maybe you've learned something new about this magical place in Europe.
Cath x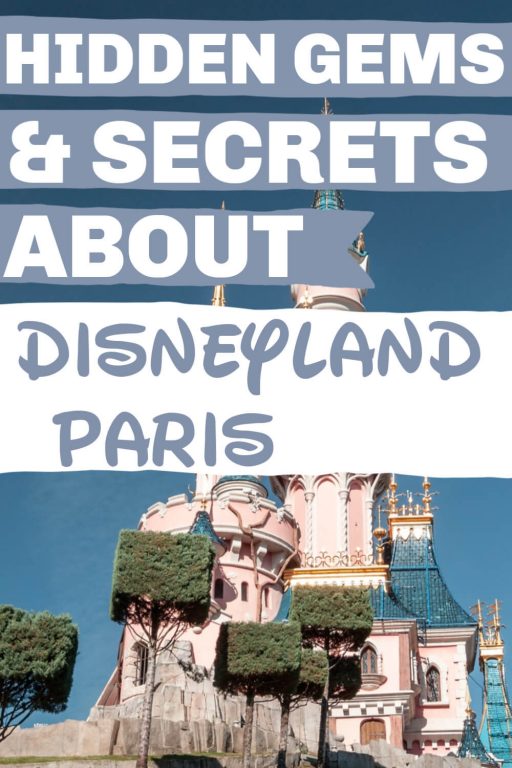 Related Posts