We were recently invited back to Bluestone as part of their Bluestone Blogger Programme* and we stayed in a Skomer Lodge. We have stayed in this type of lodge before with friends and it's a lovely lodge. Here is my Bluestone Skomer Lodge review to share with you what it's like and why it's perfect for a party of 6.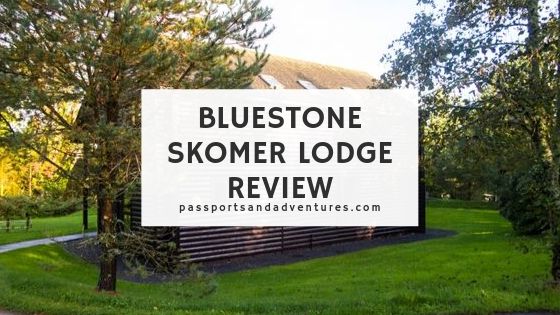 *We were kindly invited to enjoy a mid-week stay at Bluestone as part of their Bluestone Blogger Programme.
The Skomer Lodge at Bluestone National Park Resort, Wales is a one that is designed to sleep 6 comfortably but with room for additional babies or toddlers in cot beds. All the Bluestone lodges are of log-cabin appearance but with all the home comforts you need hidden inside. As mentioned, we've stayed in the Skomer Lodge on a previous visit to Bluestone with friends, but I had never reviewed it on the blog. Well, let's change that.
What's in a Bluestone Skomer Lodge?
As mentioned already, the Skomer accommodation at Bluestone is designed to sleep six which means it has three double bedrooms. It also comes with three bathrooms, an open-plan living room, diner and kitchen. There is also a small mezzanine floor which can be used to watch TV or just chill out in. Outside is a grassy garden area, bike rack and picnic table.
As you enter the Bluestone Wales Skomer Lodge, you come into a large entrance hall fitted with a coat rack and now a wardrobe containing an iron, ironing board, hoover and mop. I love the entrance halls in these lodges because you have plenty of space to remove coats, wellies and wet gear before entering the main part of the lodge, always handy when the kids have been having fun splashing in puddles in the rain.
From the entrance hall you enter a smaller hall off which you'll find the first double bedroom, a full family bathroom/wet room, and the living areas. This wet room is exactly the same as that found in the Grassholm Lodge which we've also stayed in and reviewed on the blog.
It has both a shower and bath in it and the bath is a lovely deep one. Just be careful with babies, toddlers and younger children in it and never leave them unattended. Inside this bathroom you will find a clinical waste bin, which is a new addition since our visit 2 years ago. This will be welcomed by families with babies or those who have need for a clinical waste bin.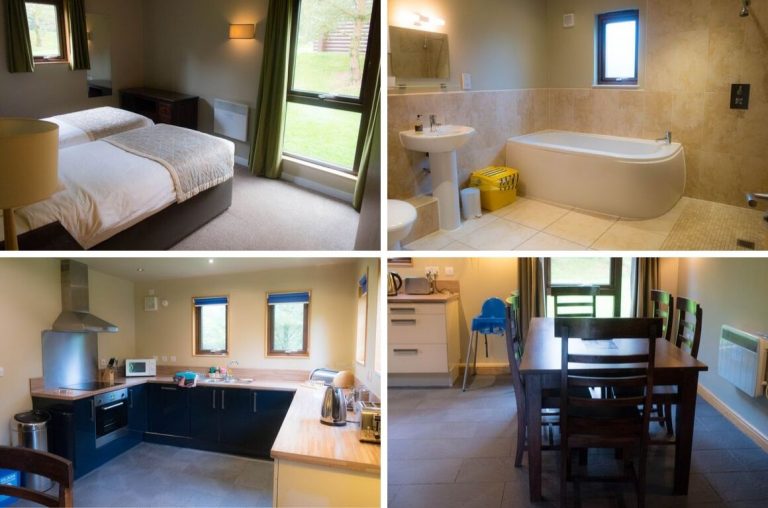 From the bedroom and wet room, you enter the main living area of the lodge. This is all open-plan, perfect for larger parties or groups of friends and families. The living room (to the left) has a TV on a stand with quite a selection of channels, a coffee table and two three-seater leather sofas.
To the right you'll find the dining room with a table, six chairs and one highchair as standard, although additional highchairs are available but at an additional cost.
Beside the dining room is the kitchen which has everything you need for a comfortable stay and to allow you to go completely self-catering should you wish. There is a full cooker and oven, microwave, kettle, toaster and dishwasher for cleaning up later. You'll also find a full set of cutlery, cooking utensils, crockery and pots and pans in the cupboards and drawers.
There is also a bin provided, with two compartments, one for general waste and one for recyclable waste. Bluestone also provide a glass bin too. Additional bin bags are under the sink. In the kitchen you will also find some washing-up liquid, scrubbies and a tea towel.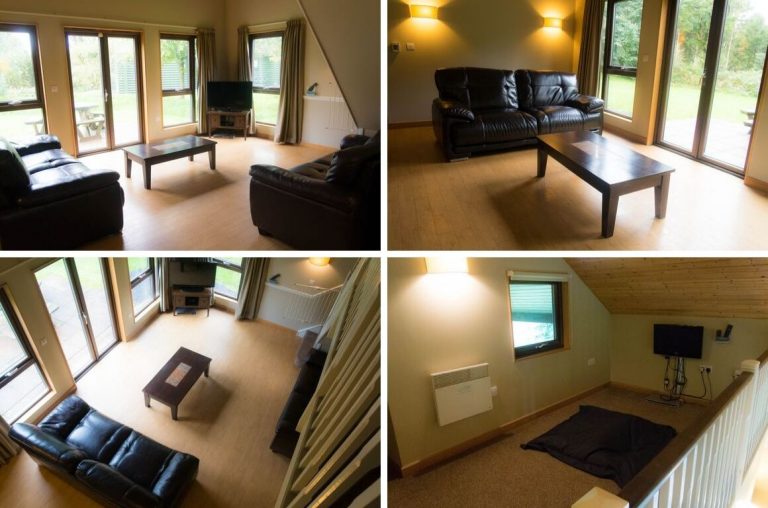 Leaving downstairs, you travel upstairs, through a baby stair-gate, both at the bottom and at the top of the stairs. Off the landing you'll find another large double bedroom with an en-suite shower room, the mezzanine floor with beanbag and TV, and the master bedroom which is also en-suite.
All bedrooms have ample storage for clothes and plenty of room for a cot bed. In fact, the Skomer Lodge could sleep three couples and three babies in cot beds without it feeling like a squeeze.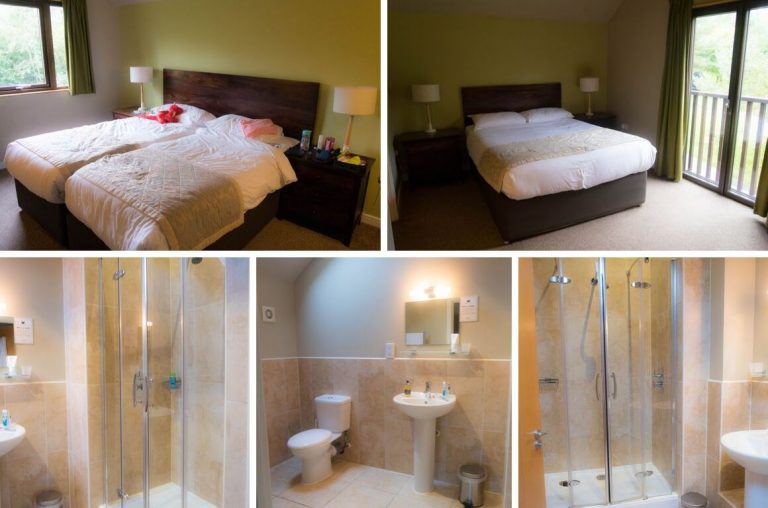 Moving back downstairs and through the French doors in the living room, you move outside to a patio area with a picnic table and chairs and grassy areas that can be enjoyed by the kids when it's dry. Keep an eye on these areas early in the morning and in the evening for sneaky squirrels foraging. We saw one every day during our recent visit. There is also a bike rack for your own bikes or ones you hire at the resort.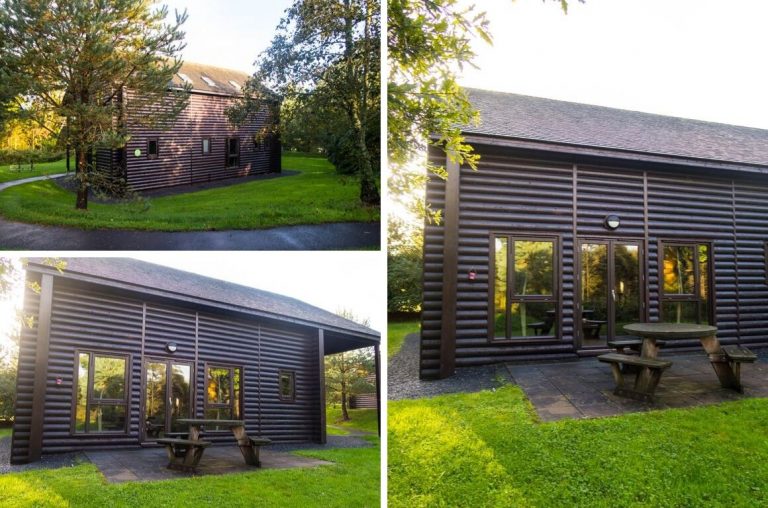 My thoughts on the Skomer Lodge at Bluestone
The Skomer Lodge is a fantastic lodge for a party of six. I was supposed by joined by my Mum but, unfortunately, she passed away the month before, so it was just my son and I. The Skomer Lodge would have made the perfect accommodation for our multi-generational holiday. That said, it was equally amazing for my son and I.
The layout reminded me of the Grassholm Lodge and is a seriously comfortable lodge. We didn't want for anything and the electric radiators helped take the chill off the lodge for us, as we were feeling it having left the warmth of sunny Portugal.
The TV had more than enough channels to keep my son entertained while I cooked us dinner on the evenings we weren't eating out, and enough for me to relax in the evening once he was in bed.
The beds were large, and I elected to move the two singles in our bedroom upstairs together as I usually do. They're large enough that I didn't feel arms and legs moving their way over towards me during the night as is often the case when my son and I are sharing a bed.
New additions I noticed since our last visit included the clinical waste bin in the family bathroom downstairs, and floor towels in each of the bathrooms. These are in addition to your allocated two towels per person and are a brilliant addition to the lodges.
There was also a bottle of washing up liquid in the kitchen and two oven gloves rather than the previous one. There was also hand soap in the bathrooms, something we've brought with us in previous years. It seems people have been talking and Bluestone have been listening, making small changes where necessary.
The Skomer Lodge is lovely and spacious and if I'm honest we felt a bit lost in it, just the two of us. However, even when we've stayed in one with friends, we've never felt cramped or on top of each other, such is the nature of the space in the lodges at Bluestone. The bathrooms are huge, the bedrooms have plenty of space for cot beds and some left over, and there is plenty of living space for kids to play, adults to relax and everyone to just chill out in.
The Skomer Lodge, Bluestone is another fabulous lodge on the resort and is perfect for a party of six (or nine as I've explained). Everything you need for a home-away-from-home holiday is included and you have the choice to cook or eat out.
If you'd like to take a peek inside the lodge, watch my Skomer Lodge Tour from a previous visit.
We love Bluestone and thoroughly enjoyed our time in the Skomer Lodge. As mentioned already, it's a very comfortable lodge and has everything you need for the perfect getaway. I hope you've enjoyed my Skomer Lodge Bluestone review and it made the perfect place for us to spend a lovely mid-week break in Wales.
To check out the Skomer Lodge and the other Bluestone accommodation, or to check availability and prices, visit the Bluestone website.
Have you stayed at Bluestone yet?
Cath x
*We received a complimentary mid-week stay at Bluestone in a Skomer Lodge in return for this review. However, as always, these are my own words and opinions.
To read about our recent mid-week stay at Bluestone, check out my Bluestone review here. You'll learn all about the new Serendome. To read about the Grassholm Lodge, click here. And to see what free activities are on offer for younger kids at Bluestone check out this post.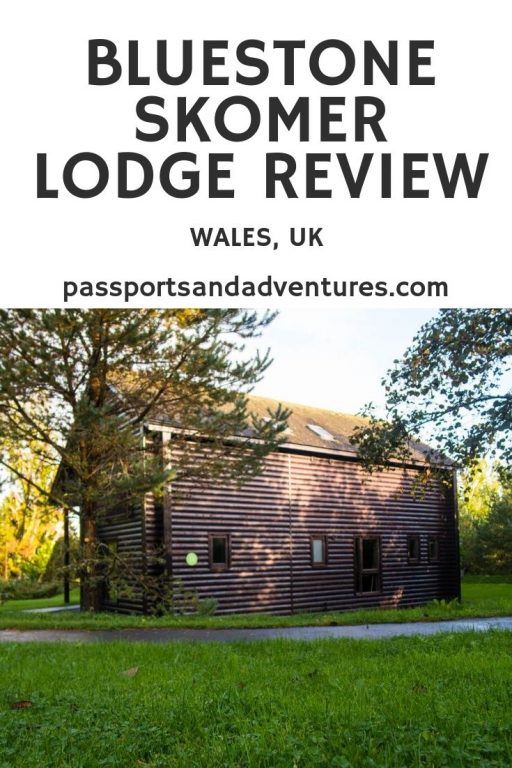 Related Posts