Bluestone, Wales have a new addition to the resort in the form of the Serendome. Opening in Summer 2019, we had the great pleasure of enjoying a mid-week stay at Bluestone as part of their Bluestone Blogger Programme and we got to discover the Serendome at Bluestone with kids while we were there. Here is our Bluestone review for our stay and our thoughts on the Serendome.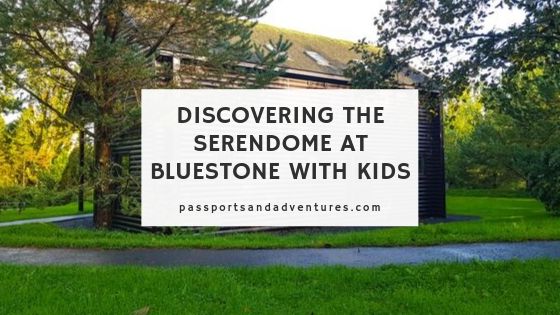 *We were kindly invited to enjoy a mid-week stay at Bluestone as part of their Bluestone Blogger Programme.
What is the Serendome at Bluestone?
The Serendome is a new addition to the Bluestone National Park Resort and Bluestone say it is
Bringing outdoor adventures, indoors.
As the name suggests, the Serendome is a huge dome located between the Adventure Centre and the Blue Lagoon at the Bluestone Resort in Wales. The sides of the structure are open, and the roof is transparent, allowing you to see the sky if it's a nice day. The roof keeps everything inside dry when it's raining, making it one huge umbrella.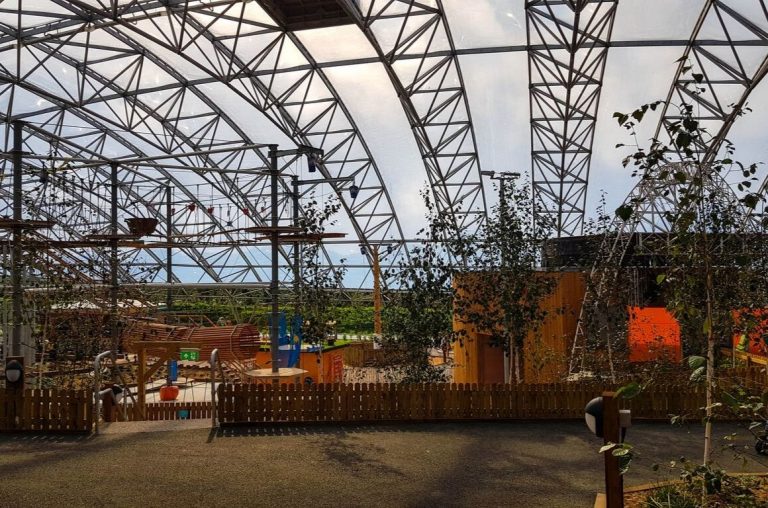 Underneath the transparent roof you'll find a host of activities, play areas and cafes and eateries to catering to everyone. But more on them later.
Suffice-to-say, the Serendome is a great new addition to Bluestone and I'm going to explain why as I review our mid-week break at Bluestone.
Our Mid-week Break at Bluestone
In this section you'll find a summary of how we spent our mid-week break at Bluestone, explaining what we got up to on each day.
Monday – Arrival Day
We were arriving into Cardiff from Portugal just after 11am and after collecting our hire car, we met a friend for lunch before driving to Swansea to stock up on supplies for our Bluestone stay. From Swansea we drove to West Wales where Bluestone is located and were checked in by the lovely Matthew Hargreaves just in time for the gates to open.
We drove down to find our Skomer Lodge at 11 Augustus Way. The boy and I unpacked the car before dropping it off at the car park and collecting our buggy. As I wasn't in the mood to cook after a long travel day, we stopped by The Chippy and got a takeaway to eat back in our lodge.
After dinner, I ran a bath for the boy, which is a treat as we only have a shower in our house. Pj's were soon on and after a bedtime story, the boy was asleep in no time. I got some blog work done before my laptop battery ran out and headed to bed early.
Tuesday
After a quick breakfast, the boy and I headed into Haverfordwest so I could buy an EU to UK adapter to charge my laptop. Some blogger I am forgetting my adapter! After a stop at Boots, we headed back to the resort and put our wellies on, ready to hit Camp Smokey.
We had visited Camp Smokey on our first ever visit to Bluestone and I decided that this time we' have lunch there. We parked our buggy and made our way down the boardwalk through the forest towards our destination.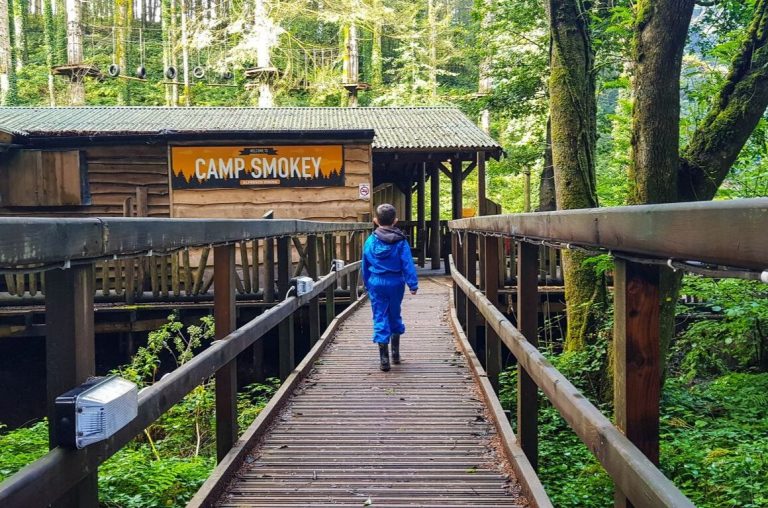 We were a bit early for lunch so had a wander around the area and checked out the bug hotel nearby. Once the chef started serving, we enjoyed lunch together before toasting some marshmallows over the campfire. This was obviously a highlight for the boy as he kept asking to go back to Camp Smokey for the rest of the week.
From Camp Smokey, we headed to the Serendome. I was very excited to see what it was all about, and prior to our arrival at Bluestone, I had booked the boy onto a Mini Skywalk.
It was drizzling as we headed into the Serendome and soon realised its huge domed roof kept everyone dry. We wandered around, checking out the different areas before making our way to the Skywalk.
Here, one of the activities team greeted us and our fellow visitors, gave us a briefing, and helped us get our little ones into their safety harnesses.
With the Skywalk Mini, kids follow an obstacle course around which is just above ground level, while older children and adults can do the full Skywalk, the course which sits above your heads. Parents were encouraged to help the Minis manoeuvre around the course.
My son was clipped onto the course and off we set. During his first trip around the course, he was a bit nervous and needed a helping hand at times. But by the time he started his second round, I could see his confidence growing. The Skywalk Mini lasts about 25 minutes and in that time my son did two rounds of the course.
His favourite parts were:
The wobbly bit over there (see-saw), the wheels (tyres) and the last bit (zip-wire).
After we finished our activity, my son enjoyed some time in the water play area and the Imagination Garden before we made our way to the Adventure Centre for our Tawny Tales.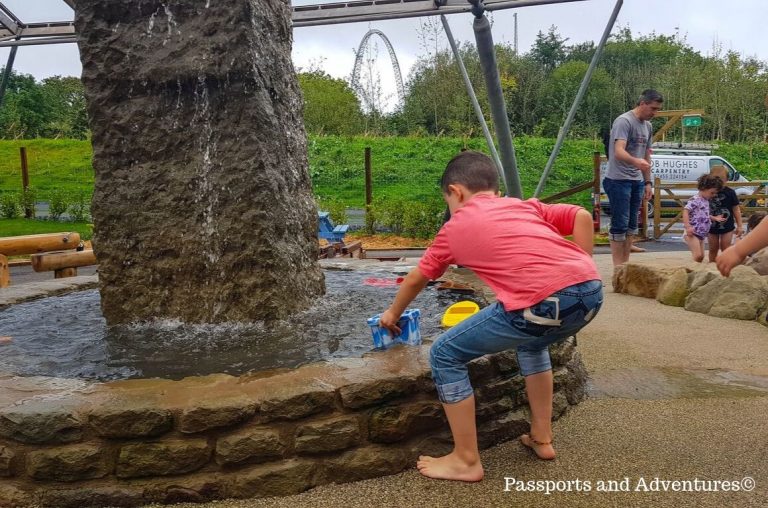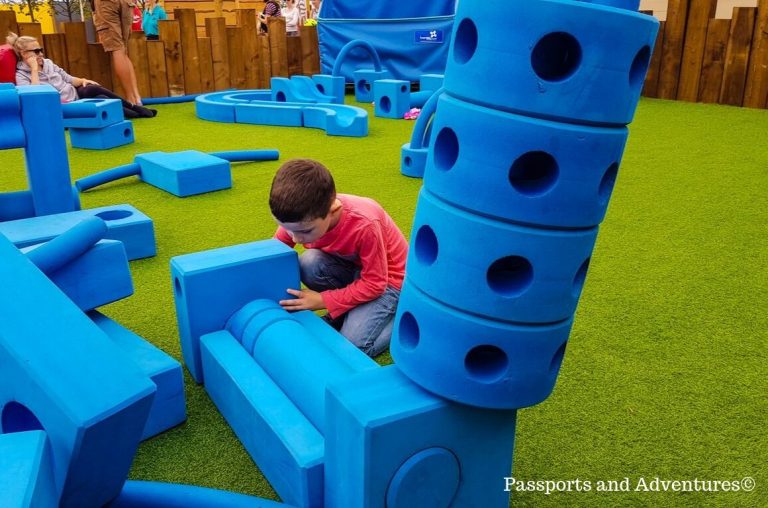 This puppet show is quite good, but I'd say at five and a half years old, it was maybe slightly out of his age range. I feel it would be better suited to children aged 4 and under. But he enjoyed it and afterwards had a great time inside the Adventure Centre while I had a cuppa.
The evening consisted of dinner in our lodge, baths, bedtime stories and some more blog work for me.
Wednesday
Generally, when we visit Bluestone, I like to get out and about for one day while we're there and after an hour spent at the Blue Lagoon after breakfast, we did leave the resort.
I will say that this time I was slightly disappointed by the Blue Lagoon. In previous visits, we've enjoyed swimming in the deep end and really enjoyed the waves but couldn't this time. There was a huge inflatable slide now installed at this end, which was roped off, meaning we couldn't swim in there.
Also, since it is a permanent fixture, they cannot have the wave machine on. My son had been looking forward to the waves for weeks. This is just my personal opinion about the new inflatable addition to the Blue Lagoon.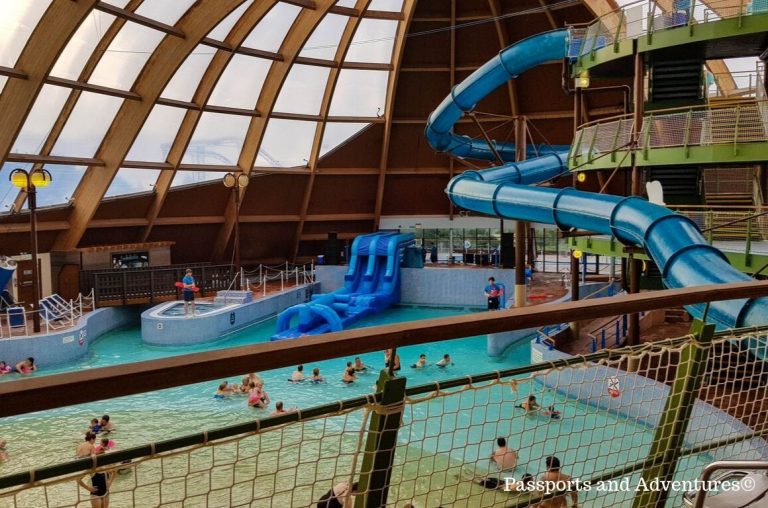 Younger children and their parents are allowed to use this inflatable slide, handy for younger children who aren't tall enough for the other slides within the Blue Lagoon. But truthfully, with my son's swimming improving, we'd been looking forward to a regular swim. That said, he did enjoy racing down the inflatable slide and trying to beat his poor old Mum. And he loved the Lazy River, especially now that he is swimming independently.
After our swim, we dropped our wet towels and swimsuits at the lodge and headed for a place called Dinosaur Park on the way to Tenby. While the weather wasn't brilliant at first, we still enjoyed our time there, going on some rides, walking through the Dinosaur trail and having a picnic for lunch in their soft play barn.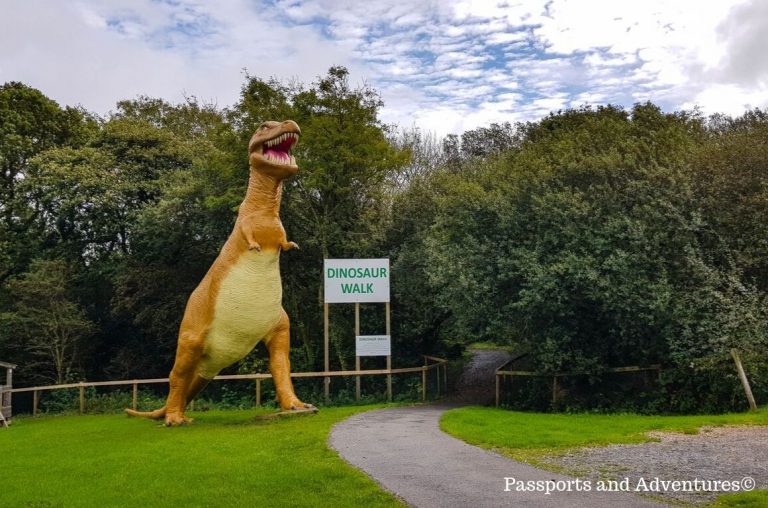 After Dinosaur Park, we took a run to Tenby and enjoyed a cuppa and some cake before stumbling upon a book shop where we bought some new books to add to our bedtime story collection.
Back at the resort, our evening followed the same pattern, with both of us asleep early.
Thursday
As it had been a while since we had been in Wales, I thought it would be nice to visit a castle. Castles had been a regular feature of our weekends when we lived in Wales, so I had a look to see what castles were near Bluestone and chose Picton Castle. And I was glad I did.
Picton Castle is located about 10 minutes from Bluestone and was a delightful surprise. When we arrived, we bought our tickets and joined the first castle tour of the day, given to us by the director Mr Evans. It's a beautiful castle and it was interesting to learn that it is run by a charity, and they are trying to restore as much of it as possible.

After our tour we had lunch and then walked around the gardens which were beautiful and still colourful, despite it being the end of September. We also visited the Owl Garden, new for 2019 before making our way back to the car to return to Bluestone.
Roadworks delayed us and we just made our 3pm slot for another Skywalk Mini. The boy had enjoyed it so much, I thought it only fair to book him another slot. This time, he whizzed around and completed not two, but three circuits, his confidence soaring.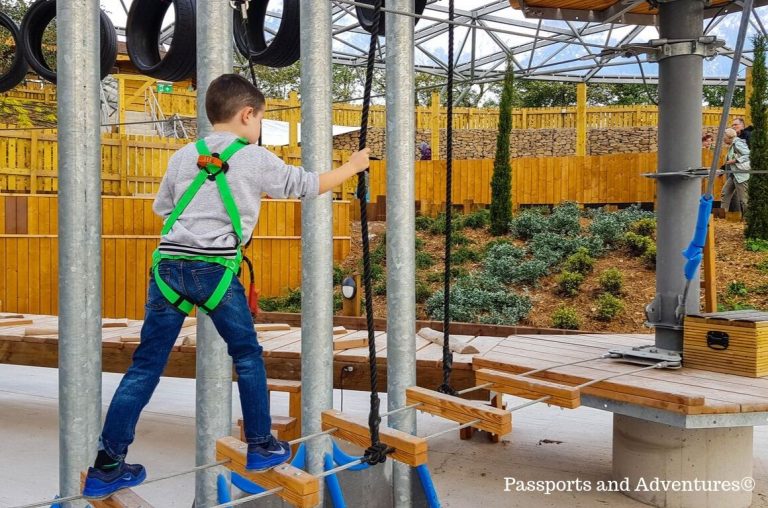 We then visited the Sand play area and I enjoyed a cup of tea. Afterwards, we went to the Water play area where the boy had a ball. This time I'd brought a towel and dry clothes with me in case he soaked himself but he didn't. From there we moved onto the Imagination Garden. We played together, building a ramp and track before he decided he wanted an obstacle to jump through.
And while we were there, the heavens opened, it was pouring with rain outside while we were all nice and dry under the Serendome. It really is an amazing addition and is the perfect place to spend a couple of hours, come rain or sunshine!
After our afternoon in the Serendome we had dinner in the Oak Tree restaurant. The boy didn't eat much as he was totally knackered after our castle adventure and fun in the Serendome.
Our evening after dinner was spent packing and getting ready to leave Bluestone the next day.
Friday – Departure Day
After breakfast, the boy and I dropped the buggy back to the hire office and collected our car now the gates were open to cars. I tidied up our lodge, took the bins out and packed the car. Then we bid a find farewell to Bluestone after a brilliant week.
We stopped in Swansea on the way to Cardiff to see a friend. After dropping our car to Cardiff airport, we got a transfer to Bristol Airport (thanks Ryanair).
Overall, we had a fantastic mid-week stay in Bluestone. Despite the grey skies and rain every day, we thoroughly enjoyed ourselves and the new Serendome is such a brilliant addition to the resort.
The Serendome at Bluestone
Let me talk a bit more about the new addition to Bluestone. As already mentioned, the Serendome is a dome structure with a transparent roof. Underneath you'll find cafes, kiosks, four new activities, three new play areas and even an indoor stage/cinema.
The four new activities include the Skywalk and Skywalk Mini, two obstacle courses designed for older children/adults and younger children, respectively. There are seven towers connecting the different obstacles, some of which are moving. In the Skywalk Mini, children balance on beams, rope bridges, tyre bridges and get the chance to zip-line at the end.
The other activities within the Serendome include Starcatcher, a 10-metre-tall naturally grown tree that children aged over 6 must scale. There is also Wacky Racers in which families must build a race kart against the clock and then test their creations out against other families in the Bluestone Grand Prix. Note that all the new activities incur additional charges and it is advisable to pre-book.
We visited all three new play areas and of them all, I think the water area and Imagination Garden were my son's favourite. While you don't have to, it is advisable to remove your children's shoes for the different play areas. Otherwise you might find sand in their shoes or they'll get wet. We started at the sand area, before moving to the water area as it made sense that my son could wash off any sand in there. Bring a towel to dry their feet afterwards.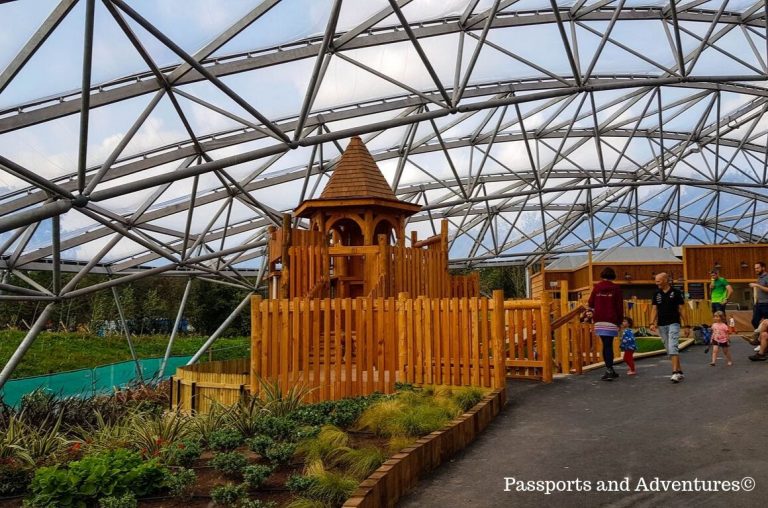 There are also a few kiosks/cafes and restaurant outlets within the Serendome if you want a drink or something to eat. There is a gift shop where you can also book activities, toilets, picnic benches, a playground with slides and swings and a stage/cinema in the centre of the Serendome.
The Cloud Theatre will be used for 'outdoor' family cinema nights, something we didn't do but would have loved to. Cinema nights will be held on Saturday and Wednesday nights once the sun has gone down. And there is also the chance to enjoy the play areas during your cinema nights. Just remember to wrap up warm for this as, although the Serendome is covered, the sides are open and so allow chilly evening air in.
In Summary
Overall, we had a fantastic week discovering the new Serendome at Bluestone in Wales. It's a great addition to the resort and gives another area that can be enjoyed whatever the weather.
We got out and about and enjoy two new places we hadn't been to before and had a quick stop in Tenby, one of the nicest seaside towns in Wales. We loved the Serendome, swam in the Blue Lagoon, enjoyed dinner in the Oak Tree restaurant and the Chippy and relaxed, something we needed after an eventful, busy and sorrowful summer.
I would have loved to have had my Mum with us as I'm sure she would have fallen in love with Bluestone like we did when we first visited. It wasn't to be, but I'm sure she was with us in spirit. A heartfelt thanks to Bluestone for inviting us to discover the new Serendome. It's safe to say we absolutely loved it!
Have you visited Bluestone, or are you planning to soon? Check out the website in case there are special events taking place during your visit like the Bluestone Winter Lights.
Cath x
For more information about Bluestone and to check out availability and prices, visit their website.
*We were kindly invited to enjoy a mid-week break at Bluestone. However, as always, these are my own words and opinions.
You can read about our first mid-week stay at Bluestone here. If you are thinking about visiting Bluestone and are wondering how much extra money you need to spend, here is a post about free things to do in Bluestone with a toddler, or kids. And finally, if you'd like to check out a four-bedroom lodge at Bluestone, check out my Grassholm Lodge review here.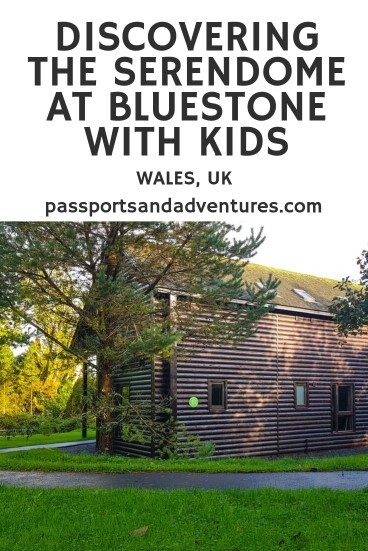 Related Posts