As you'll know, we were kindly invited to have a mid-week stay at Bluestone in October 2017 as part of the Bluestone Blogger Programme and we stayed in a Grassholm Lodge. Here is our Grassholm Lodge at Bluestone review.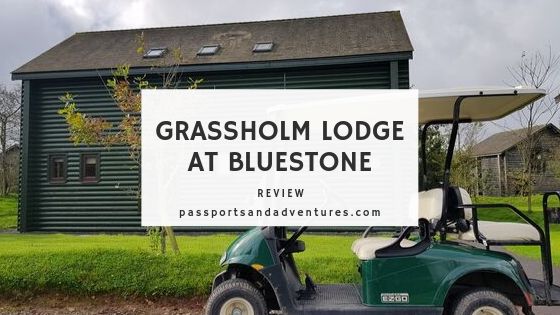 The Bluestone Grassholm Lodge sleeps eight and is very comfortable. All Bluestone lodge have the look of a log cabin and never fail to impress me. We've stayed in a variety of lodges but this was our first time staying in a Grassholm lodge at Bluestone.
What's in a Grassholm Lodge at Bluestone?
The Grassholm Lodge, Bluestone has four bedrooms, three bathrooms, an open-plan living room, diner and kitchen. It has everything a large family or group of friends might need for a home-away-from-home stay at Bluestone.
As you enter the lodge, you enter into a large entrance hall which leads into a small hallway. Off this is a double or twin bedroom (whichever you need) and a large family wet room which has both a bath and shower in it. This short hallway then leads you to the open plan living room, dining room and kitchen.
There were two two-seaters and one large three-seater leather sofas, a coffee table and TV unit with TV in the living room area. The dining area had a large wooden table with eight chairs, and a baby's highchair as we had an infant with us.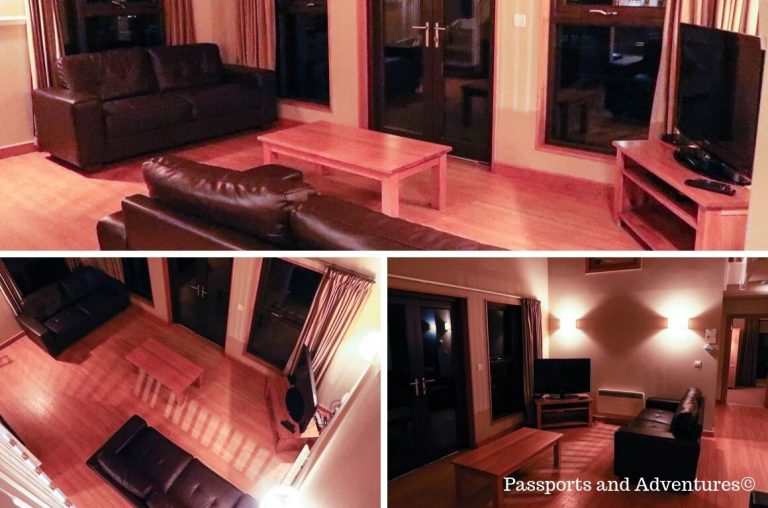 The open plan kitchen aside the dining area is large, with plenty of space in it. There is everything you need for a comfortable stay in the kitchen from a kettle and toaster, to microwave, dishwasher and full cooking facilities.
Included is cutlery and crockery for eight and enough pots, pans and serving dishes to feed a large family or group of friends. There is also a fridge and freezer for those planning on bringing their own food to eat/cook.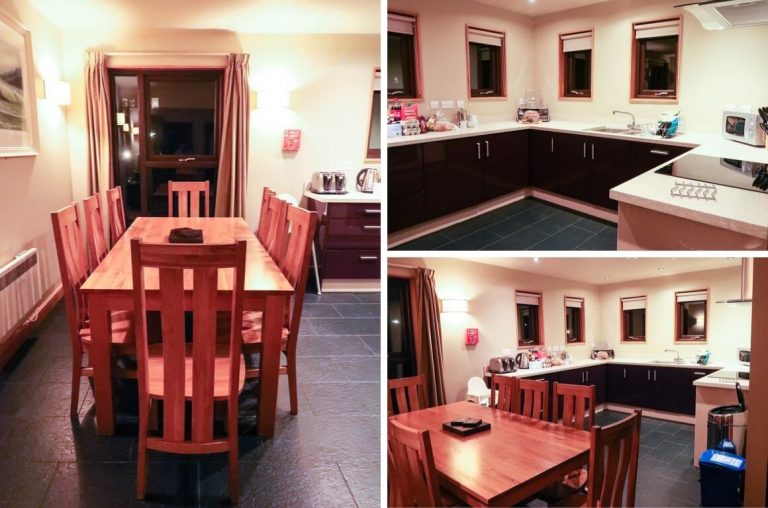 Upstairs there are three additional large bedrooms, one double with an en-suite bathroom and two bedrooms which can either be twin or double bedrooms. There is also a family bathroom with bath and shower upstairs.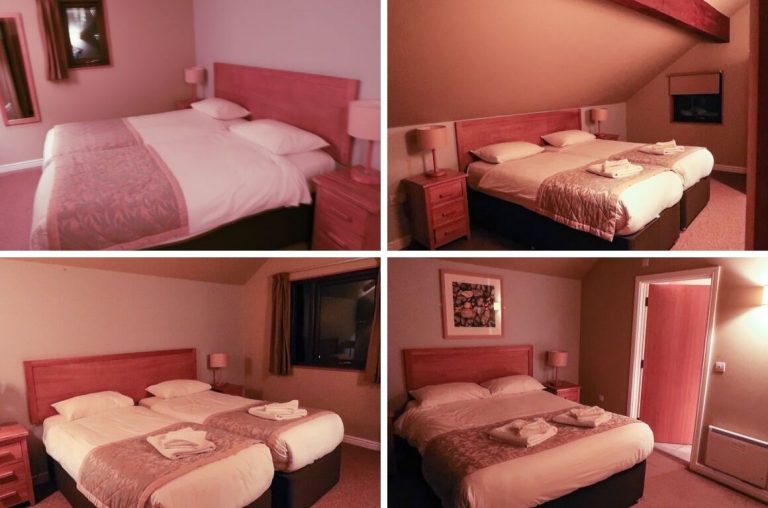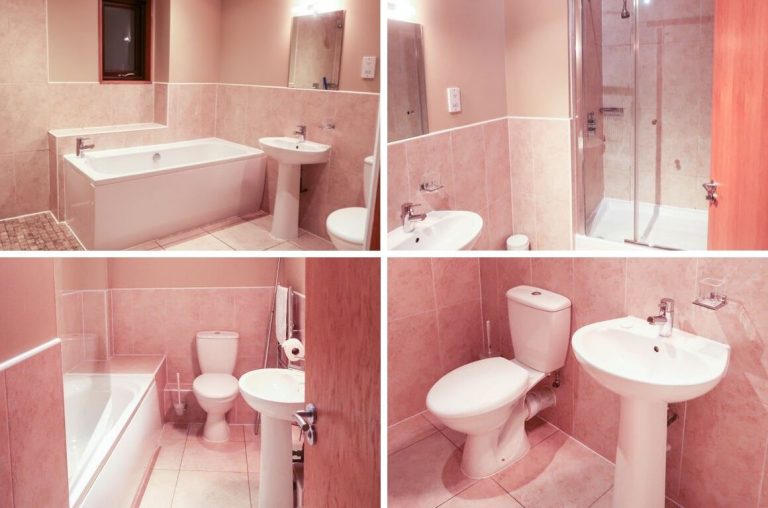 Outside there is a patio area with picnic benches for times you might want to enjoy the fresh, Pembrokeshire air.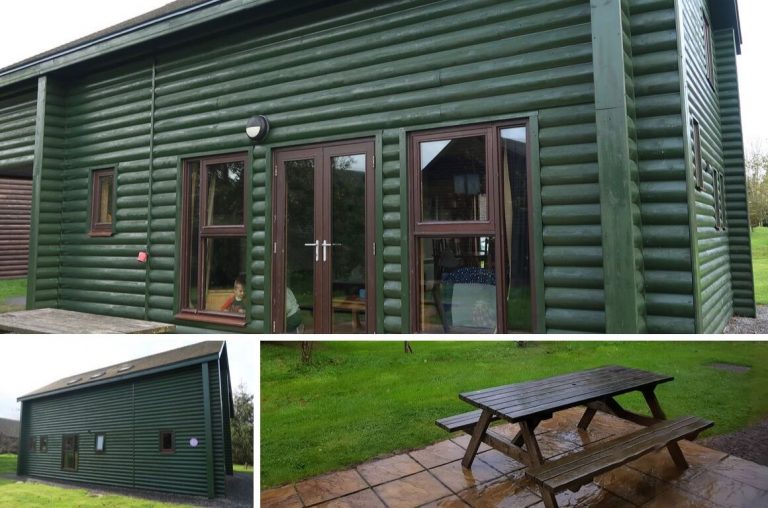 My thoughts on the Grassholm Lodge at Bluestone
This lodge is quite similar in layout to the St. David's Lodge, which we've stayed in once before, minus the playroom. It is large and extremely comfortable. It has everything you need for a comfortable stay.
To be perfectly honest, we didn't miss the playroom as the living room is big enough for two boys to build a train track across. In the living room, the sofas are comfortable and the TV was used once to entertain the boys while us mums visited the spa.
Entertaining and eating-wise, the dining table has eight chairs and has plenty of room for eating at. The kitchen is well equipped and has everything you need for cooking and feeding a large group.
In the bedrooms, there is ample room with chest of drawers and wardrobes for clothes, and all had plenty of room for a travel cot. The beds are comfortable. Two single beds pushed together make a large double bed. I did this in the room my son and I were sharing and we had loads of room to sleep on. That didn't stop a stray arm or leg making its way across the divide though.
The bathrooms were large too and never felt cramped. My only gripe with the bathrooms is the wet room. I used the shower in it once and despite the underfloor heating being on, it was still soaked hours after I had finished my shower. This wasn't ideal as the floor remained slippery. With two young boys, one of whom was newly toilet trained, this bathroom, located on the ground floor, was the easiest to access with two toddlers. Needless to say, it was the only shower taken in that bathroom.
I contacted Bluestone about this and they have reassured me it is something they are aware of and will be addressing in such lodges before the end of the year.
Also, on our last morning we ran out of hot water. We did stagger our showers during our stay but on the last day, all four adults wanted a shower before travelling home, particularly my husband and I as we were travelling by car and plane.
However, after one member of our party had a very long shower, there was no hot water left for the rest of us. My husband had a lukewarm shower, while myself and another member of the party had to have cold showers. I mentioned this to Bluestone and they have let me know that the immersion heater holds 200 litres of hot water and if it runs out, it shouldn't take longer than one hour to regain a hot temperature.
I didn't realise 200 litres of water could be used in 40 minutes, but you learn something new every day. So just be aware that if there are many adults wanting showers one after the other, you need to have quick showers.
One thing we spotted that wasn't in any of the lodges previously, was a new eco-thermostat for the heating. This clever technology keeps the lodge at your desired temperature, meaning you don't need to adjust the setting on any of the radiators. You can turn them off if you desire, but it is recommended you don't. It also detects when there is no one in the lodge and turns the heating off in order to conserve energy. How clever is that!
The Grassholm lodge at Bluestone is the perfect place for a large family or group of friends to enjoy a stay in this brilliant resort. While it has enough beds for up to eight people, there is room in each of the rooms to hold a travel cot. So, if a large group of friends with babies wanted to share a lodge, the Grassholm has enough room for eight adults and four babies! It is large, comfortable and has everything you need. We had plenty of towels for everyone and didn't want for anything. Well, apart from more blue skies but you can't do anything about the weather.
We thoroughly enjoyed our stay in the Grassholm Lodge and will definitely look into booking it for future breaks at Bluestone with friends or family. Unfortunately it was late when we arrived, so all my pictures are from that evening before our full party descended on the lodge. If you'd like to see inside in greater detail, hit play on the video below!
I hope you've enjoyed my Bluestone Grassholm Review. Have you stayed at Bluestone before? If so, what lodge style was your accommodation?
Cath x
*We received a complimentary mid-week stay in a Grassholm Lodge at Bluestone in return for this review. However, as always, these are my own honest opinions and thoughts about the lodge.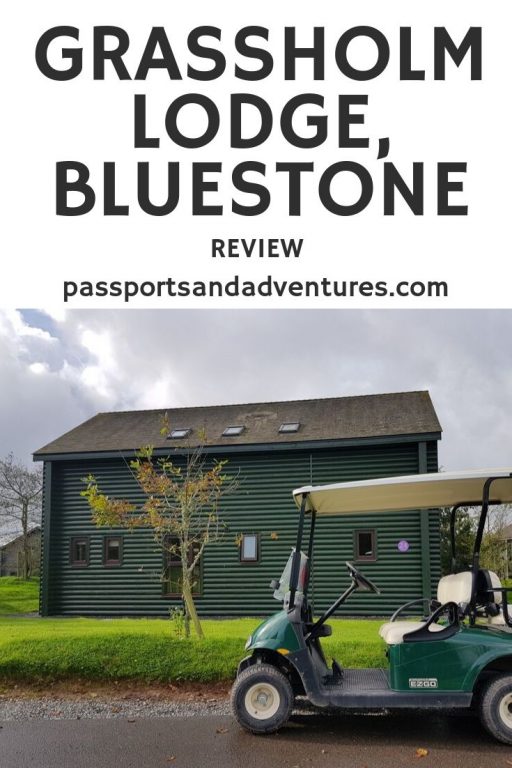 Related Posts