It's only a few weeks until Christmas, yes, I know, but we all need to start thinking about those all-important gifts. I, for one, am not a last-minute shopper and I'm sure there are plenty of you out there who like to be organised, the same as me. I've decided to concentration on Christmas Gifts for adults who travel in this post. Adults can be hard to buy for, especially those who travel quite often. So, I've tried to find some that will fit in with both their time away and their time at home.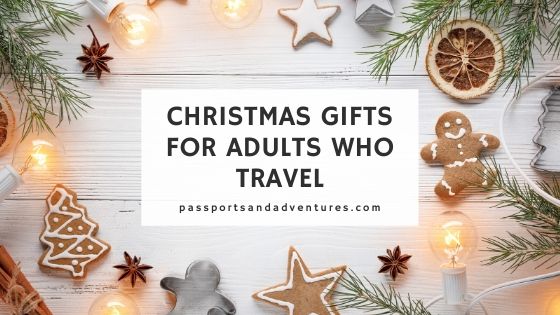 *UPDATED: November 2019
Here are a collection of some Christmas gifts ideas for adults who love to travel. From recycled toiletries bags, to bamboo pyjamas, most of the gifts I've picked are either environmentally-friendly, eco-conscious or are designed for zero-waste, plastic-free living.
You'll also find some additional ideas for Christmas gifts for people who travel that will come in handy while they are wandering the world. These include a water purifier reusable bottle, anti-theft cross-body bag which I personally use, and those all important packing cubes.
And if that's not enough, I give you some more ideas for Christmas gifts for travel lovers.
Christmas gift ideas for the eco-conscious traveller
In this section you'll find ideas for Christmas gifts for travellers who are eco-conscious. These are either gifts which are environmentally-friendly, produced in an eco way or are from companies who are actively supporting conservation and environmental initiatives.
I just love this idea, using an old firehose to great a versatile toiletries bag that can be used for just about anything. From toiletries, to pencils and crayons, cosmetics and even cables, this handy bag made from recycled firehoses is a brilliant gift for those who travel regularly. Protect the Planet is the leading retailer of upcycled & eco-friendly giftware. They stock eco-friendly brands and have a huge range of products for eco-concious buyers.


These beautiful 100% bamboo pyjamas are the perfect gift for a lady who travels a lot. These soft, durable, moisture-wicking pyjamas are stylish and help regulate body temperature while you sleep. Bamboo is not only moisture wicking, it is also antibacterial, non-irritating and it is environmentally friendly. These lightweight pyjamas are perfect for packing in those suitcase.

Reusable coffee travel mugs make a great Christmas gift for adults. As the coffee mug is reusable either as a travel mug or at home, they are great for the environment, helping coffee shops cut down on their single use polystyrene cups which are non-biodegradable. They are also dishwasher safe!

The Grayl Geopress water purifier is the ideal Christmas present for travellers who hike, take adventure holidays or travel to regions where tap water is not suitable for drinking.
Simply fill from any water source, twist the SimpleVent cap 1/2 turn, press the cap to start the filtration and purification process and wait eight seconds before drinking. Clean, pathogen and sediment-free water from any source. I've been so impressed by the reviews that we've purchased one for our family travel to reduce our reliance on bottled water.
All-purpose cotton drawstring bags: Chalk & Moss
These cotton, all-purpose drawstring bags are perfect if you are looking for useful Christmas gifts for people who like to travel. Available in three different sizes and three colours, you'll find one to suit your own personal style. They can act as grocery bags, laundry bags and can even be used as a camera bag. Not only are these bags multi-functional, they can help with zero waste living. They are the best alternative to plastic bags and Chalk & Moss have many more items that can help with zero waste and plastic-free living.
Best Christmas gifts for adults who are wandering the world
In this section I've focused on ideas for Christmas presents for adults who are travelling, or are about to take off on a trip, and which would come in useful. These are aside from the eco-friendly travel Christmas presents in the above section.
GoPro Hero 8, Black: Amazon

Although we own a GoPro Hero camera (model 3 or 4), I'm ashamed to say it is in storage and I haven't used it for a few years. That said, we've been so impressed by some of the review videos of the new GoPro Hero 8 Black, that we've bought one and are eagerly awaiting its arrival.
The GroPro is the perfect little camera for both stills and action videos. I know so many bloggers who use this as their primary camera, and many use it in conjunction with drones for those really adventurous, overhead, panoramic shots. It's lightweight, extremely portable, waterproof (great if you want to take it snorkelling) and its price tag isn't outrageous. Even better, the latest models are waterproof without needing an additional casing (unless you plan to go diving, in which case you need a pressure-proof waterproof casing).
So, if you're struggling to know what to get that person in your life who loves a bit of adventurous travel, why not get them the latest GoPro Camera. GoPro's are ideal Christmas gifts for people who travel a lot and want to capture all those memories.
Canon Powershot G7X Mark ii: Amazon
This camera has been my go-to travel camera for over three years now. With a boisterous young boy on my hands, I don't have time to be faffing with a heavy DSLR camera. I also wanted something that was capable of filming should I want to put together videos of our days out. So, on the recommendation of my fellow bloggers I bought a G7X and never looked back. While it's not the lightest camera nor the cheapest, it has the full capabilities of a DSLR but is much more portable than a bigger professional camera. It hasn't let me down yet. If a Mark iii should be released, it'll be on my Christmas wish-list.
Bose Quiet Comfort 35 ii Noise-cancelling headphones: Amazon

We have some of the earlier models of the Bose noise-cancelling headphones and they really do make a difference when travelling by plane. So, if you are stuck for Christmas gift for young adults who travel in particular, a set of these headphones wouldn't go amiss. They even come in three great colours to choose from.
A set of travel packing cubes
One of our must-have travel items as a family are packing cubes. They have made travelling so much easier as we can travel with less luggage in terms of cases but not compromise on clothing. We even have a colour each to colour-code our suitcases so I know exactly which cube belongs to who when I open up our luggage. They are great Christmas gift ideas for travellers of all ages and genres.
Shop the full range of packing cubes on Amazon by clicking here.
DJI Mavic 2 Pro Drone Quadcopter with Hasselblad Camera: Amazon

If money is no object and you are looking for Christmas gifts for adults who have everything, then this Mavic 2 Pro Drone is the Christmas gift for them. We discovered this drone when we were looking at purchasing one after ordering our new GoPro and to say we've been blown away by them would be an understatement.
It is definitely on our Christmas gift wish-list. Just take a look at the video below (shot with a Mavic Pro 2) to see why!
Anti-theft cross-body bag from Pacsafe: Amazon
When we are travelling and are exploring new areas, we often take our cabin bag as a backpack for the day. However, I find that these can become heavy and cumbersome as we fill them with unnecessary things. I recently switched to a cross-body bag which is also an anti-theft bag from PacSafe. It is big enough to carry everything my son and I need for a day out sightseeing, plus it has two side pockets for our water bottles. It's so good, my husband bought himself one as well and they now travel everywhere with us.
See the latest prices and buy your Pacsafe anti-theft cross-body bag from Amazon by clicking here.
Other Christmas gifts for travel lovers
In this section you'll find some other great ideas for Christmas gifts for travel enthusiasts. These can either be used while travelling, or are designed to inspire their wanderlust even more. Others are travel related Christmas gifts to help ease them back to being at home.
Customisable Travel Jewellery from El Camino
I've recently discovered this lovely little company based in Cornwall in the UK who do customisable travel jewellery. They make hand-made bracelets and necklaces onto which fit what they call "steps". These steps are like charms for the jewellery and are travel-themed with country steps, regions steps and other steps based on wood and marine-themes to make the jewellery truly customisable.
This is one of the most beautiful examples of travel jewellery I have come across to date and these make unique travel gifts for Christmas which would go down a treat with any wanderluster. You can also create your own custom steps to commemorate a special moment in your travels. Finally climbed Kilimanjaro? You can create your own step with the name and date on it. Did your partner propose on a beach in Thailand? No problem, you can create a step for that too. The possibilities are endless and coupled with the fact they look great, these are something every lover of travel, men and women alike, will enjoy receiving and wearing. Check out the El Camino website to find out more.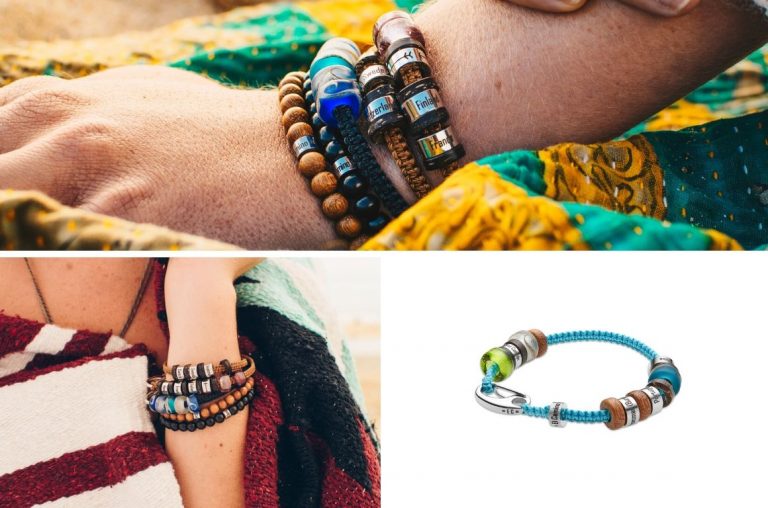 Scratch Off World Map Poster: Amazon
Another great way to remember your travels around the world is through a scratch map. For each country you visit, you scrap off the section for that country to start revealing the world, one country at a time. These make great Christmas presents for travellers who have done extended trips or round-the-world trips. They come in a range of sizes and colour-combinations.
Find the full range of scrap map posters and latest prices by clicking here.
Kampot Salt and Pepper Seasoning Kit: BoTree
Ok, this might not necessarily be for taking with you travelling, but if you're anything like me you love a home-cooked meal after your jollies. And this salt and pepper seasoning kit could be the perfect addition to your kitchen for those back-home meals. With a beautiful cast iron salt pot and pepper mill, plus some BoTree Salt and Peppers, you're bound to rustle up an amazing meal.
These lovely bracelets have 9 element beads and one smiley bead with the element beads collected from all around the world, so you have a piece from every part of the world around your wrist. For every bracelet bought, a donation is made to the Marine Megafauna Foundation. The MMF conducts pioneering research on marine megafauna and uses scientific evidence to educate the public and governments to influence long-standing conservation strategies. Any company that supports the conservation of marine life is worth supporting, so why not buy a bracelet as a gift and support the MMF.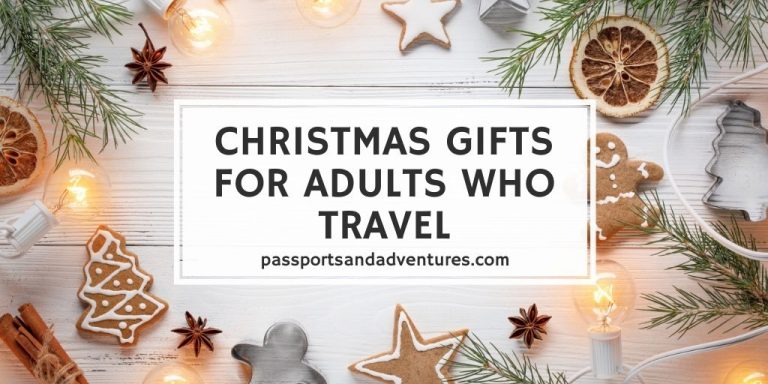 So, there you have it. A small collection of some unique Christmas gift ideas that are ideal for the travelling adult in your life. Some are even environmentally-friendly and help towards eco-living. With this list you'll never be stuck for Christmas list ideas for adults who love to travel.
Cath x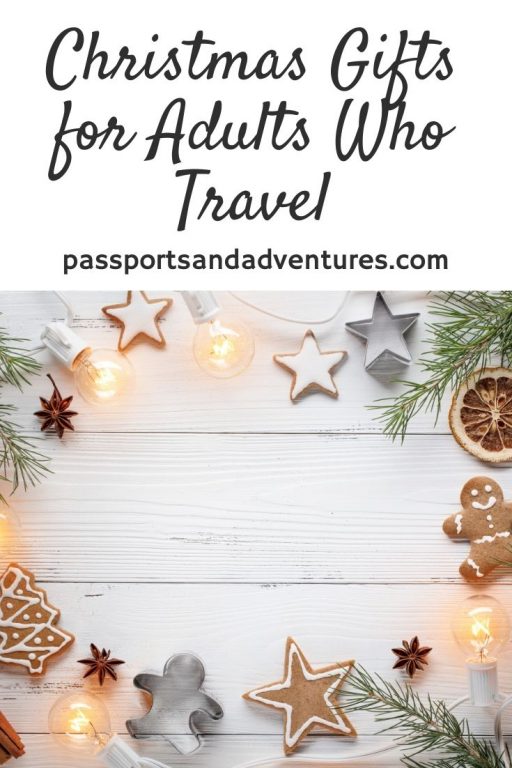 Passports and Adventures is a participant in the Amazon Services LLC Associates Program, an affiliate advertising program designed to provide a means for sites to earn advertising fees by advertising and linking to amazon.com, amazon.co.uk, amazon.ca. Amazon and the Amazon logo are trademarks of Amazon.com, Inc. or its affiliates. To learn more about affiliate links, read my Disclosure Policy here.
Related Posts