Last June we had a lovely surprise message from a good friend from Wales to say he would be visiting Lisbon with his fiancée and he wondered if it would be possible to meet up with us. We hadn't seen M in years and were yet to meet his new fiancée, so my husband had a look to see where a halfway point for us would be to meet up. And as it turned out, we got to take our son on a dragon hunting adventure at Beja Castle at the same time. Here is our post about visiting Beja Castle With Kids.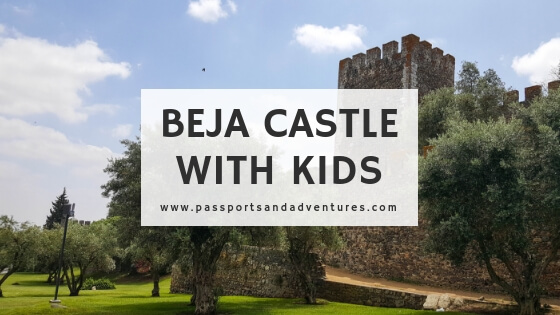 Beja is a small city in Central Portugal which is approximately 2 hours from both Vila Real de Santo Antonio and Lisbon. Mr Passports thought this would be a good halfway point for us to meet up and it also happened to have a castle in the town, ripe for a dragon hunt. Beja has a wealth of history. Inhabited since Celtic times and situated on a 277 metre (909ft) hill, Beja commands a strategic position over the vast plains of the Baixo Alentejo. It went through several name changes from Pax Julia by Julius Caesar to it's current name which stems from the Arabic word Baja.
Beja Castle is a medieval castle which sits on top of the hill and can be seen from afar, although we didn't until we were almost on top of it. Together with the town walls, it was built in the 13th century by King Diniz over the remains of a Roman castellum. It consists of battlement walls with four square corner towers and a central keep, which is the highest in Portugal at 40m high. The top of the keep can be accessed via a spiral staircase which has 197 steps. And we felt every one of them, I can assure you. It is a national museum which was heavily restored and reconstructed in the 20th century.


We arrived at Beja Castle first and parked behind the castle, along one of the older town wall fortifications. And what a sight it was. Our son took delight in joining me to photograph this splendid castle. We found the entrance and waited for our friends to arrive who were a few minutes behind us.
We were also delighted to find the castle was free to enter. Once we were all together and had exchanged hugs of hello, we walked through the entrance gate and were straight into the courtyard where we were met by the sight of the keep, the Torre de Menagem. We had a look at some artefacts just outside the museum before we started our dragon hunt. Thankfully, our friends were happy to play along.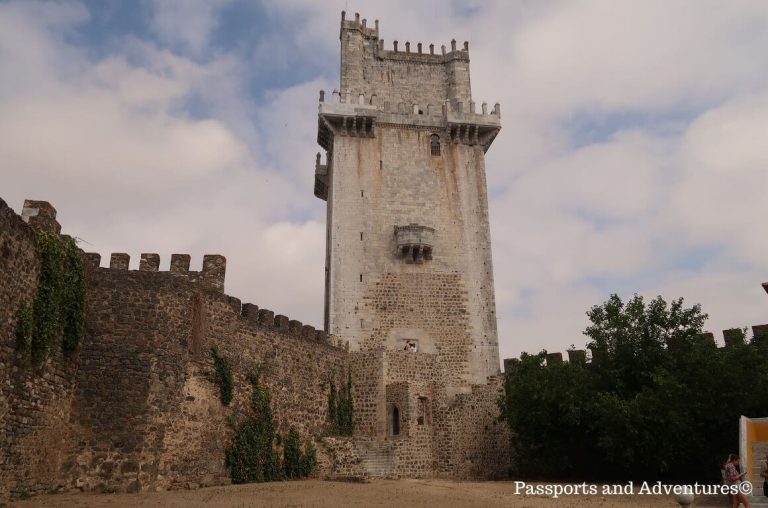 We searched the courtyard to no avail so climbed up onto the battlements to check there. With no sign of the Beja Dragon, we decided to make our way to the keep checking the rooms inside as we went along.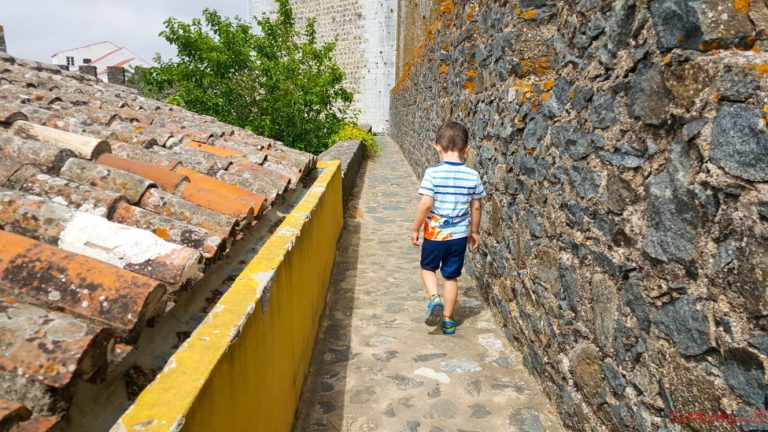 And before we left the last room to take in the view from the top of the tower, we found the dragon, lurking behind a sign. Our son was delighted with himself.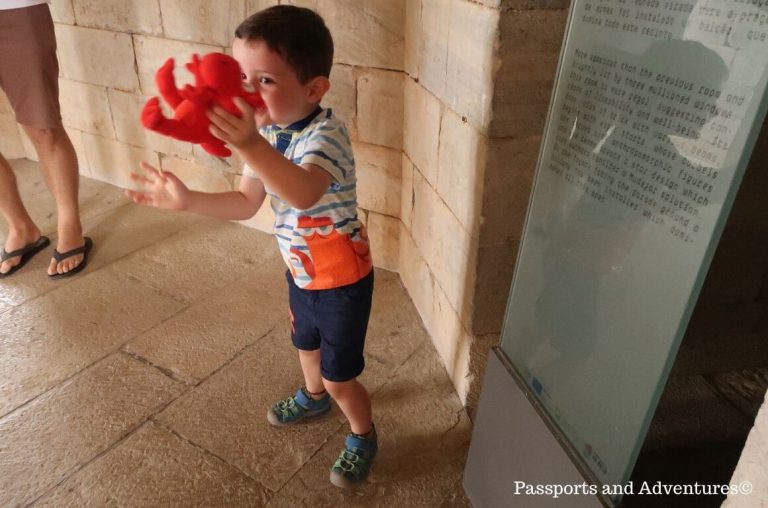 And the views from the top were amazing. You could far and wide. No wonder the castle was positioned where it was. As it was getting close to lunchtime, during which the castle closes, we decided to make our way down and find somewhere to have a bite to eat before we each had to head our separate ways again.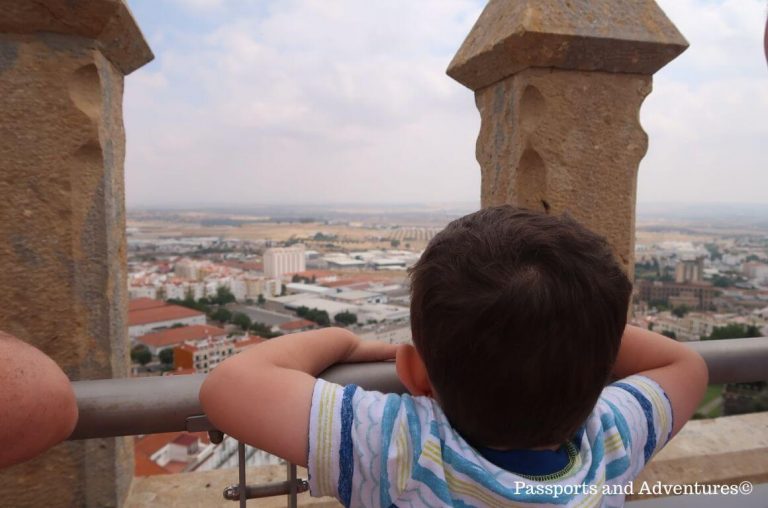 We found a nice café just outside the castle, serving toasties and coffee and enjoyed an hour catching up with M, and learning about P. We also found out their plans to move to New Zealand where P was from and got an invitation to visit, which I hope we'll be able to take up in the coming few years.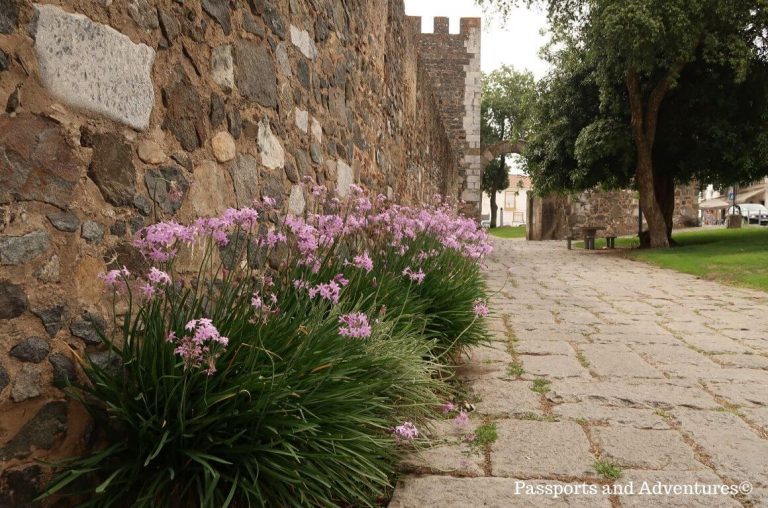 Things to note if visiting Beja Castle with kids
The castle is free to enter.
It is open 7 days a week from 9.30am to 12.30pm and 2pm to 6pm.
Beja Castle does not have a café but there are several in town. The closest one to the castle also shut during lunchtime and we were lucky to be served just before they closed.
There are no toilets in the castle, but there are public toilets across the road from the castle. Take a packet of tissues with you as you'll need them. I'll say no more.
The courtyard and museum are wheelchair and buggy accessible but other areas are not. There are steps onto the battlements and in the keep and no lift.
Make sure you try and get to the top of the keep, the views are worth it.
Summary
We enjoyed our short visit to Beja Castle. It was great to have the opportunity to combine seeing our friends with a dragon hunting adventure. If nothing else, it occupied our son while us adults chatted. I can recommend a visit to Beja Castle with kids if you are in Central Portugal or are visiting the Alentejo region of Portugal. The views from the top of the keep are worth it alone.
However, would I drive all the way from Lisbon just to see it? Only if I was combining it with something else. There is not enough to see or do there to make it a full day out, and it's 2 hours drive each way, so bear this in mind.
I wonder where our next dragon hunting adventure in Portugal will be? We've already visited Castro Marim Castle.
Cath x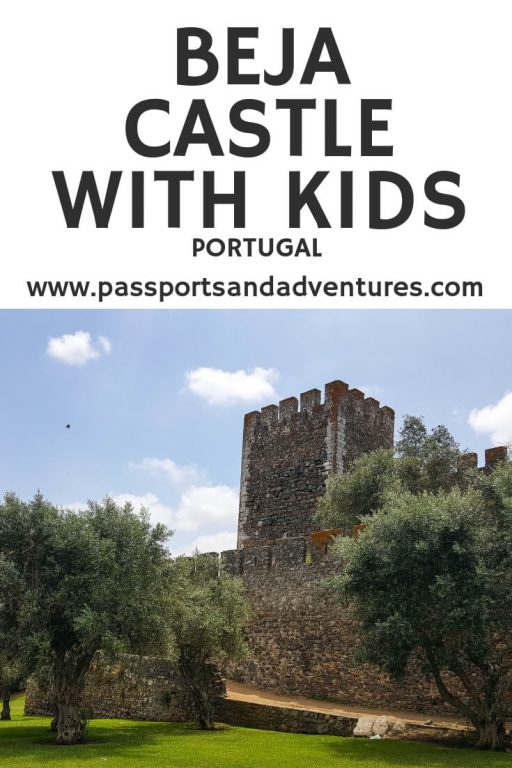 Related Posts