Yellowstone National Park is an amazing place on earth. Full of natural geothermal features, waterfalls, valleys teaming with wildlife and more, it is a great place to visit. However, even in summer, the weather in Yellowstone can change frequently. And rain is not uncommon. So, if the Yellowstone weather forecast is for rain, here are some ideas for things to do with kids in Yellowstone in the rain so you can still enjoy one of the best National Parks in the world.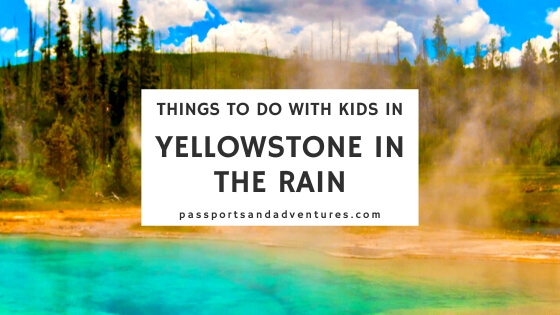 Although summer is the best time to visit Yellowstone as a family, it is not uncommon for the park to experience a rain shower or two. Heck, even at the end of August when we visited, we experienced rain AND sleet. The cowboys of Yellowstone that we joined for the Old West Dinner Cookout told us they would be expecting to see the first snowfall in early September.
Read my ultimate guide to Yellowstone with kids where you will find everything you need to plan the perfect visit to Yellowstone with Kids.
However, rain does not need to spoil your trip. If the Yellowstone weather takes a turn for the worst, there are still plenty of things to do with kids in Yellowstone in the rain. Here are my top 5.
Top 5 things to do with kids in Yellowstone in the rain
Yellowstone rain does not mean you need to cut your trip or day in the park short. If you are prepared and have followed my Yellowstone packing list, then you will be prepared for rain. But, if you are wondering what to do in Yellowstone when it rains, with kids or without, then these ideas will help you enjoy your day, whatever the weather brings.
Tour the Hotels
There are two hotels within Yellowstone Park that offer tours. They are also a great place to shelter from the rain with kids. Both Lake Yellowstone Hotel and the Old faithful Lodge run guided tours giving you a look inside these historic Yellowstone buildings while learning about the park's history.
Often called The Grand Old Lady of the Lake, not only is Lake Yellowstone Hotel located on the shores of Lake Yellowstone, but it is over 128 years old. Built by Robert Reamer who also built the Old Faithful Lodge, it is a beautiful building and a great place to shelter from a storm. In fact, pull up a chair in the Sunroom and watch the weather develop over the lake. Free tours of this hotel run at 4.15pm, 4.45pm and 5.45pm.
Old Faithful Inn is considered the largest log structure in the world and sits adjacent to the most famous geyser in the world that it shares its name with. If you are lucky you could bag a seat by a window along the geyser side of the hotel and watch the eruption from the hotel while staying dry if it is raining in Yellowstone. Old Faithful does not stop erupting simply because it is raining! There are free guided tours of the hotel offering visitors the chance to learn about the quirks of the construction of the hotel and hear about bygone eras in Yellowstone. Tours run at 9.30am, 11am, 2pm and 3.30pm.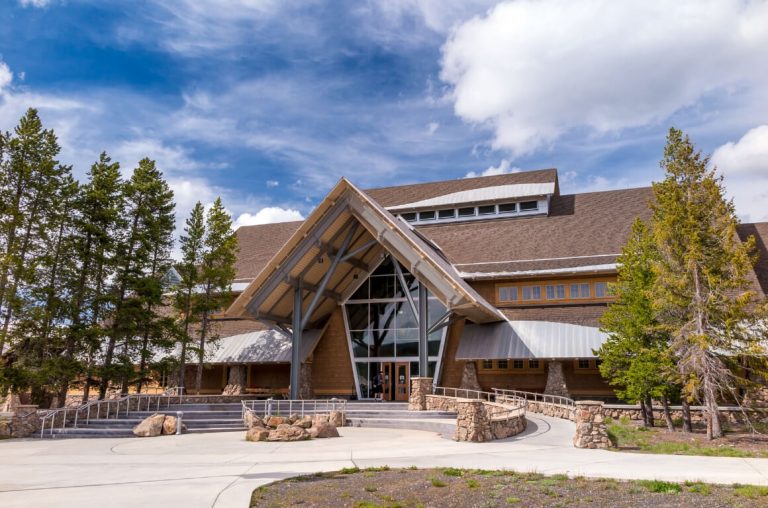 Take a drive
You can still enjoy Yellowstone in the rain from the comfort of your car. If it is wet outside, you don't NEED to get wet as well. You can simply enjoy a drive around the park, be it on the Upper Grand Loop or Lower Grand Loop Roads, all while staying dry inside.
For ideas on how to spend three days in Yellowstone, check out my Yellowstone 3-day itinerary for ideas.
You can try spotting wildlife or simply sit back (if you're not the driver) and enjoy the scenery around you. Just remember to take snacks and drinks and have a picnic in the car if you are all feeling hungry. You could park up at places like Roosevelt Lodge where you can grab a hot drink from the small shop to have with your picnic. There are also toilets in the Lodge that everyone can use before you set off again. This goes for all the lodges/hotels. Another great place to stop at would be Yellowstone Lake Hotel mentioned above.
Watch wildlife
If you want to watch wildlife while sheltering in your car from the rain, then I highly recommend you find a pull-up-and-park spot along either the Hayden Valley or the Lamar Valley. Rain in Yellowstone does not stop the wildlife and I bet wildlife is a big reason why you decided to visit the park in the first place.
If you remembered your wet weather gear, you could stretch your legs while searching for wildlife. Just remember that the park service recommends you stay 25 yards away from bison and elk and 100 yards away from bears and wolves.
That said, in both these valleys we saw herds of bison, even having to stop our car on the road in the Lamar Valley to let a really large herd of bison cross in front of us. So, you may not even need to jump out of your car to get a close view of them!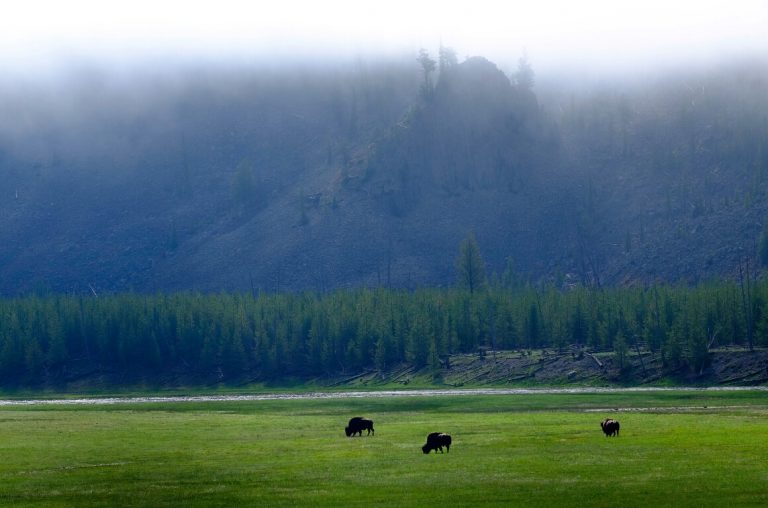 Walk the Geyser Basins
Yes, you read right. Get out of your car, gear up and walk the geyser basins such as at Norris and Artist's Point. Like wildlife, rain does not stop the geothermal activity around the park and Old Faithful continues to erupt. You may even find the more popular areas around Grand Prismatic Spring and the Lower Geyser Basin much less crowded as people without wet-weather gear run back to their cars.
A word of warning though. Take care when walking on the boardwalks as they may become slippery. Always keep a tight hold on younger kids' hands and stay on the boardwalks. But with less people around it may be easier to traverse them. As the saying goes, there is no such thing as bad weather, only bad clothing, but if you have gone prepared you can still enjoy the geyser basins regardless of the weather.
Find out exactly what you need to pack for summer with my Yellowstone packing list.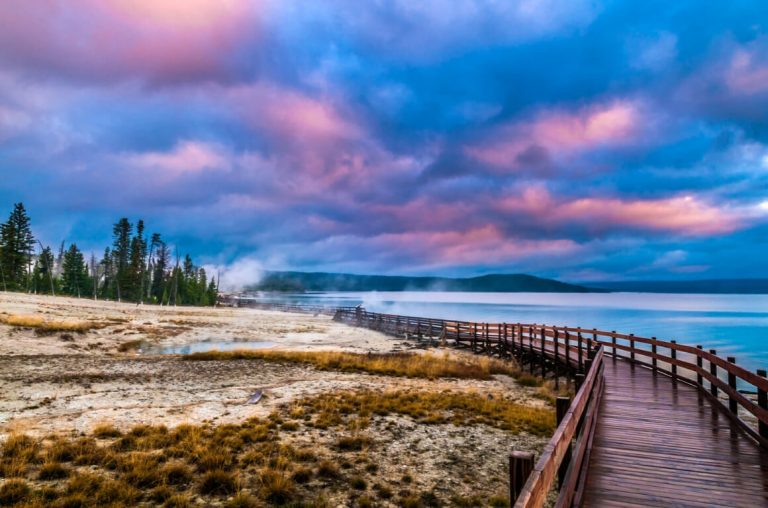 Experience the National Park Service Centres
Yellowstone offers visitors the chance to gain more knowledge about the park in different ways via the eight visitor education centres/museums. The eight centres and information you can learn while visiting them are:
Albright Visitor Centre – built in 1909, this centre is located near Fort Yellowstone in the Mammoth Hot Springs area in the north of the park. Inside the centre you can learn about the wildlife of the park, the decimation of the bison population and some of the park's history.
Canyon Visitor Education Centre – located in Canyon Village, this centre offers visitors the chance to learn about the super-volcano of Yellowstone and how the volcano, its geysers, springs and geological history have shaped the distribution and abundance of the park's wildlife.
Fishing Bridge Visitor Centre and Trailside Museum – the Fishing Bridge Museum was completed in 1931 and became a prototype of rustic architecture in parks across the US. The museum was built as a "trailside museum" to allow visitors to obtain information about the park themselves. Declared a National Historic Landmark in 1987, visitors will find vintage exhibits about the park's birds, other wildlife and can learn about Yellowstone Lake's geology.
Grant Visitor Centre – located in Grant Village, visitors to this centre can learn about fire ecology and the important roles they play on the landscape. Of particular interest is the information about the 1988 fires in Yellowstone National Park.
Madison Information Station – this centre is found halfway between Old Faithful and West Yellowstone. Here you can get information about the park and speak to a ranger. This is another Trailside Museum built to focus on the history of Yellowstone.
Museum of the National Park Ranger – This building is found in the Norris area at the entrance to the Norris Campground. In this museum visitors can discover the history of the park rangers. The building was one of the original soldier stations built in 1908, taken down from its original site and rebuilt here at Norris. You can also visit with retired rangers in this centre.
Norris Geyser Basin Museum – Visitors to the Norris Geyser Basin generally start their visit to this area of Yellowstone Park here. Complete din 1903 and also built as a trailside museum, this centre has bird specimen exhibits, and has other exhibitions on geothermal activity and life in these areas.
Old Faithful Visitor Education Centre – visitors can find out the approximate time of the next eruption of Old Faithful within this centre. There are also exhibits on Yellowstone's hydrothermal features, life in extreme environments, the volcano beneath Yellowstone and ongoing scientific research in the world's greatest living laboratory, Yellowstone National Park itself. There is also a Young Scientist exhibit room here with a geyser model and hands-on exhibits that young visitors will enjoy.
West Thumb Information Station – this small facility at the start of the boardwalks at the West Thumb Geyser basin provides information to visitors as well as the chance to speak to a park ranger.
West Yellowstone Information Centre – located outside of the park, in West Yellowstone itself, visitors can gain information about the park before entering.
The Yellowstone Visitor Centres and Museums are great places to visit if it is raining in Yellowstone. Many of them have gift shops so you can buy your souvenirs while there. They also offer visitors the opportunity to speak directly with park rangers who are the fountain of all knowledge when it comes to Yellowstone National Park.
Summary
If you are wondering what to do in Yellowstone when it rains, I hope this post has given you a few ideas. In summer, the Yellowstone National Park weather is usually quite good, but you should be prepared to see a rain shower or two during your visit. Bring rain/wet-weather gear and nothing will stop you. But, if you don't fancy getting wet there are still lots of things to do during a Yellowstone rain shower, even with kids in tow.
For information about the current Yellowstone park weather, click here. And for the Yellowstone weather by month, click here.
Cath x