When we were pregnant with our son, we decided early on that we would continue to travel as often as we could, even with him in tow. Plenty of people do it, so why couldn't we. We knew things might change now we had a child to factor in and sure, we knew things might not quite go according to plan, but we were determined. And still are. That said, it's not always been a bed of roses where travelling with our son is concerned. Today I'm going to share with you what it's really like travelling with young kids and, along with some of my fellow parent bloggers, we'll share with you our fantasies and then tell you the realities of travelling with young children.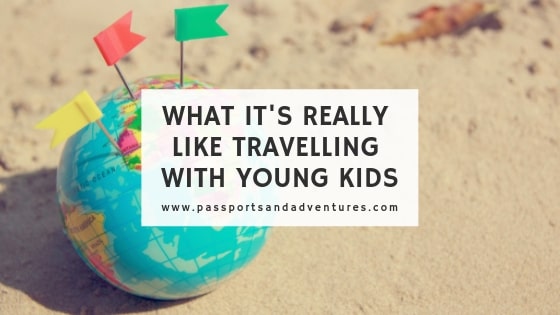 What It's Really Like Travelling with Young Kids – Fantasy vs Reality
A few weeks ago, I shared a post with you about why travelling with young kids is awesome. And it truly is. Without going back over the details, today it's time to share with you some of the pitfalls of travelling with young kids. Time to share with you how we thought our holiday was going to turn out versus the actual reality of said holiday.
Holidaying with a baby is easy
Our son was eight months old when we embarked on our first proper holiday abroad. While we had been to Ireland to see family and had a staycation in the UK, this was our first time abroad with him. We booked 10 days in Gran Canaria, one of the Canary Islands we had frequented before having him and thought 10 days was just perfect. A week always seemed too short and a fortnight had always seemed too long. 10 days would be perfect.
The Fantasy: We'd lie by the pool, baby sleep under a parasol while we enjoyed some dips in the water and read our kindles. We'd enjoy family meals and then retire to our room where we would watch a TV series or two while he slept.
The Reality: It was hot, very hot. Over 30°C most days, despite us choosing to go in the third week of September. It was too hot for any of us to lie outside for very long and too hot for our son to sleep outside. He would only nap in our darkened, air-conditioned room and we could either sit on the balcony with the door closed (not ideal as we couldn't hear him) or sit in the darkened room and read our kindles. Days were spent alternating between the balcony with him when he was awake and the room when he was asleep.
We only ventured out into the resort during the late afternoon when it had started to cool down. Meals were a disaster. We had booked an all-inclusive resort, so we didn't need to think about cooking. However, we had been placed into the second sitting and the noise level meant our son cried as he was tired and due to be put to bed at the time we were trying to eat. Even when we moved to the earlier sitting, he wouldn't eat as nothing on the menu was suitable. Thankfully I'd had the foresight to bring some pouches from the UK and that was what he mostly ate.
As for the evenings, we sat on our bed, in the darkened hotel room for up to an hour, not budging or talking until we knew he was asleep. Only then could we watch the TV series on our laptop but with earphones as we had no sitting area in our room. Let me tell you, the reality of this holiday was far from the fantasy we had envisaged. Here's my post about holidaying with an eight-month old.
And if all that wasn't enough, we hired a car with a car seat, but our son hated the car seat as he wasn't used to it and screamed all the way from the airport to the hotel. As a result we didn't use the car for the entire time we were there except to get back to the airport. Had we known we might have brought our own car seat with us! Wandermust Family have a great post about the best toddler car seats for travel if you are in the market for one. Read it here.
Emma from Wanderlust and Wet Wipes had a similar experience.
The Fantasy: A hotel room will be fine with a baby.
The Reality: It wasn't so much how I imagined it so much as we just didn't think about the practicalities of a small hotel room in a city. We travelled to Istanbul with a 15-month-old and had a room with no separate sitting area or balcony. Cue me sitting on the loo and husband in the bath as we read our books and waited for him to go to sleep. We'd debate when to check if he was asleep or if it was too soon. This was usually followed by a '**** he saw me!' and the whole saga would start again.
Once he was finally asleep, we sat on the bed and shared a glass of wine and a piece of blacks all while whispering so as not to wake him. Then in the morning he would stay quiet even if he was awake until he realised we were awake, so we had to commando crawl to the bathroom to preserve a lie in (past 6am).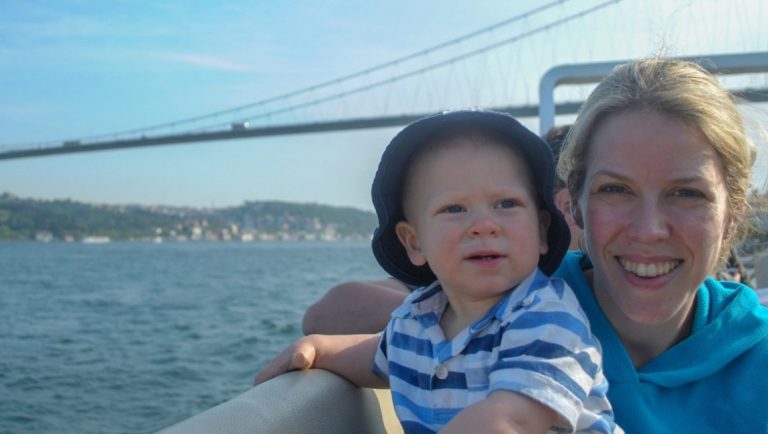 Hayley from Mama in Progress can relate to our first holiday abroad with a baby.
The Fantasy: Thinking we'd get a nice holiday in the sun with our toddler before our new baby arrived, we booked a caravan in a holiday park in France, and imagined sitting in the sunshine, nice walks, swims etc.
The Reality: Heatwave. 40+ degree heat, in essentially a tin can. We had to move our daughter's cot outside so she had any chance of sleeping and it was too hot to go back in the caravan until 2am in the mornings so we ended up just staying outside until then. I was 35 weeks pregnant and it was a nightmare. It was so hot that when you tried to shower in the caravan, even if you only turned the cold tap on, it was too hot!
Holidaying with friends with a toddler will be great
We had very close friends in the UK that we had holidayed with a few times before having our son. They had two children who were nearing the teenage years and we always had a brilliant time with them all. When our son was over a year old, they suggested another holiday together. With two teenagers on their hands they were after a holiday of a different sort and suggested a trip to Lake Bled.
The Fantasy: We'd enjoy a holiday with them, exactly like it had been before our son came along. Relaxing days and evenings were on the cards.
The Reality: Firstly, our holiday didn't start as we'd expected. Our flight was over three hours delayed leaving London Luton and we spent at least an hour of that delay on the plane. Not ideal with a toddler who was having to sit on our laps. Thankfully I'd brought snacks which kept him at bay for a while.
Once we arrived at our accommodation near Lake Bled, we settled in and soon set off to meet friends of our friends who were nearing the end of their own holiday in the area. We had dinner with them, which was lovely, but I then spent the next hour trying to settle our son outside of the restaurant as he was overtired, and bed was calling.
The next day he was a complete nightmare, screaming and crying as he was totally unsettled in this new environment, as well as being overtired. We ended up staying in the accommodation with him while our friends went out and I seriously considered driving back to the airport and getting the first plane home, all while in floods of tears. It was that bad. Thankfully he came around and we ended up having a great time but those first two days were a total nightmare. I think it effected our relationship with our friends as they rarely met up with us after that and we never holidayed with them again. If you're wondering is Lake Bled for you, here's a post I wrote about things to do around Lake Bled with Kids. It's a must.
Let's revisit the Canaries, sure it can't be any worse than the first time
After the first disastrous holiday to the Canaries you'd think we would have been put off but oh no, we promptly decided to return to our favourite island, Lanzarote, the next year. This time we looked for a family-friendly resort, with pools, playgrounds, one-bedroom apartments and went all-inclusive again. And we chose to go in May.
The Fantasy: We would finally get the family all-inclusive holiday we hadn't gotten eight months previously.
The Reality: For the first five days of our week-long holiday, it was perfect. The pool was a little cold, but we enjoy strolls into Playa Blanca, nice meals our son was actually eating, and more importantly, enjoying. We did cancel his sessions in the creche, opting instead to enjoy strolls along the sea-front while he was napping in his buggy.
And then it happened. Getting him ready for dinner on our penultimate night and I noticed a spot on the back of his neck. I thought it was a heat rash as he is prone to them but the next morning, I knew it was more than just a heat rash when more spots started to appear and the first one had blistered. The on-site doctor confirmed. We were grounded for an additional 3-4 days at least as it was chicken pox. Something had been telling me to expect it to be that the night before, but I prayed it wasn't. Thankfully, the resort wasn't full, and we arranged our own flights so my husband could stay with us. Normally, insurance companies only cover one adult staying with a child.
While we ended up with an extended holiday it wasn't ideal as we were confined to our room. We did sneak him out in his buggy on our last day for a stroll, but it was tough trying to survive chicken pox in the Canaries without UK medicines, lotions and potions to hand. But we managed. And the next year we returned and within an hour of arriving our son was having four stitches in his knee to close over a nasty cut he'd gotten falling. Needless-to-say, we haven't gone back there yet.
Disastrous holidays abroad can put some people off for life, and opting for staycations instead, such as Pamela from Mum Comms.
The Fantasy: Crystal white sands, turquoise shores, drink in hand, blissfully relaxed parents smiling as they watch over their contented brood playing happily…that's what they show us in the ads!
The Reality: Travel sickness, refusal to drink strange foreign milk, and strange foreign food. Sun cream & sand, tantrums, fear of water…need I say more! …all hail the great British staycation!!
Bright Lights, Big City, going long-haul will be fine
After two eventful package holidays to Lanzarote, both to the same resort and both requiring medical assistance, we decided to chance our luck and book a trip to New York with our, then, two-and-a-half-year-old son. We booked everything separately and looked forward to our first long-haul flight as a family.
The Fantasy: We would enjoy the bright lights of the Big Apple, see all the sights and act like New Yorkers for a few days.
The Reality: Firstly, as soon we landed, we discovered a voicemail from our kennels to say our older dog at the time had taken a funny turn and it wasn't looking good (we had to put her to sleep the day we got back).
We left our bags at the AirBnB in Astoria and headed straight for Times Square. While us adults enjoyed it, our son did not. The crowds, sirens and noise of the area frightened him and he either spent the time crying or with his hands over his ears.
That night, the fire alarm kept beeping in the apartment as the battery was on its way out and we were scared to remove it in case it set off the whole apartment building. Jet Lag with kids is no fun either and our son woke at 2am local time, his body thinking it was 7am. I got him back to sleep until 5am after which I gave up and let him watch some TV. This was to be repeated for the next two nights of our stay.
It was still quite hot in New York that September and as a result we had to have the air-con on at night, which resulted in our son getting a dry throat which drove him mad the entire time. We tried all sorts of remedies and nothing would work. It really affected his ability to nap and sleep at night.
On our first full day it did nothing but rain, and we got completely soaked as we were determined to see at least some of the city. However, our last day and a half were glorious and really turned around our first trip to New York. It also left us with a strong longing to return to the city.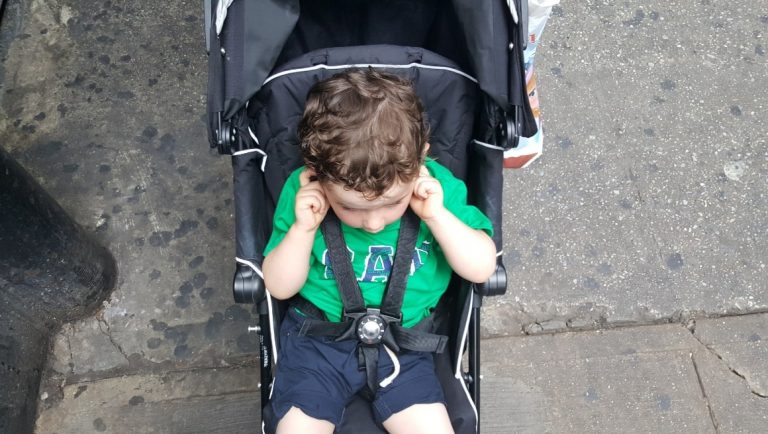 Lisa from Flip Flop Globetrotters knows the reality of city trips with toddlers.
The Fantasy: We can enjoy city tripping with a toddler. No problem.
The Reality: When our son was 2.5 years old we visited Vienna, Prague and Berlin for two weeks. While city trips with kids can be a lot of fun, managing expectations is the key to success. When kids are small they only want to be with you and you can take them everywhere… until they start to get their own opinion. While we try not to plan too much in advance, I was still looking forward to doing some sightseeing. But of course our little world traveller had other ideas. We had a wonderful time but instead of trying to figure out which sites to see, we spent our time searching for playgrounds. I've never seen so many different playgrounds in such a short time!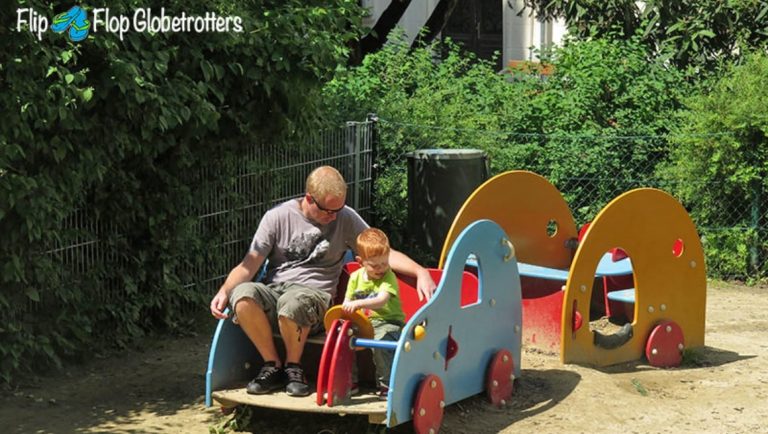 And Kirsty from World for a Girl knows all too well how bright lights, big cities don't always mix with kids.
The Fantasy: In my early 20s I fell in love with the bustling, vibrant Vietnamese capital, Hanoi. Meandering through the Old Town, discovering hidden bars in the French quarter and exploring cultural treasures. Fast forward 10 years later and I got the opportunity to return with my other half and 2 under-fives. Drawing on my former experiences, I began imagining leisurely strolls through the historic streets, relaxing long meals and of course, lots of gorgeous sweet Vietnamese coffees.
The Reality: I was in for a shock when we arrived in Hanoi with our two small, boisterous, very energetic children. I'd forgotten about the noise, the pollution and the TRAFFIC. Crossing the road in Hanoi is a white-knuckle experience. The key is to weave yourself through an endless moving sea of motorbikes and cars. Challenging at the best of times – horrendous with two small children.
Vietnamese locals tend to eat and drink on small stools and tables right on the pavement so using a stroller wasn't a possibility. Our two-year-old was pretty big for the sling so both her Dad and I got a backache after carrying her. A simple outing was overwhelming for the children – the crowds, the traffic and the queue of locals grabbing at the children to take pictures of them.
Our first Airbnb apartment was in the middle of the Old Town. It was filthy, cramped and we had to walk through a tiny shop crammed full of crystal vases (!) to get there – with two small children. After one night, we left and found a slightly better place in the French Quarter. Like in most cities, accommodation is on the small size and rooms can be very noisy at night with the hum of traffic and the wailing of sirens. We didn't have a good night's sleep the whole time we were there. Let's just say that my memories of Hanoi are somewhat different now.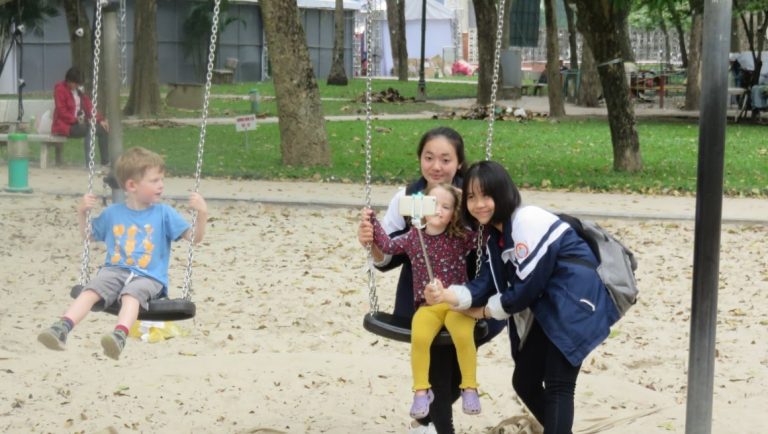 All-inclusive is the way to go with young kids
You'd think after two all-inclusive holidays going a bit wrong, we'd have learned our lesson, but oh no. December 2016 saw us head to Tenerife for Christmas with our almost three-year-old. We figured we didn't want to spend Christmas in the cold, and it would be the last year we could get away with not being at home for Christmas. So, we booked an all-inclusive hotel for a week and off we went.
The Fantasy: Maybe this time we'd have a great family holiday and enjoy Christmas in the sun.
The Reality: Due to the high costs of being away for Christmas, we booked a reasonably priced Rui hotel in Tenerife, having stayed in a few Rui hotels in the past. Again, our holiday didn't start great with a 5 hour delay due to a technical fault with our plane at Bristol. Another plane had to come to bring us and it was smaller than the original one, so other passengers had to wait, and we later learned didn't arrive into Tenerife until 3 days later!
Since we were so late arriving, we grabbed a taxi in the hope we'd get to our hotel before dinner closed. We didn't and as a result our son went to bed that night without dinner as he was so tired, he fell asleep in the taxi.
The so-called sofa bed was horrendous, and the hotel couldn't accommodate us with a camp bed as they were completely full. Christmas dinner was a buffet with queues so long we got our son's dinner first and waited 20 minutes more for our own. The wind around the pools was biting and the so-called heated pools were not heated. The promise of heated pools was the whole reason we chose this hotel in the first place. The town was deserted, and we eventually hired a car for three days and explored some of the island. But we swore we were done with package holidays after that one.
And Josie from Maidenhead Mum has booked all-inclusive before, only for it to not really work out the way they'd hoped.
The Fantasy: I'll book the biggest, most luxurious all-inclusive hotel in Lanzarote that we can afford for us and our 14-month-old. (Cue days of research finding a complex with 6 pools and multiple restaurants) We will live like kings.
The Reality: The complex was SO big that it was a 25-minute walk with various lifts with the buggy to get to breakfast/ lunch etc from our room, a huge mission with a hungry toddler. And in the evening, it was a huge trek to take a drink or two back to the room when it was the toddler's bedtime, so we ended up buying very overpriced wine from the local supermarket despite the fact we had access to unlimited cocktails at a bar we couldn't get to!
A cultural holiday with a pre-schooler will be better than a package holiday
When my hubby said he was joining a friend in Barcelona for a concert, I decided myself and our son should tag along, and we'd make a family holiday out of it.
The Fantasy: Four days strolling through the Spanish city, eating tapas and seeing all the sights.
The Reality: Barcelona is hot in July. Very hot. Did I tell you it gets hot in Barcelona at the start of July? And only some streets have shade. Our AirBnB had one air-con unit that barely cooled one room and the bedroom only had a fan. The apartment was in an old building with very narrow stairs and we worried about the fire escape routes.
And while we did enjoy our time exploring the city, it's huge, absolutely huge and truthfully, the things we wanted to see we only reached using the Sightseeing bus and thankfully I'd booked that. The Sagrada Familia is amazing but so crowded and the 'fast-track' tickets aren't really that fast-track.
The heat did start getting to our son, saying "I've enough walking now" when he really had had enough. We did eat tapas, but our son wasn't too enamoured with them. It's a great city with lots of offer families but next time we'll visit in Spring or Winter!
A family holiday with a bit of culture in Italy didn't quite go according to plan for Pippa from A Mother's Rambling either.
The Fantasy: Northern Italy with our three-year-old daughter. We'd tour ourselves around in a hire car, using maps (Sat nav wasn't really just yet) and travel from the West to the East over a few days, staying in four star hotels, eating proper Italian food and ending up in an Italian Theme Park, similar to Disney Land, where as a family we'd laugh and look like we were in one of those adverts you see in brochures.
The Reality: Daughter wouldn't eat anything, because it wasn't like the pasta back home. One chef nearly died as he took pity on us and broke every rule in his personal chef rule book to make her something she might like to eat. She didn't. (I did it was amazing). We ended up in a McDonalds on more than one occasion.
Did I mention our daughter had blonde hair with beautiful curls? Everyone stopped to talk to her (so glad we taught her some basic Italian, although maybe not as that totally added to her cuteness). Everyone wanted to take her picture with them and touch her curls (all with permission, nobody just pounced on her) and they all gave her sweets and in a few cases money!
The map part was fab as the car had a satnav, even if we couldn't work out how to make it English until the third day, as were the hotels and the driving etc. The bit where we accidentally ended up asking a prostitute for directions and she thought we were picking her up was an adventure… We did end up at the theme park, but by this point I was suffering from morning sickness again and did not skip along happily in the theme park as I couldn't go on a single ride and was rather bored.
It was however one of the best holidays we had, as we kept being swept to the front of queues thanks to our blonde smiley daughter and had plenty of Italians to take our family photographs!

Theme parks are brilliant with kids
Our first foray to theme parks actually went well. We visited Thomasland in December with our one-year-old and while it was freezing, it was a great day with my sister-in-law and her family who were visiting from Ireland.
Our second foray wasn't. We went with friends to Legoland, their Christmas present to us. And we had really been looking forward to it. However, we went during a bank holiday weekend which was our first mistake. Thousands and thousands of people. The queues were so bad that we only went on two rides the entire time we were there, and they were the baby rides. The food places were jammed, and they weren't the best. The only saving grace was we'd done our shopping at the start of the day and used the collection service at the end, avoiding the queues at the end of the day. I came away feeling like it was a whole lot of hype for nothing and felt awful that our friends had paid for it all so we could go together.
Kirsty from the The Money Saving Mum has had her share of theme parks stress too.
The Fantasy: Disney World is all amazingly fantastic, with parents skipping down Main Street, hand-in-hand, whilst whistling.
The Reality: Sweaty parents with chafage whilst running after your children, who are either chasing bubbles or characters down the street with the intent of cuddling them but end up jumping in front of the 60+ minute queue to pretty much rugby tackle them!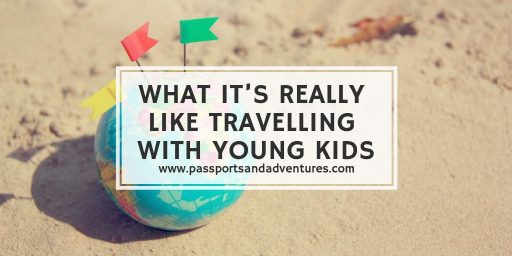 So, while I am a huge advocate for people to travel with kids, it isn't without its pitfalls. Those of us who have shared our story have mostly agreed that we enjoyed some or most of the holiday with young kids. But, and this is a big but, there were moments when we all wondered whether international travel with kids, or even staycations for that matter, were worth it.
There have been times when we've wondered whether flying with kids all that way was worth the effort and the cost, but the memories of the good times far outweigh the bad times. So, yes, I guess you can say it was worth it. Have we let any of the disasters we've had put us off? Not us. It's true we haven't booked a package holiday since our last one to Tenerife but that's because we love the freedom of booking things ourselves. It's meant we've done an amazing two-week USA road trip between Portland and Yellowstone, thoroughly enjoyed Yellowstone with a toddler, visited Santa in Lapland on a budget and road tripped around Central Portugal. And we are far from done yet.
While those trips also had one or two mishaps, they were nothing like previous trips and were some of the best we've had. So, just be wary that travelling with kids is awesome, but sometimes the reality isn't quite how you imagined it in your fantasies.
If you are looking for some tips for flying with kids, check out my post with awesome tips for flying with babies and toddlers which covers everything from booking your flight to sitting on the plane. Many are applicable to older kids too.
If you have booked your flight but wondering what to bring on the plane, here are my hand luggage essentials for young kids.
And if you are travelling with a baby, here are my travelling with a baby essentials, including our top five must-haves.
Cath x