One thing we always seek out when visiting new places are castles. Ever since our son's first visit to Tretower Castle at the age of two and a half, he has enjoyed visiting castles with us because we make a game out of it. It means we get to enjoy historical sites even with a young child in tow. We have visited some of the best castles to see in Ireland and Wales, but here is a list of the best castles to visit with kids in the world, compiled with the help of my fellow travel bloggers.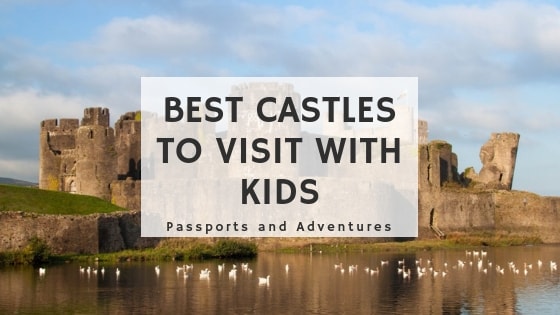 A little back story.
While I was attending a blogging conference in June 2016, my husband and son visited Tretower Castle in Wales. During the visit, to make it more interesting for our son, my husband pretended there was a dragon hiding in the castle. Their mission was to find said dragon. We were living in Wales after all, famous for its red dragon. And so our family dragon hunting adventures in castles began. We slowly made our way around many of the best castles to visit in Wales before starting further afield in Portugal, Ireland and more recently, Spain.
As already mentioned, we now actively seek out castles and other historic sites to visit with our son. And as soon as we mention dragon hunting, he's all for it. So, I turned to my fellow bloggers to find out which are the best castles to visit with kids around the globe. And there are quite a few we want to tick off our list, I can tell you.
35 of the Best Castles to Visit with Kids in the World
With the help of my fellow travel bloggers I have compiled a list of some of the best castles to visit in the world with kids. While Europe is probably the best place to see castles, there are others around the world which are suitable with some suitable castles for toddlers too. Let's see which ones were recommended.
If you are unable to visit all of the European ones, you can take some virtual tours of castles in Europe to tide you over until you can go in person!
Best castles in Europe to visit with kids
This section is dedicated to the best castles for kids in Europe. From England, Scotland and Wales, to France and Germany, these are simply the best castles to visit in Europe as a family.
Caerphilly Castle, Wales
Caerphilly Castle is the second largest castle in Britain. Constructed in the 13th century by Gilbert de Clare, it is a medieval fortification that has some amazing areas to explore with kids. The former home of the Marquesses of Bute, it was given to the state in 1950 and is run by Cadw.
Caerphilly Castle has wide open lawns, towers, battlements and even a dragon's lair to explore. This new addition to the castle as of summer 2018 extends Cadw's now famous dragons and their tales. On St. David's Day in 2016, a large red dragon appeared on the banks of the Caerphilly Castle moat. Dewi, as he was named, has since been joined by a very beautiful lady dragon called Dwynwen and they have had two mischievous baby dragons as well.
As well as the dragon's lair, kids can enjoy exploring the different nooks and crannies of the castle, checking out the leaning tower of Caerphilly, wander through the new maze, and if you time your visit right, watch re-enactments and the trebuchets in action. Although there is no cafe at the castle, Caerphilly town is full of cafes and tea shops for refreshments. It's a must-visit castle and our all-time favourite in South Wales.
Cath – Passports and Adventures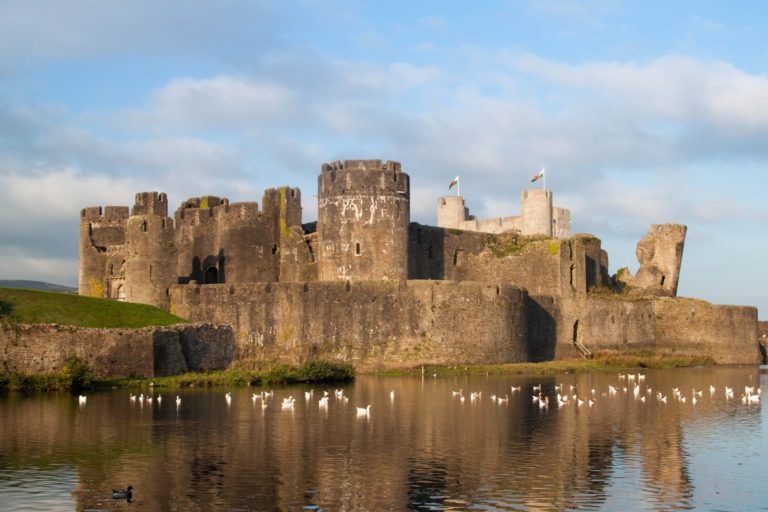 Caernarfon Castle, Wales
A huge fortress, Caernarfon Castle located in the town of Caernarfon, is surely one of the most impressive of Wales's castles. Built by Edward I, from 1283, it occupies an impressive position along the River Seiont, the site of a previous motte and bailey castle. In 1969, the investiture of the current Price of Wales, HRH Prince Charles took place here. The castle remains still very much intact with much to explore.
There is plenty to keep kids occupied at Caernarfon Castle. Wander the impressive castle walls, climb the many towers for outstanding views across Caernarfon and indeed the rest of the castle, and visit the Royal Welsh Fusiliers Museum based at the castle. There is a children's activity sheet provided which involves finding small plaques all around the castle. This kept our three boys fully entertained throughout our visit, and saw them running from one part of the castle to another!
Caernarfon Castle is fun for adults and children alike. If you're planning a trip to North Wales then make sure you visit this spectacular castle.
Nicky – Go Live Young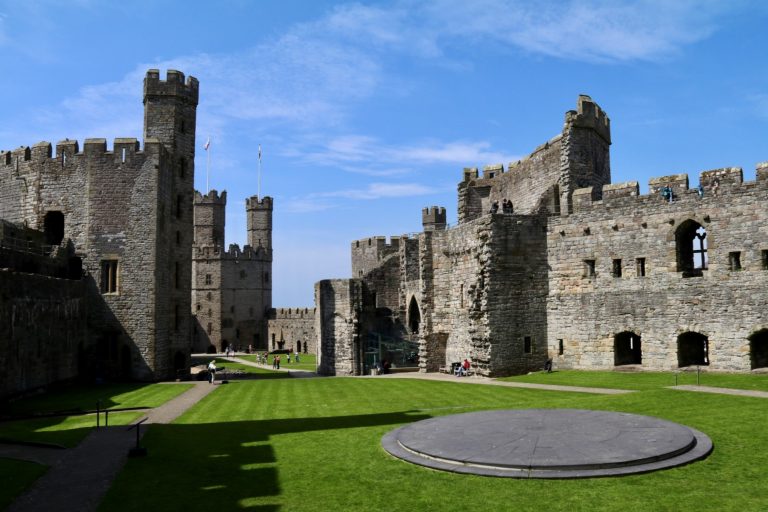 Warwick Castle, England
Originally built by William The Conqueror in 1068, Warwick Castle is worth considering for anyone interested in British history. It's especially great if you have kids. The castle, after all, is currently run by Merlin Entertainments, the same group behind such attractions as Madame Tussauds and Legoland.
Expect staff dressed in medieval costumes and playing faux sword-fighting. Also expect to be entertained in different costumes and fighting skills for an extra fee if you're so inclined. While adults might scoff at some of the cruder attractions on display at the castle, these are perfectly legitimate ways to let your children off the hook and let them enjoy on their own terms.
Once the kids are taken care of, learn more about the history of this fascinating castle that played a pivotal role in the Hundred Years War and was a military stronghold until the 17th century because of its close access to the Avon river.
Inside some of the chambers, you will find lifelike statues (I mean, Madame Tussauds has to show up somewhere, right?) engaged in pivotal scenes that depict the story of the castle. The banquet room with crockery and horses and swords and spears is perhaps the best room of all to take in the enormity of the castle and its fabled history.
Once done, don't forget to climb up the castle's tower, preferably with your children, to take in the majestic view from high above. All in all, Warwick Castle is a must-visit for children and adults alike.
Priyanko – Constant Traveller

Chantilly Castle, France
Chateau de Chantilly, France is a great castle to visit with kids. Paris – Chantilly is a very easy day trip from Paris by train which combines a little bit of culture, outdoors, and fun. Come to Chantilly to visit a fairy tale castle with a lovely setting in the middle of a pond. Once you have visited its rooms and halls and admired Chateau de Chantilly's artwork, explore the surrounding gardens.
Learn the difference between a French garden and an English garden, get lost in the little forest or explore the cute hamlet, where Henri d'Orléans and his guests played the peasants for a day. The gardens also have a playground where your kids can play while you relax in the sun. Finally, don't leave Chantilly without tasting crème chantilly (whipped cream) on the top of your coffee or with your favourite ice cream. It is believed the cream was invented by a man who was from Chantilly, hence the name.
Elisa – World in Paris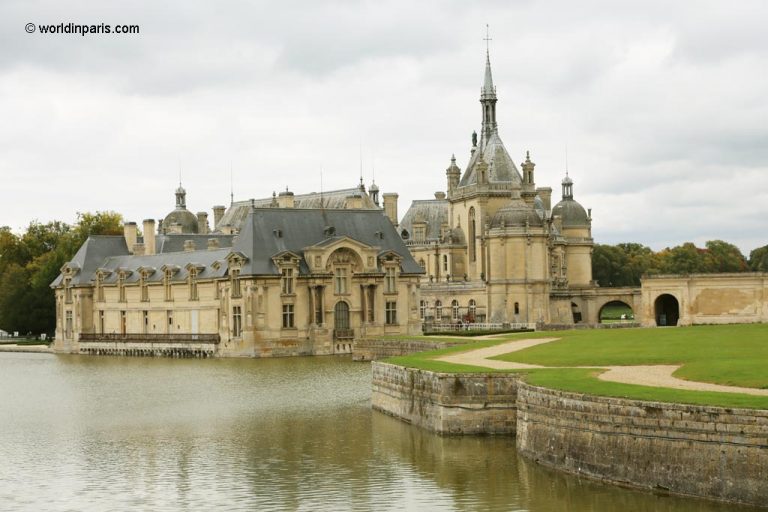 Beaufort Castle, Luxembourg
Beaufort Castle is located in the beautiful region of Mullerthal, in Luxembourg. It can be visited when walking the Mullerthal Trail – in fact, it makes for a nice stop during the hike, which is easy enough to be enjoyed by children too.
The complex is actually made of two castles, sitting right next to each other. They are both so eerie looking that children are easily captured by it. The first castle – which is more visible from the trail – is the oldest one. It was built between the 11th and the 17th century. It is mostly in ruins now, though these are well kept. It is a series of rooms, with stairways leading to them, which were used for social events (dinners, parties) and others that were torture chambers.
The second castle is a Renaissance one, which means it is much newer, as it started being built in 1649. It was inhabited until 2012, the year the owner died, and it was given to the local community, which now allows visits. The castle is perfectly kept, with gorgeous decorations, furniture, a functioning kitchen and bathrooms.
The Castle is part of the network of places that can be accessed with the Luxembourg card. The renaissance castle can only be visited on guided tours, which are available Thursdays to Sundays at 11:00 am and at 4:00 pm.
Claudia – My Adventures Across The World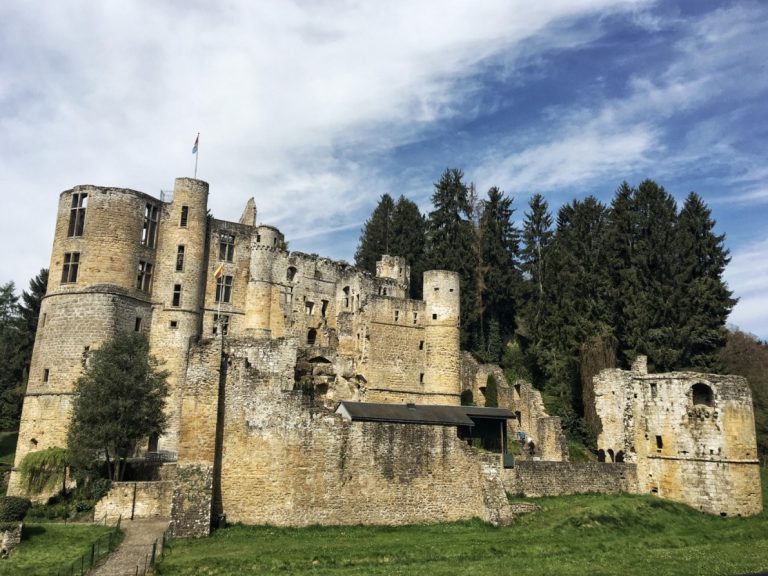 Carcassonne, France
Carcassonne is more than just a castle. It's an entire village contained within medieval walls, with a more traditional castle keep at the centre. The castle town is set high on a hill overlooking the surrounding area, and the views are incredible, whether you're looking up at Carcassonne's fort, or down from it. Destroyed and rebuilt (controversially) several times over the centuries, Carcassonne is now a huge tourist magnet for the Aude region of France. It's one of a kind though – you won't find a castle town quite like this anywhere else! Kids can let their imaginations run wild here, and learn a thing or two about medieval life as well.
You need at least a day to explore Carcassonne properly. As well as walking through the shop-lined medieval streets, you can walk the walls and get a fantastic view over the surrounding area and the rest of Carcassonne town, across the river. Of course you can also look inside the castle and medieval museums dotted throughout the town. While Carcassonne is a great place for kids of all ages, some of the museums aren't suitable for young children as they describe some of Carcassonne's bloody history in a lot of detail. A walking tour led by a knight in armour will appeal to them instead.
Carcassonne is France's second most visited tourist attraction (behind the Eiffel Tower) so visiting off-peak is recommended. The streets can get congested and queues long so avoid the summer months if you can.
Emily – Kids and Compass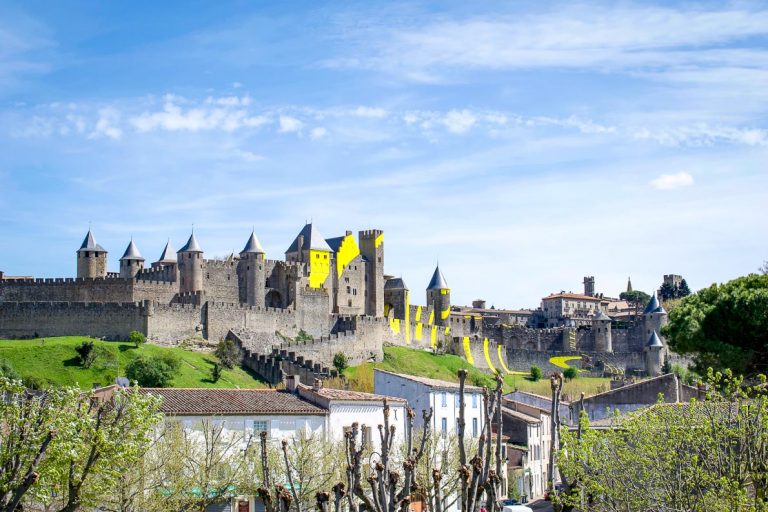 Vianden, Luxembourg
Vianden Castle – and the cute postcard perfect township below it – is the most visited castle in Luxembourg which welcomes nearly 200,000 visitors per year; and is a short 45 minute drive from the city centre with plenty of public transport options available for those that don't drive.
Construction was started by the Romans in the third century AD, and the structure that stands there today was built between the 11th and 14th Century. There are both audio tours and guided tours available to help visitors learn more about the structure along with it's history and the impact it has on local culture today; and kids will love exploring this centuries old building pretending to be a prince or princess.
Vicki – Make Time To See The World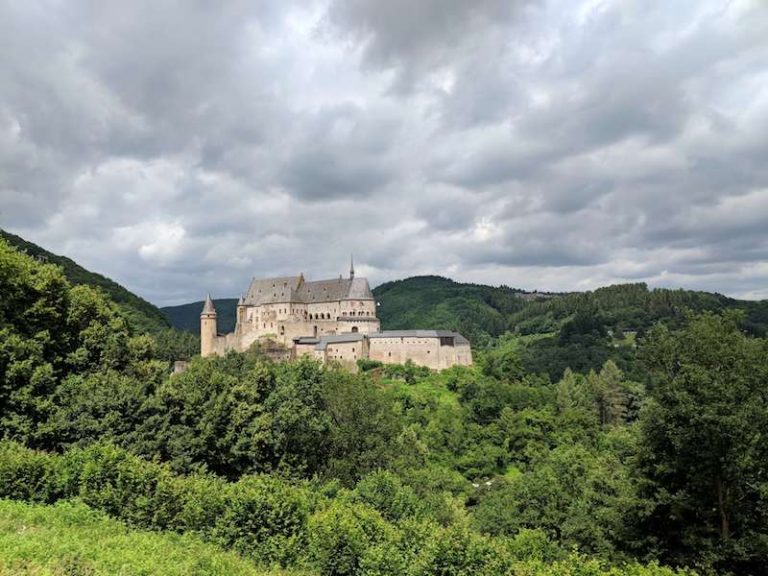 Edinburgh Castle, Scotland
Perched upon an extinct volcano, Edinburgh Castle sits high and proud, overlooking the city. It's a castle packed full of history, beginning in the 12th century. Not only is it the most attacked city in the world it's also home to the Stone of Destiny and The Crown Jewels (known as the Honours, the oldest Crown Jewels in Britain). These are kept in a treasure chamber filled with gold, silver and diamonds.
Kids love to stand on the terrace and watch and listen to the One O'Clock gun. Mons Meg is a powerful cannon capable of firing a ball two miles! There are quizzes available, so kids can hunt down clues as they explore the castle and the staff are brilliant at answering all types of questions they may dream up. There is The Great Hall, lined with weaponry, a dog cemetery and a Prisoners of War area. Two restaurants, the Red Coat Cafe and the Tea Rooms both serves child friendly meals and snacks and have high chairs and baby changing facilities.
This castle is perfect for children and just outside the grounds the Royal Mile has lots of attractions such as the Childhood Museum and a fascinating Camera Obscura. If you are visiting, I'd highly recommend buying your tickets online before you go as it'll save a few pennies and also give you guaranteed entry. Oh, and try and avoid August unless you are visiting for the Edinburgh Fringe as the city is packed!
Nicola – Funky Ellas Travel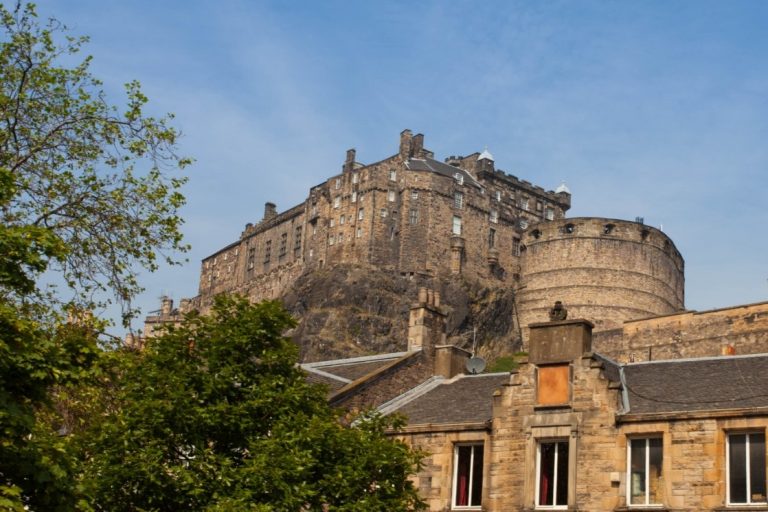 Salzburg Castle, Austria
Hohensalzburg Castle, the biggest fortification in Europe, looms over Salzburg. It was built in 1077 for the Prince-Archbishops of Salzburg who were super rich thanks to their control of the lucrative salt mines in the area. Salt in the middle ages was known as "white gold" because of how expensive it was. Hohensalzburg was supposed to convey both how powerful the Prince-Archbishops were but also act as a deterrent against any envious neighbours who wanted to take over the salt mines.
Although enormous, the castle is great to visit with kids. Many of the interior furnishings have long gone so there won't be room after room of artwork and furniture for children. Instead, there is a small Marionette museum (one of the cultural aspects Salzburg is known for) as well as a Torture Museum which my kids found fascinating.
You can get up to Hohensalzburg either by walking the stairs or taking the charming little funculair. At the top, you have amazing views over Salzburg and the surrounding countryside. The little cafe on top is great for lunch with a view. There are child-pleasing favourites on offer such as Schnitzel and sausage.
Shobha – Just Go Places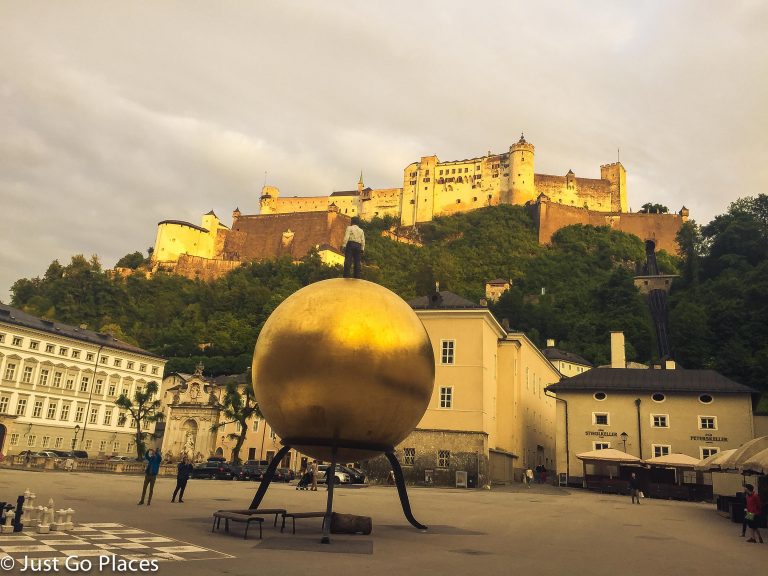 Direlton, Scotland
Direlton Castle is one of our favourites in Scotland so far, though lets be honest – Scotland is a castle-lovers dream. Direlton Castle is not far from Edinburgh, just two miles from the beautiful coastal town of North Berwick. The general area is a haven for travellers, with beaches, amazing sea food, castles, palaces, abbeys and more to explore.
Direlton took a special place in our hearts because it offered something a little more than just a castle. The castle itself sits upon a cliffy rock. You have to climb steps to approach it. Inside there are many rooms to explore, you can see artists impressions of what the rooms would have looked like many years ago. Children can run and explore, play hide and seek, and generally just run about freely while you explore. The castle isn't as popular as others in the area, meaning it is much more quiet and relaxed. We had most of the place to ourselves.
The castle also has a beautiful gardens, pigeon house and a play park rests beside the parking outside. You can visit this castle on a Historic Scotland explorer pass, this means you can see this castle and as many of the others in the area as possible (including Edinburgh Castle) within a set period of time.
Natasha – Meldrums on the Move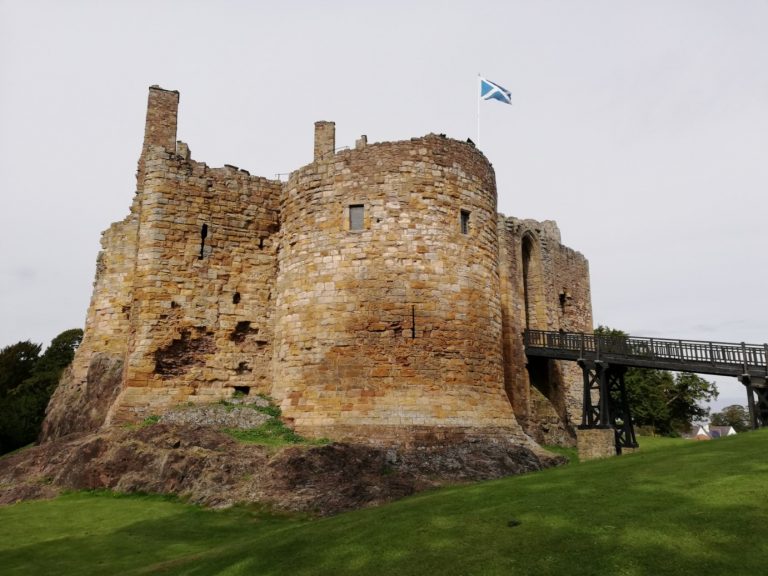 Neuschwanstein, Germany
In Germany, there is a big fairy tale castle hidden in hills and forests of Bavaria, it is the Cinderella Castle. Well, kind of, the real name is Neuschwanstein Castle and it was one of the inspirations of the Walt Disney's Cinderella Castle. The castle is amazing and is the ideal place to bring your kids. A magical place full of history that makes you feel like a King or Queen. The castle was built in the 19th century by King Ludwig of Bavaria. It has 200 rooms but only 15 were concluded. Inside the castle, every room is luxurious but with a (big) touch of eccentricity.
The castle has a huge affluence of tourists so you should book in advance. You can buy tickets at the official site, adults pay 13€ and children under 18 years are free, which is a good bonus for families.
The Neuschwanstein castle is fairly close to Munich, making it a good base for a day trip. The best season to go to Neuschwanstein is in Autumn, when there are fewer tourists and the scenery becomes even more beautiful with the Autumn colours. Right next to Neuschwanstein is the Hohenschwangau castle, Kings Ludwig's parent's summer residence which is a nice add one to an already amazing day trip.
Jorge – Travel Drafts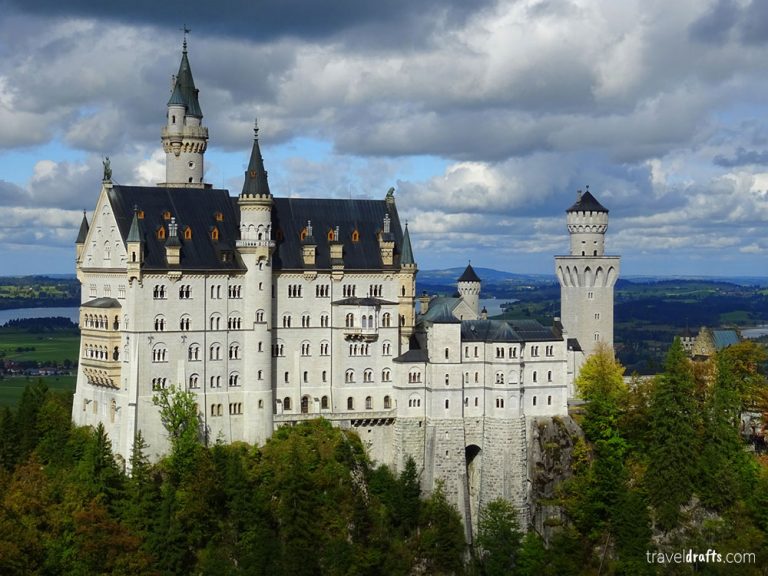 Cardiff, Wales
Cardiff Castle is a great castle for kids because it has so many different things to see that interest all ages.
We took our Little Man there just before his second birthday, and he loved exploring the wall walk and vast central space below the keep. And the Welsh cake he had in the café.
There has been a fort or castle on the site for almost 2,000 years, and there's something to see from each of its main eras. The 12th century keep tower is well worth the climb for the views, and our Little Man loved the adventure and excitement of climbing the spiral steps.
Kids can also follow the Animal Trail and colour in the booklet as they go. Much of the Castle was remodelled in the 19th century by the mega-wealthy Third Marquess of Bute. He was responsible for the Animal Wall sculptures outside and the lavish artwork and furniture inside. The standard self-guided tour takes you to some of the most spectacular rooms, while others take you behind the scenes to the likes of the Clock Tower.
I'd say it's probably best suited to kids aged 5 and over, but our toddler thought it was fantastic. Kids with an early interest in art and history will especially love it.
David/Faye – Travel With Little One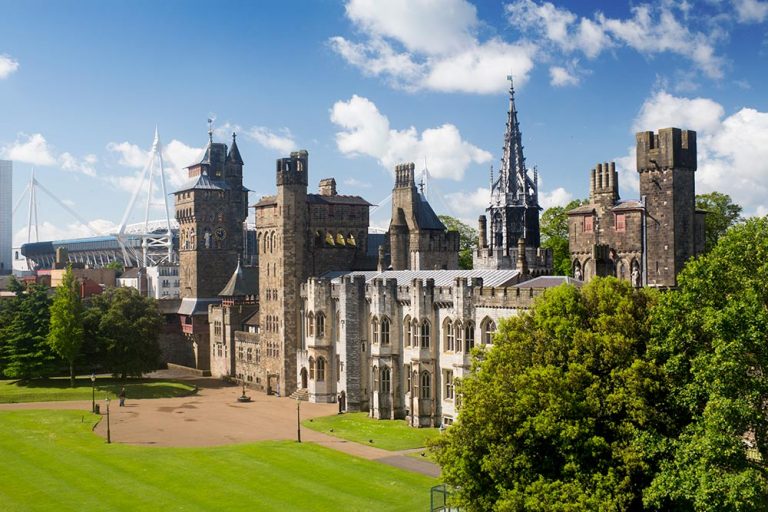 Framlingham, England
Kids will love visiting Framlingham Castle because of the wall walk. The walls are over 10 meters tall and give you spectacular views of the English countryside and the rest of the castle. Inside the castle, there are picnic tables and plenty of space for kids to run around. If you have time, let the kids also explore the walking trails just outside the castle. Periodically, they have jousting performances at the castle too.
Older kids will enjoy the exhibits inside where you can learn more about the castle's history which goes back to 1148. In 1553, Mary Tudor, also known as Bloody Mary, was proclaimed Queen of England inside the walls of Framlingham Castle. During the Second World War, the British military used Framlingham Castle as part of the regional defences against potential invasion.
Framlingham Castle is located in the town of Framlingham in Suffolk, England, which is about 19 miles northeast of Ipswich. It is an English Heritage property.
Anisa – Two Traveling Texans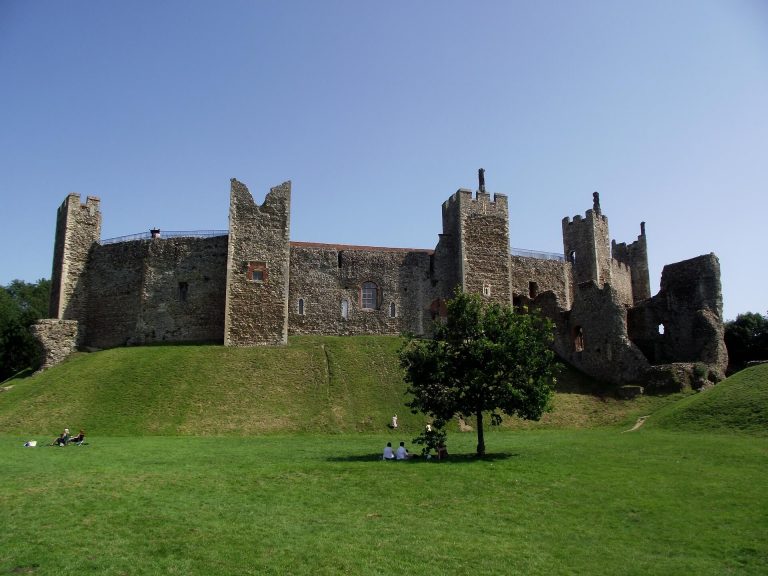 Hampton Court Palace, England
England is a land filled with palaces and castles. One of the best in our opinion, at least when it comes to historical intrigue, is Hampton Court Palace. About an hour south of Central London, this site offers a day of strolling through some of the most beautiful grounds that can be found.
Beyond its beauty, however, are the stories, real or otherwise, that fill its hallowed halls. Playing lead man in these tales is the larger than life figure, Henry VIII the Tudor king. For history buffs, especially children who are interested in the crown-based legend, few places match this.
A visit here and the real-life saga which occurred under its roof, almost makes fantasy fables such as Game of Thrones seem believable. Backstabbing, beheadings, unmatched richness; all here.
It's not all drama, however. The palace carries some real importance and exemplifies Royal and Anglican traditions. This is best appreciated with a visit to the vibrant Chapel Royal. Come during a day in which there is service and be treated to the voices of its unequalled boys' choir.
It's the largest palace in Europe, so prepare yourself for a nice long day of being captivated.
Andrew – Dish Our Town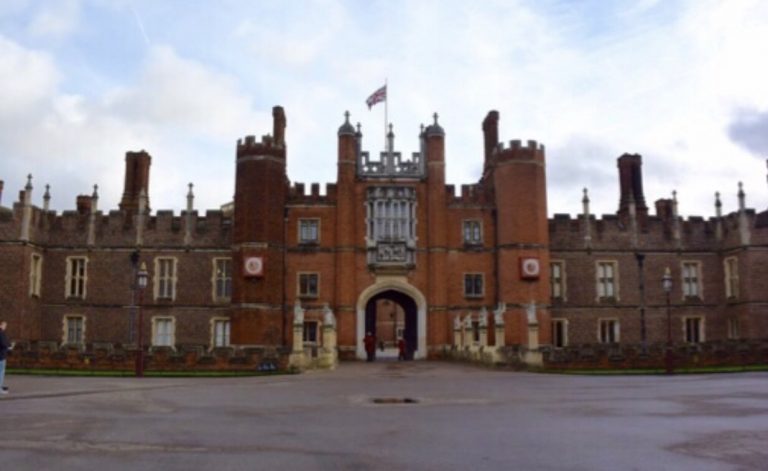 Dornroschenschloss Sababurg, Germany
Dornroschenschloss Sababurg, also known as Sleeping Beauty's castle, is located in the small town of Sababurg, very near to Munden and Gottingen, on Germany's Fairy Tale Road route. Situated deep in a forest, off the main road, this twin-turreted, 600-year-old castle was turned into a hunting lodge in 1765 and frequented then by the Brothers Grimm.
Kids can be prepared for this visit with a reading of "Sleeping Beauty," but of course! It is a bonus that the 530-acre Tierpark Sababurg is just below the castle. Do allow extra time to visit Europe's oldest animal park/zoo. It is populated with beasts of ancient lineage–European bison, wild horses and ponies, and reindeer.
Part of the castle is a ruins draped romantically with climbing roses, and is the setting in summer for re-enactments of the tale of Sleeping Beauty. (Note that another castle in France's Loire Valley also claims to be the Sleeping Beauty castle. That one is said to have inspired Perrault to write the original story.)
Carole – Berkeley and Beyond

Bran, Romania
When you say Romania, a lot of people will instantly think of Dracula. The reason is Bram Stoker's book Dracula which was inspired by a ruler in the Romanian region Transylvania, named Vlad Tepes. And as any ruler, he also had a castle, Bran Castle. It is one of the most famous tourist attractions in Romania, as thousands of visitors are curious to see where the notorious Dracula lived his life.
However, kids recently have also started to know about Romania, from the animated movie Hotel Transylvania. So, if they are eager to discover the region after which the film was named and to explore the roots of Count Dracula, then Bran Castle should definitely be included in your next family trip. It is also an opportunity for them to learn more about Eastern Europe's culture and history.
Bran Castle can easily be reached from Brasov, and from Bucharest it's about a three-hour car drive. There are plenty of accommodation options in the area, and most of them are Dracula-themed which makes them cool for the young ones. However, it is best to visit the castle with kids ages 7 or older so that they can understand more and not get scared of all the stories and legends.
Andra – Our World To Wander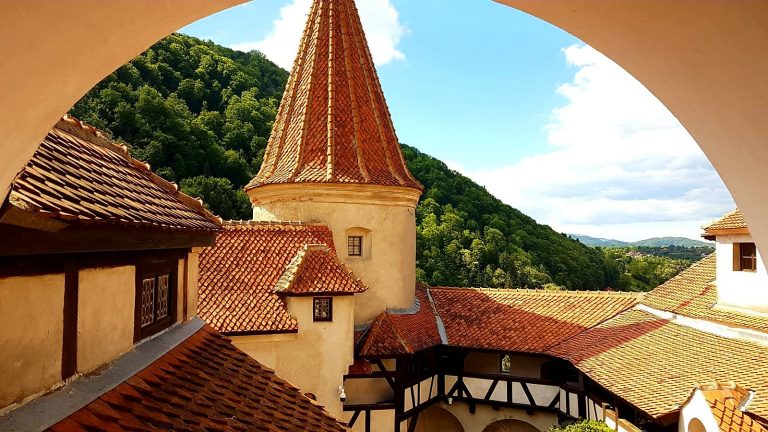 Chateau de Castelnaud, France
Dordogne in France is renowned for its castles, so when we went on a family trip earlier this year the children wanted to visit at least one. The choice was endless – literally castles on ever bend in the river! As we also had our dogs along with us, we looked to find the most dog-friendly castle – so that we could all visit, without an adult missing out to dog sit. We were recommended Château de Castelnaud by the tourist board – and it was a brilliant choice. It's the 'perfect castle' – it's the castle that children draw at school.
There is a marked route that you follow through the castle, which takes you up stone spiral staircases, through furnished rooms, and out onto the battlements (with amazing views over the valley below). You can see displays of weapons and armour, and reproduction siege engines/giant catapults; there's also videos playing of what the castle was like 'back in the day'.
There's no café or restaurant within the castle grounds. But the castle is surrounded by a beautiful hillside village, packed full of places to dine. There's also souvenir shops selling, among other things, toy weapons, knight's helmets and tabards.
Park at the top of the village in the castle car park – otherwise it's a long uphill walk. The castle grounds are suitable for buggies and wheelchairs, but obviously the spiral staircases can only be accessed on foot.
A beautiful castle in a beautiful part of France.
Tracey – Pack The PJ's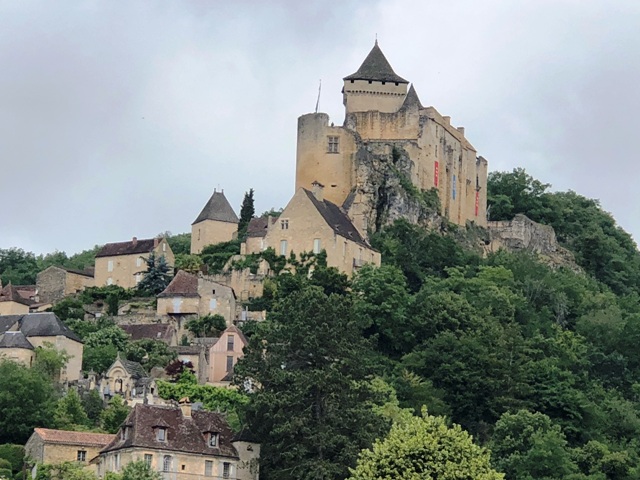 Egeskov, Denmark
Egeskov Castle is definitely on the best castles to visit with kids because it is a living one. Which means, people actually live in this castle. It is located in Fyn island, just a bus or train ride from Copenhagen. It's great for families because there are many activities you can do, even families with very little kids. Apart from walking inside the castle to learn about its history, past owners, and current owners, there are playgrounds for the children to have fun, picnic tables, museums that display a collection of cars, aeroplanes, and other vintage things that are owned by the Egeskov.
The castle also has a huge garden where young kids can play around or simply enjoy the sun. There is also a hanging bridge to climb and walk through, maze garden to play find me if you can, food stalls if you forgot to pack your own meal, a souvenir and ice cream shop. The best time to go is during summer where the trees are all green and the sun is shining. While during autumn would be magical as well, the colours of the trees are stunning and great to look at.
From Odense, the main town in Fyn island, you can take a bus or rent a car to get here.
Mary – A Mary Road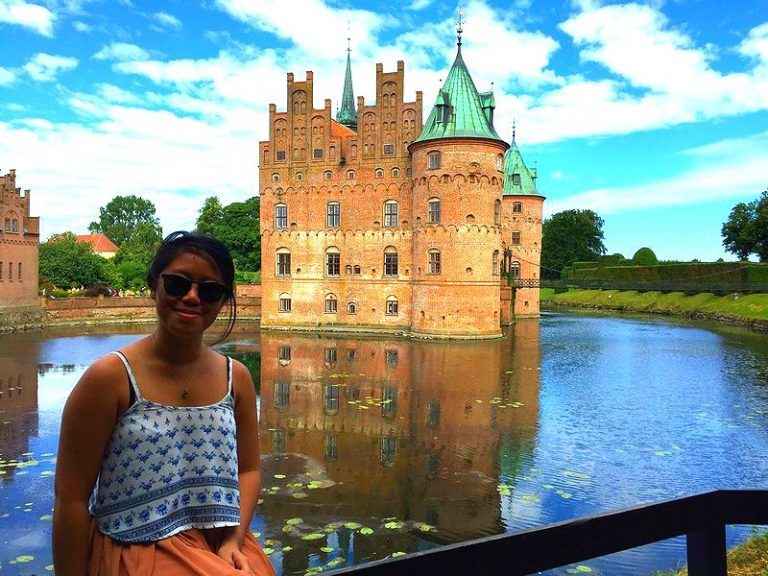 Schönbrunn Palace, Austria
That kids in Vienna never get bored is not only a slogan, but a fact that residents will attest to. There are a lot of playgrounds in all neighbourhoods, school trips in and out of the city, and free museum tickets on first Sundays, are some provisions of the government and schools. At the World Heritage Site Schönbrunn Palace, kids are welcome visitors and have so much more to do than just learning about history first hand. There's a special museum tour for kids at the Kindermuseum, at the right wing of the palace. Children starting from 7-years-old can join the various programs organised for a whole hour.
Kids learn about the lives of the royals in a short tour, they see some of the rooms that the emperors, empresses, and their children used. They learn about the fashion and lifestyle of the earlier years and can don gowns and uniforms to get a feel of how the royals did it back in the days. They even get to take a picture in a royal costume! On certain seasons and events, kids can do handicrafts and other artistic indulgences with a pedagogue. They get to take their crafts home, and proudly tell their parents and grandparents about the experience.
The zoo, which is open 365 days a year, has feeding times where kids are allowed to take part in, make sure that you have a schedule of which animals are given food at particular times of the day. The zoo also holds an Aquarium-Terrarium House, Tyrolean farm house with baby animals, a Bird House, and a track for horseback-riding. The palace grounds has a sizeable maze for kids to explore, as well as the grounds to freely run around in or look for squirrels.
Marie – Vienna 101 Facets

Cahir, Ireland
Cahir Castle was our favourite Irish castle to visit with kids. Cahir Castle has an idyllic location on the River Suir. Built in 1142, the history of this building is extensive, it even survived a Siege by the Earl of Essex in 1599.
When visiting Cahir Castle, allow at least 90 minutes. You will be able to tour various areas of the castle, a banquet hall, and a tower. The castle has many steps and small openings, so this isn't the place to bring a stroller. I'd recommend that small children are worn in a carrier or you visit when they are over 3. Our young boys enjoyed the cannons that were staged throughout the castle courtyard. They were able to imagine life back in the Middle Ages & Renaissance period.
Cahir Castle also contains a small museum where one can learn about local life for women and children during the Middle Ages. Also, don't miss the upstairs display which shows a re-creation of the Siege of 1599. Our boys loved pushing the buttons to see how the battle progressed. Better yet, kids can see history come to life, as one of the cannonballs is still lodged in the castle walls.
One of my favourite parts of Cahir Castle was walking around the massive castle walls. Don't forget the pretty town of Cahir, too! A short walk up the hill takes you to the historic W.H. Irwin pub- kids can have Sprite while the adults have a pint!
Leah – Yoder Toter Blog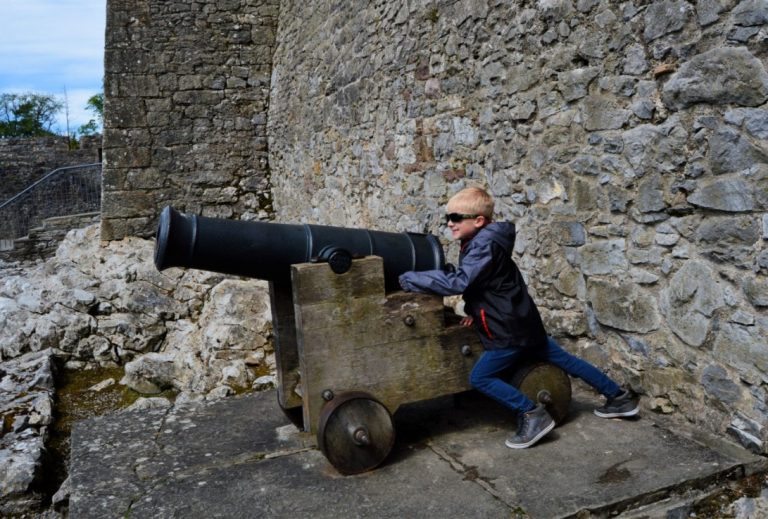 Ksiaz, Poland
As you drive through the forest towards Ksiaz Castle you only get tiny glimpses of it through the trees. You can see the beautiful pink and yellow of the walls and you know it is going to be amazing. Walking through the archway you can see it rise before you, but you don't get a complete look at the castle until you get past all of the other buildings that line the walkaway. It was rumoured that here was the famous 'Nazi Gold Train' but as we toured the castle it was constantly said to us that although there are passages under the castle no gold train had been found.
Ksiaz Castle was another castle that was owned, destroyed, taken over and then restored throughout its time. It was looted many times over its life and was also a place in WWII where some senior officers spent time. Hidden passageways and underground tunnels were built by prisoners from nearby concentration camps adding to its dark history.
The beauty of the rooms and the lavish way the royals and the wealthy families of that day lived is currently being restored to how it was. The restoration is amazing and so much thought is being put into the renovations. My favourite room was where there was a balcony on either side of the room. The balconies were there for the Princess Daisy and her husband to stand and say goodnight to each other. It was a gorgeous room, but we only got a sneak peek as people were getting married in there later in the day.
The girls thought that this castle was one of the best they had ever visited. There were lavish rooms and secret passages. Some of the history was lost on them because of their age but it was an easy tour for them to do.
Bec – Wyld Family Travel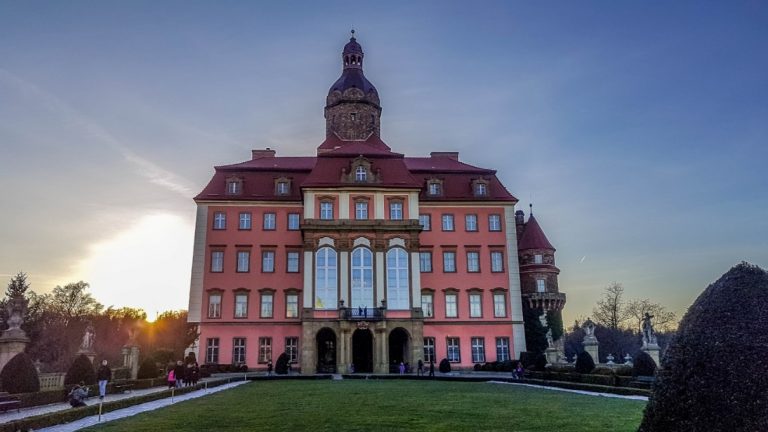 Ashford, Ireland
Not only is Ashford Castle one of the most beautiful castle hotels in Ireland but it's also one of the best castle hotels to visit with kids. Its unique combination of atmospheric architecture (complete with a real suit of armour in the lobby!), natural setting within a vast expanse of forest and onsite experiences vault it to the must-see list for families with kids.
Although onsite activities include fishing, archery, tennis, zip-lining, cycling and more, one of Ashford Castle's most appealing adventures for kids is its Irish School of Falconry where it's possible to learn about birds of prey such as red-tailed hawks and owls and then participate in a guided forest walk with a hawk and its handler. There's nothing quite as magical as watching a hawk swoop and soar through the woods. It's an unforgettable immersion into the ancient art of falconry as well as a good dose of exercise in the fresh Irish air.
Boasting 800 years of history, Ashford Castle is also a member of the esteemed Red Carnation collection so offers a luxury experience parents will enjoy too. The hotel also scores family-friendly points for its indoor swimming pool set within a sun-splashed conservatory. Best for ages 6-12.
Michele Peterson – A Taste for Travel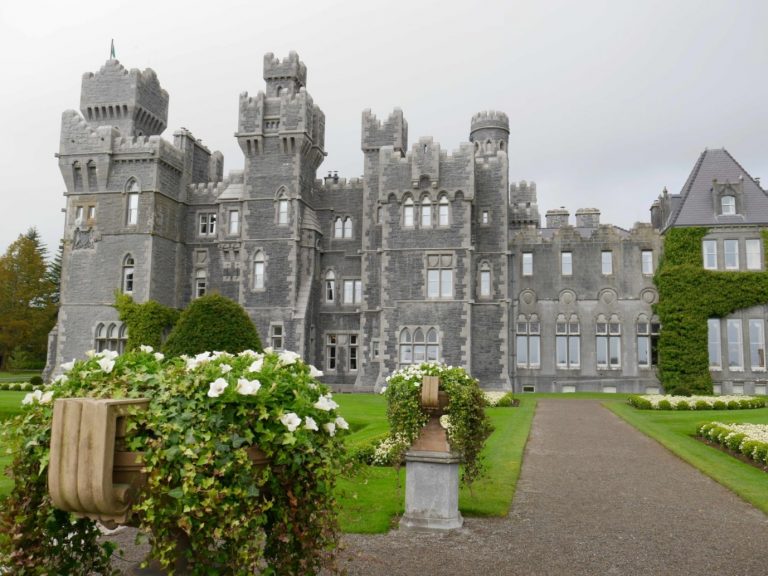 Hever Castle, England
Hever Castle is one of the most beautiful castles in England. The childhood home of Anne Boleyn, King Henry VIII's second wife, it's set in gorgeous grounds in the Kent countryside.
The 700-year-old castle has everything kids look for in a castle: a moat, an impressive drawbridge and a gatehouse filled with armour and instruments of torture. It's a must-visit for anyone interested in the Tudors – you can see the bedroom where Henry VIII is believed to have stayed.
But the real draw is the amazing range of things you can do here – especially with children. The massive wooden play castle in the new adventure playground is one of the best we've seen. The gardens are a pleasure to explore and there are plenty of good places for hide-and-seek. There's a giant topiary chess set that looks like something out of Alice in Wonderland and formal gardens with grottoes and a fountain. Look for the lovely sunken garden – it's a secret garden often missed by the crowds.
In the summer you can go rowing on the lake, watch knights jousting and cool off in the fabulous water maze.
The grounds are ideal for a picnic and there's lots of space for kids to run around. Or try the Lake Walk. It's always peaceful here and you can download a nature trail to complete as you go round.
Our kids adore the mazes. They love trying to find their way around the traditional yew maze but the water maze is their favourite. Step on the wrong stone and your path will be blocked by jets of water. Most kids delight in getting soaked so bring a towel and a swimming costume.
Clare Thomson – Suitcases and Sandcastles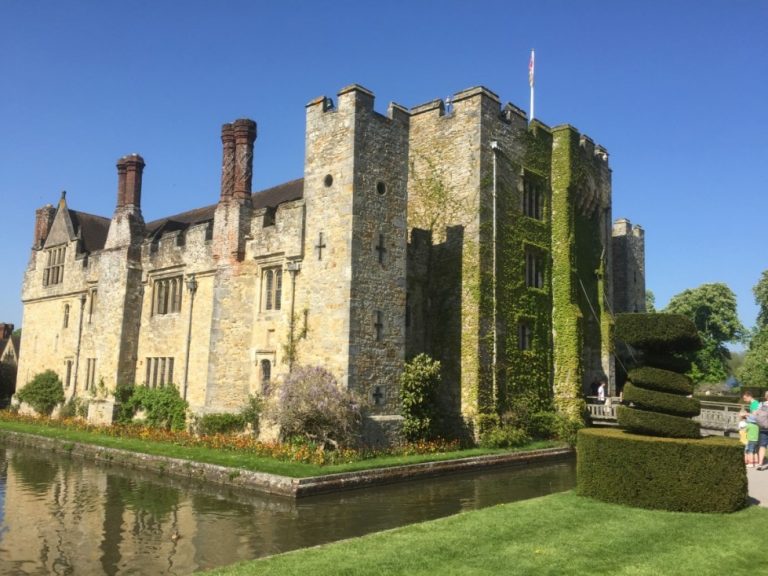 Peles Castle, Romania
Although Bran Castle is the most famous castle in Romania, Peles Castle has a special charm that attracts many tourists, both adults, and children, every year, as well. The impressive construction dates back to 135 years ago, and is part of a fairy tale landscape, being located somewhere in the city of Sinaia, surrounded by the Bucegi Mountains. The one who had the wonderful idea to build a castle as a summer residence for the royal family was King Carol I of Romania, who irremediably fell in love with this charming place the moment he saw it for the first time.
As spectacular as the exterior, as luxurious the interior, Peles is built in the Neo-Renaissance style. It has steep roofs covered with small round tiles and exterior walls that seem to be made of gingerbread. On the other hand, the inside is decorated with huge mirrors, expensive chandeliers, and sculpted massive wood. Each room has its own style, and some of them contain impressive collections of armour or books. There are hidden passages in the castle or secret rooms that children love to know about and to explore.
Whether it is winter and the mountain peaks are covered with snow, whether it is summer and everything is lush green, Peles looks good in any season and perfectly fits the surroundings. It is an amazing choice for families with children who want to enjoy a beautiful view and learn new things as well.
Bella – Whisper Wanderlust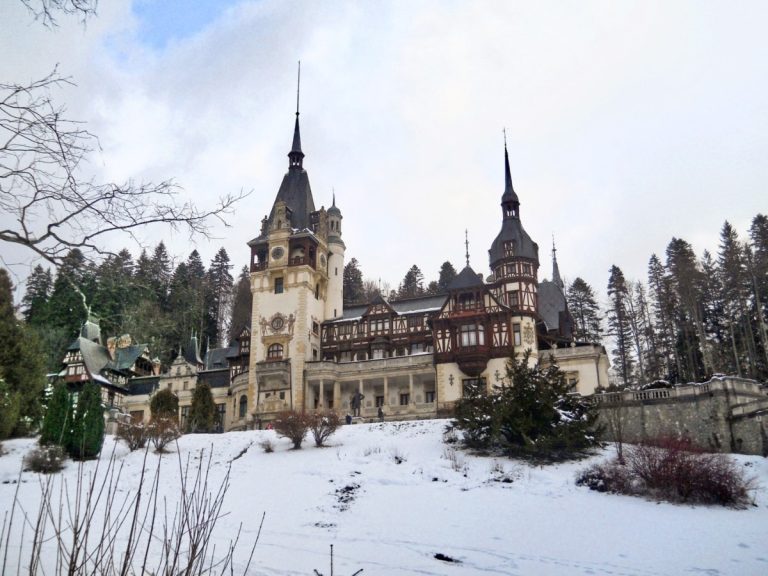 Stirling, Scotland
Although Scotland has many, many castles (and most of them stunning), Stirling Castle is a wonder!
It's one enormous castle, nearly intact, and full of things to discover all around it.
There's a café, a small museum, art exhibits, free guided tours, and the best of all, furnished rooms with real actors there. They're dressed in medieval costumes, ready to answer any questions and pose for photos.
We planned to spend around 3 hours in the castle, but we ended up spending over 6 hours there!!! There's too much to see and I'm pretty sure we missed a lot.
Kids of all ages will enjoy the castle, but the guided tour was a little boring for my younger kids (6 and 10). You can visit the castle and see it all by yourself, as everything is well signalled and explained, but the tour is pretty cool (and they happen hourly, so one parent can go while one watches the kids and then, the other can join the next tour). The tour lasts around 30~40 minutes.
Don't miss the prison, the kitchen (with sounds and smells), and the living quarters! It was one amazing day for everyone!
Thais – World Trip Diaries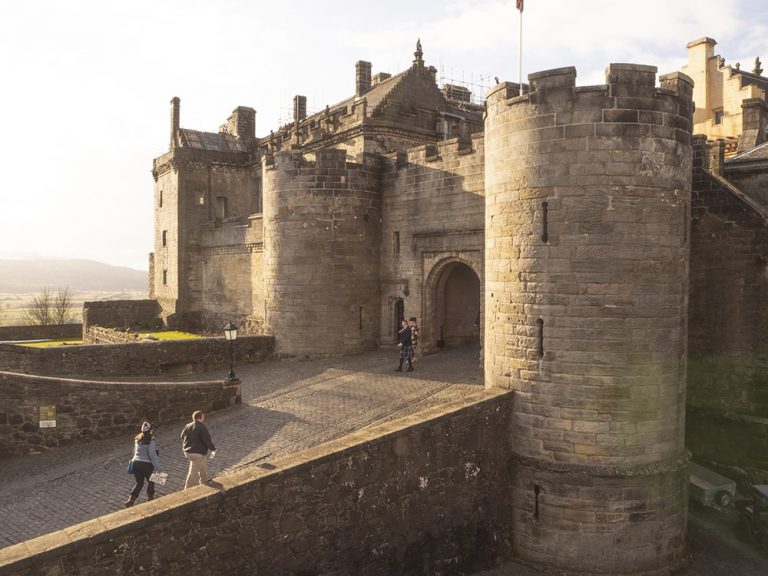 Lincoln, England
A castle that I have visited many times over the past few years with my family is Lincoln Castle, which is in the City of Lincoln, Lincolnshire. It has a commanding position high on the hill in Lincoln and is set in the oldest and most attractive part of the City. It's the best castle for visiting as a family as there is plenty to see and do.
There is a recently restored wall walk around the edge of the castle which my son has been walking since he was a toddler. There's a lovely lawned area for children to have a good run around where they hold many events throughout the year. The main part of the castle is the old prison and there's plenty of interactive things inside for children including dress up and prison games. Part of the Magna Carta is also kept here, which isn't especially interesting for children but there's an engaging film which runs on a loop.
Suzy – Our Bucket List Lives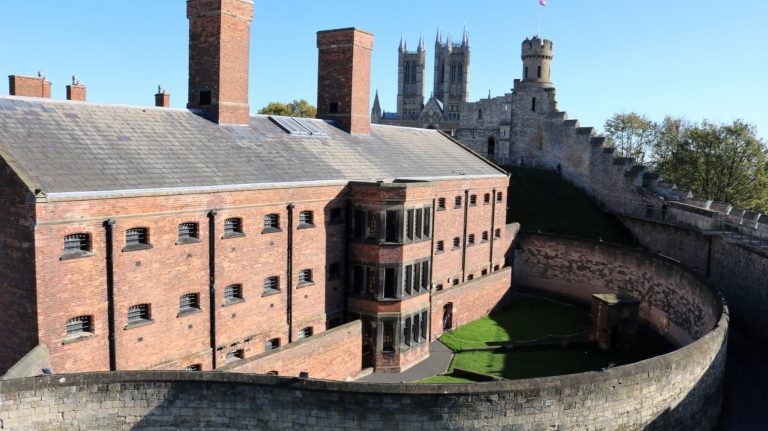 Tower of London, England
No list of castles to visit around the world would be complete without including one of the most famous, the Tower of London. Officially known as Her Majesty's Royal Palace and Fortress of the Tower of London, it is an historic castle located on the north bank of the River Thames in Central London. The White Tower, which gives the entire castle its name was built in 1078 by William the Conqueror and was mainly used as a prison until 1952, some of its most famous prisoners include the Kray Twins.
Not only was the Tower used as a prison but also as an armoury, treasury, was once home to the Royal Mint and is still home to the Crown Jewels. The Tower of London is a great castle to visit with kids and deserves more than a few hours. As well as the White Tower, with it's dragon on the top floor and coats of armour belonging to kings such as Henry VIII, there are also many other areas to explore. From the many other towers, Traitor's Gate, the Chapel and of course the Crown Jewels as mentioned, you'll easily spend half a day or more there. You can also join a free tour with one of the Beefeaters (Yeoman Warders), each of whom tells different tales of the Tower and its history.
Cath – Passports and Adventures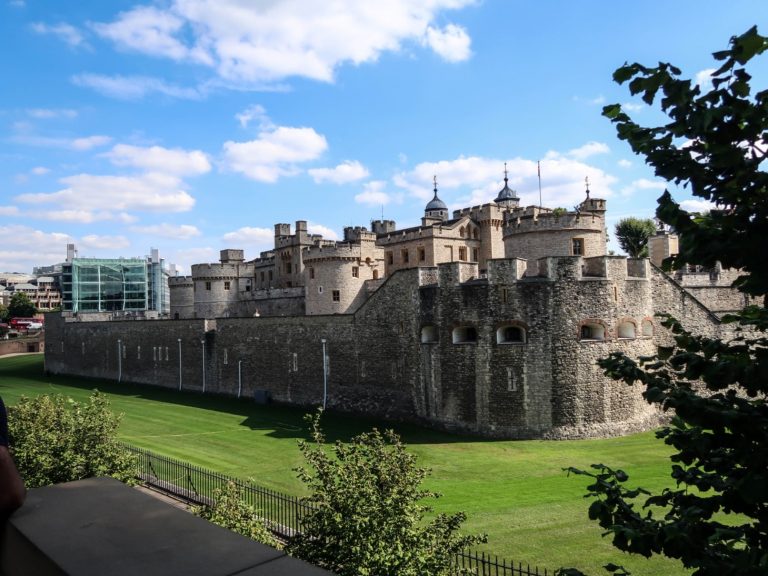 Best castles in Asia for kids and their families
In this section you will find some of the best castles for kids in Asia. From India and Japan, these are some that should be in your itinerary should you be visiting the area.
Shuri Castle, Okinawa, Japan
Shuri Castle in Okinawa, Japan is a brilliant place to visit with kids. It's set in amongst big green fields and woodland so, even before you get in, the kids can run around and burn off some energy!
The castle is brilliant for kids for lots of reasons:
There are free Japanese dance shows on every afternoon. Our daughter was mesmerised by the beautiful kimonos, make up and fans.
The castle has arranged a treasure hunt around the grounds of the castle. You have to go to each place on the map and collect a stamp. If you get all the stamps then the kids get a prize. We got a very cool notepad and stationary set as well as a kid's book all about the castle.
As the castle has so many different parts, both indoors and outdoors, there are loads of very cool exhibitions to see and lots of places for active kids to run around.
I think kids of all ages would enjoy this place but to really make the most of the experience I would say 5-12 year olds would enjoy it best.
Suewan – RTW Families
Update: The castle was completely destroyed by fire in October 2019.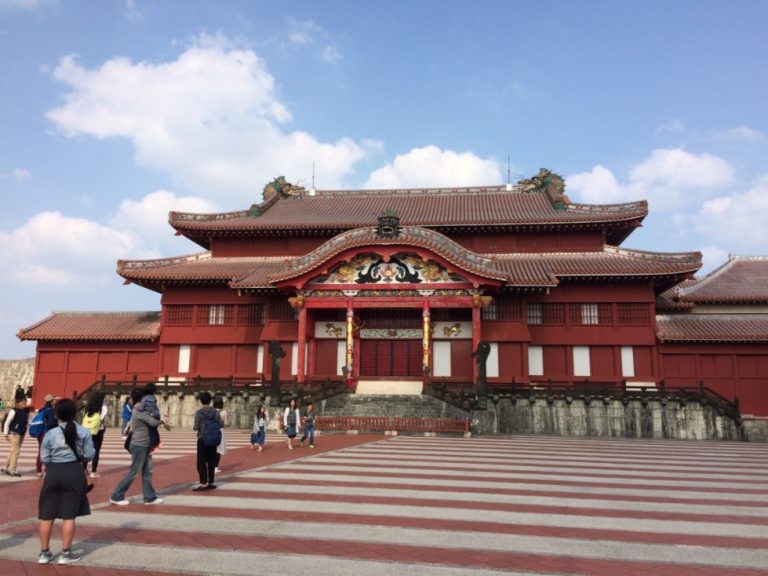 Red Fort, India
The Red Fort, popularly known as the Lal Quila, is situated in Old Delhi,India. It was built by the Mughal emperor Shah Jahan during the Mughal rule in India. The Red Fort is a castle where many battles were fought and there are museums inside the fort to preserve the old artillery used during the Mughal dynasty.
The museums are visited by school children and young generation throughout the year. There is an Indian Flag hoisted in the centre of the fort which is visible from the outskirts of the castle. Entry tickets are available for an entry inside the fort and is opened for a visit by travellers during the entire week. All means of transport are available from the city to reach this important historical destination which is also a symbol of great ancient architecture existing in the modern world. There are well maintained gardens inside the castle which serves as a relaxation point for families coming to pay a tribute.
There are light and sound shows available inside the fort in the evening hours, which are appreciated by kids, displaying the reign of Shah Jahan during the time frame. The area covered is huge and requires few hours to properly transcend the entire region covered by the castle. The Red Fort is an epic monument built during 1648 and stands tall even today and is the home for many events happening in the country.
Somnath – Travel Crusade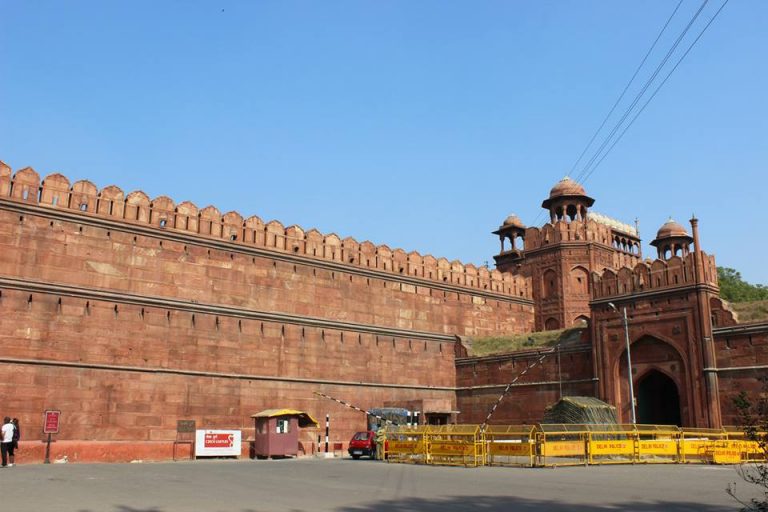 Osaka Castle, Japan
When you think of the most beautiful castles in the world, I'm sure most people wouldn't think of Japan. I was surprised on our recent visit to Japan that they have some exceptional beautiful castle and my favourite by far was Osaka Castle, one of Japan's most famous landmarks. It was also the first place we visited on our trip.
Building commenced on Osaka Castle in 1583, it was struck by lightning in 1665 and burnt to the ground. It was not until 1931 that the current structure was rebuilt. Somehow Osaka Castle survived the numerous attacks during World War II. Osaka Castle is open to the public and is very popular during the cherry blossom season. The grounds cover about 2 square kilometres with lots of green space and multipurpose areas.
Osaka Castle has an elevator which is unusual for traditional Japanese castles. This enables access to everyone however the queues for the lift are long. The stairway is quite narrow, and it is often crowded, you will need to leave your stroller outside. This would be challenging for small kids to make it through all 6 levels of the castle. The viewing platform at the top is definitely worth making the effort as the views across Osaka are breath-taking. Japanese are very accommodating and will never push or show frustration. Take your time with little ones and stand to the side and let more able people pass.
Even if you decide not to go inside, the gardens and castle itself are definitely worth visiting anyway. It is easy to get to by public transport, ask your concierge at your hotel and they will provide the best options for getting there from where you are staying.
Sally – Our 3 Kids V The World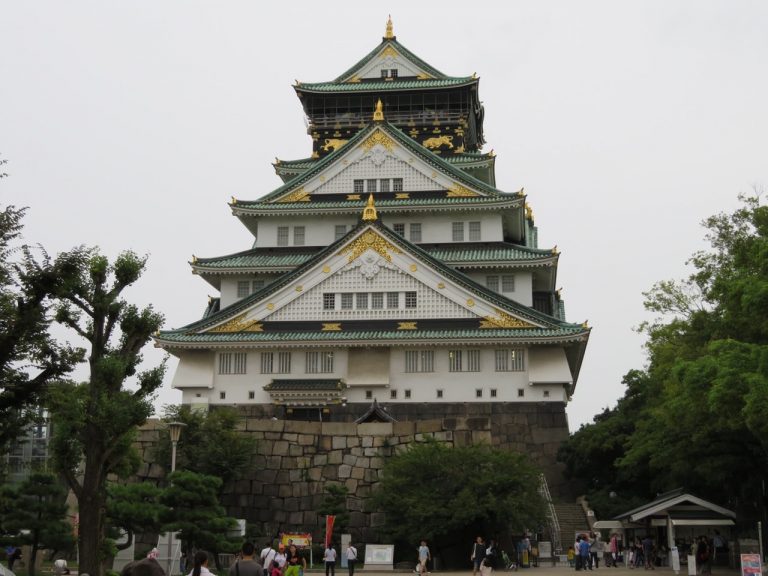 Orchha Palace, India
Orchha is a small town in the Indian state of Madhya Pradesh. Overshadowed by Agra and nearby Khajuraho, it is home to Orchha Fort, one of our favourite castles to explore with kids.
The medieval fort actually houses not one but two spectacular palaces:
Raja Mahal established in the 16th century and
Jahangir Mahal built in the 17th century and our kids' favourite.
Jahangir Mahal was reportedly built by the local ruler for the Mughal Emperor, Jahangir, for his first (one night) visit to Orchha in the 17th century.
We were amongst just a handful of tourists exploring Jahangir Mahal. There were no queues, no entry fee, no map. The kids were free to explore the five story palace at their own pace and in any direction they chose.
Room after room they uncovered decorative archways and latticed balconies. We discovered dilapidated murals and the remnants of stunning tiled and mirrored walls.
The kids squealed with delight uncovering steep stairways leading to secret rooms and hanging balconies. We all admired the views of Chaturbhuj Temple standing proud on the hill near town and the stone chhatris (cenotaphs) along the river bank. The view of the palaces and cenotaphs at sunset is simply stunning.
We loved this palace for its grandeur, the lack of tourists and the freedom to explore. It was perfect for our school aged kids, but take care with young children as there are no barriers and many dilapidated balconies. It is a large complex so plan to get there early to have time to explore the palaces and grounds.
Rachel – Adventure and Sunshine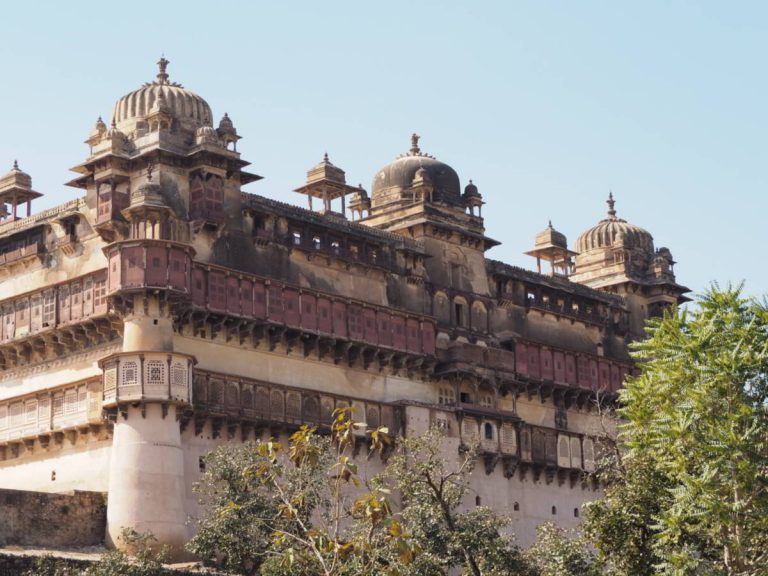 Best castles in North America for families
While there aren't as many castles in North America as other parts of the world, there are still a few which can be visited and this section is dedicated to those suitable for families.
Casa Loma, Toronto, Canada
Built between 1911 and 1914, Toronto's Casa Loma is Canada's only full-size castle. Boasting 98 rooms, water features and gardens, Casa Loma has something for everyone in the family. Adults may enjoy seeing the filming location of some popular movies, such as X-Men, Cocktail, Scott Pilgrim vs. The World, Chicago, and many others! Parents will love the self-guided audio tour, which gives your family the freedom to roam and set your own pace. Kids will love climbing the small spiral staircase to the top of the tower and the underground tunnel to the garage, stables and greenhouses. However, the biggest sense of awe and mystery may come from searching out the castle's two secret passageways. Rumour has that a third passageway was built, but it has never been found. Perhaps your children will be the ones to find it?
Casa Loma does have an elevator available for wheelchair bound guests, however it is not available for the use of guests with strollers. Likewise, secret passages and tower stairs would be difficult to manoeuvre with a child in a carrier. For these reasons we recommend Casa Loma for families with children ages 4+. Visits in early spring or fall at opening hours, are suggested for avoiding the thickest crowds.
Marie – Adventures in Family Travel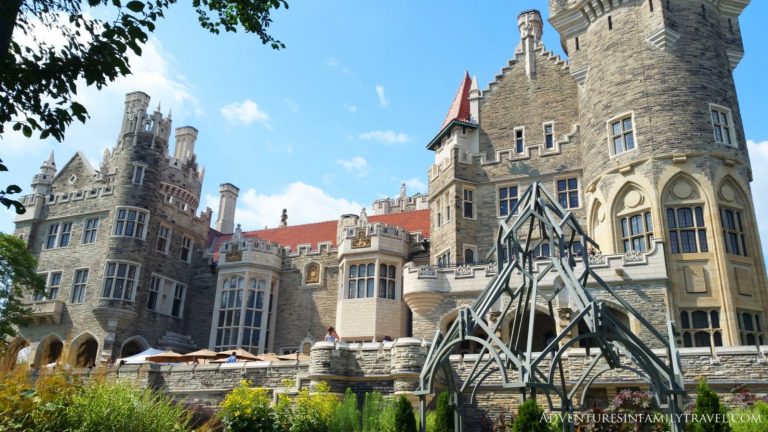 Best Middle Eastern castles to visit with kids
These are the best castles in the Middle East to visit with kids.
Shobak, Jordan
Shobak is a Crusader period castle, located on the present day Kings Highway some 46 kms north of the Ma'an and the ancient Lost City of Petra. It can be dated back to the early 12th century, built by Crusader King Baldwin I of Jerusalem to defend (unsuccessfully!) the route from Egypt to Damascus of the Saladin's.
The Castle has fallen into severe disrepair over the centuries but excavation and restoration works are ongoing. With a tour guide you can trace your way through the castles history from the fierce battles to everyday life within the castles walls. From the ruins you can make out the castle's kitchens, market place, churches, prison cells, the catacombs and even a school! This fascinated our kids to no end!!
We love this castle for its secret passageway of some 375 steps – at the time we visited it was newly excavated and shrouded in darkness. Only 1 of our 3 kids was brave enough to tackle it in the dark with just a torch light – though be warned there's also a very steep upward climb at the end if you take the stairs down – it might be a good idea to have one of your group drive down and join at the foot of the hill.
It is utterly rugged, wild and remote. I thought the fact that it was an incomplete castle (more so than Karak Castle, perhaps the more famous in Jordan) the kids would lose interest fast, but as it is such an intriguing place, they really did let their imaginations run wild! We strongly suggest hiring one of the friendly local chaps to show you about the site as there is no signage. There is no formal entry fee but your guide will expect a tip.
Keri – Our Globetrotters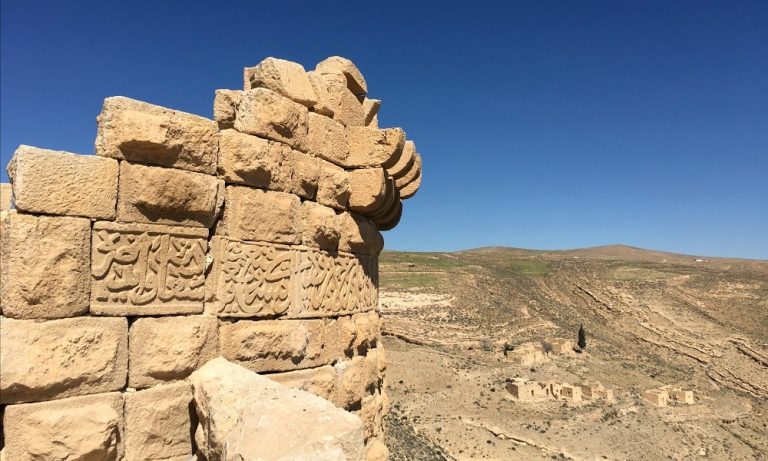 Karak Castle, Jordan
Karak Castle in Jordan is one of the most famous and largest Crusader castles not just in the country but in the entire Levant region. Located approximately midway between Amman and Petra on the Ancient King's Highway, the castle is a perfect addition to any Jordan trip. Karak Castle is strategically located on a hilltop and towers above the city of Karak. It is visible from the anywhere in the city and is Karak's most popular tourist attraction.
Not only did it have an important part in the medieval Crusades, Karak Castle also played an important role in trading since it connected Egypt and the Arabian peninsula to Syria and Europe. The castle has excellent Crusader architecture and is great to visit with the kids. There is a lot to explore within the castle walls including the fortified towers, castle entrance, and surrounding moat. The castle also houses the Karak Archaeological Museum which narrates the history of the castle, the Crusader battles in the area, and the siege of the castle. Visiting the Karak Castle is a great way to understand the history of the Crusades in the Levantine region.
Ketki – Dotted Globe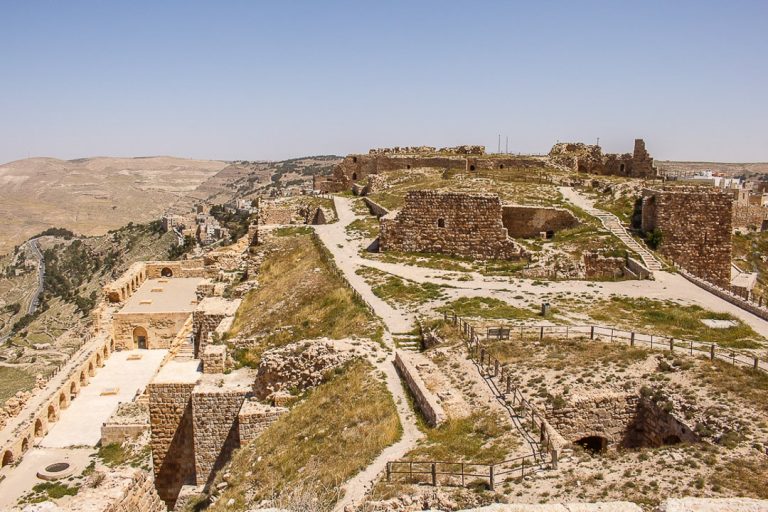 Best Australasian castles for children
In this section you will find two castles located in Australasia which are family-friendly and suitable for visiting with kids.
Sunshine, Australia
When you think of Australia, medieval castles are probably not the first thing to come to mind! Despite having Aboriginal history that is thousands of years old, the Vikings didn't make it quite as far as the Land Downunder. Although you're more likely to find ancient rock carvings and middens on historical adventures around Australia than a medieval castle, there is spot in Queensland (appropriately!) where you can see just that. Sunshine Castle in Bli Bli is on the Sunshine Coast on the East Coast of Australia – easily accessible from the state capital of Brisbane. It's a fascinating place to take the kids – from the castle battlements you can look out across the ocean and mountains, then go for a swim at the beach in the afternoon!
Kids will love exploring the authentically recreated areas of the castle – from the Grand Hall to the scary dungeons. They can complete a scavenger hunt on their way around and get to choose some treasures from the King's chest when completed.
The Sunshine Coast is an excellent family friendly destination – as well as the Sunshine Castle you can also enjoy Australia Zoo, the Ginger Factory, Eumundi Markets, Sealife Aquarium, as well as world class beaches and bush walks.
Bryony – Coasting Australia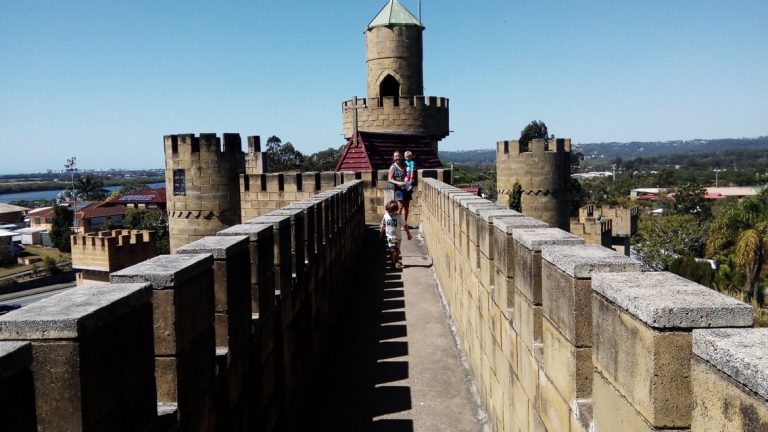 Summary
So, there you have it. 35 of the best castles to visit with kids around the globe. I can't thank my fellow travel bloggers enough for sharing their favourite castles to visit with kids.
We have visited some wonderful ones like Cardiff and Cahir on this list and have also enjoyed both Montjuic Castle in Barcelona and the Castelo de Sao Jorge in Lisbon during a recent trip. I was pleased to see a number of castles on the list of best castles to visit with kids that have already been put on our must-see list of castles to see with our son. And I have also been introduced to a few I didn't know about.
Have you visited any of the castles on this list? Are there any you would add?
Cath x
*All pictures have been provided to me by the authors of each castle submission and have been used in this post with their permission.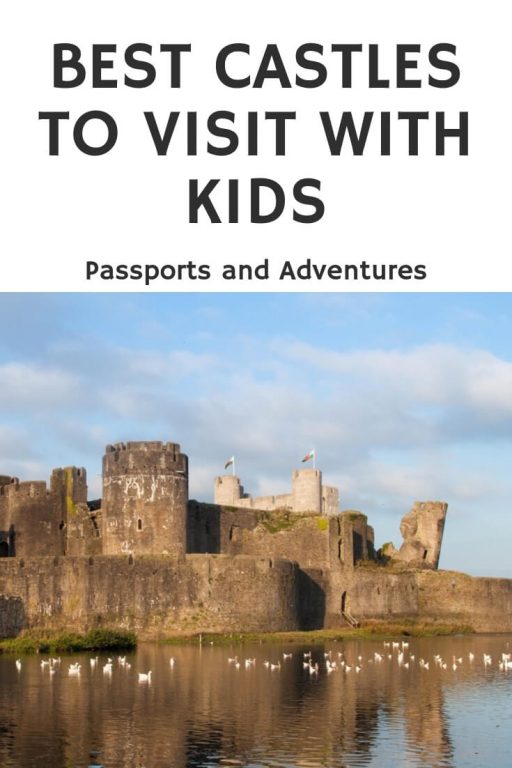 Related Posts