From science museums to children's museums and transport museums, the world is a rich place when it comes to choosing museums to visit. But which ones are suitable for families travelling with kids, young and old. In a bid to find some more for our own family to visit in the future, I've asked my fellow bloggers to help me out and give me their recommendations on the best museums to visit with kids in the world.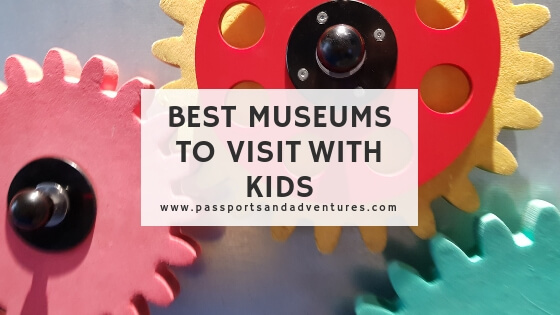 Museums might not normally be top of your to-do list when visiting a city with kids, but they can often surprise you. We had never dreamed of taking our son to a museum but during our USA road trip, we were recommended the Oregon Museum of Science and Industry, and it did not let us, or our then 3-year old, down. We were also introduced to the world of children's museum, something I'd never come across before. And our visit to the Portland Children's Museum was such a success that I now seek out others in cities we are visiting.
However, there are even more types of museums in cities around the world that, as I've mentioned, I wondered which ones were suitable to visit with kids. You would expect children's museums to appeal to little ones but what about the other types. In this post, my fellow bloggers and I share some of the best museums to visit with kids around the world. You might even find inspiration for your visit to that city.
Best Museums To Visit With Kids In The World
This post is dedicated to sharing with you the best museums for children around the world. From the best children's museums, to the best transport museums for kids, you'll find a host of the best museums for kids around the world as recommended by those who have been.
Children's Museums To Visit With Kids
In this section you will find the best children's museums in the world as recommended by my fellow family travel bloggers. We've been to two during our various travels and they have always been a hit with our son.
Imaginosity, Dublin
After visiting the Portland Children's Museum just seven month's previously, when I came across Imaginosity, the Dublin Children's Museum I knew I had to bring our son. Located in the Sandyford area of the city, Imaginosity is a place to let kids imaginations run wild, hence the name. It is accessible by car or from the city centre via the Luas, with the Stillorgan Luas stop less than a 10 minute walk to the museum.
Inside, kids will find everything from a Post Office, Grocery Store, Doctor's Surgery, Diner and even a full-sized car to play mechanic at. They can choose any area to play in and you might find they have too much choice. This museum needs to be pre-booked as it gets very busy, particularly during school holidays. You get 2 hours inside and there is a cafe serving hot and cold food and drinks.
There are 3 levels and between the levels is a huge climbing frame which spans the different floors. Just be careful you don't lose your child in there. There are also daily workshops and talks and it really is a brilliant place to bring kids in Dublin.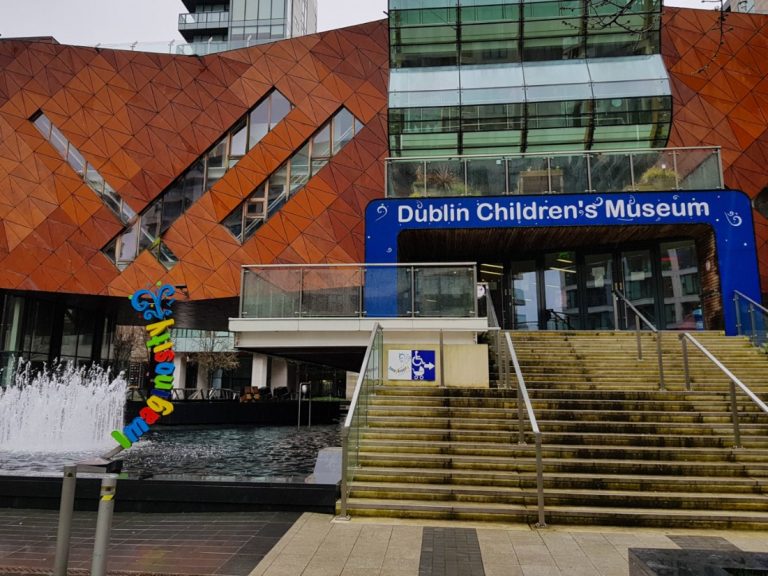 Children's Museum, Houston
We absolutely loved the Children's Museum of Houston!
Our favourite things to do there were the How Does It Work, Kidtropolis and Powerplay exhibits. I must say, having been to Kidzmondo/Kidzania in the Middle East, that Kidtropolis was a bit underwhelming. However, the Things thought no such thing and I had to drag them away just to make sure they ate lunch!
Having lived in Houston with a small baby we loved the tot-spot but my kids were too big by the time we went there last year. I had no idea how much they would like the museum at their ages but they really, really enjoyed themselves. They were in their element with so many activities available. I think now that they are a little older they would probably enjoy it even more. For kids older than 10 I don't know how much they would enjoy it but it's hard for me to know as my kids are so much younger than that.
I was pleased to see quite a wide range of ages there so it goes to show it really does cater to lots of year groups. What I hadn't anticipated was how much fun I would have – I had an absolute blast following the Things around!
Disclaimer – apparently the museum can get obnoxiously busy with school visits but this did not happen on the day we were there.
Emma – Wanderlust and Wet Wipes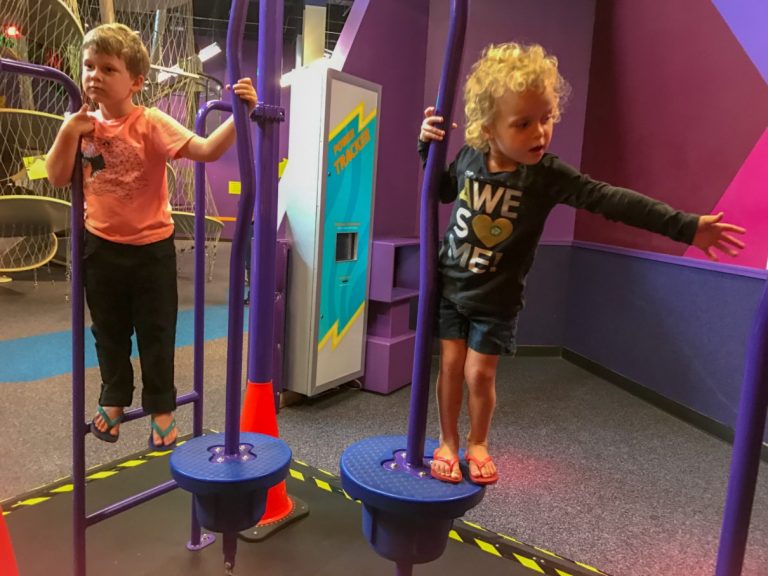 Children's War Museum, Seoul
The War Memorial Museum in Seoul is one of the most popular and important museums in the city. It covers everything about the Korean war, including the relationship and struggle between North and South Korea. A huge museum for adults! In 2014 an additional museum was added to the War Memorial Museum, the children's museum. An informative, but fun and interactive playground for children of all ages.
Even though the museum is free to enter, there is a limitation to the amount of people that can be inside at the same time. So, on weekends and holidays there will be a queue. When waiting, children can enjoy the colouring and reading corner.
Once entered, there are 5 different sections to go through, these are a mixture of playground with games and educational materials. The first area is 'war history of Korea' and is a huge fortress wall with multiple photo-zones. The second area is the 'sorrow over the lost country', the third 'the unfinished war'. The fourth area is 'wish for peace' and up last is 'my dear country Korea'. This museum is one of the top things to do in Seoul for kids.
Marie – Be Marie Korea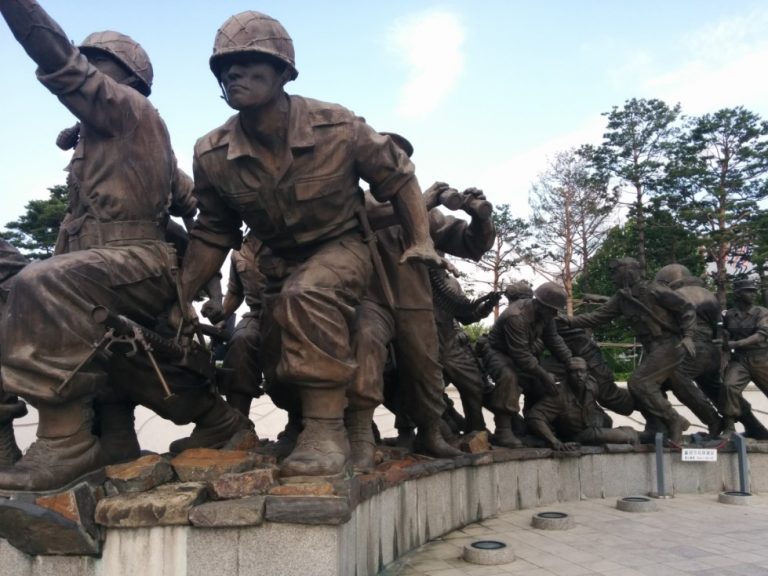 Children's Book Museum, The Hague
We've now visited the Children's Book Museum (in Dutch: Kinderboekenmuseum) twice and loved it both times. The museum features interactive displays of all our favourite book characters, such as Frog, Elmer the Patchwork Elephant and the Very Hungry Caterpillar.
There are two separate areas, one for kids 0-6 and one for kids age 7+. For the younger kids there are two permanent exhibitions: I am Frog and ABC with the animals. The latter covers a lot of different children's books and each book has its own section with games and crawl-throughs. It's all very colourful and interactive, kids love it!
A lot of the information in the museum is in Dutch, but the I am Frog exhibition is bilingual. The Children's Book Museum is located in the National Library in The Hague, right next to The Hague Central Station. You can read our full review of the Children's Book Museum in The Hague(including a video!) on our blog.
Lisa – Flip Flop Globetrotters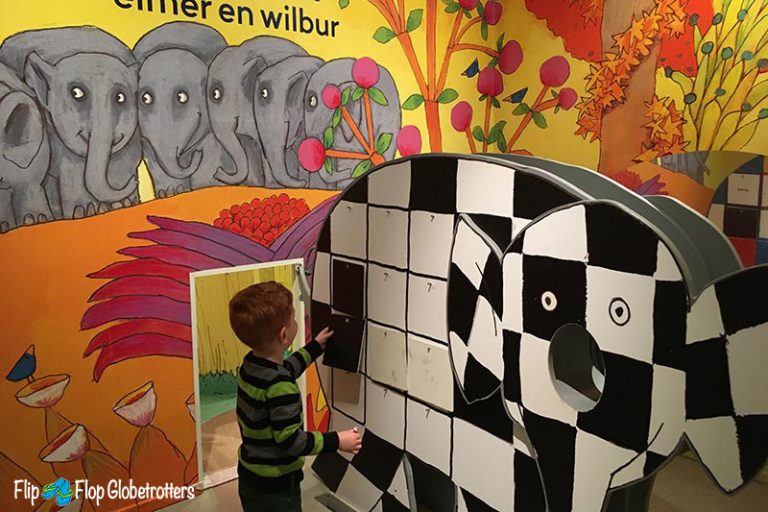 Children's Museum, Muscat, Oman
The Children's Museum in Muscat is located adjacent to the Natural Park in the heart of the city. The museum is a beautiful domed shaped building which is been operative for twenty years now. The Children Museum Muscat has comprises an exhibits centre and an interactive learning centre. The exhibit centre of the museum is divided into three sections; the human life, physics and earth evolution. The interactive learning centre is the place which kids love the most!
There are a variety of interactive exhibits, which explore a range of scientific concepts such as Electrolysis, expansion of gases, sound, visual perception and- reaction times. The little ones can easily spend an hour or a two learning scientific stuff while having fun at the same time! Muscat's Children Museum is ideal for children aged 7-12. The museum is opened all week long except Friday and costs only 3 cents per kid to enter! If the weather is good then a visit to the adjacent Natural Park or to the nearby beach can also be made.
Rahma – The Sane Adventurer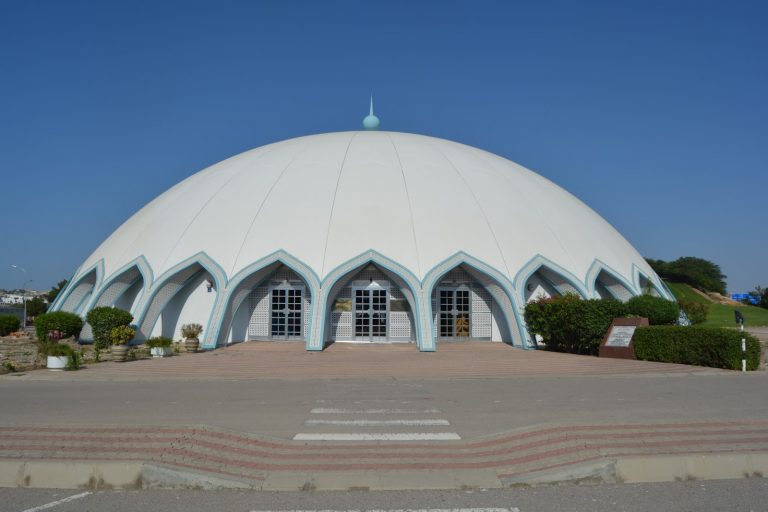 Zoom Kindermuseum, Vienna
That no child in Vienna gets bored is one of the mottos the city reiterates and follow through. Playgrounds are all around the city, at one where every neighbourhood child can walk to in a few minutes to play and have fun with friends and siblings. There are a number of museums especially designed for kids, and museum activities allocated for them as well. One such museum is the Zoom Kindermuseum at the Museumsquartier. It's more of an interactive museum where kids could sign up for in different programs or "play" areas and learn about water, earth, science, and other themes the organisers had prepared. It could be animation, musical reading, craft sessions, painting workshops, parkour culture, trash management and recycling, among many other things.
The museum opens a bit late than usual opening times, and is closed on Mondays as most museums in Vienna are. It is best to book online to reserve a spot for your kid/kids because they avoid getting the sectors overcrowded. There is very little chance that someone would cancel, so it is not good to risk that spot. Their website lists the ages appropriate for the activities so check those, too. Each program costs differently, between 4-6€ per child, with discounts for the parents or when coming as a group/family. Bring extra socks along because shoes are not allowed inside, but they also provide clean socks the kids can borrow throughout the programs. And don't be late, the programs start on schedule, you might not be able to join in. That said, you can have fun at the bouncy grass outside while you wait to be accommodated by the friendly staff or visit the other museums housed at the Museumsquartier.
Marie – Travelers Joint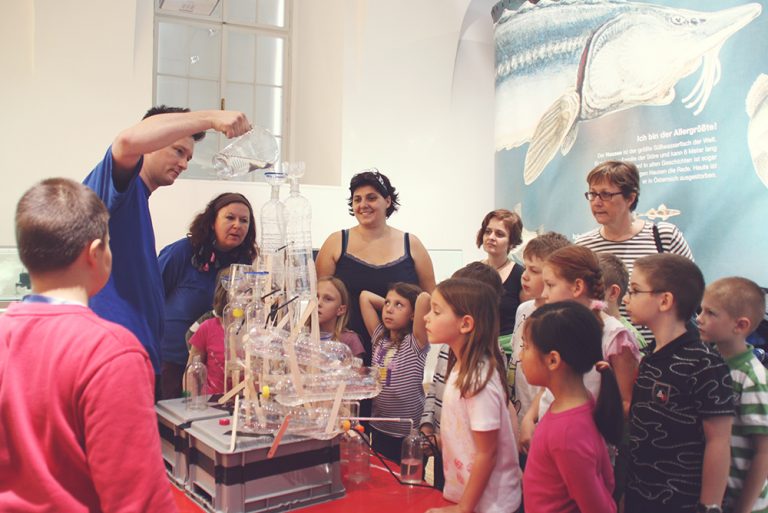 Children's Museum, Chicago
The Chicago Children's Museum is arguably one of the best museums to visit with in Chicago with kids from 0 to 10 years old. Conveniently located in Navy Pier (one of the most visited tourist spots in Chicago), the museum is easily accessible by foot or public transportation. With three floors to explore and multiple exhibits in different rooms, your little ones are sure to be entertained for hours. Whether your kids like to splash, climb or explore, this museum will not disappoint.
Favourite exhibits include a kid-sized city, an interactive system of pumps and pulleys, a firehouse and an excavation pit to dig for dinosaur bones. Really little ones aren't excluded from the fun either. Stop by the Pritzker Playspace if your child is under four but keep in mind hours are limited. Many of the general rooms do have special crawler and infant play areas so no worries if the Playspace is closed. The best part of the museum is that in addition to 15 permanent exhibits, there are a number of changing exhibits so there is always something new to explore.
Matilda – The Travel Sisters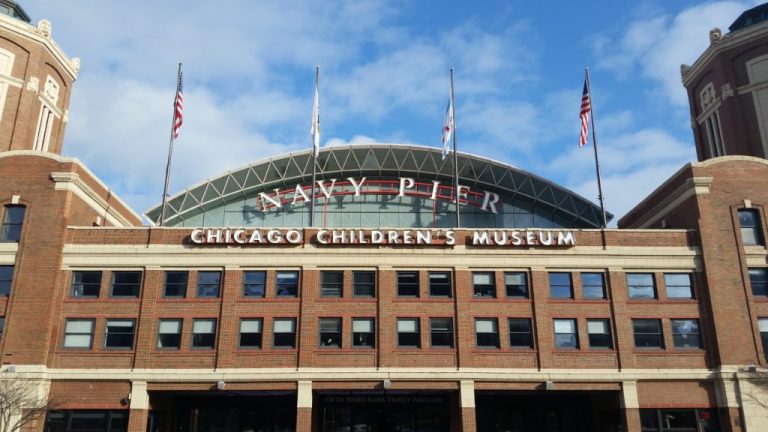 Hawaii Children's Discovery Center, Honolulu
Every great city has a children's museum! Honolulu, in our opinion, has the best one called Hawaii Children's Discovery Center. Why is it so amazing? Well, there are three floors of discovery and fun targeted to mostly kids under 10 years of age. They have a miniature hospital, diner, post office, grocery store, pet hospital and even a bank where kids can play pretend and learn about the duties each job has.
The second floor is by far our favourite. There you will find giant-bubble fun and a life-size replica of a Hawaiian Airlines airplane with the actual video they play on-board and a simulation of the plane track for future pilots to play pretend. Flight attendant uniforms and their famous food carts make this section of the interactive center the funnest for even adults.
The museum is only opened for a few hours during weekdays and slightly longer on the weekends. We suggest to arrive early, preferably after the morning snack for the youngest explorers because no food or drinks are allowed. There is a tiny cafe that has kid friendly meals like: peanut butter and jelly sandwiches, chicken nuggets, fries, and the popular Spam musubi which is a slice of grilled Spam on top of a block of rice.
Yes, Honolulu has some of the best beaches and hikes around the world, but the Children's Discovery Center is equally amazing and will not disappoint. So next time you're in the area check it out. It's by the beach anyway!
Michelle – Travel Fun Family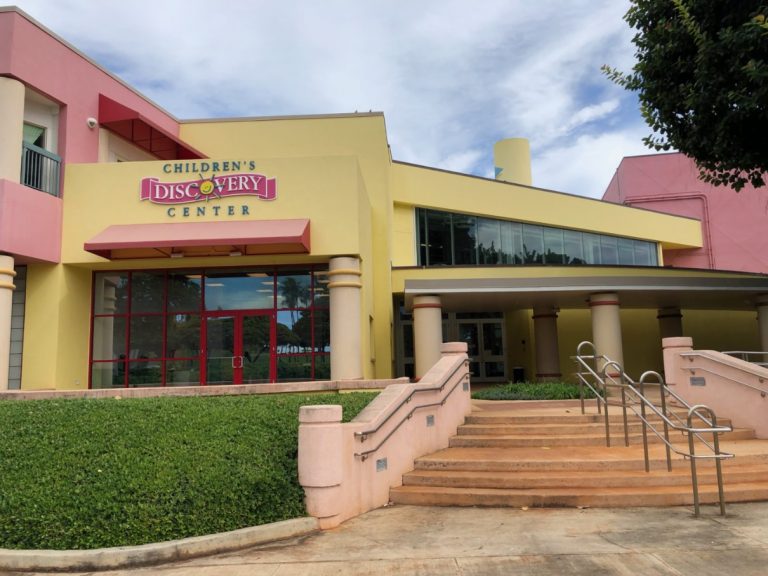 Transport Museums To Visit With Kids
As the heading suggests, in this section you will find a list of the best transport museums for kids, including one of my personal favourites, the London Transport Museum.
The Swiss Transport Museum, Lucerne
The Swiss Transport Museum, or Verkehrhaus as it is called in German, is a must visit when in Lucerne. Located on the shore of Lake Lucerne, the museum is home to a huge array of transport including cars, trains, planes and boats.
Whilst the museum will appeal to all ages, children are especially well catered for. As well as the many interactive displays, a special 'mobility' area in the centre of the museum gives kids the chance to ride pedal cars and steer electric boats.
One of the most popular displays with children is the scale model of the St. Gotthard Railway which recreates the route through the St. Gotthard tunnel.
Verkehrhaus really has something for everyone with flight simulators, an air traffic control exhibition, Formula 1 cars that you can sit in and vintage trains that you can climb aboard. There's also an IMAX theatre and a planetarium, both of which are suitable for children from 6 years of age.
The Swiss Transport Museum is open 365 days a year. To reach the museum by public transport, take either the S3 or Voralpexpress train from Lucerne main station (8 minute journey), or the 6, 8 or 24 bus from central Lucerne (10 minute journey). Disembark at the Verkehrshaus stop. Alternatively, it's a 30-minute walk from the old town along the lake promenade.
Carolyn – Holidays to Europe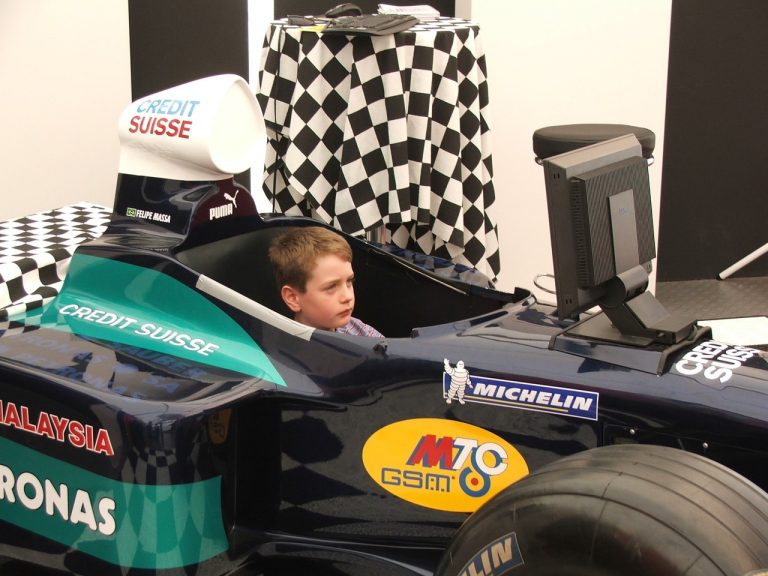 London Transport Museum
The London transport museum in Covent Garden is one of my favourite museums in the world for kids. As you enter you take an elevator ride back in time to the beginnings of public transport in London! From there you can learn about hackney carriages, the makings of the tube and bus systems!
Kids will love all the buses and trains you can sit on and there is even a great hands on area for little explorers to get Hands on learning experience! This museum is definitely best suited to kids from toddler age up! Adults will love learning more about design classics and wider effects that London transport has had in the world!
An added bonus is twice a year they hold an open door at the storage facility on a ton where you can see some of the gems that aren't on display! Be warned, however, that it is one of the admission charged museums in London but it is well worth the money!
Leona – Wandermust Family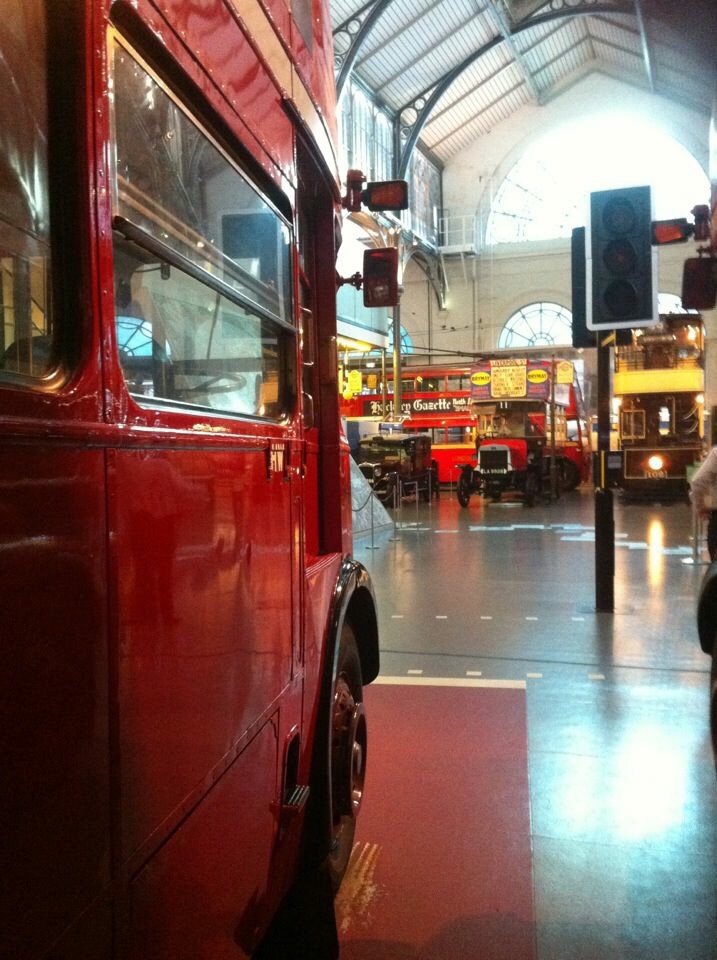 National Railway Museum, Adelaide
The National Railway Museum is located in Port Adelaide, just a short train ride from the centre of Adelaide, South Australia. It is home to many old locomotives and carriages, some of which kids can climb into to investigate and even pretend to be a train driver.
There is always at least one train running that does small loops around the site. After the first ride you will be struggling to leave without your kids asking for more! On special occasions larger trains also run on a slightly longer routes for even more train riding fun.
There are also many other smaller displays on almost anything related to the railways, including wartime displays, the travelling circus, and women in railways. There are display boards and ticket counters previously used at the Adelaide Railway Station. Everywhere you look there are historical artefacts, from whole stations to signs and signals. The model railway fans will enjoy a large model showing the different areas of the state and the trains that ran on them.
Kids of all ages will love to visit the National Railway Museum – even the big kids in your family.
Josie – Josie Wanders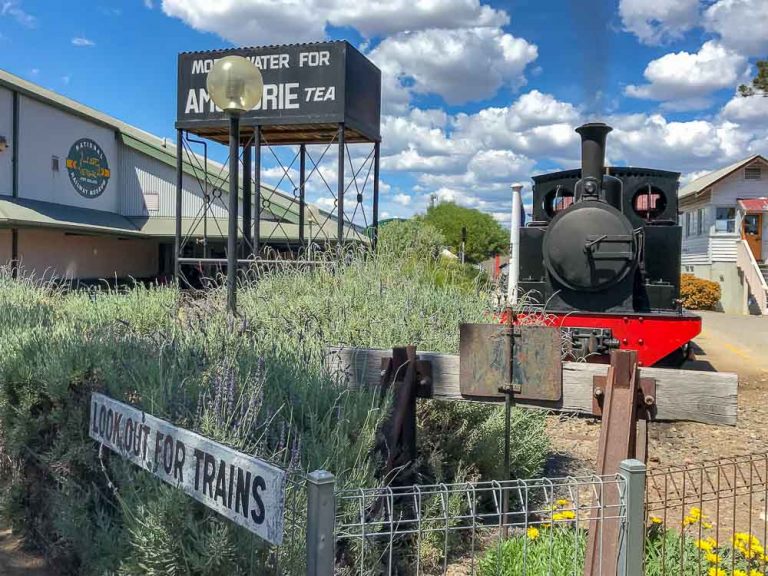 Science and Technology Museums To Visit With Kids
The former scientist in me loved these suggestions for the best science museums in the world for kids. From science museums in America, to Asia and European ones, these are the museums I want to visit with my son!
ArtScience Museum, Singapore
This museum-cum-art gallery at Marina Bay Sands in the heart of Singapore not only hosts an impressive line-up of international touring exhibitions, but is also a striking and iconic feature on the Singapore skyline, with its distinctive lotus flower design.
The exhibitions held at the ArtScience Museum are always groundbreaking, futuristic and intriguing, embracing an eclectic mix of influences from art and science, media and technology, and design and architecture. There's nearly always something interesting on for the kids here, so keep your eye on their exhibition programme.
If no touring exhibitions pique your interest, the permanent Future World: where art meets science is always a hit with kids. It has a multitude of interactive installations, and they proudly claim to be Singapore's largest interactive digital playground. Factor in a good couple of hours for this exhibition alone; my kids never want to leave!
If you visit on a Friday, up to 4 children under the age of 12 go free with every adult ticket purchased.
Marianne – Mum on the Move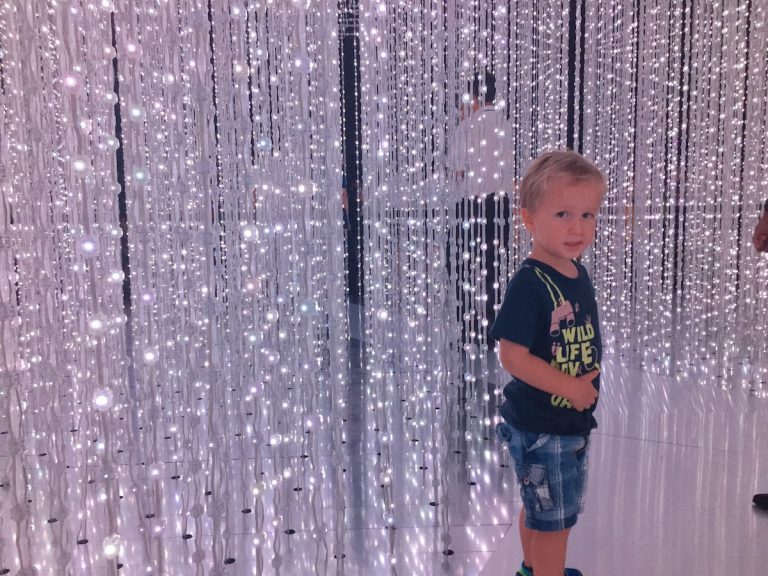 Carnegie Science Centre, Pittsburgh
My kids love museums and have visited dozens, and they unanimously agree that the Carnegie Science Center in Pittsburgh is their favourite. Lucky for them, work and friends bring us to Pittsburgh a few times a year. And, as ASTC travel passport program members, our family receives complimentary admission on our frequent visits to this amazing museum.
The real draw is Highmark SportsWorks®, which houses 30 interactive sports exhibits demonstrating how physics, anatomy, biology and chemistry control sports performance. The ropes course and rock wall are especially fun learning activities, but they always have to try out all the SportsWorks® exhibits. The traditional "science" part of the museum features Roboworld, the world's largest permanent robotics exhibit included R2D2 and CP30 replicas. The Miniature Railroad & Village is not a usual science centre exhibit but provided super detailed miniatures of Pittsburgh area buildings, including Fallingwater.
Carnegie Science Center also offers visitors the chance to rest their feet watching a movie in the Rangos Giant Cinema or a show at the Buhl Planetarium. We also visited the current special exhibit, The Art of the Brick, which features amazing Lego® art the last time we were in town. While many of the exhibits cater to the 6+ crowd, the Little Learner Clubhouse and the Skytykes Ropes Course are designed for younger visitors. Carnegie Science Center is certain to be a favorite for kids of all ages.
Catherine – We Go With Kids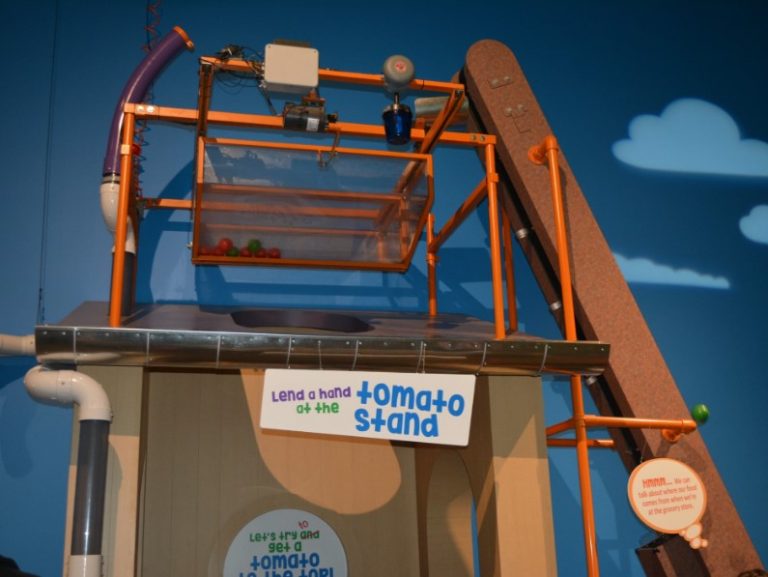 London Science Museum, London
London's Science Museum may have been founded way back in 1857, but it's as different from what you'd think such a venerable (and perhaps musty) institution might be as is possible.
As well as housing some 300,000 scientific artefacts (including the first every stram locomotive, Stephenson's Rocket, pictured) it sees its mission to educate as well as curate. The place is therefore stuffed with exhibits with buttons to press, knobs to twiddle and even experiments to perform.
Pride of place is the 'Wonderlab' containing 50 interactive exhibits, science shows with names like 'Flash! Bang! Wallop!' and 'The Rocket Show' and museum 'Explainers' there to, well, explain the science.
The Wonderlab is one of few paid exhibits – most of the rest of the museum is free and therefore a cheap day out (especially if the variable London weather necessitates spending time inside). All in all, then, the Science Museum is great for kids of all ages. Even some big kids.
Chris – England Explore

Museum of Science and Industry, Chicago
There is an abundance of museums to explore when visiting Chicago, but none are as exciting to visit with kids as the Museum of Science and Industry. What makes this museum so special, besides the historical significance of the building (it is the only building constructed for the 1893 World's Columbian Exposition's 'White City" that remains at the original site), it is one of the largest science museums in the world.
The museum maximises the exhibit space vertically so, there is always something to look at including up and includes over 400,000 square feet of exhibits. The exhibits range from a U-505 Submarine, the Zephyr train, learning how storms form, 3,500 square feet of a miniature train display, a massive Fairy Castle dollhouse, a giant Swiss pinball mechanical marvel and so much more.
The Museum of Science and Industry has numerous activities for all age levels. They have a five-story domed theatre showing movies on earth, oceans, and even space. There are also numerous tours and experiences that you can schedule if you want a guide through this enormous facility.
Plan on spending at least a half day or more in the museum. There are so many activities that the kids will have a hard time choosing what to do first. And even the adults will be in awe of the enormity of the exhibits that you might even start acting like a kid along with your child. But, Hey! that is what makes this a great museum, it sparks your scientific inquiry and creativity for all the possibilities in the world and for the future.
Heather – RaulersonGirls Travel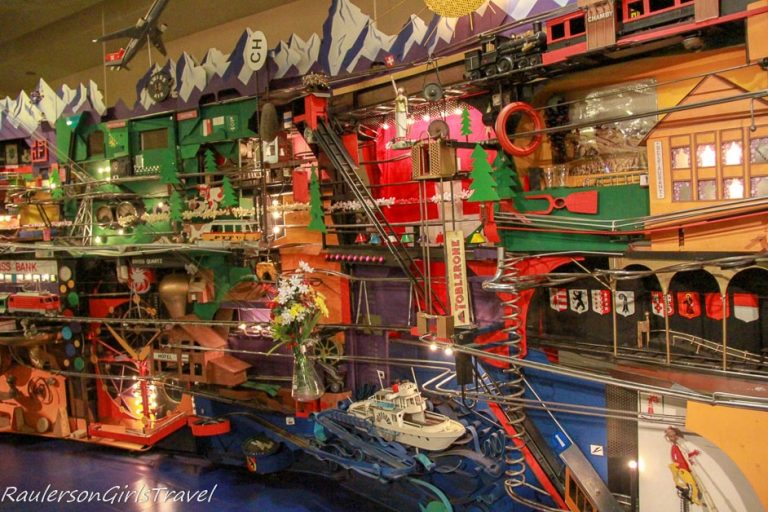 Exploratorium – San Francisco Children's Science Museum, San Francisco
The Exploratorium is widely known in northern California as the best children's science museum. It's great for kids up to 14, but even older kids and adults will learn about science from physics to viruses to tectonics. In fact, the museum, like many in San Francisco, is open to adults only one night a week.
The museum layout is wide open space with many hands-on activities. It's a tactile museum where kids can touch anything. There are demonstrations where kids can observe. The space is easy for kids to walk from one display to the next. There is also plenty of space for manoeuvring strollers.
The location is perfect for touring the area. The Exploratorium is a pier right on San Francisco Bay which is walkable to the Ferry Building, Fisherman's Wharf, the pier with boats departing to Alcatraz and Coit Tower.
Jess – Longest Bus Rides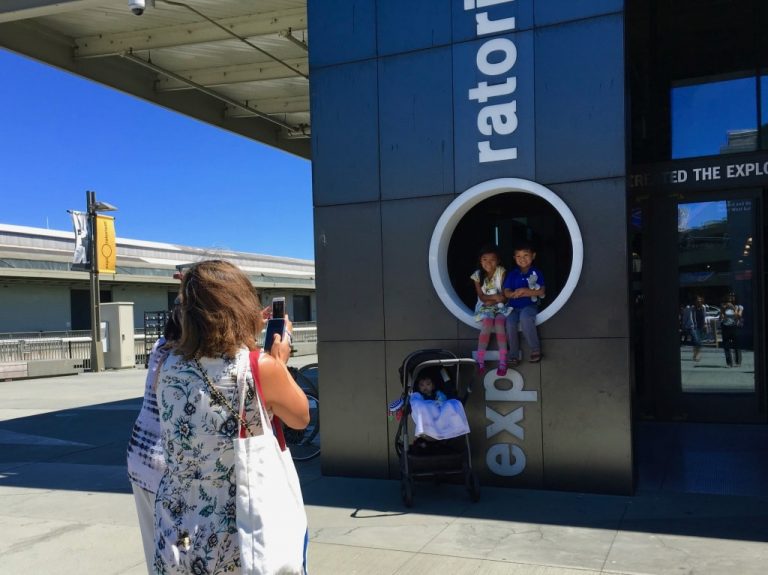 New York Hall of Science, New York
The New York Hall of Science is a fantastic museum for kids of all ages. It is located in Queens, NY and has enough exhibits to keep your kids occupied for hours. While there is a dedicated play space for younger children under 5, this museum is probably best for kids ages 6-12. The museum has many interactive and educational exhibits, areas to build and create, a 3-D movie theater, and the best part – a huge science playground!
Our kids did not want to leave the playground area. From pulling levers to balancing their weight on logs, the kids read about each scientific principle before they tested it out. They used force to push objects, climbed spider-like structures and slid down slides, the outdoor playground was a definite hit. The kids also loved the sports challenge area. They were able to rock climb, test their pitching speed and ride a surf simulator.
Another favourite was the animation exhibit. Here, kids can create a stop-motion storyboard, trace Looney Tunes characters and learn about the animation process. Besides those sections, there were exhibits on finding life outside of Earth, the applications of maths, motion and gravity, a neat light exhibit and one about the evolution of health.
Admission is $16 per adult and $13 per child. They also offer free workshops and play areas to build with various materials and paid small group makers space. Overall it was a fun family experience and one that I highly recommend visiting if you are in the New York area.
Margie – DQ Family Travel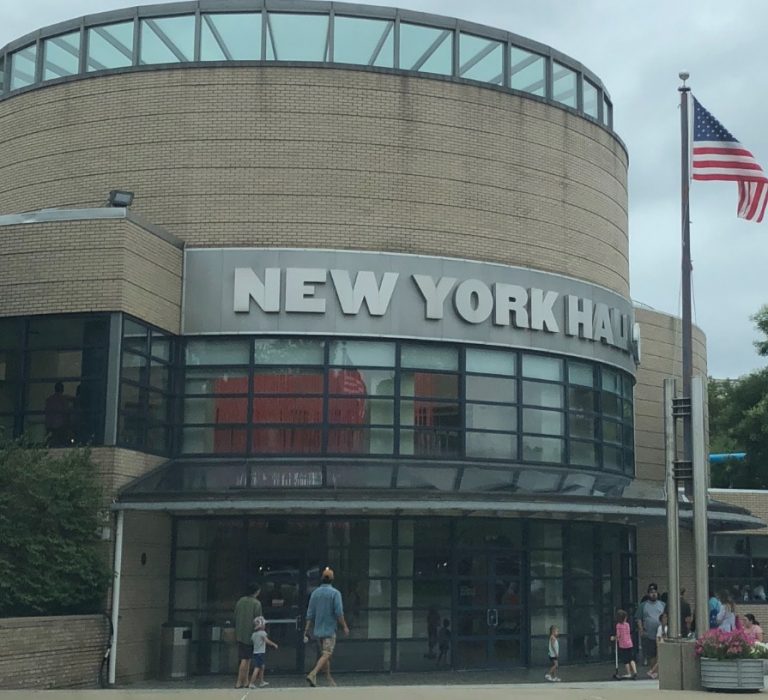 Nemo Science Museum in Amsterdam
Located right in a city centre, Nemo is probably the best children museum in Amsterdam. Perfect for kids from 3 years of age up until they are teenagers (and often older than that). It's located only 10 minutes walking from Amsterdam Central Station, so it's easily reachable from anywhere in a city.
Nemo isn't your regular science museum, it's a place where science is coming to life. And where one can learn about it by doing numerous experiments, joining workshops and presentations held daily. It looks like scientific laboratory playground rather than a typical museum. Almost all the exhibits there are interactive and while playing with their peers, kids are learning about magnetism, electricity or the universe. Kids could be loud, jump and touch everything there.
When tired of learning the best place to go is its restaurant and a roof top terrace. Located in the old part of the city port it has one of the best views on Amsterdam. Museum has a green roof with more than 25 different type of herbs and even two hives with bees.
With many of its temporary exhibitions and a friendly vibe, it's a place where both kids and adults love to come back.
Tea – Culture Tourist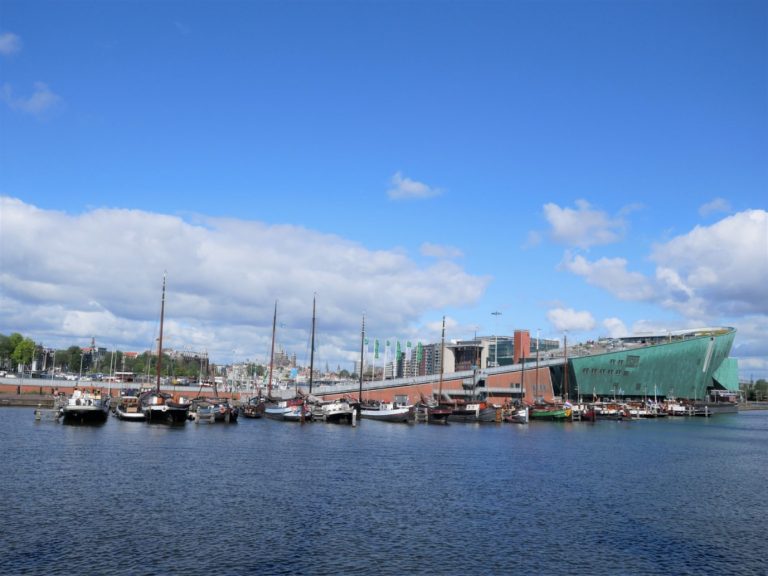 The Vienna Museum of Technology, Vienna
If you spend an entire morning in a museum with a 10-year old and he is reluctant to leave, you know it's a hit. This is why the Vienna Museum of Technology should be at the top of your list of things to do with kids in Vienna.
The Technisches Museum Wien, as it is known locally, is a huge space where children can learn about the role technology plays in our everyday life. There are tons of interactive stations to keep curious little minds entertained without having to wait in long lines for a turn.
The fun starts at the entrance, where kids can record their time on a speed slide. From there, it's hard to decide whether you want to present the news on national TV, spin around Belvedere Palace gardens at 1,000 km per hour, take a cable car ride in South America, or look down from the sky in a hot air balloon.
The best part of the Vienna Museum of Technology is that it's free for kids up to 18. They only pay (a small fee) to visit an underground coal mine or watch a high-voltage demonstration. Open daily, the museum is only a 10-minute walk from Schönbrunn Palace, another great attraction in Vienna to visit with kids.
Linda – Travel Tyrol

Caracol Museum – Earth, Sea and Space, Ensenada, Mexico
If you happen to be on a family cruise stopping in Ensenada, Mexico you won't want to miss Caracol (meaning snail or seashell), the science museum. When disembarking, head toward land. You can't miss the ship-like, predominantly glass building located at the end of the pier. This is Caracol.
This fantastic fun and educational interactive museum for kids of all ages is dedicated to learning in the areas of Earth, Sea and Space. However, it is still a work in progress and not all exhibit areas have opened. In total the earth portion of the museum houses 19 well-conceived displays covering the subjects of geology, palaeontology and more. Kids have the opportunity to dig fossils and experience an earthquake (simulated of course). They will learn about sustainable energy through interactive hydroelectric and wind energy displays.
The exhibitions are Baja and Ensenada centric as one of it's may purposes is to connect the community to the region through science. As such, exhibitions hit on subjects such as human's journey on the Baja Peninsula plus indigenous flora and fauna.
Additionally, there are separate exhibit rooms for visiting shows. One such special exhibit focused on the important subject of climate change.
The museum is handicap accessible and all displays offer English translations. The cost is around $3 US.
Susan – Gen X Traveler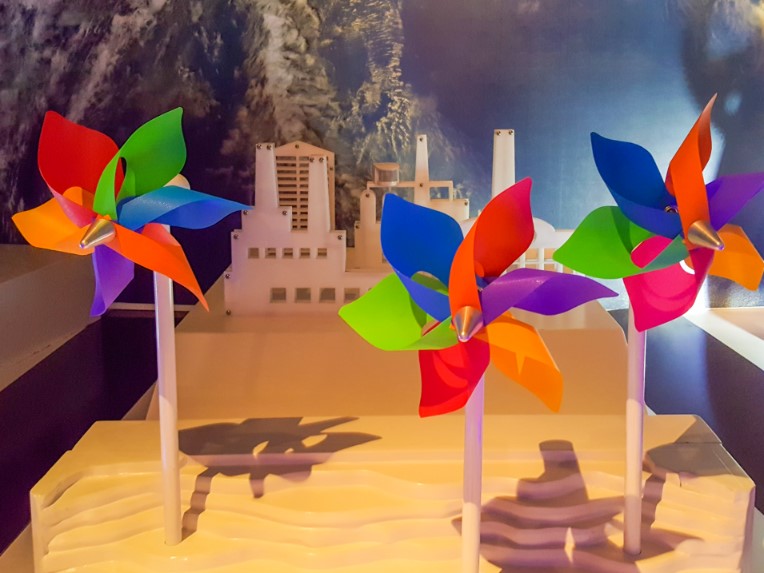 Natural History Museums To Visit With Kids
Natural history museums can be great places to visit with kids and our son has loved the one in both Dublin and Helsinki. Here is a list of the best natural history museums for kids so you can add it to your list of things to do if you are visiting the city mentioned here.
America Museum of Natural History, New York City
Make sure you allow at least half a day to explore this New York Institution and one of the largest museums in the world. We visited on a dreary January day and were blown away by the vast halls and impressive exhibitions. The kids loved the fact that it was the setting for the Night at the Museum Movies too.
The focus is on science and ecology. Highlights for us were the Dinosaur exhibition on the top floor and the Butterfly Conservatory where over 500 beautiful free-flying butterflies can be observed up close amidst tropical foliage. The 94ft Blue Whale model in the Milstein Hall of Ocean Life is pretty impressive too.
We were lucky as we came in off season and early enough to beat the school trips but be aware that in peak season it can get busy so arriving for opening or later in the afternoon may help you beat the crowds. The Cafe is busy and not the cheapest either so you may want to make sure you come armed with snacks.
Located on the West Side of Manhattan it is just next to Central Park, a great place to visit with kids of any age too. If you come on the subway, take the time to look out for the nature-themed murals that adorn the walls of all the Stops beside the museum – there are over 250 of them!
Gemma – A Girl and Her Dog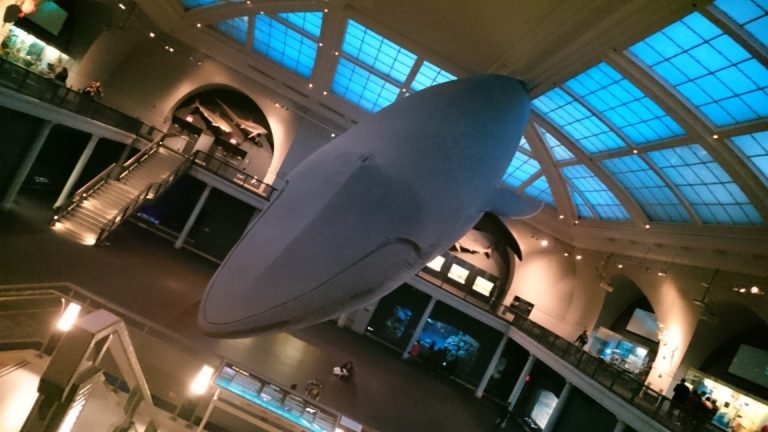 Oxford Natural History Museum/Pitt Rivers, England
If your little one is into fossils, extinct specimen's and dinosaur skeletons – a budding zoologist. Then the Oxford Natural History Museum/Pitt Rivers should be at the top of your list of museums to visit with kids.
The life-size models of the dinosaur will leave your kids in awe. They house all the specimens in a stunning neo-Gothic building which adds to the drama of being inches away from these towering giants of the planet. They say the museum has inspired several of Lewis Carroll's characters in Alice in Wonderland.
There are lots of things to do with kids in the Oxford Natural History Museum. You can download an interactive trail, that allows kids to find and name the different animals around the museum. They also hold lots of family-friendly events, that's is listed online.
But the best part is that they encourage kids to touch the specimens throughout the Museum: like stroking a black bear and getting their hands on a 4.5-billion-year-old meteorite. Teaching kids about evolution with their Sensing Evolution touchable displays.
Opening times: Tuesday to Sunday: 10:00 am – 4:30 pm Monday 12:00 pm to 16:30 pm. Address: Pitt Rivers Museum, South Parks Road, Oxford, OX1 3PP. Entry to both museums is free with an optional donation.
Delahaye – Hues of Delahaye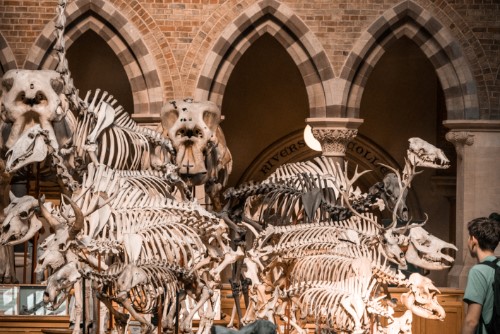 Natural History Museum, London
London has a wealth of first class museums but my personal favourite, and the one that I think is most suited to kids, is the Natural History Museum in Kensington.
The Natural History Museum is suitable for kids of most ages, and its exhibits revolve around life on Earth. The blue whale skeleton in the entrance hall packs a punch, and you can't help but notice the beauty of the building itself. The museum was purpose built and it shows; nature and animals are woven into the fabric of the building.
The star attractions at the Natural History Museum are its fantastic collection of dinosaur fossils, and a life size animatronic T-rex (who was far too realistic for my dino-mad 3 year old). However, this is definitely the section that my young children enjoy visiting the most.
There's some more complicated biology exhibits for older kids; they'll probably enjoy tracing human evolution and comparing different human skulls. They can also explore in depth exhibitions on how the human body works, and much more.
Special exhibitions vary throughout the year and there may be a charge to see some of these, although general entry to the museum is free.
The Natural History Museum gets really busy. If you're visiting at a weekend or in school holidays then you probably want to arrive before the museum opens at 10am. Get in the queue at about 9.45 to be one of the first in.
Emily – Kids and Compass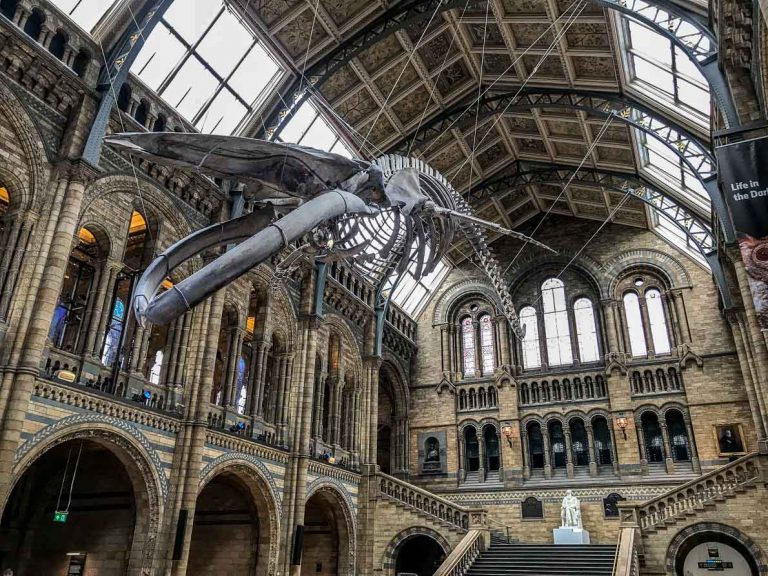 National and Art Museums To Visit With Kids
In this section you will find the best national museums and art museums suitable for families around the world, including ones in Europe, Australia and the USA.
The Metropolitan, New York
The Metropolitan Museum in New York City has something for everyone. There are so many different experiences that kids of any age can have and love. The Met actually has an audio guide specifically for kids ages 6-12 that provides thirteen different tours with messages suited for kids about key artworks. There is also a Family Map showing highlights of the museum that kids love. The map includes a fun scavenger hunt that has kids getting points for finding things like an elephant with a clock on its back, a painting on the back of painting, and medusa's head.
Kids can also have fun looking for different colours, shapes, or animals in the Costume Institute. They can imagine themselves inside works of art and think of what they would see, hear, taste, smell, or feel; act out stories and pose like the people they find; sketch or photograph their favourite pieces of art; or write a story inspired by the art they see.
There are so many different ways to experience the Met. What other museum has mummies for kids to see, an Egyptian Temple for them to go inside, a Chinese courtyard garden for them to discover, French rooms to gaze at, and chariots to imagine themselves in? No matter what your kids are interested in, there is something they will enjoy in the Met.
James – Travel Collecting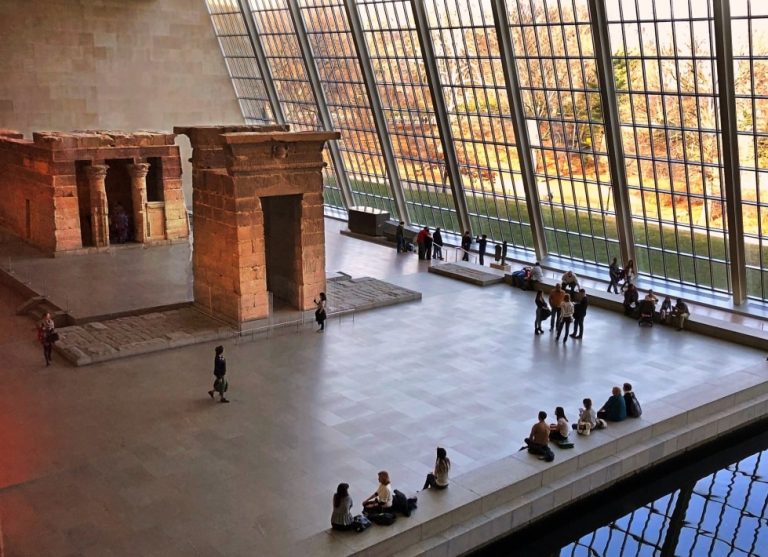 Canberra National Museum
Canberra National Museum is located on shores of Lake Burley Griffin with spectacular water views and with its modern architectural style certainly doesn't fit the "typical boring museum" description. Suitable for children of all ages, the place is packed with interactivity and hands-on activities to keep them entertained for hours (bonus: it's FREE).
The museum highlights Australian history, its key explorers, and events that influenced the shape of the country Australia is now. This extraordinary place provides a rich atmosphere for diverse stories of Australia and its people. Children will explore and learn through touch and feel, especially in KSpace – a place where they are invited to design their own futuristic world and watch it come alive on interactive displays. All family members are encouraged to participate and have a little bit of competition.
On Wednesdays, the Museum runs a program for tiny-tots under-fives: a story-telling, art-making, and Museum exploration activities( a small fee involved). After the program, children can play in the outside Garden of Australian Dreams, a safe and fun area with hills to climb on and tunnels to run through.
Also, every school holidays the museum brings a range of exhibitions and craft activities for children, all focused on the Australian historical past.
Alex – Laska Baby Travel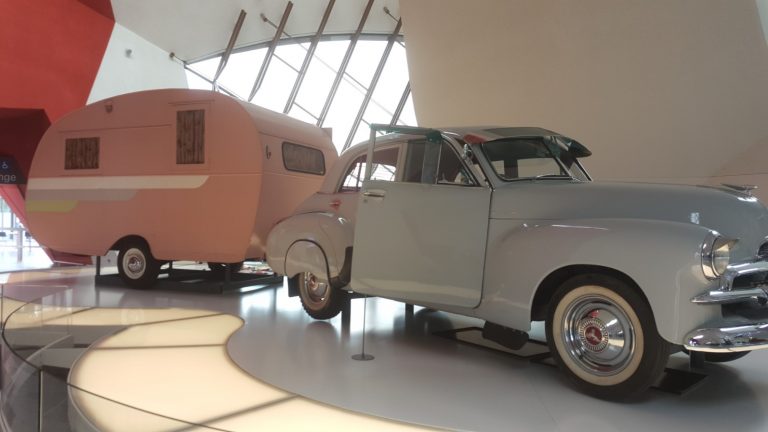 Musee d'Orsay, Paris
One of our favourite museums to visit with kids is the Musée d'Orsay in Paris. Unlike so many art museums, this one offers excitement to kids even if they're too young to appreciate the masterpieces displayed before them! Housed in an old train station, the building itself is a delight to see and explore. You can enjoy the original clock still mounted above the entrance, see the stunning views from the far corner or, yes, appreciate some of the world's finest paintings.
If you do plan to focus your child's attention on the art the Musée d'Orsay is a great place to do it. The works are separated into small, easy-to-navigate rooms organised by style. Since we knew our son would be more interested in cubism and pointillism than the older "classics", we were able to make a beeline for the top floor and focus our time on art we could all enjoy – and not waste precious limited attention on styles that wouldn't engage him at a young age.
Melissa – The Family Voyage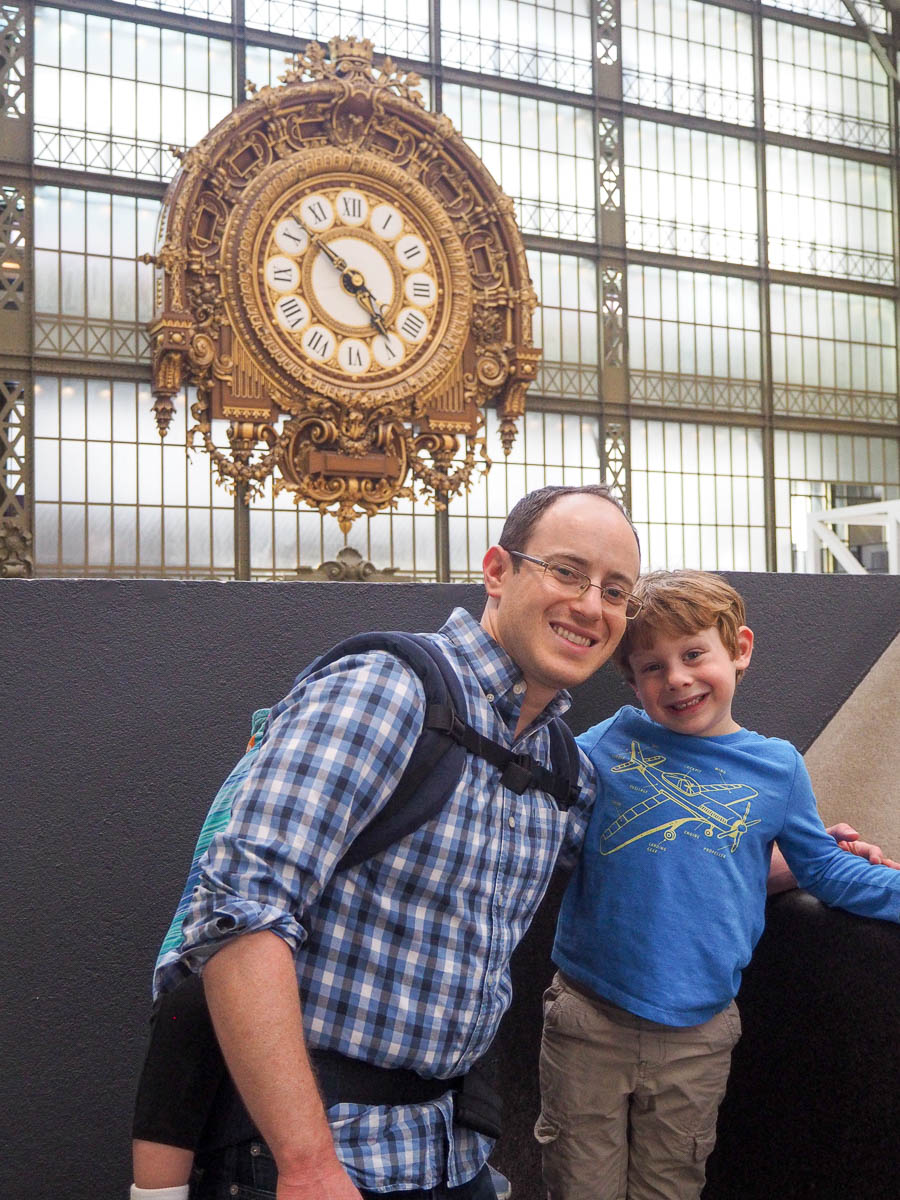 National Museum of Scotland
Located in the centre of Edinburgh, about 10 minutes' walk from The Royal Mile, stands the National Museum of Scotland. It's a striking building from the outside, combining modern architecture with traditional Victorian iron and stone. And the best part is it's free to visit!
The flavour is science meets history and culture, all with a very Scottish theme. There are generous facilities including a café, a brasserie, 3 gift shops and a top-class restaurant at the top of the tower. The café and brasserie are perfect for kids, as they have great child friendly menus. Toilets are on most floors with have baby change facilities and there are lifts for buggy access.
There is plenty of space inside, so it's ideal for an Edinburgh rainy-day activity. It's a strong favourite with our kids as they love the child friendly displays and the interactive activities. There are some fun dressing up areas so don't miss out on the opportunity to dress up as an astronaut or a Viking (the kids might want to join in too!)
There are so many things to do with kids in Edinburgh but this has to be one of our family favourites! Highlights for our kids include the racing car simulator, a robot that spells your name, a giant hamster that generates electricity wheel and the fossil dig. Give yourself plenty of time to explore the whole museum, you can easily spend a morning or an afternoon there.
Jonathan – Scotland Bucket List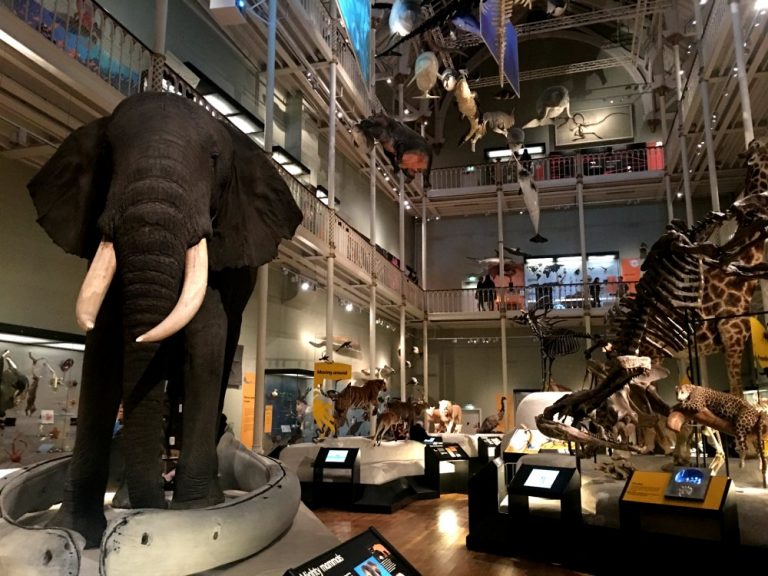 Australian Museum Sydney
The Australian Museum in Sydney is a real family favourite, particularly thanks to its resident dinosaurs. The zoological and anthropological collections here safeguard a vast number of minerals, beetles, fish, animals, and of course – those dinosaurs.
Kids love all the stuffed Australian animals (how else would you get to go nose-to-nose with a saltwater crocodile?) and it is a great way to get to know all the local Aussie wildlife – especially becoming familiar with those dangerous snakes and spiders. Another favourite section of the museum is always the Search & Discover centre, where there is lots of hands-on fun. Don't miss searching for stick insect eggs!
There are always fun things going on at the museum for kids, from workshops to movies to 'Dinosnore' sleepovers, so check their website for more details. The upstairs café with its indoor/outdoor seating with views over the city is a great option for lunch.
Entrance to the museum is free for under-16s, making this an affordable option for a day out (accompanying adults still have to pay).
Keri – Little City Trips

Storm King Art Centre, Cornwall, New York
Storm King Art Center, an outdoor museum located in Cornwall, New York is just the perfect place to visit with your kids. The Art Center is massive, spread over 500 acres of woodlands, open meadows, and rolling hills and houses more than 100 pieces of modern and contemporary art.
Among these are a number of interactive, touchable sculptures in the park that let your child's imaginations run wild. The free children's interactive booklet available at the café is a great guide to start off with. Children can run around, explore, and discover for themselves. Storm King even has special programs for children and families every Sunday between May and November.
Storm King makes for a great destination in summer, spring, and fall. While it is enjoyable to roll on the green grass in summer, it is equally exciting to watch the beautiful colours in autumn. Summer is also a good time to spot some wildlife. Geese, deer, birds are abundant. Admission into the park is $8 for kids above 5 years of age and free for kids below that. If you want your kid to spend some time in the lap of nature and experience art at the same time, then Storm King is the place for you.
Soumya – Stories By Soumya

Musee de l'Orangerie, Paris
My kids have visited at least a dozen art museums, including some of the world's largest. They were dazzled by the Louvre, the Vatican Museums and the Metropolitan Museum of Art, but their absolute favourite is Paris' Musee de l'Orangerie, which is located next to the Place de la Concorde and inside the Tuileries Gardens. The highlight was the two oval rooms, each exhibiting four of Claude Monet's large Water Lillies murals. Monet helped design these rooms, but the installation was completed after his death.
We have never experienced anything quite like this exhibit of Water Lillies. My ten year old son announced these were his two favourite rooms of art anywhere. The stark white walls make the Impressionist colours pop. These curved murals surround the viewer, making you feel like you are part of the colourful pond. We visited these rooms at the beginning and end of our visit to the l'Orangerie and recommend a stop at this museum to any family visiting Paris with kids.
To find out more about Paris with Kids, read my post which details 25 fun family activities to do in Paris.
Catherine – We Go With Kids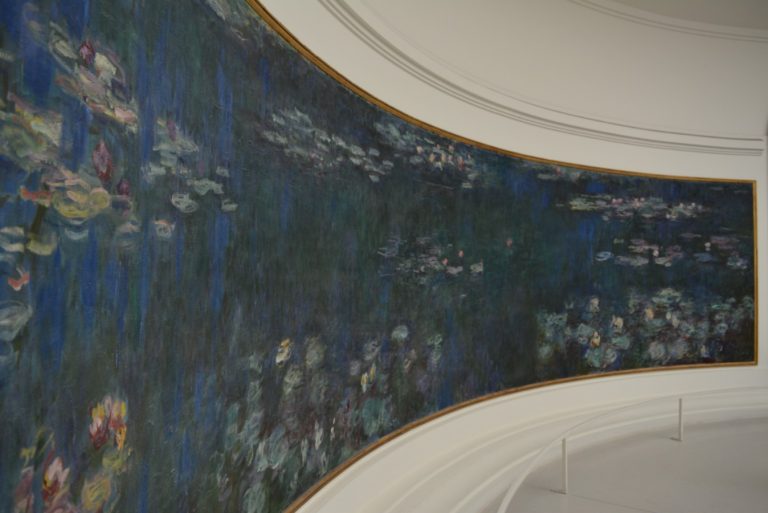 Other Museums To Visit With Kids
This section is dedicated to all the other types of museums for families, including some of the best interactive museums in the world for kids. They span countries such as the Netherlands, Belgium and Scotland and are undoubtedly some of the top museums in the world.
Zaanse Schans, The Netherlands
Zaanse Schans is an anchor-point of the European route of Industrial Heritage, a theme route connecting the most historically significant places in Europe that contributed to the industrial revolution. Located just 30 minutes away from Amsterdam, this place houses a museum that took me by surprise.
The Zaanse Schans museum would take you on a virtual tour of life in in the countryside over centuries, how the windmills came into being and became an integral part of the "Zaans identity". Kids would love to see how the tiny windmills start spinning as they simply walk from one year in the timeline to another. The fascinating part is the number of windmills spinning in a particular year represent the actual number of functioning windmills that were present in Zaanse Schans in that period.
With a large collection of artefacts, original paintings, audio-visual exhibition of windmill technology, the Zaanse Schans Museum offers an enriching experience for adults and kids alike. Add to it the tour to chocolate and cookies museum in the same facility and included in the same ticket. Your children will not only learn the process of chocolate making and packaging but can also play interactive games of cookie production. Isn't that cool? The entry to the museum is free with Iamsterdam card. Zaanse Schans museum was the highlight of our 3-day Amsterdam itinerary and it would be yours too.
Sinjana – Backpack and Explore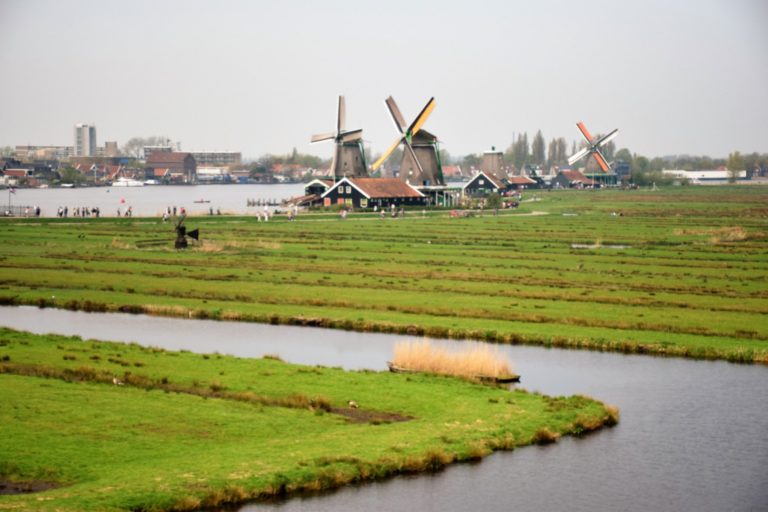 Museum of Witchcraft, Cornwall, England
It might seem like an unusual choice, but the Museum of Witchcraft in Boscastle, Cornwall in the UK is a great option for kids. It starts off on the ground floor with a host of witch and magic related objects from pop culture that are sure to grab the attention of the family. Plus there are excellent interactive exhibits – doors that kids can open to reveal hidden messages, a fortune telling wheel they can spin and animatronics that tell tales.
Upstairs things are aimed at a higher age group with a more realistic look at how folk witchcraft, curses, remedies and traditions have influenced society – but still fascinating, with plenty of rooms to wander and 'ooh' and 'aah' in.
There is one are of the museum reserved for quiet thought (ground floor, past the ticket desk) where I would suggest not bringing any little ones who have ants in their pants, but the rest is full of engaging pictures, models, and curiosities that will suit the whole family. You'll be amazed at what you find out!
Danni – Live in 10 Countries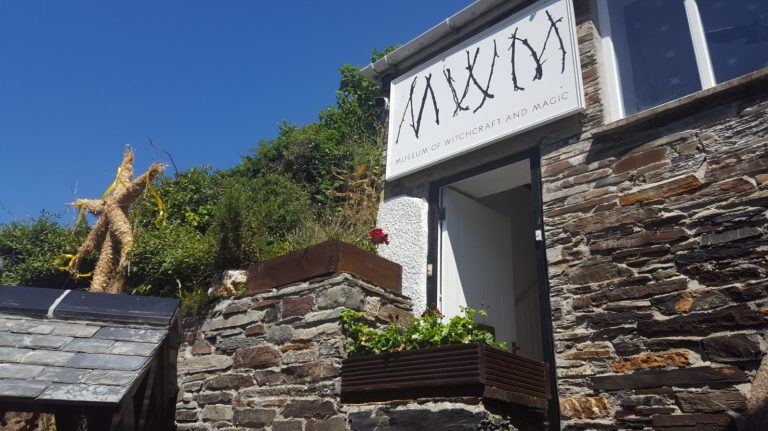 Australian Centre for the Moving Image (ACMI), Melbourne
Melbourne, Australia, has several museums but in my opinion the best for kids is the Australian Centre for the Moving Image (known as ACMI), located in Federation Square at the bottom end of the CBD. ACMI looks at different aspects – historic and contemporary – of all the media that uses a screen from film and movies, TV, ads, games and right through to Virtual Reality. The centre covers the history of visual media and looks at the technology used to make it.
Awesomely, entry to the main hall is free (you need to pay for the special exhibits/shows though).
Being focused on the visual makes it really engaging for kids. The displays are all easy to watch with simple explanations or are very hands on. There's a lot of little things to check out and the whole thing is perfect for people with short attention spans. Like kids.
The most popular sections tend to be the computer game areas where there's lots of X-boxes and Playstations set up with a whole host of games – mostly quirky and unusual indie productions but with some classics as well. In addition to the games my kids love the VR demo area where you can try out different VR programs/examples with a full headset.
Although the free area of ACMI isn't huge it's still big enough to easily spend a couple of hours, or more. Even if you've already been before. Games and VR mean that kids under five are going to struggle to get as much out of a visit here. It's perfect for anyone five or older, including big kids and adults. There are some areas little kids will love though, like making shadow puppets.
If you are going to visit ACMI, I recommend getting there at or close to opening at 10am. It can get busy quickly and queues for the popular things like VR demonstrations can get long, fast.
Sharon – Dive Into Malaysia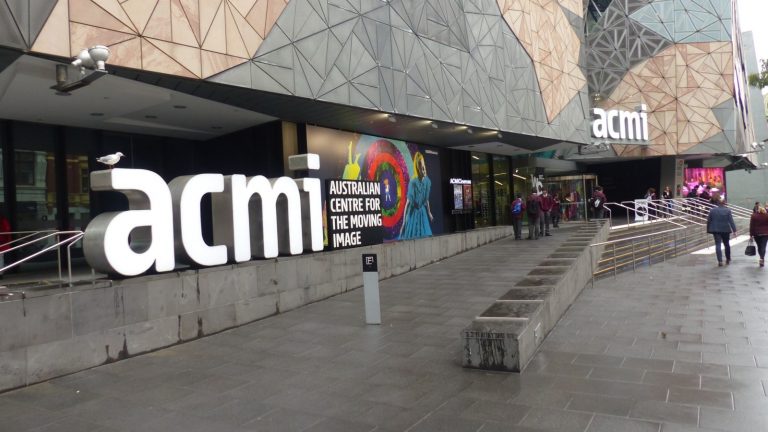 Ghibli Museum, Tokyo
If you've watched My Neighbour Totoro, Kiki's Delivery Service, Ponyo on the Cliff, or one of the many stunning movies from Ghibli Studios, you should definitely visit the wonderful Ghibli Museum in Tokyo, Japan.
This museum is amazing for the whole family, and it's a different type of museum. You'll see how the movies were made since the 50's, see original artwork, how the artists' room is, watch a short movie, and experience a little bit of the movies.
The temporary exhibits are impeccable, just as the rest of the whole museum, so you can visit it as many times as you want and still love it every single time.
It's an amazing time for every age, but kids over 5 would enjoy better, and it's just a mind-blowing experience if you or your older kid is an artist. Make sure you buy your tickets in advance, as they don't sell it at the museum – and they usually sell out – and enjoy the prettiest museum in the world! (and they don't allow photos of the inside of the museum, so it's a great time to connect with the kids!)
Thais – World Trip Diaries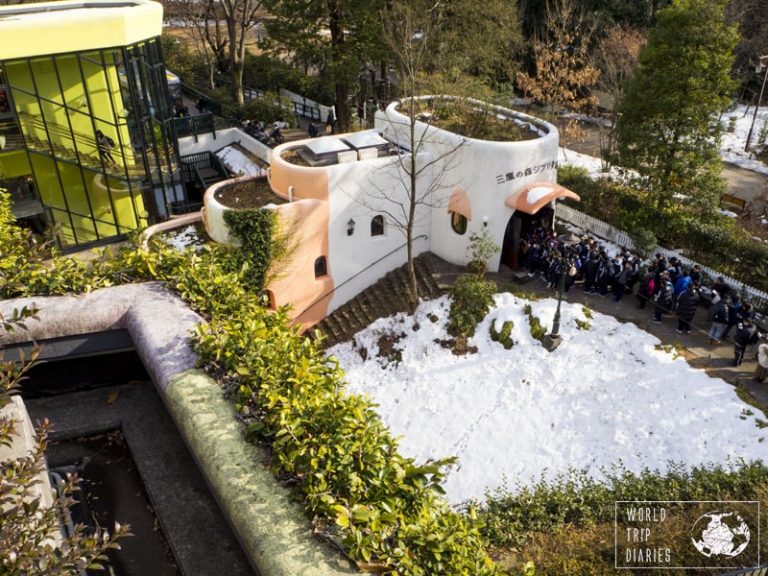 Camera Obscura, Edinburgh
Edinburgh is a city full of history and countless museums. But when it comes to travelling with kids, not all attractions will be the right options to visit for many reasons – including a child's age and interest level.
When I travelled to Edinburgh, one of the hidden gems from my time there, was visiting the family friendly attraction, Camera Obscura & The World Of Illusions on the Royal Mile. Now, I had no idea what this attraction even actually was until I went – and I am 33 years old. But this was such a fun experience and I cannot recommend it more to people of all ages, but especially younger kids as this will entertain them for hours. This attraction is over 150 years old and the oldest in the city, so it is a must do when visiting. I spent a good 2 hours here myself; learning, engaging and interacting with all of the activities and exhibits on offer.
Camera Obscura was first established in Edinburgh in 1853, and uses a mirror mounted at the top of the building to reflect light inside. This light is focused by a series of 3 lenses onto a table which visitors can see as they look down upon it – allowing them to see a live view of Edinburgh in a really amusing way. It's truly Edinburgh's first ever CCTV.
Besides the Camera Obscura show – which does have limited allocations per hour, the illusion aspect of this attraction is where even more fun can be had. With light mazes, optical illusions, magic, puzzles and the like, you can easily spend a few hours here being entertained and learning about all sorts of interesting things – especially about how these illusions actually work.
If you are travelling with children in Edinburgh, Camera Obscura is a must stop, providing an attraction with a twist for all who visit.
Toni – Enchanted Serendipity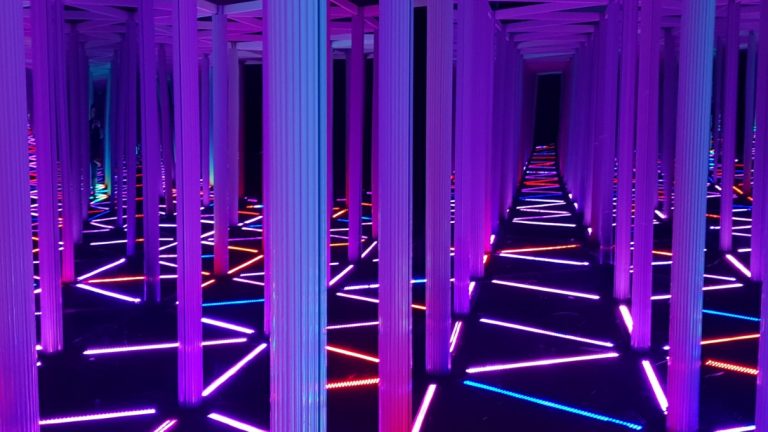 Nikola Tesla Museum, Belgrade
Belgrade's Nikola Tesla Museum is a great place to teach kids a little bit about science and history while travelling in Serbia. If you visit during a guided tour, which is highly recommended, then you will get to see a variety of electricity experiments using Tesla coils. The children absolutely loved watching the light bulbs light up like light sabers without being attached to anything. Their eyes were full of wonder during the entire demonstration.
The best part is they got to participate. Each child got to hold a light bulb, and some of the kids also got to push a button to make the coils work and send bolts of blue electricity into the air. The entire tour only lasts about an hour. Tours are conducted in English and Serbian.
The museum itself is small, so after the tour, you'll want to spend a few minutes walking around looking at the exhibits.
Stephanie – Sofia Adventures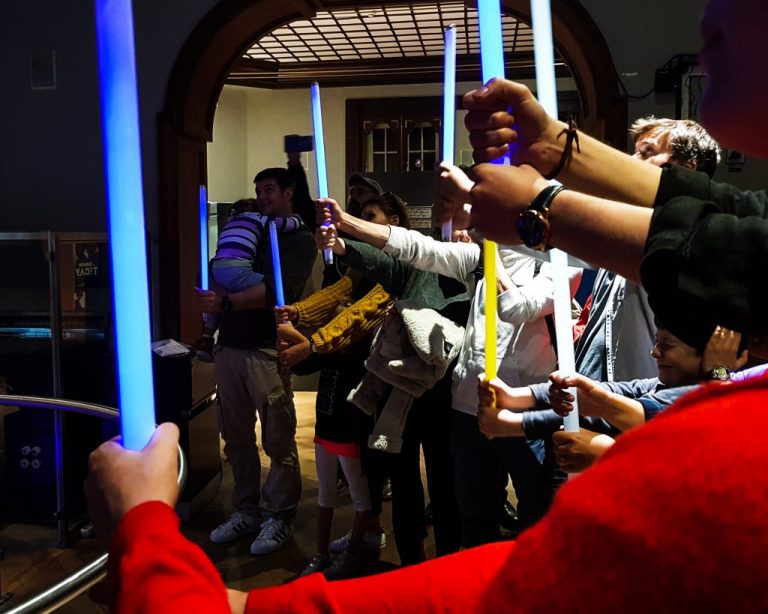 In Flanders Fields Museum, Ypres, Belgium
If you travel in Belgium, you would be hard pressed to avoid World War I or II sites: memorials, graveyards, battlefields and museums. One that I would certainly recommend if you're travelling with teenagers is the In Flanders Fields Museum in Ypres. This museum doesn't try to cover all of World War I, but rather focuses more narrowly on the Ypres Salient.
I visited this museum with two teenagers, 13 and 15 at the time. My son had to some extent shaped our trip that summer by expressing interest in the world wars, but he has never liked museums of any sort. This one, though, was different: "pretty good." High praise indeed, coming from him.
Inside the museum entrance, we each entered information about ourselves into a computer. It then linked us, via an armband, to a particular historical person: someone similar to us in age and gender. At various points in the exhibition, we could use the armbands to find out more about them: what they did in the war, what happened to them, etc. Particularly for teenagers, this was effective in creating an emotional understanding of the war.
Exhibits are interactive and multimedia, which appeals to teenagers. They can be viewed chronologically, but also by topic, such as an exhibit on trench warfare, a section on weaponry, or one showing uniforms. The museum focuses less on the strategic decision-making of military or political leaders and more on the experience of the common soldier in this devastating war. I especially appreciated that soldiers from all sides are presented in this museum as equally suffering, rather than the over-simplistic good guys vs. bad guys.
Rachel – Rachel's Ruminations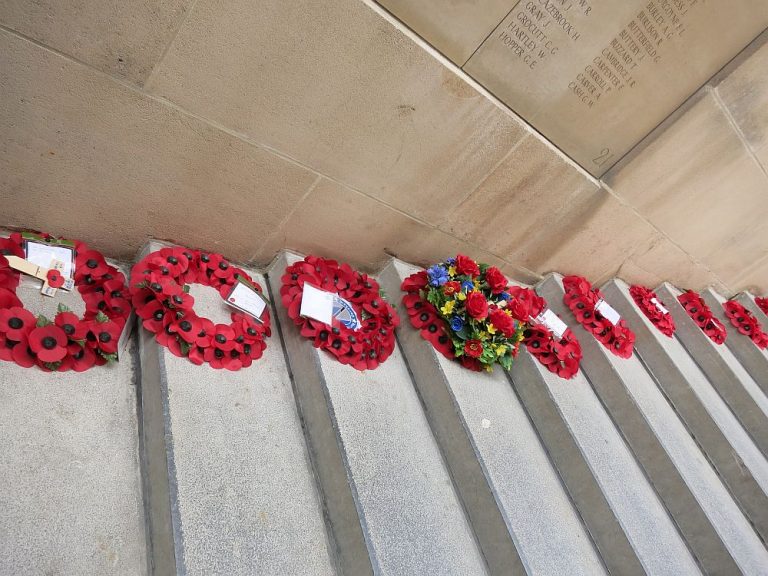 Royal Ontario Museum, Toronto
Royal Ontario Museum(ROM), located in the Yorkville neighborhood of Toronto, is undoubtedly one of the best museums in the world. It houses millions of artefacts spanning the subjects of anthropology, Asian and Eastern civilizations, biodiversity, Natural History, and others. They also have special exhibitions throughout the year. These exhibits will be of interest of any adult.
However, when it comes to kids, it's difficult, if not impossible, to captivate their imagination. Recognising this, ROM has created special themed programs that are designed to involve the kids more creatively. They have programs such as Saturday Clubs, Family Fundays, ROMKids Junior which will allow them to touch the exhibits and interact in a fun way. For the holiday season, there are also camp such as March Break camp, ROMKids Day camp, Summer club and even sleep overs. What a fun way to educate and entertain the kids!
Pari – Traveling Pari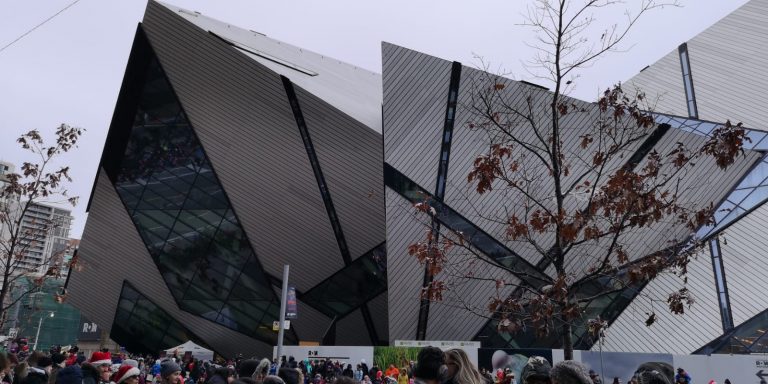 Melaka Maritime Museum, Malaysia
The Melaka Maritime Museum (Flor de la Mar) is an awesome place for kids to learn about history and have fun along the way. The visit is unique as the top of the museum is a replica of an old Portuguese boat – Flor de la Mar. The Maritime Museum is a short walk from the action of Jonker Street and around 10-minute walk from Dutch Square.
The museum is amazing as it shows so much detail about the extensive maritime history of Melaka. There are exhibits, paintings, recreations, sunken treasures and even recreations of important parts of the boat. The captain's cabin is a highlight.
There are different areas of the museum. These include the Malacca Sultanate era, colonisation of the Portuguese, Dutch and British.
The ticket cost of only a few dollars also grants you access to the Navy museum that has some wonderful marine life exhibits.
It is important to note that there are lots of stairs to get onto the ship and down into the ship. It is more than manageable even with small children. You cannot use a stroller due to all the stairs and shoes had to be removed before you entered the main areas. It was also very warm aboard the ship. I would recommend going in the early morning before it gets too hot. Entrance costs are only a few dollars.
Alana – Family Bites Travel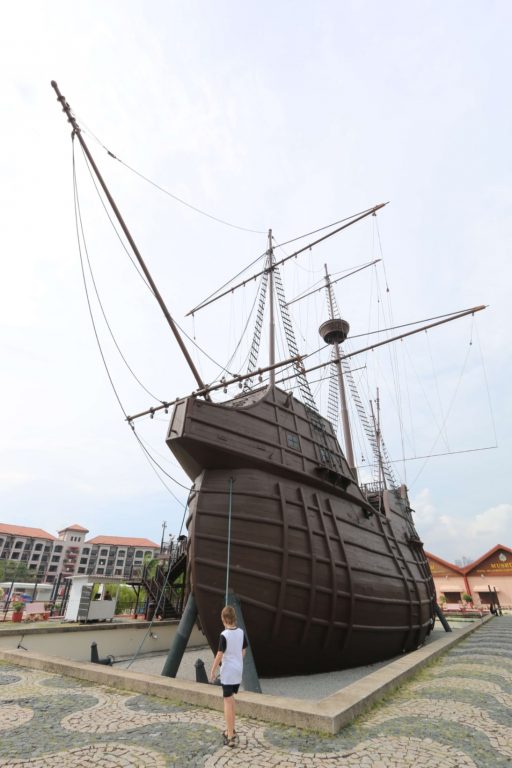 The City Museum, St. Louis
The City Museum, located in St. Louis, Missouri, is not a typical museum. Having the word 'museum' in the name can even be a bit misleading. The City Museum is actually a gigantic play place made out of any recycled industrial goods designer Bob Cassily could put to good use. Because this 3 story 'museum' has something new to discover around every twist and turn, it could possibly be your child's new favourite place.
The entire museum is constructed for the delights of children and adults of all ages- really anyone of any age could find something here for them. Adults, make sure to bring your knee pads- your children will surely lead you down a path that soon turns from walking to crawling. Not interested in crawling around? Take the elevator up to the roof of the building where you can gaze at beautiful views of St. Louis' skyline while your children enjoy climbing around and going up and down artistically designed slides.
Or perhaps you fancy a ride on a Ferris wheel? The Ferris wheel on the roof will give you even better views of the city! With something for every visitor, the City Museum should definitely be added to your list of best museums to visit with children.
Jessica – Unearth the Voyage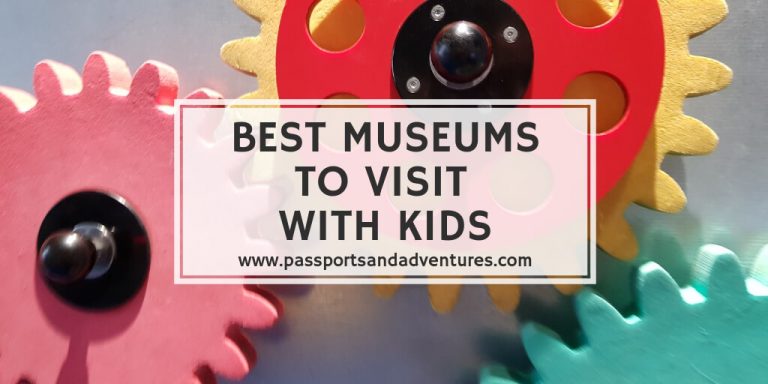 Summary
With this comprehensive list of some of the top museums to visit with kids around the world, you are sure to find one that you and your kids can enjoy. Museums can be both interesting and educational but for kids to enjoy them, they must have an element of fun about them too. From children's museums to science museums, to transport and natural history museums, there is a wealth of top museums for kids around the globe. We plan to try and visit museums suitable for kids in each city we visit if at all possible.
Have you brought your kids to a museum yet? Did they enjoy it? Let me know in the comments below!
Cath x
*Pictures have been provided to me, with permission, by the bloggers contributing to this piece, apart from one (as indicated).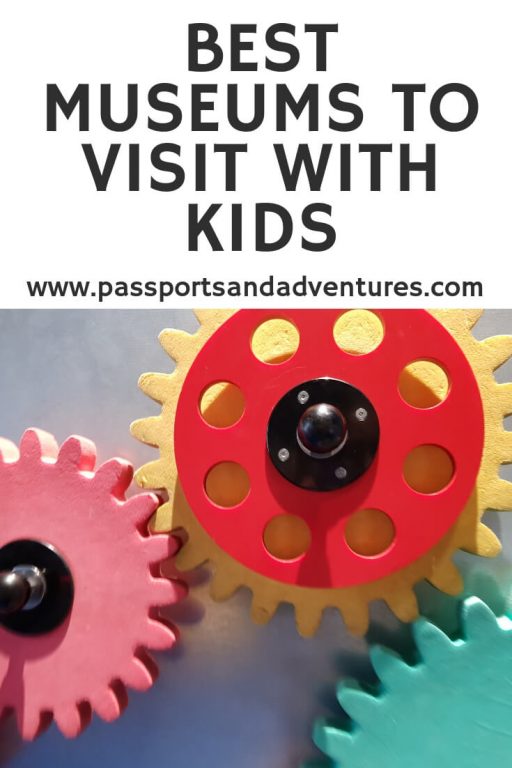 Related Posts