The Rock of Cashel is a formidable looking structure sitting on top of a hill in Cashel, County Tipperary. This famous historic site is a popular tourist attraction in Ireland. Visiting the Rock of Cashel with kids is fun and enjoyable and can easily be combined with other attractions in County Tipperary for a fun family day out in Ireland.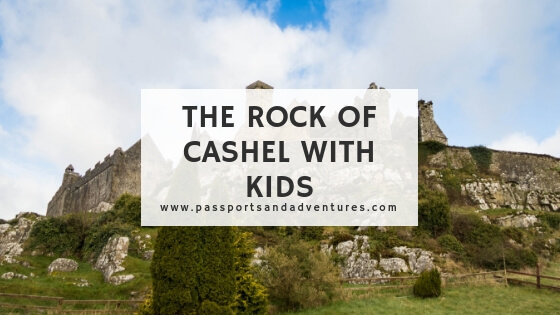 Also known as Cashel of the Kings and St Patrick's Rock, the Rock of Cashel is a historic abbey. Most of the buildings are from the 12th and 13th centuries and it was the traditional seat of the kings of Munster for several hundred years. The oldest building on the site is a well-preserved round tower dating back to around 1100. It stands 28 metres or 90 feet tall. Other buildings on the site of the Rock of Cashel include Cormac's Chapel dating from 1134 and the Cathedral from 1270. The entire plateau on which the buildings and graveyard sit is walled.
I had always wanted to visit the Rock of Cashel but in all my time living in Ireland I had never had the chance. So, during our Easter road trip in Ireland, I made a point of putting it on our itinerary. I told my son we were visiting a castle and although it is technically not a castle, it sure looks like one to a four-year-old.
Our original plan had been to visit the Rock of Cashel after our visits to Lismore Castle Gardens and Cahir Castle, as it was the closest to our AirBnB. However, after some research I decided we would visit it first. I had discovered that the Rock of Cashel is a very popular tourist attraction in Ireland and can get very busy later in the day. I also found out that Lismore Castle Gardens didn't open until 10.30am. So, we were going to visit the Rock first.
Arriving before 10am, we found the public car park and headed up the hill to enter the site. We had seen the Rock of Cashel from the road when we were heading to our AirBnB and it is a very impressive sight to see. Even more so close up. We visited the small ticket office at the entrance to the site, paid my entry fee, as under 5's enter free and we headed into the cathedral part of the Rock first.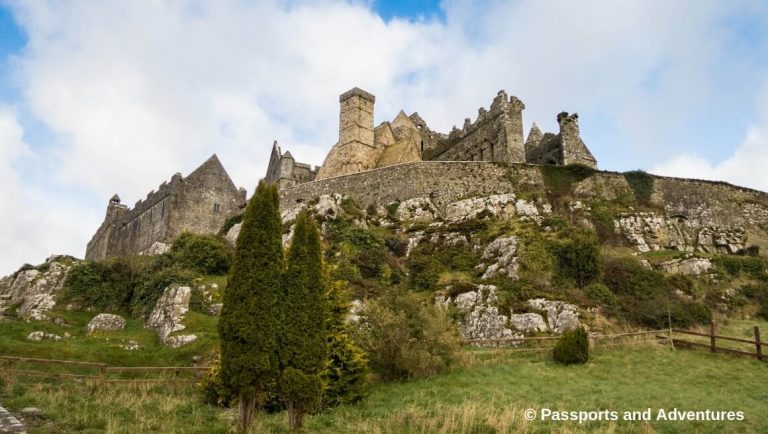 This impressive building is quite stunning even without its roof, which was removed in 1749 by Arthur Price, the Anglican Archbishop of Cashel. As part of our visit I had told my son the Rock of Cashel was a castle and we were there to hunt for a dragon as part of our dragon hunting adventures. My husband started this game to make visiting historical sites like castles more interesting for our then 2-year-old son. And 2 years on he still loves a dragon hunt.
We entered the cathedral through the porch and into the nave, ready to start looking for a dragon. We checked both the North and South Transept, as well as in the choir section of the cathedral. No dragon was to be found.
In the cathedral it's worth remembering to look up. Although the roof was removed a few centuries ago, the architecture is wonderful, with the roof arches and intricate structures which would have held it still in place. There are also some tombs to see within the recesses of the walls. And watch out for the gravestones on the floor of the cathedral.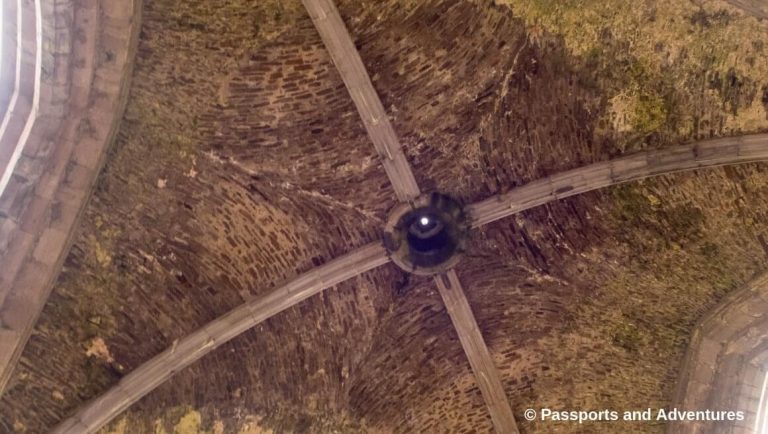 Although we couldn't find the dragon we were searching for, our son did have some fun jumping in puddles before we ventured outside. We had a wander through the graveyard, before someone wanted to go back inside the cathedral. And lo and behold we found a small green baby dragon hiding behind a pillar in the South Transept. Our son was thrilled.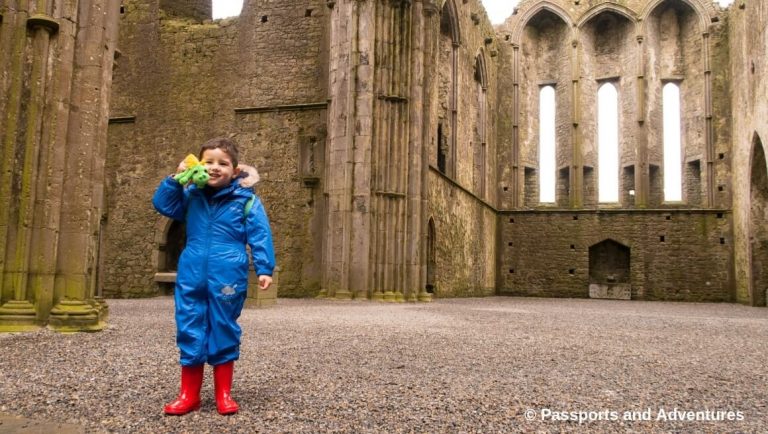 After a few last pictures, and one or two selfies with my boy, we made our way back to the car as it was quite chilly up on the Rock. But we had a great dragon hunting adventure during our visit to the Rock of Cashel.
Information for visiting the Rock of Cashel with Kids
The Rock of Cashel is open all year round except on between the 24th

and 26

th

of December, when it is closed.

Opening hours are as follows: mid-September to mid-October 9am to 5.40pm, mid-October to mid-March 9am to 4.30pm, mid-March to mid-June 9am to 5.30pm and mid-June to mid-September 9am to 7pm.

Last admission is 45 minutes before closing time.

Admission costs €8 per adult, €4 per child, €6 per senior, and under 5's are free.*

There is no car park at the Rock itself. At the bottom of the hill there is a paid-for public car park which cost me €4.50 at the time of our visit at the end of March 2018.* You will need change for the machine, so make sure you've got plenty of €1 and €2 coins.

There is no gift shop or café at the Rock of Cashel, although you'll find some within the town itself.

Public toilets can be found near the public car park, there are none within the Rock of Cashel itself.

Guided tours are available, although if you are paying a visit to the Rock of Cashel with kids you might want to just guide yourself with the help of the visitor's guide, available at the ticket kiosk.

Access to visitors with disabilities must be arranged prior to your visit. There are a few steps to enter the cathedral and within the cathedral itself but otherwise it is mostly flat and easily managed with a buggy/stroller.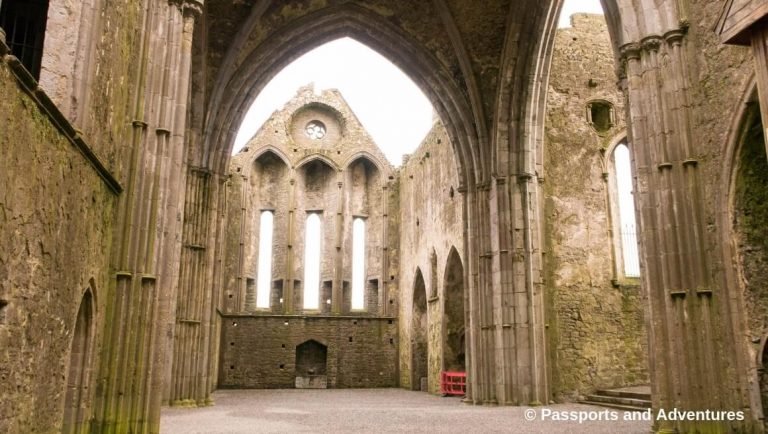 Although we only spent about an hour and a half at the Rock of Cashel, it was an enjoyably visit to this famous historical Irish site. My son enjoyed searching for his dragon, and although we didn't enter all the buildings, we saw the main parts. There was some restoration work going on during our visit, but it didn't detract from our time there.
So, if you are wondering whether visiting the Rock of Cashel with kids is worth it, my answer is yes. And if they're young like our son and need some coaxing, create a game to pique their interest, such as a dragon hunt.
Cath x
*Prices correct at the time of writing this post. I was not asked to write this review and we paid entry ourselves.
If you are wondering what other castles in Ireland to visit with kids, I highly recommend both Blarney Castle and Bunratty Castle. Kids will love both. And if you're thinking about visiting Ireland then you need to read my guide about planning a magical trip to Ireland.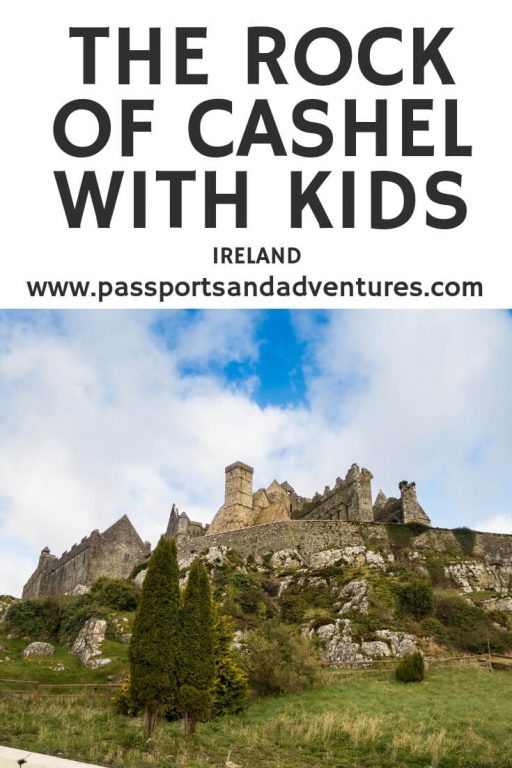 Related Posts