Today's guest post on the blog comes from Veronica who blogs at My Parenting Journey. Today she shares with us her top tips for dealing with the challenges of travelling with a toddler.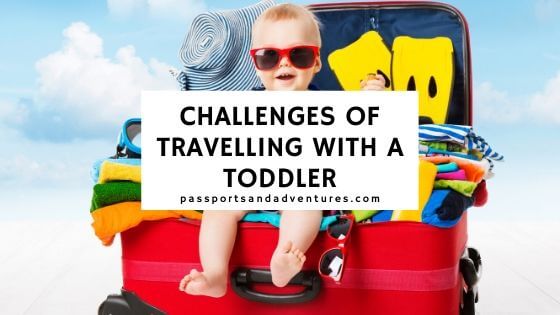 Tips for the challenges of travelling with a toddler and how to deal with them
Travelling with a toddler doesn't always feel like a holiday, especially if you aren't properly prepared to deal with their antics. Toddlers are active and break down often from over-stimulation and stressful situations. If you want to avoid your child screaming hysterical and making everyone miserable, think about the challenges of travelling with a toddler and how to deal with them ahead of time.
Tips for flying with a toddler
Flying with a toddler feels overwhelming because you are stuck in a confined space with dozens of strangers. No parent wants to be the parents of the child that cries non-stop. It is a nightmare for everyone. Instead, try some of these tips to keep your child happen.
Use a Baby Carrier: Toddlers benefit from babywearing as much as an infant. You can keep them close, and it gives them a way to reduce stimulation. Babywearing also gives your child a place to nap comfortably.
Bring Entertainment: Entertainment is crucial for happy flying. A tablet with games and movies is a great choice. Books, dolls, puzzles and more can keep a toddler happy. You can use the flip down tray in front of the seat to give your child snacks, colouring books, and their favourite items.
If you're looking for even more tips to help prepare yourself for a flight with young kids, read my tips for flying with a baby and toddlers.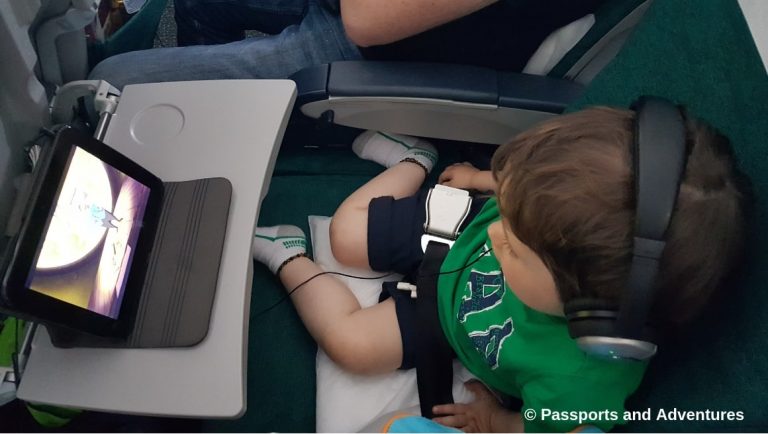 Pick Your Seats Ahead: Some airlines allow you to reserve seats, even though they aren't guaranteed until you check-in at the airport. A car seat must be installed in a seat next to a window. Always arrive early, so you get the prime choice. Front-row seats are reserved, typically, for babies with bassinets, so your choices are limited.
Some airlines still allow parents to board ahead of time, but then your child has to sit an extra 30 minutes longer. You might want to sit towards the back, making it easier to access the bathrooms to change your toddler's diaper.
Bring a Car Seat: It is much safer for your toddler to travel in a car seat. Unrestrained children can be injured during turbulence. Your child is used to travelling in their car seat, and it makes it much more comfortable for everyone.
Consider Booking During Naps: If your child has a set nap-time, consider booking your flight time during their nap.  Your child will naturally be sleepy during this time, so the chances are good that they will relax and fall asleep. Another choice is to fly at night on a red-eye, so long as you don't have any layovers. You can baby-wear throughout the airport and hope your child sleeps a majority of the flight.
Ear Pain During Takeoff: When a plane takes off, the change in cabin air pressure can cause ear pain. Swallowing or sucking on a bottle or sippy cup can solve the problem. Have their favorite drink or bottle of formula or breastmilk ready for the first sign of discomfort. Plus, flying can dehydrate your child, so give them plenty of fluids.
Road trips with a toddler
Taking a road trip with a toddler can be tricky. Your child is accustomed to travelling short distances in their car seat, but hours on end in cramped spaces can be overwhelming for everyone. Toddlers get bored easily and want to move. Car seats make them feel trapped.
Luckily, road trips are not impossible with toddlers. Some children do exceptionally well on the road. Their personality often determines how they will behave. Parents should come prepared and anticipate some problems. If you think ahead, you can reduce a lot of the challenges of travelling with a toddler.
Travel at Night: One of the best pieces of advice is to travel at night with your toddler. Your child is used to sleeping at night, so the car ride should lull them right to sleep. A rowdy, hyper toddler is more likely to be cranky. If you start your journey close to your child's regular bedtime, you can expect them to sleep a majority of the journey.
Bring Entertainment: Toddlers can't play I-Spy or read books, so you have to come up with entertainment yourself. If you have a TV for the car, bring along their favourite movies. Bring books or whatever you think your child will enjoy. Consider a new toy just for the car ride!
Limit Your Driving Time: Most toddlers can only handle six to eight hours in the car per day. You might have to stop and stay at hotel, then continue your journey the next day. However, you should make stops during those six to eight hours as well. Plant to stop at least every two hours. Your toddler can stretch their legs and grab a snack.
Travelling with a toddler can seem overwhelming, but there are many ways to deal with their challenges. Most of the challenges can be fixed with some planning, a lot of snacks and entertainment choices. Remember your toddler needs to stretch their legs often. Expect a few breakdowns and bring their favourite comfort items. You all will make it through the journey!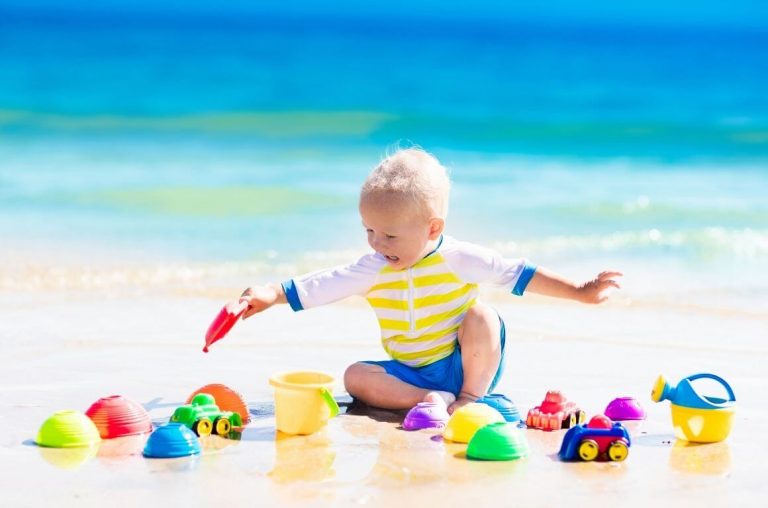 Thanks to Veronica for sharing her top tips for travelling with a toddler, either by plane or by car. As many of you know we travel extensively with our son, both by car and by plane and these tips just reinforce the tips we recommend, especially for flying with babies and toddlers. 
Veronica Mitchell is a mother to two adorable little girls and a handsome little boy. She spends her days caring for her children, packing lunches, reading aloud, kissing boo-boos, and working as the Chief Editor of MyParentingJourney.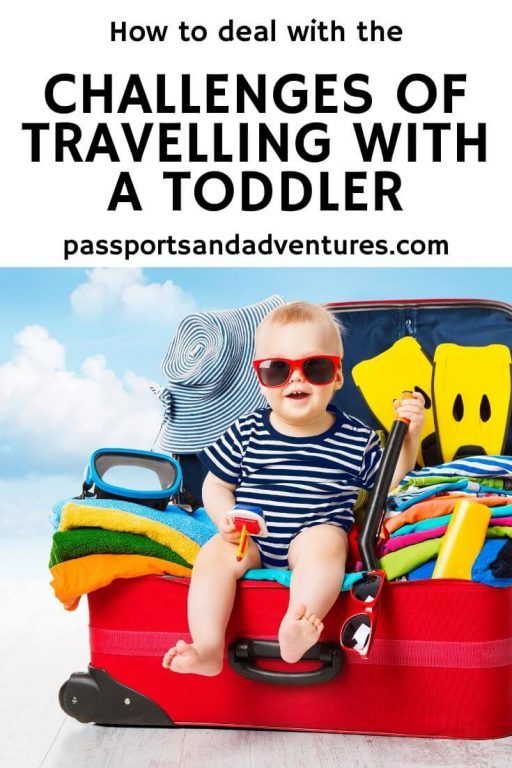 Related Posts