Today I have the pleasure of welcoming a fellow travel blogger Justine, from Latitude 41, who has a great 3-day itinerary with kids in Barcelona for us. We are shortly heading to the Spanish city so I'm so pleased to have Justine's hints and tips for visiting the city.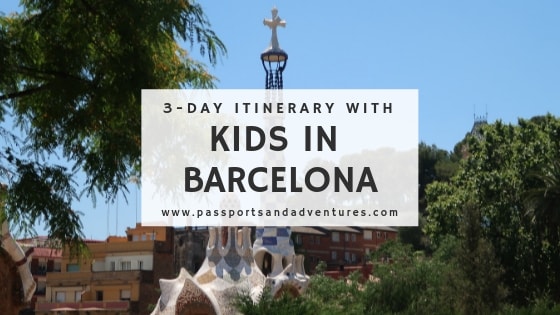 *This post contains affiliate links. To read more about affiliate links, please visit my Disclosure Policy page.
Post updated in April 2019
3-Day Itinerary With Kids in Barcelona
Barcelona is a pulsating city known for its modernist architecture, warm climate, and active outdoor lifestyle. Barcelona's also a kid-friendly destination – it's easy to navigate and a true open-air museum! I've got plenty of recommendations for things to do with kids in Barcelona, but today, I'm here to help you plan your three days to get the most out of your holiday.
Day 1 – Ciutat Vella
Find your bearings in the beautiful Ciutat Vella, or "Old Town". Start at Plaça Catalunya, the city's central plaza and heart of Barcelona. It's a 30,000-square-meter plaza and a popular meeting point of buses, taxis, and people.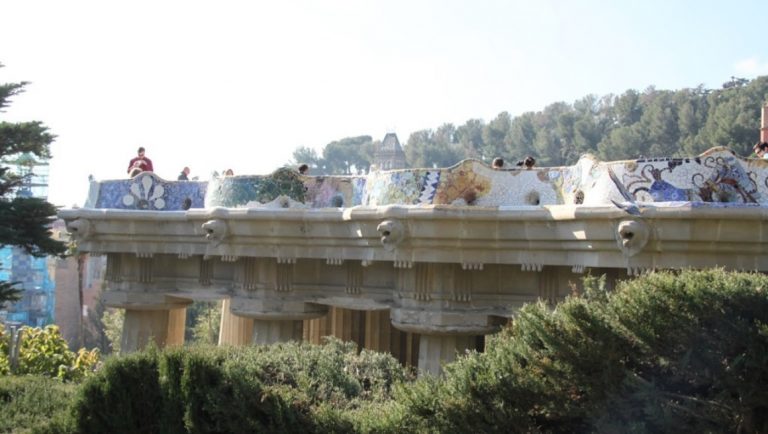 Find the iconic Las Ramblas street, a tree-lined pedestrian thoroughfare. (It's pickpocket central here, it might be worth carrying an anti-theft purse!) Walk through and you'll see Barcelona's flagship market to your right, Mercat de la Boqueria, which opened in 1840. Wander inside, and catch the colorful displays of exotic fruits, freshly caught seafood, and select bars. Head to the must-eat bar, El Quim de La Boqueria, and try a traditional Spanish tortilla. Or if you're craving a healthy refreshing drink, grab a fresh juice at one of the many fruit stalls for just 2 euros!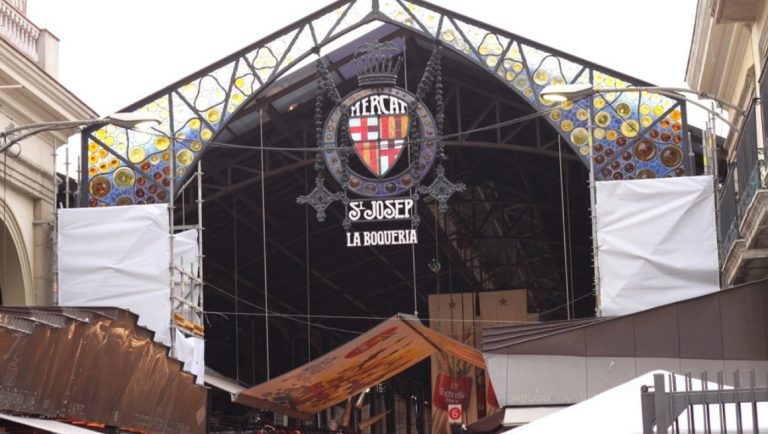 Make your way to the Barri Gòtic (the Gothic Quarter), the original city of Barcelona 2,000 years ago. Head over the Plaça Reial, where you'll spy a porticoed square with palm trees, street lamps designed by Antoni Gaudí, Barcelona's most famous modernist architect. Wind through the narrow streets toward the Catalan Gothic church, Church of Santa Maria del Mar. It has a dark, solemn atmosphere – you'll be amazed that commoners built this towering cathedral.

Or, get £26 off your first booking with AirBnB. Click this link to get your discount.
Find your way to an underrated museum for kids, La Casa de Entremesos, a home of papier mache giants, beasts, and other funny creatures. These whimsical "puppets" are worn or controlled by humans, and they parade around during popular Barcelona festivals throughout the year.

It should be lunchtime, so pick out some fresh seafood on ice at the nearby La Paradeta. It's a fish market and restaurant in one!

Next up is Parc de La Ciutadella, Barcelona's central park, where you can sit on the grass and enjoy some people-watching. Take your kids to one of the three playgrounds, head to the lofty fountain, take a photo with a large mammoth sculpture, or row a boat in the small lake.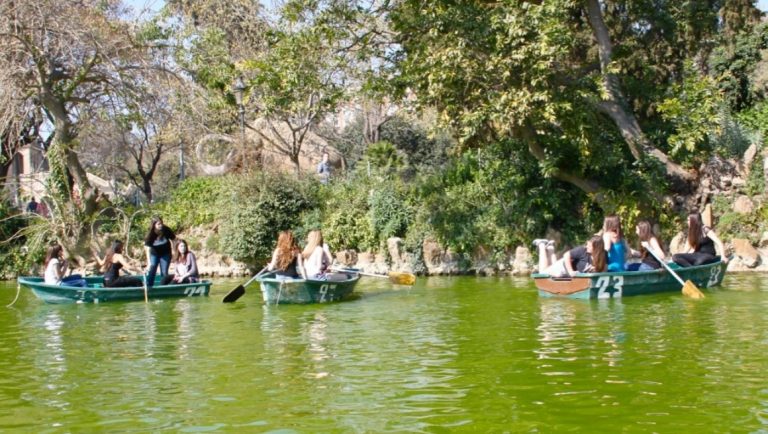 When you're well-rested, take a walk towards the street Passeig de Pujades, and walk down the wide promenade, Passeig de Lluis Companys towards the majestic Arc de Triomf, a brick arch built in 1888 for the Barcelona World Fair. Then have a low-key dinner at the historical Els Quatre Gats, a former cabaret where artist Pablo Picasso used to hang out.

Day 2 – Eixample and Gaudí architecture
Did you buy your tickets for the Sagrada Familia ahead of time? Fantastic – because you've saved yourself an hour waiting in line! A UNESCO heritage site, the unfinished basilica started in 1882 and will be complete in 2026. Soak in the jaw-dropping interior, Gaudi's grandeur art, towering pillars, and green and golden windows.

Get your Fast Track Sagrada Familia tickets by CLICKING HERE and beat the queues with Get Your Guide.
Take the L2 metro to the elegant Passeig de Gracia, a high-end shopping street, donning brand names like Chanel and Louis Vuitton, but also includes decorative modernist buildings and restaurants. Soon you'll run into Casa Batlló, a Gaudi-designed residential building with a polychromatic facade and a dragon-like roof. I don't recommend going inside if your child is quite active because of its small spaces. If not, go right in!

For lunch, head to Restaurante Semproniona, a kid-friendly Catalan restaurant where parents can enjoy their food while the kids can have fun in their play area. Afterwards, get inspired by more Gaudí at the Casa Milà, or La Pedrera. Enter this art nouveau residential building with the wavy facade and a rooftop full of pillars that look like soldiers.

Get your Casa Mila skip-the-line entrance ticket and audio guide HERE.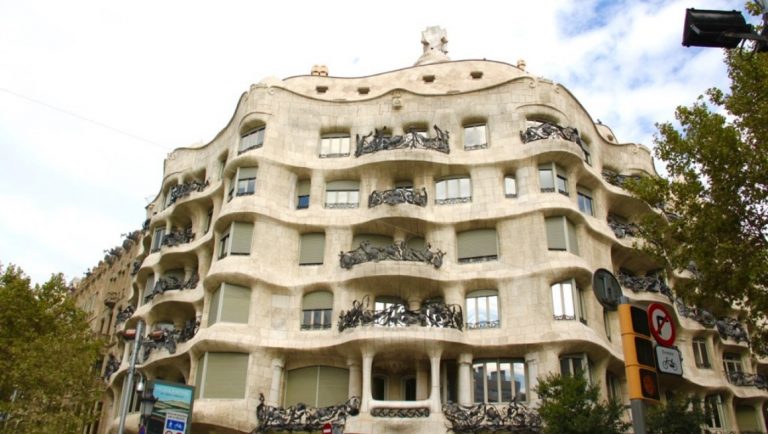 Need some relaxation time? Go back on Passeig de Gracia towards the end. To your left, you'll see a gated park with an exhibition building, Jardins del Palau Robert, welcoming you with benches and a small sandlot for the kids. Soak in the sun and enjoy this mini oasis!

Now it's time for Park Guell, another Gaudí design and an UNESCO-listed park full of quirky architecture. The kids will squeal over the snake-like winding bench, a mosaic dragon, and views all the way to the Mediterranean Sea. For dinner, try family-friendly restaurants like Totora, Bella Vista del Jardín del Norte, or Bobo Pulpín!

Day 3 – Montjuic and the beaches
Montjuic is the tranquil, scenic district on a hill. Start off at Jardines de Joan Brossa, a park with footpaths, funny sculptures, a fun playground, and a scenic cityscape view. Take a walk toward Montjuic Castle, a former military fortress and the highest point of Montjuic. Kids will love the cannons and bridges that will catapult their imagination to the Medieval Ages.
Afterward, you can take the Teleferic (cable car) from there, and get a panoramic view of the city! It will take you cremallera (zip train) to Plaza Espanya, where you can't miss the former bullring, which is now Arenas Commercial Center. If shopping isn't on your agenda, go straight up to the circular rooftop. You'll get yet another breathtaking view, this time of the Plaza Espanya and the Parc de Joan Miró below. For your afternoon meal, try Copasetic Barcelona for a casual brunch and fancy hamburgers that kids love.

You can't leave Barcelona without seeing the Mediterranean Sea! To get there, take the bus D20 on Parallel Street all the way to the 2nd to the last stop, Platja de La Barceloneta. This is where you can find tapas bars, a yacht-filled port, and golden sand full of sunbathers. Take a walk around, then have a coffee or strong drink at a xiringuito (beach bar on the sand) while your kids play right next to you! Continue your stroll along the boardwalk until you arrive to Rambla de Poblenou, a breezy, pedestrian boulevard with more locals than tourists. If it's dinnertime, get some tapas at Kuletos, a spectacular Catalan restaurant with fun posters from the comic "The Adventures of Tintín"!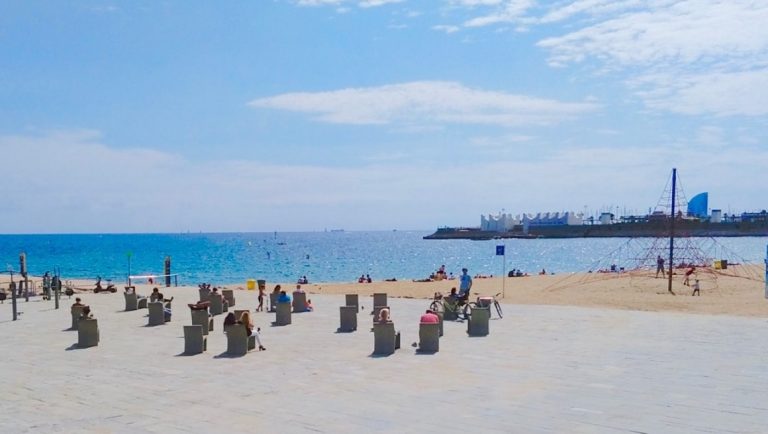 If you have more time and energy at night, visit the Magic Fountain in Montjuic, where waters dance to lights and music. Enjoy Barcelona!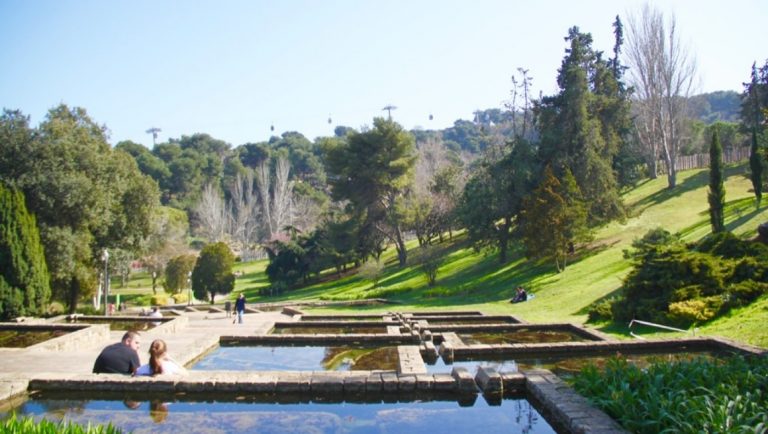 Thanks so much to Justine for sharing this awesome 3-day itinerary for visiting Barcelona with kids. It couldn't have come at a better time as we prepare for our first family visit to the Spanish city.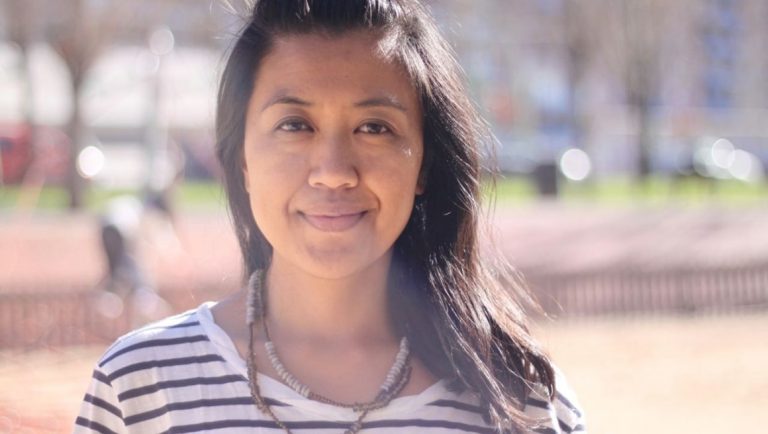 A California transplant, mama of 3, and wife to 1, Justine Ancheta finally made Barcelona her home in 2008 after years of back and forth to Spain. When she's not with her little ones in tow, she's running her blog and copywriting business in her pj's. Justine;s blog, Latitude 41 is a Barcelona, Spain and travel blog. She can also be found on Facebook, Instagram and Twitter. Make sure you go and give her a follow.
To find flights to Spain from the UK or Ireland, we recommend Skyscanner.
If you are considering other cities to visit with kids, why not consider New York, London or even Cardiff.
Looking for some more destination ideas, then back to my homepage and have a nose around.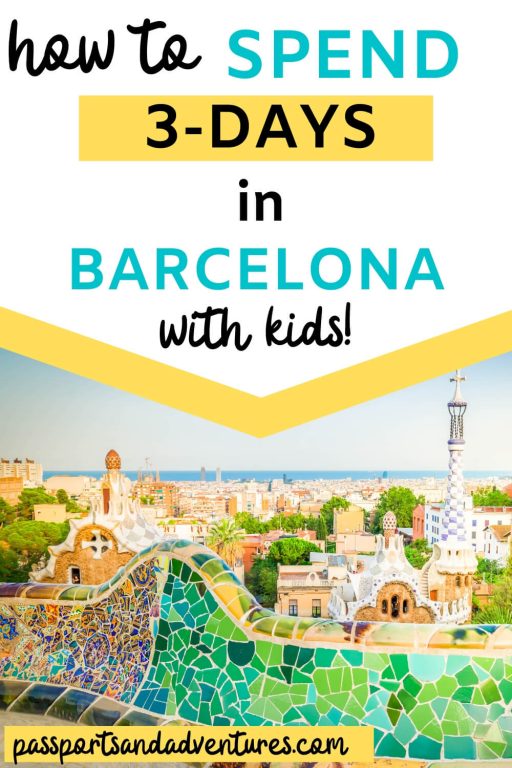 Related Posts