Before visiting Yellowstone National Park, I researched whether Yellowstone and kids was even a good idea, especially as we would be travelling with a then three-year-old. But I need not have feared because there are so many great things to do in Yellowstone National Park for kids and their family. So, if you are about to embark on a visit there, be inspired by this list of the best things to do in Yellowstone with kids and get ready to make your trip to Yellowstone National Park a successful one!
Best Things to Do in Yellowstone With Kids
We visited Yellowstone Park with a three-year-old and had four days to explore the park. Before we went, we decided what to see in Yellowstone and created our very own Yellowstone family bucket list.
When deciding what to do in Yellowstone with kids, we concentrated on the absolute must-sees in the park to ensure we didn't miss the best bits. As our visit was part of a longer USA road trip, we were limited to how many days in Yellowstone we had, hence creating our bucket list.
But, that said, during our exploration of the park we came across so many other great things to do with kids that we had to share them in this post. So, if you are planning a trip to Yellowstone and need some inspiration, let me share with you the best things for kids to do in Yellowstone, including things we did and things we plan to do on our return trip!
Things to know before visiting Yellowstone with kids
Yellowstone National Park is vast. And I mean, vast! Do not underestimate the distances between different places. If you are wondering how long to spend in Yellowstone, I recommend creating a Yellowstone itinerary with kids of no less than 3 days. This will allow you to cover all the major attractions in Yellowstone AND allow for the driving too.
Read about what we covered in our Yellowstone itinerary in 3-days with kids and get ideas for your own trip!
The best time to go to Yellowstone is in summer, during the months of June to August. The park will be busy but away from the major attractions, things calm down and you can find pockets of tranquillity and peace. If you plan your entry into the park (if staying outside) then you can beat the crowds to the popular places and enjoy the rest of the park at your leisure. We visited at the end of August and although we did see crowds at Old Faithful and lots of cars parked near Grand Prismatic Spring, we visited Grand Prismatic early in the morning and were one of only a handful of people there. Likewise, when we visited Gibbon and the Lower Falls early another morning.
Summertime is not only busy but can be both hot and raining in one day. Make sure to pack for all eventualities and including sunscreen, hat and rain jackets. I have a full Yellowstone summer packing list which should help you prepare for your family trip to Yellowstone National Park.
The best things to do in Yellowstone National Park with kids
Spot Wildlife
As mentioned, the best time to visit Yellowstone National Park is summertime. And during that time, the best time to spot Yellowstone National Park animals is early morning around dawn, or in the evening at dusk.
While you can spot bison throughout the day, other animals may be more elusive. Wolves and bears tend to prefer early morning and elk can be spotted enjoying an evening drink along the riverbanks. We were lucky to spot elk along riverbanks in the afternoon and early evening and spotted a coyote one day. And of course, you will probably spot bison across most of the park. We saw them around the Upper and Lower Geyser Basins and in the Hayden and Lamar Valleys.
Top Tip: Don't forget to pack binoculars and make sure they are a decent set. These will help both you and the kids spot wildlife in the park.
If you'd like the best chance of seeing wildlife in Yellowstone, why not book a fully-guided tour with a knowledgeable guide. Click here for more information and to book.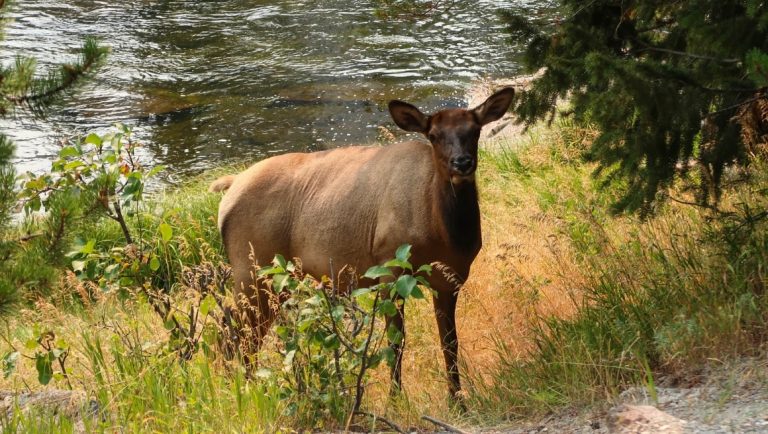 Discover the Geysers
Another one of the best things to do in Yellowstone with kids is to discover the geysers. Of course, no trip to Yellowstone would be complete without seeing the most famous one of all erupt, Old Faithful, but there are others that are worth going to see. The Old Faithful Visitor Educational Centre has a board with the predicted time of the next eruption, so even if you missed one like we did, you won't have to wait long for the next one.
Other geysers to discover include the Clepsydra Geyser which is in almost constant eruption. We saw this geyser and it is quite something to see. Watch out for the spray! And just as we were leaving the Lower Geyser Basin, Jet Geyser started erupting.
The best geysers in Yellowstone to visit with kids are
Old Faithful
Clepsydra Geyser
Jet Geyser
Castle Geyser
Grand Geyser
Daisy Geyser
We didn't see the last three on the list but have heard they're great to visit.
Top Tip: Make sure to keep kids close-by and on the boardwalks around the geysers. These are geothermal features after all. Most of the geyser areas are family-friendly with flat trails or boardwalks which will accommodate strollers, although baby carriers would be better. Remember to bring sunscreen to protect your skin and also water, as the air around the geysers can be quite drying on your mouth.
Fun fact: Did you know that the Upper Geyser Basin of Yellowstone National Park contains 25% of the world's geysers!
Awe at the Colours of Grand Prismatic Spring
One of the top places to visit in Yellowstone, with kids or without, has to be Grand Prismatic Spring. This huge spring in the Midway Geyser Basin is often featured in the list of top things to see in Yellowstone and once you visit it, it is easy to see why. It is one of the biggest hot springs in the park and is hugely popular with visitors.
Grand Prismatic Spring is best seen from above, from the viewing platform that is reached via the Fairy Falls trail, and not the Midway Geyser Basin. However, as we were eager to see as much of the park as we possibly could in the time that we had, we decided not to hike the trail and just enjoyed seeing the spring from the boardwalks that surround it.
We also visited early in the morning, around 9am, to beat the crowds and to get parking in the relatively small car park. This did mean that there was quite a bit of steam around Grand Prismatic but for us, that did not detract from the beauty and wonder of it. We have heard that the best time to see the colours of Grand Prismatic Spring is during the day, when the sun is high in the sky. But that does mean parking can become a problem.
Both Old Faithful Geyser and Grand Prismatic Spring are easily the best of Yellowstone that you cannot miss if visiting this amazing National Park.
And, if you are taking any of the organised, third-party Yellowstone National Park tours, Grand Prismatic will be on your itinerary.
Top Tip: Keep a tight hold of your hats around Grand Prismatic. We saw several hats littering the spring having been blown from people's heads. Such a shame they are polluting the spring now.


Catch a Rainbow at the Waterfalls
Of all the things to see in Yellowstone, I think visiting the waterfalls is high up there on the list of things you must-do in Yellowstone. And there are some amazing waterfalls to visit in Yellowstone Park. But, to catch a rainbow at a Yellowstone waterfall, one of the best places to do this is at the Upper and Lower Falls of the Yellowstone River.
We visited the Brink of the Upper Falls one afternoon and were lucky to see a rainbow in the mist. We couldn't visit Uncle Tom's Trail during our visit as it was closed due to construction work happening at the car park.
We visited the Lower Falls the following morning around 9.30am and caught a rainbow there too. This was a great time to visit the Lower Falls and hike down the lower lookout point as there weren't many people around at this time. My husband and I took it in turns going down as our son had fallen asleep in the car. We probably would have managed with our three-year-old but the walk down can be steep in places and the hike back up can be a trek if you are unfit.
Top Tip: Make sure you have good walking shoes on you and pack some water. If you are visiting later in the day, have sunscreen and hats for everyone.
Explore Old Faithful Lodge
When people investigate where to stay in Yellowstone with kids, Old Faithful often tops the list. However, to secure a room beside the most famous of all geysers, you need to book in advance, at least a year in advance.
However, if you can't secure a room there, fear not. There are daily tours of Old Faithful Lodge which you can join, in which the guide can share some fun Yellowstone National Park facts for kids. These tours are free and are one of the best things to do on a rainy day with kids in Yellowstone.
If you've missed an eruption of Old Faithful and no tours are available, explore the lobby, gift shop and stop for a drink and snack in the restaurant. Then head outside to catch an eruption.
Top Tip: Pre-book your tour if you really want to do it as these are popular and places are limited. Note that tours are not operating in 2020, dates are only being offered for 2021. See this link for more details.
Enjoy nature
One of the biggest draws of Yellowstone for us was simply nature. There is nowhere on earth I have been that combines everything in one place. From wild and free animals to rivers, mountains, sunsets and even stars. The scenery of Yellowstone is stunning, and nature is at her best in the park.
One of our favourite drives was along the course of Yellowstone River, from Lake Yellowstone, through the Hayden Valley and into Canyon where it snakes its way through the Grand Canyon of Yellowstone.
I highly recommend you stop somewhere along Yellowstone River, or at the Fishing Bridge to stretch your legs and maybe even throw a few stones into the river. Our son thoroughly enjoyed doing this as it is one of the best, fun things to do in Yellowstone with toddlers. The riverbank by the Fishing Bridge is pretty safe and is away from cars too.
Aside from all the geothermal features throughout the park, the rivers, mountains, valleys, plains and everything in between make it one of the most amazing National Parks in the world.
And make sure to try and catch a sunset over the Madison River en-route to West Yellowstone. We caught the most amazing sunset sky after 8pm as we were exiting the park along the Madison River drive.
Top Tip: Make sure you have extra batteries and memory cards for your camera to ensure you are ready to capture that sunset, especially if you have been taking pictures all day long!


Become a Junior Ranger or Young Scientist
There are two programs which are often in the top 10 things to do in Yellowstone for kids. They are the Yellowstone Junior Ranger (something that is available in all National Parks for kids) and the Young Scientist Program. Both are seriously fun things to do with kids in Yellowstone Park.
The Junior Ranger Program gives younger visitors to the park the chance to become a Junior Ranger. Suitable for children between the ages of 4 and 13+, the activity booklet which costs just $3 is available to purchase from the visitors' centres and has activities which must be completed to become a Junior Ranger.
The activities include hiking a trail or boardwalk, completing an age-appropriate activity on geysers, wildlife and habitats, and finally, attending a ranger-led activity. After completing the activities and getting them verified in a visitors' centre, kids earn a Junior ranger badge for their age group.
The Young Scientist Program is suitable for children aged 5 or more and has a booklet which is available to buy from either the Canyon or Old Faithful Educational Visitor Centres. The program is designed to allow children to solve mysteries by combining investigation through both visitor centre and field work. Like the Junior Ranger Program upon completing, kids are awarded a Young Scientist badge.
Top Tip: Get your kids ranger or scientist booklets on your first day so they have time to complete their tasks towards their badges.
Have dinner with the cowboys
One of the best things to do in Yellowstone, that we experienced, was having dinner with the cowboys at the Old West Dinner Cookout. I had seen it listed on TripAdvisor and decided to book it before we went as a treat for our last night in the park. And it was so worth it.
It is not the cheapest of things to do but it is a pretty awesome way to end your family vacation to Yellowstone.
The dinner experience starts with a talk from one of the head cowboys at Tower-Roosevelt Lodge before you board a wagon and make your way out to the original site of the first hotel in Yellowstone. There you join the cowboys for a cookout with steaks how you like them, sides which include corn on the cob and plenty to drink.
Afterwards there is cowboy music and stories around the campfire with fire-brewed coffee and you also have a chance to meet the horses from your wagon. It is a great experience and something unique to do with kids in Yellowstone that will have them talking about it for years to come.
Top Tip: Book your tickets in advance of your visit to avoid disappointment. Click here to book.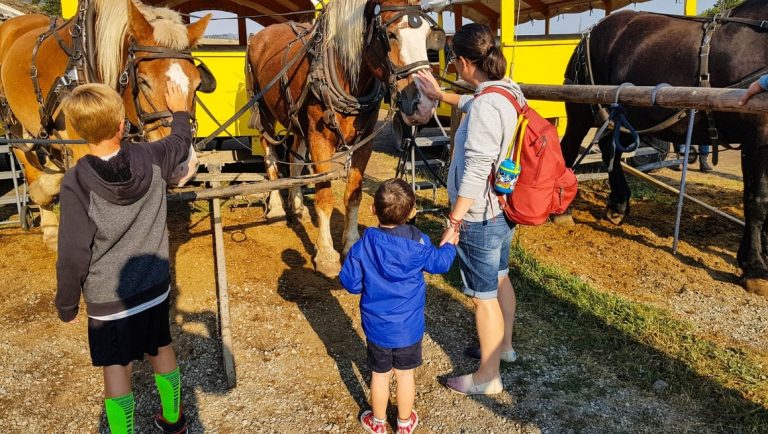 Go Camping
If you are visiting Yellowstone with family, one of the great things to do in Yellowstone Park with kids is to go camping. There are 12 campsites in Yellowstone, 5 of which allow advanced bookings. The others are on a first-come-first-served basis and can get full quite quickly during the summer months. The campsites which allow advanced bookings are
Bridge Bay
Fishing Bridge RV park (the only RV park in Yellowstone)
Madison
Canyon
Grant Village
For the first-come-first-served campsites it is advisable to get there very early in the morning to try and get a spot. Later in the day and you will most likely be met by a "FULL" sign.
Make sure to follow guidelines within the campsites, particularly where food is concerned as it is bear country. And although Yellowstone does allow some back-country camping, this is not really suitable for those travelling with kids.
Go Hiking
Some of the best places to visit in Yellowstone National Park are those which often involve a short hike. But if your family is a more active one then there are lots of Yellowstone hikes for families which can last from 1-3 hours to a full day. There are 8 easy trails, ideal for the younger members of the family, 5 moderate trails and 3 hard trails. To find out more about hiking, visit this section of the Yellowstone National Park website.
Fun fact: Did you know that Yellowstone has more than 900 miles of hiking trails!
Top Tip: Make sure you are prepared with drinks, snacks, layers in case it gets cold if you are going to higher elevations and always carry bear spray, just-in-case. It can be purchased in shops is towns outside Yellowstone, within Yellowstone gift shops (although it will be more expensive there) and of course, before you go from Amazon. Just search "Bear Spray".
If you would like to do some hiking but not sure about going it alone, then check out this guided hiking tour in Yellowstone.
Ride a horse
One of the fun things to do in Yellowstone is to go horse riding. Horse riding is allowed in Yellowstone either on your own horse with a permit, or through one of the licensed outfitters. Private outfitters offer day trips by horseback and some even offer overnight backcountry trips.
Yellowstone National Park Lodges offer one to two-hour horse rides at Tower-Roosevelt and at Canyon. You can also reach the Old West Dinner Cookout by horseback if you want, leaving from Tower-Roosevelt. If you are looking for things for kids to do in Yellowstone and your kids love horses, perhaps a ride on horseback is for them. Check out this link for more information.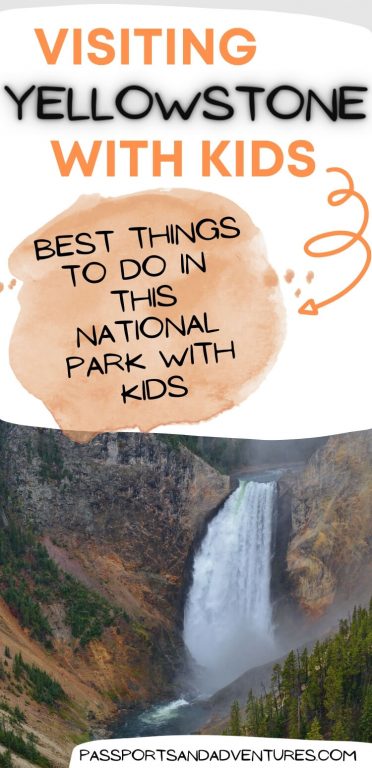 Swim in the rivers
Among the fun things for kids to do in Yellowstone, a swim in one of the rivers must be among the top 10. Although there are many rivers in Yellowstone, only two have designated swimming areas and even those are not without their risks.
The Boiling River, located north of Mammoth Hot Springs on the road to Gardiner, is a swim/soak area. The Boiling River is a natural hot tub of sorts, where hot spring waters meet the cold mountain waters of the Gardner River. The mix of hot and cold waters makes it an ideal place for a dip. The water level is deep enough to sit but you need to take care. Stay within the designated, marked areas as going outside of these are risky. You also need to take care with kids as the current can be fast the further away from the edges you get.
There is a small car park and at peak times this gets busy, but you should still find parking along the river. There is a short half-mile walk from the car park to reach the bathing area.
The other dedicated swim/soak area is in Firehole River, two miles south of the Madison Junction. This area opens later in summer compared to the Boiling River due to high waters. It can remain closed all season if water levels remain high because of excess meltwaters. This river area has strong currents so may not be suitable for younger children. If you want to incorporate some relaxation time into your Yellowstone trip with kids, setting aside time to enjoy some swimming at the Boiling River must be done.
Top Tip: Make sure to remain close to the edges, especially with young children and it is advisable to wear water shoes as flip flops may get carried away by the current. Bring a picnic to enjoy on the riverbank but avoid bringing food and drinks into the water. Also, be careful not to ingest the water as it does harbour harmful bacteria which may cause illness.
Visit Fort Yellowstone
Another one of the top things to do in Yellowstone with kids that we really enjoyed was visiting Fort Yellowstone in the Mammoth Hot Springs area. Fort Yellowstone was an army fort established in the late 1800's as a base for the US Army which was charged with protecting the world's first National Park.
Today, Fort Yellowstone houses the Yellowstone National Park headquarters, the Albright Visitor's Centre and Yellowstone staff accommodation, so do be mindful when visiting and wandering around the buildings.
This area is a great area to visit in Yellowstone with toddlers as there are lots of grassy areas away from roads for them to run and play on. There are also picnic benches which we used to have a snack and relax before visiting the Albright Visitor Centre, which is one of the best places to visit in Yellowstone to learn about some of its history and particularly in relation to the bison.
We had been told that the best ice cream in the park was in Mammoth Hot Springs, but despite it being on our Yellowstone bucket list, we never got a chance to vouch for this.
Top Tip: Pack a picnic and enjoy it on the picnic benches before visiting the Albright Visitor Centre. We thoroughly enjoyed doing this.
Drive the scenic roads
The best way to see Yellowstone with kids is simply by driving the scenic roads. As mentioned already, Yellowstone is huge and getting to and from the Yellowstone highlights means driving. But they are enjoyable drives in my opinion.
Yellowstone has many scenic roads and the most famous is the Grand Loop Road, which is a 140-mile circular route around Yellowstone. The majority of the best things to see in Yellowstone National Park are along or just off this road, so you can't miss them, and all are well sign-posted.
However, a word of warning. To cover the 140-mile road AND see the best that Yellowstone has to offer cannot be done in one day. You need longer!
However, if you really only have one day, we highly recommend you take a guided tour. This tour is a private guided tour in which you will see the best highlights of Yellowstone in one day with an extremely knowledgeable guided. Click here for more information and to book your private tour.
Top Tip: Make sure the kids car seats are high enough so they can see out the window and make sure you pack binoculars for spotting animals and drinks and snacks. A Yellowstone trip with kids will be no good if they can't see anything from their seats. Stop regularly for toilet breaks too!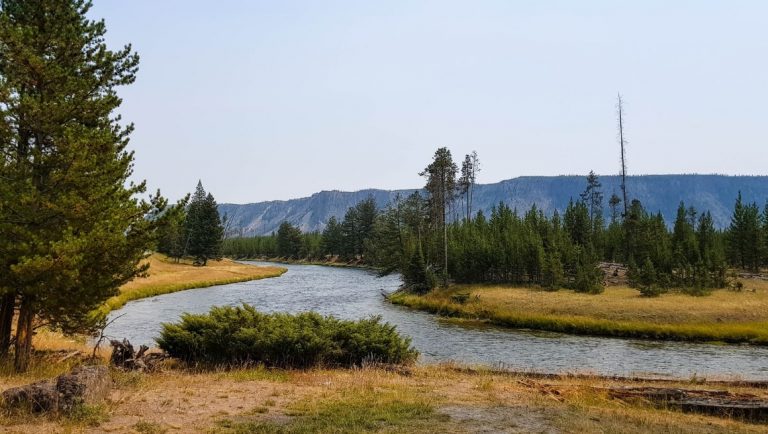 Take a boat ride or kayak on Yellowstone Lake
As mentioned already, the best time to visit Yellowstone is summer and going then will mean you can enjoy getting out on Yellowstone Lake. The Yellowstone Lodges can organise boating trips on Yellowstone and third-party companies can also offer boat trips or kayaking.
You could go for a 2-hour family-friendly trip or a floating trip where even babies are allowed. If your kids are older, then why not try some white water rafting on Yellowstone River. Take a thrilling 2-hour journey from Gardiner.
Visit Mammoth Hot Springs
Mammoth Hot Springs is an area unlike many in Yellowstone. The terraces and springs have created a unique landscape from calcium deposits. Do not be fooled by the name. Mammoth hot Springs is a geothermal feature that is most certainly not for swimming in.
However, kids will probably enjoy seeing it. There are different levels to Mammoth Hot Springs and the main features have boardwalks on which to walk. But unlike the majority of the other famous features of Yellowstone National Park, you can actually drive the Upper Loop Terrace, meaning if your kids are tired or you feel are too young, you can still enjoy part of it from the comfort of your own car.
Top tip: there is no shade in this area so pack water, hats and sunscreen. Also, if you have any mobility issues, you may want to stay in your car as this area does contain lots of stairs.
Go cycling
Cycling is possible in Yellowstone but really consider it before embarking on it as you will be sharing the roads with all other traffic. Older kids with some road sense should be ok, particularly along quieter roads. However, you could still enjoy biking by taking on some dirt mountain trails. There are two which are suitable for families, the 7-mile Blacktail Plateau Drive or the 5-mile Old Gardiner Road.
If you didn't bring your own you can rent bikes in the Old Faithful area. Make sure you've got the Yellowstone map for kids so they can see the trails they will be taking on with you. Yellowstone Park, for kids, is one huge classroom and adventure but make sure to stick to known trails and Bear Spray is probably an idea as well.
Summary
If you are planning on visiting Yellowstone with kids, I hope this post has given you some good ideas on what to do in Yellowstone National Park as a family. You could create a bucket list like we did to ensure your family trip to Yellowstone is an unforgettable one.
Cath x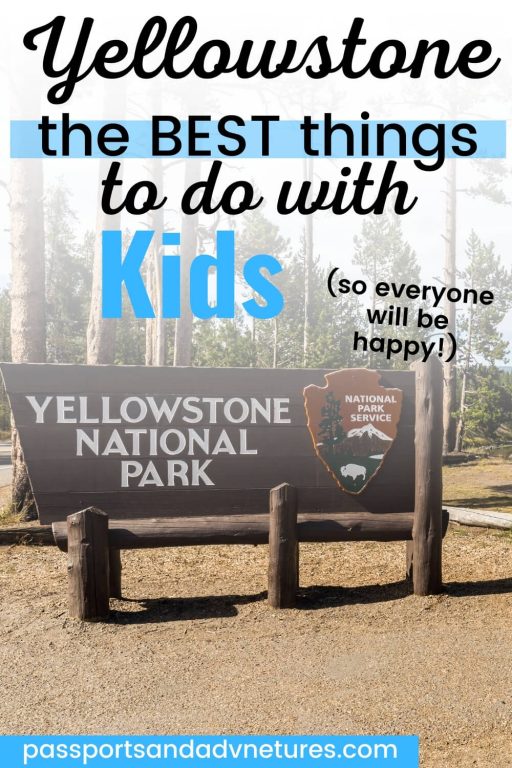 Related Posts
Passports and Adventures is a participant in the Amazon Services LLC Associates Program, an affiliate advertising program designed to provide a means for sites to earn advertising fees by advertising and linking to amazon.com, amazon.co.uk, amazon.ca. Amazon and the Amazon logo are trademarks of Amazon.com, Inc. or its affiliates. To learn more about affiliate links, read my Disclosure Policy here.