Rovaniemi is the Official Hometown of Santa Claus in Finnish Lapland. It is a popular destination for families heading to Lapland. The largest town in Lapland it is popular not only in winter but also summer. However, in this post I'm going to share with you 5 awesome things to do in Rovaniemi with kids in winter. Some of them can be done in summer too, but this post focusses on a winter visit to Rovaniemi. We were kindly hosted by Visit Rovaniemi during our trip to visit Santa in Lapland and these activities were either organised or suggested by them.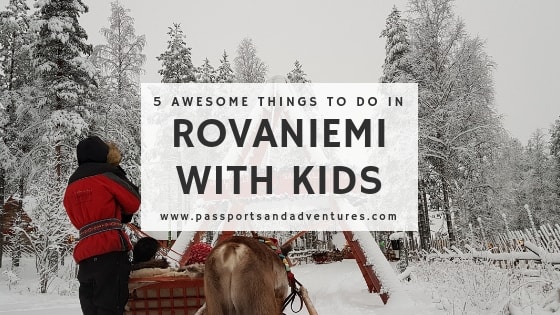 While there are other popular resorts, towns and destinations for a winter visit to meet Santa in Lapland, Rovaniemi is one of the most convenient with an airport with direct flights from the UK during winter and several daily flights to Helsinki. It also has a direct train connection to Helsinki, dubbed the Santa Express. We chose Rovaniemi for this very reason, and because it is the hometown of Santa.
There are an abundance of things to do in Rovaniemi with kids including
Meet Santa Claus and enjoy the magic of Santa Claus Village.
Go to Elf School at Santa Park.
Enjoy a Husky Safari with Bearhill Husky.
Enjoy a sleigh ride with Santa's reindeer.
Visit the museums of Arktikum and Pilke with a Rovaniemi Culture Pass.
Some of these winter activities can also be enjoyed in summer, but of course there are some that need that one important ingredient; snow. Without further ado, lets dive into these brilliant things to do with kids in Lapland in winter.
5 Awesome Things To Do In Rovaniemi With Kids
Meet Santa Claus and enjoy the magic of Santa Claus Village
No visit to Rovaniemi or Lapland would be complete without a magical meeting with a very special man, Santa Claus. It is the reason why Lapland is a bucket list destination and also why so many families make this once-in-a-lifetime trip with their kids. And in Rovaniemi you have no less than 2 places to meet Joulupukki (the Finnish word for Father Christmas).
The first is in Santa Claus Village, where you have the chance to meet the Santa Claus who you can watch on live stream throughout the year. Or you can also meet him at Santa Park (more on that in the next section).
When we travelled to the winter wonderland of Rovaniemi in December, we chose to just meet Santa in the Santa Claus Village. Firstly, this was arranged through our partnership with Visit Rovaniemi and secondly, because we had heard he was the best Santa, and after meeting him, we didn't want to have our son confused by another, or us adults disappointed in any way. But you have the choice of both, and of course, you can choose to visit both.
The Santa Claus Village and Santa Park are located outside the centre of Rovaniemi, approximately 8km, and are located close to one another on the same road. They can be reached by either driving, taking a taxi, or using the Santa Express bus and local bus number 8 (details of their timetables can be found HERE).
And, if you happen to be visiting Rovaniemi in summer, you can still meet Santa as both are open all year-round.
Santa Claus Village, for us, reminded us of Disneyland Paris. Here are a great range of activities to do there including snowmobiling for younger kids, husky and reindeer rides, visit Snowman World, sending postcards from the Main Santa Claus's Post Office and of course, meeting Santa himself. There are gift shops, cafes, restaurants and accommodation at Santa Claus Village.
Some people have grumbled that Santa Claus Village is too commercialised, but we never felt that way about it. In fact, we ended up there two days in a row and thoroughly enjoyed ourselves there. Had we not been pushed for time completing our Lapland bucket list, we would have spent even more time there.
On our first day, we met my sister-in-law and her family who were also in Lapland and had lunch with them. Afterwards we wandered around the village, popping into the Post Office to arrange post cards for family back home, checking out the gift shops and letting our son enjoy his first ever snowmobile ride at Arctic Circle Snowmobile Park. It cost just €20 for him to ride a snowmobile for 10 minutes, but the guys working there did not keep track of time and he had the whole track to himself for much longer.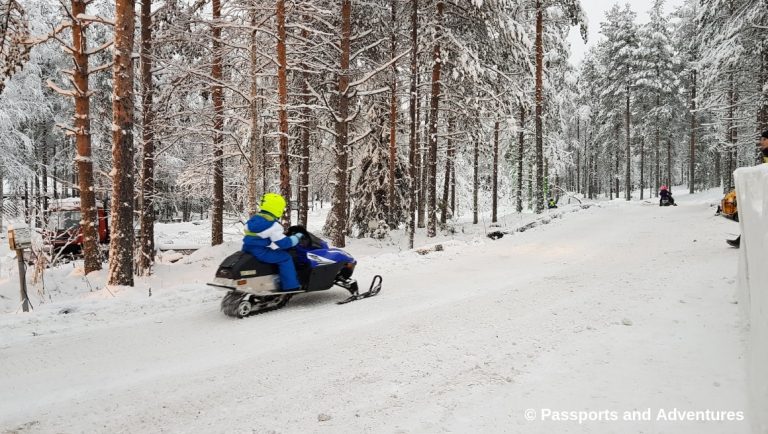 We then found the playground, and despite the fact it was starting to get dark, he enjoyed playing in the snow, although a word of warning. The larger slide was covered in ice and kids were coming down extremely fast. I let our son try it once, but he came down too fast and bumped his head on the metal sides before landing with a great big thump to his bum. Tears ensued and that was the end of the big slide. But it didn't stop him carrying on with the tree-house, swings or smaller slide.
On our second day at Santa Claus Village we spent more time there. As soon as we arrived, we headed straight for the snowmobile park where our son enjoyed another ride, this time getting his snowmobile license too, which he was very proud of. Then, we had a reindeer sleigh ride kindly arranged by Visit Rovaniemi and enjoyed a magical 1km ride through the forest at the back of Santa Claus Village. The three of us clambered into the one sleigh and set off into the forest. It was so quiet, despite being just behind the village, and you could almost hear a pin drop. It was cold out there, but the reindeer hides on the sleigh sheltered us from the cold and made it feel like we were the only ones out there. We crossed paths with another set of sleighs but as soon as we'd left each other we were back to the quiet of the forest. 1km may not sound very long but it was 15 minutes and felt perfect.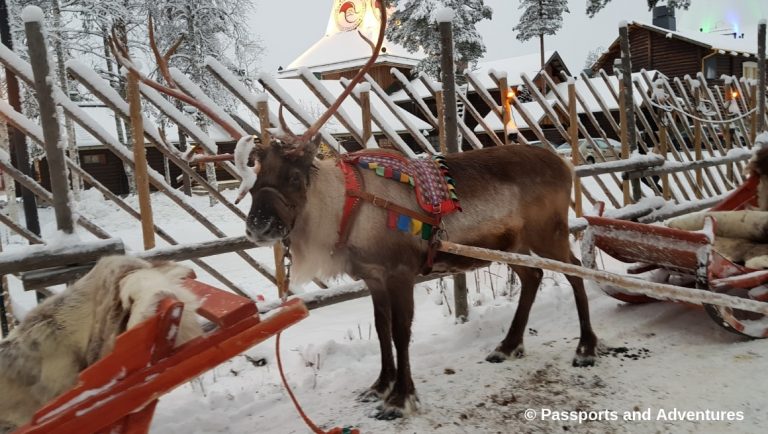 After saying goodbye to our reindeer, we popped back into Santa Claus' Main Post Office where I picked up some writing sets and organised letters from Santa for Christmas 2019. By the time we had left the post office, it was time for our meeting with Father Christmas in the Santa Claus Office. As we were being hosted by Visit Rovaniemi, we were met by our Elf Lyhty, who was bringing us around the office. I was also given a "PRESS" jacket, which enabled me to take video and/or pictures of our meeting with Santa Claus. Normally, you are not allowed to take pictures when you meet Santa Claus, but being press, I could. You have the option to buy official photographs of your meeting with Santa and the video of the occasion afterwards.
We walked through the workshop with Lyhty, who explained each area, told us about how the elves help Santa, and about their jobs making presents and getting everything ready for Christmas Eve. There were special Elf Doors at which we could peer through special keyholes. I won't ruin what we saw in case you want to go yourself. And before we made our way to Santa's special office, we signed the visitors' book. Well, Alex wrote his name and we signed ours underneath. And then it was time for our magical meeting with Santa Claus.
And it was everything we could have hoped for. We were led into Santa's office and there he was. Sat on his chair ready to greet us. And what a man he was. He was so welcoming, even saying "Bom Dia" (Hello in Portuguese) to us, much to Alex's surprise. He invited us to sit beside him and out came Alex's post card he had written earlier that day (I may have slipped this to Lyhty and a small gift, as you don't get gifts from Santa in this meeting). He listened intently to what Alex had on his Christmas wish-list and in no way did we feel rushed. It was me trying to get us out the door, feeling like we'd take up enough of his time. But neither Santa, nor the elves, seemed to be in a hurry for us to leave. We had our pictures taken with him and only when he was ready, did we say our goodbyes.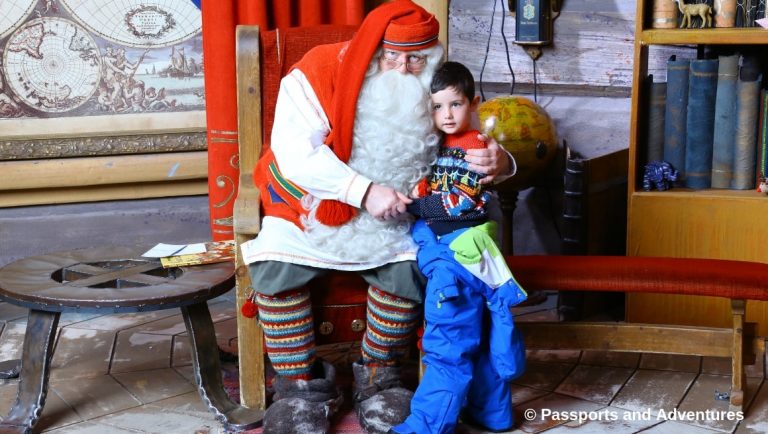 Honestly, he was the loveliest man, made us feel very welcome and never did we feel like we had to hurry up. Afterwards, Lyhty brought us back downstairs where you can purchase your photographs and/or the video of your meeting. We were kindly gifted ours as part of our collaboration with Visit Rovaniemi and they are simply amazing. I had fully expected to pay for these and would have done so without hesitation.
After our meeting with Santa Claus our bellies were rumbling so we met our family again for lunch, this time, sharing meals with each other. The previous day we had bought two meals, a bowl of soup, a tea, coffee, 3 bottles of water and were shocked when the bill came to just over €40. We'd have gotten plenty of change out of €30 for that in Portugal. Meals in Santa Village are not cheap. So, a bit wiser on our second day, I shared a kid's meal with my son which was plenty.
Bellies filled, we then went to visit Snowman World, also located at Santa Park. Our entry tickets were gifted to us as part of our collaboration with Visit Rovaniemi. Entry costs €25 per person, under 3's are free. For that you can visit the Ice Bar and Restaurant, although the construction of these were not complete due to the unusual delay in the snow and colder weather to Lapland as a whole for winter 2018. You can also have fun on the snow tubes, something we all had a go at, and you can also visit the Ice Castle, although again construction of this had only just begun due to the unusual weather conditions leading up to our visit. While we enjoyed our time there, we did feel that had we have paid our own entry we would have felt a bit short changed. But the ice sculptures and carvings are amazing.
One of my favourite things about our visit to Santa Claus Village, apart from our meeting with Santa Claus, was getting to enjoy the village after the tour groups had gone home. There were very few people left after 5pm and by 6pm even less. We got some lovely family photos with the Arctic Circle line behind us, the huge Christmas tree and outside Santa's office (see picture below). The cousins had a ball having the place to themselves to sleigh down any bit of a hill they could find. It was so good seeing Alex having so much fun. And we were so late leaving we had to call a taxi back into town as we'd missed the last buses.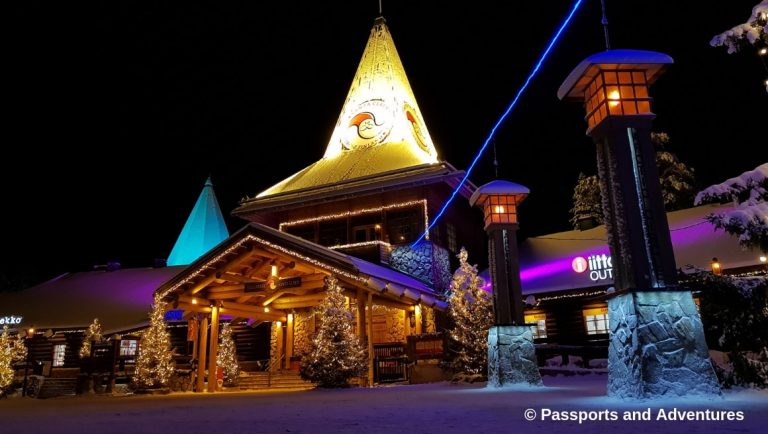 Santa Claus Village is just amazing, and while there are gift shops and restaurants and such, we never felt like it was too commercialised. We had a magical meeting with Santa Claus and he was so lovely, we couldn't have wanted anything more. So much so, this was the reason we chose not to visit Santa at Santa Park.
Go to Elf School at Santa Park
Santa Park, as briefly mentioned above, is an underground bunker and is also known as the Underground Cavern of Santa Claus. And it is not only where you can meet Santa, but you can also attend Elf School. We were hosted at Santa Park by Visit Rovaniemi and had a few hours to enjoy this underground wonderland before we were due to head back to Helsinki as our Lapland adventure came to an end.
Tickets to Santa Park last for two consecutive days (adults €34, child €28 aged 3-12 years, under 3 are free) and if you are looking for somewhere out of the cold to bring this kids, this is the perfect place. You can stow your coats in lockers before enjoying this underground wonderland. We started our visit to Santa Park by crossing under the Arctic Circle (again), visiting the Ice Princess' bar before making our way to Elf School. Elf School runs throughout the day, generally in 20-minute slots.
You are greeted by two of Santa's elves who bring you in to Elf School and teach you just 4 of the many, many things you need to learn in order to become an Elf. I won't ruin it, in case you decide to go yourself, but rest assured it is 20 minutes of fun and at the end, if you graduate, you get a certificate and an elf's hat. I went in with our son as Mr Passports was on a work call and we thoroughly enjoyed Elf School. Our son got into all the actions and moves and wanted more at the end. Despite quite a few families attending at the same time as us, there was plenty of room in the classroom for everyone. And yes, Mums and Dads are expected to join in and get to graduate as well!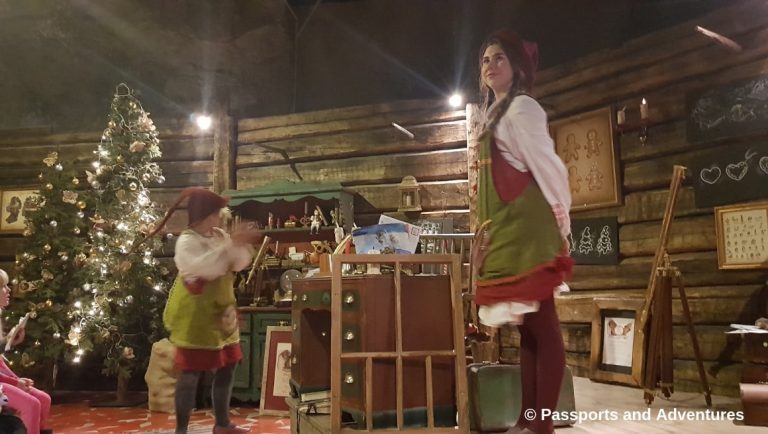 After Elf School we visited Mrs Gingerbread's Kitchen where Alex and Dad decorated gingerbread hearts. And then promptly ate them. We caught one of the Elf shows on the main stage, which totally enthralled a certain young boy. We also took a ride on Santa's Magic Train which was a complete surprise. This little train which seats four people, takes you into a winter wonderland full of fabulous little scenes from elves' workshops to snowy scenes and traditional Lapland scenes. It reminded us of the "It's a Small World" ride at Disneyland Paris. And we absolutely loved it.
After the train ride there was just enough time to let Alex visit the Angry Birds play area while Dad and I refuelled with a cup of tea and a nice cake, albeit a very expensive slice of cake. Santa Park was a great place to visit at the end of our Lapland stay and apart from our wait to enter Elf School and the lunch queue, we weren't waiting for anything for very long, something we had heard can be a problem if you arrive at the same time as the tour groups. While there were plenty in attendance at Santa Park, it never felt overcrowded. And the lunchtime queue was down to a till not working for cash payments.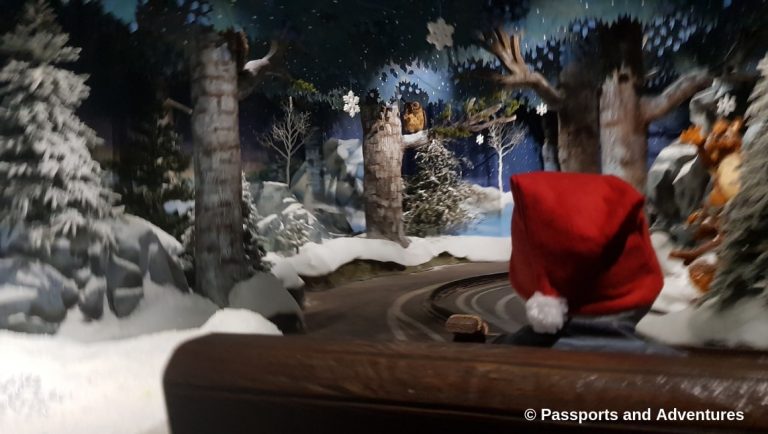 Do a Husky Safari with Bearhill Husky
One thing we knew we wanted to do, and that we put on our Lapland bucket list, was a husky safari. There are short husky sleigh rides available at Santa Claus Village, but we wanted something more. Visit Rovaniemi kindly suggested we consider Bearhill Husky and, after seeing they allow younger children in the sleighs, I got in touch and booked their Happy Trail Morning Husky Safari. Please note that we paid for this experience ourselves.
This 2-hour program allows you to mush a husky team with your family. You are the one behind the sleigh with your family members safely tucked up in the sleigh. Halfway through you can swap with the other adult in the sleigh so they can try their hand at mushing a husky team. After getting properly suited and booted (and believe me you need the suits provided), you are instructed on how to control the sledge and reminded to always keep hold of the sledge. Then it's off to meet your team before heading into the Lapland forest. It's a thrilling ride and an experience I'm glad we did but you'll have to read my full review to find out more.
Bearhill Husky safari's include transport to and from Rovaniemi city centre, suitable arctic weather over suits, gloves and boots, an informative talk about the dogs, time to meet the dogs after the safari and warm berry juice and cookies in a fab yurt to warm up in after your ride. The kennels and safaris are well run, and the dogs are wonderful. There are other husky experiences available around Rovaniemi and you can find some of them on the Visit Rovaniemi website.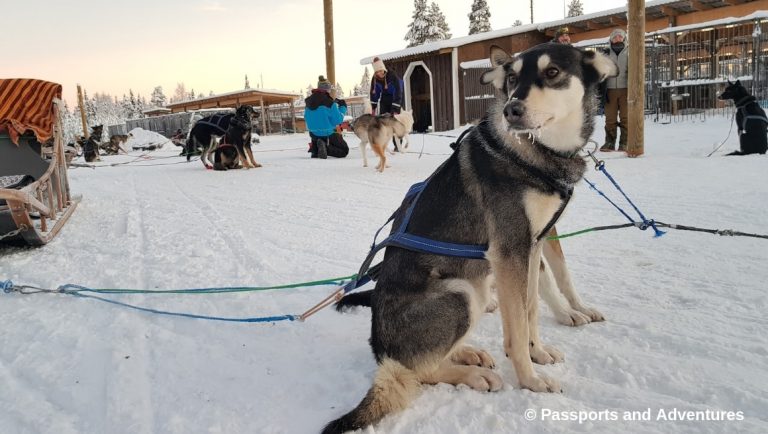 Enjoy a sleigh ride with Santa's reindeer
No trip to Santa's Lapland would be complete without a reindeer sleigh ride. Meeting Santa's reindeer is something every child (and some adults) dream of and what better way to do that than a sleigh ride with them. At the Santa Claus Village there is the opportunity to do one of three reindeer rides, ranging from 400m to 3km. We were kindly given a 1km Forest Path reindeer ride (as mentioned above) and it was magical being pulled through the quiet of the forest by one of Santa Claus' reindeer. This ride costs €29 per adult and €23 per child and lasts approximately 15 minutes.
Or if you want to get up-close-and-personal with even more reindeer there are reindeer excursions. The Reindeer Herders Day is a chance to learn about the reindeer herding culture and join in with everyday activities such as feeding reindeer. Or there is a chance to join a reindeer and husky combined experience whereby you visit reindeer at an authentic farm and discover the surrounding nature by way of a husky safari. These two longer programmes are recommended by Visit Rovaniemi in their Winter Activities Highlights.
Visit the museums of Arktikum and Pilke with a Culture Pass
There are three museums in Rovaniemi and the two which are most suitable for children, especially if you are visiting Lapland with young kids, are Arktikum and Pilke. Arktikum is the first that we visited with our Culture Pass and it blew us away. It details life in the Arctic Circle and the challenges that its inhabitants face. From everyday life and stories in Lapland to how climate change is affecting the region, it was a brilliant museum.
There were interactive exhibitions for adults and children alike to enjoy. Our son was given a treasure hunt map to complete during our time at the museum and he loved hunting for the letters and clues in the different exhibition rooms. My personal favourite was the Aurora Borealis room. You lie on your back and gaze at a "dark sky" before you witness a stunning display of the Northern Lights.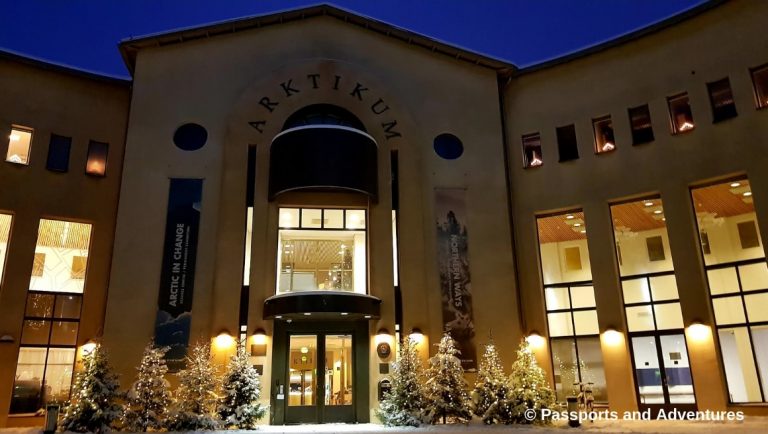 There were displays detailing the animals of Lapland and displays about the indigenous people. And the display about the role Finland played during World War II was worth the moaning that was coming from a certain little boy who didn't want mum and dad reading and slowing down his fun. I urge you not to miss this exhibit. And once we'd seen everything, we turned in our son's completed treasure map and he was given a certificate and a little prize for completing it.
The second museum in Rovaniemi that we visited, and that is suitable for kids, was Science Centre Pilke. At this museum you learn all there is to learn about forests, trees and everything associated with them. From a tree-chopping simulator (our son's favourite thing), to learning about how paper is produced, and the different jobs associated with trees and forests, it was a fascinating place to visit.
There were games and toys in the central part of the museum floor and other interactive displays around the edges. And even better for little people, life-sized diggers and tree choppers for them to climb up into. Trying to get him back down was another matter. The room that appealed most to the scientist in me was the one in which you can learn about wood pulping and the paper industry. Just make sure to wear the ear defenders provided as it's noisy inside.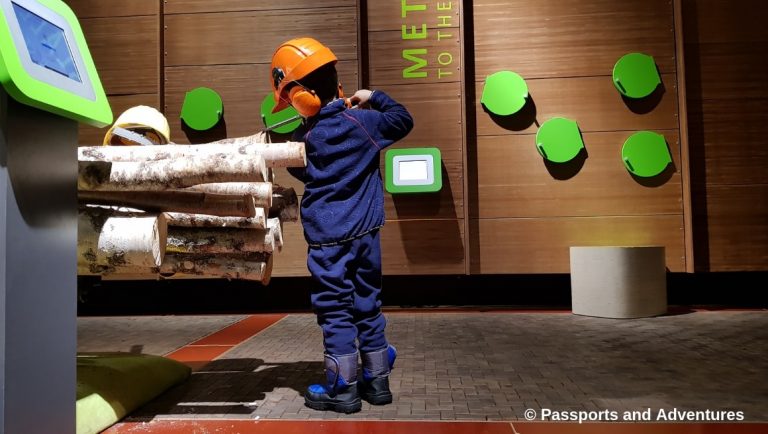 And bless him, although he had no idea what the song was, nor the words to it, the karaoke display which features a Finnish man singing about forests and trees caught our son's attention. He held onto that mic like his life depended on it, humming along to the tune. We really enjoyed our visit to Pilke and were so thankful we were provided with a Culture Pass from Visit Rovaniemi as part of our collaboration.
Both Pilke and Arktikum are museums in Rovaniemi that you should visit with kids. There is lots in both to keep their attention and plenty of interactive things for them to touch, try and do. The third museum, Korundi the Contemporary Art Museum was good, but not suitable for younger children. We spent most of our time on the upper floor shouting at our son to keep away from the displays as most of them were made from glass. However, if you are visiting Rovaniemi with older kids, they might enjoy this museum.
All three museums are included in a Culture Pass which costs just €20 per adult and €10 per child between 7 and 15 years of age. Under 7's are free entry into the museums. The pass is valid for 7 days and allows you to visit each museum once over the course of its validity. And it is worth it in my opinion as entry to Arktikum costs €13/6 adult/child and entry to Pilke costs €7/5 adult/child.
While there are many more things to do in Rovaniemi with kids, these were the ones we had a chance to experience during our visit to see Santa in Lapland. For a full list of possible experiences and excursions in the area, visit the Visit Rovaniemi site where you will find lots more ideas for things to do with kids in Rovaniemi, Lapland.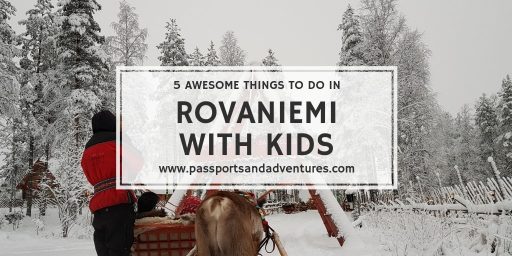 We had an amazing family trip to Lapland and ticked off everything we wanted to do while we were there. Visiting Lapland is often a once-in-a-lifetime trip for families and can work out expensive, particularly if you are going with a tour operator. If you are looking to try and reduce your costs, why not check out my post in which I detail how you can do just that by visiting Lapland on a budget. And don't forget that if you are visiting Lapland in winter, you'll need to wrap up warm. I wrote a detailed post about what to pack for Lapland with kids so you know exactly what you need to remember to ensure everyone is toasty warm.
And your excursions don't need to cost a fortune either. Visiting the Santa Claus Village is free, as is meeting Father Christmas here. Tickets for Santa Park are valid for two consecutive days and the Culture Pass is valid for 7 days. There are less expensive husky rides available at Santa Claus Village, as well as reindeer sleigh rides. The 1km ride we did was the perfect amount of time for us.
These are all things you can enjoy with kids in Lapland and we will have memories of these that will last a lifetime. And you never know, we might be back in the future!
Is Lapland with kids on your family bucket list? Or have you been lucky enough to visit like us?
And if you'd like to avoid the cold of winter, you can also meet the real Santa Claus in Lapland during summer!
Cath x
*We collaborated with Visit Rovaniemi during our time in Lapland, who kindly organised certain tickets and our meeting with Santa Claus. However, these are our own honest thoughts and opinions expressed within this post. We paid for our husky safari with Bearhill Husky ourselves.