As a family that love to travel, much of our time can be spent exploring cities with our son. But there is a limit to how much kids, especially young kids, will take. Only so many museums, sights and tours they'll put up with. So, what's the best way to let them run off some steam, feel free and run wild to their hearts content? By finding a good old-fashioned playground or park for them to enjoy. And in this post you'll find a list of the best parks and playgrounds for kids in the world from myself and my fellow travel bloggers.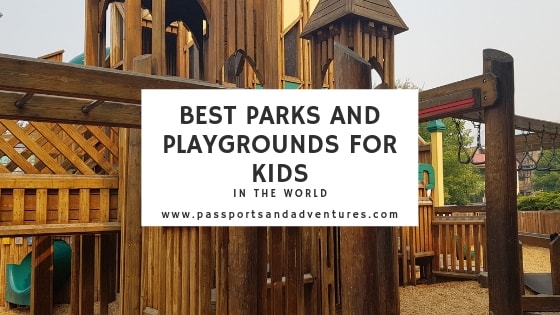 Best Parks and Playgrounds For Kids in the World
There's nothing we love more as a travel-loving family than finding fun, education and cultural adventures while enjoying city breaks with kids. But there is a need to strike a balance when travelling with kids, as sometimes the fantasy doesn't always become the reality, especially when you're travelling with young kids.
While our son does enjoy visiting castles and museums in cities, we try to break up the cultural and educational side of our sightseeing with fun kid-friendly things such as a visit to the zoo or aquarium. But the one thing that he gets most enjoyment out of is when we come across a kids park or kids playground. In fact, any open space of green that has a kids play-area is sure-fire winner.
And the best thing about finding a playground or park for kids in cities, is that they are usually totally free. It's a chance for kids to just be kids, enjoying the park swings and slides and even better, work on their social and interaction skills with the other kids in the playground. After all, it's part and parcel of their development.
Play is absolutely fundamental to children's physical, social, mental and emotional development.

Prof. Roger Hart, Director, Children's Environmental Research Group, City University of New York (Source)
So, while we've managed to find some amazing parks and playgrounds for kids on our travels, there's a whole heap more out there we are yet to discover. With the help of my fellow travellers, here is a short list of some of the best playgrounds and parks around the world for kids.
Best Parks and Playgrounds – Asia
Asia is a continent we are yet to enjoy as a family, but we are going to be changing that at the end of the year, with our first ever trip to the Far East. So, I was so happy to see there are at least two good parks for kids in one of the places we'll be visiting, Bangkok. Aside from Thailand, Asia hosts some awesome parks for kids as you'll see below.
Lumphini Park, Bangkok
The bustling city of Bangkok with its neon lights, careering tuk-tuks, and markets spilling out on to its pavements can be an assault on the senses. Though it's a surprisingly kid-friendly city. We've travelled to Bangkok with kids a handful of times. Our boys love riding the tuk-tuks, meeting the monks in the temples, and eating all the mango and sticky rice possible. But we always fit in an afternoon at Lumphini Park.
Lumphini Park is an open green space and the lungs of the city. It's a fantastic place to escape the congestion, take a breather, and slow the pace down. The kids will love the freedom to run around and explore the greenery, hunt for monitor lizards, and play on the paddle-boats. There is also a playground in the centre. Admittedly some areas could do with a fresh lick of paint, but there's a climbing frame, swings, tyres and everything else needed to give parents a chance to sit down and let their kids play. This is also where many of the local kids come to play, making it a lovely afternoon away from the tourist trail.
Jenny – Travelynn Family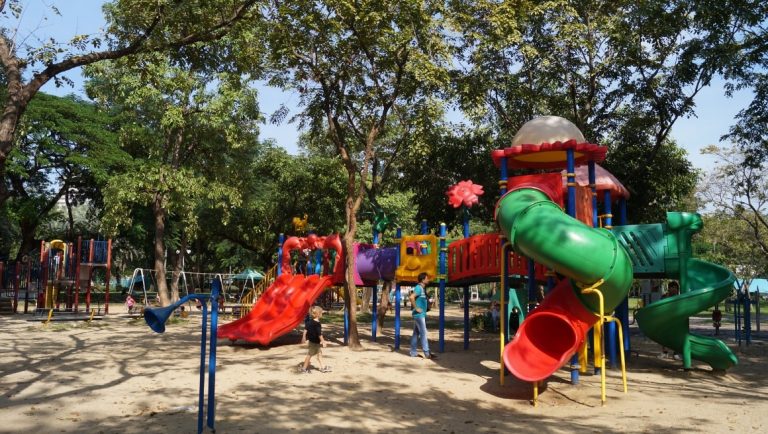 KLCC Park, Kuala Lumpur
Set at the base of the iconic Petronas Towers, KLCC park in Kuala Lumpur is a refreshing expanse of green in a built up, busy city. It's one of the largest inner city parks we've visited and there's plenty of space to explore or chase squirrels and even a jogging track if you can face a run in the humidity!
They have a huge outdoor play area with plenty of frames, slides and swings for little ones to enjoy whilst you take in the views and a brilliant child only paddling pool with some little fountains and stepping stones for the kids to cool off in. The water looked clean and refreshing and the area was policed fairly heavily by the park security guards, any adults attempting to get in the pool are told politely to get out.
The most popular attraction in KLCC park has to be the musical fountains which come alive in the evenings, colourfully lit and "dancing" to music. The fountains are located at the Suria Mall side of the park next to plenty of nice restaurants and cafes making it the perfect place to end the day.

Karen – Are We There Yet Kids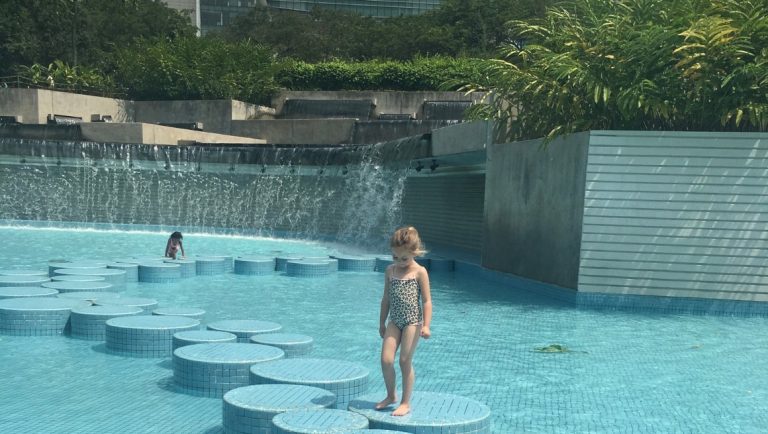 Khajjiar, India
The best playground in the country and one of the best in the world is located at Khajjiar in Himachal Pradesh, India. Khajjiar is known as the Mini Swizerland of India and remains an exotic and important adventure and treasure hunt in the country. The playground in the country is located at an altitude of more than 6000 ft above sea level and attracts wanderlust entrepreneurs and adventure hunters across the globe. There are temples and safari zones in the way to the park that makes it more special and popular among people.
Travellers and tourists enjoy the geography of the place and enjoy the fascinations it has to offer like minded tourists and travellers. People play different games and enjoy the warmth of the place and come with families during the weekend to escape the heat wave sweeping across the country. Khajjiar remains an important treasure hunt and a place for adventure and nature enthusiasts across the globe.
Somnath – Travel Crusade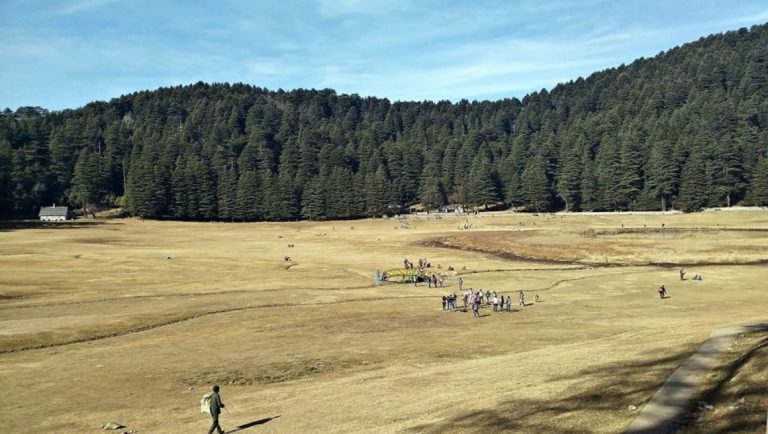 Waste to Wonder Park, Delhi, India
Opened in Early Feb 2019, the Waste to Wonder Park developed in 5 acre of land parcel is located in Delhi, the Capital of India.
Around 150 tons of scrap, including 90 tons of industrial waste and waste automobile parts has been collected and been converted into replicas of seven iconic wonders from across the world namely Taj Mahal (Agra), Great Pyramid (Giza), Eiffel Tower (Paris), Leaning Tower (Pisa), Christ the Redeemer (Rio), Colosseum (Rome) and the Statue of Liberty (USA). The entire park runs on 100% renewable energy with in house wind mills and solar trees. This park not just poses as a beautiful setting for kids to run and play, but also doubles up as learning place about world geography and concept of RECYCLING.
The park is open from 11 am to 11 pm 6 days a week except Monday. Entry fees is INR 50 for adults and INR 25 for Kids with tickets only available at Park Gate. Nearest bus stand is "Sarai Kale Khan" and Metro station is "Hazrat Nizamuddin" easily accessible from all part of Delhi.
Chandresh – Mommy In Me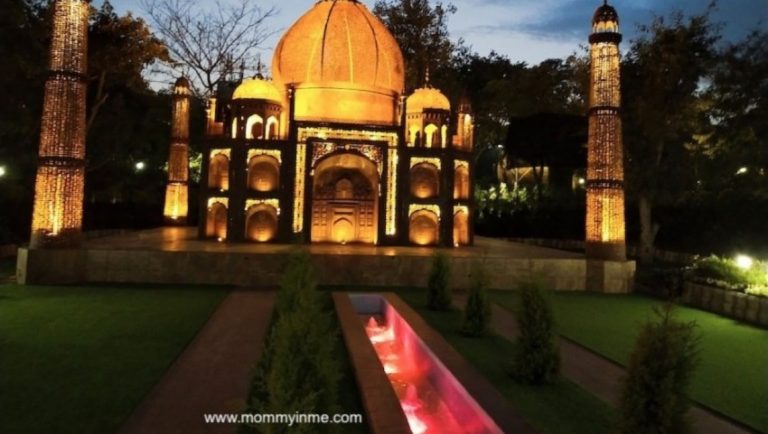 Lake Kawaguchi, Japan
Traveling with children in Japan is a snap! This technologically advanced country, embraces everything cute and playful, there is so much to see and do. A popular excursion is to visit and see the iconic Mt. Fuji, and one place to do this is Lake Kawaguchi.
This lake is full of activities like paddle-boating in swan boats, hiking, visiting museums, eating at great cafes, and then taking a break and playing in this playground. Mt. Fuji watches over the kids, and the adults get a much needed break. It's also a great spot for those iconic Japan photos! Getting to Lake Kawaguchi is very easy both by train or rental car.
Corinne – Reflections Enroute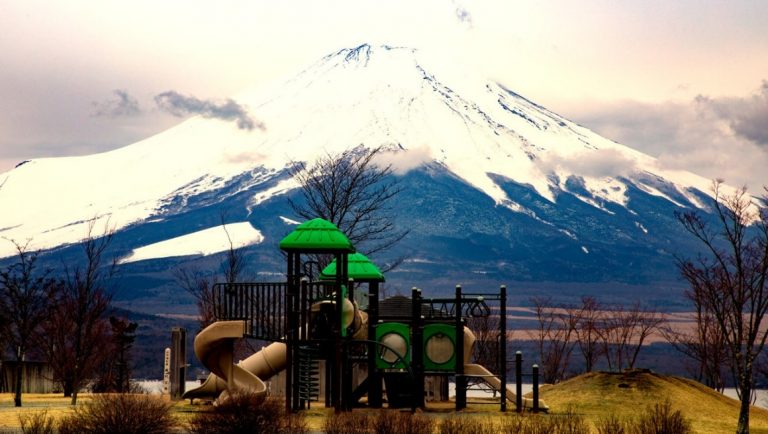 Bangkok Children's Discovery Museum and Playground
The Children's Discovery Museum, with its own big outdoor playground, was one of the best things to do in Bangkok with kids. In front of the museum building, you can find enormous climbing installation made from metal, wood and ropes. Various hanging ramps and bridges and climbing places provide never ending play possibilities in this play structure. I had to drag my girls out of this place. If you are planning to visit with your kids, remember to take a book to read.

Entrance to the museum is free – you can also learn about dinosaurs there, build the cities, dress up, play in a theatre. When you get bored with being inside, you can go back to the playground. On a hot day, go to the small water-park located opposite the playground.

Bangkok Children's Discovery Museum and playground is open from 10 am to 4 pm and is located close to the Chatuchak Weekend Market. You can always combine the pleasure and visit both.
Ania – The Travelling Twins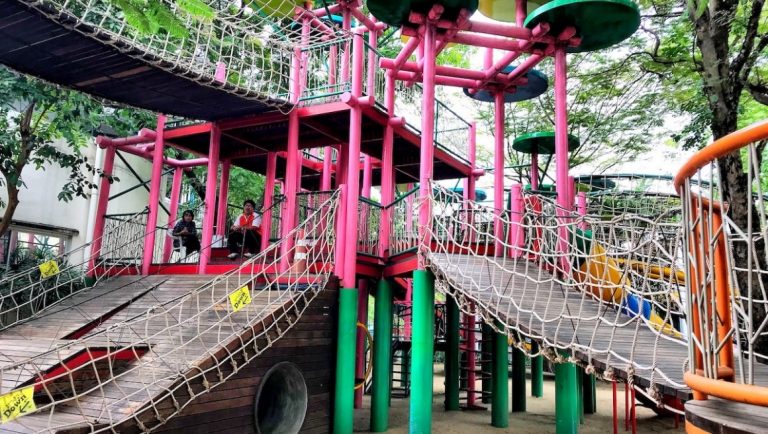 Best Parks and Playgrounds – Europe
Europe is the continent we've travelled the most with our son, mostly because it is where we are based. And it has some of the best parks for kids.
Many city suburbs will have local parks for kids and a children's playground nestled somewhere, many of which you'll stumble upon. They'll provide hours of fun for kids with the playground swings and slides, and some may even have a separate toddler park, or baby playground.
No matter where in Europe you travel with kids, you are bound to find at least one good park with a kids play park in it.
Phoenix Park, Dublin Ireland
The largest enclosed public park in any European capital city, the Phoenix Park in Dublin was originally a royal hunting park in the 1660's and was opened to the public in 1747. A large herd of fallow deer remain in the park to this day and can often be spotted on the playing fields and in the woods near the Papal Cross, an area of the park I frequented regularly in my youth with my family.
The Phoenix Park has many other attractions as well as the deer. It houses Dublin Zoo, the residence of the President of Ireland, Aras an Uachrarain, houses the official residence of the United States Ambassador to Ireland, the Magazine Fort, the People's Gardens and the Wellington Monument, as well as the aforementioned Papal Cross, erected in honour of the visit of Pope John Paul II in 1979. And there is a children's playground located west of the Victorian Walled Garden at the Visitor Centre, not far from the zoo.
The park is free to enter, open 7 days a week, 365 days a year and is a great place to let the kids blow off steam. You won't get to see everything the park has to offer if you are planning on paying the zoo a visit, but we highly recommend at least one visit to the Phoenix Park if you are visiting Dublin with kids.
Cath – Passports and Adventures
Les Domaine des Iles in Sion, Capital of the Canton of Valais, Switzerland
Located only 5 minutes from the centre of the city of Sion you find a hidden paradise, Les Domaine des Iles, surrounded by stunning mountain views. The park offers a wide range of activities throughout the year. Whether you are seeking relaxation and recreation or an ideal outing with the whole family, this park is for everyone.
We spend a lot of time here because it gives us the feeling of being away from it all. The kids love the large playground and the lake shore of course. No matter the activity you are planning on doing whether it be the treetop adventure course, biking around the lake, climbing at the free outdoor block, playing volleyball, going for a swim, renting a stand up paddle board, playing crazy golf or enjoying the miniature train, the choice is yours.
Corina Swan – Packed Again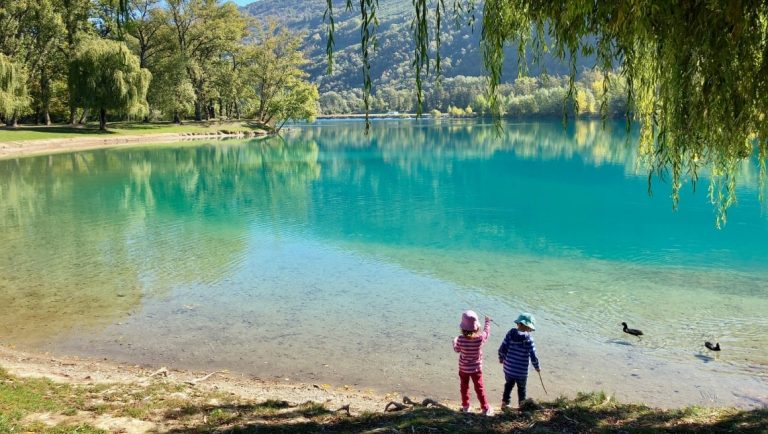 Diana, Princess of Wales Memorial Playground, Hyde Park, London
As a nanny, I have visited many playgrounds in London, but none of them gives as much joy to the children as the Diana Princess of Wales Memorial Playground in Hyde Park. It is always a treat for the kids to have a picnic in the park and then explore the playground. There are so many things, that the kids can spend a whole day there, just playing: slides, swings, musical elements, tents, a huge sandpit with water pumps and the highlight is a giant pirate ship! On hot summer days, bring lots of sun cream and swimming costume, so the kids can fully enjoy everything this kids adventures playground has to offer.
There are toilet facilities and a cafe as well. There is no entrance fee, but there are opening hours, so check before your visit to avoid disappointed and screaming children! I like taking the girls here as I think it is a safe place. It is surrounded by a fence and there is a guard at the gate, so no children can leave unattended. Visiting this playground is an absolute must for your London bucket list!

Eni – Travel Hacker Girl
Tivoli Park, Ljubljana, Slovenia
On the outskirts of the central district of Ljubljana, the capital of Slovenia, you will find Tivoli Park. It is not only an attractive spot among adults but also a favorite place among kids.
Tivoli Park is the largest and most beautiful park in the city, offering various activities. The park is a gorgeous spot where kids can enjoy outdoor activities such as walking, running, cycling, roller-skating or simply admiring and discovering the natural beauty. There's a designed, also true, paradise for kids – a children's playground which offers something for every kid, from toddler to preteens.
The park features a beautiful landscape with flowers, interesting trees, numerous statues, and fountains. There are also several walking paths, connecting the Rožnik hill – another favorite spot. Also, Jakopič promenade which is the central part of the park is a well known outdoor venue for exhibitions. You can't pass by Botanical Garden with a glasshouse with tropical and carnivorous plants.
If you want to know about other top places in Slovenia you can read about Bled or Vintgar.
Leo – Safari Nomand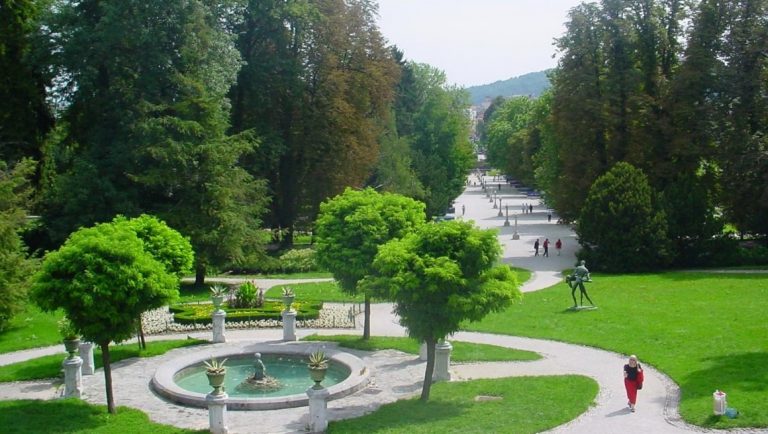 Primrose Hill, London
Primrose Hill is a park in North London which is a part of Regents Park yet separate. This park is separated physically from Regents Park by Prince Albert Road and so has a more local feel. You can see the London Zoo in Regents Park from Primrose Hill. The London Zoo has playgrounds set within the zoo but you will need to pay for admission to the Zoo to access these playgrounds.
At the bottom of the hill on the Prince Albert Side of Primrose Hill, there is a large public playground and a fitness area. The playground is suitable for both toddlers and older kids. There is a giant sandbox in the playground too. Nearby the cafes of Primrose Hill are great if you want to stop off for a snack.
A giant hill with great views over the London skyline, the Primrose Hill park is a firm favourite with runners, kids and dog walkers. On the weekends, there are always kids playing soccer in the park. A taxi cab driver told me the urban myth that the large hill is a burial mound of plague victims from the Middle Ages. My kids like to take their scooters to the top of the hill and race down. When it snows, all the kids in the area sled down Primrose Hill.
Shobha – Just Go Places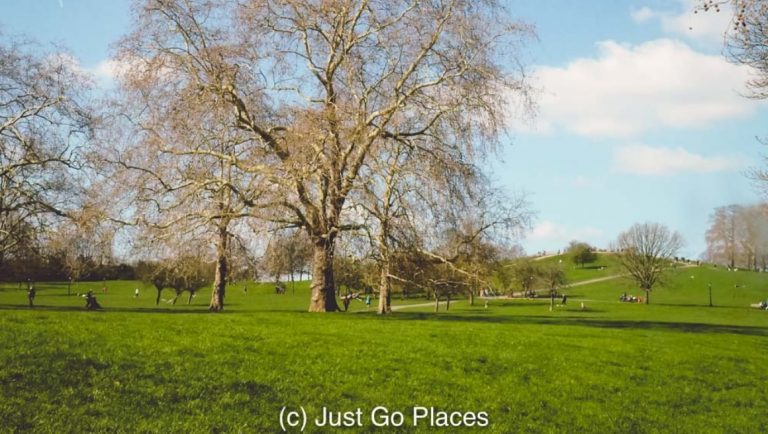 Villa Borghese, Rome
A wonderful city park I recommend all families seek out when visiting Rome is stunning Villa Borghese. The third biggest part in the city, this villa is close to many Rome's attractions and a wonderful and easy stop to add to any family itinerary around town.
The park takes its names from the Borghese family, which commissioned its design and is now a public space that mixes the grandeur of its origins with the laid-back atmosphere of a city park.
There are several reasons to visit Villa Borghese. Younger children will be drawn to the climbing frames here: there are a few sets of them in different areas and they cater for different ages, with higher and smaller slides to suit from toddlers to pre-teens. Small kids usually also love the small Villa Borghese pond: it has rowing boats you can rent and is known for having water turtles in it, always fun to spot!
Older kids will enjoy the option of renting bikes here and if you feel like having a good animal encounter, Villa Borghese will deliver that too, as it also hosts Rome's zoo!
Marta – Mama Loves Rome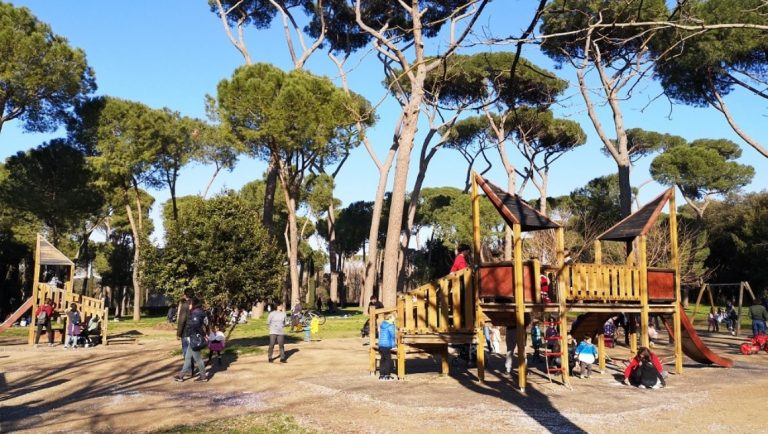 Villa Rundle Garden, Gozo, Malta
One of the main attractions in Gozo is the Villa Rundle Garden in Victoria. It's a perfect spot for families who are traveling to Malta with children. The complex is safe and well-protected, making it a place where parents can relax while the children roam free, or have fun on the neighboring playground.
Pack a picnic basket and sit by the fountain in the middle of the park. Head to the birdhouse and enjoy the sound of birdsong and do a bit of bird watching with the children. And, if you are there during Christmas or Easter Holidays, the garden is decked with whimsical decorations and filled with interactive activities for children.
Karolina – Lazy Travel Blog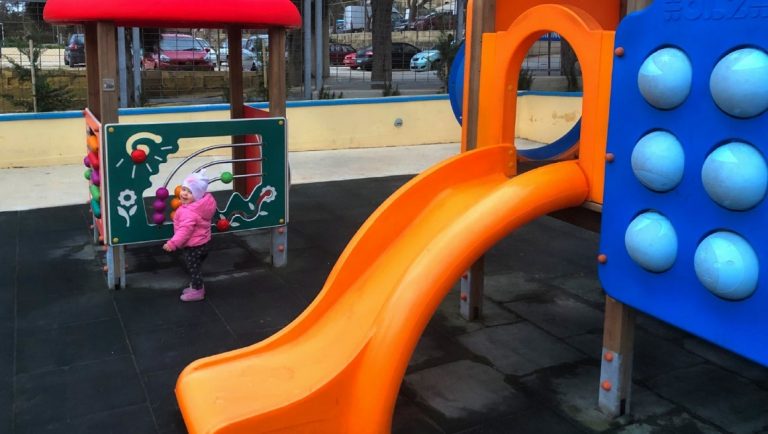 Volkspark- Mainz, Germany

Volkspark is an amazing outdoor park to visit any time of year. The popular park features wide open spaces perfect for sledding in the winter and picnicking in the summer. Huge multi story playgrounds are amazing for kids learning to test their acrobatic skills while the small slides and sand below are a hit with smaller kids. A splash pad in the summer is immensely popular as kids line up to buy an ice cream at the on-site café before venturing down the small water slide.
A small train loops around the entire park and is a family favourite while older kids can take part in mini golf, table tennis or the roller-skating rinks. The park is easily reached by public transport and is widely considered one of the best parks for families in the region.
Diana – The Elusive Family
Jardin du Luxembourg, Paris
Paris is an incredible city full of history, culture, and class, with some of the most famous museums full of millions of dollars of artwork and artefacts. While some kids have the tolerance to spend hours absorbing and learning, most kids just want to have fun!

When we visit Paris with kids, we make sure we schedule in time for the kids to be kids at some of the most incredible playgrounds in the world. It's obvious that the French value children and especially outdoor time for children. If you ask our kids, they will tell you that Luxembourg Gardens is their favourite!

These beautiful gardens were created by Marie de Medici in 1612 as part of her new Paris residence. Today you can still see the Medici Fountain which was built in 1620! The park sits on 23 hectares of manicured landscape where kids can run freely.

At the Luxembourg Gardens, you'll find a children's wonderland full of fun made just for them. You can rent sailboats on the famous Luxembourg pond, attend the children's theatre, play at the gated playground, ride the giant double swings, ride the old fashioned carousel, and even take a pony ride!
Vanessa – Wanderlust Crew

Sagrada Familia Park, Barcelona, Spain
What makes the green space outside the Sagrada Familia in Barcelona special is not the park. It's nice, but it is also jam packed with tourists. It's also not the playground itself. The kids love it but there are play parks on every street corner in Barcelona. What really makes this park special is the spectacular views of Barcelona's biggest attraction, the Sagrada Familia.
Having children with you means can all enjoy Gaudi's masterpiece in your own space. It's a win-win situation for the whole family, you get those special pictures you have been dreaming of and the kids get to do what they do best and play. Even if you don't have tickets to go inside the Sagrada Familia I would definitely recommend a visit to the park when in Barcelona.
Liona – Travels With Ted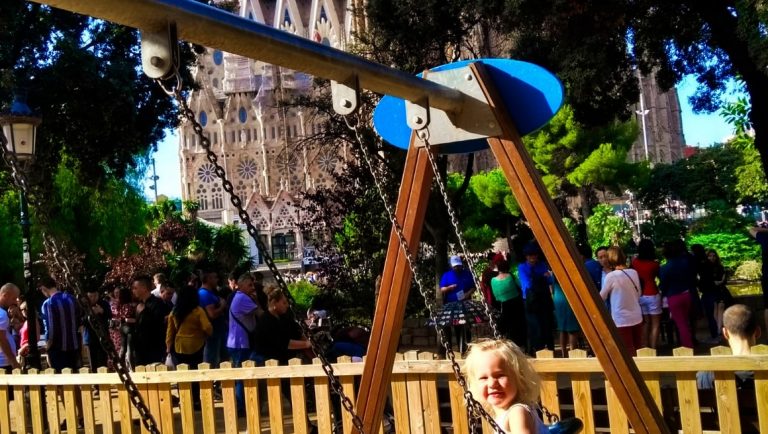 Stadspark, Antwerp, Belgium
Stadspark is the central park of Antwerp located at the heart of the city. The remains of a 16th-century Spanish fortress was re-engineered into this beautiful open park in the 19th century, in a classical English landscape style.
We visited the Stadspark on our one-day trip to Antwerp and were totally impressed by its ambience. It looked straight out of the books of Charles Dickens. Apart from a children's playground the park also has a white pedestrian bridge built across a pond. There are many trees and a few old statues colours in green inside the park. The park is frequented by school children and their mothers, skaters, joggers and the elderly alike.
Sinjana – Backpack & Explore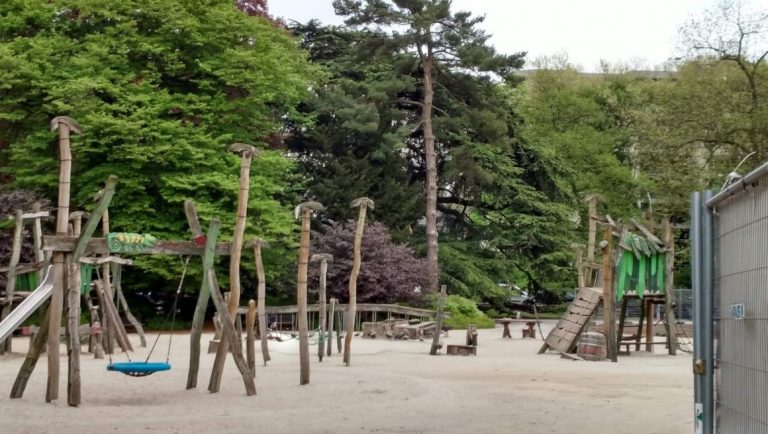 Retiro Park, Madrid, Spain
Madrid is a city of beautiful parks and Retiro park is likely the best of them. Located right across the famous Alcala Gate, this green oasis spans over 125 hectares. It is speckled with many amazing monuments and statues, like Crystal Palace of Madrid and Palacio de Velázquez. Visited by locals and tourists alike this park is a must-visit place on your Madrid itinerary.
When in the park, you can observe the artists creating some lovely paintings, performers at the open-air theatre and can engage in boating in the artificial lake. This delightful park is located at a walkable distance from the National archaeological museum on one side and the golden trio of art museums on the other side. It is also very close to the Maritime museum.
Sinjana – Backpack & Explore

Best Parks and Playgrounds – North America
North America has some great parks for kids. From the Central Park playgrounds to big parks for kids and adults alike, you won't be far from finding an outdoor play park for your kids to enjoy. You might even find an indoor playground or two should the weather be against you.
And if you do happen to find a children's play park, you might come away thinking it is also the best park for toddlers, as they are generally well catered for in the North America parks and playgrounds for kids.
Central Park Playground, New York, USA
Central Park in New York City is perfect for kids. There are so many things to do it could keep them busy for days. Highlights include a small boat pond where you can rent remote-controlled sailboats; an enormous carousel; and a statue of Alice in Wonderland for kids to climb on. Don't miss the nearby the Central Park Zoo where there are penguins, seals, monkeys and other exotic animals. The petting zoo is especially great for kids!
Finally, there are also a couple of great Central Park playgrounds. The best is Heckscher Playground where there are swings, slides, a huge climber, and tunnels and ramps for kids to climb on. In summer there is a super fun water feature with elevated channels of water to walk through and gentle spray to cool off under. No matter what your kids love, there is something in Central Park for them to enjoy.
James – Travel Collecting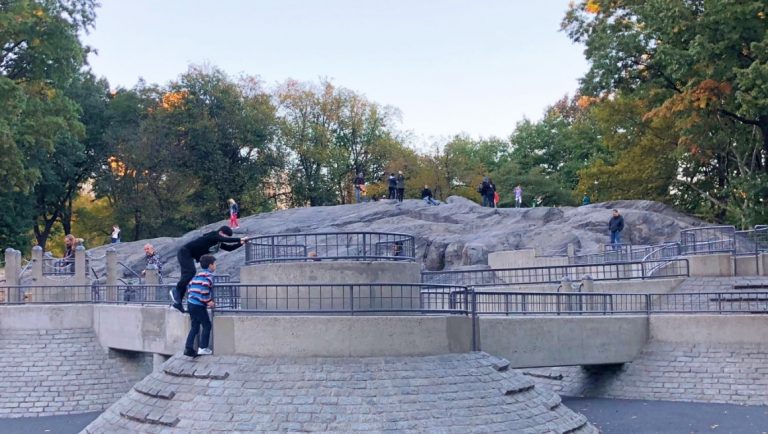 Caras Park, Missoula, Montana, USA
Located in Downtown Missoula along the Clark Fort River, Caras Park is a lovely place for a picnic with the kids. There are picnic areas, a Park Pavilion that regularly hosts events throughout the year, paths for walking and cycling, and you can also do some kayaking on the river from Caras Park. Home, also, to the Carousel for Missoula, a traditional carousel with hand-carved ponies, it's a great attraction for kids and adults alike.
Next to the carousel area is Dragon Hollow Playground, a great outdoor playground which was built as a community project. It's one of the best adventures playgrounds we've ever had the pleasure of enjoying.
With an outdoor play area for toddlers, park swings and slides, this mostly wooden outdoor playground for kids is a child's dream come true. Just be warned. Once your child enters the tree-house, a sort of wooden playground park, you might lose them as you cannot see inside. But rest assureds, they're bound to be having fun!
Cath – Passports and Adventures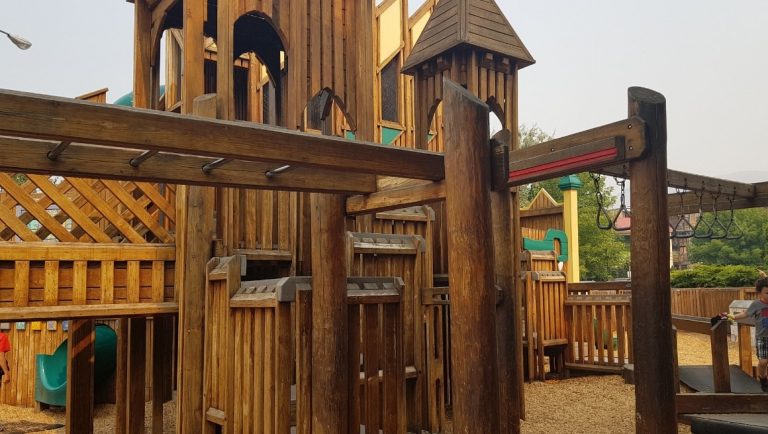 Washington Park, Portland, Oregon
Washington Park is an urban public park in Portland, Oregon and is a must-do thing if visiting Portland with kids. This 412 acres park, created in 1909 is huge and needs a few days to explore if you plan to visit everything it has to offer. Things like the Oregon Zoo, which we loved, and the Portland Children's Museum, our first foray into visiting children's museums for kids.
Also in Washington Park you'll find the World Forestry Centre, Hoyt Arboretum, the Portland Japanese Gardens, the International Rose Test Garden, and huge open spaces in between which have playing fields, picnic areas and playgrounds themselves.
The park is open from 5am to 10pm and you can park in one of the car parks (paid-for) and explore the park via the Washington Park Free Shuttle bus. It's a great park for kids and should not be missed if you are Portland.
Cath – Passports and Adventures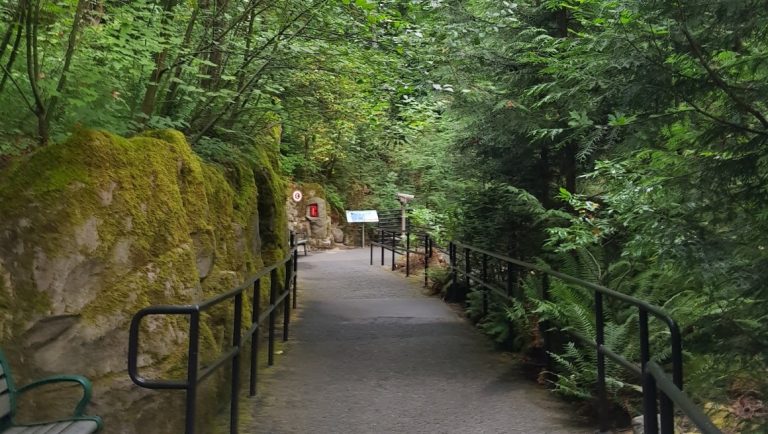 Best Parks and Playgrounds – Australasia
Some of the best play parks for kids are located in Australia and New Zealand. And most notably, you'll find some of the best parks in Sydney. You'll find many a park with swings, slides, roundabouts, adventure ropes and more for the kids to enjoy. And some even have water parks for kids to enjoy during the heat of the summer. Just remember sun screen, a change of clothes and a towel for after the kids have had fun.
Riverside Green, Southbank, Brisbane, Australia
We're pretty blessed in Brisbane with some fantastic playgrounds across the city. However one of the best playgrounds is located in South Bank, namely the Riverside Green.
The Riverside Green has a stack of interactive equipment for kids of all ages, including a separate toddler zoned area. The playground has giant slides, skywalk, bridges, climbing equipment, giant hamster wheel, spinning wheel and swings. It can get a little hectic here at times though, so best visited on a week day or early in the morning.
If your kids are after a quieter playground, there is also Picnic Playground. This is in a quieter setting but still has plenty of equipment for the kids including swings, slides, cubby house etc.
Regardless of which playground you visit, don't forget to bring your swimmers so the kids can plan in the huge man-made lagoon and beach as well as play with the various interactive water equipment. There is a stack of cafes nearby for some lunch as well as plenty of picnic facilities if you bring your own food.
Melissa – Thrifty Family Travels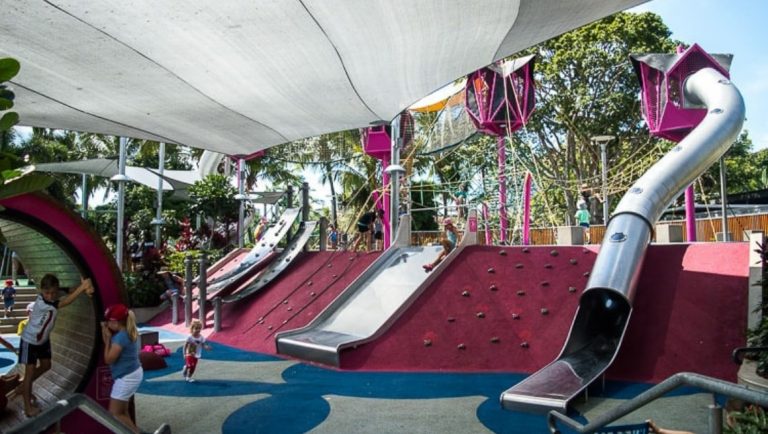 Lake Pertobe Adventure Playground, Warrnambool, Australia
Located at the western end of the Great Ocean Road in Australia is the seaside town of Warrnambool. It's a popular holiday spot for Victorian families, and with its great caravan park and the amazing Lake Pertobe Adventure Playground, it's easy to see why.
The park is spread out over a huge 8-hectare area that includes a gorgeous lake speckled with islands. There are walking tracks, swinging bridges and bird-watching hides that encourage kids to explore the natural world. But the fun doesn't stop there as there are plenty of climbing options, a flying fox, sand pits, giant slides and even a maze.
Dotted throughout the park are picnic tables, sheltered barbecues and toilet facilities. Bring a picnic or barbecue and let the kids run wild!
Audrey – Gumnuts Abroad

The Children's Playground – Darling Quarter Sydney, Australia
This children's playground, the biggest in inner Sydney, is a great addition to the city for families. With eleven different areas, it's packed with equipment that will keep kids from 18 months to the tweens happy for hours.
There is a strong focus on water play so I highly recommend making sure you have a change of clothes and a small towel. Unless its mid-winter they are probably going to want to get wet here.
My granddaughter particularly loves the water jets that spray water directly up in the air, she can spend ages chasing them as they change patterns! There is also a bunch of fun water play for budding engineers with levers, an Archimedes water screw, a water wheel that lets them control the flow of water and gates and dams to control.
If it's too cold for getting wet there is plenty more to keep them busy with swings, balance ropes, 2 giant slides, and for older kids a 21m flying fox and a huge spider web climbing frame.
For mum and dad, the area is surrounded by cafes, restaurants and plenty of seating making it a winner all round.
Paula – Sydney Expert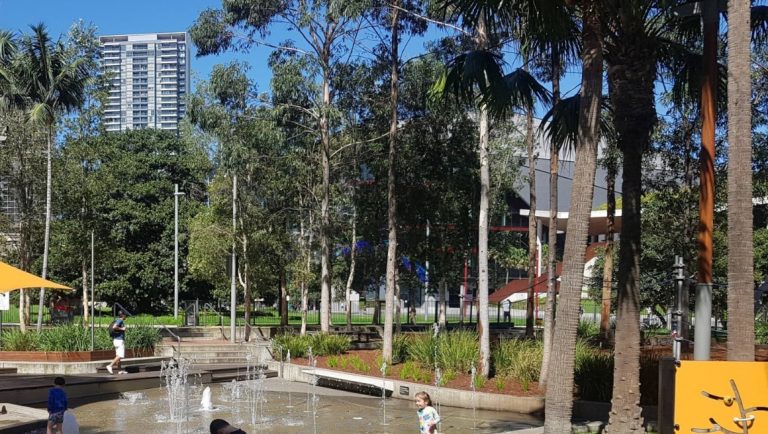 Ian Potter Children's Garden, Sydney, Australia
Nestled in Centennial Park, Sydney, you will find the incredible Ian Potter Children's Garden. This state of the art, nature playground was developed and built specifically with city kids in mind, creating a space where children can head to reconnect with nature, dirty their feet and have a whole lot of fun away from the concrete jungle of the city.
This fabulous space boasts over 12,000 plants within its 6,000 m2 footprint, and features a 7 metre high treehouse, woven tunnels and bamboo forests. There's even an artisan water space with 11 jets and mist machines.
Sections of the Ian Potter Children's Garden feature materials that children can use to construct shelters and the like. Whilst there are no instructions, there are often previous builds to add to or use as inspiration.
The garden is fully gated, providing a safe space for kids to explore and enjoy without wandering off beyond the park limits. A word of warning – the space has been specifically created to bring kids back to nature so it is more than likely that they will get dirty – remember to bring spare clothes if this bothers you! It's one of Sydney's best playgrounds and parks.
Leah – Kid Bucket List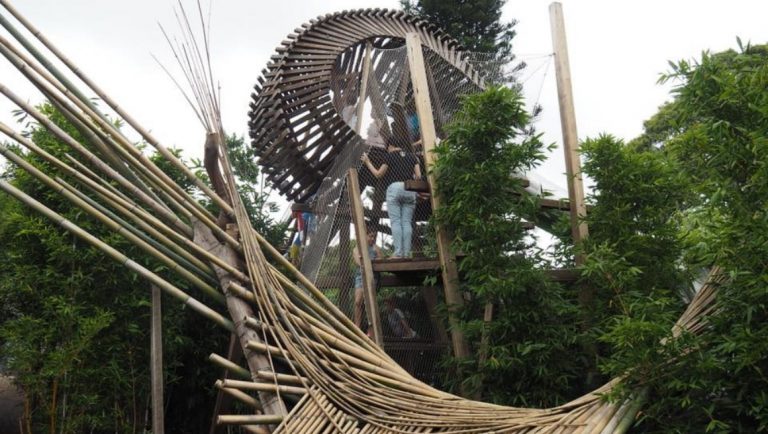 Margaret Mahy Playground, Christchurch, New Zealand
Christchurch's most popular park, the Margaret Mahy Playground, was designed to bring play and laugher back into the community after earthquakes devastated the city in 2010 & 2011. It was designed for kids, by kids – which is why it is such a hit! Local school children took part in a competition to design the "world's best playground" and the winners helped city planners create the perfect space for play.
Located in the heart of the city, it's the biggest playground in the Southern Hemisphere and hosts several play spaces with different elements. My son particularly loves the water play area, but the large climbing frames, long flying fox, twisted tunnel slides and in-ground trampolines are very popular also!
It gets busy in the warmer months, but not unbearably so. And the water fountains make a great place for little ones to cool off in summer.
Nadine – Le Long Weekend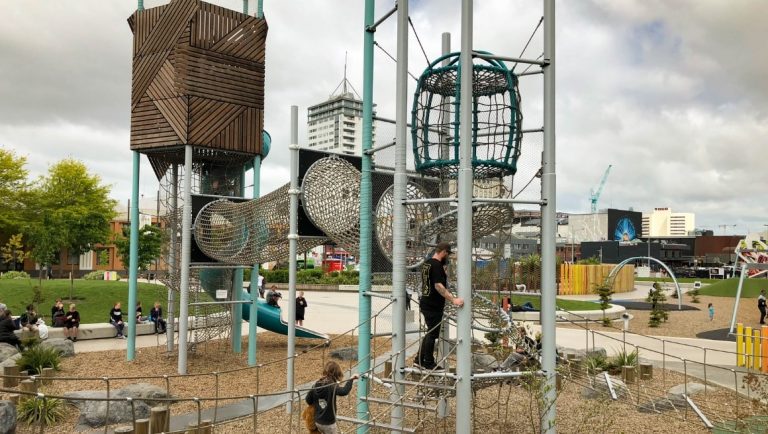 In Summary
While the world has some good playgrounds to offer families, some of the best parks and playgrounds for kids are on this list. From Europe to Asia, North America and Australasia, the best kids playgrounds can be found in places many families visit as part of their travel adventures.
Many of these awesome parks also have the best toddler playgrounds to cater for the younger members of the family. After all, they need somewhere to stretch their legs and have some fun after a hard days's sightseeing with Mum and Dad.
While we haven't visited all of the playgrounds and parks for kids on this list, we are lucky enough to have frequented a few and have plans to visit others in our forthcoming travels, thanks to the recommendations given here from my fellow bloggers.
Have you visited any parks on the list? Are there any that should be added?
Cath x
*All pictures herein were provided with permission to use in this post by the owner/blogger with which it is associated.

Related Posts