Belfast in Northern Ireland is a city I have not yet visited, either alone or with my family. And yet it keeps popping up on my radar, between family, friends and bloggers I know. And they all seem to enjoy the city no ends. So, in an effort to see why it's becoming more popular, I thought I'd do a bit of research and find out the best things to do in Belfast with kids, in case we decide to make a trip to the city.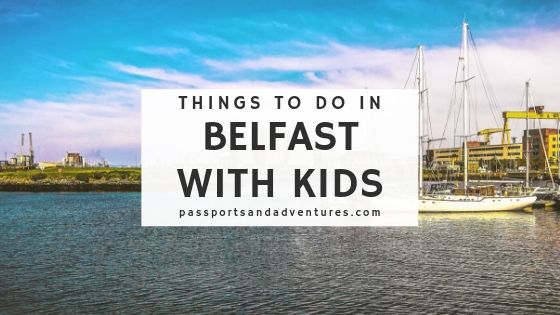 *This post contains affiliate links. To read more about affiliate links, please visit my Disclosure Policy page.
As someone who grew up in the Republic of Ireland during the 80's and 90's, I never visited Northern Ireland and still haven't. We grew up hearing about "The Troubles" and how the North, and particularly Belfast, were no-go areas for those from the South. When the sister of a family friend went in the 90's with work, it felt like a rather big deal.
But since the Good Friday Agreement in 1999, the unrest has calmed, and it has meant that trips to Northern Ireland were now a possibility for many. And as the years have rolled by, 20 years later, Northern Ireland and Belfast have become popular holiday destinations, in recent years partly thanks to the popular TV Series, Game of Thrones, which filmed many scenes across Northern Ireland.
So, to find out more about Belfast and see why it's becoming a popular city for a break or holiday, I've done some research, and asked my fellow travel bloggers, for ideas on what to do in Belfast with kids. Should we ever decide to visit the city I want to know where to take kids in Belfast, so we ensure both we and our son enjoy it.
Top 10 things to do in Belfast with kids
Knowing very little about Belfast as a city, other than the famous ship, Titanic, was built in the Harland and Wolff shipyard in the city, and of hearing about the Shankill Road during news reports in the 80's and 90's, I wanted to find out some of the best things for kids in Belfast and some of the top places for kids in Belfast to visit. I asked my fellow travel bloggers who have visited the city to make their recommendations for fun things to do with kids, and I've also researched some more kids activities in Belfast. In this section you'll find what I believe to be the top 10 things to do with kids in Belfast.
Ulster Museum and Botanic Gardens
One of the free things to do with kids in Belfast is to visit the Ulster Museum situated in the Botanic Gardens. You could easily spend a long morning or afternoon doing both of these activities.
In the Botanic Gardens, take a picnic, kick a ball about or sunbathe (weather permitting) while watching the students chill out in between lectures. Take a look at the Palm House and Tropical Ravine to spot exotic plants and birds of paradise.
Next, head to Ulster Museum, one of the fun free things to do in Belfast, which is made up of three interactive discovery zones. Children can meet a dinosaur, Egyptian mummy and see meteorite slices. There is a cafe in the museum too.
Big kids will be especially interested in the top floor of the museum as this is where Game of Thrones fans will find the 77-metre tapestry. It dictates the story of the GOT in pictures. Really really impressive, even if you are not a fan.
The Ulster Museum also has lots of works of art and a floor dedicated to The Troubles (and beyond). Take a self-guided tour of this Belfast attraction to help build your knowledge of the county's complicated past and maybe introduce your family to some facts and stories too.
Gemma – Two Scots Abroad
Belfast Zoo
Spread across 55 acres of land and housing more than 1200 animals from 140 different species, Belfast Zoo is one of the fun things to do in Belfast with kids. Opened in 1934, Belfast Zoo welcomes over 300,000 visitors a year.
Despite some controversy in 2018 when an animal escaped and died, Belfast Zoo is still a great place in Belfast for kids. Say hi to the lowland Gorillas, see the California Sea Lions and spot the Red Pandas. It will make a great family day out if you are visiting the city.
Family tickets are available and there are plenty of seating and picnic areas if you want to bring your own lunch with you.
Belfast Zoo is located on a hillside, so be aware of this. And check the times of the animal feeding such as for the penguins, kids will love seeing them. It needs some improvement and updating but young kids will enjoy it nonetheless.
Titanic Museum, Belfast
The Titanic museum may not immediately spring to mind as one of the most child-friendly attractions in Belfast, Northern Ireland. We took our three children and were pleasantly surprised how child-friendly Titanic Belfast is! The exhibits are thoughtfully and creatively presented with a range of interactive elements to engage even young visitors.
Graphics, talking holograms and computer-generated video help to capture children's attention as well as enabling them to understand the information on display. The museum is not solely about the Titanic, for example, our eldest daughter was fascinated by the section on marine conservation.
Don't miss the chance to visit the SS Nomadic in the dry dock opposite the Titanic Belfast which is included in your Titanic Belfast entry ticket. Our kids loved exploring this boat and pretending to be the captain! Titanic Belfast is definitely one of the most interesting places to go with kids in Belfast.
Sinead – Map Made Memories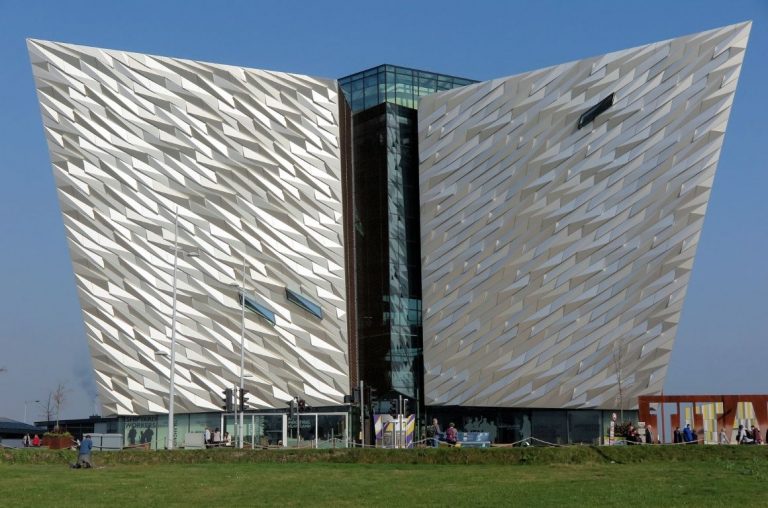 Pre-book your tickets to Titanic and SS Nomadic HERE.
Belfast Castle and Gardens
Belfast Castle is located on the slopes of Cave Hill County Park and enjoys some of the best views across the city. Today's castle is a replacement to the original which burned down in early 1700's.
You can enjoy viewing the castle from the grounds, just be warned you cannot go inside as it is reserved for weddings, conferences and special events. That said, you can visit the Cave Hill Visitor's Centre to find out more about the history of the castle and Cave Hill Area. Or you can have a drink in the Tavern or a full meal in the Restaurant located in the cellar of the castle.
Cave Hill Country Park
Belfast Castle is located in the grounds of Cave Hill Country Park, which has a host of other things on offer for families. As well as trails for walking, there is a playground, archaeological sites, gardens and orienteering routes.
Cave Hill is so called because of the five caves located on the side of the cliffs. One of the most notable features, known locally as Napoleon's Nose, is believed to have been the inspiration for Jonathan Swift's novel, Gulliver's Travels.
Kids will enjoy playing in the playground or going on a nature hunt along on of the many trails. You can stop for refreshments in the tavern of Belfast Castle, before continuing your day. Visiting Cave Hill is one of the more adventurous things to do in Belfast as a family and can be a welcome break from the hustle and bustle of the city.
W5 Discovery Centre
Visiting W5 Interactive Discovery Centre is one of the best activities to do with kids in Belfast. It is a science museum with a bit of a twist that offers a seriously fun day out, and not just for the kids. One of the great things about W5 is that the adults seem to love it just as much as the children do.
Unlike other science museums, this is an interactive discovery centre, which basically means that you get to play with everything and not just look at it. There are over 250 interactive exhibits ensuring the whole family will be kept entertained for hours.
Having visited many times over the years, it is impressive to note that the exhibits are always changing and evolving so the experience is different every time you go. They also offer daily science demonstrations and seasonal exhibits. No matter what time of year you visit, there will always be something unique happening. If you are looking for a fun day out for the whole family, then a trip to W5 Interactive Discovery Centre is the perfect thing to do. It is also one of the best indoor activities for kids in Belfast.
Luke – The Coastal Campaign
HMS Caroline
While Belfast is usually associated with Titanic, it has had a long-time maritime connection. And that connection continues with HMS Caroline, a decommissioned light cruiser from the Royal Navy which first served during World War I and is the only survivor of the Battle of Jutland. She is now a museum ship, which was opened to the public in 2017, and is a popular 5-star tourist attraction.
HMS Caroline is one of the fun things for kids to do in Belfast with its self-guided interactive tours, touch screens displays to learn more about the ship and her history, and panoramic views of the harbour. There are restored decks and cabins to explore, kids can become mini sailors and attend Signal School to learn about communications at sea and Torpedo School, before catching their breath (and yours) in the galley cafe.
There are events held throughout the year, with summer 2019 seeing a Pirate-themed list of events for the school holidays. Make sure to check their website to see what other events are coming up.
Get your tickets for HMS Caroline HERE before you go.
CS Lewis Square and Gardens
Belfast is a fabulous city to visit. While there recently we visited a free attraction called CS Lewis Square. This small park commemorates the life and works of Belfast-born author, CS Lewis. In particular, his classic series 'The Chronicles of Narnia'. CS Lewis Square is situated in East Belfast, between the Connswater and Comber Greenways and near the EastSide Visitor Centre. You can easily park at the EastSide visitors centre while you visit, or there is a public car park opposite.
Situated within a specially designed square, which is sometimes used for art and literary events, you and your children will discover seven bronze and stainless-steel sculptures from 'The Lion, The Witch and The Wardrobe'. These incredible art works include Aslan (the lion), The White Witch, Mr Tumnus (the faun), The Beavers, The Robin, the wardrobe and The Stone Table, it is an absolutely stunning display. The sculptures will bring to life your imaginations of these characters and give the books a new meaning. CS Lewis Square is open 24 hours a day, seven days a week and is fully illuminated. You can visit at anytime for free.
Tracey – Pack the PJs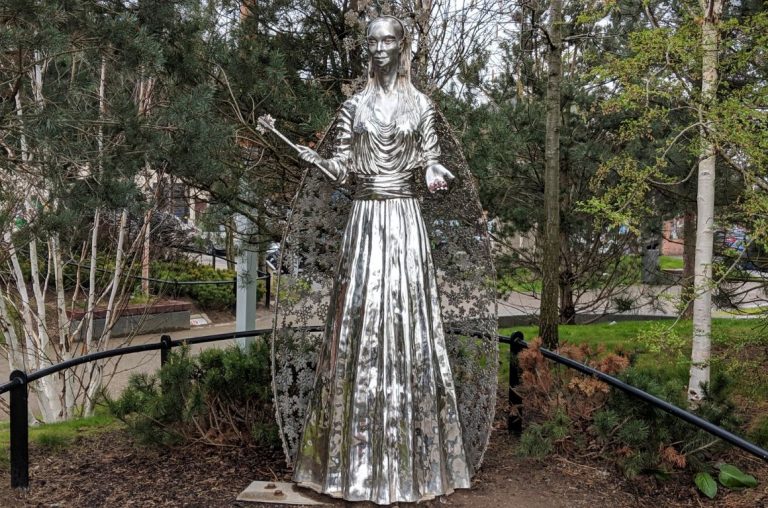 City Hall Museum
The civic offices of Belfast City Council, this building is an iconic landmark in the city and is one of the best free things to do in Belfast for kids with an interest in buildings and history.
Tours are free to the public and last about an hour. During the tour you can discover the rich history of Belfast City Hall and explore some of its finest features. Once your tour is finished, enjoy the Visitor Exhibition in which you can view 16 separate rooms and learn more about them with an audio-guide. Afterwards, you can enjoy the Titanic Memorial Garden with its gardens and monuments.
It's a great way to see areas not usually accessible by member of the public in this beautiful Baroque Revival building. And if the kids aren't too young, make sure to pass by at night-time when it is beautifully lit.

Ulster Folk and Transport Museum
One of the interesting things to do for kids in Belfast is to pay a visit to the Ulster Folk and Transport Museum. Located about 11 miles east of Belfast City, it comprises of two museums; the Folk Museum and the Transport Museum.
In the Folk Museum, kids can wander through houses and buildings from the early 1900's and learn about life from a century ago. Each building has been brought, brick by brick, to the site and kids can also interact with costumed characters. From churches to corner shops to farmhouses, step back in time in the Folk Museum, one of the best things to do in Belfast for kids.
And if the Folk Museum isn't enough, why not visit the Transport Museum which houses one of Europe's most comprehensive collections of locomotives, motorbikes, carriages and more. Kids can climb aboard a steam engine and imagine themselves steaming along the railway tracks.
Both museums are located at the same site and you could spend an entire day there. It's one of the most interesting things to do with kids in Northern Ireland. And because it's open plan with lots of different areas to explore, it is one of the fun things to do in Belfast for teenagers who may be hard to please.
With so many great kids' activities, Belfast is a city that is very family friendly. There is a lot of choice for days out for kids in Belfast and I hope the above top 10 have given you just a hint of some of the great things on offer for families with kids of all ages.
Other things to do in Belfast with kids
If you've already visited the above suggestions, or if you want some other ideas of places to visit in Belfast with kids, here is a short list of some other attractions you could add to your Belfast itinerary.
We are Vertigo – An action-adventure indoor ski and adventure park which is sure to get the kids adrenaline going, especially the teenagers of the family. One of the best places to visit in Belfast for kids who love a bit of action! With trampolines, dodge ball courts and more, they can enjoy an array of sports.
Streamvale Open Farm – A family farm where you can try your hand at baby animal cuddling, enjoy shows, activities and entertainment, or just enjoy playing, this farm has fun and interactive activities to keep kids happy.
Belfast's Window On Life (WOW) – Home to an array of birds and wildlife from around the world, Belfast's Wow give kids and their families a chance to view them and get close to them from the visitor's centre and two bird-watching hides.
Windsor Park – The National Football Stadium of Northern Ireland, football fans old and young will enjoy a visit to the stadium to learn about the history of Irish football from the 1880's to today. Tours last 45 minutes and you can even try your hand at a penalty shot.
Tips for visiting Belfast with kids
In this section you'll find tips on visiting Belfast with kids including how to get there, how to find suitable accommodation and how to get around Belfast when you are there.
How to get to Belfast
Belfast, as mentioned already, is located in Northern Ireland. To reach the city very much depends on where you are coming from. Belfast is connected to the Republic of Ireland, the United Kingdom and wider Europe via trains, buses, ferries and planes.
By Plane
If you are visiting Belfast from outside the island of Ireland, the easiest and quickest way to reach the city is by plane. Belfast has good connections to a range of European cities and three of the London airports; Gatwick, Stanstead and Luton.
If you are arriving from the United States of America, flying to Dublin and getting a bus or train may be the easiest route. If you are considering flying into Belfast I recommend starting your search for flights with Skyscanner. Click here for Skyscanner UK and here for USA Skyscanner.
By Train/Bus
Belfast is connected to other places in Northern Ireland and the Republic of Ireland via both bus and train routes. The train journey from Dublin to Belfast is approximately 2 hours and 15 minutes. Check both Irish Rail and Translink UK for routes, timetables and latest prices.
Belfast can be reached from Dublin by bus using Bus Eireann, the Aircoach or Dublin Coach. The journey takes between 1 hour and 50 minutes and 2 hours and 25 minutes depending on the operator and their route. For latest prices and timetables, check Translink UK, Bus Eireann, Dublin Coach and Aircoach.
Use Translink UK to check other routes to Belfast City from within Northern Ireland.
By Car
Belfast can be reached by car from anywhere within Northern Ireland and the Republic of Ireland, be it your own car or a hire car. Most hire car companies within the Republic will allow cross border journeys, but it is best to check the fine print before booking a car within the Republic if you plan to visit Northern Ireland as well. If you are looking for great deals on car hire, I can recommend you check rentalcards.com for availability and prices. Just be cautious of adding the full excess insurance. My advice is to buy this at the desk of the company from which you receive your hire car.
Belfast has good motorway links from Dublin via the M1 and A1. From Dublin it will take less than 2 hours to reach Belfast city by car. From other areas of the Republic or Northern Ireland, you will most likely use either the M1 or M2 motorways within Northern Ireland to reach the city.
By Ferry
If you are visiting Belfast from the UK, you can bring your own car by using one of the ferry links. Belfast is connected to the Isle of Man, England and Scotland with direct ferry routes from Douglas, Birkenhead and Cairnryan/Stranraer, respectively. Stena Line operate the routes to Belfast from Scotland and England, while the Isle of Man Steam Packet operate the route from Douglas.
Alternatively, you can also reach Belfast by getting a P&O Ferry from Scotland to Larne and driving the 30 minutes to the city.
Check availability, timetables and latest prices for Stena Line here. Or you can check ferry timetables and routes on Direct Ferries.
Where to stay in Belfast with kids
If you are wondering where to stay in Belfast with kids, then it very much depends on your family's preference for accommodation. Personally, we are an AirBnB family as it gives us the freedom to go self-catering and have separate living and sleeping rooms so us adults can relax after a day's sightseeing. If AirBnB's are not your choice, then you might want to consider hotels or apartments.
Click HERE to sign up to AirBnB and receive money off your first stay.
As we've never been to Belfast and cannot recommend anywhere to stay ourselves, I thought I would ask some of my fellow family bloggers if they can recommend anywhere. Here's what one family had to say.
Laura from The Mamma Fairy recommended the Clayton Hotel which they stayed in during 24 hours in Belfast. She says:
We stayed in the Clayton – location is perfect walking to everything and good facilities on site – swimming pool, nice restaurant and spacious lobby area to sit and chill after a day of activities

Laura – The Mamma Fairy
Alternatively, check out booking.com for other family-friendly hotel options in Belfast City.
How to get around Belfast
If you are staying in the centre of Belfast city, then getting around is pretty easy. Many things are within walking distance to one another, just remember your stroller for little legs.
Belfast also has a pretty good public transport system if you are staying outside of the city centre or plan to visit some attractions outside of the centre. There is a metro service and good bus services within and outside of the city. Use Translink UK to check timetables and routes.
There are also plenty of taxi services within the city and there is also a bike hire system in place for anyone who would like to cycle within the city. Check Belfast Bikes for more information. There are 46 docking stations around the city, you can pay-as-you-go and your first 30 minutes is free.
As mentioned, you may have your own car with you or a hire car, especially if you are planning on venturing outside of the city or are including Belfast in a wider road trip in Northern Ireland. Just ensure that your accommodation in the city has parking available for your car!
You could also get around the city using one of the Hop On Hop Off buses. Check Get Your Guide for both one- and two-day tickets. These are a great way to see a city and make getting from one attraction to another even easier.
In Summary
I hope I've shown you that there are plenty of Belfast attractions for families visiting the city and that you won't be short of ideas for things to do in Belfast with family. Whether you choose to remain within the city and enjoy one of the many family things to do in Belfast, or choose to venture out of the city, you are sure to find something to suit everyone in the family.
Belfast is a great city to visit in Northern Ireland and can easily be combine with a trip to the Irish capital too. If you are considering doing this two-city trip, why not check out my post about things to do in Dublin with kids for ideas on how to spend your time there. And if Belfast is part of a wider road trip around Ireland, check out this post for ideas on more things to do in Ireland with kids.
Cath x
If you are considering any other city breaks with kids, why not check out my posts on visiting Dublin with Kids, Barcelona with Kids and Cardiff with Kids for some more ideas. Or, for other destination ideas and tips for travelling with kids, head to the homepage and take a look around.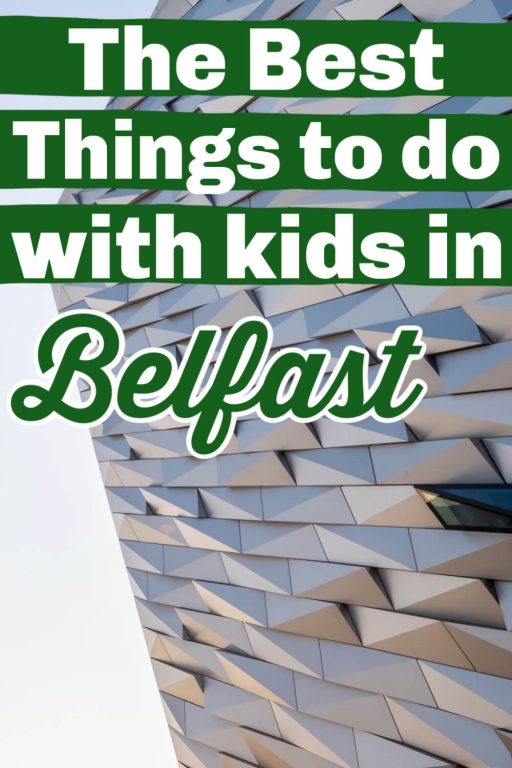 Passports and Adventures is a participant in the Amazon Services LLC Associates Program, an affiliate advertising program designed to provide a means for sites to earn advertising fees by advertising and linking to amazon.com, amazon.co.uk, amazon.ca. Amazon and the Amazon logo are trademarks of Amazon.com, Inc. or its affiliates. To learn more about affiliate links, read my Disclosure Policy here.
Related Posts