Staycations are becoming more popular than ever, especially with the current travel climate. But, for those of us still wanting to enjoy time off from work and school, we can sometimes become stuck for fun staycation ideas. Well, not anymore. Here is a list of staycation ideas for families to help you plan a day off, a weekend with family or even a week-long vacation.
When travelling isn't possible or finances can't stretch enough to allow you to book a one-week or two-week vacation, then staying at home or having a holiday closer to home is the next best option. There are lots of way to travel without having to get on a plane, train or ferry. In this post I'm going to give you some family vacation ideas for a staycation and also some family staycation ideas for staying at home.
Staycation definition
a holiday spent in one's home country rather than abroad, or one spent at home and involving day trips to local attractions.
A staycation has two meanings as the definition shows. It either means holidaying or spending your vacation in your home country. Or it means staying at home doing things there, and taking day trips locally.
Best staycation ideas for staying at home
In this section you will find my best staycation ideas for staying at home with the kids. These can be fun ways to pass the day or summer holidays without leaving the safety and comfort of your own home. These will include summer staycation ideas for the school holidays and can also be done at the weekends during term time.
Some of my suggestions also make great winter staycation ideas for when the evenings are dark and cold or going outside is not really an option unless you want kids that are moaning because they are cold!
Create a backyard water park
If you are looking for staycation ideas for kids to have lots of fun with, then turning your back garden into a veritable water park is going to go down a treat. Get out the paddling pool, add a slide, some sprinklers and let the fun begin. Don't forget the micro fibre towels, water guns and water balloons. There's nothing like a water balloon fight to get the laughter going. And if you really want to treat the kids, why not purchase a new inflatable water play center. A cheaper option would be a sprinkler pad.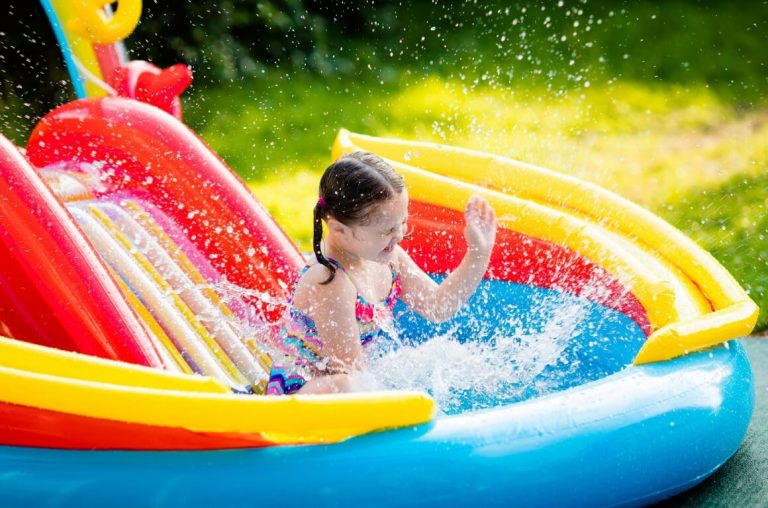 Get gardening
Another great way to spend some staycation time at home is out in the garden. Grab some seeds in your local garden centre, some compost, plant pots and get gardening. Getting the kids their own gardening gloves and some kids gardening tools will make it even more fun for them. Time it right and plant some sunflower seeds and watch them grow throughout the summer.
If you have a nice corner of your garden or yard, why not create a fairy garden and get the kids' imaginations going. There are lots of ideas for creating fairy gardens and you can even create one for indoors if the weather isn't great. All you need are a few supplies, some time, and a lot of imagination.
Have a pamper/spa day at home
You don't have to go to an actual spa to have a pamper day. Set up a home spa at home with relaxing music, candles and get the beauty products out and let the kids pamper you. Get some kid-friendly nail polish, a deluxe spa kit and some eye masks and pretend you are in a luxury spa in the country. Bath bombs can be a great hit with the kids too, so drop one into the bath and pretend it is a luxurious whirlpool bath (without the bubbles).
Enjoy some arts and crafts
If your kids are the creative kind, then a great way to spend a staycation at home is to get the arts and crafts box out and get their imagination flowing. Pinterest is a great place to get ideas for what to make and do with kids, so ask the kids what they'd like to make and get some ideas from Pinterest. You could try making hand puppets, painting rocks, paper roll characters, paper plate fish, clothes peg trains and more. The list is endless. Just make sure you've got plenty of washable paints, paint brushes and kids aprons (if you hate mess). Store it all in a big old plastic craft box.
Have a games tournament in your backyard
Why not create a games tournament in your backyard to get the kids moving. Have a football penalty shoot-out, an egg and spoon race, or even a sack race (smaller kids could use an old pillow case for this). There are also lots of outdoor games to enjoy such as Giant Jenga, Connect 4, Laser Tag, or Ring Toss. Twister is another great game to use for an outdoor tournament.
Here are some great ideas for garden activities for kids from Welsh Cakes and Wellies.
Get baking/cooking together
If you are looking for some fun family vacation ideas to do with your kids during the school holidays, then why not get into the kitchen and bake some cakes or cookies or prepare a meal together. Kids love baking as the end result is usually a delicious, sweet treat. And older kids will get satisfaction from Dad enjoying a meal they helped prepare and cook. The kitchen can also be a great learning opportunity through measuring, preparing and discussing different ingredients and where they come from and their nutritional value.
Fort building
If it's not a great day outside and your staycation is a wash-out, then let the kids start building an indoor fort. Clear the living room and let them get building with seats, cushions, blankets and anything else that will make their fort amazing. This is a great staycation idea for winter too when it may be too cold to venture outdoors.
Have a movie night
Sometimes it's nice to end a day of games, crafting or gardening with a relaxing evening in front of the TV with the kids' favourite movie on. Get out the cosy blankets if its winter, set the popcorn maker going, grab some of your kids favourite snacks and make some drinks with your Soda Stream machine. Then settle down to watch your favourite family travel movies to keep that far-flung wanderlust alive.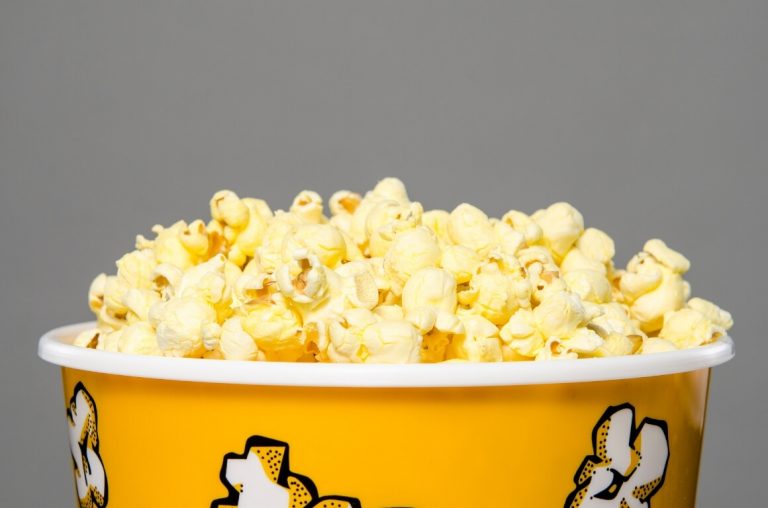 Create a drive-through movie theatre in your backyard
If summer is warm and the nights are not too cold, why not take movie night outdoors! Create your very own drive-through movie night in your back garden. All you need is a projector and screen and somewhere comfortable to sit. Bean bags are perfect or get some inflatable air lounger sofas. Just remember your popcorn, snacks and drinks. And a few blankets in case it starts to get a little chilly.
Read some new books
A great quiet activity to add to your staycation ideas list is simply to read some new books together. Get the older kids some of the latest novels suitable for their age group and add them to their Kindles, while you create a story-telling area in your living room or a bedroom to read aloud to the younger ones. You never know, they might have a nap leaving you to enjoy a hot cup of tea or coffee!
Start learning a new language
If you are planning to visit somewhere in the future that doesn't speak English, then why not use your staycation time together to start learning the language of the destination you plan to visit. Be it French, Spanish, Portuguese or even Mandarin, why not spend time together as a family leaning the basics. Memrise is a great language app to start with for a variety of languages.
Have a games night
If you've held a games tournament but the kids don't want to stop the fun, take the games indoor, grab some snacks and have some staycation family fun. Table top games, board games and simple card games can provide lots of entertainment. And these games can prove very useful for rainy days spent indoors. Games we love playing include Junior Monopoly, Qwirkle, Uno, Connect 4 and Jenga. Free games to play with kids include charades, spoons and Never Have I (more suited to older kids). When our son gets older we plan to introduce him to Settlers of Catan, Ticket to Ride and Dominion.
Invest in some Keep Em Quiet Bags
Keep Em Quiet bags are a great way to provide entertainment for the kids. These bags are age-appropriate, can be chosen for gender and are packed with screen-free arts & crafts, toys, games, workbooks and more. They were originally designed for flights but can be used whenever you want some great-value entertainment and fun for your kids.
Invest in some subscription boxes
There are some great subscription boxes that can be both fun and educational to help fill the time during your family staycation. Little Passports is one of the best for keeping wanderlust alive in the family. There are several different types to choose from including STEM boxes and Culture & Geography Boxes.
Disney day at home
If you've got some Disney fans in your house, but can't make it to Disney World or Disneyland Paris, then why not create a Disney day at home for your little people. Put on your kids favourite Disney movies, let them dress up in their favourite Disney character costumes and have a Mickey mouse-themed party with Disney decorations and Disney party supplies.
I have a Disney Movies checklist that you could print out and tick off which movies you've watched during your Disney day at home. Click here to get it now.
Take a virtual tour
When travel is not possible for any reason, then you can still travel "virtually" to places like a country, science centre, museum, zoo or aquarium. Many of these establishments have virtual tours either on their website or on YouTube. So, you and your kids can still enjoy these places without physically being there.
Another thing you can do to "visit" a different country without travelling to it is to check out guides such as the Global Citizens Club by Pack More into Life blog. Chelsea has put together activities and fun ideas for 'visiting' different countries without physically travelling there.
Have a dance-off
Hands up who loves to dance? Even if you are a bit self-conscious a good old dance-off with the kids in your living room is a great way to spend some staycation time at home, especially if it is raining or during the winter. Stick on yours and the kids' favourite tunes and get bopping around the living room. You could even award a 'prize' to the winner. This is a great way to combine fun and exercise!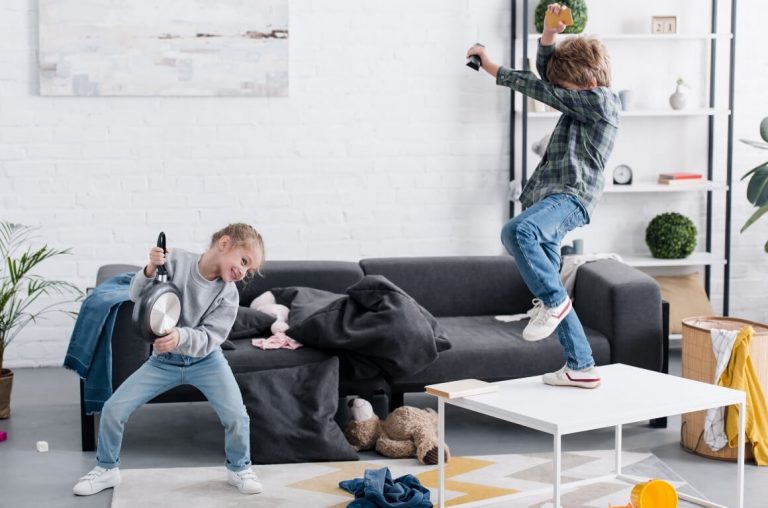 Enjoy a barbeque
Summers are all about the barbeque and this is a great way to spend some quality together as a family. If the sun is shining, grab those burgers and steaks, let Dad set the BBQ going and enjoy an afternoon in the garden.
Camp in the back garden
You don't have to leave home to enjoy a spot of camping. If you have a back garden/yard then why not get the family tent out and enjoy some camping closer to home.
Make sure you've all got your sleeping bags, the air mattresses are filled and the solar lanterns are charged during the day. Giving the kids some LED flashlights to help them find their way back inside to use the bathroom will be useful if you have no outside lights in your back yard. You could even make s'mores on the BBQ to make it feel even more authentic!
Stargazing
And while you are camping in the back yard, why not enjoy some star gazing. National Geographic Kids have a great book called Night Sky which is a great guide book to help kids discover, and enjoy, the night sky. You could also invest in a telescope and then use the 50 Things to See with a Telescope – Kids book to have an educational evening with the kids.
Have a scavenger hunt
Kids love adventures and adventures can even happen at home on a staycation. You can easily set the kids a scavenger hunt in their bedroom, backyard or even for while you are camping at home. A simple printable scavenger hunt can create a lot of fun for the kids to enjoy.
Scavenger hunts also make great family vacation ideas on a budget when you want to entertain the kids but not spend any money! A road trip scavenger hunt, camping scavenger hunt or even a beach scavenger hunt can be brought on vacation with you.
Plan your next vacation
If you are longing to get away and quench your thirst for wanderlust, then why not plan your next vacation, even if you don't book anything. You could decide dates in the future, check out flights and connections, decide exactly where you want to stay and plan all the things you will see, do and eat when you eventually get there. Write it all down and keep it for the future when you are ready to book it all. Planning is half the fun after all! Include the kids and they'll be happy too.
Best staycation ideas for close to home
If you want to have some summer family vacation ideas that will keep you closer to home, this is the section for you. These will be ideas for days out or for venturing outside but remaining within your locality or neighbourhood. Some of these also make great budget vacation ideas for families to do when you are able to make that vacation once again.
Go for a bike ride
If you are staycationing at home and the kids are going a little stir-crazy, then going for a bike ride will help blow the cobwebs away and get them active. And maybe even burn off some of that excess energy. You don't have to venture far, a gentle bike ride around the neighbourhood might be all that is needed.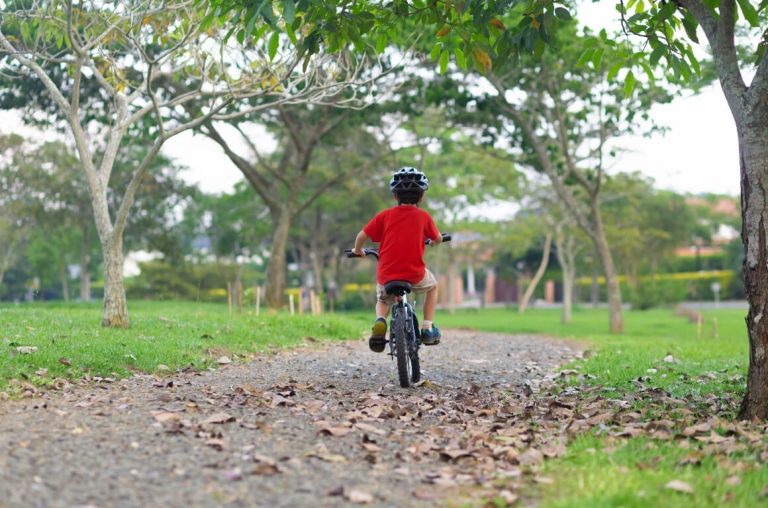 Have a beach day
If you are lucky enough to live close to a beach, then one of the best ways to spend a staycation day is to hit that beach and enjoy the waves. I don't know any kid that doesn't love the beach, so pack some lunch in a cooler, don't forget the sunscreen and the bucket and spades, and start enjoying the feel of the sand between your toes. I can highly recommend bringing the Tesalate sand-free towel with you.
Visit an amusement park
One place that is sure to get the smiles on the kids' faces is a visit to an amusement park. Whether it is an all-out Disney affair or a smaller amusement park with a carousel, rides and candy floss stand, this will go down a treat with kids. These won't necessarily be cheap vacation ideas for families but can be a great way to entertain the kids on a staycation or real vacation alike. Check for tickets ahead of your visit on websites like Viator.
Go shopping
Some retail therapy may go a long way in keeping kids quiet and happy, especially if it involves toys or treats. Decide ahead of time a spending limit and what shops you will visit and maybe treat them to an ice-cream afterwards for good behaviour and no nagging!
Visit a local landmark
If there are any local landmarks near you, these can be a great staycation idea for a day out with the kids. Whether it is a castle, a museum, famous building, waterfall or park, visiting a local landmark can be a great day out with the kids during a staycation.
Create a scavenger hunt for the landmark, or if it is a museum or famous building, email ahead to see if they are holding any special events during your visit. Many castles and similar landmarks hold summer holiday events like treasure hunts to make the visit more interesting for the younger members of the family.
Have a picnic in your local park
If the sun is shining during your staycation, then why not pack a picnic and head to your local park to enjoy it. Keep your food and drinks in a cooler, don't forget the picnic blanket and remember to bring the picnic basket with cups, plates and cutlery. You could also bring some games for the kids to enjoy, a football or even a Frisbee. And why not bring the family dog (if you have one). Just remember your poop bags.
Go for a hike
If you are an outdoor loving family, and adventure is in your bones, then getting out for a hike is a great way to spend the day as a family. Whether you live near a US National Park or the Peak District in the UK, family-friendly hikes can be found to enjoy with the kids. Just make sure you stay within everyone's ability level and go prepared with layers, snacks, drinks and at least a map and compass in case there is no phone signal where you are venturing.
Visit a petting zoo/farm
Have kids that love animals? Then why not visit your local petting zoo or farm during your family staycation. These venues are brilliant, especially for young kids and usually contain all the farm animals that kids love. Let them get up-close-and-personal with goats, cows, and rabbits, and there might even be a horse to have a ride on.
Go for a drive
Whether you are on a staycation at home or somewhere within your own country, go for a drive. Pack the snacks and drinks and set off. You could set a destination to somewhere you haven't visited before or you could simply wing it. Bring a road trip scavenger hunt for kids or a spot-the-road-sign hunt and let them have a little competition in the back seat. Winner gets to choose where to stop.
Watch the sunrise/sunset
Unless you have an easy view of these from your home, why not set out before sunrise or just before sunset to a place where you can watch it together. The beach is a great place to watch these two daily events or up a hill/mountain. Just remember to pack a cosy blanket in case it is a bit chilly for the kids.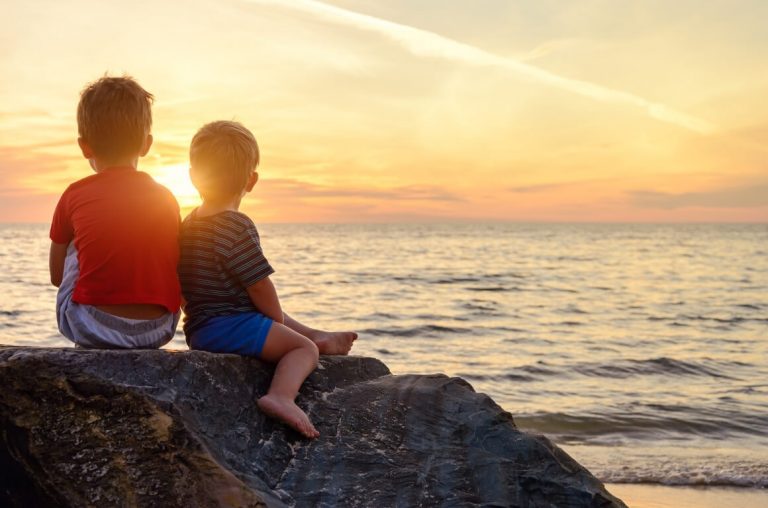 Go fruit picking
A great activity to do during a staycation is to visit a fruit farm to go fruit picking. Whether it is for strawberries, blackberries, apples or even oranges, fruit picking can be lots of fun for kids as they wander around the farm or orchard, looking for the perfect fruit to add to their basket. Check ahead of time if baskets or punnets are provided or else bring your own. Choosing your pumpkin before Halloween is another great activity to do during a weekend. Farms are great places to visit with kids and they can be hugely educational too. Ask your kids questions and get the conversation flowing.
Enjoy a local festival
A staycation doesn't mean you need to miss out on some festival fun. If you cannot travel to your favourite festival, why not see what is going on closer to home to see if there is a family-friendly festival taking place in your town, state or locality. Most festivals will have some stalls or rides for kids to enjoy and food stalls will keep hangry kids at bay.
If you are enjoying a staycation in another area of your county/state or country, then contact the local tourist board to see what events will be taking place during your visit. Summer is usually filled with festivals, so it's worth checking.
Be a tourist in your own town
Despite living in Dublin for most of my life, there are so many places I am yet to visit like the Guinness Storehouse. And I am eager to return to Ireland to spend a few days being a tourist in my hometown, discovering places I haven't visited before or revisiting places I visited when I was much younger.
Being a tourist in your own town can be a great staycation idea for families and will help you discover things you never knew were there before. Do a search beforehand and read some blog posts to get ideas for places to see and visit and choose ones you haven't visited before. Discovering your town from a different point of view can make it a fun event for you and the kids alike. Just let them help with the planning and let them choose a few places to visit to keep them happy and engaged.
Best family staycation ideas within your own country
If you are planning a staycation with family within your own country and are looking for some adventure vacation ideas for families, then this list is the one you need. I'll be giving you a variety of ideas for holidays but within your own country, helpful if international travel is a no-go. These are ideas which involve at least an overnight stay, and are not day trip ideas.
Stay overnight in a hotel
Booking into a hotel can be a great way to enjoy a staycation. It doesn't have to be an expensive one so long as there is something for the kids to enjoy. Try find one with a pool you can enjoy and a kids club would be a bonus. Simply enjoying a night away from the house and a change of scenery can be a great way to recharge the batteries. As the saying goes, a change is as good as a rest. Check out booking.com for deals and hotels close to you.
Take a road trip
A road trip is a great staycation idea for families. Road trips are a great way to get out and explore your country without having to fly, take a train or even a bus. This type of holiday is my favourite type as you get to see so much more than you ever would on a package holiday.
Road trips also leave you very flexible to stop wherever you want and for as long as you want. You can take a detour if someone recommends something slightly off your route and you just never know what you might find around the next corner.
In 2018 we did a staycation road trip in Portugal and visited some amazing place including the UNESCO World Heritage Sites of Batalha and Alcobaça. We also enjoyed a few days exploring Lisbon while we were at it.
In 2020, with the Covid pandemic in full swing, we had to cancel all our international travel. However, we did enjoy a 10-day staycation within Portugal and took a road trip to explore other parts of the country we hadn't visited before such as Évora and the Serra da Estrela National Park. It was a multi-generational staycation as we took my father with us and it was an amazing 10 days. We got a change of scenery after months in confinement and spent quality family time together.
So, if you are looking for some staycation ideas for families, a road trip would be my top recommendation. Make sure you read my packing list for a family road trip post to ensure you don't forget anything.
Go camping
Another great family staycation idea is to pack up the car and head for a campsite. It can be a local one, one near the next town or even next county/state. Pack the car, ensuring you don't forget anything and get on your way. If you've never been camping with kids before, then you might want to read this post in which I share some tips for beginner camping with kids so you're a bit more prepared.
Whether it is for a few days or even a week, getting away from the house and getting the kids outdoors can be a great staycation vacation for families. Getting out and about in nature is great for kids as it's one big playground and classroom at the same time. Let them help set up your camp and remember, they are going to get dirty so embrace it! Camping is a rites of passage as a kid and we're looking forward to experiencing it with our son in the not-so-distant future.
Before you set off, make sure to grab my free printable camping journal for kids. With 10 pages it is the perfect way to keep the kids entertained while you either set up camp or get dinner cooked. Click here to get it.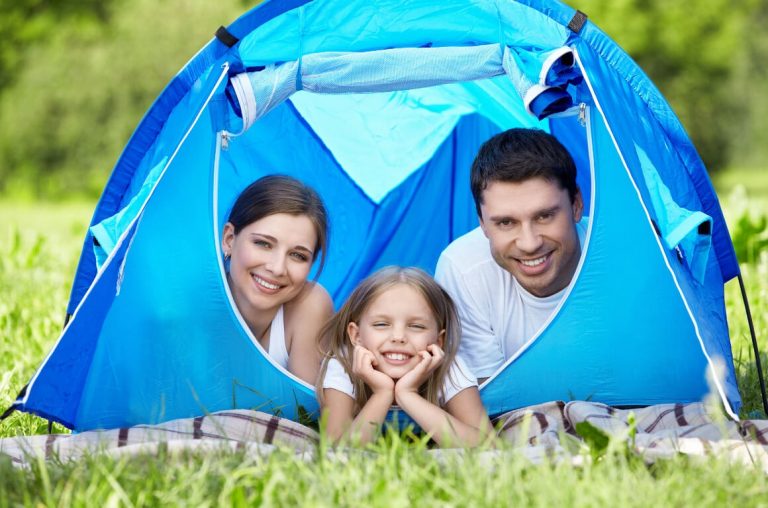 Visit another city
If you are looking for some US or even UK staycation ideas, why not simply visit another city in your country, one you haven't visited before as a family. A city break with kids can be a great getaway for everyone, so long as you remember to mix sightseeing with fun things for the kids to do.
Whenever we visit new cities we intermix the famous landmarks with a visit to the local zoo, aquarium, children's museum or castle (our son loves castles). This ensures everyone in the family is kept happy. We visit our choice in the morning, followed by our son's to bribe him if necessary.
I have two posts which will help my US and UK readers in which you'll find the best family-friendly cities in both countries – Best cities in the US to visit with kids and the best cities to visit with kids in the UK.
Explore a National Park
If you have a National Park or two in your country, another way to enjoy a getaway that is a staycation is to start exploring them. Whether you choose to stay within the National Park if it is allowed, or outside, they are great places to visit with kids.
A visit to a National Park can be combined with a road trip to allow you to enjoy it to the full and at your own pace. If you are visiting the US National Parks, then get my National Parks Bucket List printable and tick off the ones you visit!
And of course, there is always the option to do absolutely nothing. A staycation can also entail pyjama days where there is no plan and nothing to do except just relax.
Cath x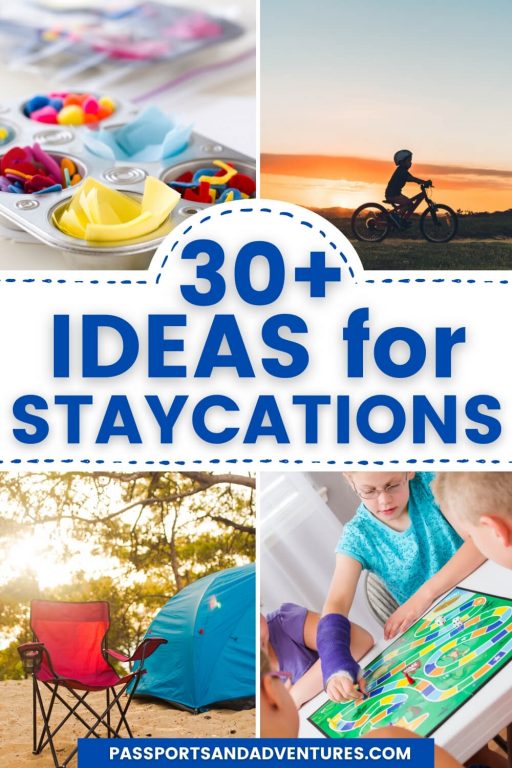 Related Posts
Passports and Adventures is a participant in the Amazon Services LLC Associates Program, an affiliate advertising program designed to provide a means for sites to earn advertising fees by advertising and linking to amazon.com, amazon.co.uk, amazon.ca. Amazon and the Amazon logo are trademarks of Amazon.com, Inc. or its affiliates. To learn more about affiliate links, read my Disclosure Policy here.