Eating out with kids while travelling can often fill parents with dread. Questions like "Will they eat what's on the menu?", or "Will they serve Spaghetti Bolognese?" often spring to mind. But what happens when you are in a country where your children's tried-and-tested meals are nowhere to be seen when it comes to menus? I thought I would ask my fellow travel bloggers to share their experiences of the most unusual places in the world to eat with kids.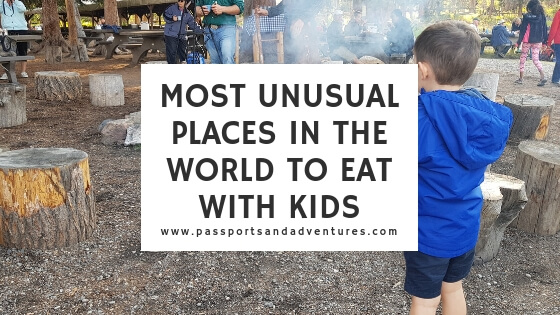 *Post originally published in July 2018. Post updated in April 2020.
As for us, the most unusual place in the world we've eaten with our son has to be in the wilds of Yellowstone with the cowboys. At the end of our visit to Yellowstone National Park, we joined the Old West Dinner Cookout. On this experience you ride in a wagon to the site of the very first hotel in Yellowstone (no longer standing).
There you enjoy steaks cooked how you like them, with sides, while listening to country songs. You dine with the cowboys and cowgirls of Yellowstone, drink coffee brewed on the campfire and listen to their tales after dinner around the fire. It's an experienced not to be missed and certainly the most unusual place we've eaten with our son in the world so far, even if the food was pretty normal!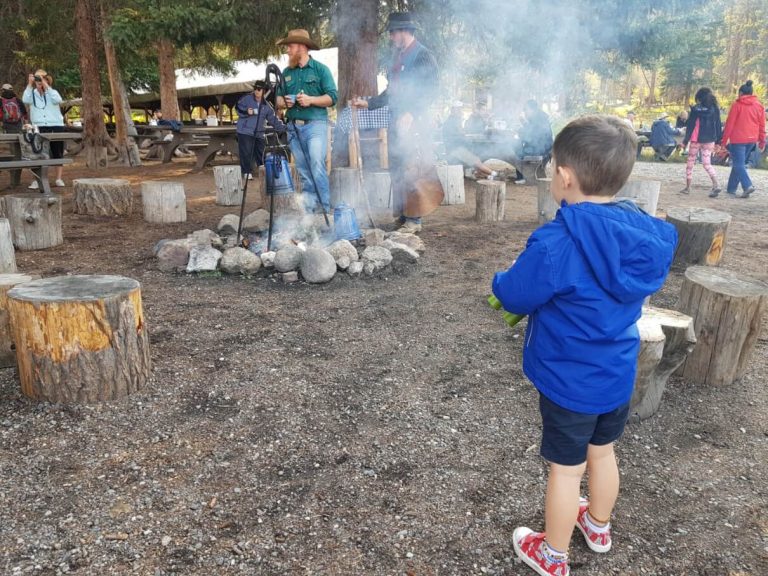 Dining with the cowboys of Yellowstone National Park
Most Unusual Places in the World to eat with Kids
As I've mentioned, where to eat with kids while you are on holiday in a strange land is often the top question on parents minds. And while 9 times out of 10 you can easily find place to eat with children serving their favourite tried-and-tested dishes, sometimes you'll find it harder to please them. Below you will find list of unusual and strange places to eat with kids in countries around the world, some of which sound really fun. Let's take a look at where was recommended by my fellow bloggers.
Europe
In this section you'll find a list of unusual places for kids to eat in Europe.
The cafe where your kids get to make their own food…and yours!
If your kids love to get busy in the kitchen, Amsterdam's 'Kinderkookcafe' or Children's Cooking Cafe is the place to head. Located right next to the amazing Vondelpark, children choose what they want to prepare from a range of pictures. They then collect instructions (all illustrated for even the very youngest chefs) as well as a tray of ingredients and get busy making their meal. Independence is hugely encouraged so sit back and let them get busy.
There are adults on hand to pop things in and out of the oven if necessary and once a month slightly older children are invited to prepare a full three course meal. Our boys absolutely adored the experience – you can find more about it and other great ideas on our Amsterdam blog.
Tracy – Amsterdam Wonderland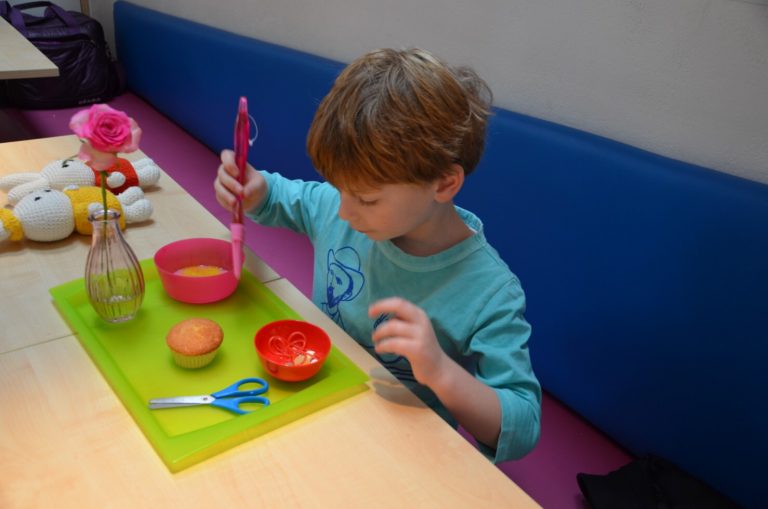 Kids make the meals at Kinder Kook Cafe, Amsterdam
Dine with Rats at Disneyland Paris
Rats and restaurants don't mix, right? Well in the world of the Disney movie Ratatouille, they certainly do. That movie comes to life at Bistro Chez Remy at the Walt Disney Studios park at Disneyland Paris and visitors can step into a restaurant run by Remy, the talented rat chef.
When you enter, you're shrunk down to the size of a rat and are seated on chairs shaped like oversized champagne corks and use gigantic forks as coat racks. Christmas tree-style lights that are a foot long provide the lighting and paper cocktail umbrellas decorate some of the tables. Kids of all ages will love the surroundings and parents will get a kick over the giant bottle of wine that stretches from floor to ceiling. There's a variety of French and American menu items, but you won't want to miss the ratatouille. This is one of the most popular restaurants at Walt Disney Studios, so you'll want to make a reservation if you plan to eat here.
Kris – Nomad By Trade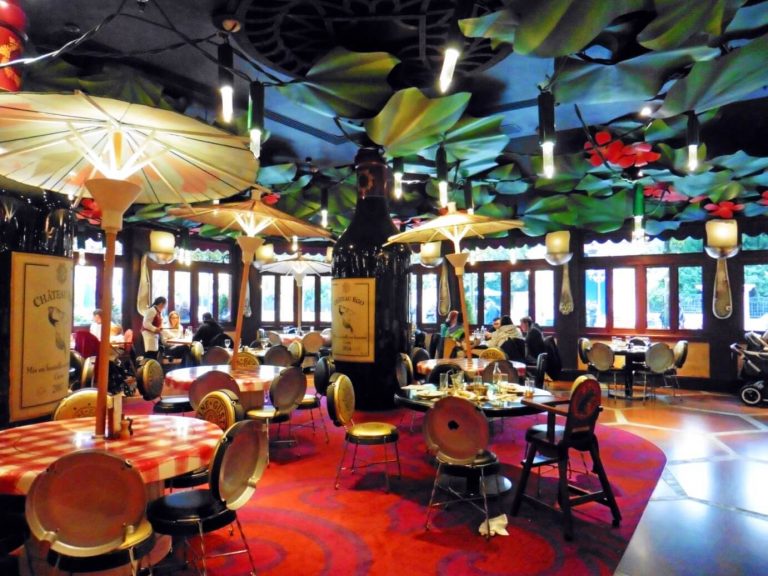 Dine like rats at Bistro Chez Remy
Rollercoaster Restaurants: Food Sliding Down
The world's first restaurant to offer automated ordering service – where you order food via a touchscreen monitor/digital menu and where waiters don't serve your food was established in Nuremberg, Germany, a restaurant called S'baggers. It has been closed now but several other restaurants, patented as Rollercoaster restaurants exist in Germany, Austria, Russia, and even in the UAE. The original restaurant in Nuremberg serves as the main office for the restaurant patent.
The concept of the restaurant is that the food comes directly on your table…through a spiral rail, thus a rollercoaster track. The last time we dined in a rollercoaster restaurant, one of the bottles jumped off the rail…much to the surprise of the kids and other diners. I think this is the reason that most warm drinks are brought in by the waiters, so they actually have another job apart from teaching you how to order via tablets and monitors. The food served in rollercoaster restaurants vary from region to region, you can find burgers and pasta but they also serve a regional speciality the city is known for.
Maria – Our City Travels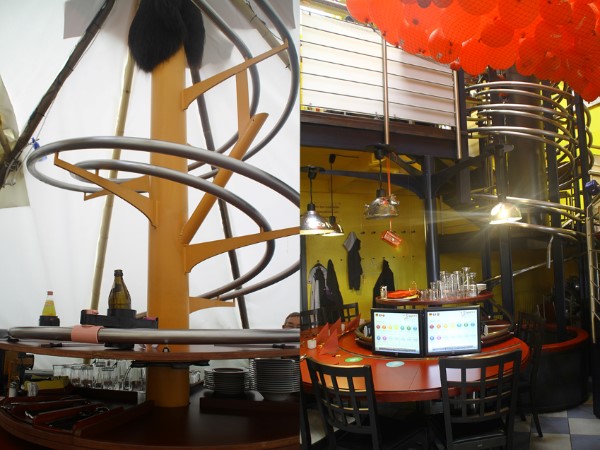 Have a rollercoaster bring you dinner
Asia
In this section you'll find some ideas of unique places to eat in Asia with kids. some of these are easily the most fun places to eat for kids in the world.
Let the Kids Chill out with the Coolest Cats in Thailand
Numerous studies have shown the positive effects of having cats – they lower your stress, blood pressure and help you live forever! Ok, I may be exaggerating some of that last sentence, but what I'm really trying to say is THEY'RE JUST SO CUTE!
At the Cat 'N' A Cup cafe in Chiang Rai, you get to hang out with lots of them. In a clean, modern environment with some very happy cats, you can sit down and enjoy a bite to eat and a coffee, whilst the kids are occupied playing with their new best friends. And if that doesn't reduce your stress, I don't know what will!
Ben – The Sabbatical Guide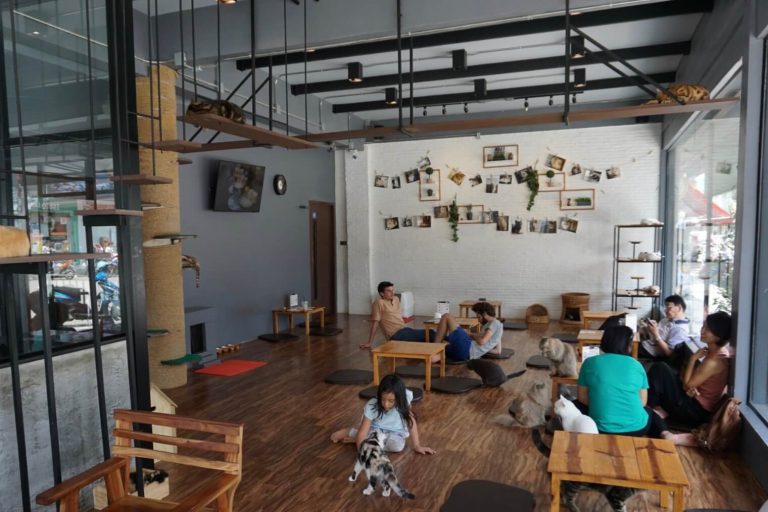 Cat'N'Cup Cafe
Ordering Ramen Noodles from a Vending Machine in Japan
Japan has so many fun food experiences for families, but the one we loved the most was eating fresh ramen that we ordered from a vending machine. First of all this ramen is completely different than the hard packet of noodles you ate in your student days. The flavour combination of a good ramen broth is divine and it is a great kid-friendly meal. When you enter a ramen restaurant in Japan, you will often order your ramen fully customized through a vending machine. The machine will spit out a ticket with your order and then you queue for a seat. The Ichiran chain is rumored to make the best ramen and with several outlets throughout Tokyo and English signage, it is a great choice for visitors.
It isn't just the ordering that is unique, at Ichiran you eat your ramen at individual booths with privacy screens on each side. This worked well for our school-aged kids who are independent, but you might want to choose a ramen restaurant with more traditional seating if you are travelling with little ones. This is one food experience you want to make sure you try when visiting Japan with kids.
Dawn – 5 Lost Together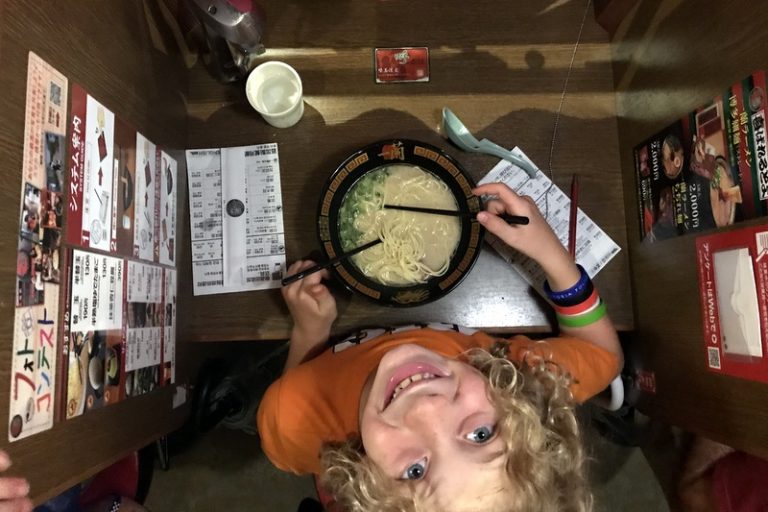 Ramen in Tokyo
The Ultimate Mongolian Farm to Table Meal in a Ger
On a cool evening I arrived at a small ger camp in the Gobi Desert. Our host asked if we would like a supper of goat soup included for a few more dollars. The last (and only time) I'd had goat soup before was in Kenya and it was deliciously greasy, so I gave an enthusiastic "Yes, please!" Then, I was off to explore the territory of my nomadic hosts who were settled here for the summer months.
Walking the hills, I climbed rocky outcrops and found goats at every turn. I was called back at supper time by the sound of the goats being herded into their pen for the night.
Mongolian gers are similar to Russian yurts, the main difference being in the roof. Entering the ger by opening the colorful chest-high wooden door and stooping through the low doorway, the fragrance inside is mouth-watering at mealtime. A pot of food steams atop the wood burning stove that is the centerpiece of every ger. Seated at a small table on low chairs slurping our delicious soup of Mongolian goat, it warmed our bellies as the air outside nearly froze in June.
Mongolia is one of the last places on earth where nomadic culture prevails even today. Kids who love horseback riding for days on end, long car rides (1-2 days, or hours via internal flights), and are interested in culture and natural wonders will love Mongolia. Most ger camps are family run with friendly kids of their own.
Guided tours or packing in your own food supplements local food, which is extremely limited in terms of fruit and vegetables, since nomads don't farm crops.
Read Jess' comprehensive Mongolia articles on everything from toilets to horse trekking at Longest Bus Rides.
Jess – Longest Bus Rides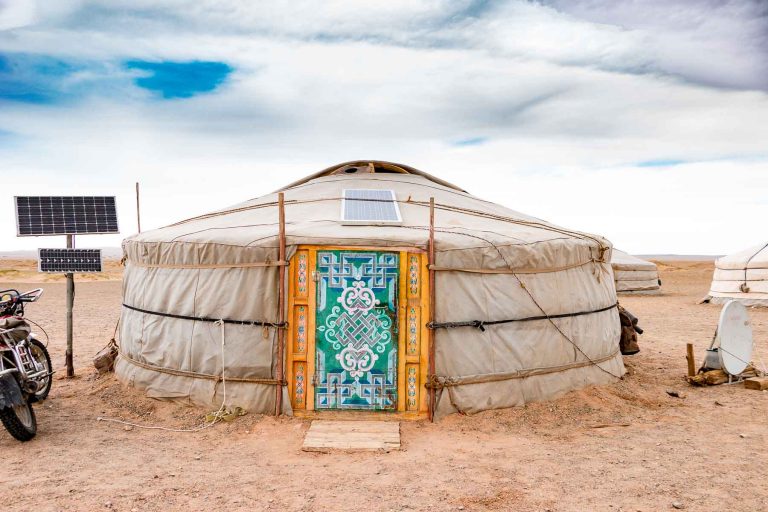 Dine in a Mongolian Ger
A Bedouin Feast in Wadi Rum, Jordan
Wadi Rum in Jordan is one of the most visually dramatic destinations in this tiny, but incredible country. The red sand and rocky cliffs are often compared to Martial landscapes. And the barren ground, nearly void of vegetation, seems nearly un-livable. Yet, for thousands of years Bedouin tribes have called this desert home.
For those lucky enough to visit Wadi Rum, and with enough sense to spend the night in one of the burgeoning Wadi Rum desert camps, there is another treat in store. The Bedouins of Wadi Rum have created a unique way of cooking their meals.
They dig deep pits in the desert sand and fill the bottom with hot coals. A towering, multi-layered tray of meat and vegetables is then lowered into the pit and buried. The scrumptious meal spends most of the day baking in the natural insulation of the desert sand before finally being ceremoniously dug up and presented to the diners.
These Bedouin feasts are best enjoyed under the spectacular night skies that only a place as magical as Wadi Rum could pull off.
Kevin – Wandering Wagars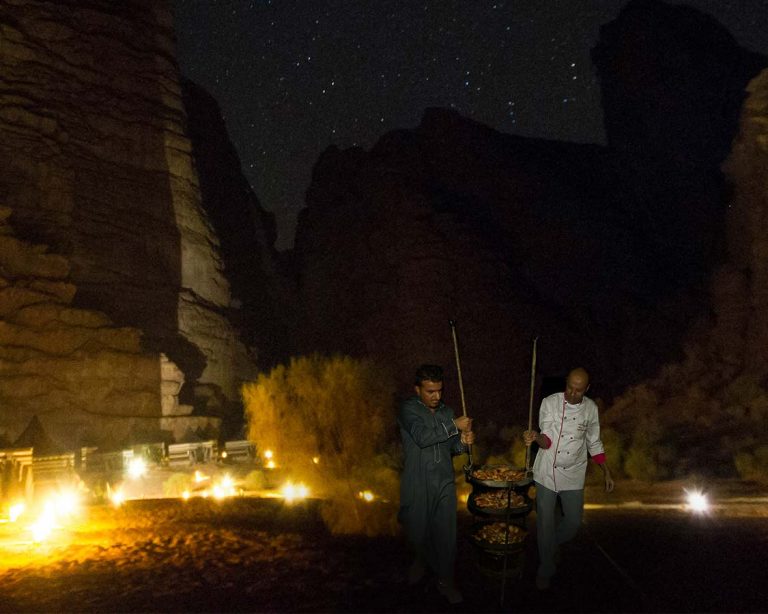 A Bedouin feast in Wadi Rum
One Fish, Two Fish, Red Fish, Tuna Fish! Eating Sushi with Kids at Japan's Largest Fish Market
The ultimate and most unusual place to eat sushi with kids is Japan's famous fish market near Odaiba and Tokyo Bay. The Tsujiki working wholesale market (soon the Toyosu market) is bordered by many sushi chefs creating the freshest and finest sushi available in the world.
School-age kids, tweens, and teens will especially love visiting this market and eating sushi prepared by incredible sushi chefs. To make visiting and eating here worthwhile, snap a few #insta worthy pictures and jot down the Japanese names of a few of your favorite sushi fish (unagi, maguro, ebi, and so on). Make sure to wear solid shoes and avoid sandals because the floor can be wet and carts and fork-lifts go by regularly.
While you may be tempted to rise VERY early for the tuna auction (free admission, limited to 120 per day, tickets from the Osakana Fukyu Center), I would advise families to skip this. It's busy, cold, brief and requires you to all wake incredibly early to stand in line for tickets. Instead, arrive around breakfast time to watch fishmongers wrangling their catch and readying fresh fish like octopus and crabs for the market.
Wondering how to choose the best place to eat with kids at Japan's largest fish market? There are plenty of small sushi restaurants and truthfully, they are all fantastic. Don't worry about going to a 'special' sushi place. The restaurants are typically small, with quick turnover, and incredibly similar so you can't go wrong. Sushi Dai, Daiwa, and Bun are the most popular (and with the LONGEST lines), but you will also find places to eat with offering tonkatsu (fried pork cutlet) and udon noodles available for the non-sushi eaters in your family. There is also plenty of cooked sushi available. Ask for a fork or bring your own set of child-friendly sushi chopsticks to use. We create our own if it's a must using the chopsticks wrapper bunched up between the two sticks and a rubber band.
Tsujiki Market is located just a few minutes walk from Tsujiki station or directly above Tsujiki Shijo Station on the Oedo line. The market is always closed on Sundays and is scheduled to transition to Toyosu market in late 2018. Read more about visiting Odaiba and Osaka with kids here.
Cerise – Enchanted Vagabond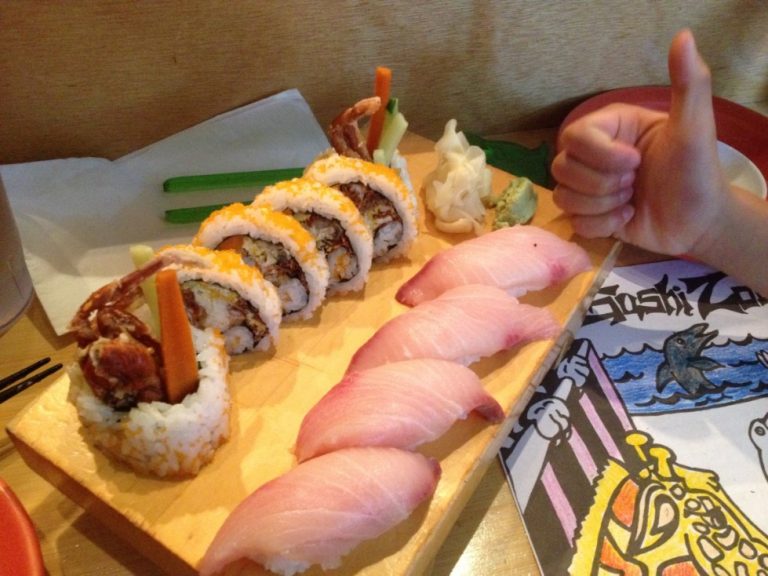 Sushi with kids in Tokyo
Eating "Poo Poo" at Modern Toilet Restaurant in Taipei, Taiwan
When I told my two-year-old and four-year-old that we were going to the "poo poo" restaurant, I expected to get laughs and enthusiastic agreement. Instead, they both didn't want to go, because they thought they'd actually have to eat real poo poo…
The fun began as soon as we arrived, though, at this Taiwanese chain restaurant's location in Ximen, the "Harajuku of Taipei." As the name suggests, everything in the restaurant is toilet or poop themed, from turd-shaped hanging lights and dancing poops on the walls to the toilets you sit on and wash your hands in.
The giggles only continued as our food hit the table: poop-shaped buns, a main course served in a porcelain throne, and a swirling mound of chocolate ice cream in a mini squat toilet. We didn't really need it, but I had to order one of the enormous shaved ice desserts, in a larger squat toilet, topped with marshmallows, jelly things, cookies, ice cream, chocolate sauce, and so on.
So if you think your kids would be more entertained than weirded out, do check out Modern Toilet, with locations now in Hong Kong too, and plans to open up in Kuala Lumpur and Macau.
See here for more info about Modern Toilet or traveling to Taipei with kids!
Nick – Nick Kembel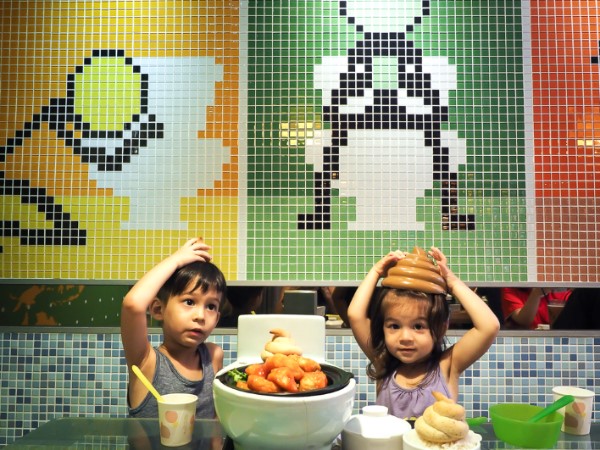 Poo Poo Restaurant
Frankensteins Laboratory Seminyak Bali
Looking for somewhere to take the little monsters in Bali? If your rug rats are on the adventurous side, Frankensteins Laboratory in Seminyak may be just the ticket. Frank's recently introduced a special family session designed specifically for the youngsters.
Doors open at 4.30pm and entry is free. The action gets underway at 5.30pm with a Zombie meet and greet and photo op. Settle into your seats as the first cabaret show hits the stage at 6.30pm. If you haven't already ordered dinner makes sure you do before 7.15pm when last orders are called. Kids meals are just IDR74.000 and feature all their favourites. Adults meals range from IDR64,000 – IDR179,000 and there is enough variety to suit most.
If the kids have been really good treat them to an ice cream for just IDR34,000. Don't miss the opportunity to transform your little darlings with Zombie face painting which is just IDR50,000 for regular paint or IDR100,000 for deluxe SFX silicone make-up. The second cabaret show hits the stage at 7.30pm and in between 2 live bands will get your toes tapping. Door close at 8.15pm to make way for Frankensteins second adults only session (14+). Frankensteins is very popular so make sure you book at least a few days in advance.
Allison Smith – Flights to Fancy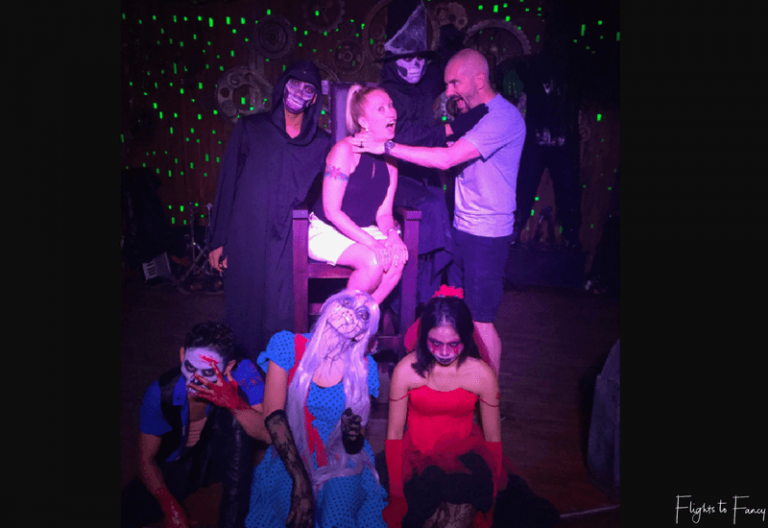 Frankenstein's Laboratory, Seminyak, Bali
Dining on India's Backwaters
Have a family dinner cooked by a private chef in the comfort of your own ….. houseboat! You can rent a houseboat for a day, a night, a week or more and dine with the incredible Alleppey backwater views all around you.
As soon as we boarded the boat we were offered fresh coconut and sliced pineapple. They had a set menu thought out with samplings of Kerala's regional specialities. Before they could finish the dinner menu for that day, they asked if we wanted to add any fresh seafood. My husband did so we headed over to the fish market (accessible only by boat) and he selected which catch he wanted for dinner.
Kerala, India is commonly referred to as "God's Own Country." With a nickname like that, I was obviously expecting a beautiful setting and wow, did it take my breath away. It was like going back in time when people lived simply, worked the land and it provided. This is a fantastic experience for all age groups. If you are travelling with a baby, you'll appreciate the private comfortable bedrooms during nap time. My toddlers loved watching the boats go by and since the entire 1st floor was glassed in, they could run roam freely. Older kids will have a better appreciation of how beautiful and different life is there.
Dana – Adventures With Children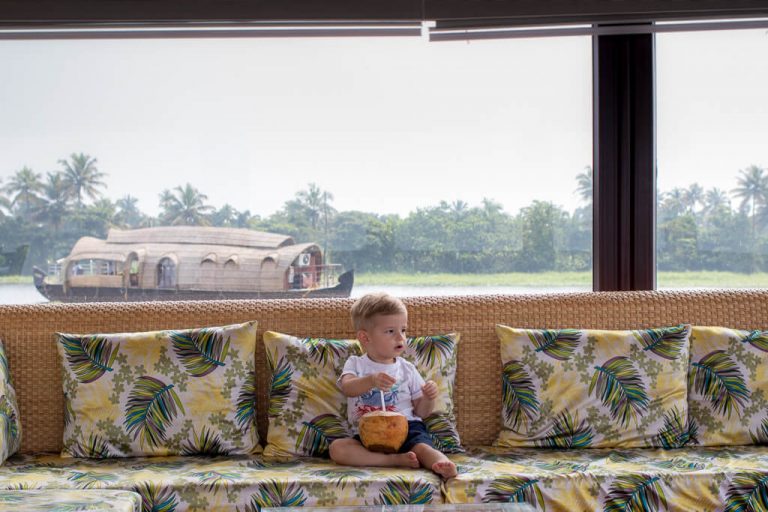 Dining in India's backwaters
Lunch in Mount Batur Volcano, Bali
We always try to mix our days up with something for the adults and something for the kids when travelling. Having subjected our kids to a shopping trip while we looked for a new dining table, we decided to take them to have lunch in a volcano! All the lunch places are rather mediocre set price buffet style arrangements. We picked a restaurant with an incredible view and hoped for the best with the kids.
There really wasn't much in the way of kid-friendly food – at the time they were even pickier than they are now and much less inclined to be adventurous. So had I known I probably would have taken a back-up picnic with us to make sure we had options. Mount Batur is an active volcano but hasn't erupted since 2000. When we went in 2016 it wasn't do doing much so the Things were pretty disappointed. I guess it was another one of those lessons where you need to manage expectations: I think they thought they would be having lunch surrounded by molten lava!
To be fair, that would have been much more exciting! On the plus side, the views across the crater are spectacular! It's definitely something to be able to say that you've had lunch in a volcano and we had a lovely afternoon walking around the edge and looking across to the other side.
Emma – Wanderlust and Wet Wipes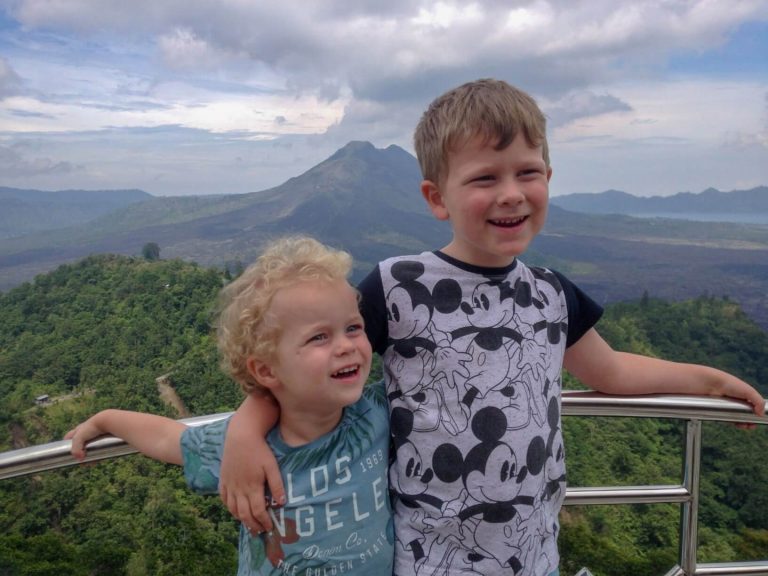 Have lunch at a volcano in Bali
Authentic Hyderabadi Biryani
I would like to discuss the various outlets where we get to taste the best authentic cuisines of India namely Hyderabadi biryani which is available in various outlets across the city premises. The commercial outlets are many and we get to taste the authentic cuisines in places like Four Seasons, Paradise and many more. These outlets can be visited with family, friends and kids to have a wonderful time for both lunch and dinner.
The meal consists of one full plate of the dish served along with salad or raita as applicable. The dishes cost a handful amount of around 300 or 400 cents per dish ordered. It should also be taken with soft drinks for better digestion of the food. The dish is also available in other exotic locations in the country but with a different aroma and flavour.
Somnath – Travel Crusade

Experience a traditional Biryani
Africa
This time it's the turn of Africa and some ideas for unusual places to eat with kids on the continent.
On a Safari in Africa
If you would like to get your kids better acquainted with nature, then having a meal while on safari in Africa, is a great way to accomplish it. Africa is synonymous with safaris and many of the exclusive, private game lodges will serve your family at least one meal in the bush during your stay with them.
Meal locations are usually varied, to incorporate an element of surprise in your stay. We've had breakfast, dinner and sundowners while on safari with our kids, on separate trips. The fresh air and scenic surroundings are exhilarating but what is even more exciting is the possibility of wildlife approaching you while you're enjoying your meal.
This is more suited to kids aged ten years and older as younger kids may attract predators by being noisy. Of course, it does depend on the type of animals prevalent in the reserve. When booking your safari, check with the safari lodge whether they serve any meals in the bush, and how old kids need to be in order to be allowed on game drives.
Sara – In Africa and Beyond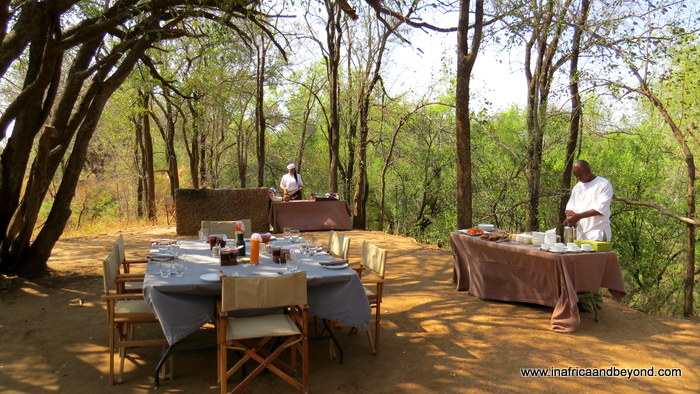 Breakfast in the bush
Do it Like the Locals Do: Eat with your fingers!
We all know this thing about having kids at the table. Sometimes they are super quiet, sometimes they simply won't stop talking. However, there is one thing that will definitely keep them entertained while eating with the adults: eating with their fingers. What's the most normal thing to do for Ethiopians, will be something super fun for every kid that comes to Ethiopia and has never really eaten with his or her bare hands.
We are not talking about eating fries here, but proper meals. The basis of an Ethiopian dish is injera, which counts as bread, but looks a lot similar to pancakes. Usually, the large round plate, which is shared among the people sitting at one table, is covered in injera. On top of it, you'll find all dishes – from meat over veggie to sauces.
A meal in Ethiopia starts with washing your hands and is then followed by taking a piece of the injera and grabbing some of the food which is on top of it. Sounds fun, right? Just keep in mind to tell your kids to use their right hand only to eat as the other one is used for different things…
Clemens – Travellers Archive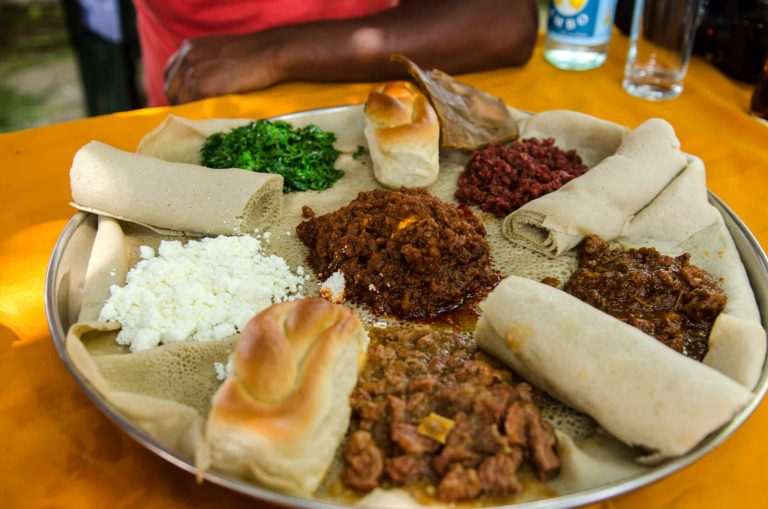 Eat with your fingers in Ethiopia
Traditional Berber Dinner with a View
Our favourite family meal during our year of travel was a traditional Berber lunch in the Atlas Mountains of Morocco. Our guide picked us up at our riad in Marrakesh (with a car seat). We made several stops including camel riding and a stop at the Argon Cooperative. The highlight of the trip was the lunch prepared at a traditional Berber house nestled in the mountains.
The scenery during the drive up the narrow snow-covered road was amazing but the views during lunch were absolutely spectacular. We loved sitting outside and absorbing the vistas while our meal was prepared over wood burning fire. The kids loved pouncing around in the snow. The food was delicious, and the kids had a blast. We thoroughly enjoyed the traditional mint tea, soup, bread, and yummy main dishes including couscous, chicken and veggies (vegetarian options available).
Our kids were 3, 6 and 10 and I felt the staff was very accommodating to my restless youngins. I think this trip would be good for any child that is able to sit still for a few minutes to eat without being tied in to a chair. It was definitely a once in a lifetime experience.
Lori – Fitz 5 On The Go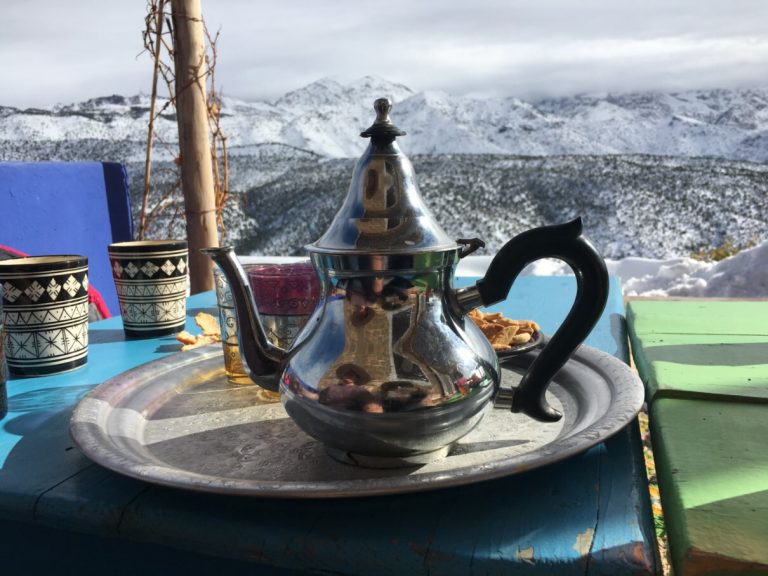 Berber dinner with a view
New Zealand and Australia
This section is dedicated to unusual places to eat with kids in New Zealand and Australia. And the first one is somewhere I definitely want to go myself.
Having a Hobbit dinner at Hobbiton, in New Zealand
We took the kids for a very expensive dinner at Hobbiton. As nerds and kiwis, it was a must. The Evening Tour with Banquet sells out quite fast, so if you wish to try it, book at least a couple of months before your preferred date.
It included the tour and a hobbit feast at the Green Dragon Inn – it was amazing! We have 2 very picky eaters but, there was so much variety and everything was so absolutely delicious, that everyone ate very well and we had no complaints from any of them. They loved watching the lights turn on inside the hobbit houses and they had a lot of fun with our hobbit surname (it was Proudfoot).
After dinner, they were quite tired by the last bit of the tour, but carrying a lantern around Hobbiton and listening to the behind-the-scenes stories was beautiful and magic. It's well suited for any age but it does end up a little bit late for younger kids (around 9:30 pm). My kids were the only kids that day. Try to visit it during summer, when the weather is better!
Thais – World Trip Diaries

Dine in Hobbiton
Floating buffet lunch on the Great Barrier Reef
A visit to Australia would not be complete without seeing the Great Barrier Reef – and a full day trip from Cairns in North Queensland means you and the family also get to lunch in style!
Floating on Agincourt Reef in the stunning crystal clear waters off the North Queensland coast, you are treated to tasting some of Australia's finest seafood before jumping in to swim among some of the world's most incredible marine life.
The Great Barrier Reef is the world's largest living organism, is visible from space and is a UNESCO World Heritage Site. A tour with Quicksilver out to see the reef is one of the best ways to visit the reef with children – as it has activities and options for all ages and skill levels. You can dive, snorkel and swim off a floating pontoon, take a ride in a semi-submersible under the waves or stay dry enjoy the beautiful fish and coral from the underwater viewing platform.
While you're there you can also send family and friends a postcard from the Great Barrier Reef's official post box – floating 72km off shore!
Bryony – Coasting Australia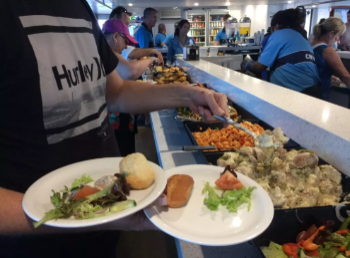 Dine on the Great Barrier Reef
North America
In this section of the most unusual places in the world to eat with kids you'll find some ideas in North America.
Channel your Inner Harry Potter at The Leaky Cauldron
Step inside The Leaky Cauldron in Universal Orlando's Diagon Alley and you feel you might spot Hagrid in a dark corner buying a dragon egg. This is a beautiful dining hall, which is so atmospheric and perfectly decorated that it is like walking into a Harry Potter book or movie.
It is conveniently open for breakfast, lunch and dinner, and serves traditional British food. Indulge in a full English breakfast, cod and chips, bangers and mash or beef and Guinness stew. Try butterbeer or pumpkin juice, and finish with a sticky toffee pudding.
Just like Harry, Ron and Hermione visiting at the start of every school year on the way to buy their books and supplies, you can enjoy all the magical details – portraits, sculptures and even a moving wanted poster of Sirius Black. Make sure you get a photo with the cracked cauldron itself before you leave.
This restaurant will appeal mainly to kids who have read or watched Harry Potter, especially The Prisoner of Azkaban. Find more Wizarding World of Harry Potter tips here.
Kirralee – Escape with Kids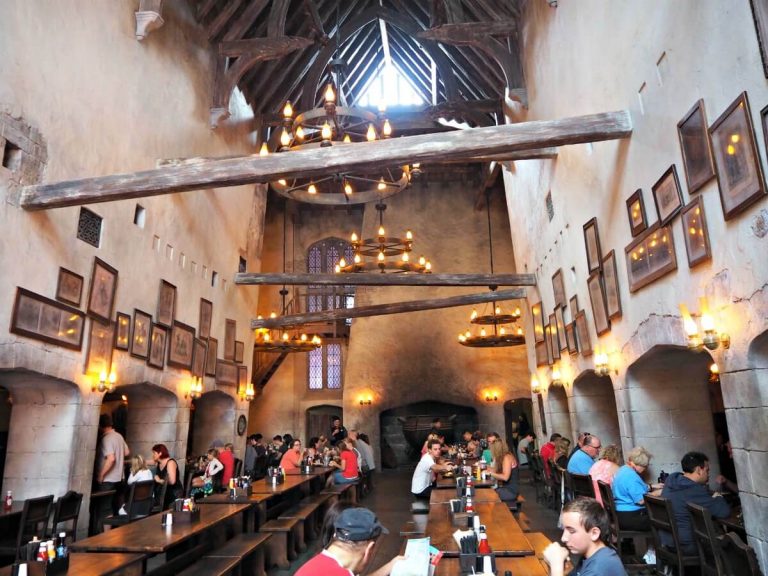 The Leaky Cauldron, Universal Orlando
Summary
What a different array of unusual places in the world to eat with kids. Some of them I'm not sure we'd try as a family and others we definitely would. And it's nice to see we have tried at least one, Bistro Chez Remy at Disneyland Paris. We loved our meal there and I can confirm the ratatouille is amazing.
Thanks to all the bloggers who shared what they believe are the most unusual places to eat with kids around the world. Have you eat in an unusual place with your kids, and if so, where was it?
And if you are looking for an unusual place to stay with your family, then check out the post from 5 Lost Together about the most unique places to stay around the world.
Cath x
*All pictures have been provided by the contributors to this post and permission given to include them here.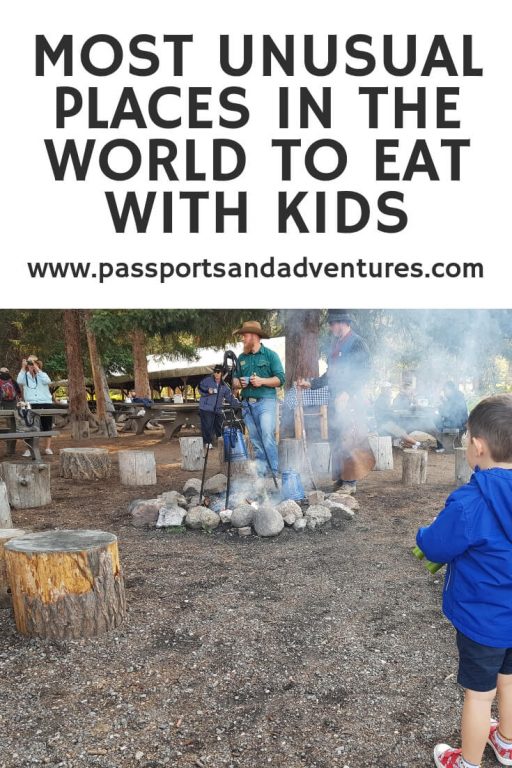 Related Posts