As some of you know, we returned to Wales in the October after we moved to Portugal, to visit our favourite UK staycation place, Bluestone. During our time in West Wales we ventured out of the Bluestone resort and visited a number of places around the area, including Pembroke Castle. Today I am sharing with you our visit and will be including some information to help you enjoy your visit to Pembroke Castle with Kids.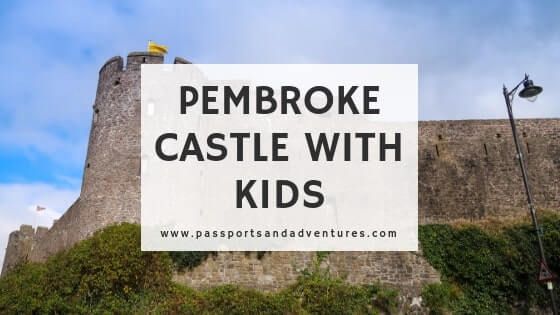 Pembroke Castle is a medieval, Grade I listed building which was the original seat of the Earldom of Pembroke, Wales. Sitting on the banks of the Pembroke River, it is the largest privately-owned castles in Wales. Dating from the later part of the 11th century, Pembroke Castle has many keeps, building and areas to be explored including an exhibition room telling the history of the castle.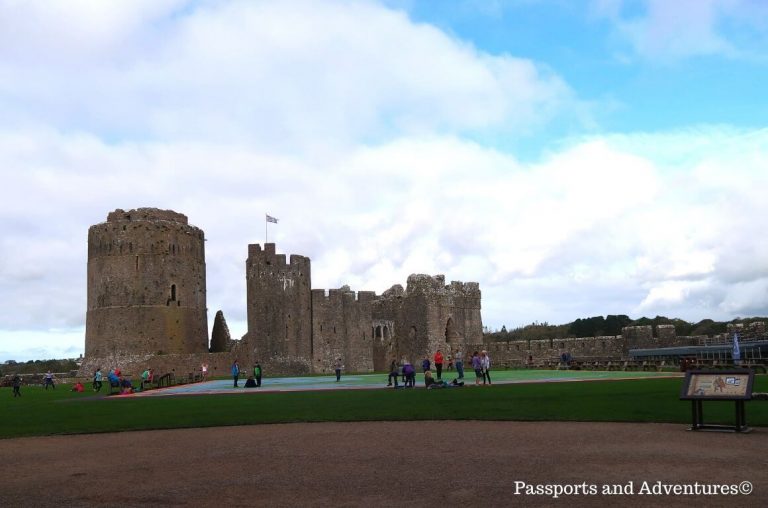 Our visit to Pembroke Castle
Our visit to Pembroke Castle fell on a Thursday, during our mid-week stay at Bluestone. Despite staying at Bluestone several times before, Pembroke Castle had eluded us. Well, it was time to change that fact and we arranged to visit it during our time in West Wales with friends.
Mid-morning, we packed the cars and headed the short 20-minute drive towards Pembroke town. We located the public car park which is recommended for the castle and walked the short distance to the castle itself. There were lots of spaces, and although I can't remember how much we paid, it was not expensive to park there for our visit to Pembroke Castle.
We paid our entrance fee in the ticket office (the Pembroke Castle prices are in the information section further down) and headed into the castle, our son running ahead, eager to start another dragon hunting adventure. Passing through the Great Gatehouse, we entered the Outer Bailey where we were greeted by a surprise. The whole area is home to the largest map of Wales I've ever seen. It was incredible.
This incredible map is not only the world's largest map of Wales, it is also the largest painting in Britain. The locations of great historic sites and castles in Wales are marked on the map. It was an amazing Welsh castle ma, and we spotted quite a few locations where we had done some dragon hunting on the map, including Caerphilly and Chepstow Castle. There was also a dragon on the map breathing fire, very apt seeing as we were there for another dragon hunting adventure. Our son lay down beside him and I got a quite snap.
We stopped and had a cuppa and some cake on the picnic benches at the side of the map, beside the café, so our friends could feed their daughter. Once we were finished we started exploring more of this Pembrokeshire castle. I took the boys towards the Inner Gate, Chapel and Western Hall, where you can find some lovely views through the windows across the Pembroke River. However, no dragons were to be found in these parts of this great Welsh castle.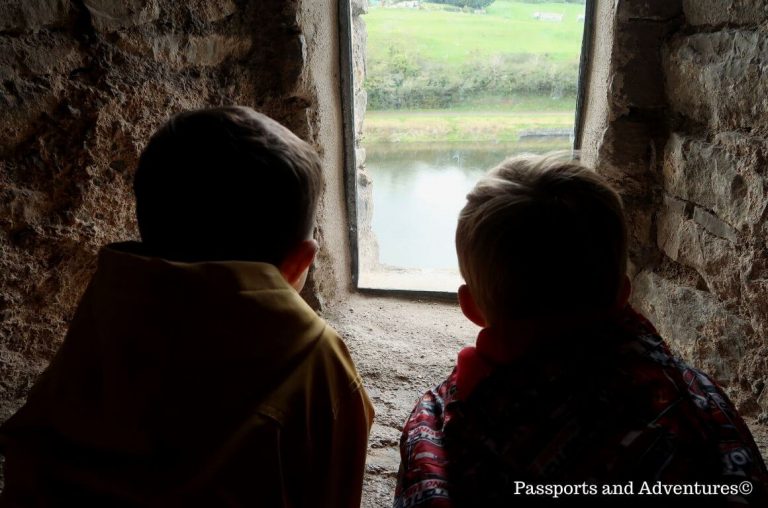 We moved on to exploring the Inner Bailey, checking nooks and crannies for the dragon we were there to hunt. Next up was the impressive Great Keep, an impressive 80-foot-high tower which used to span five stories. The different floors, which originally housed a storeroom, living quarters and defensive floor with soldiers are now gone, meaning you can see all the way up to it's unique doomed roof.
We moved on from the Great Keep to the buildings which were the Chancery, Old and Great Halls. Although the castle is ruined in parts, it is still a very impressive site. We continued our visit by going down into the Wogan Cavern, where our son was sure we'd find the dragon, hiding in his 'cave' but no, he wasn't there either. However, we must have just missed him as we spotted some of his prints in the ground (or least that is what a certain little boy believed).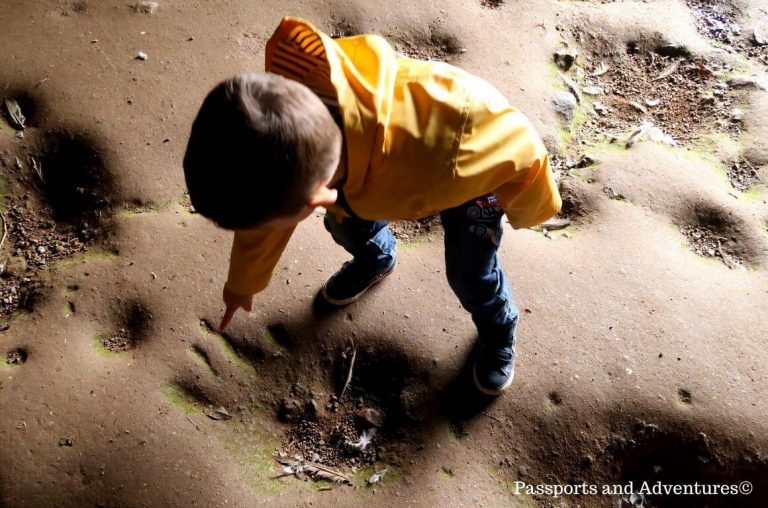 The dads took the two boys up into the Dungeon Tower to explore and check for dragons while I stayed with our friend and their daughter as the buggy couldn't go up. While we were waiting I spotted a young black German Shepherd dog who reminded me of our dog, back home being looked after by my folks.
The boys were still looking for the dragon of Pembroke Castle, and we eventually found our son's red dragon and L's little silver dragon hiding in a hole along the Inner Curtain Wall. With two satisfied dragon hunters (aka the boys), our visit to Pembroke Castle was complete.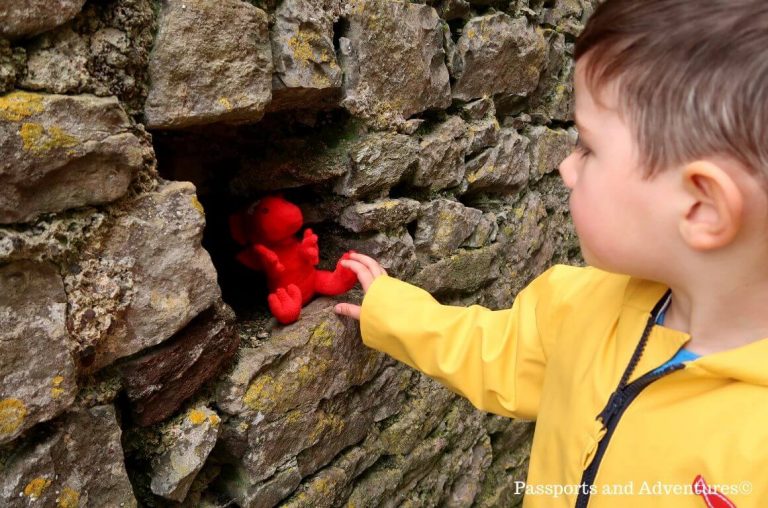 Things to keep in mind if visiting Pembroke Castle with kids
Pembroke Castle has the following opening times: Jan-Feb and Nov-Dec 10am to 4pm, March and Sept-Oct 10am to 5pm, Apr-Aug 9.30am to 5.30pm. Last admission is typically 45 minutes before closing but check the website before visiting.
The castle is closed on December 24, 25 and 26 and also January 1st.
There are special late opening hours at the end of November and beginning of December for the Christmas markets. Check the Pembroke Castle opening times section of the website for full details.
Pembroke Castle admission prices are as follows: Adults cost £7.00, Children (3-15) and Seniors (65+) cost £6.00. Under 3's are free.*
The castle is dog-friendly, as long as they are well-behaved and on a short lead. Owners are responsible for cleaning up after their dogs. Dogs are not allowed into the café or shop.
Toilets are located in the café where there are both disabled and baby-changing facilities.
There is no parking at the castle itself. A large public car park is located within a short walking distance to the castle. There is a disabled drop-off point outside the castle for those with disabilities or limited mobility and and disabled parking available directly opposite the castle in the Long Entry car park.
Pembroke Castle has a café serving teas, coffees, cakes and other refreshments and there is also a gift shop.
Guided tours of the castle are available. There are free public ones, private paid group tours (ideal for tourist groups or school visits) and also ghost tours.
While most of the ground level of Pembroke Castle is accessible to wheel-chair users and those with children in buggies/strollers, other upper and lower levels are not due to the stairs which lead to them. There are no lifts at Pembroke Castle.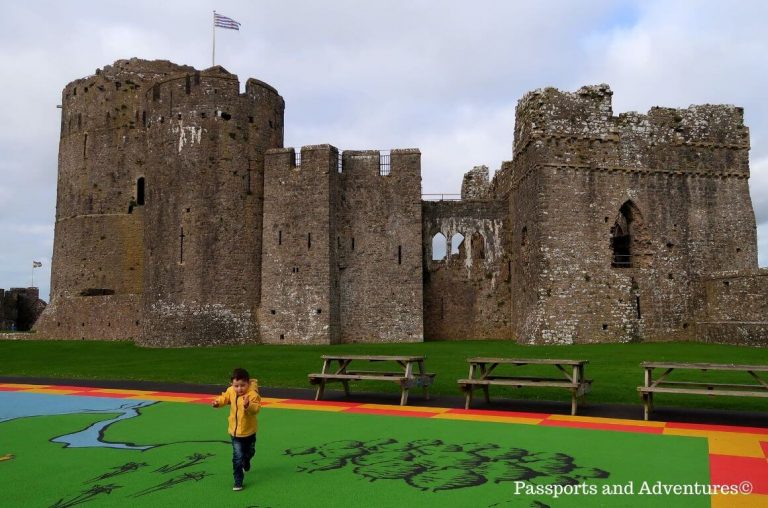 Our visit to Pembroke Castle was a very enjoyable one. We didn't get to explore the whole castle, and missed the exhibition about the history of the castle, but did see quite a bit of the site, despite having two pre-schoolers with us.
Being one of only a handful of castles near Tenby and Bluestone, it is a great castle for kids to visit if you are in the area, particularly on a staycation like we were. It isn't the largest castle in Wales nor, in my opinion, one of the best castles in Wales, but I do recommend you pay it a visit and kids of all ages will enjoy exploring the many areas of this historic site.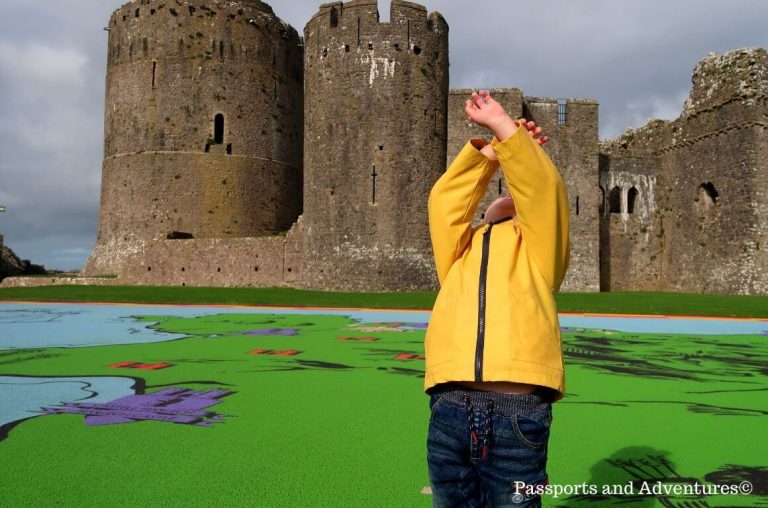 As I've mentioned before, we turn castle visits into dragon hunts for our son in order to make them more interesting and it works a treat. We have visited many of the Welsh castles in the south including Caerphilly, Chepstow and Raglan and each time we've come away with a happy boy who never once complained about being bored. Now we can safely say we've successfully visited a West Wales castle as well.
Cath x
*Prices correct at the time of writing this post.
We were not asked to write this review.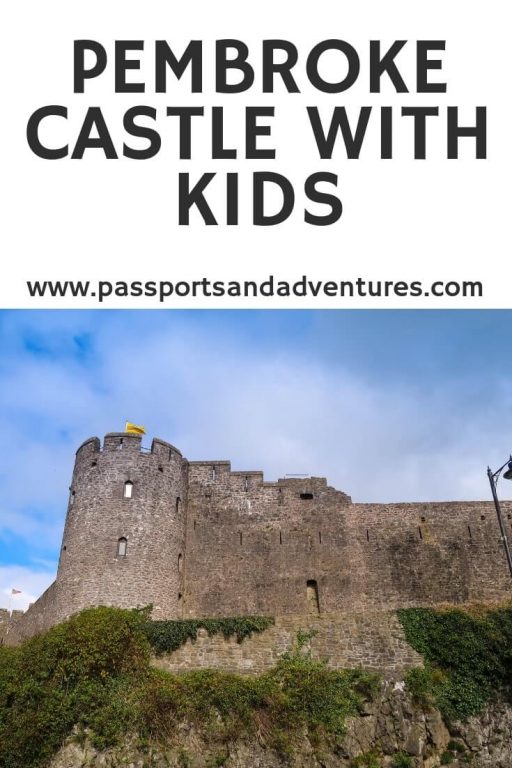 Related Posts