Now that the New Year is well and truly here, many people will be thinking ahead and planning out their family holidays for the year. Some will want a package holiday and others will be planning road trips, DIY holidays and city breaks. To help you plan and give you some ideas, here are some of the best family holiday resorts in Europe.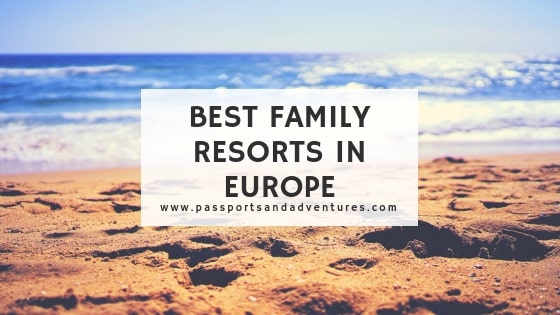 Photo by Ethan Robertson on Unsplash
*This post contains affiliate links. This means that if you click on a link and then make a purchase, I receive a small commission at no extra cost to you. To learn more about affiliate links, please read my Disclosure Policy.
Best Family Holiday Resorts in Europe
There are an abundance of resorts across countless countries in Europe that are very family-friendly and would be ideal for your forthcoming summer holiday. Here's the list:
Flamingo Beach Resort, Playa Blanca, Lanzarote
Martinhal Cascais, Portugal
Bluesun Bonaca, Brac Island, Croatia
Ribey Hall, Blackpool, UK
Salgados Palm Village, Albufeira, Portugal
Bluestone National Park Resort, Wales, UK
La Sirene Campsite, Argelès-sur-Mer, France
Finca de Arrieta (Lanzarote Retreats), Lanzarote
Barcelo Castillo Beach Resort, Fuerteventura
Camping Fabulous, Rome, Italy
Le Clarys Plage, Saint-Jean-de-Monts, Vendée, France
Love2Stay, Shrewsbury, UK
Flamingo Beach Resort, Playa Blanca, Lanzarote
The Flamingo Beach Resort on the Canary Island of Lanzarote is a great family-friendly holiday resort. It is situated in the quieter town of Playa Blanca on the southern tip of the island and has everything families need for a relaxing holiday.
There are no less than five pools across the resort, a playground, full entertainment program and is an all-inclusive resort with a buffet restaurant and three other restaurants to enjoy, as well as bars. If parents are looking for some quiet time there is a creche for younger children and a kids club catering for older ones. And while the kids are having fun, parents can enjoy themselves in the onsite spa or sauna.
The resort consists of low-rise Canarian style apartments, are air-conditioned and have everything you need for a family holiday. The resort is spread out nicely and sits along the seafront. Playa Blanca town is a short 15-20 minutes walk away, depending on how fast little legs can go, where you will find more bars and restaurants, shops and also the ferry terminal which can take you to Neighbouring Fuerteventura.
We visited the Flamingo Beach Resort with our son when he was 1 and then 2 years old and wouldn't hesitate to go again if we were seeking a family-friendly package holiday in a great resort. The weather in Lanzarote is hot in summer but is also enjoyable even in winter months, although there can be a cool breeze. And with a flight time of around 4 hours, it's not too long a flight for guaranteed sunshine.
Cath – Passports and Adventures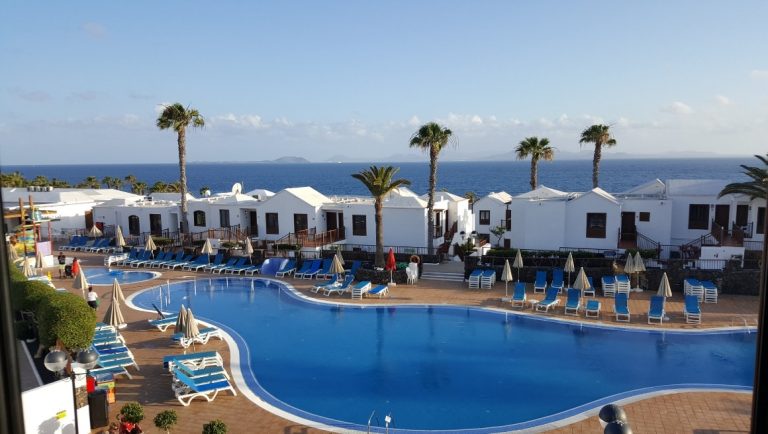 Check for latest prices and availability HERE.
Martinhal Cascais, Portugal
When asked if I can recommend a resort in Europe, I have no hesitations: my pick is the wonderful Martinhal family resort in Cascais, Portugal. We spent a wonderful family weekend there and it was so relaxing for us adults and so fun for the kids, we hope we can go back again and again. It is just that special a place!
The resort is in the small town of Cascais, an elegant and welcoming village on the Portuguese coast. It is an excellent location and perfect for families with children: Lisbon is an hour away by train, with its wonderful parks and Oceanarium, and Cascais itself has amazing beaches, cycling paths and a lovely village feel.
The resort itself is fantastic for families and entirely designed with kids and parents in mind. The grounds of Martinhal Cascais are vast and green, the resort has several pools to suit all ages and a super relaxing spa that is open to adults and kids. The resort has two restaurants onsite, a vast playgrounds and if offers a plethora of activities suitable for all: from babies (indoor play area and crèche) to teenagers!
Parents can get involved with their kids as much or as little as they want, the resort offering the opportunity for time together or apart depending on individual preferences.
In terms of accommodation, Martinhal has excellent family rooms and also family homes, all in the resort ground. Both are designed to the highest standards and offer the baby concierge service, a system that allows you to find all you need, from strollers to changing stations, in your accommodation, making travelling light a breeze. We loved Martinhal Cascais and we are sure you will too! You can read more about it in our full review over on the blog.
Marta – Learning Escapes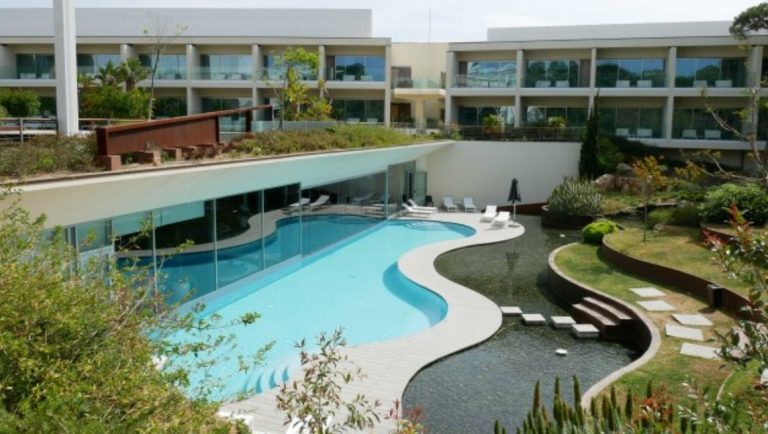 For latest prices and availability click HERE.
Blue Sun Bonaca, Brac Island, Croatia
Croatia isn't as hot on all-inclusive resorts as some of the other popular European summer hot spots, but having heard great things about the country, we managed to find an all-inclusive resort called the Blue Sun Bonaca on the island of Brac. To reach Bol, the resort where the hotel was based, involved a little bit of effort, with a flight to Split then a catamaran, but we managed the journey easily with an 18 month old in tow and we also got to spend the day exploring Split as a result too, (for Game of Thrones fans, the Diocletian's Palace is used as the set of Daenerys' Throne Room in Mehreen and where her dragons are kept).
Bol is a tiny fishing port with a charming promenade with a small selection of cafés and restaurants along the water and the Stina winery, where we enjoyed sampling some of the local wine whilst the toddler napped one afternoon! There is an old Monastery up in the hills which is worth the walk. We also took a boat trip to the nearby island of Hvar – which was picture postcard beautiful and the hike up to the fortress is hard work, but you'll be rewarded with the most amazing views!
The hotel we stayed at was absolutely amazing – the all-inclusive option offered a great variety of different dishes and local cuisine and it wasn't as repetitive as some places we've stayed at, the restaurant had lots of high chairs too. They had a two play parks, one for smaller children and one for slightly older kids and they did free bike hire, which was a bonus as the long promenade down to Zlatni Rat, the beautiful beach, was nice and flat. Our toddler was too young for the kids club but the hotel did provide one. And the animation team were absolutely wonderful at getting small kids involved in the mini-disco, our toddler was grooving every night. Croatians love children and we didn't have had any issues in having him accommodated for. We can't wait to go back and explore more of Croatia!
Beccy – Raucous By Nature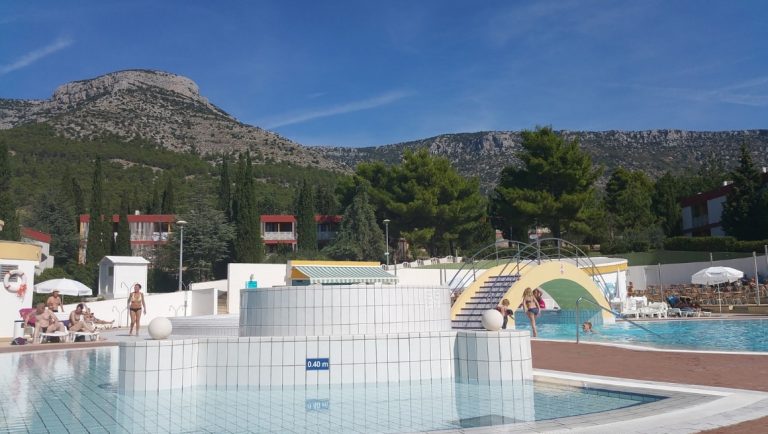 To find the latest availability and prices, click HERE.
Ribby Hall, Blackpool, United Kingdom
Ribby Village Hall is a 5* resort near Blackpool and it is our top family holiday resort in Europe. It is the perfect destination for families, especially as it's like a mini Centre Parcs but without the high prices. They have a great range of self-catering cottages available to rent. If you want to eat out there is an excellent restaurant on site, plus
take-aways, and we also recommend the tapas bar and the bar and grill.
There is daily entertainment, two soft play areas, outdoor playgrounds, boating, nature trail, climbing wall and so much more. We love the indoor pool with slides and splash area plus it's well located for getting into Blackpool. Most of the activities are included in your stay.
Suzy – Our Bucket List Lives

For latest prices and availability at Ribby Hall Village, Click HERE. For the Spa Hotel, Click HERE, and you can also check prices and availability for the Motel HERE.
Salgados Palm Village, Albufeira, Portugal
The first time we took the kids away it was to an all inclusive resort called Salgados Palm Village in the Albufeira area of Portugal. The kids were 2 and 4 at the time and they both have allergies to food, different ones, and the thought of having to try and work out what foods were ok for them in multiple restaurants on a daily basis did not sound like a holiday to me!
I'd never been to an all inclusive before, was a 'book a flight and go' kind of girl before having kids, so I really didn't know what to expect. We went for it mainly due to the kids being young and also the fact that we could get to know the chefs and work out what they could and couldn't eat quite easily.
We were looked after so well with regards to the food. What was amazing is they were actually so proactive in asking what my kids liked to eat and pre-ordering and preparing things for the following days for them. My son can't have any gluten so they went above and beyond to surprise him with a gluten free Pizza and lasagne. My daughter is allergic to dairy and they purchased a tub of dairy free ice cream especially for her! What a lovely way to be treated.
Aside from the food and multiple cuisines (not just free from food!!) the resort was fab. There are 10 pools, some shallow and many peaceful. There was music and activities round the main pool, some days there were animals to touch and see and others a big blow up slide to slide down. The evenings brought entertainment, dancing, singing and magic. We let the kids stay up late with us and watch the shows and my daughter found her love for all things theatre which remains to this day!
The rooms were spacious and comfortable, cleaned to an excellent standard each day. Peaceful enough to relax during the day and let the kids play in the room or balcony if you need a little break away from the sun. There was a train taking you to the nearest beach but we only went once as found the resort to cater for our every need.
My kids are now 6 and 3 and I'd go back in a heartbeat. There is entertainment and 2 kids clubs with activities that would suit kids into their teens, while mine were excited by the chocolate party last time (which they also adapted for allergies), they'd qually love the virtual reality stations and organised football matches now!
Lastly, for any parent, the key thing is it felt safe, the staff seemed knowledgeable and caring, they were all focused on the kids being happy even if their main role wasn't working at one of the kids clubs, and I felt comfortable being a little more relaxed whilst in the resort, I'd 100% recommend Salgados Palm Village to families.
Yasmine – Yasmine Camilla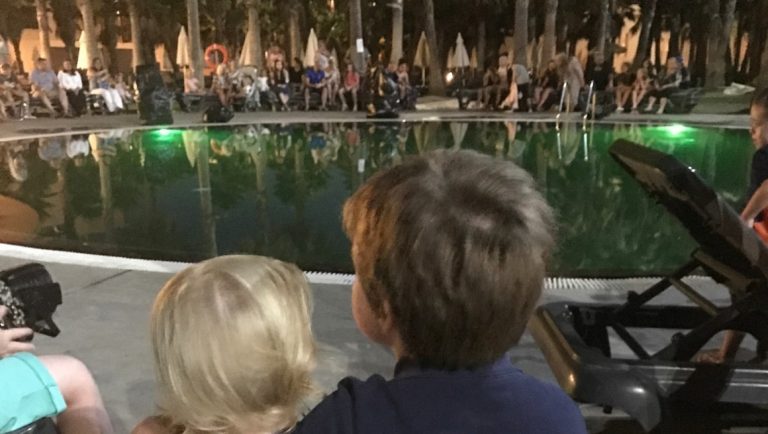 For the latest prices and availability, click HERE.
Bluestone National Park Resort, Wales
Bluestone National Park Resort in Pembrokeshire, in West Wales, is one of the best outdoor family holiday resorts in Europe. We have been huge fans of Bluestone since our first visit in 2015 with friends and regularly returned before we left the UK for our life in Portugal.
We got the chance to return for a mid-week stay in 2017 and this was the longest we'd spent at Bluestone having visited for long-weekends previously. It was such as great week.
Bluestone has everything you need for a fun and yet chilled relaxing family holiday. The lodges, which form your accommodation, have everything you would need for a relaxing family holiday with dishwashers, microwaves and all mod-cons. There are both indoor and outdoor activities and amenities and many are free or available for a small fee. And you don't even have to leave the resort to explore the surrounding areas if you don't want to. There is an on-site pool, activity centre, village with cafes, playgrounds and shops, and there are plenty of eateries to choose from if you don't fancy cooking for yourselves.
If you are a family that love the outdoors, you'll love Bluestone. It is a car-free resort which means kids can safely play outside or ride bikes. There is a lake for water activities, zip lines in the forest for older kids and Ranger activities kids can join. It really does have it all. And the best news is we're returning later in the year for another mid-week stay. If you are looking for a home-away-from-home resort to suit families of all types, then you need to check out Bluestone.
Cath – Passports and Adventures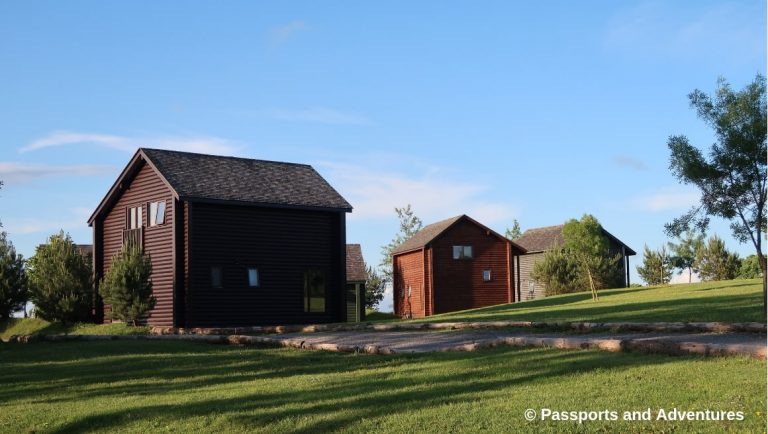 To find availability and prices, check out the Bluestone website.
La Sirene Campsite, Argelès-sur-Mer, France
We love the five star La Sirene Campsite in Argelès-sur-Mer, France. Argelès-sur-Mer is a French seaside resort on the Languedoc coast. With its 7 km blue flag sandy beach you can see why it's become a very popular holiday destination for families. The campsite is a sprawling resort spread over 57 acres. The grounds are immaculate as are all the communal areas, which is exactly what you would expect from a 5 star resort.
On site there is plenty to keep the kids busy, there is a regular programme of activities running through out the day and there is nightly entertainment ranging from shows to discos. In the park there are bikes for hire, crazy golf, play areas and a huge on site water park. The water park has a large outdoor pool, indoor pools, several water slides and a children's lagoon area with ropes and climbing walls. It's difficult to drag the kids away from it. There is also an adult only pool with massage jets and pool beds but I wasn't lucky enough to escape the kids and try it out. For older kids you can organise and book other activities on site such as diving or kayaking.
Argelès-sur-Mer has an old town area with quaint side streets and a traditional market. It also has a long stretch of promenade which has a designated bike path and this will take you all the way along to the Marina where you can tuck into some delicious seafood. Not far away, around 12 km, is the very quaint and charming town of Collioure. With its cobbled streets, buzzing squares, numerous restaurants, impressive castle and small bay, it is well worth a visit.
I hope that this gives you some ideas for your forthcoming family summer holidays, and go some way to helping you plan your family getaways for this year. These family holiday resorts in Europe all sound amazing and I'd love to visit the ones we haven't had a chance to yet.
Helen – Welsh Cakes and Wellies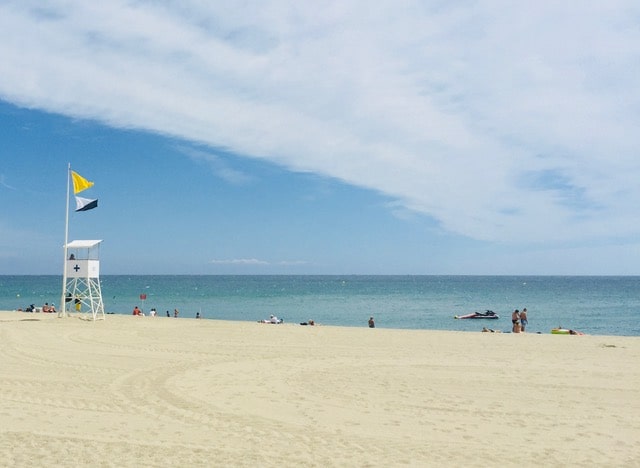 To view this campsite and for latest prices, click here.
Finca de Arrieta (Lanzarote Retreats)
Family-run Finca de Arrieta is an enclave of yurts, just outside the sleepy village of Arrieta, in the North of Lanzarote. This is a far cry from the package holiday scenes typically associated with the island. The North offers the most panoramic views and unspoilt towns of the island, as well as some beautiful secluded beaches. It's really very beautiful region, and not a high rise in sight!
Finca de Arrieta is leading the way in eco-tourism for the Canaries, and quite possibly, Spain. The eco-resort has been built using locally sourced materials, and is entirely off-grid.
There has also been a lot of thought in to welcoming families to Finca de Arrieta. From the plastic plates and cutlery, the highchairs, potty and baby bath in every accommodation, to the solar-heated kids' pool and playground (with huge trampoline), the toy box in the common area, and the pile of buckets and spades to borrow for the beach. Plus, there are chickens, donkeys and bunnies to meet!
It's the perfect resort if you're visiting Lanzarote with kids!
Jenny – Travelynn Family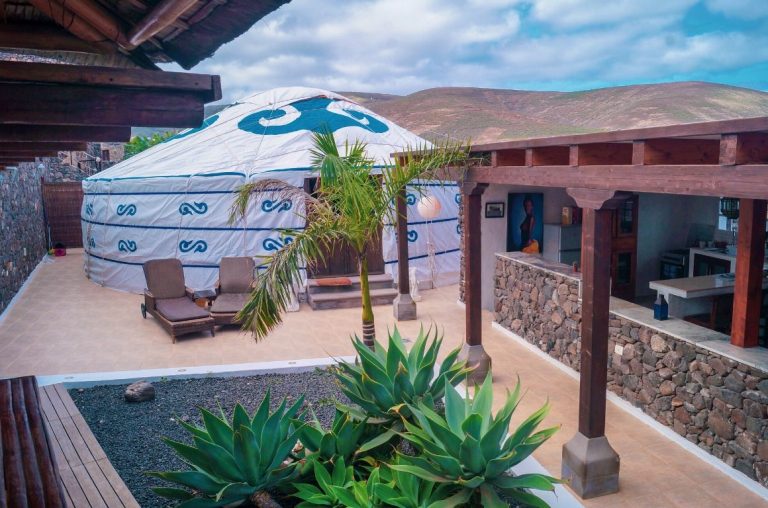 Click here to find latest prices and availability.
Barcelo Castillo Beach Resort
Based right on the Marina of Castillo in Fuerteventura is the incredible Barcelo Beach Resort. They have a tonne of accommodation options, from hotel rooms, to self catering, and budget, to luxury options also! We visited for a long weekend in January to catch some winter sun. With temps of around 20 degrees, it was a welcomed dose of vitamin sea and an escape from the freezing temperatures back home.
Barcelo are incredibly family friendly with kids club and a mini disco every night, the little ones were kept entertained for the entire trip. We hung by the pool most mornings and ventured to the beach right on our doorstep every afternoon. The beach at Barcelo Castillo Beach Resort is incredibly shallow, the water is crystal clear and such a beautiful shade of aqua, it really felt like a tropical paradise!
The area around Castillo is pristinely kept with board walks all around the coast to either cycle or walk. I took our little guy for a walk every day right on nap time. It was perfect.
We stayed in a self catering apartment and there were shops nearby to pick up grocery's. However, we had an all inclusive package with our stay, so hardly needed to buy anything albeit handy to have the facilities for snacks.
Our evenings were spent sitting at the resorts restaurant facing the marina for an epic sunset. With a cocktail in hand, kids colouring in and a yummy menu / or buffet to choose from, it was all round perfection.
Karen – Yum Vegan Lunch Ideas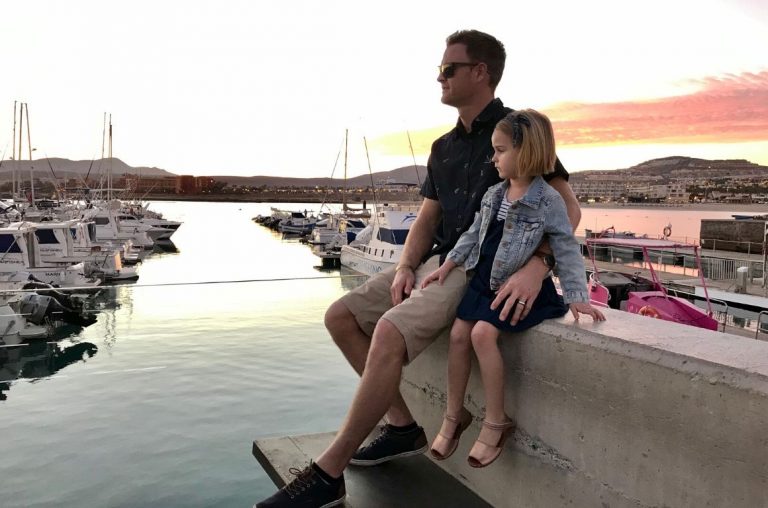 For latest prices and availability, click here.
Camping Fabulous, Rome
Camping Fabulous is situated just outside of Rome, so you get the best of both worlds. It's easy to travel into the city to do a spot of sightseeing and yet has all the benefits of a resort location.
There are a variety of accommodations to choose from, we booked direct and had a lovely cabin, complete with air conditioning which was a lifesaver during our July stay! There are restaurants to choose from but you also have the option to cook yourself thanks to a kitchen within your accommodation and a fully stocked supermarket on site.
There are three pools to choose from which the kids adored! The largest pool was perfect for small children as the water was less than knee deep. The kids could play and remain in view as you relax on one of the many sun loungers surrounding all three pools.
There was nightly entertainment and a variety of activities to try out such as football and mini golf.
Camping Fabulous is up there with one of the best family holidays we've ever had.
Jennifer – Mighty Mama Bear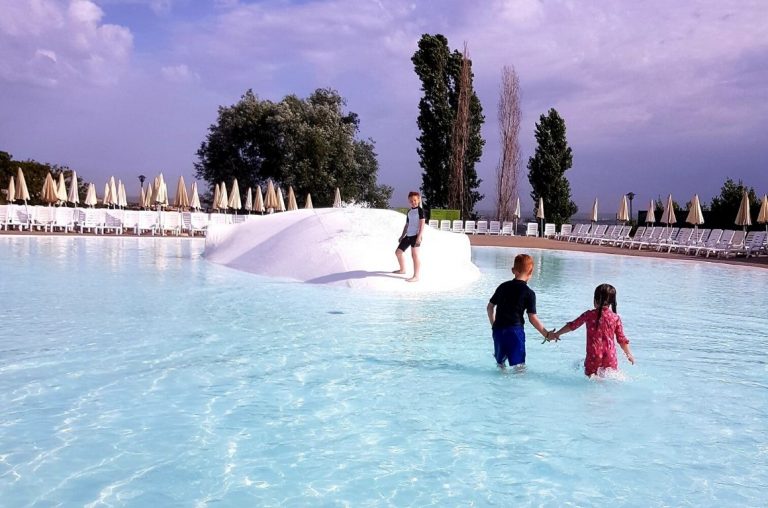 Check out this resort and find the latest prices by clicking here.
LE CLARYS PLAGE, Saint-Jean-de-Monts, Vendée, France
Le Clarys Plage is a large, lively and very family-friendly camping resort, close to the seaside town of Saint-Jean-de-Monts in the Vendée region of France. Mobile homes are available (with companies such as Eurocamp, Canvas Holidays, Al Fresco etc) and there are also pitches for campervans and tents.
There is a bar, restaurant and take-away on site and there are several restaurants and a large supermarket only a short stroll away from the park. The site hosts a multi-sport complex with a football pitch, tennis court, table tennis, mini-golf, 2 playgrounds and more, and you can also hire bikes to explore the local cycle paths. Additionally, there is a horse-riding centre a 2-minute walk from the site and the beach is only 400 metres away.
The main attraction of the resort, however, is the fantastic waterpark, with a large outdoor pool, a heated indoor pool, a jacuzzi, lazy river, water jet play areas and lots of different water slides for various ages. There are also shallower areas for younger children to enjoy and a very large sun-terrace with plenty of sun-loungers. Our children had an amazing time and are constantly asking when we are going back!
Le Clarys Plage is the perfect base to explore the Vendée and an ideal resort for an affordable family-friendly holiday.
Ella – Typical Mummy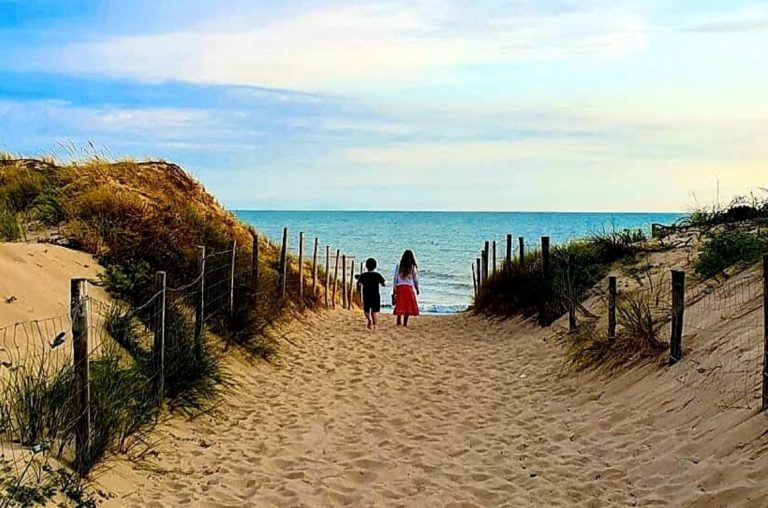 Check out this resort and find the latest prices by clicking here.
Love2Stay, Shrewsbury, UK
We have stayed at Love 2 stay two or three times over the last couple of years. Love2Stay is a UK holiday resort that opened its doors in Summer 2017. The resort is set in around 22 acres of rural Shropshire, with panoramic views of the Shropshire hills and also within easy reach of the beautiful medieval market town of Shrewsbury.
It is a really unique resort that has been developed with luxury in mind and offers a really wonderful camping and glamping experience. The resort offers a gorgeous outdoor BioTop natural swimming pool, spa, adventure playground, a fitness suite, a sports field, and an assault course. The glamping lodges sleep up to 6 and offer a little bit of luxury and an opportunity to enjoy outdoor life in the Shropshire countryside.
Katy – Otis and Us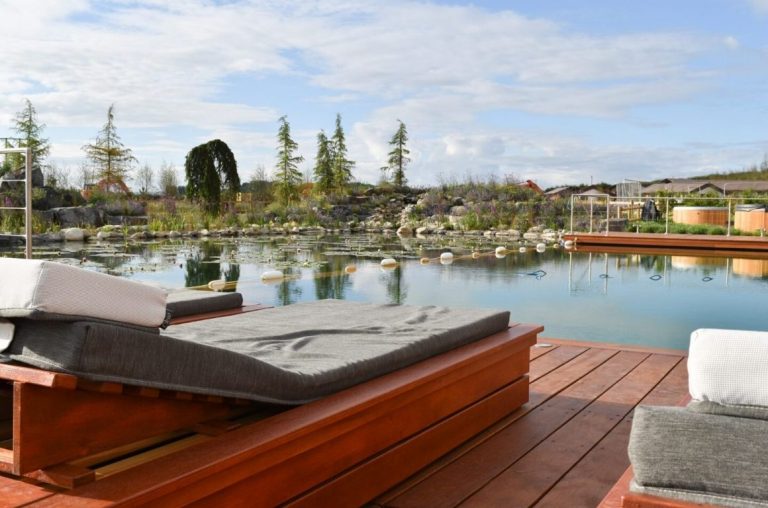 Check out the Love2Stay resort here.
And if you are still undecided about this year or are getting ideas for next year, I'd suggest you read this post about the best Greek Island family holidays from Tin Box Traveller. Claire has given some great suggestions on both holidays and cruises for families.
And if you want some free time while still enjoying a family holiday, Anna from Twins and Travels has a great list of family-friendly holiday ideas with creches so you can ensure the kids are happy while you lounge by the pool.
Thanks to all the bloggers who contributed to this post and gave us some brilliant recommendations for some European family-friendly holiday resorts. Which one would be top of your list?
Cath x
*The photos used herein were contributed by the bloggers and permission given to include them in this post.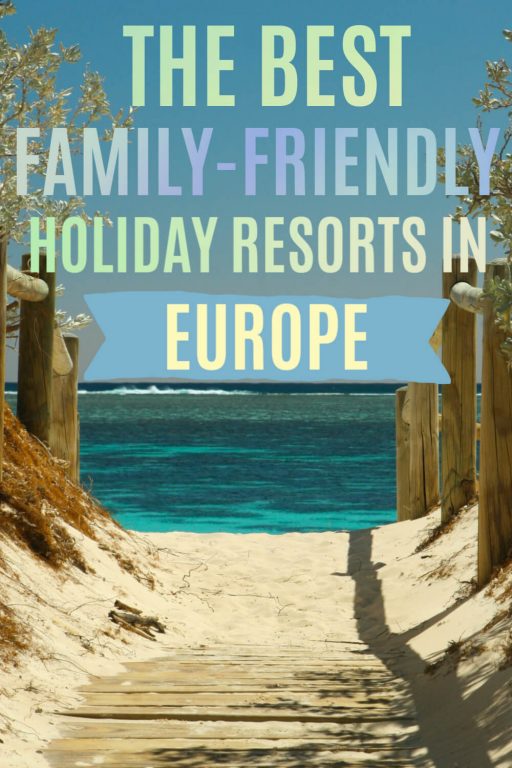 Related Posts