Lismore Castle and Gardens, located in County Waterford on the banks of the River Blackwater, is a great place to visit with kids. While the castle is not open to the public as it is a private residence, the stunning gardens are. Here is my post all about visiting Lismore Castle with kids, something I did during our Easter road trip in Ireland.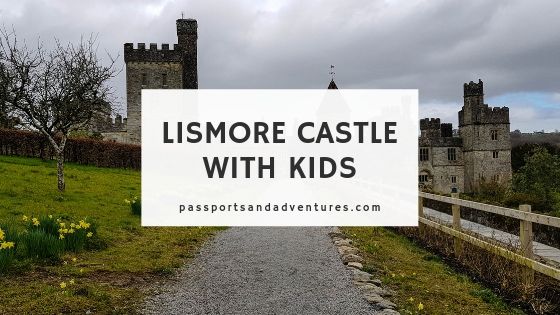 Lismore Castle is a medieval castle in Ireland, dating as far back as 1170. It was the former home of the Earls of Desmond before becoming the home of Cavendish family in 1753. It has remained in the Cavendish family and is the current home of the Duke of Devonshire. It was rebuilt in the mid-nineteenth century and while the castle itself is not open to the public, the extensive gardens are.
We paid a visit to Lismore Castle Gardens during our road trip in Ireland. We had originally planned to visit it first before carrying on to both Cahir Castle and the Rock of Cashle, but because it only opens at 10.30am, I decided to leave it until last.
So, after visiting the Rock of Cashel and Cahir Castle, we left County Tipperary and made our way to County Waterford to visit the gardens. Although you can park along the driveway leading to the castle, I found a public car park just at the turn for the castle and elected to park there. There was plenty of parking and even better, a playground to visit after we had finished in the gardens.
At the end of the driveway, in the gatehouse, you'll find the ticket office. Once you've paid your entry fee, you can choose to visit either of the two gardens from there. The lower gardens are more informal, with meandering paths leading in and out of the wooded areas. We decided to start our visit in the lower gardens.


Our visit to Lismore Castle Gardens was at the end of March and the gardens had not only opened after their winter closing time. Although there weren't many flowers in bloom, spring had certainly sprung and there was evidence that the gardens were starting to spring to life, if you'll pardon the pun.
We walked along a path towards the castle building itself before our son decided to do roly-polys down the hill that leads towards the woods. One of the six gardeners was watching and laughing at him as he careered down the hill at a strange angle. I was glad I had made him wear his waterproof all-in-ones and wellies. The paths were quite mucky thanks to rain but this didn't bother us as we were dressed for the occasion.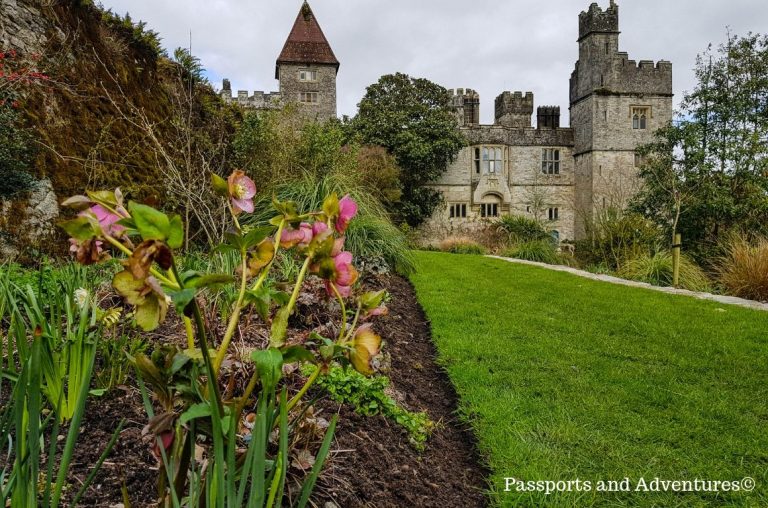 From the grass lawns we headed into the woods to explore as the lady in the ticket office had said there was a playground to be found. We didn't quite find the playground but did happen upon a tunnel slide which lead down a hill. Our son asked if he could go down and, with thanks to the aforementioned all-in-ones, I was able to say yes. Well, the screams and giggles of delight were a joy to hear.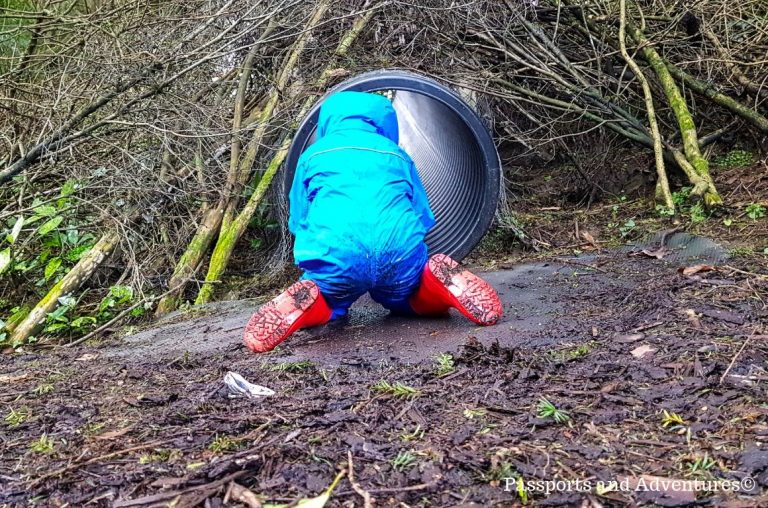 He has such fun going down the tunnel slide and I was so happy I'd dressed him appropriately as there was no way he could have gone down it without overalls on. The muck on his suit and hands after he was finished were a sight to see.
After a bit more exploring of this wooden area, we made our way into the café which sits beside the Arts Centre, the only part of the castle building to which the public have access. We visited the toilet before settling down in the café for some drinks and cake. My cup of tea was much needed after a busy day. This was our third castle of the day and would be the last as we had an hour and a half drive to get back to our AirBnB.
There was a small room off the café with books and a few toys and the boy asked to go inside. I took his suit and wellies off and off he went. Soon after, a lady and her son entered the café and as the two boys got playing in the side-room, us mums got talking. Sally and her son were regular visitors to Lismore Castle Gardens as they have an annual pass. She was an older mum like me and we had a lovely chat over our cuppas.
Once we were finished she offered to walk around the upper gardens with us. These upper gardens are accessed through the Riding House and are more formal in layout compared to the lower ones. It is a walled garden first constructed in the early 1600's. There are ornamental borders and vegetable plots, as well as some rose gardens. Again, these weren't in bloom, but the gardeners were busy tending to them. I can just imagine how beautiful the gardens of Lismore Castle must look in later Spring and in Summer.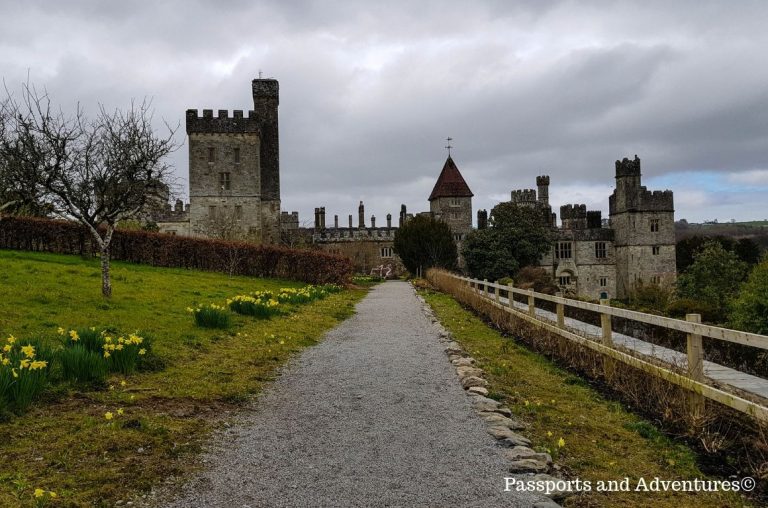 Sally and I enjoyed our walk together and the boys were happily running ahead and playing with each other. After we'd finished in the upper gardens we returned to the lower gardens, so Sally could show us the playground and some of her favourite areas. She brought us to a swing first on which my son turned into a daredevil. We then headed back to the slide, which the boy just had to have another go on. Unfortunately, Sally's son wasn't appropriately dressed so he couldn't join my son in the tunnel.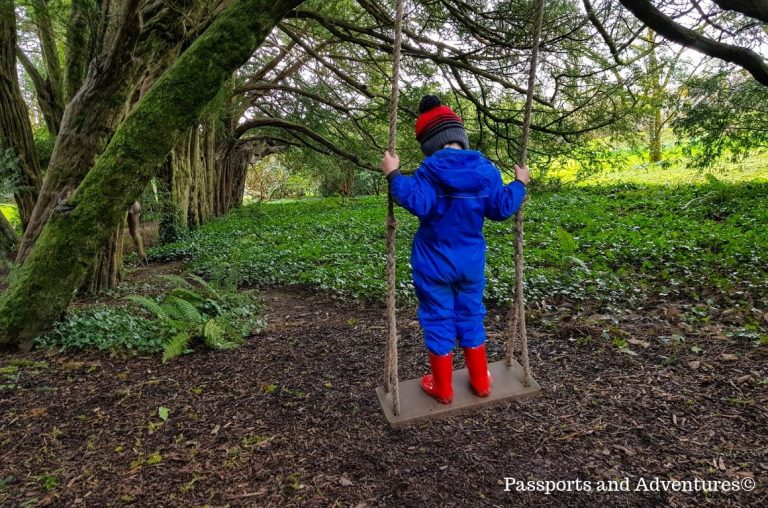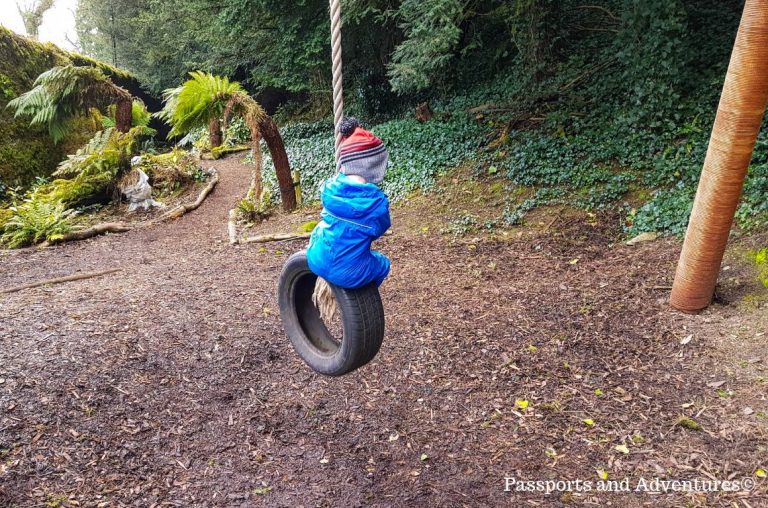 We found the play area and enjoy some time there before I checked the time and realised we needed to be making a move. But not before we visited the playground beside the car-park for a few minutes. Sally and I exchanged phone numbers in the hope we could meet up again before we said our thanks and goodbyes and headed back to our AirBnB. We had a thoroughly enjoyable afternoon at Lismore Castle Gardens and spent far longer there than we had intended. It is somewhere we will return to when we are in the eastern half of Ireland in the future.
Information for visiting Lismore Castle with Kids
Lismore Castle Gardens is not open during winter. The open season is between mid-March and mid-October but check the website before your visit.
Opening hours are from 10.30am to 5.0pm, with last admission at 4.30pm.
Lismore Castle itself is closed to the public.
There is a café serving drinks and snacks at the Art Centre on the side of the castle. You'll also find toilets there.
Lismore Castle Gardens is not very wheelchair or stroller/buggy friendly due to the nature of the gardens and some steep inclines.
Dogs are welcome at Lismore Castle Gardens provided they are kept on a lead and owners clean up after them.
Entry costs €8 per adult and €6.50 per child.* For anyone who lives close to Lismore an annual ticket called the "Friends of Lismore Castle" is available for €35. This allows you plus one guest unlimited entry to the gardens as well as other benefits.
There is free parking along the castle driveway everyday, except Sundays.
I can highly recommend a visit to Lismore Castle Gardens if you are visiting County Waterford or Tipperary as it is easy to get to. We enjoyed our few hours there, made all the better for meeting Sally and her son. And as I've already said, we will be making a return visit during future visits to the eastern half of Ireland.
Cath x
*Prices correct at the time of publication. We were not asked to write this post and paid our own entry.
If you'd like to visit some other Irish castles, why not consider a trip to Blarney Castle, Cahir Castle or Bunratty Castle with kids.
For more destination ideas, head back to the homepage and take a look around.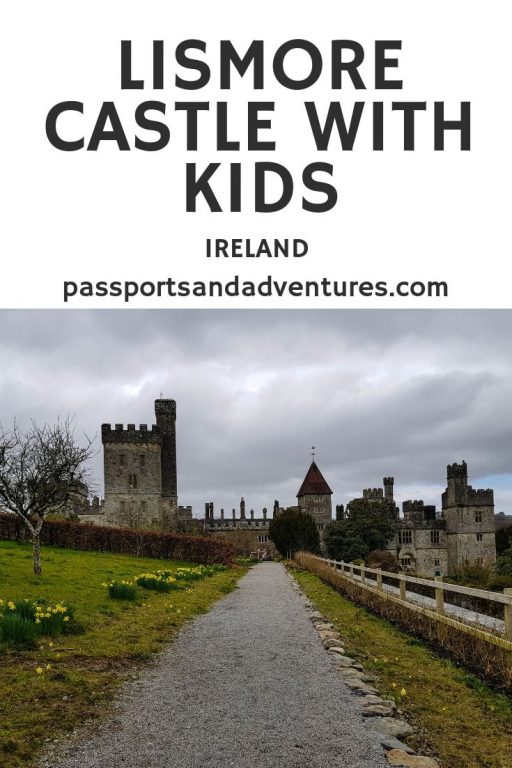 Related Posts