Ireland, the Emerald Isle, or Eire. Whichever name you choose to refer to it, it is one of those countries that many people put on their travel bucket lists. Home to the leprechauns, shamrocks and the harp, from North to South, it is a country steeped in rich history, culture and traditions and has so much to offer visitors of all ages, backgrounds and travel preferences. In this Ultimate Ireland Bucket List you will discover some of the amazing things to do in Ireland, those unmissable places to visit in Ireland, what to do in Ireland, the best things to see in Ireland, and even food and drink you must try in Ireland.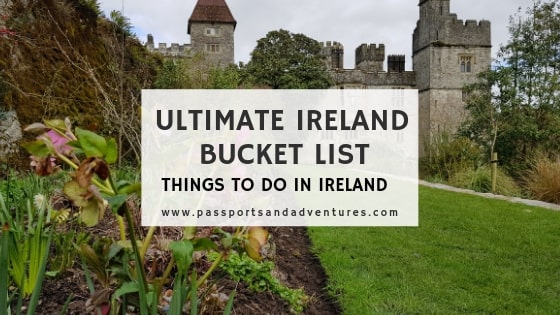 *This post contains affiliate links. To learn more about affiliate links and how they work, please visit my Disclosure Page.
I consider myself very lucky to be Irish. Although I was born elsewhere, I hold an Irish passport through my Irish parents and lived on the Emerald Isle between the ages of 9 and 26 years of age. It is the country I consider as home and one I hope to return to in the future.
Isn't it funny how you can sometimes take things for granted. I did just that during my years living in Ireland. I rarely travelled outside of Dublin and barely visited some of the top places to see in Ireland. It was only when our son was born that I felt a great need to start exploring my home country, especially with him. And so, I've made it my mission to travel back, as often as I can, to start exploring the country and introducing our son to his heritage, one I am also discovering.
So far, we've explored the counties of Tipperary, Cork and Limerick during a 10-day road trip together (Mr Passports had to work, so it was a solo road trip with my son). We visited some of the best castles in Ireland to visit with kids, saw some stunning countryside and all before catching up with our family in Dublin. Next on the plan is to concentrate on the areas surrounding Dublin along with a short stop to the west of Ireland for a few days. We hope over the coming years we visit as much of the country as possible.
Before you go to Ireland, you need to ensure you plan your trip to include your bucket list and make sure you're clued up with helpful hints and tips for visiting Ireland.
And to help with that plan we've asked our fellow travel bloggers to share what they think are the top things to see and do in Ireland and that should be included in the ultimate Ireland bucket list. Here's what they had to say.
Click here to find the latest prices for the ultimate 9-day tour of Ireland.
Ultimate Ireland Bucket List – Things to Do in Leinster
Leinster is the province which includes the counties of Carlow, Dublin, Kildare, Kilkenny, Laois, Longford, Louth, Meath, Offaly, Westmeath, Wexford and Waterford. It is the Eastern half of the Emerald Isle and was my home before I left Ireland for the UK. Many people think that the best things to do in Ireland are in Dublin, the capital, but Leinster is a big province and there is much more to it than Dublin. In this section you will find some of the top things to see and do and places to go in Ireland.
Visit the seaside town of Howth, Dublin
Howth, a quaint seaside village just outside of Dublin, is the perfect getaway if you're looking for fresh air and a quiet reprieve away from the city. Howth was first colonised back in the 800's and has origins as a trading port, with its scenic harbour still an active fishing centre today. The main draw to Howth is the beautiful Cliff Path Loop walk, an easy, family-friendly hike that takes you around the cliffs to view sights such as Lambay Island, Ireland's Eye and the Bailey Lighthouse, with plentiful wildlife and sealife along the way. The Loop is easy to follow as it starts and finishes at the Howth Railway Station if you choose to follow the entire 6km path.
While you're in Howth, be sure to get some of the freshest fish and chips available from one of many local restaurants. If you're visiting during the summer months, Howth Castle, located just outside of the village, is also available for tours. Howth is most easily accessed via a 30-minute train ride from the centre of Dublin on the Dublin Area Rapid Transit system (DART) or there are several Bed & Breakfast establishments available if you're looking to stay in this adorable town for a night or two.
Amanda – Toddling Traveler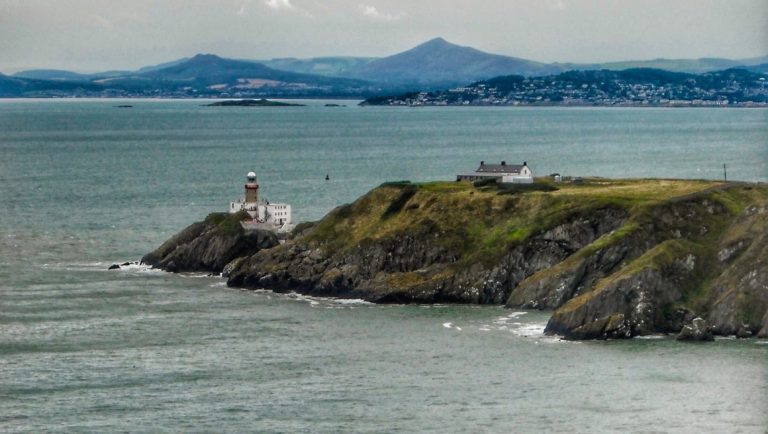 Enjoy history and quiet in Trinity College Library, Dublin
Everyone loves a good library, but sometimes you discover a place that is more temple than book repository – like Trinity College Library at Dublin University, a hall so exquisite and breathtaking you'd like everyone to leave and the guards to lock you in so you could spend hours uninterrupted.
This 65-meter (213ft) hall of deeply stained wooden shelves contains 200,000 of the library's oldest books, including the famous Book of Kells, a 9thcentury illustrated manuscript of New Testament gospels. Interestingly, this is also a functioning copyright library that holds a copy of every single book ever published in Ireland.
Leyal – Women on the Road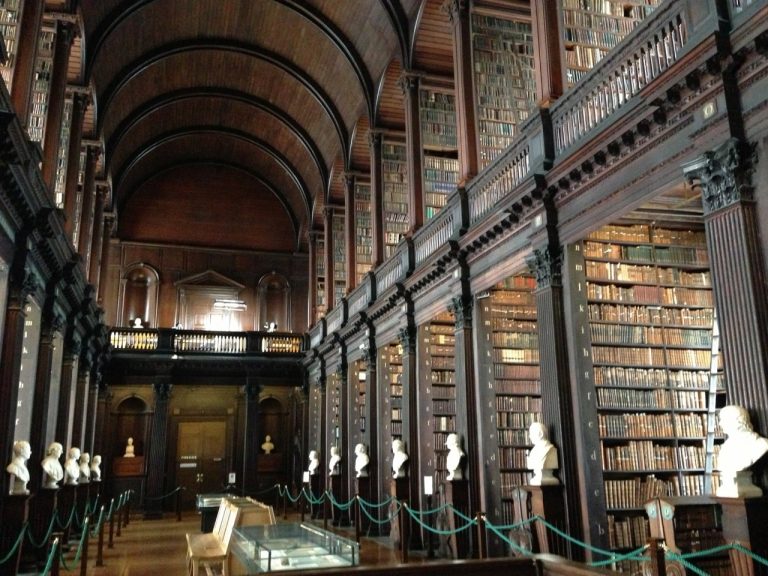 Take a day trip to Malahide Castle, Dublin
Located at a convenient 45-minutes bus ride from Dublin, Malahide Castle is the ideal destination for a one-day trip from Dublin. While the 12thcentury castle is a true architectural gem and a great tourist destination in itself, the park and the gardens surrounding it are perfect for spending one day in the middle of nature. You can opt for the paid ticket that grants you access to all sections of the gardens and to the guided tour of the castle, but you can also visit the forest and a big part of the gardens for free. If you visit Malahide for the first time, take the paid tour and remember to stop by the greenhouse with its exotic plants and vividly coloured butterflies.
The Malahide Park also features a children's playground, an exercise trail, tennis courts and many other amenities that make it a great destination for the whole family.
Violeta Matei – Violeta's Travel Blog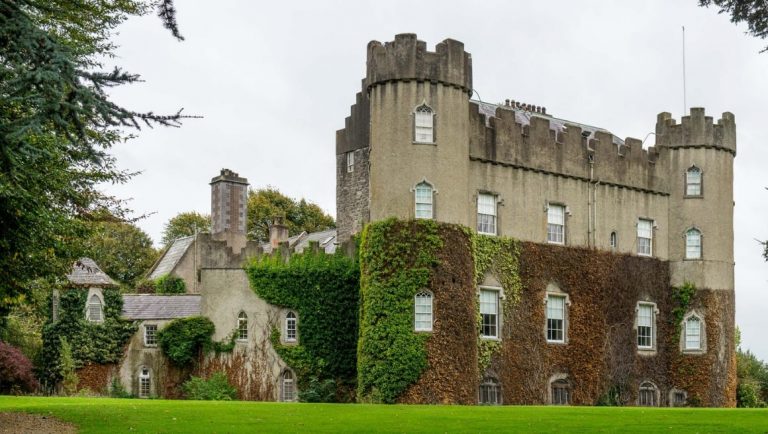 Enjoy the village of Dalkey, Dublin
Dalkey is a scenic, heritage village close to Dublin with a charm that has won the hearts of many, including several celebrity residents such as Bono, Enya, and Van Morrison. This charming town is also a favourite of nature and culture lovers and makes a great getaway from the bustling city of Dublin.
Highlights of Dalkey include the Dalkey Castle and Heritage Center where actors bring history to life with their enactment of the days of Tudor. Experience a visit to the somewhat frightening Barber Surgery, learn how they cooked in the massive kitchen and hear harrowing tales from the resident archer. If you're a literature fan you'll want to visit the Writer's Gallery where you can find works from famed past locals like Maeve Binchy and James Joyce.
For those who seek adventure it's possible to kayak over to Dalkey Island which has a long history including being a one-time base for the Vikings. Stepping onto the island feels like stepping back in time as the only inhabitants are a small family of goats and dozens of wild rabbits. However, further exploration will show signs of human presence dating back to the Neolithic period and sights include the ruins of Pagan alters and a Christian church.
Sarah – Live Dream Discover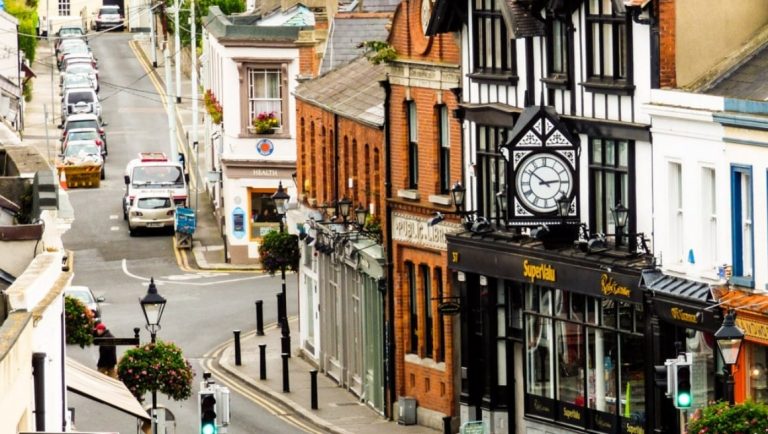 Get lost in Temple Bar, Dublin
Whether you're a solo traveller, travelling with friends or family or road tripping through Ireland, Temple Bar (Dublin) HAS to be on your Ireland bucket list. Temple Bar, or Barra an Teampaill as the locals call it, is a neighbourhood in Dublin known as the epicentre of the Irish capital's nightlife. Located on the south bank of the river Liffey, the neighbourhood is home to many iconic bars, like the Temple Bar Pub and Porterhouse Temple Bar.
You can't miss a visit to this vibrant area of Dublin. You have to walk on the cobbled streets to know what it's really like, and you have to drink a pint of Guinness in one of its prototypical Irish pubs. There's no way you're going to Dublin and skipping this experience without feeling guilty afterwards. I'm just saying.
Sander – Ars Currendi
Enjoy panoramic views of the city in the Guinness Storehouse, Dublin
The Guinness Storehouse tour is an essential addition to any Irish itinerary. Located in the heart of Dublin, the Guinness factory tour sees you guided through its storehouse that is shaped like a pint of Guinness! The building is so vast it would take 14.3 million pints of Guinness to fill it. Eager and well-informed staff talk you through it's fabulous history floor by floor, interacting with various objects in the scenery as they go.
Once you reach the top you receive a complimentary pint whilst looking out over a gorgeous view of Dublin, and it's true what they say, the stout here really does taste better! I recommend pre-booking a fast track ticket because it is a very popular attraction and queues can be long during busy periods.
Alan – More Passport Stamps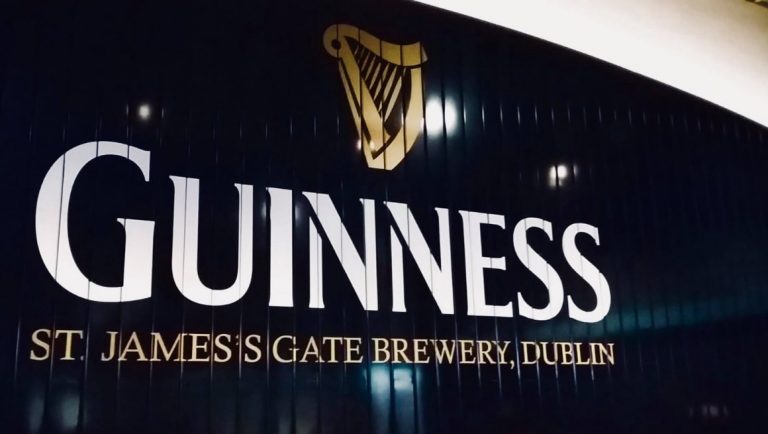 Click here for the latest prices and to book your skip-the-queue ticket.
Visit the ancient tombs at Brú na Bóinne, Meath
Brú na Bóinne or Palace of the Boyne is valley tombs located in Drogheda, about 40 kilometers from Dublin. The site is famous for its 3 Megalithic passage tombs – Newgrange, Knowth and Dowth. These pre-historic landscapes were said to be from the Neolithic period and recorded human settlement dated as far as 6000 years ago at least. These Stone Age sites are older than Pyramids of Egypt and the Stonehenge of UK and they are said to be the oldest astronomically orientated structure in the world.
Brú na Bóinne is a UNESCO World Heritage Site since 1993 and aside from the passage tombs, there are over 90 Neolithic monuments dotted across the 780-hectare site. Which makes it the largest and oldest site of prehistoric megalithic art in European history. If you are history buff, Brú na Bóinne is a must when in Ireland.
Christine – Ireland Travel Guides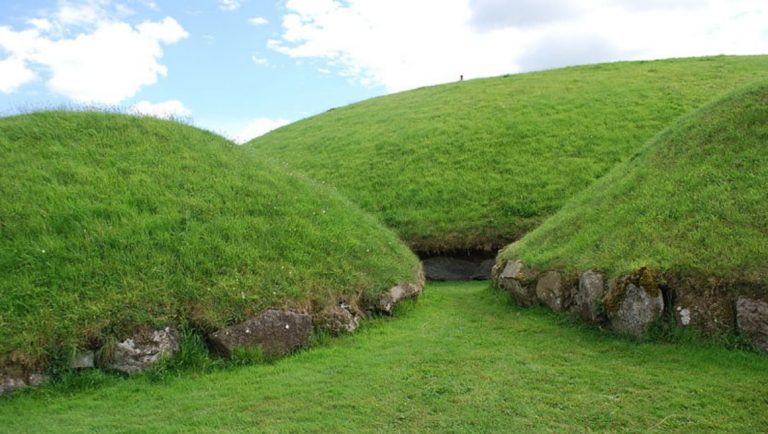 Click here for latest prices, availability and details of a full day tour to Bru na Boinne from Dublin.
Enjoy the lesser-known but beautiful County Wexford
I recommend County Wexford for anyone heading to Ireland. While the west, the north of Ireland and the country's capital Dublin often attract the majority of tourists, Wexford, although a little less known, is just as beautiful. The town itself of Wexford is a great place to have a few drinks. Walk along the town's quay or head into some of its popular bars like Maggie Mays or the Skye and the Ground and mix with the town's friendly locals.
But it's the beaches in County Wexford that make it truly special. Curracloe beach is known for its beautiful soft sand and was the setting of some of the famous Tom Hanks war movie Saving Private Ryan. Rosslare Strand is a more touristy beach with lots of accommodation options nearby. There are also a heap of quieter less known beaches if you're there for the peace and quiet. The Saltee Islands for example are beautiful untouched islands and you can head there for a day trip from the fisherman village of Kilmore Quay and immerse yourself in nature.
Ann – Eco Conscious Traveller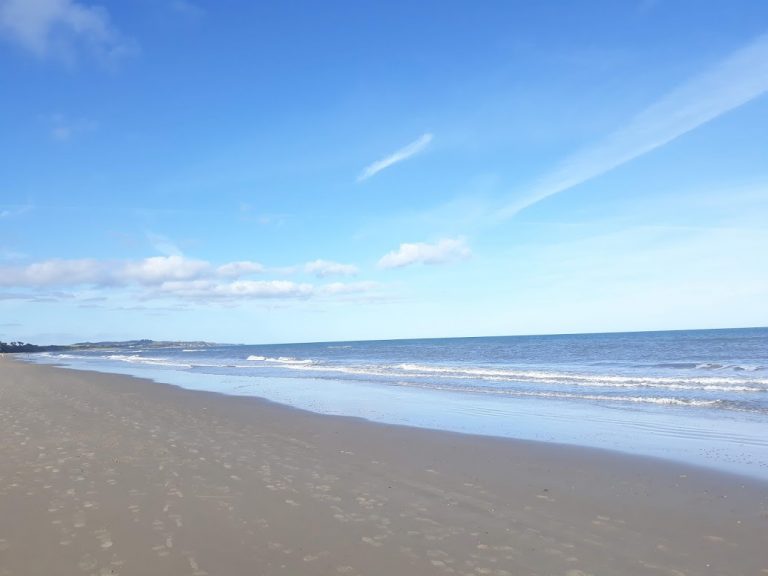 Visit the oldest lighthouse at Hook Head Lighthouse, Wexford
The Hook Head Lighthouse is the oldest operational lighthouse in the world. The lighthouse is located down in the southeast corner of Ireland, out on the Hook Peninsula, between Waterford City and Wexford Town.
This is a great pit stop on your way to Waterford, Wexford, Cork or Killarney and you could easily spend a few hours here stretching the legs and grabbing a bite to eat. They run tours every ½ hour (although at certain times a year they only run every hour). The interior appears more like a castle, clad with exposed rocks and vaulted ceilings and conveys feelings of tranquillity and antiquity.
This is a great landmark for children as the tour is not too long and the lighthouse itself has a lot of cool sensory components to keep a child's attention. On the tour, there are stories of knights, lots of nooks and crannies to explore, and some beautiful colours and textures. From the top of the lighthouse, you will have great views of the Irish Sea and the surrounding countryside.
After the tour, you can grab a bite to eat in the café and check out the gift shop. There is also a large field in front of the lighthouse where kids can burn some energy.
Catherine – Traveling With The Littles

Enjoy the Craic in Dublin's Pubs
No visit to Dublin will be complete without dropping by to any of the bustling Irish pubs in the city. Public houses are also known as Pubs are the main social hub for the community. You can find hundreds of pubs dotted around the Dublin. On my recent visit to Dublin on our stop during our British Isles cruise, we went to experience the Irish pub culture in Dublin. We had a pint in John Kehoe pub located not far from Trinity College. The John Kehoe pub had its license since 1803 and remained as one of the heritage pubs in the city.
The cosy, friendly and lively vibe of the Irish pub made it so popular not just in Ireland but all over the world.
Ryazan – Everything Zany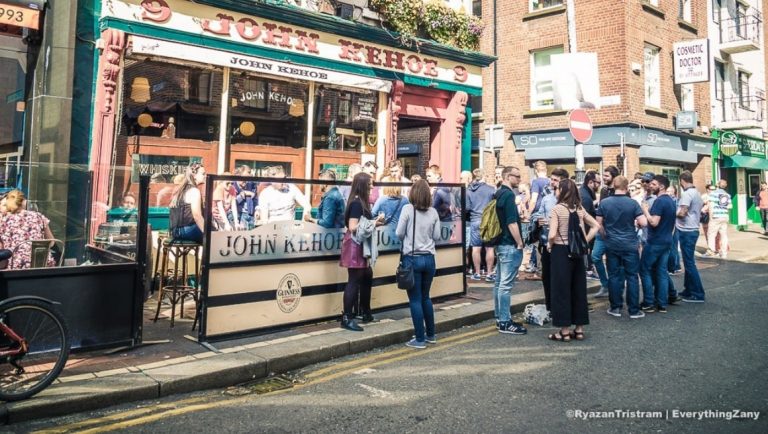 Click here for prices and availability for a Dublin pub crawl tour.
Enjoy the beauty of Glendalough, Wicklow
Glendalough is not only the site of an early Medieval monastic settlement dating back to the 6th century, it is also a place of natural beauty in Ireland. One of the iconic features of Glendalough is the Round Tower which served as both a defensive building and storehouse. There are several churches at the site, in various state of ruins along with other monuments.
Glendalough is located within a glacier valley and is surrounded by the woodlands of the Wicklow mountains. There are hiking trails and gentle walks for people of all abilities to enjoy and the two lakes provide a home to an array of birds. It is located within the Wicklow Mountains National Park and is a popular tourist attraction and one of the top places to visit in Ireland.
Click here for latest prices for a Glendalough and Wicklow half-day tour from Dublin.
Get traditional in Kilkenny Town
Located on the banks of the River Nore, Kilkenny Town is one of the best places to visit in Ireland. As one of the top tourist destinations in Ireland it has many things to offer those that choose to visit this town. Kilkenny Castle, St Canice's Cathedral and the Black Abbey are just a few of the historical sites to visit. The town is also known for its craft and design workshops, public gardens and museums.
The Kilkenny Arts Festival, held every August, draws big crowds, while other festivals are regularly held in the town throughout the year. But perhaps its biggest fame is for its rich and vibrant music scene, particularly that of traditional Irish music. Even those who live in Ireland often enjoy weekend breaks to the town to enjoy the 'trad' music sessions happening in many pubs and establishments across the city every weekend.
Experience Dublin on All-Ireland Final Day
The national sport in Ireland is Gaelic Football, known within the country as GAA. Counties compete in both local and national league competitions, with the national Senior competition culminating in the All-Ireland Final, held in the famous Croke Park stadium in Dublin, with the winning team taking ownership of the Sam Maguire cup.
Gaelic Football matches are played between two teams of 15 and scores are achieved by kicking or punching a ball into their opponents goal or between the upright posts above the goal. The All-Ireland Final attractions over 80,000 people and they all arrive into Dublin to attend this famous match. Dublin comes alive on All-Ireland day and cars making their way to the capital will often display their counties flags from their windows, beeping their horns. The inner city around the stadium comes alive, with many road closures. Pubs will be filled with supporters of the two finalist teams and it is a sporting event which sees very few troubles. All-Ireland Final day in Dublin is a day to enjoy, if only to see the colours of team team proudly displayed by their supporters. Even better if you can bag yourself tickets and experience it from within Croke Park Stadium.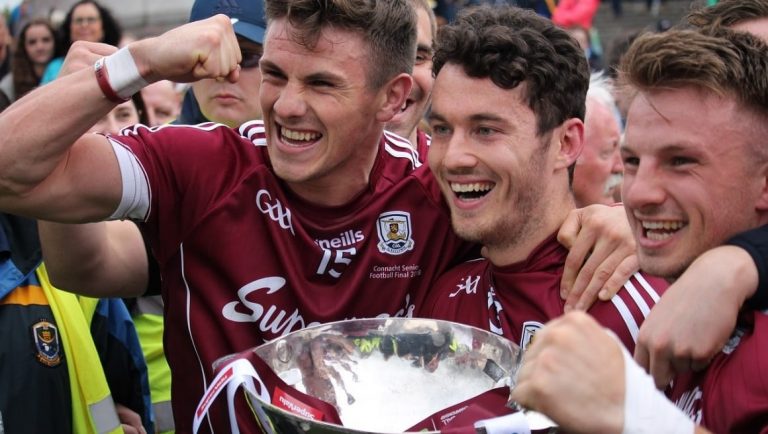 Enjoy the parade in Dublin on St Patrick's Day
The patron saint of Ireland is St Patrick, who is said to have driven the snakes from Ireland, and was the man credited with bringing Christianity to the Emerald Isle. His saints day falls on the 17th of March and it is a national holiday.
It is celebrated across the country with many cities and towns holding parades in celebration. Parades include floats with various themes, marching bands and festivals are held both leading up to, and on the day itself. It is a huge cultural celebration and the country comes alive with the colour green, shamrocks and leprechauns. And nowhere is better to experience the day than Dublin.
The centre of the city becomes pedestrianised with many main routes closed to vehicles in order to accommodate the parade. Pubs are awash with people in all colours of green and revellers, young and old, are always in great spirits. It's a great day to be alive and well in Ireland.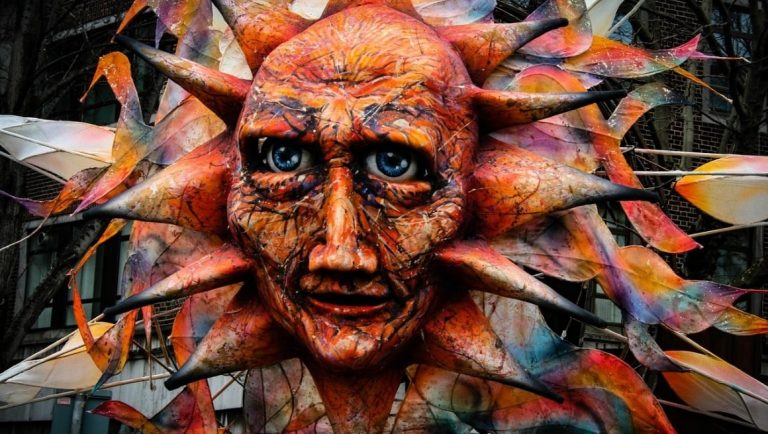 Hear the roar of Powerscourt Waterfall, Wicklow
If you happen to be in Dublin, and are wondering what to do in Ireland, then something you really must to is a day trip from Dublin to Powerscourt Waterfall. This mighty waterfall is located in Wicklow, the neighbouring county to Dublin, along the River Dargle. It is in a beautiful valley surrounded by the Djouce Mountains and the Sugar Loaf Mountain, a peak that can be viewed from Dublin city on a clear day.
Powerscourt Waterfall is on the Powerscourt Estate and is Ireland's highest waterfall, and it flows continuously throughout the year. Standing 121m high, and 6km from the main estate of Powerscourt, it is set among beautiful parklands. There are walking trails along the river and picnic areas to enjoy during the summer. There is a playground for kids to enjoy and kiosk in case you want to grab a cuppa while the kids play. It is a payable attraction but worth it.
Cath – Passports and Adventures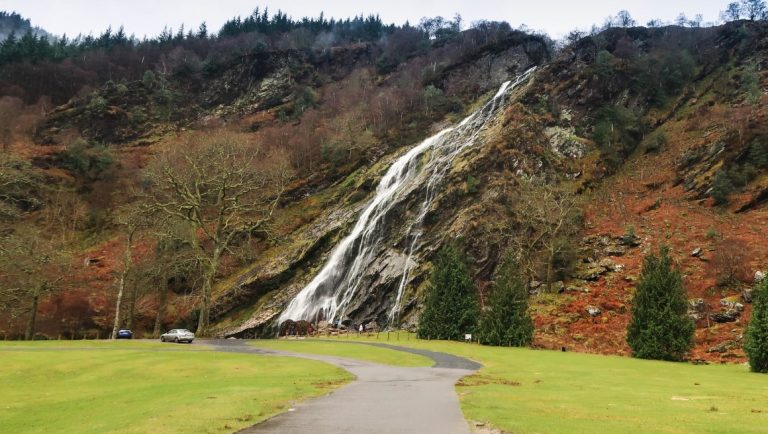 Watch Ireland play rugby in the Six Nations at the Aviva Stadium, Dublin
Another huge sporting event in Ireland, which gathers together people from across the country, young and old, is rugby. And there is no more popular tournament than the Six Nations. Held every year in February and March and involving the six nations of Ireland, England, Scotland, Wales, France and Italy, it is a huge national institution to follow.
Many choose to catch the action on TV but to truly experience the Six Nations in Ireland, you should watch Ireland when they are playing at home in the Aviva Stadium in Dublin, formerly known as Lansdowne Road. It is a tournament which sees supporters of both teams sitting beside one another, a rare thing to find in sporting events. There will be a sea of green among the other nations colours and there is nothing like listening to the Irish Anthem for rugby, Ireland's Call. It's one of the best things to do in Dublin, Ireland.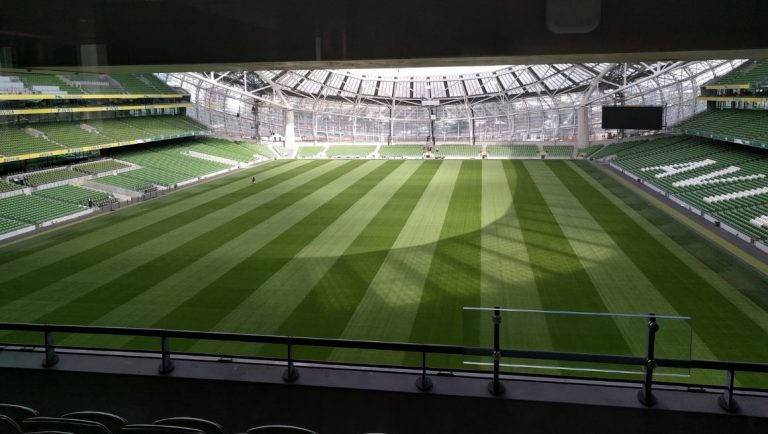 Ultimate Ireland Bucket List – Things to Do in Munster
Munster, which is the southern province of Ireland, includes the counties of Clare, Cork, Kerry, Limerick, Tipperary and Waterford. It was the setting for my first solo road trip with my son and was also the province in which we found some of the best castles to visit in Ireland with kids. Some of the best places to visit in Ireland are located within these counties and you'll be amazed by some of them. Likewise, some of the top things to do in Ireland are in Munster and include at least three of the top Irish tourist attractions.
Stay in a Castle in Dromoland Castle, Clare
If you ever get a chance to go to Ireland I highly recommend staying in a castle. For the obvious reason; who doesn't want to feel like royalty? But did you know there are many opportunities to do the activities of back in the castle days? Yes, you can at some castles enjoy skeet shooting, archery, golfing, ride in a horse drawn cart and even falconry. Dromoland Castle near Shannon offers all of these fun things to do while in staying in their castle in Ireland.
Falconry is a favourite among many visitors. Starting your tour with visiting the area of where the birds are kept. Next the falcon trainer will take you out to the woods and educate you with all the different aspects about this amazing bird that you had no idea about! The falcon flies up into the trees while you wait, with some hesitation the first time, as it soars back down to your outstretched gloved arm. When it lands and looks directly into your eyes you realise what an awesome opportunity you just experienced and will never forget in Ireland.
Sherrie – Travel By A Sherrie Affair

Get merry at the Jameson Distillery, Cork
If you're visiting Ireland and you like whiskey I would say that the Jameson Distillery is a must. In fact, if you like Irish whiskey then you might even plan your trip around it. Jameson has a location in Dublin but if you want to see where the magic happens you'll need to wander over to Midleton. This Cork County location is where Jameson has been produced since they moved there in 1975.
We enjoyed learning about the history of Jameson and the whiskey making process on the tour. The tasting at the end might have been our favorite part but so was bringing home a bottle that you could only buy at this location. We sampled other Irish whiskies along with Jameson and even got a certificate for whiskey tasting. If you have kids, don't worry, you don't have to leave them at home as they are welcome on the tour with you!
Melissa – Roux Roamer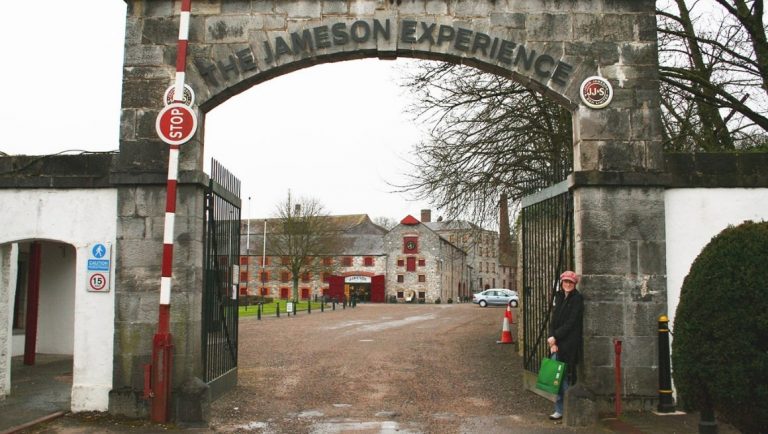 Click here for the latest prices and to book your Jameson Distillery tickets.
Enjoy Muckross House, Abbey, and Traditional Farms in Killarney National Park, Kerry
If you're going to Ireland and especially planning to do the Ring of Kerry and the incredible town of Killarney, then Muckross House, Abbey, and Farms are not to be missed!
Muckross House, Gardens, Abbey, and Traditional Farms are located in Killarney National Park where you can also see Ireland's incredible nature and connect with its ancient past. As Ireland's oldest National Park, it offers not only gorgeous scenery but also an opportunity to experience life in Ireland as it was hundreds of years ago. You can first visit Muckross Abbey, founded in 1448 as a Franciscan friary. It has had a violent history and has been destroyed and rebuilt many times. You can walk through the hollowed out Abbey and admire the beautiful tree that grows through the centre.
Make your way over to Muckross house where you can enjoy a guided tour and learn about the history of this beautiful mansion that was designed in the 1800's and even had a visit from Queen Victoria! Be sure to stroll the impressive gardens around the house as well as the inside. Muckross House was eventually donated to the Republic of Ireland and was the reason for Ireland's first National Park now known as Killarney National Park!
Once you've had enough of seeing how the wealthy in Ireland lived, take a walk over to Muckross Traditional Farms to see how the other half lived. At the farm, you can learn how to milk a cow, and then learn how to churn your own butter too! It's a wonderful experience for families to really immerse themselves into Ireland's past.
Vanessa – Wanderlust Crew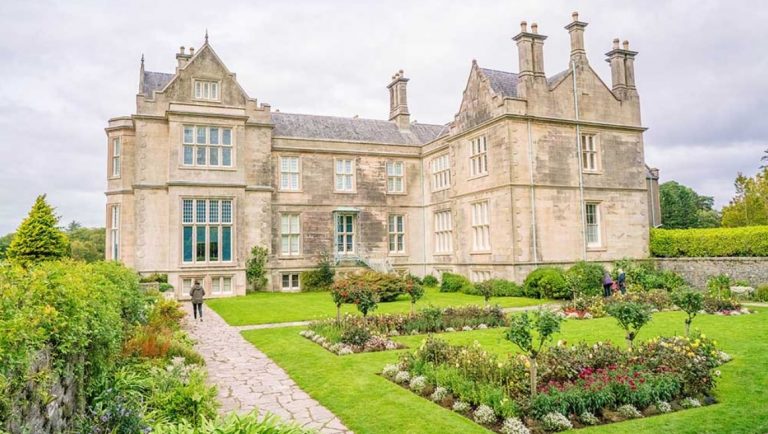 Kiss the stone at Blarney Castle, Cork
Ever imaged climbing a castle just to lie face up while you're dragged to its edge and made to kiss the stone columns? At this point, it's fair to ask why anyone would want to do such a thing. The Irish will say – to get the gift of gab, just the way they have. And that, dear friend, is the main attraction of making the journey to Blarney Castle, a castle visit where there's less history and no museum but a live demonstration involving yourself to take part in.
But hey, don't lose heart if you think this isn't how you or your family rolls – quite literally in this case. You could always take your family on a serene walk along the green stretches of the castle grounds as well as tiptoe around Poison Garden, a fascinating collection of deadly plants such as nightshade, poison ivy etc. that, in fact, look impossibly cute from a distance. All in all, visiting Blarney Castle is one of those things that stays with you long after you've returned home dimply for the sheer eccentricity of the entire experience.
Priyanko – Constant Traveller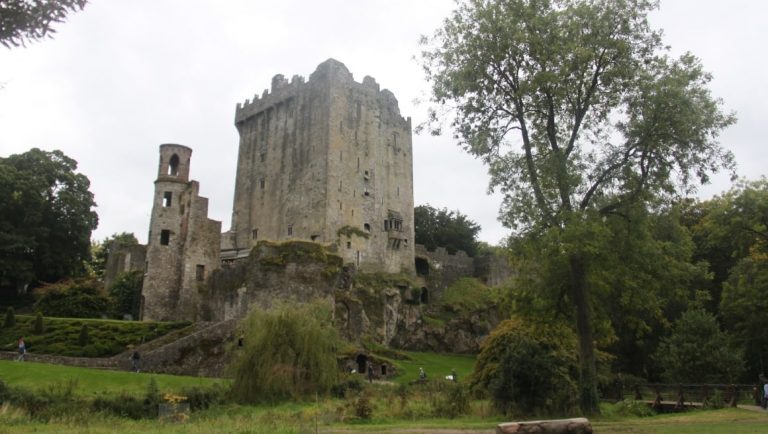 Walk along The Cliffs of Moher, Clare
No Ireland bucket list can be complete without the Cliffs of Moher. The views from the top are world renowned, but the Cliffs offer so much more!
Visitors have been coming for over 150 years, when Cornelius O'Brien used the scenery to make an attraction, and provide work for the starving peasants. The remnants of O'Brien's humanitarian efforts can still be seen in the flagstone fencing near the top of the cliffs. The area is now not only a tourist attraction, it is a Special Protection Area for Birds, under the EU Birds Directive, and a UNESCO Geopark.
Make sure to stop at the sustainable visitor's centre to learn the amazing geology and biology of the area, through state off the art interactive exhibits. Head to the top of O'Brien Tower for the view from the absolute highest point, then walk the trails. And, take the Cliffs of Moher cruise. The Cliffs are entirely different from the Atlantic, and it is only on the sea that you will become acquainted with the amazing birds who make their homes at the cliffs. The birds will amaze you, perhaps even more than the view!
Roxanna – Gypsy With A Day Job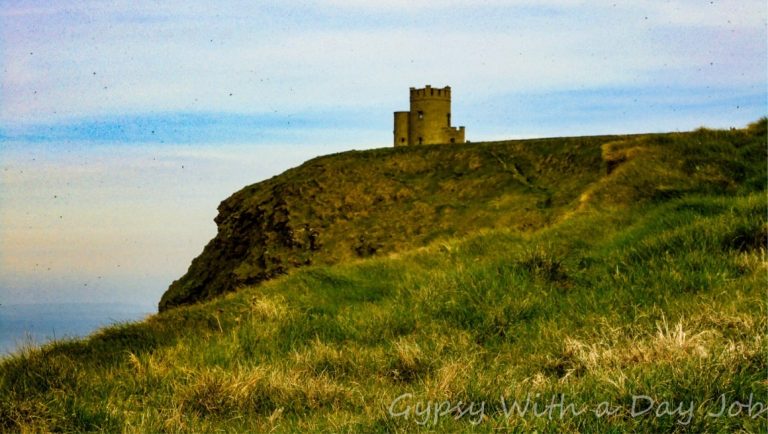 Click here for the latest prices for a Cliffs of Moher, Burren and Galway full day tour from Dublin.
Drive the Dingle Peninsula, Kerry
Dingle Peninsula, located in County Kerry, is a beautiful peninsula on the west coast of Ireland. The peninsula is a must-see for travellers who love beautiful scenery and want to see Ireland's numerous shades of green and beautiful coastal waves. The peninsula is approximately 30 miles long, and it must be driven in the clockwise direction.
There are several tour companies that will drive you around the peninsula, but if at all possible, I recommend renting a car so you can enjoy the stunning views at your own pace (just keep in mind that the roads are very narrow). You might want to drive the peninsula in the afternoon, after the tour buses have left for the day (we did and felt like we had the peninsula to ourselves!). The entire peninsula is gorgeous, but you will not want to skip Slea Head Viewpoint (for the most picturesque view!) and Brandon Point (the northernmost edge!). Dress warmly and be prepared for rain!

Leah – An Adventure Is Calling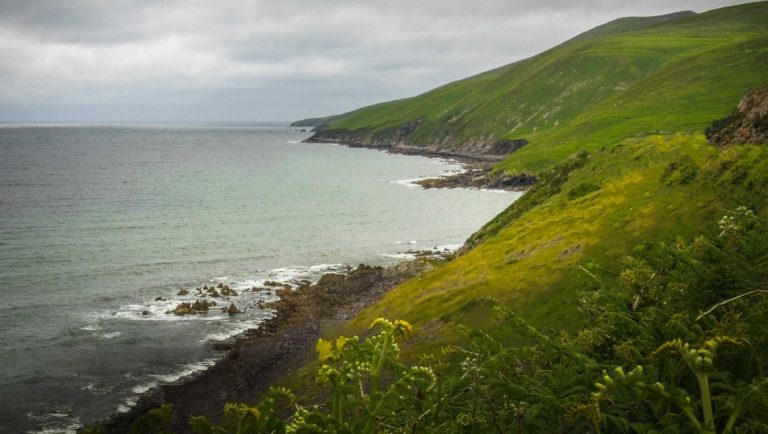 Get historical in County Tipperary
Staying and travelling throughout County Tipperary was one of the highlights of our trip to Ireland! In this area, there are numerous things that families will enjoy. If you're interested in history, a visit to the Rock of Cashel is a must, but while you're there take a walk down the hill to see the ruins of Hore Abbey. It's from this place that you'll get a view of the grandeur of the Rock of Cashel and imagine early Irish men and women making a pilgrimage over this land.
If you're traveling between Limerick and Dublin on the M7, leave time in your schedule to visit the medieval town of Rosecrea. The stone castle dates from the 13th century, with the two towers being constructed in the 1280's. The castle courtyard is free to visit. If you still need more time to stretch, kids will love the Glebe Playground. Located a short walk from Roscrea Castle, this sun-filled playground is filled with slides, climbing structures, and a popular zip line.
Lastly on our County Tipperary Bucket list is Cahir Castle. Cahir Castle was our favourite Irish castle to visit with kids. The castle has an idyllic location on the River Suir. Built in 1142, the history of this building is extensive, it even survived a Siege by the Earl of Essex in 1599. When visiting Cahir Castle, allow at least 90 minutes. You will be able to tour various areas of the castle, a banquet hall, and a tower. The castle has many steps and small openings, so this isn't the place to bring a stroller. I'd recommend that small children are worn in a carrier or you visit when they are over 3. Our young boys enjoyed the cannons that were staged throughout the castle courtyard. They were able to imagine life back in the Middle Ages & Renaissance period.
Leah – Yoder Toter Blog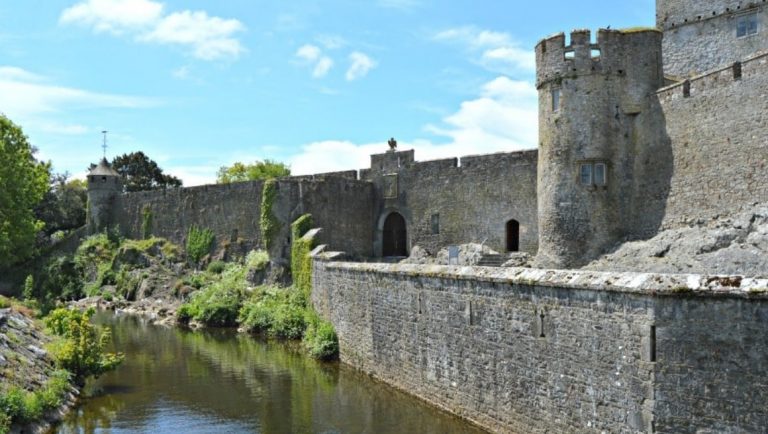 Take in the natural beauty of Killarney National Park, Kerry
The Killarney National Park near the town of Killarney, in the County Kerry, was the first national park of Ireland. It was created in 1932 when Muckross Estate, a 19th century mansion and its gardens, were donated to the Irish Free State.
Today Killarney National Park is one of the most visited attractions in Ireland and has to feature on your Ireland travel bucket list. In the 26,000 acres that make up the park you can find all sorts of natural landscapes and beauties, from mountains to lakes, woods and waterfalls.
On my trip to Ireland we spent hours wandering around the park, looking for beautiful viewpoints and waterfalls. For a city girl born and raised like me being completely immersed in nature is always a breath taking experience. When you've had enough of nature you can also learn a bit of history and visit the inside of Muckross House, with all the furnishing and artefacts of the period.
Greta – Greta's Travels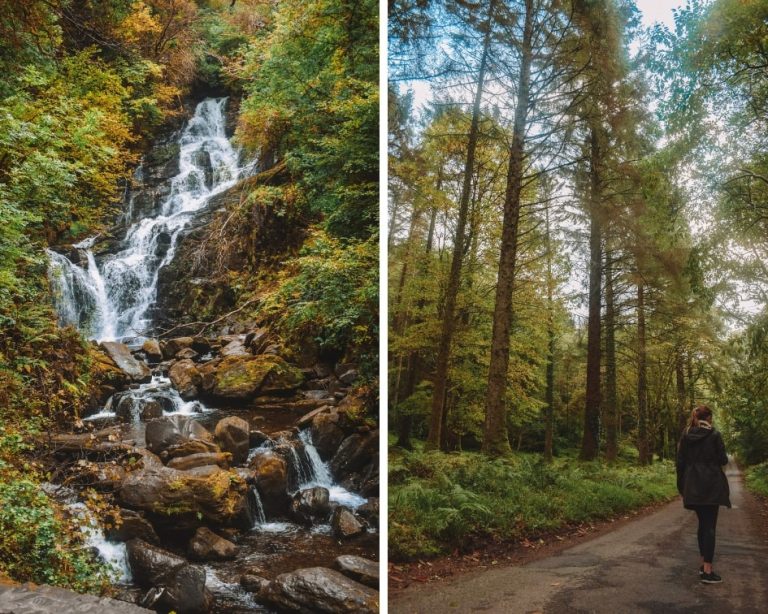 Travel the mountain pass of The Gap of Dunloe, Kerry
The Gap of Dunloe in County Kerry is an absolute must for all visitors to Ireland. It's a landscape unlike anywhere else in the entire country. This breathtaking mountain pass through the Killarney mountains was formed 10,000 years ago by glaciers. At approximately 7 miles in length, there are several ways in which you can explore the beauty of the Gap, depending on your level of fitness. Technically you can drive through the Gap, though this is not recommended during the busy summer months.
The road is barely wide enough for one car, and while there are pull offs, multiple cars (and sheep) on the road can create quite the traffic jam! Others options for exploring the Gap include walking and cycling. There are also tours that will take you through the Gap on Dunloe via boat on the various lakes. For more information on the Gap of Dunloe,
check out Forget Someday's post on the Gap of Dunloe.
Toccara – Forget Someday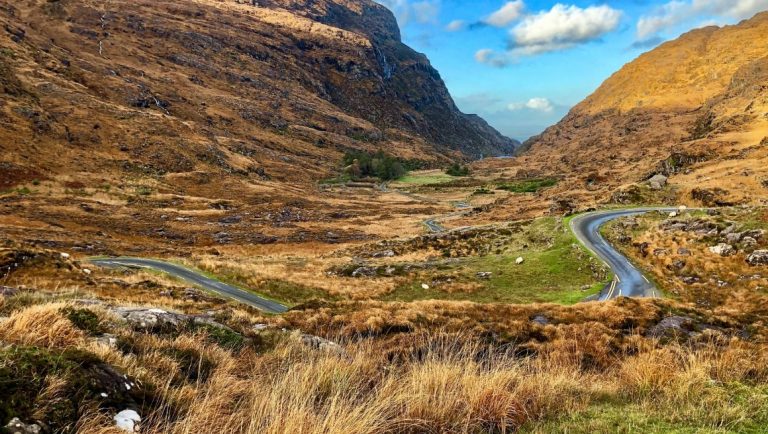 See the puffins of the Skellig Islands, Kerry
The Skellig Islands are two rocky, uninhabited islands lying 13km west of Bolus head on the Iveragh Peninsula in Kerry. The largest of the two islands, Skellig Michael is famous for its early Christian monastery which is a UNESCO World Heritage Site. The smaller islands of Little Skellig is closed to the public and is home to Ireland's largest colony of northern gannet birds. It is one of the largest in the world and of great importance for the species.
To reach the Skellig Islands, you need to take a boat tour. There are both landing tours and eco tours, which circles the islands, allowing visitors to view the wildlife and historical sites, without disturbing the native inhabitants of the islands. During the warmer months, thousands of puffins breed on the Skellig Islands and it is often this fact that draws visitors to these islands. but be warned, visitors are limited and it is best to book your boat tour in advance.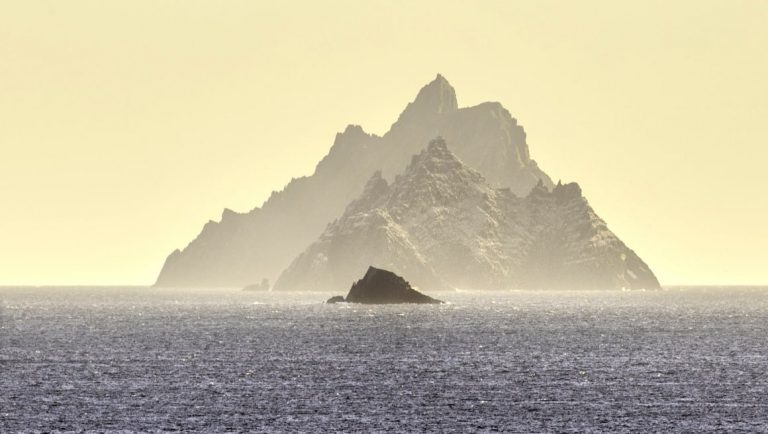 Visit the Burren, Clare
Located in northwest County Clare, The Burren National Park is the smallest of Ireland's national parks. An area of environmental interest, it is characterised by it's glaciated karst landscape. It consists primarily of limestone uplands and is an area of natural beauty and is a must see in Ireland.
The Burren is surrounded by some of the best things to see in Ireland, including the aforementioned Cliffs of Moher but it also offers other things to do. There are numerous walks and hikes within the Burren itself and horse-riding is also popular. A trip to one of the other tourist attractions such as the Cliffs, Kilfenora Cathedral and Caherconnell Stone Fort can be combined with a visit the Burren.
Visit Craggy Island and Father Ted's House, Clare
And while you are in the Burren, you should seek out Father Ted's House on Craggy Island. For those not in the know, Father Ted was a popular TV comedy in the UK and Ireland in the 1990's. Father Ted is the parish priest of Craggy Island, a fictitious island off the west coast of Ireland. He, Father Dougal and Father Jack reside in the parochial house along with their housekeeper Mrs Doyle, famous for her saying "go on, go on, go on".
Most of the filming for the series was done in Clare and the house of which external shots of the parochial house were taken is a farmhouse located in the Burren, northeast of Kilnaboy and is a popular tourist destination. The house itself is a private residence and is not open to the public. However, you are free to take pictures of the house from the gate. The owners do offer afternoon tea by appointment during which you can learn about the colourful history of the house, recount classic Father Ted moments and they also offer guided walks in the local area. These are all available with prior appointment.
Visit the Titanic Experience in Cobh, Cork
Throughout the world, everyone knows of the story of Titanic. But did you know that the last stop she made before setting sail across the Atlantic on her fateful journey was to Cobh, then called Queenstown, in County Cork? On April 11th 1912, 123 Irish passengers boarded her, unaware of what lay ahead.
At the Titanic Experience in Cobh, you can learn about the journey that lay ahead, take a virtual journey on board and learn about some of the conditions on board for those in both first and third class. After your 30-minute guided tour you can freely explore the exhibits and learn about the role of HMS Carpathian in the rescue of survivors. It's a must do in Ireland if you are visiting the Cork area.
Drive the Ring of Kerry, Kerry
When people are wondering what to see in Ireland, one of the the first things I suggest is the Ring of Kerry. This circular tourist trail in the southern tip of the Emerald Isle is 179 km long (or 111 miles in old money). Clockwise from Killarney it passes through towns such as Kenmare, Sneem, Killorglin and Glenbeigh before returning to Killarney.
The Ring of Kerry passes through some of the most beautiful landscape of Ireland and along the Atlantic coast, the route of which is part of the Wild Atlantic Way. Popular stops along and within the Ring of Kerry include Muckross House, Killarney National Park and the Gap of Dunloe, already discussed in this section.
There are tour buses which can bring you along the route from towns such as Killarney and Kenmare, but it's much better driving or riding the Ring yourself. This allows you to enjoy it at your own pace and also allows you to take detours to places such as Ladies View, where the views are stunning. And don't worry about whether it's suitable for families or not, Karen from Travel Mad Mum has a great post about visiting the Ring of Kerry with kids.
Cath – Passports and Adventures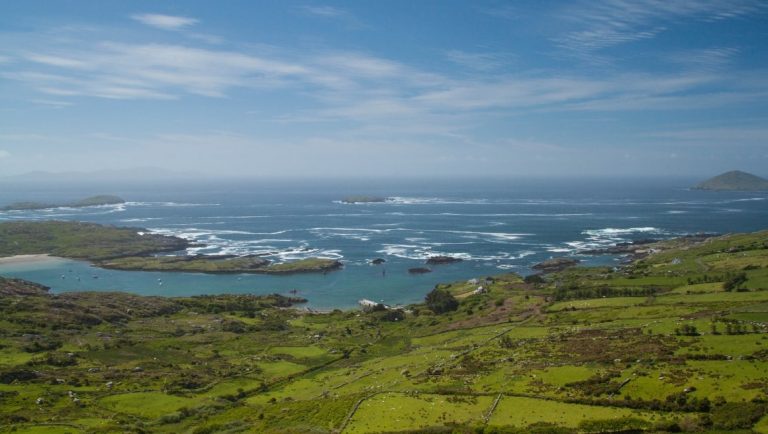 Click here to get latest prices, details and availability for a full day tour of the Ring of Kerry from Cork.
Ultimate Ireland Bucket List – Things to Do in Connaught
Connaught, or Connacht as it seems to be spelled these days, is fondly known to those within Ireland as The West or Wesht. With a coastline lying along the Atlantic Ocean, it is one of the most rugged parts of Ireland and also plays host to some of the must see places in Ireland. It is beautiful but life can harsh in this part of the country. My parents had a second home in the county of Galway and while I loved visiting I would have found it hard living in the West of Ireland. Along with Galway, you'll also find the counties of Leitrim, Mayo, Roscommon and Sligo.
Visit the rugged wilds of Connemara, Galway
If you're looking for some of the most spectacular natural scenery that Ireland has to offer with a fraction of the tourist crowds of most major attractions, then the rugged Connemara peninsula is the perfect place for you.
Located in County Galway along Ireland's beautiful Wild Atlantic Way, the Connemara region has a landscape that is different to what is found elsewhere on the Emerald Isle. Covered in peat bogs and some of Ireland's highest peaks, there are also some of the most beautiful beaches and coastline in this region as well.
Perhaps the most iconic attraction in Connemara would be to drive (or walk!) the scenic Sky Road loop, which is located just outside of the biggest town in the region, Clifden. An incredibly beautiful route, the Sky Road provides some of the most stunning views of Connemara's rugged and bucolic coast."
Maggie – The World Was Here First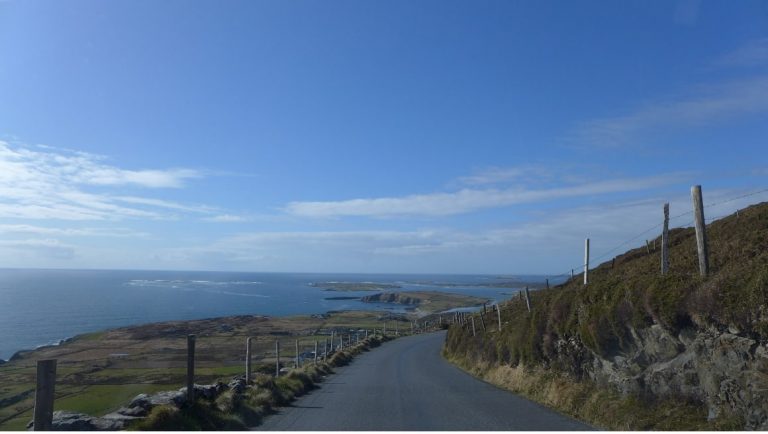 Click here for details and latest prices for a Connemara and Kylemore Abbey tour from Galway.
Enjoy Galway City
I have to admit, I feel very lucky to get to call Galway home. It is a city full of charm with a bohemian and artistic street life. Walking through the cobble-street city centre is entertainment in itself with street performers and talented buskers ready to serenade you. Ed Sheeran himself once busked the Galway streets and there is a reason why not one but two songs are written about us Galway girls.
This beautiful seaside town is a sanctuary for Irish customs, music and culture. The stunning Claddagh region in Galway is where the famous Claddagh ring originated. The Claddagh ring is a traditional Irish ring which represents love, loyalty and friendship. If you are looking to buy one the best place is Thomas Dillon's, the oldest jeweller in Ireland and the only one that have the right to stamp "original" on their rings.
There are many things to see and do in Galway. From simply meandering the colourful city centre streets such as The Latin Quarter and Quay street to watching the boats come in at Spanish Arch. The beautiful and iconic Cathedral, which used to be the site for the old jailhouse is certainly worth a visit and it still retains the original jailhouse doors. You also won't find any shortage of places to eat or drink. Hyde Bar in Galway is one of Ireland's largest Gin bars.
The best time to visit is without a doubt during the Galway Arts Festival or Galway Races when the city really comes alive. For those of you wanting to go a little further afield it the perfect base for exploring The Burren, Cliffs of Moher or Connemara.
Nicola – All About RosaLilla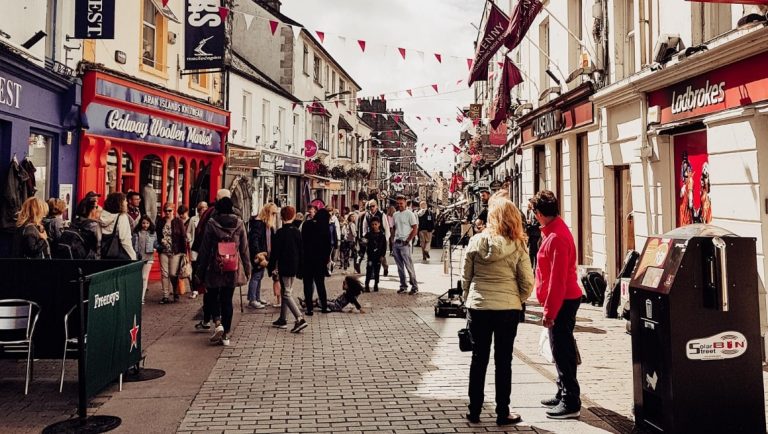 Step back in time on the Aran Islands
A trip to the Aran Islands is a step back in time. Inishmore, the largest of the Aran Islands, is covered in tiny fields separated by low stone walls. Cycling around the Aran Islands is the best way to see them – they are small and this allows the whole family to take their time and see all the sights at a leisurely pace.
There are fascinating ancient stone forts and pagan sites, including Dun Angus (Dun Aonghasa), which has three concentric semi-circular walls that end right at the cliff edge; Dun Eochla, a circular fort; and Dun Duchathair, the oldest fort on the Aran Islands. Other sites include the worm hole Poll na bPesit and other puffing holes; stone churches such as the Seven Churches (na Seacht dTeampaill); and a seal colony. The Aran Islands are traditional, rural Ireland at its most picturesque.
James – Travel Collecting
Take a Pilgrimage up Croagh Patrick, Mayo
When visiting Ireland make sure to add the stunning half-day hike up Croagh Patrick to your bucket list. Croagh Patrick is a mountain on the western side of the Republic of Ireland, which sits 765m above sea level. Although slightly challenging due to the steepness in parts, you will be rewarded with unobstructed views over Clew Bay and the islands.
The hike takes between 1.5 to 2 hours to climb and 1.5 hours coming down. From the car park, you will follow a stream leading towards the peak. When you near the peak the terrain becomes steep and has large loose rocks, so ensure you wear sturdy shoes. Located 8km from the town of Westport or 92km north of Galway this hike can be accessed by bus or car. For some hikers, this mountain is summited as a pilgrimage that dates back to Pagan times signifying the beginning of harvest season.
Erin – Curiously Erin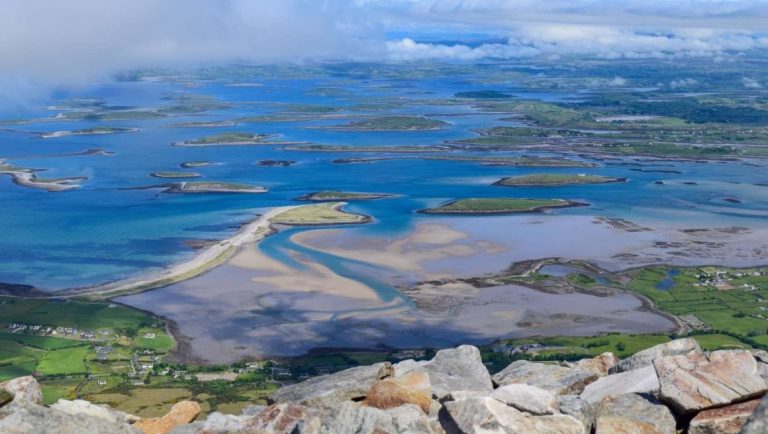 Search for the basking sharks in Keem Bay, Achill Island, Mayo
Top of my Ireland bucket list with our son is to bring him to Keem Bay on Achill Island, located on the west coast of Ireland in County Mayo. My husband's family often holidayed there when he was younger and he introduced me to Achill Island during our first motorbike tour of Ireland. We rode through the island and made our way to Keem Bay, a beautiful bay with a welcoming beach.
We returned during our biking honeymoon in Ireland a few years and introduced friends of ours to the area. Both times we were blessed with sunshine and it was glorious. I later learned that you can sometimes spot basking sharks in the water if you are lucky. Keem Bay was once the site of a basking shark fishery but thankfully that has ceased and on good days you can spot the occasional shark. Both Keem Bay and Achill Island are part of the Wild Atlantic Way, which you can learn more about in the general section further down.
Cath – Passports and Adventures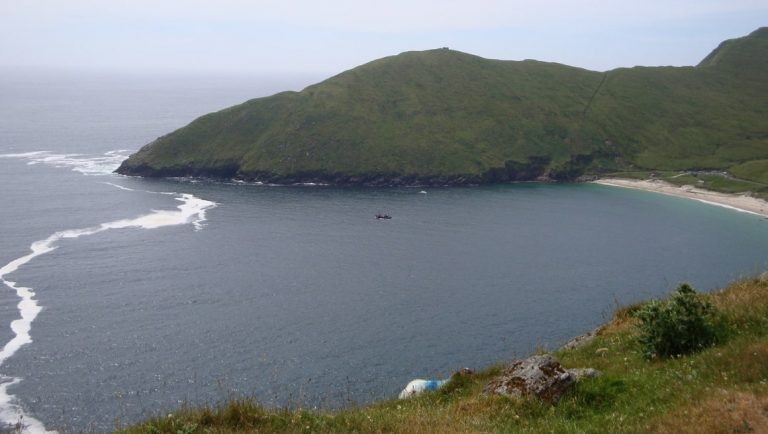 Ultimate Ireland Bucket List – Things to Do in Ulster
Ulster, the province in the northern part of Ireland, has three counties which are part of the Republic of Ireland and six counties which form Northern Ireland, a country which is part of the United Kingdom. The counties of the Republic are Donegal, Monaghan and Cavan and those of Northern Ireland are Antrim, Armagh, Derry, Down, Fermanagh and Tyrone. While Northern Ireland is home to one of the top places to see in Ireland, as you'll discover below, it is also gaining in popularity thanks to the locations in the province where scenes from the popular TV series, Game of Thrones were filmed.
Visit the cliffs of Slieve League, Donegal
The Slieve League cliffs are believed to be the highest sea cliffs in Europe. Most folks when they visit Ireland head to the Cliffs of Moher but Slieve League is a much better experience and its free.
The Cliffs offer spectacular views and this rugged, tough landscape is a must see before you leave Ireland. The Cliffs can be accessed either by walking up to them which is around a 2 kilometre hike.
There are shuttles during the tourist season to take to you the top. These can be caught just beside the large parking lot which is across from a restaurant and craft centre. The trail can also be accessed by driving through the sheep gate, just don't forget to close it behind you and drive to the viewing point.
There are some outstanding hikes on Slieve League from the Pilgrim's Way to the terrifying Single Path. You can also take a sea tour of the cliffs from Teelin Harbour.
Faith – XYU and BEYOND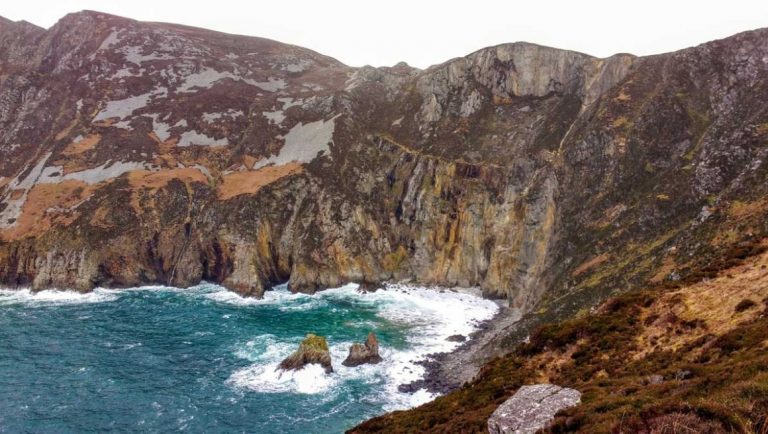 Visit the Walled city of Derry/Londonderry
Derry (also known as Londonderry) is one of the finest examples of complete Walled Cities in Europe. Its Walls were built in the 17th century and they are one of the top attractions to the city. There is a walkway on the Walls that circumnavigates the old town and it offers some spectacular views.
Derry is also well known for having had a recent turbulent past, in particular around the events of Bloody Sunday and the period known as The Troubles. The city has come a long way since then and what I love is that there is a palpable feeling of optimism in the air. One of the most interesting places to visit is the Museum of Free Derry, which tells the story of what happened in the city during the conflict. An excellent exhibition that everyone should visit.
Located on the border with the Republic of Ireland, the Walled City is the perfect base to explore both Northern Ireland and Donegal. There are so many reasons to visit Derry that I could go on.
Plus… did you know that Derry has been named the Halloween Capital of the World? Ok, I'll stop now.
Teresa – Brogan Abroad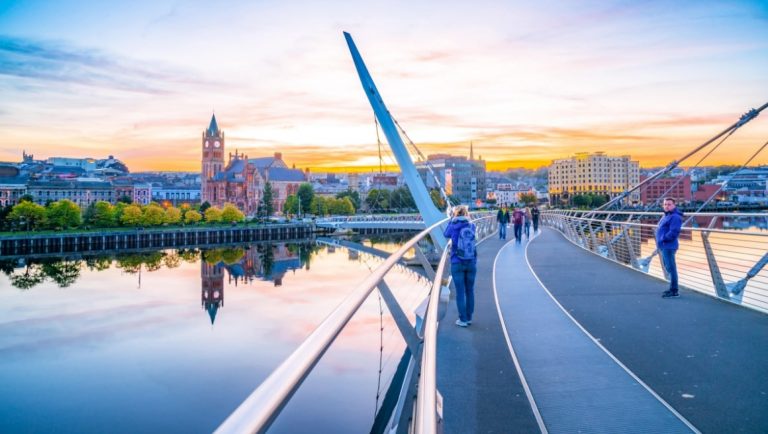 Visit the UNESCO Causeway Coast, Antrim
Some of the more famous coastline attractions in Ireland would be found up north in Northern Ireland along what is known as the Causeway Coast. A region first put on the map by the rather striking interlocking basalt columns of the 'Giant's Causeway'. But these days the entire stretch of coastline has been given a UNESCO status as an Area of Outstanding Natural Beauty, and a road trip, from end to end, is a must.
Along with popular stops at Carrick-a-Rede Ropebridge, the Bushmills Distillery, Dunluce Castle, and of course the Giant's Causeway. The other main attraction these days include many Game of Thrones filming locations; such as Port Ballintoy, which was the setting for the "Iron Isles', as well as the now iconic arching trees of the Dark Hedges found just a short distance inland.Otherwise the seascapes throughout this coastal road trip look to have come straight from the fantasy series.
Allan – It's Sometimes Sunny in Bangor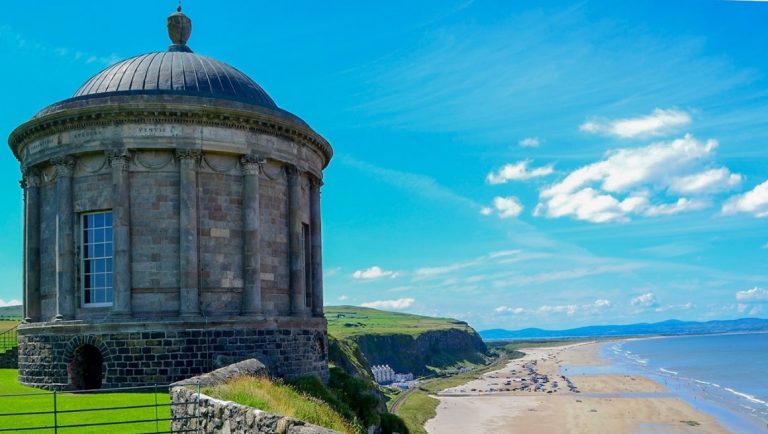 Historical Trekking along the Gobbins Path, Antrim
The Coastal Causeway in Northern Ireland had plenty of things to do, including many adventurous sites and activities. The Gobbins Path is seen as one of the best and most historical – a trekking path that is over 100 years old, built in the Victorian era for those wanting to visit the coastline. It has since been renovated and maintained so people can still experience the Causeway's dramatic nature views to this day.
There's a quick briefing before you grab your helmets, get dropped off at the starting point and spend a couple of hours with a guide engrossed in nature – walking across bridges, wooden walkways and trails on the cliff faces, all the while looking out to the Atlantic Ocean.
Becki – Borders of Adventure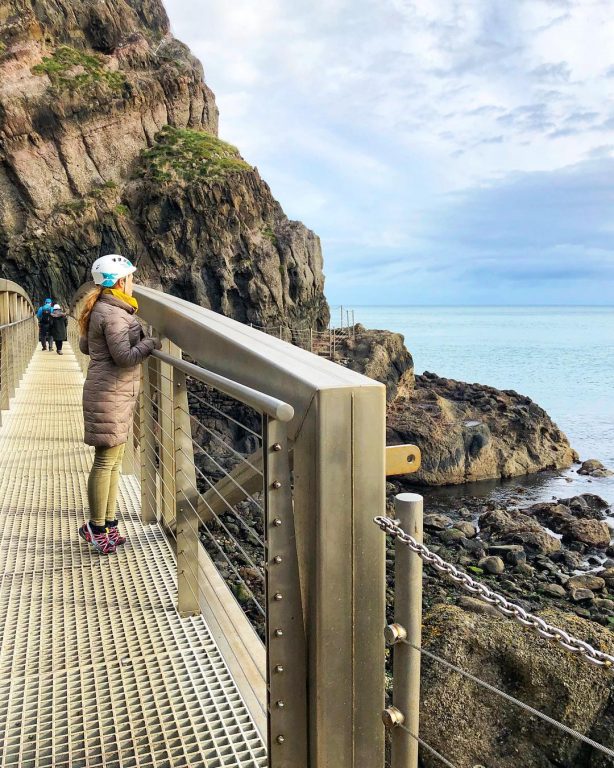 Visit a Games of Thrones location at the Dark Hedges, Antrim
Located in Ballymoney in Northern Ireland is an avenue of Beech trees, planted by the Stuart family back in the 18th century in order to impress guests who approached their mansion, Gracehill House. Fast forward two hundred years and these trees have continued to grow and twist their branches in the most beautiful and impressive way.
The result is the stuff of fairy tales and there is almost an eerie like quality here. More recently this place has become popular after being featured on "Game of Thrones". As a result photographers and tourists come here in their masses to witness this phenomenal place for themselves.
Photographers particularly love taking pictures of this mysterious place in heavy fog, which is fitting because of a ghostly legend surrounding them. Legend has it that these beech trees are haunted by a "Grey Lady" who wanders the trees at dusk, silently gliding the length of the avenue before disappearing at the end of the trees.
Whatever the season this place is truly beautiful but it is worth remembering a few tips. The first is that this is still a public road so watch out for traffic especially at night. The second is that beyond rumours of ghostly figures you will not be alone. The popularity since being featured on Game of Thrones means that as soon as one bus load of tourists leave another instantly arrives so if you like to take photos without a crowd get there before 9:00am.
Nicola – All About RosaLilla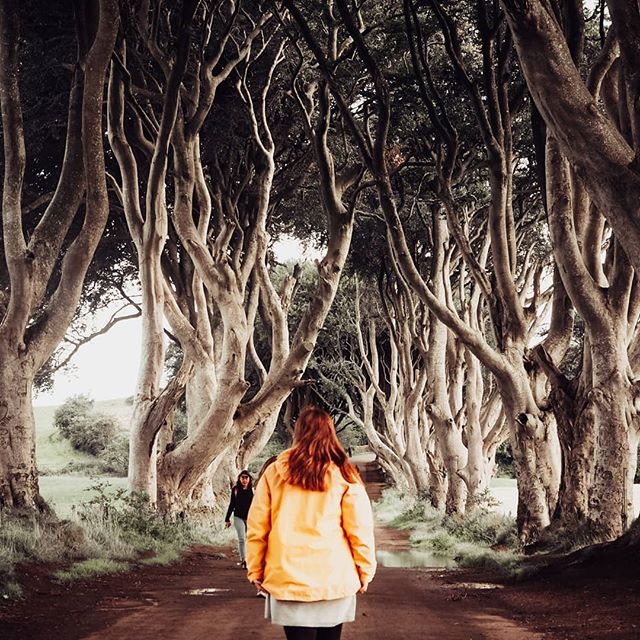 Whether or not you're an avid Game of Thrones fan, you have to make it to The Dark Hedges! This is your chance to walk through a natural tunnel of about ninety 300 year old beech trees. Breathe it in and soak up the magical atmosphere!
Legend has it that the tunnel got its name because it's haunted by a spirit known as The Grey Lady, but in reality it's more likely that it become known as The Dark Hedges due to the fact that the tall trees block out a lot of light. I'll leave it to you to make up your mind on that!
The Dark Hedges is located about 50 miles outside of Belfast, so this makes for an excellent day trip when visiting the Northern Irish city.
While in the area, pop over to another Game of Thrones location; The Iron Islands in Ballintoy, walk around the harbour and take in the stunning sea views.
Alice – Teacake Travels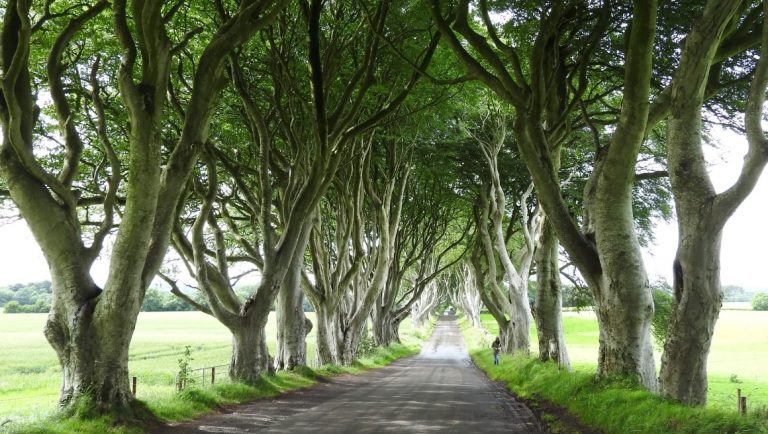 The Giant's Causeway, Antrim
The Giant's Causeway is one of Northern Ireland's top tourist attraction. These impressive stone-basalt columns, overlooking the sea, are the result of a historic volcanic fissure eruption. Surrounded by dramatic cliffs these 40,000 columns will transport you to a different world, as the sun gently kisses the each one as it rises over the surrounding mountains.
Visiting this phenomenon will set you back £12.50, however if you go before sunrise it is FREE! The road down to the Giants Causeway is open 24/7, therefore by visiting at sunrise you will save money on both parking and admission costs.
To top it all, you will most likely have the causeway all to yourself, especially in the summer months when the sunrise is too early for most! If you're not a morning person, how about going in the evening for sunset?
Throughout generations, people have believed that the Giant's Causeway is home to a mighty giant. Make sure you add this place to your Ireland bucket list to see what you think.
Gemma and Campbell – Highlands 2 Hammocks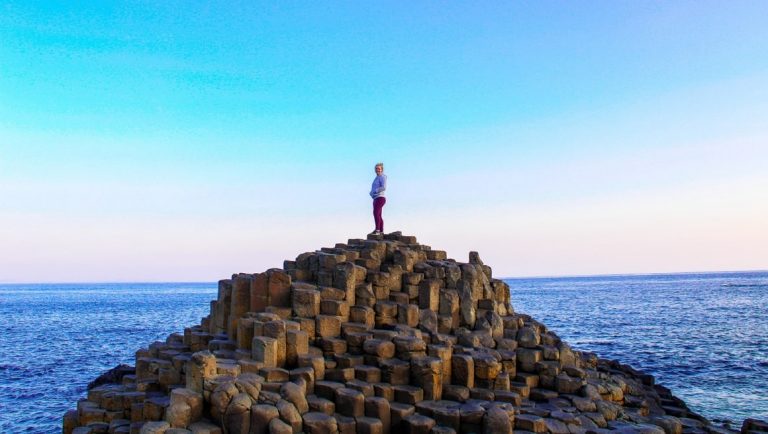 Giant's Causeway is one of the most beautiful places on the island of Ireland. It was formed around 60 million years ago when volcanic eruptions forced magma up through fissures in the earth. Today we can see how that lava dried up slowly and formed cracks, just like a muddle pud baking in the sun would. What's left behind is a giant puzzle of geometric basalt columns that jut out in to the Atlantic.
As the legend goes, an Irish giant named Finn MacCool built a massive causeway stretching over to Scotland in order for a Scottish giant to come over for a battle, which is where Giant's Causeway gets its name from. Spend time exploring all around the three promontories and look for rock formations like the massive boot shaped rock, said to be the boot Finn MacCool left behind as he turned and ran as fast as he could from the approaching Scottish giant. There's many hiking trails and the clifftop trail takes you up for a bird-eye view over the entire Giant's Causeway, so be sure to explore beyond just the rocky promontories.
Jennifer Dombrowski & Tim Davis – Luxe Adventure Traveler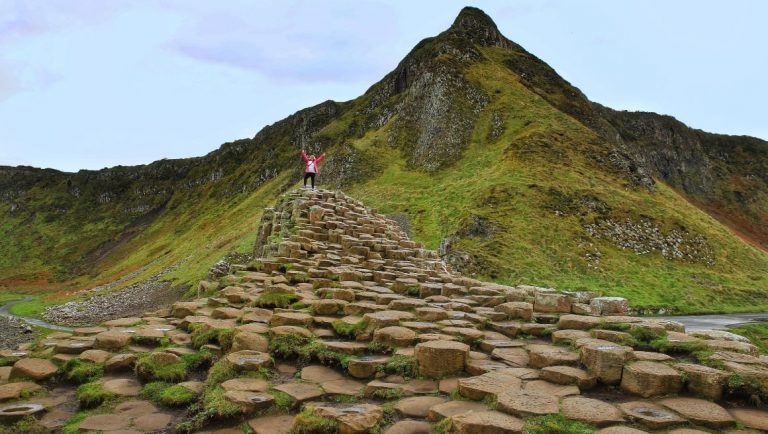 Click here for prices and details of a Giant's Causeway and Carrick-a-Rede Rope Bridge tour from Dublin.
Enjoy nature in Glenveagh National Park, Donegal
Glenveagh National Park is well worth the journey to the remote but beautiful county Donegal. Nestled right in the centre of the county, it's the second largest national park in the Republic of Ireland and you will be in awe of the pristine, untouched natural surroundings nestled by Loch Veagh.
Spend hours walking on the miles of scenic walking trails or take the shuttle bus from the park entrance to Glenveagh Castle, a 19th century mansion house, to admire the greatest walled garden in Donegal with an abundance of flowers, shrubs and even fruit and vegetables. If the weather's not complying, relax in the Castle Cafe with tea and a fresh baked scone. For anyone feeling particularly adventurous, you can summit Mount Errigal, the tallest peak in Donegal. There's something for everyone in the family here: nature, history, fishing, climbing and great homemade cakes and coffee.
Roz – Irish Nomads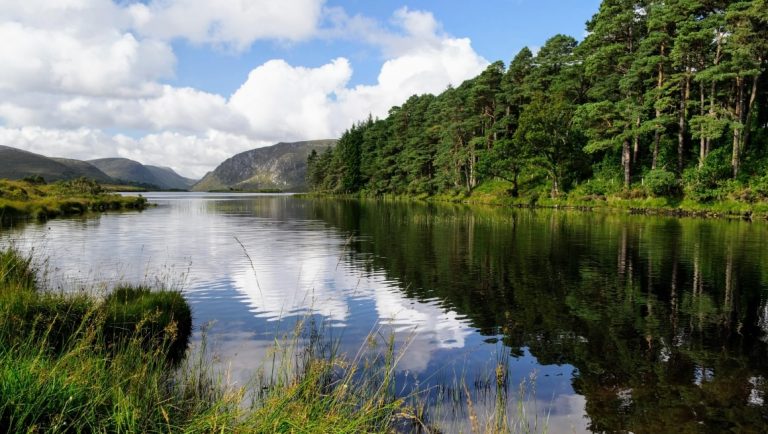 Cross a Crevice on the Carrick-a-Rede Rope Bridge, Antrim
One of our favourite attractions in Ireland has to be the Carrick-a-Rede rope bridge. Located in Northern Ireland along the Causeway Coast, the bridge is a must see. It was first built in 1755 by fishermen who wanted to link the mainland to the small island of Carrickarede. These days the bridge is maintained by the National Trust, which does mean you have to pay to cross it. Although considering it is only £8 and you pass some of the most amazing coastal scenery to get there, we have to say that it is absolutely worth it. Tickets can be purchased on site, but do keep in mind that there is a timed ticketing system in place to stop overcrowding. Because of this we highly recommend arriving when it opens at 9.30am to purchase your tickets or book in advance.
After purchasing your tickets, you take the scenic walk to the bridge. Along the way you are treated to views of the rugged cliffs and thunderous ocean waves. Only 8 people are allowed on the bridge at any one time so you will more than likely have to wait to cross. The bridge itself is 20 metres long and 30 metres high. It might not sound like much but as you cross and you look down at the waves crashing below you, it suddenly feels so much higher.
Lizzie & Dave – Wanderlust and Life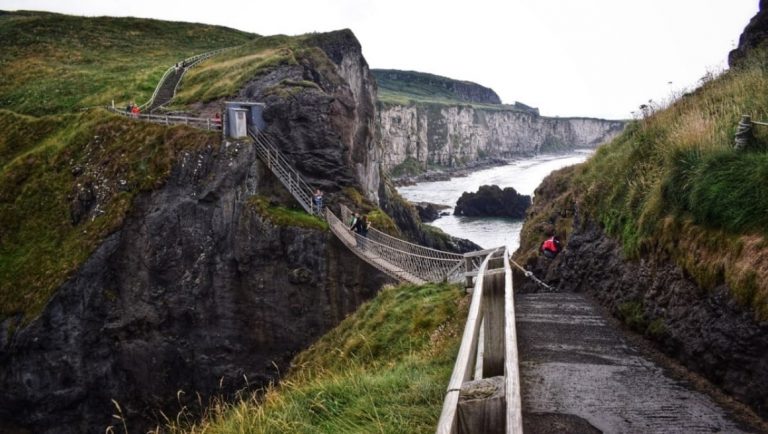 Drink a Gintail in Portrush, Antrim
During a trip to Northern Ireland, Portrush is a small, seaside town that one shouldn't miss. Portrush has several lively bars where you can drink one of the most popular drinks among locals and tourists alike; a Gintail.
There are two options to enjoy this beverage. You can choose a gin and a mixer from a list of options to make your own pairing. Or, you can order a pre-set combination that comes with garnishes. They are then served in large fish-bowl style, stemmed glasses and enjoyed with the good company of those around you.
For a truly local experience, choose a gin distilled on the Emerald Isle. Try the Jawbox gin, served with ginger ale, and a chunk of honeycomb dropped inside. The honeycomb candy dissolves in the drink, making it very sweet for those with a sweet tooth or even those who may not typically enjoy the taste of gin. For a lighter option; Dingle gin, topped with rose lemonade tonic, and finished with mixed berries. Lastly, if you prefer a drink that isn't so sweet; Shortcross gin, elderflower gin, and garnished with mint and cucumber. Cheers!
Taylor – The Things My Eyes Have Seen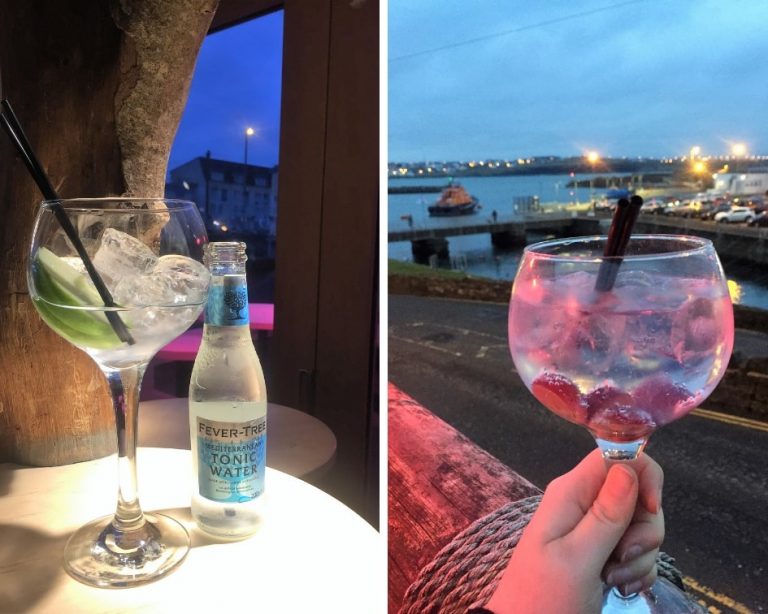 Enjoy the views from Mussenden Temple, Derry
Located on the edge of a cliff, 125ft above the Atlantic Ocean, on the North Coast of Ireland you will find Mussenden Temple. The Roman style temple was built in the late 1700's as a summer library. It's not hard to see why this is a local favourite, with views of Downhill and Castlerock beaches stretching away for miles. The temple is part of Downhill Demesne which also houses the ruins of the old Bishop's house.
Although the temple itself is closed for most of the year, it is the grounds surrounding the temple and the cliff top view, which are the real attractions. Mussenden Temple is so quintessentially Irish that it is a must-see when in Ireland. The rolling green hills, coastal cliffs, roaring waves and beautiful beaches all add up to make this one of the most breathtaking places in Ireland.
Luke – The Coastal Campaign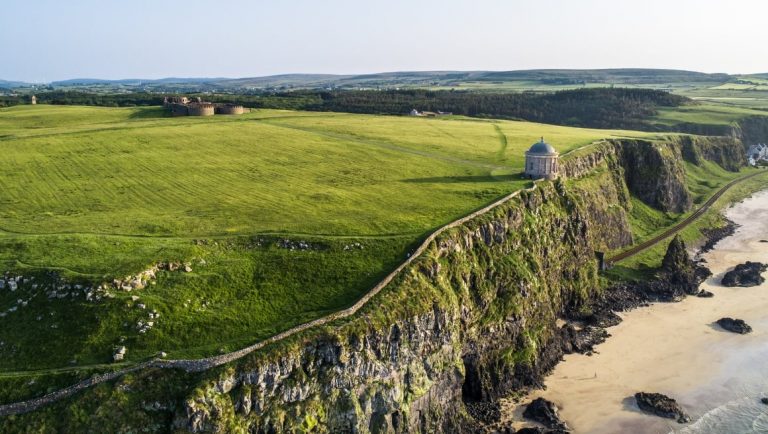 See where Titanic was built in Belfast City, Antrim/Down
Over the last few years, Belfast has surged massively in popularity. This is thanks to the addition of the fantastic Titanic Quarter Museum, cheap prices and great attractions. Belfast should always be part of an Ireland bucket list as there is so much to see and learn.
A must-do activity in Belfast is to take a tour around the murals of Belfast to learn about the history of the troubles and the chance to see the peace wall that once separated the city. If you enjoy partying, then there are lots of places to drink in Belfast. A great spot is Cathedral Quarter which is bursting with quirky bars and restaurants scattered along cobbled streets.
Finally, a trip to Belfast wouldn't be complete without seeing the iconic place the Titanic was built, and to learn all about the history of one of the world's most famous ships. There is even a replica of the grand staircase from the movie where you can have afternoon tea on a Sunday.
Belfast is a city that caters for everyone and you'll leave with fond memories and an eagerness to return!
Cazzy – Dream Big, Travel Far
Walk the Fall's Road in Belfast
A walk along the Falls Road in Belfast, Northern Ireland is a visual feast of murals and street art telling the story of the fight for Irish Independence in the six counties that comprise the North, which remains a part of the UK. In this primarily Catholic and Nationalist area of Belfast, where the Peace Wall divides the community to this day, you'll notice certain faces repeating in the colourful murals. These are the Hunger Strikers of 1981 – the most famous of whom is Bobby Sands.
Striking to be treated as political prisoners and not common criminals, believing they were soldiers in a legitimate war, Bobby Sands died of hunger strike shortly after being elected as an MP to Parliament. The building his mural is painted on is the headquarters of that party today, Sinn Fein. Murals advocating for independence for Spain's Catalonia and Palestinian flags also mark this walk replete with the Irish Tricolour flag. Paintings of heroes familiar to Americans will also be spotted: Martin Luther King Jr., Mohammed Ali, and even a mural of Barack Obama.
For a complete perspective on Northern Ireland, cross the Peace Line and visit the Shankill Road where, instead of Irish flags, British flags fly proudly. The emphasis in the murals shifts to remembrance of the Northern Irish soldiers who lost their lives for the cause of Britain in the Battle of the Somme.
On both sides of the Peace Wall, emotional markers note the buildings and places where individuals lost their lives to violent attacks from the "other side."
While Northern Ireland has peace today, no visit to Ireland is truly complete without learning about and witnessing first hand the communities at the heart of The Troubles in Northern Ireland.
Cate – Sacred Wanderings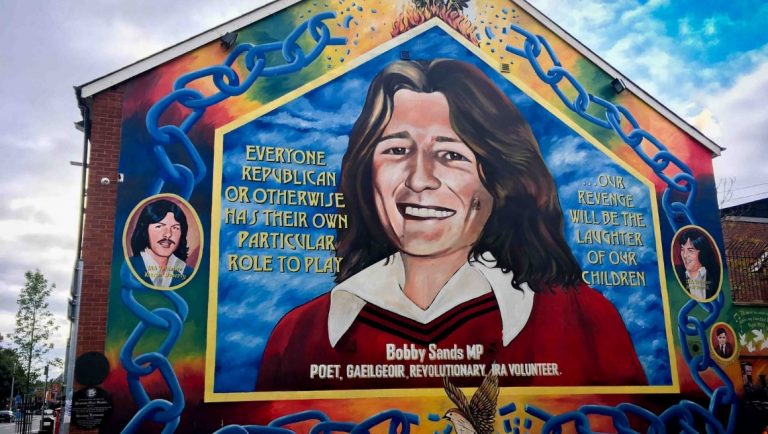 Enjoy White Rocks Beach, Portrush, Antrim
Portrush in Northern Ireland is a popular seaside destination surrounded by beautiful beaches on both sides. East Strand Beach is to the east of Portrush and stretches along the coast to White Rocks Beach, a couple of miles away. The best way to enjoy White Rocks beach is to walk all the way along the sand from Portrush, which takes 30-40 minutes on flat, relatively firm sand. This way you'll enjoy all the different parts of the coastline, from sandy beaches to rocky cliffs. The walk is popular with bird lovers as various seabirds like gannets live and feed along the coast, and you may see harbour porpoises or dolphins splashing in the waves too.
The beach is popular with surfers, and during the summer you can hire equipment and boards from a shop on the sand. White Rocks beach itself is backed by the limestone cliffs which give the beach its name. The ocean has carved arches and caves into the rock, some of them deep enough to go inside and explore. The beach is simply beautiful. You can also continue the walk along the coast on the new stretch of the Causeway Coast Way which leads up above the cliffs and on towards Dunluce Castle. From here you can admire the beach and the rock formations from above.
Claire – Tales of a Backpacker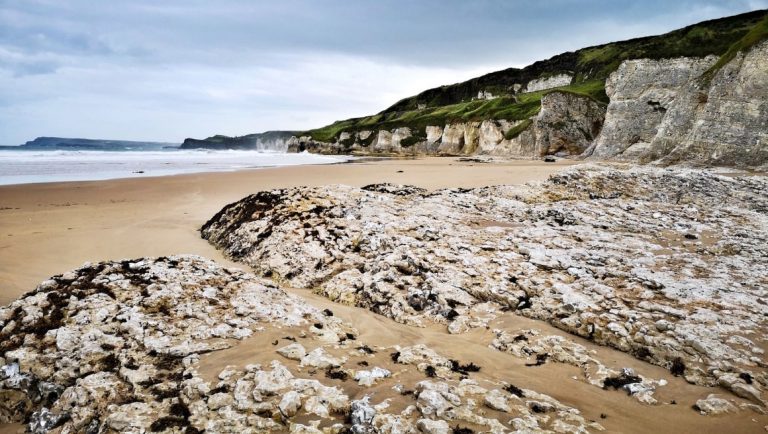 Ultimate Ireland Bucket List – Things to Do in Ireland
While I've covered the four provinces and mentioned some of the awesome, fun things to do in Ireland, there are a few more things that should be on your Ireland bucket list and aren't confined to the one province. These include one of the top ten things to do in Ireland, a driving route which spans the length of the country along the Atlantic coast. There are also some food and drink which are must do things in Ireland, and which can be enjoyed pretty much anywhere in the country. So, here are some ideas for other must dos in Ireland.
Take a road trip along the Wild Atlantic Way
Spanning 1,553 miles, Ireland's Wild Atlantic Way is one of the most iconic road trips of Europe these days, where it follows the west coast of the island, from the furthest point north at Malin Head to the furthest point south at Mizen Head.
Sharing a whole load of dramatic scenery along the way, the route also includes many of Ireland's better-known landscapes and attractions, such as the Ring of Kerry, wild sheep on Achill Island, the iconic Cliffs of Moher, as well as the Burren and Connemara. Galway City also sits along the route, around the halfway mark, so this makes for an ideal break along the way. The official route is also very well-signposted, making it simple to follow either north or south, and is indicated on all road signs with blue symbols, shaped with 'ww' waves on them.
Fanfan – Live Less Ordinary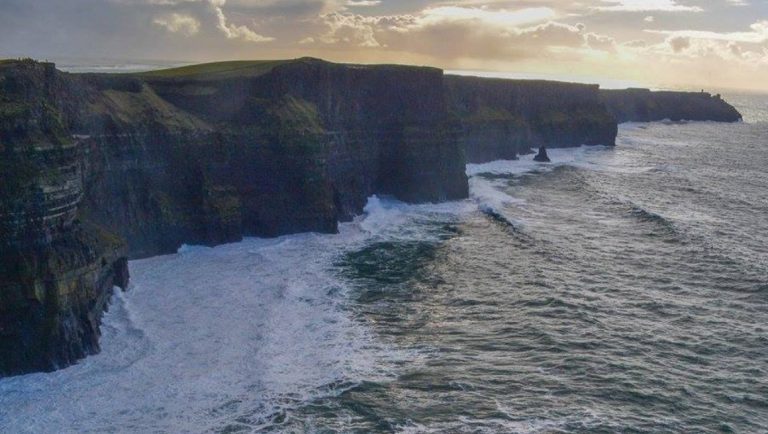 Enjoy an Irish Potato Boxty
The Irish Potato Boxty has many names. "Poundy", "Poundies", or its Gaelic names, "Bacstai" or "Aran bocht-ti" meaning "poor-house bread". Whatever it's called, the Irish Potato Boxty is a simple and humble dish of finely grated potatoes, flour, baking soda, buttermilk and occasionally eggs. Fried in butter, it results in a thick and roughly cut pancake. Think the complete and total opposite of a delicate French crepe.
Boxties are often served with a variety of side dishes from salmon, rashers (bacon), black or white puddings, or fried eggs. Traditionally from County Mayo as well as other northern counties in both the Republic of Ireland and Northern Ireland, the boxty has increased in popularity and can now be found in restaurants and shops all across the country. It's a must-eat dish for any food traveler to Ireland.
Eric – With Husband In Tow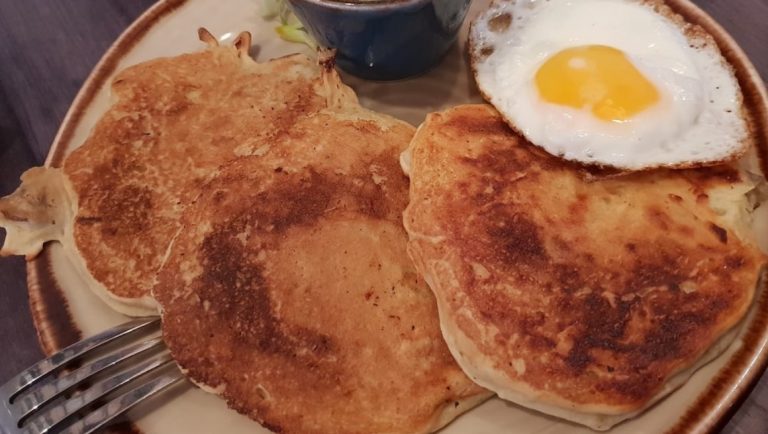 Sink your teeth into some Irish Soda Bread
Soda bread is a variety of quick bread in which sodium bicarbonate is used as the leavening agent in place of yeast. The ingredients of a traditional soda bread, aside from baking soda (the other name for sodium bicarbonate), are flour, salt and buttermilk.
It was a bread introduced when pot ash (potassium carbonate) started to be used in baking in America in the late 1700's. Soda bread has long since been a favourite bread in Ireland, mainly thanks to the fact is does not need raising time like breads made with yeast. The leavening agent begins to work immediately so the bread can be baked almost immediately after the ingredients are mixed.
It can come across as a dense bread and can be made with brown or white flour, or in my own case, both. It is often used for what are known as open sandwiches and can often be an accompaniment for a full Irish Breakfast, another one of the things you must do in Ireland. Pair it with a cup of Irish tea and you have the perfect breakfast meal to set you up for a day of unique Ireland experiences.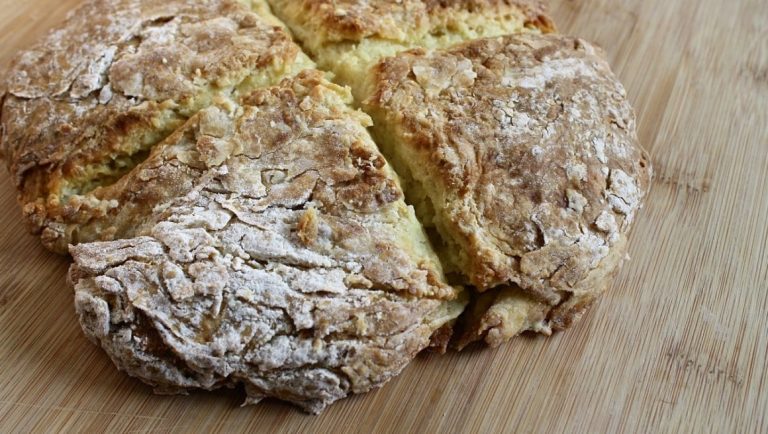 Savour a Tayto Crisp Sandwich
Now this may sound quite bizarre, but it really is one of those things you have to do in Ireland. Tayto are another national institution in Ireland. They are crisps, or potato chips, which are cheese and onion flavoured. And they can be enjoyed on their own. But they make an awesome snack when sandwiched between two slices of fresh white bread. Pair again with a cup of tea for an enjoyable 5 minutes.
Try an Irish Coffee
Now, I must confess something. I have never been a coffee drinker, favouring tea instead. And I no longer drink alcohol, having gave it up when pregnant on our son (and never returned), but I have it on good authority that one of the things not to miss in Ireland is an Irish coffee. Now, disclaimer here, as it is a warm drink with alcohol added, please ensure you are not driving after having one of these.
So, what is an Irish coffee? An Irish coffee is a cocktail of sorts. It consists of hot coffee with sugar, Irish whiskey and cream. Straight cream was used but these days whipped cream is the norm. The coffee is drunk through the cream and it is traditionally served in a glass or glass mug. And again, refrain from drinking and driving!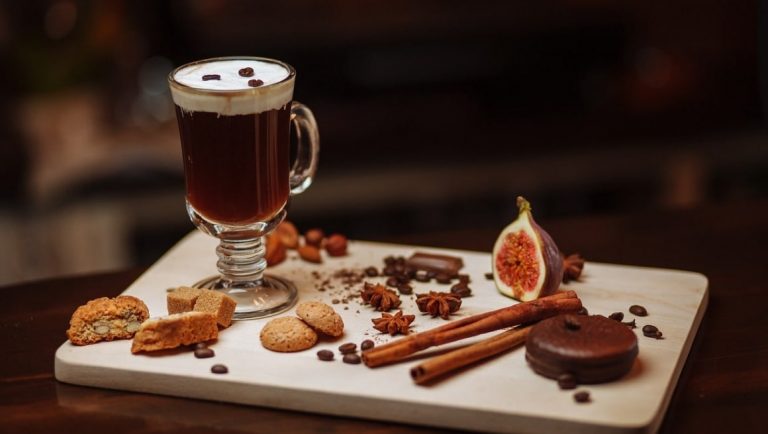 Get your Riverdance on. Enjoy traditional Irish music and dancing.
Although I've mentioned Kilkenny town as a great place to experience an abundance of traditional Irish music and dancing, it can be enjoyable across the country. Irish dancing is a sport enjoyed, particularly by the younger generation and the ornate dresses worn can often cost thousands of euros. To win an Irish dancing competition is a huge accolade.
And across the country, particularly at the weekends, many pubs will have a "trad" band in, playing music for the entertainment of the customers. It doesn't really matter whether you are attending a full concert, feis, a pub session (as we Irish call it), or even a performance of the world-renowned Riverdance, you should try to enjoy traditional Irish music and/or dancing during your visit to Ireland at least once. It's up there is the top 10 things to do in Ireland.
Ireland Bucket List – Summary
The land of the leprechauns has so much to offer visitors to its shores. From natural beauty to a wealth of history, Ireland has it all. There are a host of activities in Ireland to suit every traveller including hiking, fishing, horse riding and more. If you simply want to relax and soak up the atmosphere you will be welcomed to do just that anywhere you go. If you're into sightseeing, Ireland has so many options it'll be hard to choose just a few for your visit. If adventure calls, take your pick. And if you're a foodie, then any major town will have a wealth of restaurants and cafes for you to choose from. And the sporty people out there are also catered for, be it participating or watching.
Ireland should be on everyone's bucket list and is somewhere which I am sure won't disappoint. The only thing I will say is, if you have travelled around other European countries, you most likely will find Ireland more expensive than other countries. But it will be worth it, I promise you. And if you are still in the planning stages of your trip to Ireland, then check out a post I wrote when planning our own road trip in which I've given some hints and tips for planning a magical trip to Ireland.
Have you been to Ireland yet? Or are you planning a trip in the future? Let me know in the comments below.
Cath x
Please note, that the photographs used within this post from other bloggers have been provided to me and used with their permission. Credit is given above the photograph in this instance. Where I have used a stock photograph, credit is given below the photograph. Pictures of my own are credited above with a label "Cath – Passports and Adventures".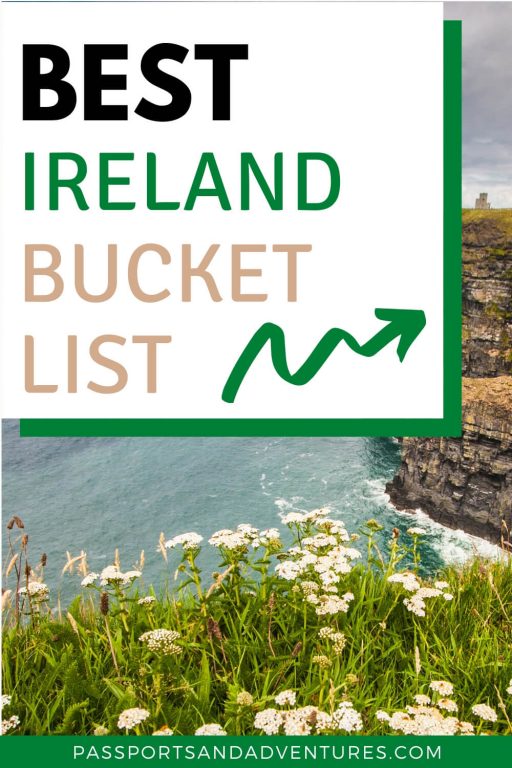 Related Posts