We are a family that love to travel. Simple. If you hadn't figured that out already, then where have you been. I wrote a post recently about how travelling has taken on a different shape since our son came along and has even changed since then. A little while ago, we adults sat down and listed out everywhere we'd love to go with our little dude and what started as a list has become our family travel bucket list.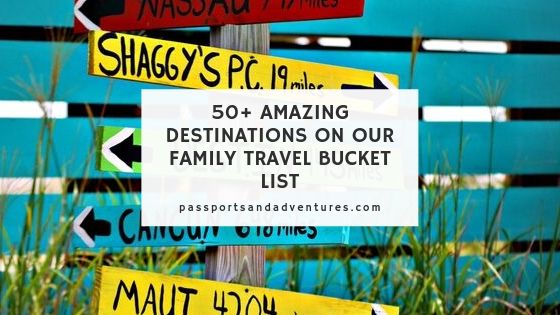 POST UPDATED – October 2019
I was born abroad to Irish parents and have travelled since I was very young. My hubby travelled less so, but has made up for it in more recent years. I think my love of travelling comes from my Dad. He was a deep-sea fisherman in the 60's, travelling as far North as Iceland, and has so many tales to tell about that time.
Then, shortly after marrying my Mum, they emigrated to South Africa, before heading into Botswana, where both one of my sisters and I were born. A return trip to Ireland for just over a year was followed by five more years in South Africa where my middle sister was born. We also spent a summer in Saudi Arabia, all thanks to my Dad's work. So, you could say travelling is in our blood.
My hubby visited America as a baby and had plenty of holidays with his family to the UK and around Ireland, but his first real foray into travelling abroad came when he spent a year working at what was then called EuroDisney, as a member of the opening crew. Since then he has travelled to many European countries, most of them with me. He has returned to America several times over, both for work and with us, and has even visited India and Singapore for work, destinations my son and I are yet to visit.
So, travelling is a big feature in our family life. And none more so than with the adventure we embarked on last May when we up sticks and moved from wet and windy Wales to sunnier Portugal. And our travels don't stop there. Since moving to Portugal, we have done a two-week USA Road trip, which was epic. We have returned to the UK for a mid-week break in Bluestone, and visited Disneyland Paris for the first time as a family, celebrating 25 years since my husband's time as part of the opening crew.
We already have no less than three destinations organised for trips next year, which I will reveal in my Holiday Diaries Plan for 2018. But there is such a big world out there and so many amazing places we want to visit, that we decided to write them all down. And we will be doing our best to tick them off slowly as we fit in travel around work and school.
So, what are our long-term family travel plans? Well, they had to be split into two categories. The first category consists of non-bucket list destinations we plan to visit with our son while he is still young. We realise he might not retain great memories of these trips, but we also know they will be destinations he could easily return to when he's older.
The second category of bucket list destinations in our long-term travel plans are more far-flung, exotic, or expensive destinations. These are more once-in-a-lifetime destinations and we want to be able to share these with him and know he will have memories of them, particularly if he cannot return to them in the future for one reason or another.
Interested to see where is on our two lists, and why? Read on.
Non-bucket List Destinations in Our Long-term Travel Plans
Route 66 – This is a trip my sister-in-law has done twice, once with twins and then again with their younger brother. And having done our own USA road trip, Route 66 is definitely on our list. It's a classic road trip route and takes in many great states and cities in one trip. Our plan is to try organise this one in a few years' time.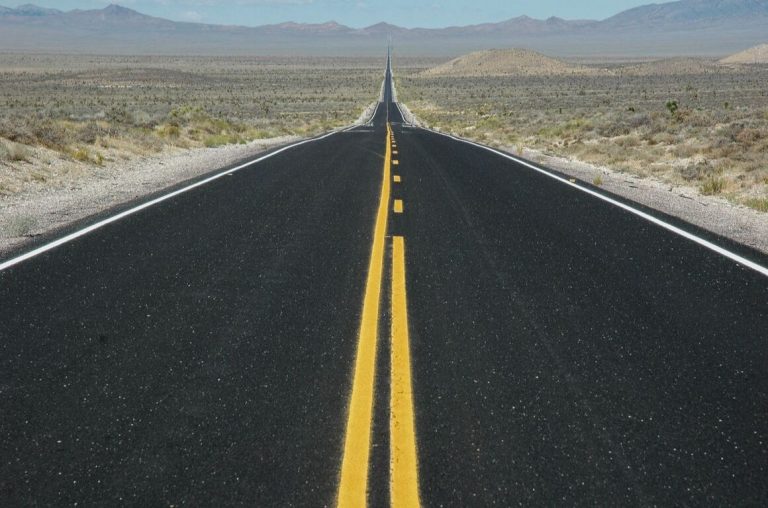 Photo by Jakub Gorajek on Unsplash
The Pacific Coast Highway from San Diego via San Francisco to Seattle – Another USA Road trip high on our to-do list is the full length of the West Coast of America, taking in San Diego, San Francisco and ending in Seattle. For most of it we'd plan to drive the Pacific Coast Highway along Highway 1 and the 101.
Canada – And more specifically the National Parks of Jasper and Banff. Friends of ours honeymooned there and have stunning pictures and amazing tales that we knew we had to put them on our long-term travel plans. They potentially could be combined with the destination below for a nice long three-week trip.
Other US National Parks including Glacier National Park, Montana – We'd heard of Glacier before our trip to Yellowstone but didn't factor it into our trip. It was recommended to us by a few people during our trip, and having looked at pictures since our return, it's another place we really want to visit. We also want to visit quite a few more US National Parks via road trips.
To learn about some of the other best US National Parks for families, check out this post from Rad Family Travel.
Cape Town and the Kruger National Park – I lived in South Africa for over five years when I was younger, but we left just before the troubles started in the late 1980's, and I'll be honest and say there aren't many places there I'd like to return to. That said, Cape Town is somewhere I never visited and is a place Mr Passports has always wanted to visit. But if we were going all that way, I'd have to combine a visit to Cape Town with at least a week in the Kruger National Park. My Dad took my sister and I when I was seven, but I have no memories of it, other than the tales my Dad tells us and a few photos. My sister and her South African boyfriend usually go when they visit his family, so maybe we'll tag along in a year or two!
Croatia – Croatia has been on our list for a few years and we very nearly booked a trip there last year, but Yellowstone took priority. I'd love to visit Dubrovnik and travel along the coast North towards Pula. A work colleague of mine visited there a few years ago and it looks stunning.
Italian lakes – In particular, Lake Como and Lake Guarda are on our long-term travel plans list, especially after we enjoyed our holiday at Lake Bled so much. A lakeside holiday had never ever featured for me before we visited Bled with friends but with so much to see and do, they can be a great holiday destination for families.
Cinque Terre – Another Italian destination, I hadn't heard or come across Cinque Terre until I saw a drone video on Facebook taken over Cinque Terre. From there I started looking at pictures and reading blog posts about it and it went straight onto our list from there. A visit to Florence and Pisa would have to be combined with this trip though.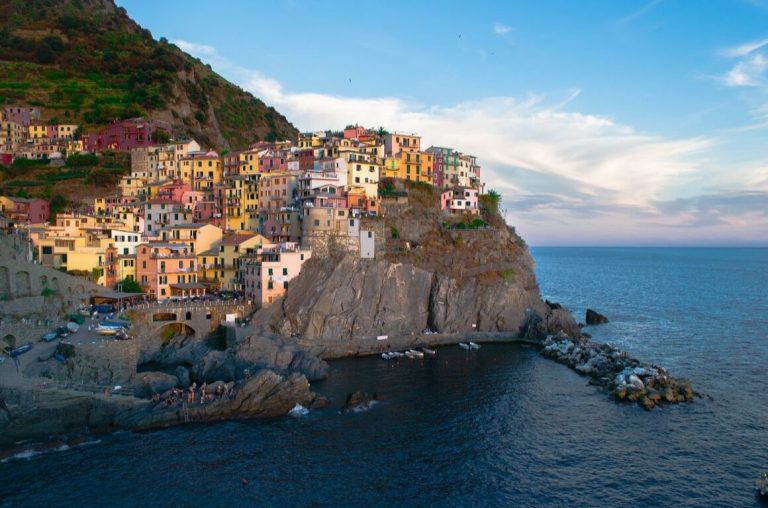 Photo by Jack Ward on Unsplash
Paris – As I mentioned, Mr Passports lived in Paris for a year during his time at EuroDisney and he took me to Paris for my 30th birthday, the first of five trips for us as a couple. I had visited during a school trip, but that first trip with my hubby started a lifelong love affair with the city. It remains my favourite city in the world and can be thoroughly enjoyed whatever time of year you visit, so long as you dress appropriately. I cannot wait to explore it with our son and to see it through fresh eyes and from a child's perspective.
Amsterdam – My hubby, his sisters and I visited Amsterdam five years ago, one cold and snowy December and had a blast. But it was a short weekend visit and felt a bit rushed. I'd love to return with our son and wander the canals, exploring it with him.
Marrakesh – This city in Morocco has been one I'd love to visit for a long time and now that we're living in Portugal it is even closer. We can either fly there or we could even drive via the Gibraltar strait ferry. Having seen many colourful pictures of this city and reading many posts about it, I'd love to visit with our son in the not so distant future.
New York – New York had been on mine and my husband's wish list for many, many years, and in 2016 we finally visited for the first time with our son in tow. We weren't sure how it would work out, but we proved that New York CAN be done with a toddler in tow. We plan to return in a few years' time to visit some of the places we didn't fit in during our first visit.
Black Forest – This area in Southern Germany is somewhere that has recently become more attractive and higher up on our priority list since discovering that there are many castles to be explored in Southern Germany. We've never visited Germany, but this area has always been on our to-do list, and what better way to discover a country for the first time than with our son.
Switzerland – Mr Passports and I have visited Zurich, but never went further than a quick day trip to Lake Lucerne. Switzerland is a country we've always wanted to explore, and we might just combine it with both the Black Forest and the next destination during an awesome European road trip.
Austria – Another country yet to be visited by us, Austria has always fascinated us and yet never really made it near the top of our travel priority list. However, having done some initial research it would be easy to combine it with both Switzerland and Southern Germany in a European road trip.
Prague – My husband very nearly went to Prague on a stag do, but for some reason didn't make it. This is a European city that has always been mentioned whenever we've been looking into booking our next getaway but somehow never got booked. We'd love to explore this city with our son.
Budapest – Again, like the previous city, Budapest is somewhere we've always listed as a place we'd love to visit but never made it to. My mum has been and thoroughly enjoyed it, so we'll visit at some stage.
Latvia – I'm not really sure what it is that has made Latvia make our list, but I think it must have been from reading some blog posts about it, particularly the ones from Jemma of Have Kids Will Travel UK. I followed her Instagram stories while they were visiting Latvia and it looks stunning.
Iceland – Another destination Mr Passports and I have had the privilege of visiting as a couple, it is a place we want to return to with our son. Not so much to see the Northern Lights as we never saw there for more than 5 seconds there, but to explore the geysers and glaciers of the Golden Circle. And of course, to enjoy another day at the Blue Lagoon. Kara from Are We Nearly There Yet has outlined why Iceland is top of their bucket list and many of the reasons she discusses are our reasons for wanting to return too.
Ireland road trip – My husband and I had two honeymoons and our first was a road trip around the West Coast of Ireland. It was the first time we had really ventured into areas of Ireland we'd never visited previously and made us soon realise there was so much more of our home country we had yet to visit. Our son has also only ever visited Dublin and Kildare when we have returned to Ireland to see family. So top of our list is a road trip in Ireland to areas we've not visited as a family. And I have to say I cannot wait to see more of the Emerald Isle.
This is an on-going bucket list destination. Our son and I have already done a road trip taking in some of the best castles in Ireland to visit with kids (as written here) and we've also visited again a year later to tick off some of the items in this post about the best things to do in Ireland with kids.
Thailand – We were unsure which list to put Thailand on as it can often be regarded as a bucket list destination. However, holidays to Thailand do not cost an arm and a leg if you are savvy enough. And we also thought it could be a destination we'd enjoy but was still reachable by our son later in life. So, it's made the non-bucket list of our long-term travel plans. The only thing is choosing when to go. We're eager to go soon but at the same time do not want to go during monsoon season. But I do think we'll visit within the next three years.
Rome – Again, Rome is a city my hubby and I have visited before and thoroughly enjoyed. We both like Roman history, Mr Passports more so than me, and we'd love to revisit with our son. I think this city can be enjoyed at any age, and can be a wonderful educational trip with children.

Photo by Bence Boros on Unsplash
Disney World Florida – Having visited Disneyland Paris, no long-term travel plans with kids would be complete without a trip to Disney World Florida. I think I'd like to visit it once but perhaps when our son has a few more years on him.
Sardinia – This Italian island has been on our list, like so many, for a few years but never quite got booked. I think we'd probably do a mini road trip around the island with our son to take in as much of it as we could.
Madeira – Madeira had not even featured for us prior to us moving to Portugal. But, this Portuguese island off the Northwest coast of Africa came to my attention via a blog post by Ana of Faded Spring. It looks amazing and would be easily accessible to us from Portugal.
Santorini – This Greek island in the Aegean Sea immediately came to my attention when I saw pictures of its famous white buildings with the blue roofs. It looks like such a picturesque place to visit and easily done with children.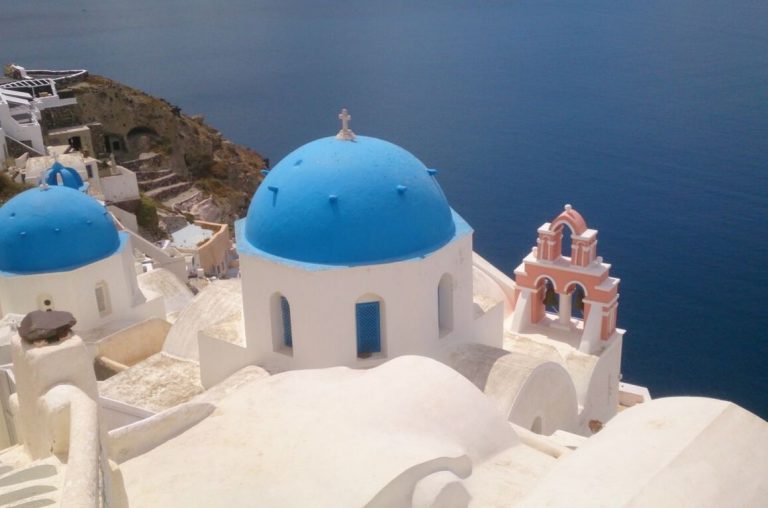 Photo by Alan Bicknell on Unsplash
Tuscany – Another area of Italy we'd love to visit is Tuscany. With both Pisa and Florence located within this region, it has been on our list for a while and could easily be combined into a two-week road trip with Cinque Terre.
Moscow – Mr Passports very nearly visited Moscow during one of his last contracts but work decided against it. With so much to see and do in this amazing city, it's somewhere we've both wanted to visit for a while. Whether we do or not remains to be seen, but we will still keep it on our list.
Barcelona – This Spanish city is somewhere many of our friends and family have visited but is somewhere that has seemed to escape us. With the Sagrada Familia and more to see and do, I think we'd easily enjoy this city with our son.
Done – Read about visiting Barcelona with kids here.
Spanish road trip – One road trip we've loosely research and which we could easily do from where we live would be a road trip around Spain, taking in Seville, Cordoba, Granada, Valencia, Barcelona, Zaragoza and Salamanca. It would be great to see some of the famous Spanish cities and their history all in one trip.
Majorca – This Spanish island was the scene of my first ever trip abroad at a mere 20 years old. Hubby and I visited it a few years before the boy came along and I'd love to revisit Majorca with him. And I'm sure there are lots of things to enjoy such as the Vintage Palma to Soller train. Travelled So Far have written about enjoying a ride on it with kids and I just know our son would enjoy it.
Portuguese road trip – We have so much of Portugal yet to explore and what better way to do it than on a road trip. If we were to do this trip, we'd be looking at visiting places such as Evora, Castelo Branco, Porto, Coimbra, Caldas de Rainha, Obidos, Sintra, Lisbon, Setubal and Sines. My parents have visited most of the towns and cities near Lisbon and we'd love to visit ourselves.
Done – Read about our 7-day road trip exploring Central Portugal with kids here.
Lapland – Who doesn't want to bring their children to see Santa in Lapland. And we plan to do so in the next few years. We'll visit Finnish Lapland and will most likely spend a day or two in Helsinki as well during the trip.
Done – I've written extensively about our trip to Lapland and also about some great things to do in Helsinki with kids.
Scotland – A country full of myths and legends, Mr Passports and I have always wanted to visit Scotland but never managed it while we were living in the UK. I think we'll make a point of visiting it one summer while our son is off school and make a road trip of it. Reading the series of trip reports by Deb of My Boy's Club about their family holiday at Loch Ness, starting with their Jacobite Cruises and Loch Ness Centre post, has made me want to visit it even more. You never know, we might even see the Loch Ness monster!
Bucket List Destinations in Our Long-term Travel Plans
Yellowstone and Oregon – Although this trip was on our bucket list, we bit the bullet and visited it in 2017. Yellowstone was a place my husband and I wanted to visit for aged, and although we really wanted to visit it with our son when he was older, impatience got the better of us. And even though he may not remember much of it, we all thoroughly enjoyed this trip and it gave us our road trip bug!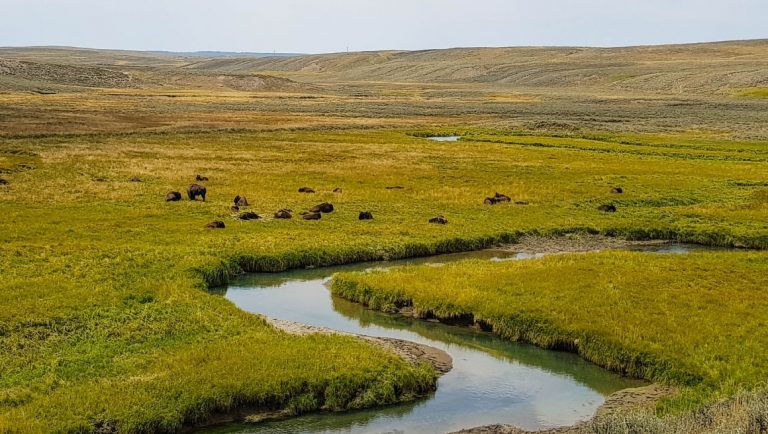 Done – Read about visiting Yellowstone with kids here, find out some great things to do in Missoula with kids here, and what is on offer for kids in Portland here.
Australia and New Zealand – If we are going to visit the Southern Hemisphere, we are going to visit both Australia and New Zealand in the one trip. Why go all that way only to visit one destination? It makes more sense to visit both in one go and tick them off the list together. If we ever manage to do this trip I think it'll probably be a three or four-week trip to give us time to adjust to the new time zone and to take our time exploring two countries we've always wanted to visit.
Cambodia – Had either of us gone backpacking in our late teens or early twenties, we both agree Cambodia would have been top of our must-visit lists. I especially want to visit and photograph Angkor Wat. Every time I see pictures of it, or read a blog post about it, it sparks my interest yet again. But this is definitely one we'd like our son to have memories of. Cambodia sounds like such a beautiful country to visit and has so much more to offer travellers than Angkor Wat, including Siem Reap.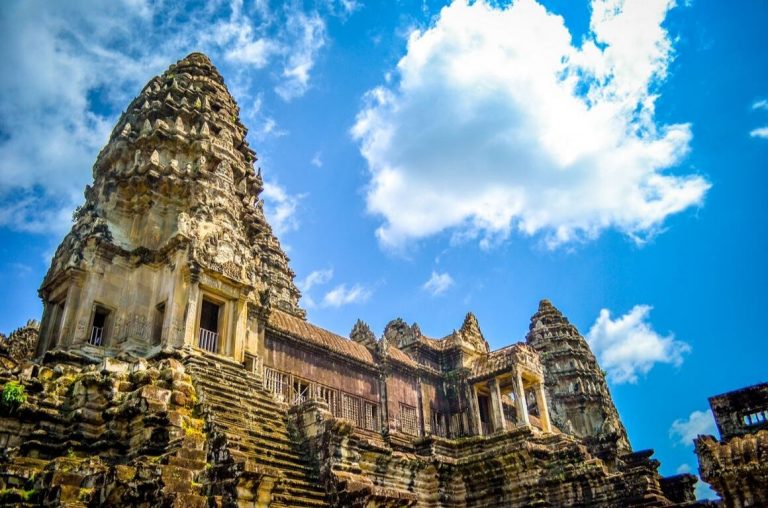 Photo by Cristian Moscoso on Unsplash
Vietnam – Possibly to be combined with a trip to Cambodia, this is another of the famous backpacking destinations that we'd love to visit. We know people who have visited it and their stories are just wonderful to listen to. If we don't manage it as a family, I will be highly recommending our son goes travelling before settling down into a career and will encourage him to make sure he includes South East Asia as a destination along those travels.
Nepal – This is a destination not many people would include in their bucket lists, but it is somewhere my hubby and I have always wanted to visit. One of the homes to Mount Everest it is a country steeped in culture and history.
Tibet – The other home to Mount Everest and thought of as the spiritual home of Tibetan Buddhism, the world's highest country has long been on our list of places we'd love to visit and even more since a close friend of ours in Wales introduced us to Buddhism.
Bhutan – Another Asian country we'd love to visit, Bhutan made its way onto our list when we saw pictures of the most amazing looking Buddhist temple on the side of a mountain – The Tiger's Nest. Built in 1692 on the side of a mountain, Paro Taktsang, to give it its proper name is somewhere I really want to visit with our son when he is around nine or ten. We'll have to train as a family for this one as it's on average an eight-hour round-trip trek up the mountain and down again to visit it. But it would be worth it if this blog post from Earth Trekkers is anything to go by.
China – Mr Passports and I very nearly booked a tour of China a few years ago but for some reason didn't in the end. We watched the BBC series Wild China and that was it, I wanted to go. I'd love to visit the Great Wall of China, see the Forbidden City and visit areas of the Yangtze River and Yunnan Province. But this is firmly one of our bucket list destinations. Mr Passports has recently been with work but as a family we're yet to go together.
Mongolia – Parts of Mongolia were featured in the BBC series on Wild China and it is a country that has been on my Dad's bucket list for many many years. We also saw Mongolia in the series The Long Way Down and it was this that sparked our own interest in Mongolia. We'd love to visit in July for the Naadam festivals and looked into it for this year. However, my Dad would prefer to go off the beaten track and I cannot do that with our son in tow. I want to do a private guided tour. So, we'll wait a few years for this one. I do think living in Portugal and getting used to the heat of July will stand us in good stead when we do eventually visit Mongolia. I know Mongolia can be done with kids from this post by the Smiths Holiday Road.
Norway – My husband and I saw, and photographed, the Northern Lights when we visited Tromso in 2012. And ever since our son came along I've longed to return to Tromso with him during winter for a variety of reasons. We'd love to go Northern Lights hunting with him, visit the Sami's and also do a husky sleigh ride. But, this trip is one I want him to have memories of his whole life. So, we're biding our time until he is about ten or eleven and then we'll organise this trip.
Botswana – The country of my birth and a country I must visit before I die. We left Botswana before I was two years of age, so I have no memories of it. I'd like to see Orapa, the town at the mine I was born in. And I'd love to see the animals at the Okavango Delta, preferably during migration season. This was featured in the BBC nature series, Nature's Great Events and I think would be thoroughly enjoyed by us all.
Argentina – The only South American country to make our list, Argentina is a country we'd love to visit. And especially the region of Patagonia. Pictures of this area always look amazing.
Japan – This destination is one we'd love to do but we will be sorely torn as to when to go. There are two seasons I'd love to see in Japan. Springtime, for the cherry blossom trees, and autumn for the colours of the Japanese acers. I do think autumn will probably win out over spring should we get the chance to go to the Far East.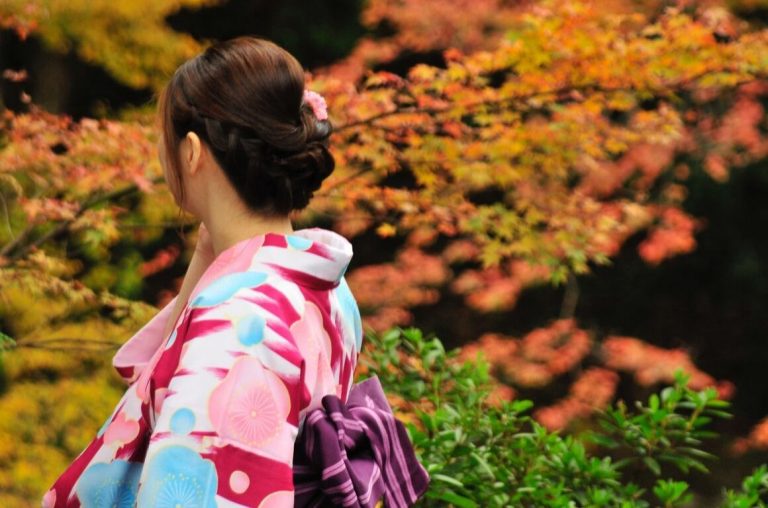 Photo by Boudewijn Huysmans on Unsplash
Seychelles and Maldives – I've put these two destinations together as it really wouldn't bother me which I got the chance to visit. These two tropical paradise destinations have been places we'd love to visit but were always just a little beyond our budget.
Myanmar – Formerly Burma, Myanmar is somewhere I'd like to visit but may be torn about given its reputation where human rights are concerned. That said, you only need to Google images from the country to see how stunning some of the architecture and landscapes look.
Sri Lanka – A destination that my husband and I considered as a holiday spot a few years ago, we'd love to visit Sri Lanka one day. I've read a few blog posts about the diversity of the island and think we'd really enjoy it.
Cuba – We have had the privilege of visiting Cuba on our proper honeymoon the year we fell pregnant with our son. It was also shortly before the USA lifted the embargoes on Cuba so we got to see it before it opened up again. Having seen the pictures and short videos a friends captured on her recent visit, I'd love to return one day with our son. I'd be interested to see if it changes much from when we first visited. I'd also be able to see a lot more of the island as we had to stay close to our resort as I couldn't use regular mosquito repellent.
So, there you have it. The Passports and Adventures Family's long-term travel plans including both a non-bucket list and a bucket list of destinations around the world. Much of our non-bucket list includes European cities and places we believe would be easily accessible to our son when he is older, should he wish to return.
Our bucket list is just that, a bucket list of destinations we'd love to visit with him, but might not. We'd want to visit these places with him when he is older as they are certainly bucket list destinations, most likely visited just once-in-a-lifetime. That said, should we be lucky enough to win the lottery, I plan to visit as many of the countries in the world as I can possibly stomach. A girl's gotta have dreams, hey!
And if you're a bit nosy like me, why not check out what top 10 countries makes the family adventure holiday bucket list for Our Bucket List Lives.
What countries or destinations are on your family's long-term travel plans?
Cath x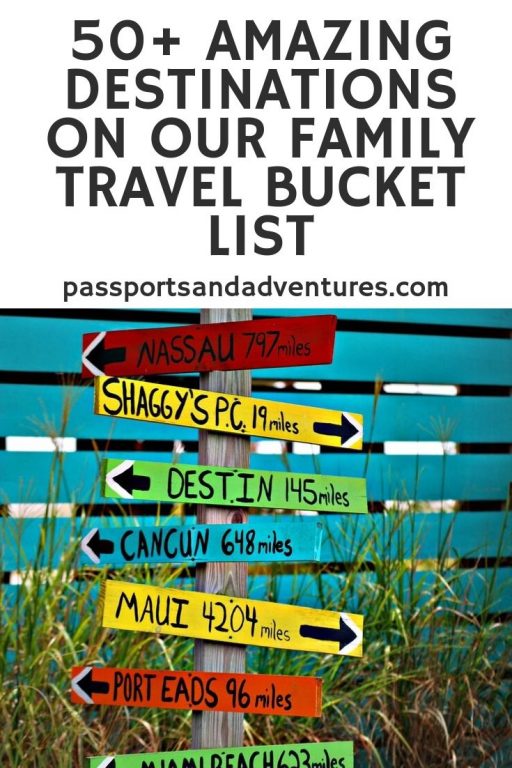 Related Posts